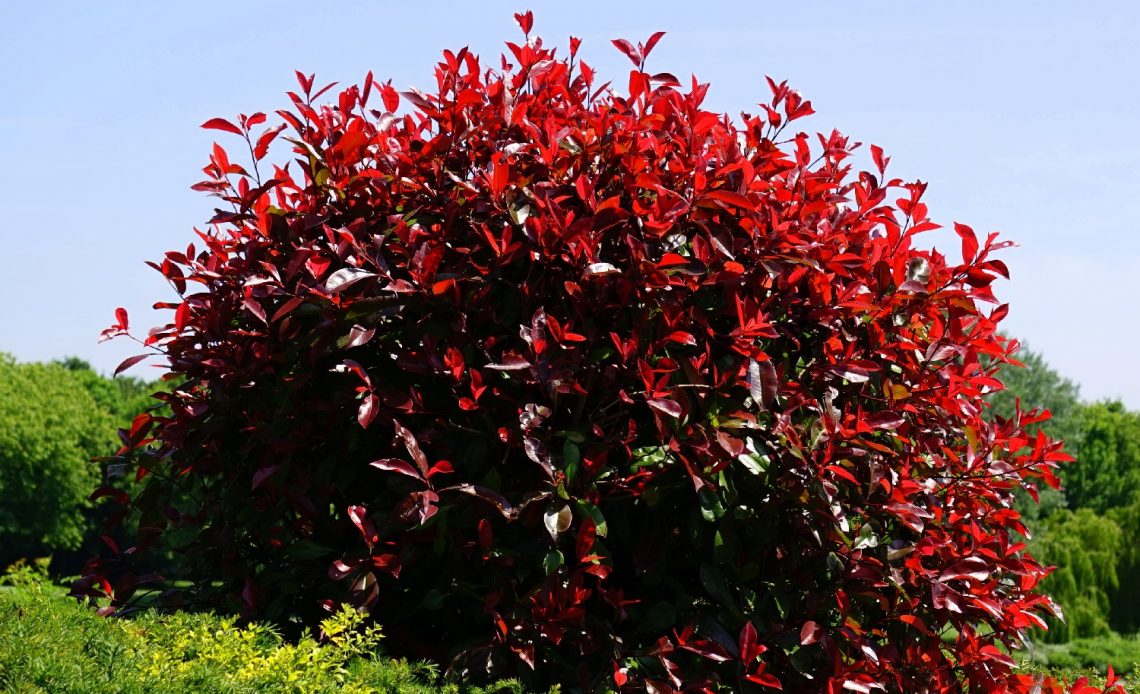 We're here to help! Wild Yards is a completely free website that is 100% dedicated to helping you create a wildlife-friendly, sustainable yard. Read more
WildYards is reader-supported. When you buy a product through a link on our site, we may earn a comission. Every product is independently selected by our (obsessive) editors and our reviews are unbiased and objective. Read more about our mission or our privacy policy.
Evergreen shrubs provide a backdrop to your other landscaping. They help pad out your flower beds and add depth and interest by filling the void between your ornamentals and your home, garage, or privacy fence. But evergreens can be grown as ornamentals in their own right, and, contrary to what their name would lead you to believe, evergreens come in other hues, too. Red evergreen shrubs, for instance, are dramatic accent plants that provide an eye-catching contrast to your garden.
'Ever Red' Loropetalum, 'Fire Power' Nandina, and Red-tipped Photonia can be planted as solitary shrubs or grown together to create a dense hedge. Other red evergreen shrubs, like 'Mountain Fire' Pieris, can be pruned at the base to encourage the plant to develop a tree-like shape. Meanwhile, the prickly 'Red Star' Dracaena is well-suited to Southwest-style gardens, adding a splash of color to an otherwise monochromatic landscape.
9 Best Red Evergreen Shrubs for your Garden
Evergreens thrive in nutrient-poor soils because they have reduced nutrient loss compared to deciduous trees. Additionally, red evergreens utilize light better than green evergreens — they have to because their leaves have less chlorophyll.
So, if you have bad soil and less sunlight, but you still want vibrant, year-round foliage in your landscaping, red evergreen shrubs are just the ticket. If you're not sure which of these vivid plants is right for you, we're here to help. Our 9 favorite red evergreen shrubs will turn your drab backyard into a masterpiece.
'Mountain Fire' Pieris (zones 5 through 8)
Reaching 8 feet tall by 6 feet wide, the 'Mountain Fire' Pieris offers a spectacular display of color from season to season. In the spring, this plant's shiny oval leaves bud out a splendid ruby red, turning vibrant green as they mature, and returning to red in the fall. The 'Mountain Fire' Pieris produces clusters of white bell-shaped flowers cascading from vivid red stems. Butterflies, bees, and other pollinators love perusing these fragrant flowers, and they'll visit your yard over and over again while the plant blooms.
'Mountain Fire' Pieris grows best in partial sun. This plant is fairly adaptable, so it isn't too picky about its soil requirements. Just be sure to grow your 'Mountain Fire' Pieris plant in well-drained soil, and water it deeply twice a week until well-established. You can prune this bush to keep it short or remove low-growing branches as it grows to help it achieve a tree-like shape.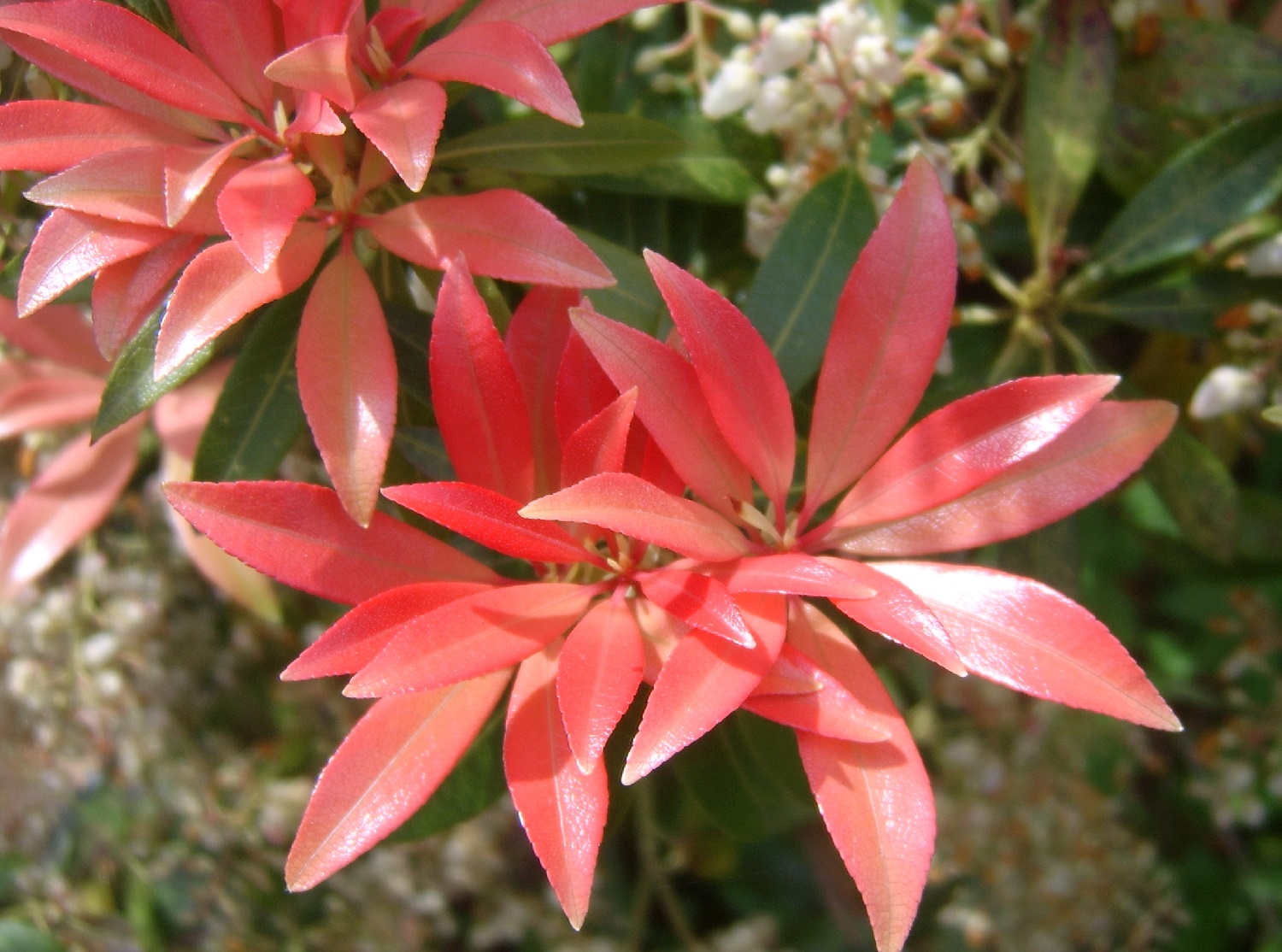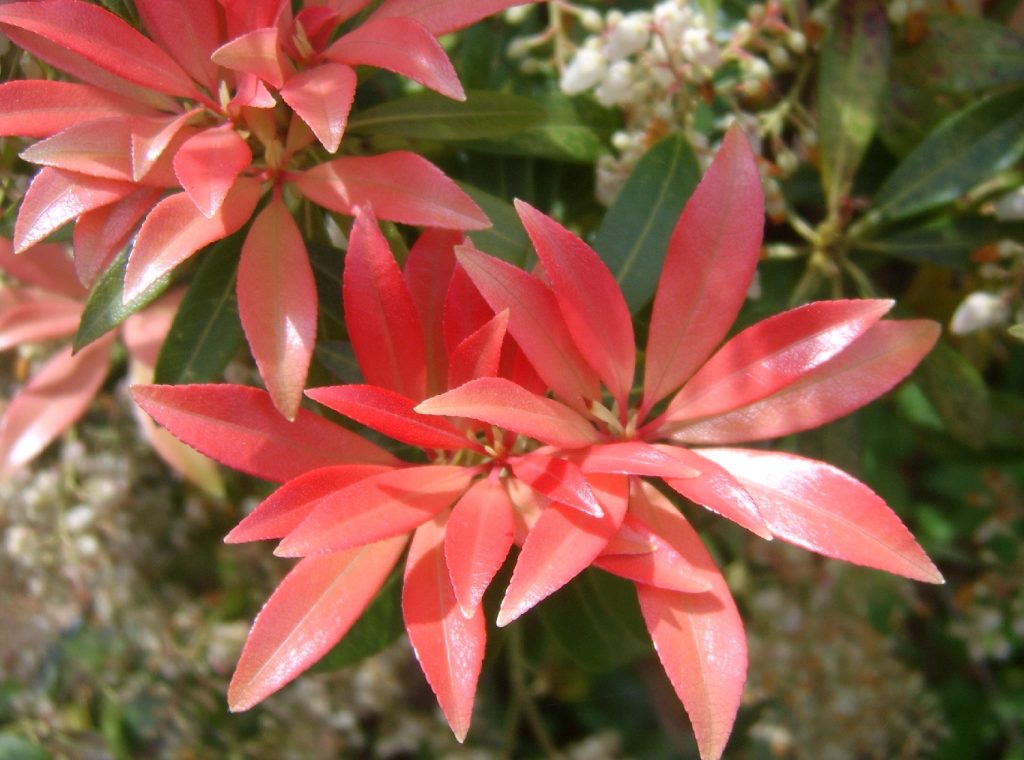 Red-tipped Photinia (zones 7 through 9)
If you want a defined border on your property line or maybe just a colorful backdrop to your flower beds, Red-tipped Photonia works well. This red evergreen shrub is great for backyards that have full sun and can grow in most soils, so long as they don't get waterlogged. These plants should be kept moist the first year but can be watered weekly once they're well-established.
Red-tipped Photonias produce shiny crimson red leaves that turn deep olive green as they mature. In the spring, these pretty shrubs produce clusters of white flowers that bugs love to visit. In the fall, buds turn to small red fruits that songbirds and squirrels enjoy snacking on. The Red-tipped Photonia grows up to 18 feet tall when left untrimmed, and can grow 12 feet wide. When grown close together, these plants make a dense hedge to give you privacy year-round.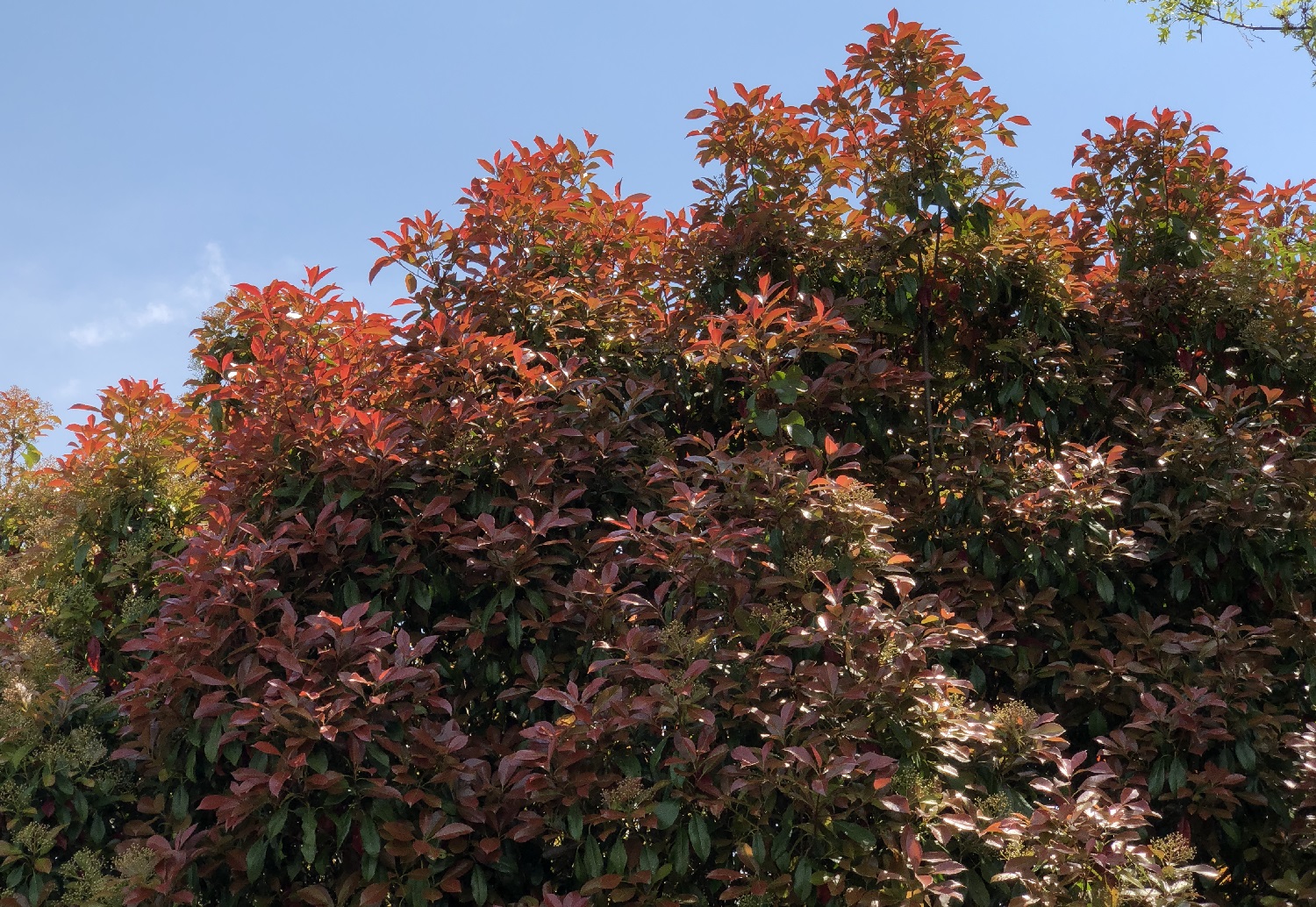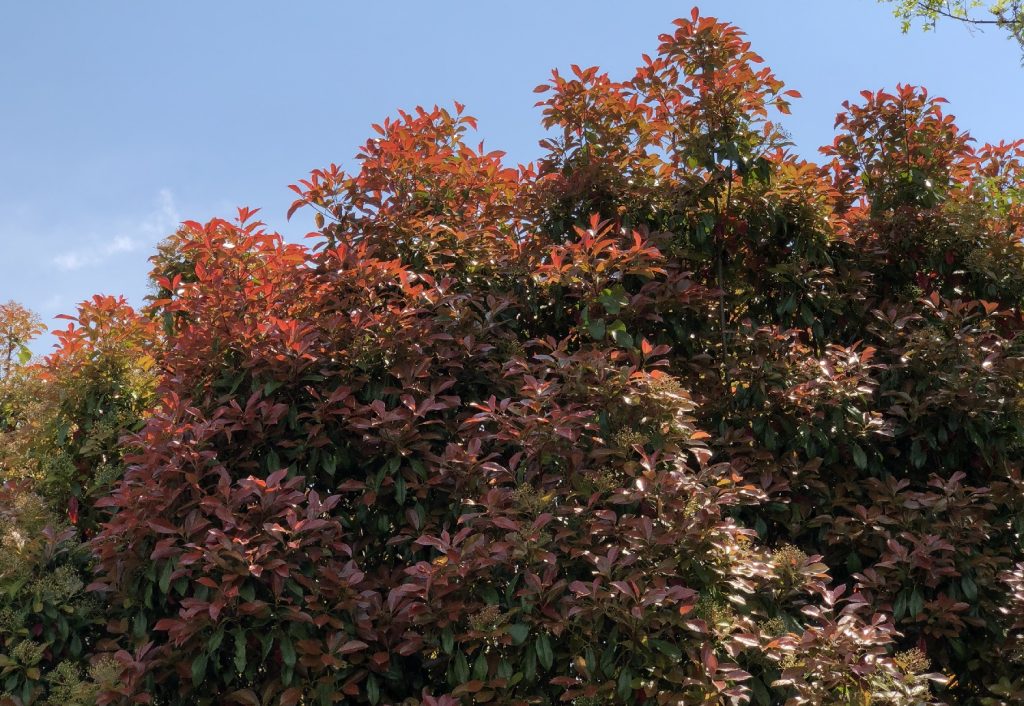 'Crimson Ruby' Japanese Barberry (zones 4 through 8)
A small shrub that makes a perfect border along flower beds, the 'Crimson Ruby' Japanese Barberry grows up to 2 feet tall and just as wide when planted in full sun. This plant produces gorgeous burgundy red leaves that take on a deep green hue as it matures. Its many small oval leaves create a dense barrier, keeping the sun's harsh rays off the soil below helping to lock in moisture.
The 'Crimson Ruby' Japanese Barberry should be watered regularly during its first year. After that, it can be watered 2 to 3 times a week to keep the soil semi-moist. As a bonus, this beautiful red evergreen shrub is deer-resistant, so you can plant it with confidence knowing your neighborhood herd won't feel the need to make a meal out of it.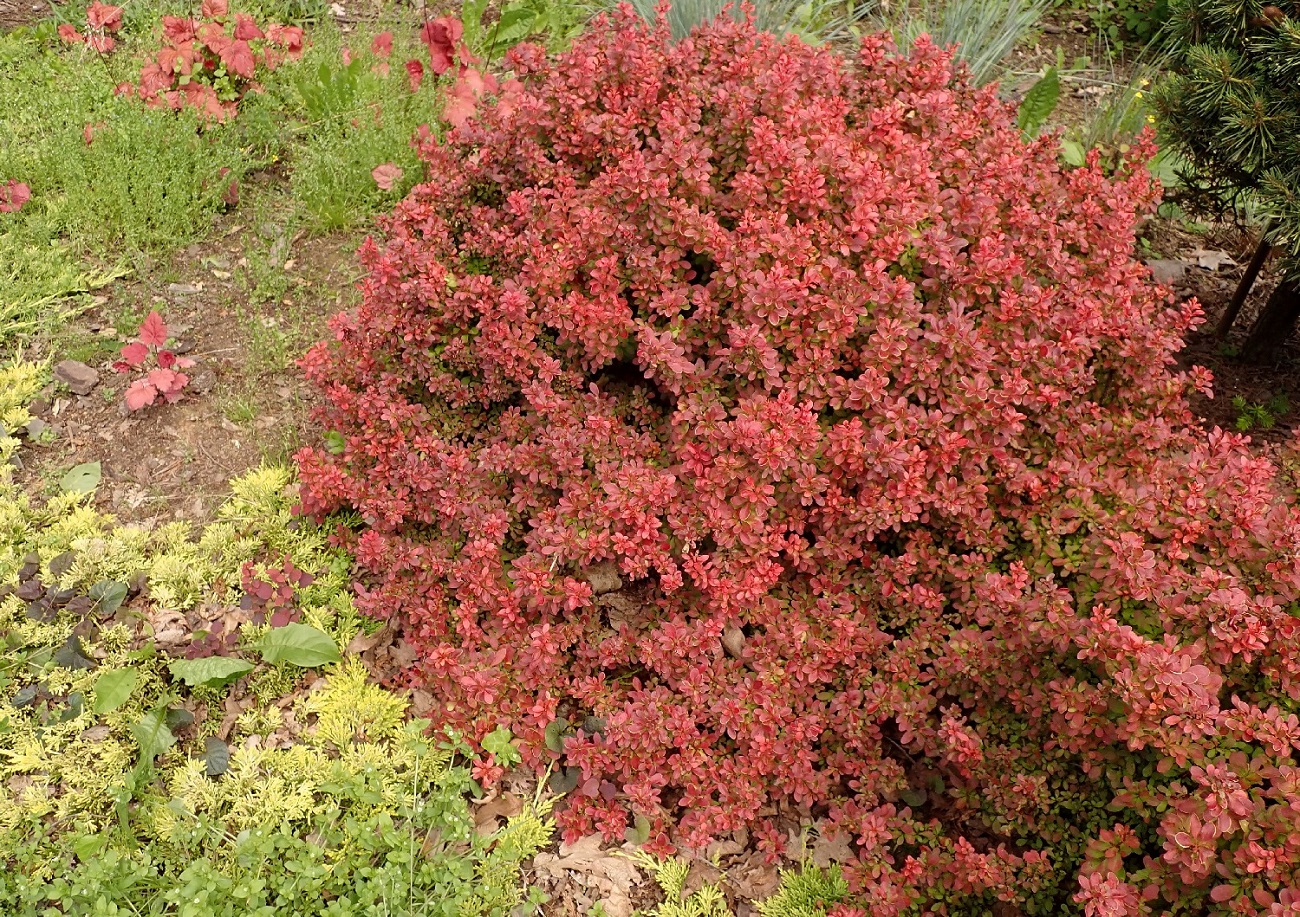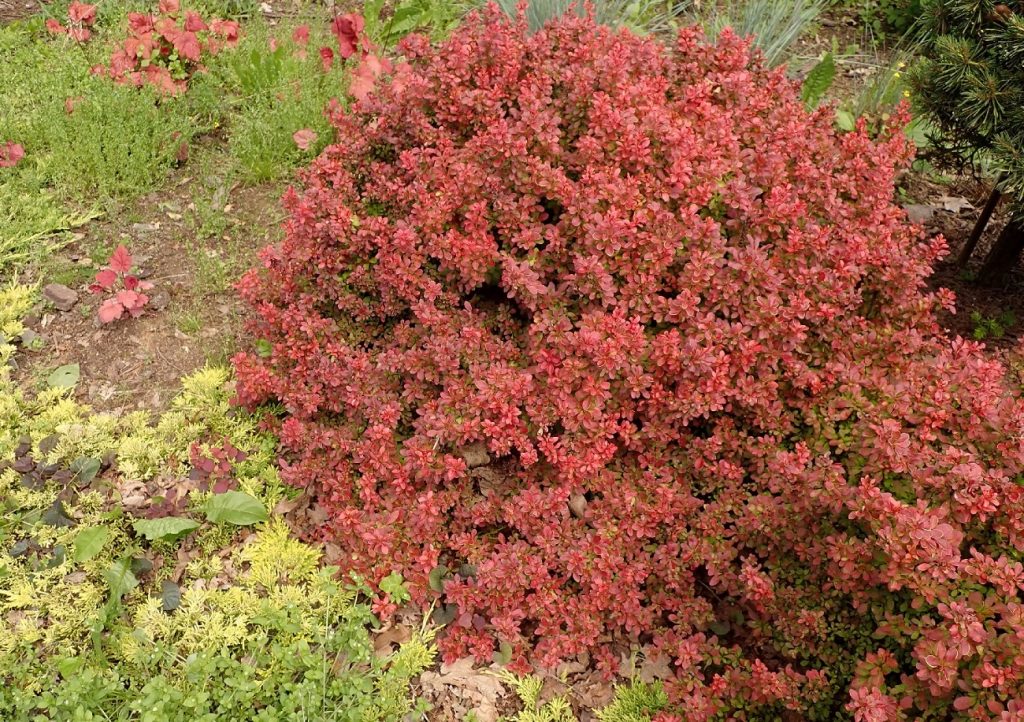 'Red Star' Dracaena (zones 9 through 11)
The 'Red Star' Dracaena produces sword-like foliage in shades of deep burgundy to brown-green. In the early summer months, tall stalks emerge from the center of the plant climbing high into the air, where delicate white flowers blossom. Though this plant should be grown as an annual in colder climates, it can be treated as an evergreen in warmer regions.
As the 'Red Star' Dracaena matures, it develops a trunk, sending its spiked leaves higher into the air, making it look more like a traditional palm tree. This red evergreen shrub looks great when planted near swimming pools. Keep your 'Red Star' Dracaena in full to partial sun and water it weekly (two to three times weekly if grown in pots).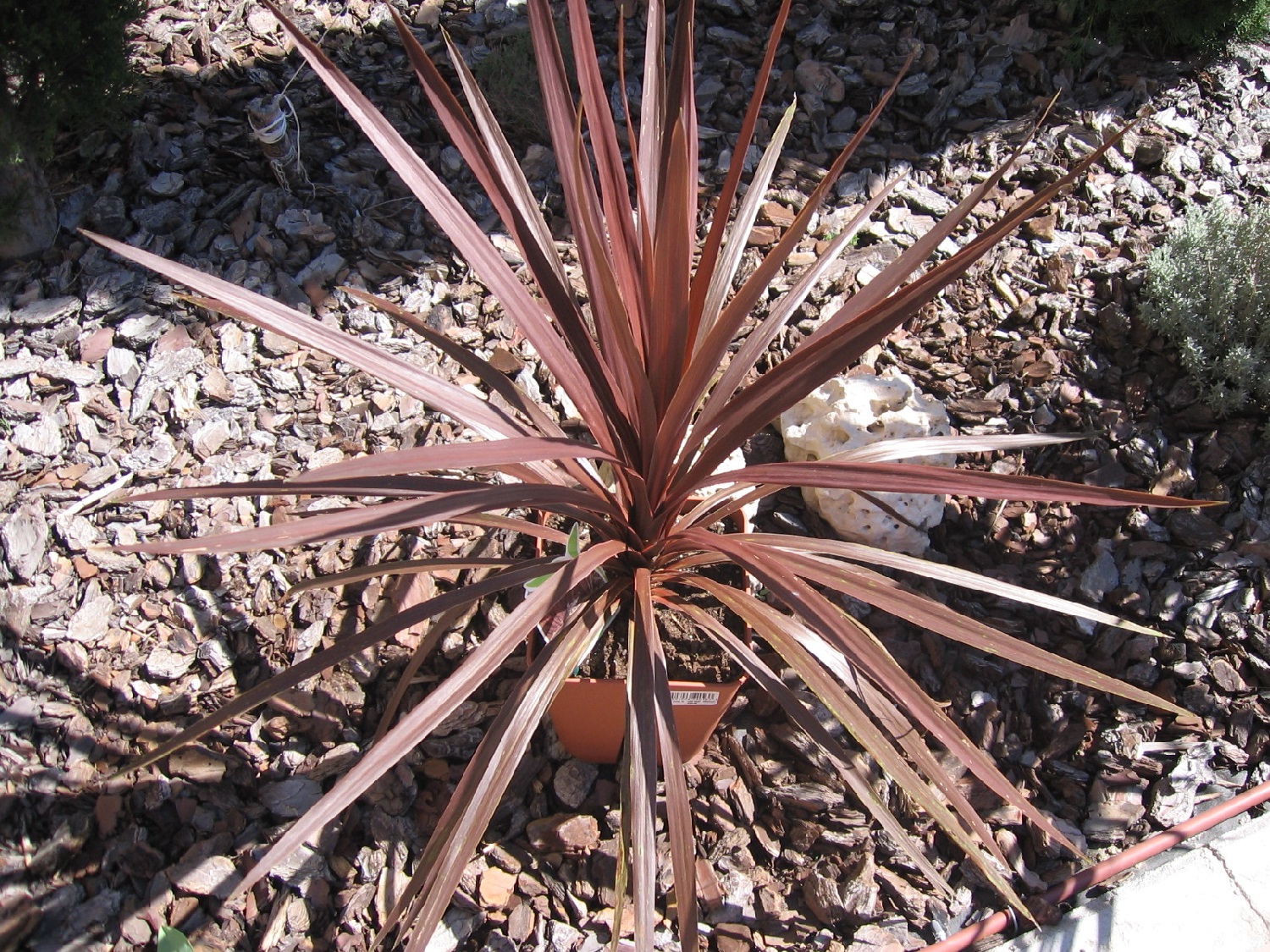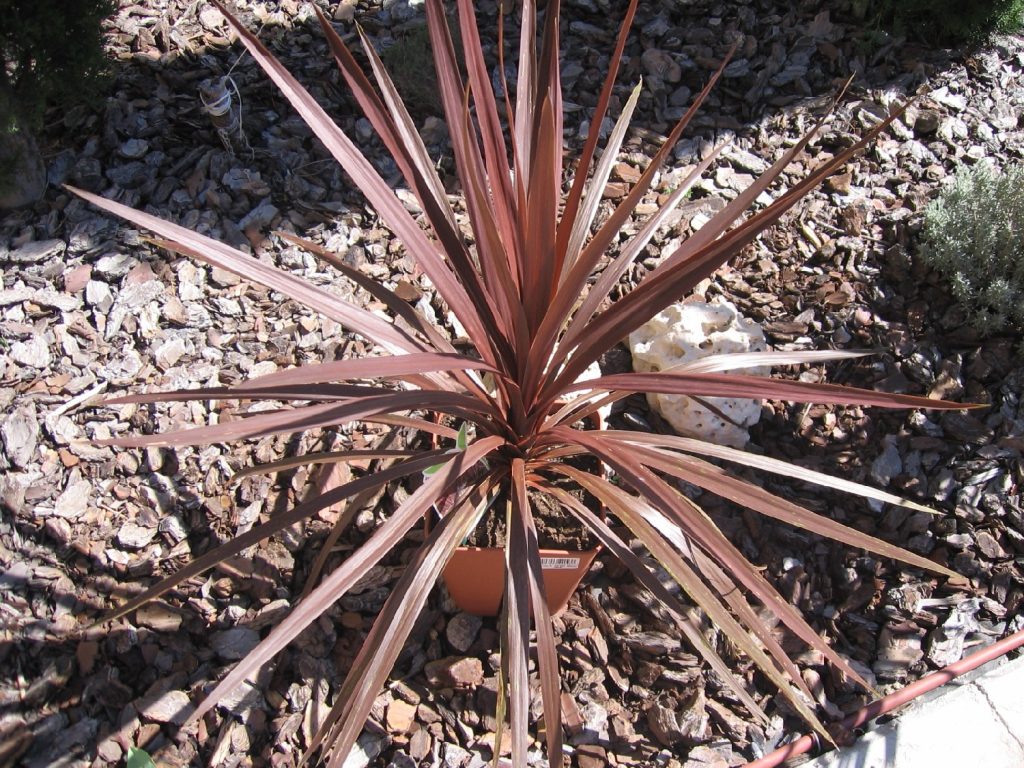 'Fire Power' Nandina (zones 6 through 10)
The 'Fire Power' Nandina's shiny, shockingly red foliage is the perfect way to add a splash of color to your garden. In the spring, these plants produce new green leaves and delicate white flowers, creating a gorgeous contrast. As autumn approaches, the foliage turns a bright scarlet red, making this stunning plant impossible to miss.
This small shrub grows up to 3 feet tall and 3 feet wide, making it a great choice for a low-growing hedge. When planted in full to partial sun, this plant requires very little care. Regular waterings are all it needs to grow well. Nandinas are a type of bamboo, and as such, they prefer well-drained soil that's moderately nutrient-rich. If you have sandy soil, consider adding some compost or worm castings to the dirt before planting your 'Fire Power' Nandinas.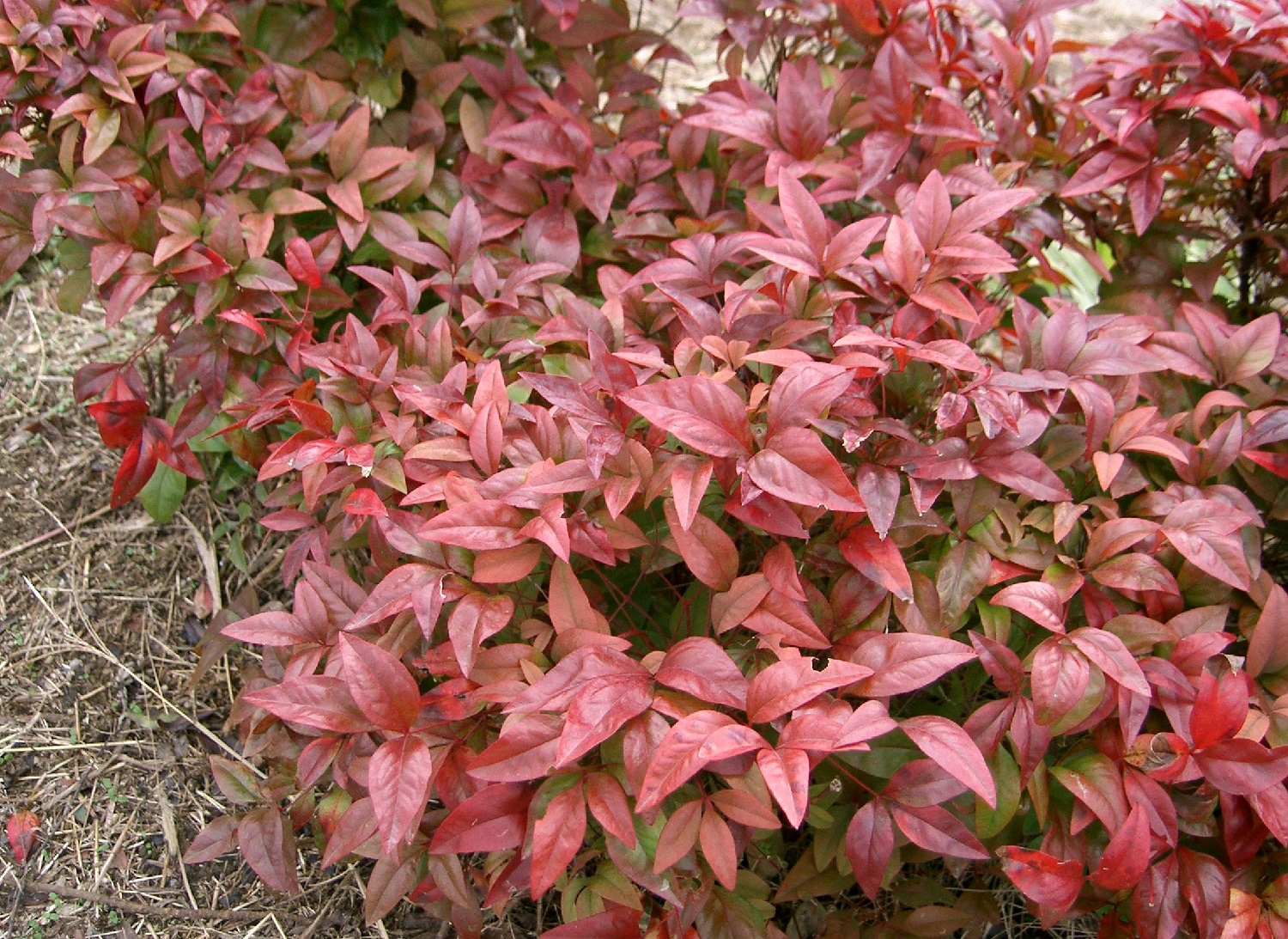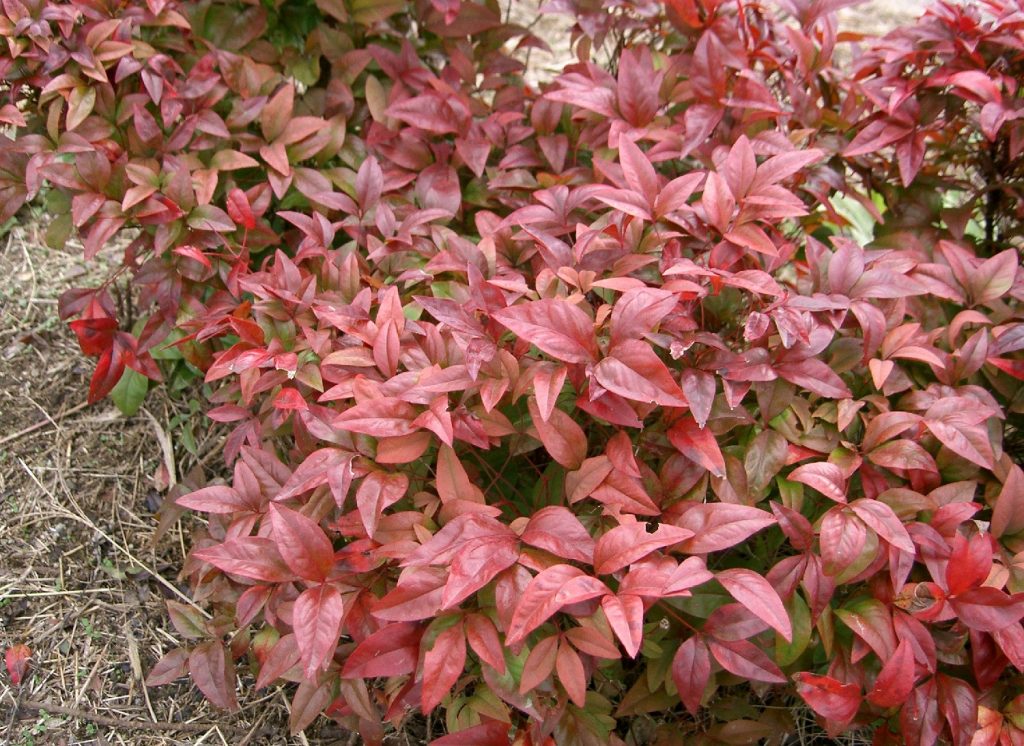 Burning Bush (zones 4 through 8)
In the spring, Burning Bush starts out a pleasant shade of green. But as autumn approaches, this bush trades in its traditional-looking foliage for bright ruby to orange-red leaves, making the entire shrub look like it's on fire — hence the plant's name.
Once this shrub reaches maturity, it stands about 8 feet tall by 8 feet wide. You can grow multiple Burning Bush plants together in a row to create a statement hedge or dot your flower beds with a dash of color by growing only one or two plants. Burning Bush isn't too picky about its soil requirements, so plant yours in any location that receives full to partial sun.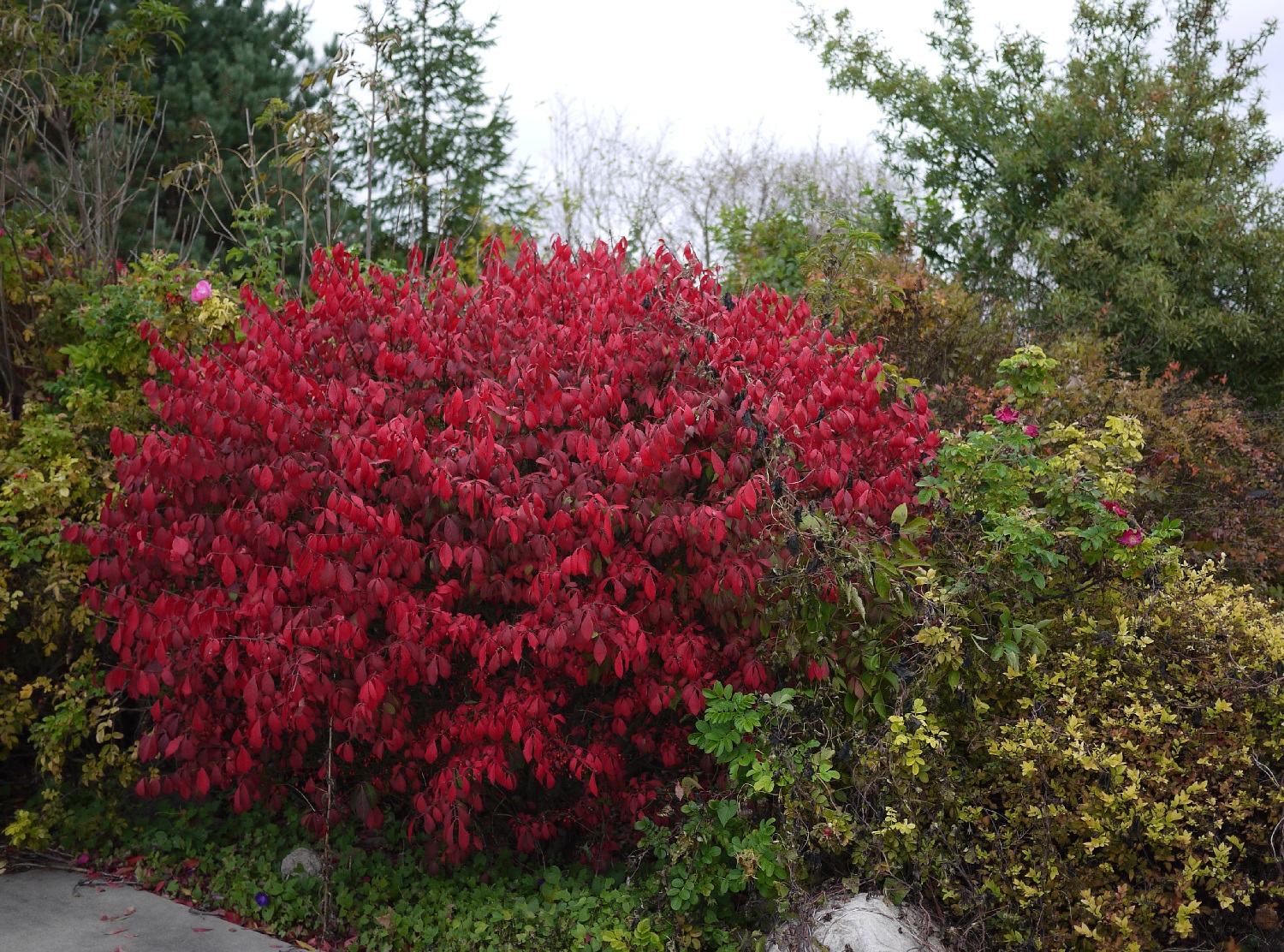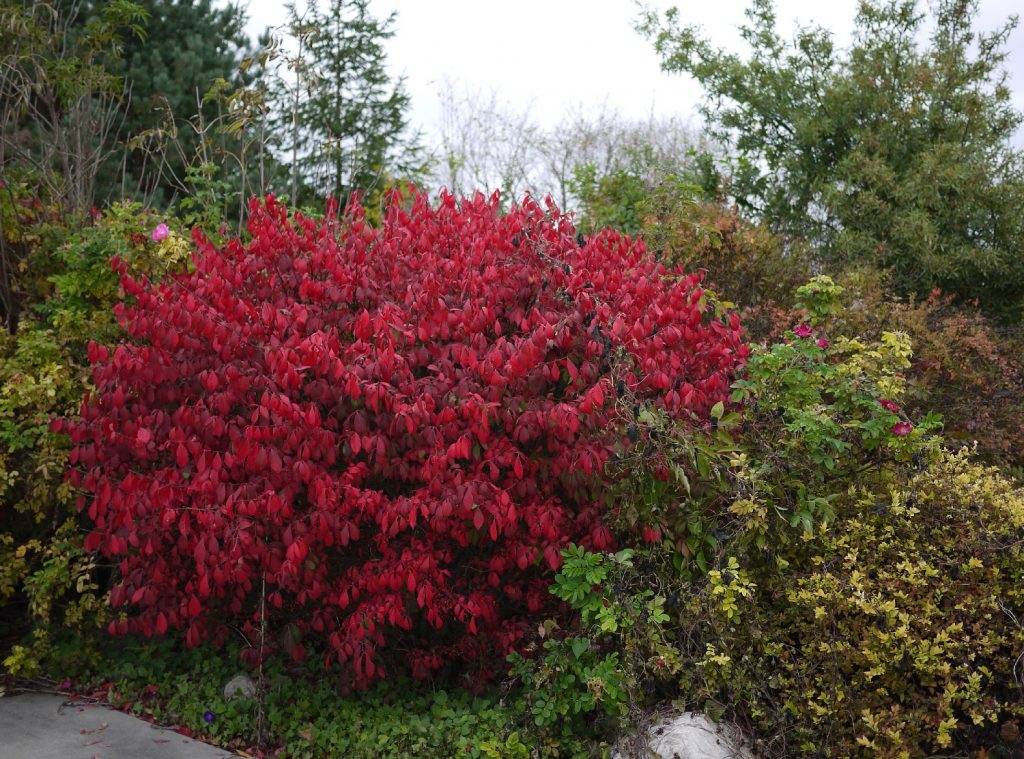 'Crimson Fire' Loropetalum (zones 7 through 9)
Compact and low-maintenance, 'Crimson Fire' Loropetalum is perfect for small backyards. This disease-resistant, pest-resistant shrub is perfect for beginner gardeners who want a pop of color but don't want a plant that requires a ton of attention. 'Crimson Fire' Loropetalum grows up to 4 feet tall by 5 feet wide, making a dense, low-growing shrub.
Unsurprisingly, 'Crimson Fire' Loropetalum has crimson color foliage, but its new growth takes on a deep shade of burgundy. In the spring, this red evergreen shrub produces bright pink flowers, a contradictory color pairing that this plant effortlessly pulls off.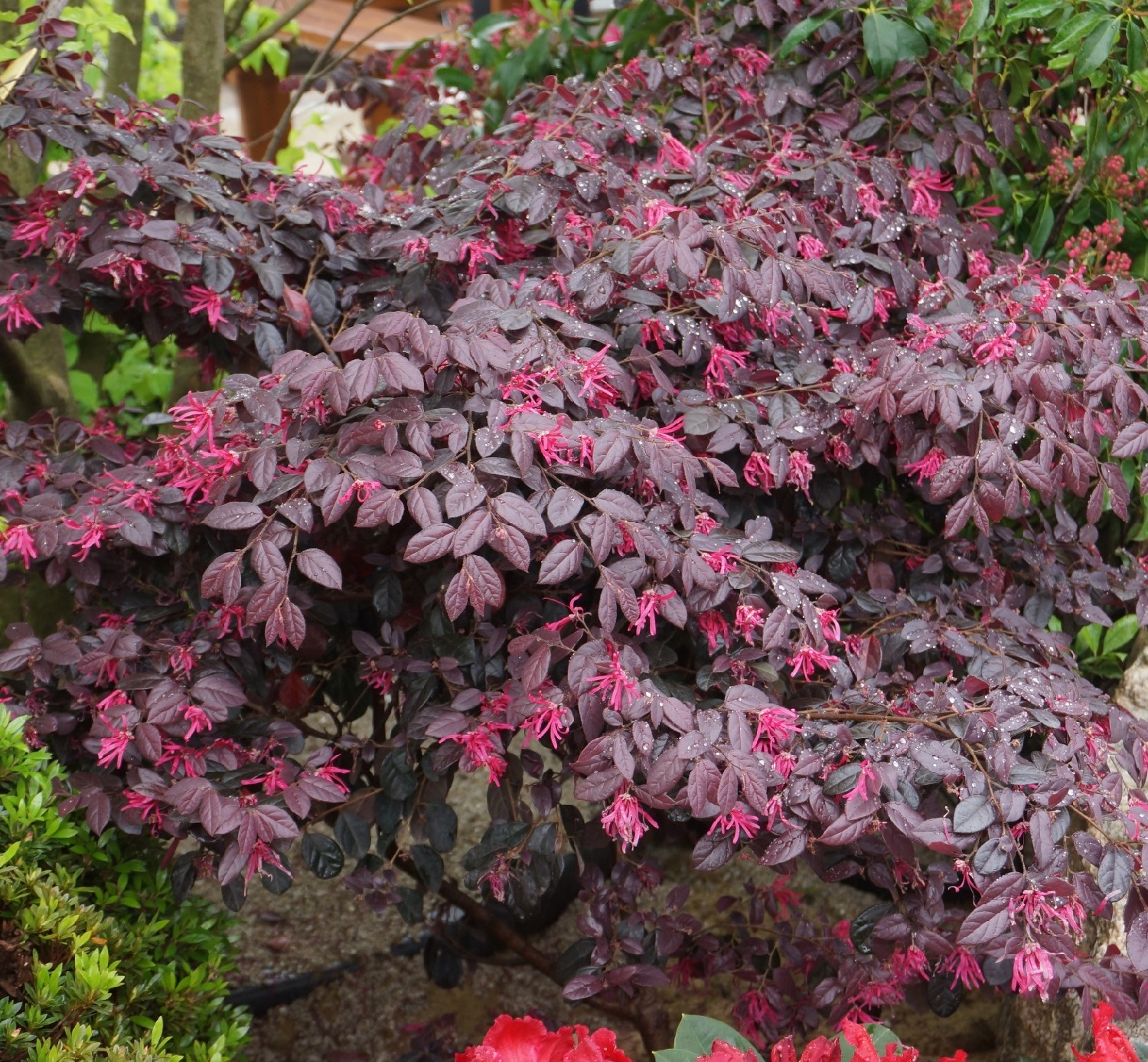 'Obsession' Nandina (zones 6 through 10)
If your yard is partially in the shade, the 'Obsession' Nandina can provide you with that splash of color you long for. This upright, dense-growing Nandina is flashier than other Nandina varieties, producing new leaves in rich burgundy tones that turn bright green with time. 'Obsession' Nandinas grow 4 feet tall by 3 feet wide, a decent size for a standalone ornamental shrub.
'Obsession' Nandina is great for new gardeners because it's deer-resistant, insect-resistant, and disease-resistant. This plant is semi-drought-tolerant, requiring a moderate amount of water every week. It can be pruned, but it doesn't have to be, and as long as it's planted in moist, well-drained soil in a spot that fulfills its light needs, this plant is pretty self-sufficient.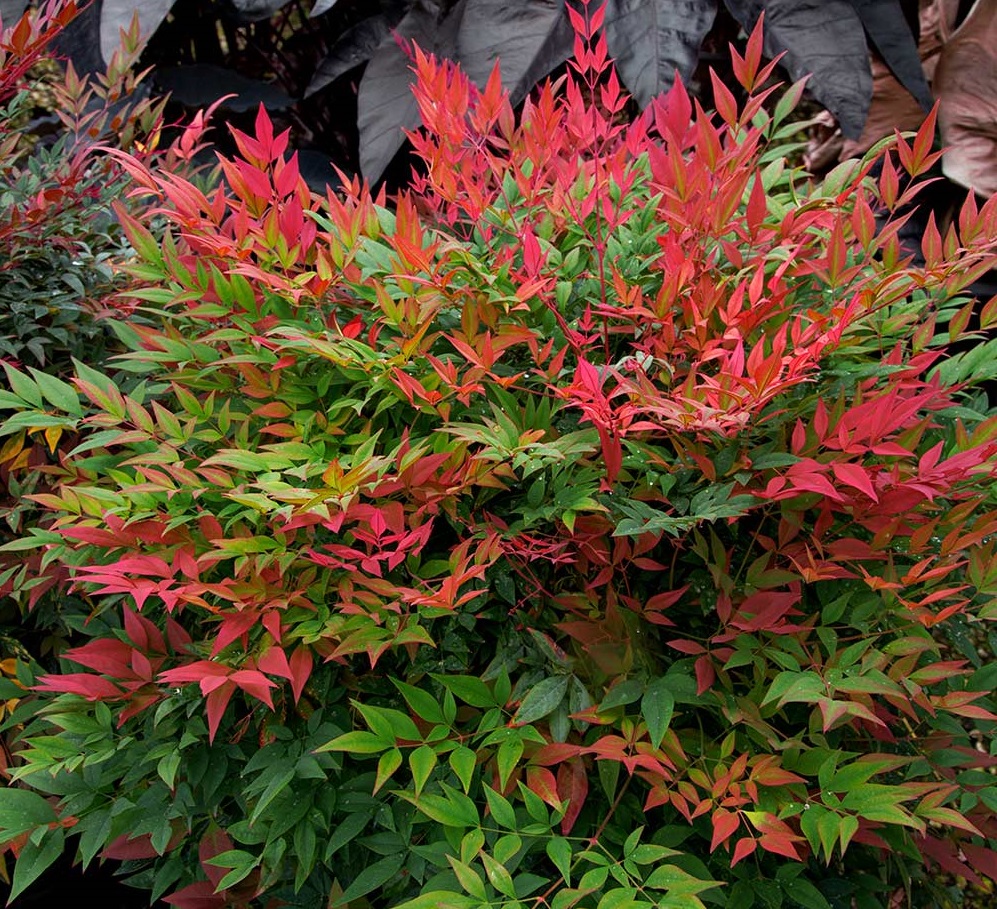 'Ever Red' Loropetalum (zones 7 through 9)
Suitable for growing in full to partial sunlight, 'Ever Red' Loropetalum can adapt to most soil types, and is moderately drought-tolerant. This shrub is perhaps the fastest-growing red evergreen here, quickly reaching its maximum size of 6 feet tall by 6 feet wide. So if you're an impatient gardener who likes plants that provide near-instant gratification, the 'Ever Red' Loropetalum is right for you.
From winter to spring, the 'Ever Red' Loropetalum produces brilliant red fringe flowers, a showy addition to your landscape. New leaves sprout from spring to summer in a deep chocolate burgundy, turning muted green as they mature. No matter what the season, the 'Ever Red' Loropetalum keeps your garden colorful all year long.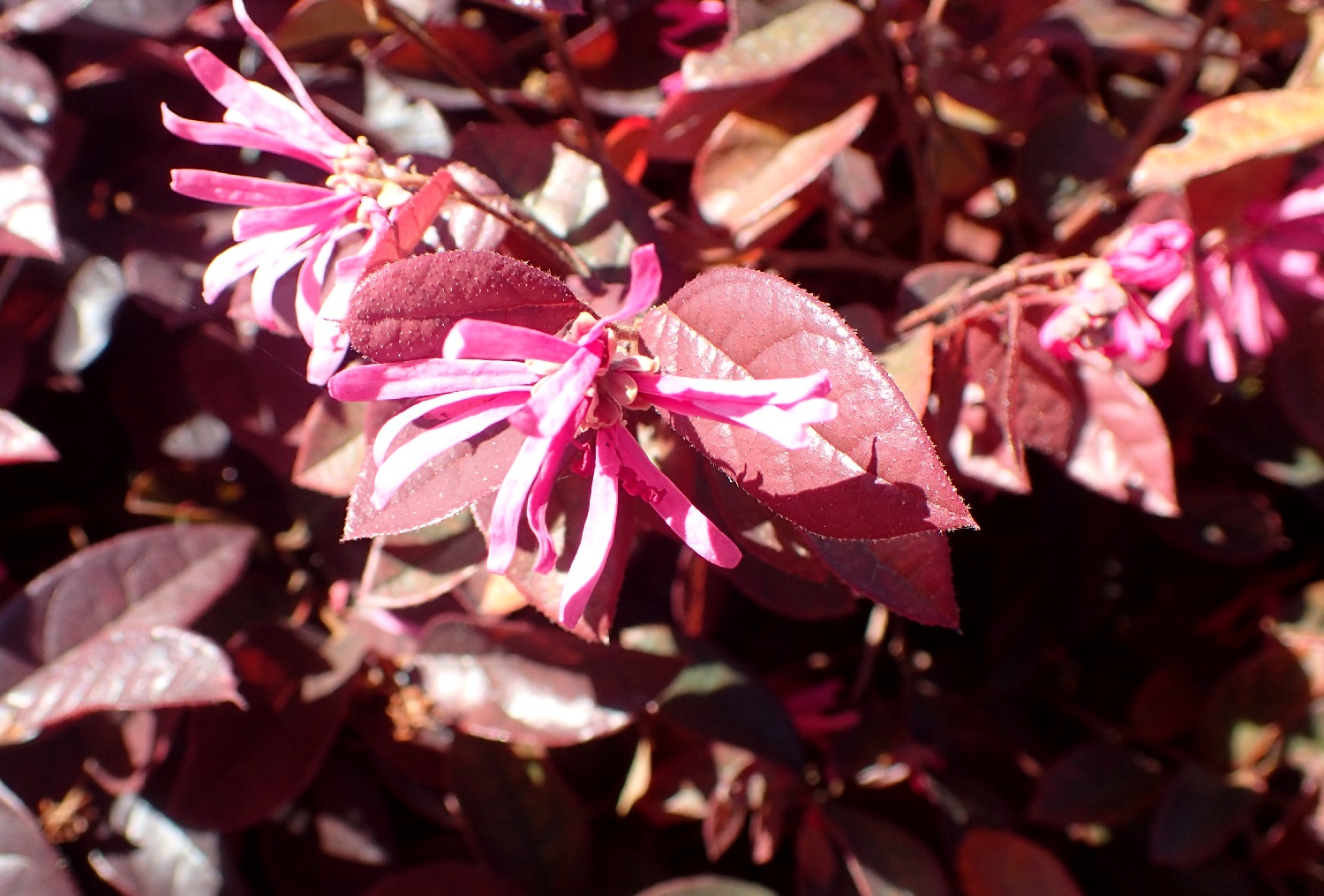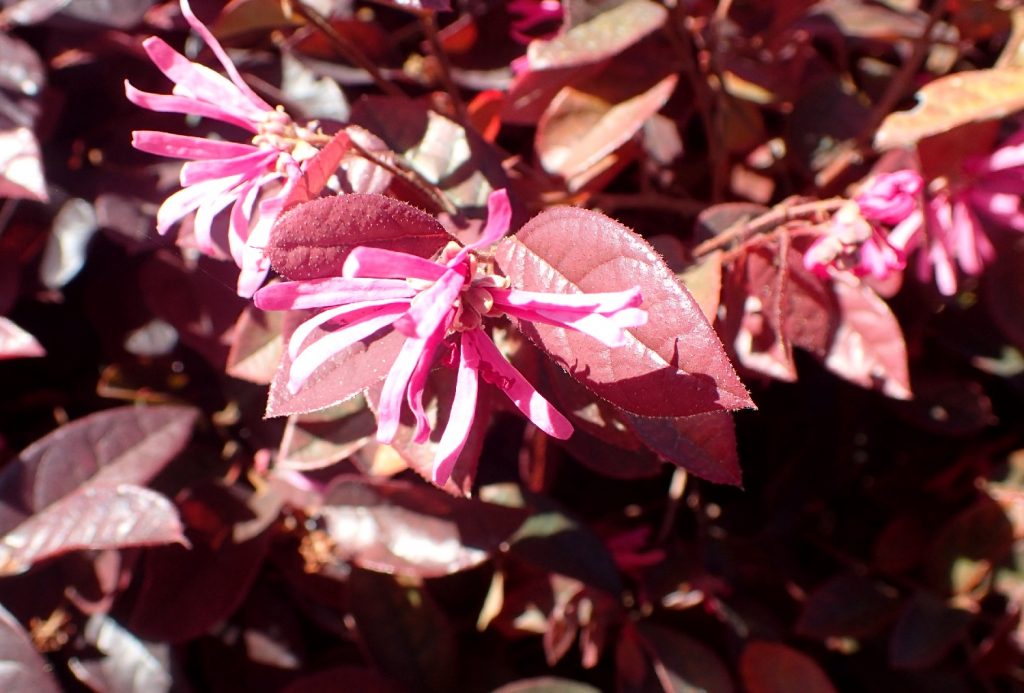 Tips for growing red evergreen shrubs
Red evergreen shrubs are just as easy to grow and care for as traditional green evergreen shrubs (and purple evergreen shrubs, too, for that matter!). For best results, grow your red evergreens in well-draining soil, as these plants don't perform well when grown in soggy ground. And, whichever shrub you choose, be sure to follow its specific planting instructions to make sure it starts off right.
All in all, red evergreen shrubs are a low-maintenance way to add some color to your landscape throughout the year. You don't have to be a professional landscaper to get these beauties to grow. They're hardy bushes that, once established, will take care of themselves all while turning your backyard into a plant lover's dream.