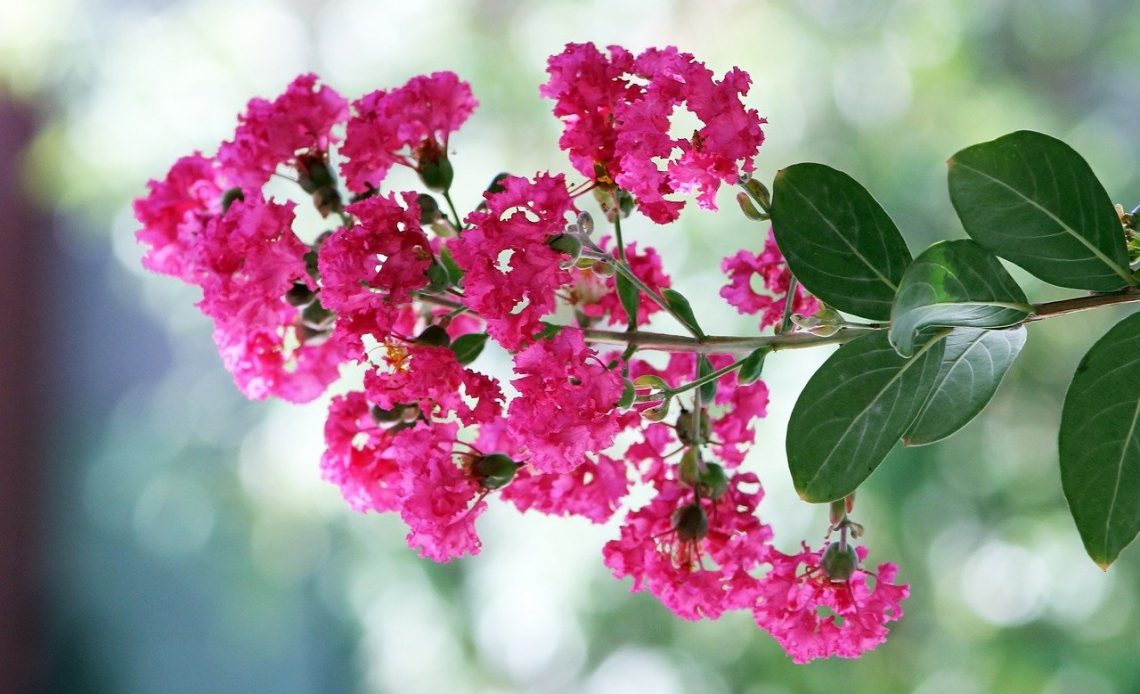 We're here to help! Wild Yards is a completely free website that is 100% dedicated to helping you create a wildlife-friendly, sustainable yard. Read more
WildYards is reader-supported. When you buy a product through a link on our site, we may earn a comission. Every product is independently selected by our (obsessive) editors and our reviews are unbiased and objective. Read more about our mission or our privacy policy.
As warmer weather washes in, it's only reasonable that you'd want to welcome beautiful birds such as the hummingbird into your yard. As it happens, these avians love a wide variety of nectar-rich flowers and plants! But among the different blooms and flowers in your backyard, will crepe myrtles attract hummingbirds?
Yes – crepe myrtles (and crape myrtles) are beautiful trees and plants that produce flowers hummingbirds adore. In fact, they can attract more than hummingbirds alone, if you're interested in building up a garden safari!
In this complete guide, we will take a look at what you need to know about attracting hummingbirds to your garden with crepe myrtles. Why not take a look at our tips on shrubs that attract hummingbirds, too?
What Are Crepe Myrtles?
Crepe myrtles, or crape myrtles, are stunning trees and bushes that you will normally find growing towards the southern states. They produce explosive bundles of flowers in pink, red, purple and white, generally from July through to early fall. If you live and grow flowers in zones 6 through 10, you'll likely find growing crepe myrtles to be fairly simple.
Crepe myrtles can grow to be truly towering. Some will reach up to 30 feet in height – while the smaller bushes and shrubs will normally peak at around five feet tall. Therefore, whether you'd like a tall tree or a simple shrub or two, there are plenty of crepe myrtles to choose from.
These plants are also known by their Latin, the Lagerstroemia indica – and they really do thrive in the full sunshine. It's extremely hardy in the heat, which is why you'll find crepe myrtles propagating healthily in the south.
Why Do Hummingbirds Like Crepe Myrtles?
Firstly, it's all to do with nectar. Hummingbirds are always on the hunt for some sweet food, and given the fact that crepe myrtles bloom so fiercely across late summer into early fall, they are ever-present favorites of these birds. What's more, you'll likely find a crepe myrtle tree or bush attracts butterflies, insects and bees from far and wide. Therefore, it tends to be a great pick for backyard cultivators looking for a wide variety of bugs and beasties.
Crepe myrtles are dazzlingly colorful, which is one of the main reasons why they catch the eyes of hummingbirds so often. However, the flowers of the crepe myrtle don't grow the tubular shapes that hummers are so drawn to. Despite the fact their flowers don't necessarily fit the hummingbird beak exclusively, that doesn't mean they won't still pull in the odd flutterer!
In fact, crepe myrtles are just some of many flowers and plant species that attract hummingbirds without actively showing off tubular shapes. If you're interested in attracting hummingbirds with Rose of Sharon, for example, you'll notice the exact same phenomenon!
It's all to the power of the crepe myrtle – while its flower shape may not be ideal for hummingbird beaks, it's bright and fragrant enough to attract them season after season.
Some Tips on Growing Crepe Myrtles
Given that crepe myrtle trees are often very tall and are also impressively wide, it is well worth thinking carefully about the size of plant you wish to grow. Dwarf crepe myrtles can grow up to five feet tall, but may be as small as two feet, if you prefer a smaller shrub.
As mentioned, crepe myrtles love the sunshine. You can safely grow this plant in the full glare of the light and water liberally as with other plants. The golden rule with crepe myrtles is the more sun they get, the more chance you'll get a bigger crop of flowers. Six hours in the sun each day will normally be healthy for these plants.
You can, believe it or not, plant crepe myrtles all year round. However, it's normally best to get them in the soil at the end of the season, or at the very start. When it comes to pruning these trees back, wintertime tends to be the pivotal season. On the whole, it's worth pruning crepe plants to create shapes – as you can do serious damage if you prune too much.
Once you've got your crepe myrtle in a prime position – and with plenty of drainage – you can expect the plant to grow an extra two to three feet every year!
Interested in Attracting Hummingbirds with Crepe Myrtles?
Crepe myrtles are reliable trees and bushes that will – with very little effort – keep hummingbirds coming back to your yard every year. The great news is, they will only ever need a little pruning, and regular watering as you'd expect. Leave them out in the sun and watch them grow!
Hummingbirds adore crepe myrtles – as do butterflies – making them a great all-round choice for wild gardeners. Do you have crepe myrtles of your own? What are your experiences with attracting hummingbirds? Be sure to let us know in the comments below.