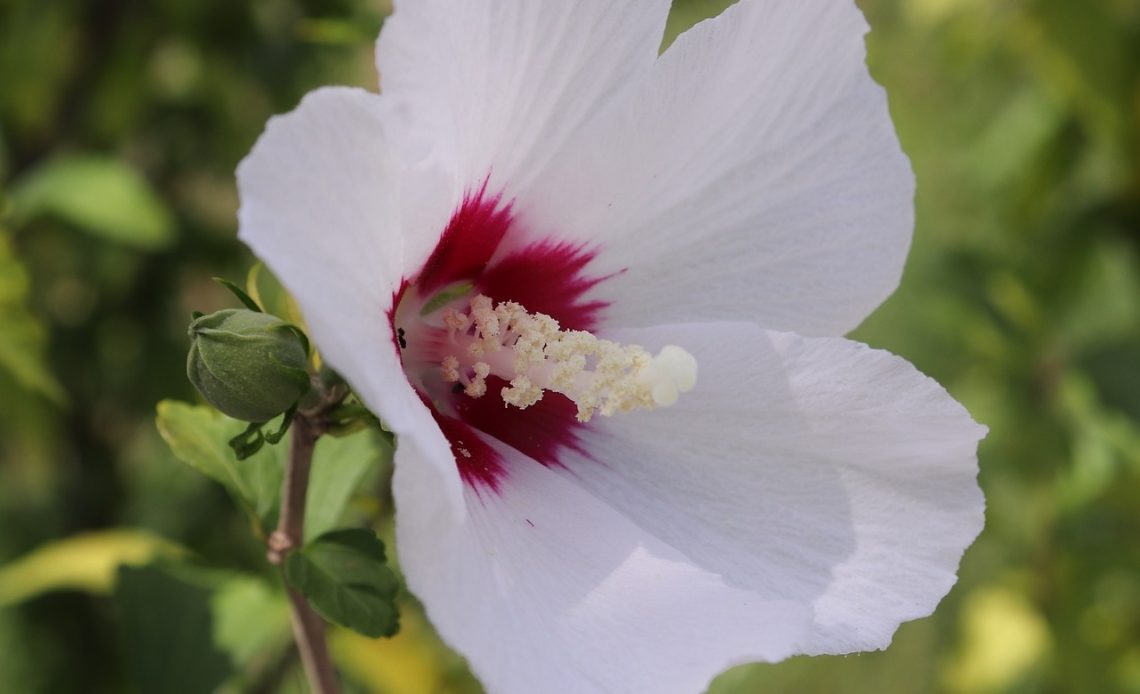 We're here to help! Wild Yards is a completely free website that is 100% dedicated to helping you create a wildlife-friendly, sustainable yard. Read more
WildYards is reader-supported. When you buy a product through a link on our site, we may earn a comission. Every product is independently selected by our (obsessive) editors and our reviews are unbiased and objective. Read more about our mission or our privacy policy.
If you're keen to attract gorgeous hummingbirds into your backyard, you'll be pleased to know that these critters adore a huge variety of different plants and flowers! But – does Rose of Sharon attract hummingbirds, or is that just a myth?
Great news – Rose of Sharon, a type of hibiscus, does attract hummingbirds! They especially love the flowers for their bright colors, their high nectar content, and their ease of feeding.
In fact, you may find that Rose of Sharon attracts a variety of other creatures you'll be excited to welcome into your garden. In this guide, we'll take a closer look at why hummingbirds love these flowers so much.
What is Rose of Sharon?
Rose of Sharon is also known by the Latin name Hibiscus syriacus. Hibiscus flowers tend to come in two main varieties, both hardy and tropical – and on the whole, the Rose of Sharon is a particularly robust specimen.
Some people refer to the plant and flower as the Althea, too – and you will generally find their blooms produce gorgeous whites, reds, purples and pinks in peak season. The Rose of Sharon is a big fan of summer warmth as well.
You'll normally find that Rose of Sharon grows in the wilds of East Asia, however, it propagates well across many zones in the US. You'll normally do well to grow Rose of Sharon in zones 5 through 9 on the USDA hardiness scale.
Did you also know that it's Korea's National Flower? They are truly stunning – we'd choose it ten times over!
Why Do Hummingbirds Love Rose of Sharon?
As explained in our guide to attracting hummingbirds with hibiscus, this type of plant and flower is a firm favourite of the tiny flutterers. However, what's really interesting about Rose of Sharon is that – while it is easy for hummingbirds to feed from – its flowers aren't the tubular shapes these birds flock to most.
In fact, Rose of Sharon blooms tend to be rather flat, though they are extremely vibrant and give off a lovely smell. It's also a late bloomer, tending to sprout and flower towards the end of the main summer growth season.
Hummingbirds enjoy Rose of Sharon flowers because they are so predictable – they're relied on for lots of rich nectar during a period of low food in plants and flowers otherwise. It's not unheard of for hummingbirds to start fighting over a Rose of Sharon flower or two!
Tips for Growing Rose of Sharon
The first thing to remember with Rose of Sharon is that it can grow into either a bush or tree shape. It's a thick-growing plant that can often grow to be very tall – maybe eight or nine feet if you take good care of it.
Rose of Sharon tends to be a little slow at growing, which means you won't always see it start blooming for some time. It may not even start producing leaves into late season, either!
One point you must absolutely remember when growing Rose of Sharon plants is that they must be clearly drained. Drainage for these plants needs to be precise – they are not sensitive to the sunshine or heat like some other hibiscus, however, they are sensitive to overwatering. Therefore, take care to water them carefully, and if you start noticing yellow tinges to their leaves, it's a sign you will need to scale things back a little.
It's perfectly fine to plant and house Rose of Sharon in full sun, or even a little bit of shade. Just don't be alarmed if you don't start noticing leaves or flowers emerging until the summer. In the meantime, it may be a good idea to line up a few shade plants that attract hummingbirds, too.
Finally, be careful with other plants and shrubs in your backyard – as Rose of Sharon can show invasive territories depending on where you live. Be sure to consult local advice if you're unsure what to do.
Welcome Hummingbirds Through Summer and Fall
The Rose of Sharon is delightful on the eyes, and is especially appealing to nectar-hunting hummingbirds. With careful watering and maintenance, you'll soon find it's a reliable attractor for butterflies and insects, too.
Have you started attracting hummingbirds to your backyard with Rose of Sharon or other hibiscus? Let us know in the comments!