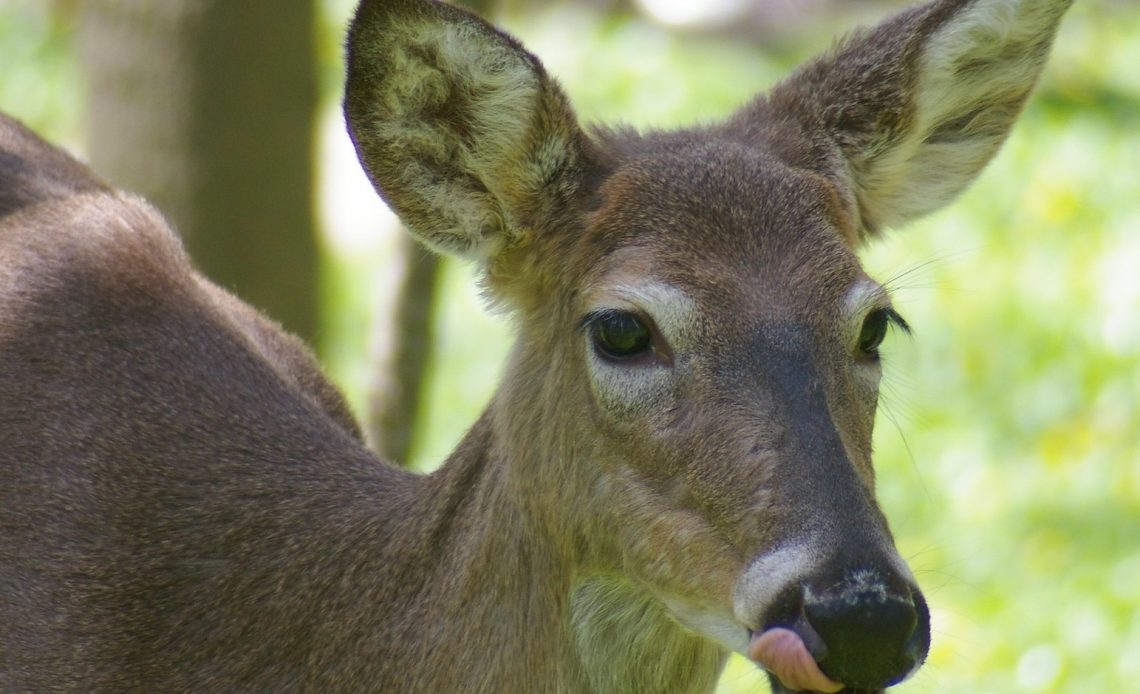 We're here to help! Wild Yards is a completely free website that is 100% dedicated to helping you create a wildlife-friendly, sustainable yard. Read more
WildYards is reader-supported. When you buy a product through a link on our site, we may earn a comission. Every product is independently selected by our (obsessive) editors and our reviews are unbiased and objective. Read more about our mission or our privacy policy.
Whether you like photographing or simply watching deer, it is always a good idea to know how to attract them humanely. Peanut butter, for example, is a popular choice in deer attractant in the wild – but does peanut butter attract deer if you just want them to visit your yard?
Deer love peanut butter. It can help to make your wild yard a little more appealing to them, and may even encourage your visitors to return regularly. It's not only creamy and tasty but it's also packed with fantastic vitamins and minerals. It's essential to use it sparingly in your yard, but providing you take care to set up a deer-friendly space, you can rely on peanut butter as an added treat for your guests.
Why should I attract deer with peanut butter?
Peanut butter not only carries a strong scent and an appealing taste, but it can also be healthy for wild deer to enjoy sparingly. It is best to opt for low-salt peanut butter, but either soft or crunchy will do. Peanut butter can be especially good for deer in the winter months as the oils, high protein, and fat will help sustain them. However, your deer visitors will need a balanced diet, which is why growing a wild lawn will work well alongside (as they'll get a healthy dose of vegetation).
PB's smell plays a strong part in why it's such a great lure for deer. One of the problems you may experience in attracting deer to your garden is that humans carry strong scents we might not always notice. Since deer have generally come to fear people as potential threats, they will usually run the other way at even the slightest scent of a person nearby. Worse, in fact, they may attack – or, simply not come to your yard at all (at best). Therefore, peanut butter is great for covering up your scent. If you leave too much of a mark, you'll have trouble attracting deer to your yard at all.
Peanut butter is very easy to come by in most stores and is generally very affordable. Therefore, many wild yard owners (and hunters) may choose a jar or two to save on more expensive deer attractants. That said, it's just as important you set up your yard to attract deer without the need for bait, ensuring it's open to them with plants they prefer and plenty of shade. Spreading a little PB on its own here and there won't ever guarantee deer visits.
How to use peanut butter to attract deer
Firstly, ensure to use creamy, soft peanut butter that's high in protein and organic where possible. Artificial flavorings, high salt, and sugar are never healthy for wild animals – meaning you can make a conscious decision to treat deer to a healthy mix.
One of the quickest ways to attract deer with peanut butter is to smear some on a tree. There are plenty of trees that appeal to deer, such as oaks and persimmons – meaning you can combine the two attractants together if appropriate. This should be smeared lightly at waist height so that deer won't have to reach too high to lick it off. Choose a tree or trees that are close to the edge of your yard's opening.
You can also feed deer with peanut butter through your own feeders, or even by screwing PB jars into trees. Some hunters swear by screwing jar lids into trees, reattaching the jars, and then cutting the bottoms out. This, hypothetically, allows deer to help themselves to lick around inside. However, it's understandable that you may not wish to damage the trees in your yard in such a way.
Deer feeders are readily available to buy in stores and online, but you can also set up an empty coffee can with a mix of PB inside for deer to help themselves. All you need to do is wait for the weather to be warm enough to melt the mixture in the sun. Otherwise, the peanut butter will simply harden, and you will have a much harder time attracting visitors.
You may also consider using molasses to attract deer, too. You can easily mix PB and molasses together in the same jar or feeder – and like peanut butter, it's typically very easy to come by in pet stores as well as online. It also carries a strong scent and a sweet taste that many deer likely find attractive. You may find that your local deer return frequently looking for their feeder!
A reason for this may be that deer love a complex variety in their diet. If you set up too much food or too many treats that are familiar to your local deer elsewhere, there's nothing to discern your garden from other wide-open spaces. Think of yourself as a salesperson – you're pitching a yard and deer feed to the local wildlife, and you need to make it worth their while.
Is it legal to feed deer peanut butter?
Peanut butter or not, some states prohibit feeding and baiting deer altogether. You will need to enquire with your local wildlife authorities about whether or not you can set up feeding stations. States such as Minnesota have blanket deer attractant bans in place, too.
The reasons for these restrictions vary – mainly in the interest of public safety (lowering deer attacks and spread of disease) and keeping deer populations in check. In any case, always check your local laws.
Is peanut butter the best deer attractant?
Peanut butter is a favored attractant among deer hunters and wild yard owners. However, it doesn't always have a 100% success rate. That's why it's important to ensure your yard appeals to deer in other ways. For example, did you know that you can also attract deer with vanilla extract?
It's also worthwhile considering plants that attract deer, too – as while these animals do enjoy feasting on all kinds of greenery, there are a few plants and flowers they prefer over others. Providing your yard is shaded and you cover your scent, there's no reason why PB can't help you bring more of these wonderful animals to your garden.