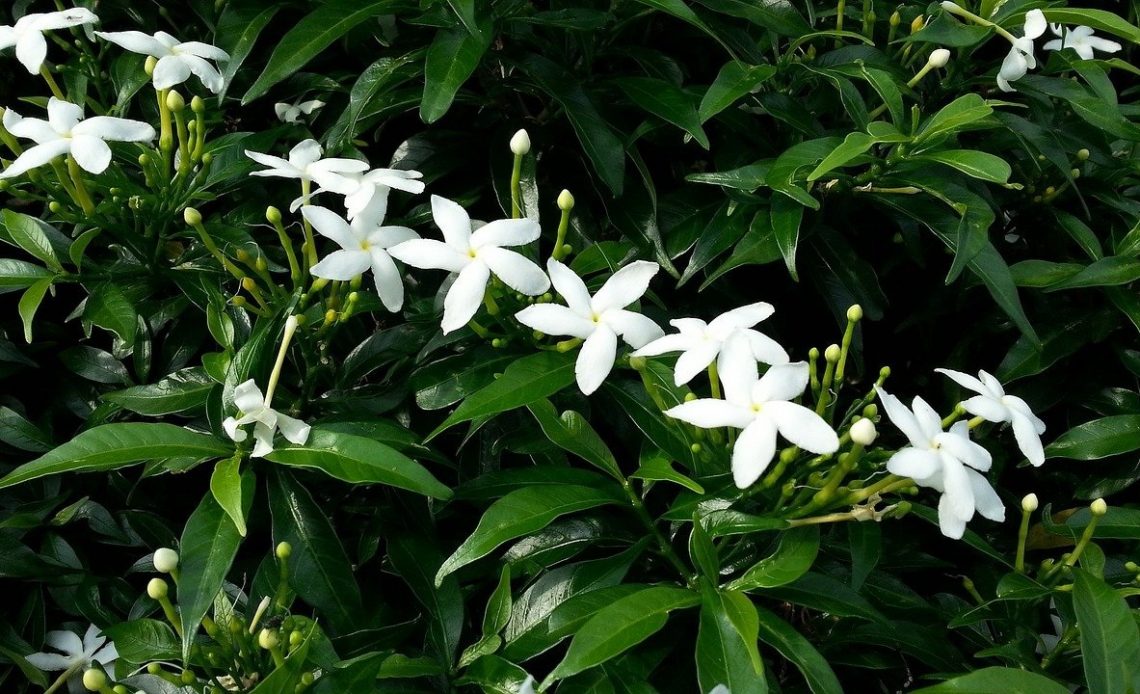 We're here to help! Wild Yards is a completely free website that is 100% dedicated to helping you create a wildlife-friendly, sustainable yard. Read more
WildYards is reader-supported. When you buy a product through a link on our site, we may earn a comission. Every product is independently selected by our (obsessive) editors and our reviews are unbiased and objective. Read more about our mission or our privacy policy.
Star jasmine, or confederate jasmine, is one of the most stunning garden vines you'll be able to grow across the states. It's a super-fast growing vine, and many people building their own backyards and gardens will likely be wondering whether or not it can bring wildlife flocking. Does star jasmine attract bees, for example?
Yes, star jasmine will attract bees, largely thanks to the fact that they are extremely sweet-smelling. What's more, its flowers are often abundant in nectar – which will likely keep your bees coming back for more.
Let's take a look at what star jasmine can bring to your garden, and why it might be a fantastic pick for your wild yard setup.
What is star jasmine?
Star jasmine is also known by its Latin name, Trachelospermum jasminoides, and is a type of vine that's thought to be an Apocynaceae. This plant is well-known for being extremely quick to grow and at heights and lengths you may not necessarily be expecting!
Star jasmine is often easy to spot thanks to its lush, green leaves and its gentle, star-shaped flowers (hence its name). These flowers tend to be white to cream in color and can work wonderfully as a background spray.
This vine's flowers are very easy to smell from afar, producing some of the sweetest smells in the garden – despite the fact that, individually, the blooms are only around an inch wide at largest!
Star jasmine may be considered an invasive plant to some extent. It's seen growing all over the world, naturally springing up across parts of Asia and Central America. It's also considered a very popular potted plant, particularly in non-native zones such as wider Europe.
Star jasmine can grow to up to eight meters in height, meaning it is a very good idea to make sure you have the space to let it climb up. Believe it or not, it can take up to ten years for a star jasmine to reach its full growth potential – incredible!
Why do bees love star jasmine?
Bees love star jasmine and associated vines thanks to their abundant nectar. As mentioned, one of the most appealing characteristics of this plant is the fact that its seemingly-unassuming blooms are so fragrant. That alone, of course, is going to attract bees!
Thankfully, their visit to a star jasmine flower or two is never likely to be a wasted one. Rich in resources for their hives, setting up a vine or two of this plant will normally ensure you get regular visitations.
However, do keep in mind that, as the star jasmine is so fragrant, it will likely attract wasps and other insects, too. Therefore, don't be surprised if you see other striped minibeasts lurking around your blooms in the months to come.
Is star jasmine easy to grow and care for?
Star jasmine is one of the easiest vines to grow if you live in USDA zones eight, nine or ten. In these zones, the plant will likely persist well on its own, with very little direct care or intervention needed. However, as with many vines, you will need to make sure that you prune them carefully. This, again, is as a result of their nature as a potentially invasive plant.
What's more, vines can have a habit of growing out of control if you don't care for them on a schedule. Generally, you will find that star jasmine starts producing its flowers towards the end of spring, likely around May to June.
Regular watering is a must, at least once each week, and you'll need to give the plant as much sun as possible to ensure that its flowers emerge to their full potential. Star jasmine can work well as a potted plant, and will need good drainage to persist. If you take clippings of this plant, you can even start growing and propagating it elsewhere in your garden.
If you're worried about the cold getting to a star jasmine vine, don't be. This plant really does weather the deep freeze very well, meaning that for the most part, you can leave it alone. That is, until it starts growing out of all control!
Is star jasmine the best plant to attract bees with?
Star jasmine is one of many different blooming plants that bees absolutely adore to get nectar from. As mentioned, you may be welcoming a few other critters, too – but providing you care for your jasmine properly, there are no reasons why you won't start welcoming bees into your garden.
However, consider mixing things up a little with a few other plants and flowers that bees can get nectar from regularly. Bees love clematis plants, for example!
Caring for bees as they approach your garden can take time and effort, but it's a very rewarding hobby. Of course, it pays to be careful – as bees can sting through clothing – so when you are tending to your vines and other plants, be sure to move slowly.
Do you grow star jasmine in your backyard? What are your experiences with welcoming bees to your vines?