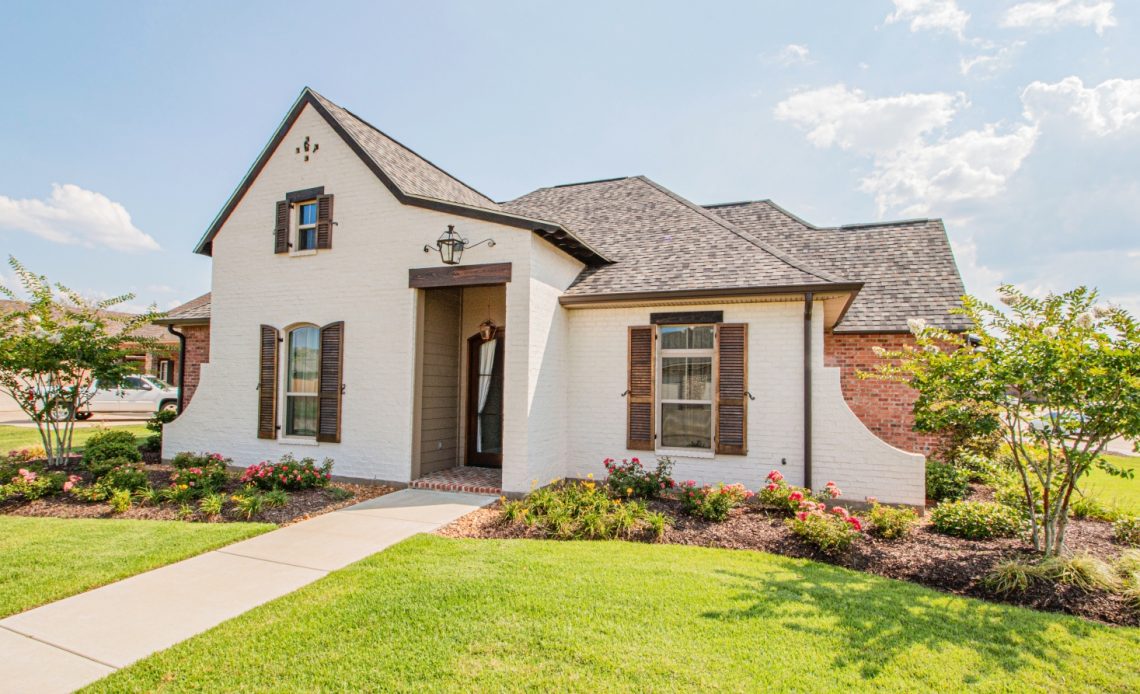 We're here to help! Wild Yards is a completely free website that is 100% dedicated to helping you create a wildlife-friendly, sustainable yard. Read more
WildYards is reader-supported. When you buy a product through a link on our site, we may earn a comission. Every product is independently selected by our (obsessive) editors and our reviews are unbiased and objective. Read more about our mission or our privacy policy.
Owning a home is a lot of responsibility, but one of the fun parts of home ownership is getting to landscape your yard just the way you want it. Although, maybe "fun" isn't quite the right word to describe it, because it can also be overwhelming. If you haven't got much time to devote to lawn care, but still want a gorgeous landscape, then you may be wondering how to get the best of both worlds. Fortunately, there are many low-maintenance foundation plants that you can use to achieve the landscaping look you want, without all the hassle.
Evergreens like juniper and boxwood provide year-round foliage, while flowering shrubs, including Endless Summer Hydrangeas and Double Play Doozie Spirea, add a dash of color. Use ornamental grasses and perennials, like daylilies and irises, to round out the cast of players, with groundcover like creeping thyme, to fill in the empty spaces.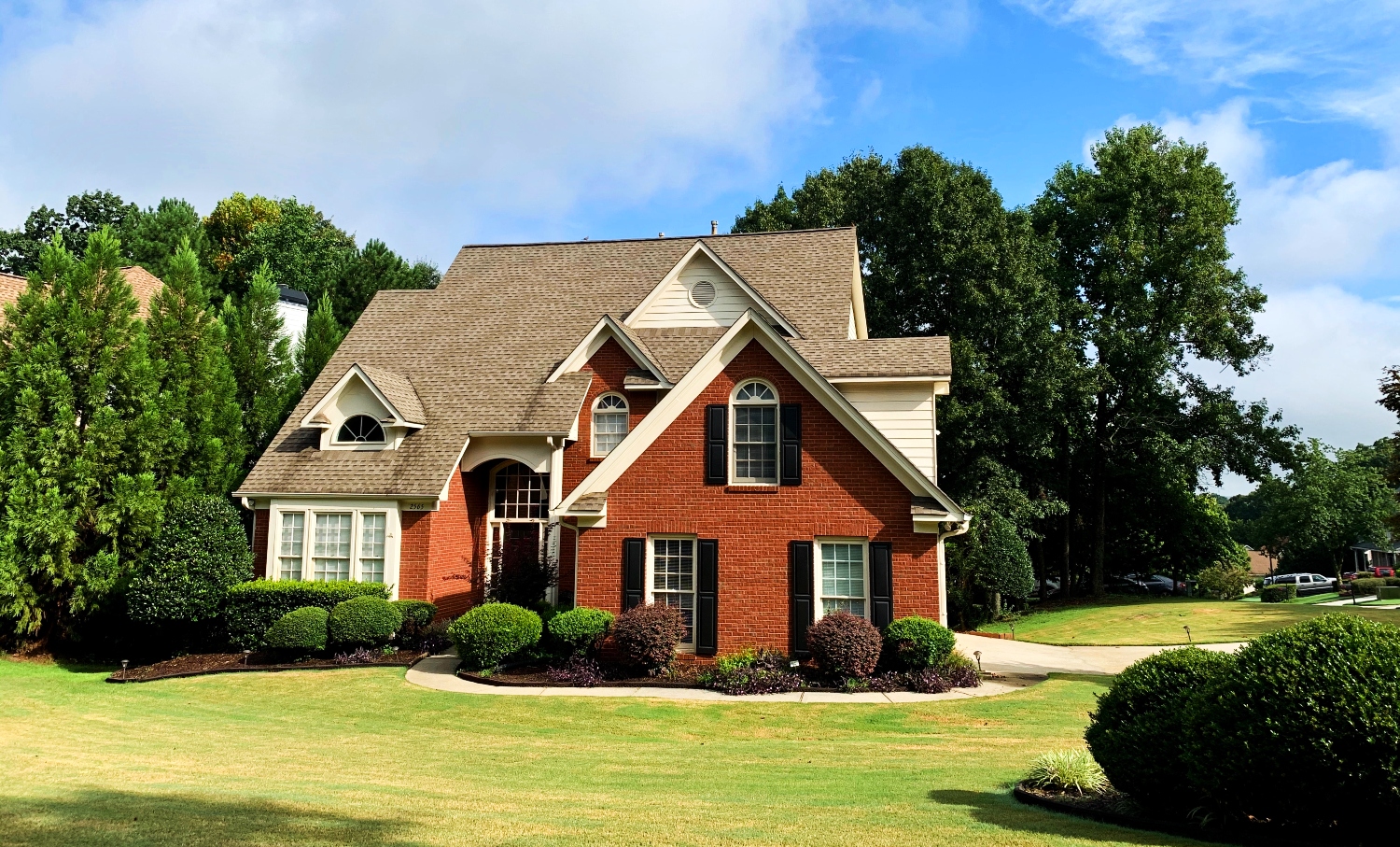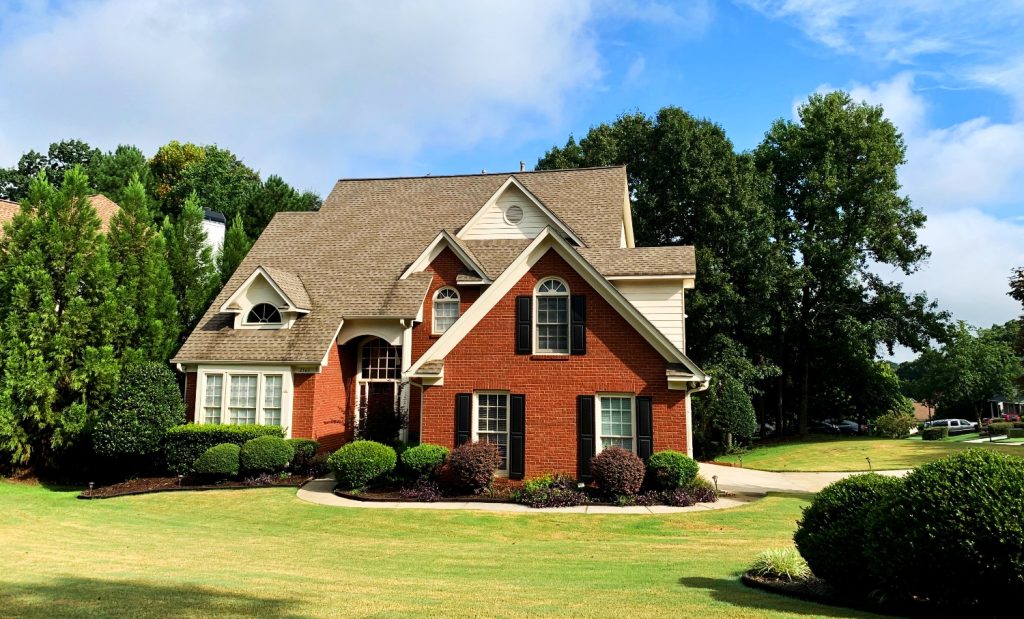 What is foundation planting?
Before we explore some low-maintenance foundation plants, let's first talk about just what foundation planting is. Your home sits on a foundation, whether it's on a concrete slab or a pier-and-beam base. It's what keeps your home level and anchors it to the ground. It's the bottommost layer from which your interior and exterior walls get their strength, and it's what enables those walls to support your roof. Your foundation is an essential part of your home. Unfortunately, it can also be unsightly.
Rather than leave their home's foundation right out in the open, most homeowners rely on landscaping to help conceal it. But in addition to improving the appearance of your home, landscaping around your home has the added advantage of preventing erosion, which can contribute to foundational issues down the line.
Basically, foundation planting is dressing up the perimeter of your home to hide the ugly parts and provide your home with support so you don't have to worry about foundation problems in the years to come.
Best low-maintenance foundation plants
Now that you know what foundation planting is, and how it can actually be an investment in your home's future, let's take a look at some of the best low-maintenance plants for your landscape.
Flowering Shrubs
Let's start with the fun stuff! Flowering shrubs provide your landscape with vibrant color from spring to summer, helping to attract native wildlife, including bees, butterflies, and hummingbirds. For a fuss-free yard, choose the following low-maintenance foundation plants for your landscaping.
Endless Summer Hydrangea (zones 4 through 9)
A variety of bigleaf hydrangea, the Endless Summer Hydrangea is an ideal low-maintenance foundation plant because it requires very little care, yet continues blooming from early summer through fall. Endless Summer Hydrangeas produce pink and blue flower heads. In acidic soils, the flowers will be blue, and in alkaline soils, the flowers will be pink. In neutral soils, plants can produce both colors at once.
Because Endless Summer Hydrangeas bloom on new and old growth, they're easy to shape. Prune these plants in late winter to stimulate new growth the following season. These plants grow best where they can receive plenty of morning sun, but have enough shade in the afternoons to protect them from extreme heat. In ideal conditions, Endless Summer Hydrangeas can reach 3 to 5 feet tall by as many feet wide.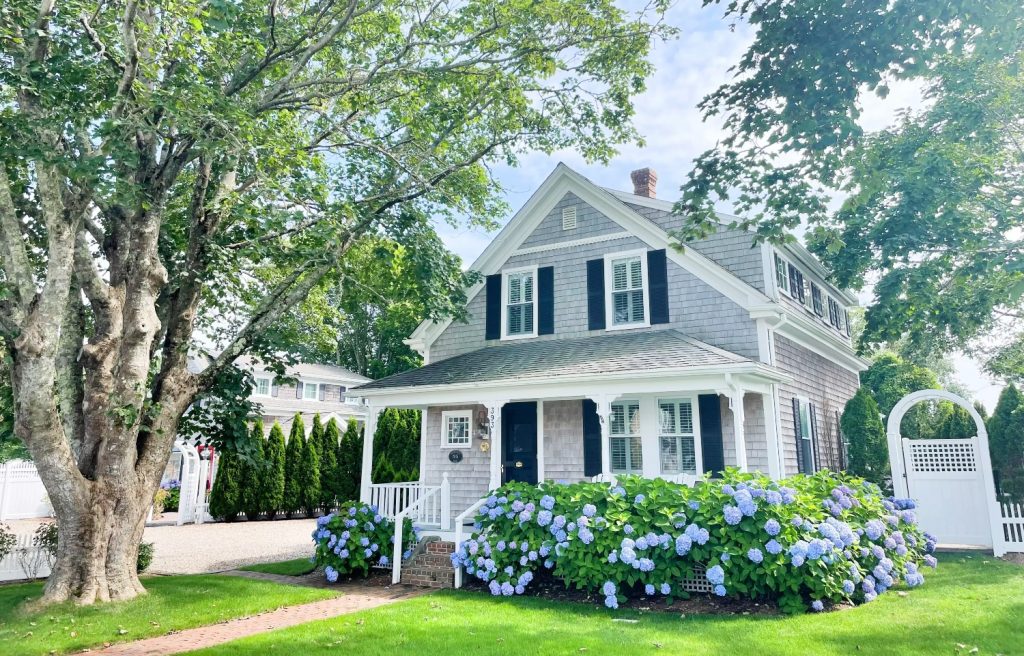 Double Play Doozie Spirea (zones 4 through 8)
If your yard gets more sunlight than shade, Double Play Doozie spirea is tough enough to take the heat. This hardy shrub can tolerate a wide range of temperatures, from snowy winters to hot, humid summers, making it well-suited to a variety of landscapes. Plants bloom in late spring to early summer, producing fragrant clusters of pink to red flowers that are a hit with pollinating insects.
Double Play Doozie Spirea is a compact shrub, ideal for smaller landscapes. These plants grow on average 2 to 3 feet tall and wide. They make an eye-catching low-growing shrub, thanks to their dense foliage. The Double Play Doozie spirea is such a low-maintenance foundation plant all you have to do is keep it watered. But annual pruning in late winter encourages the plant to produce more blooms in spring.
Knock Out Roses (zones 5 through 11)
Roses are always a popular choice for landscaping, and it's not hard to see why. These showy flowers produce a tantalizingly sweet fragrance that makes them popular with homeowners and wildlife. And, with Knock Out Roses, you get more blossoms per season. Knock Out Roses come in pink, red, coral, yellow, and white. They run the gamut from delicate pastels to deep, dramatic hues, making them suitable for a variety of landscapes.
At maturity, Knock Our Roses average 5 feet tall by 3 to 4 feet wide. These plants have a rounded growth habit producing dense foliage and scads of blossoms and can tolerate full sun to partial shade. Overall, Knock Out Roses require very little attention, although pruning plants back to a third of their growth in late winter can dramatically improve their performance the following season.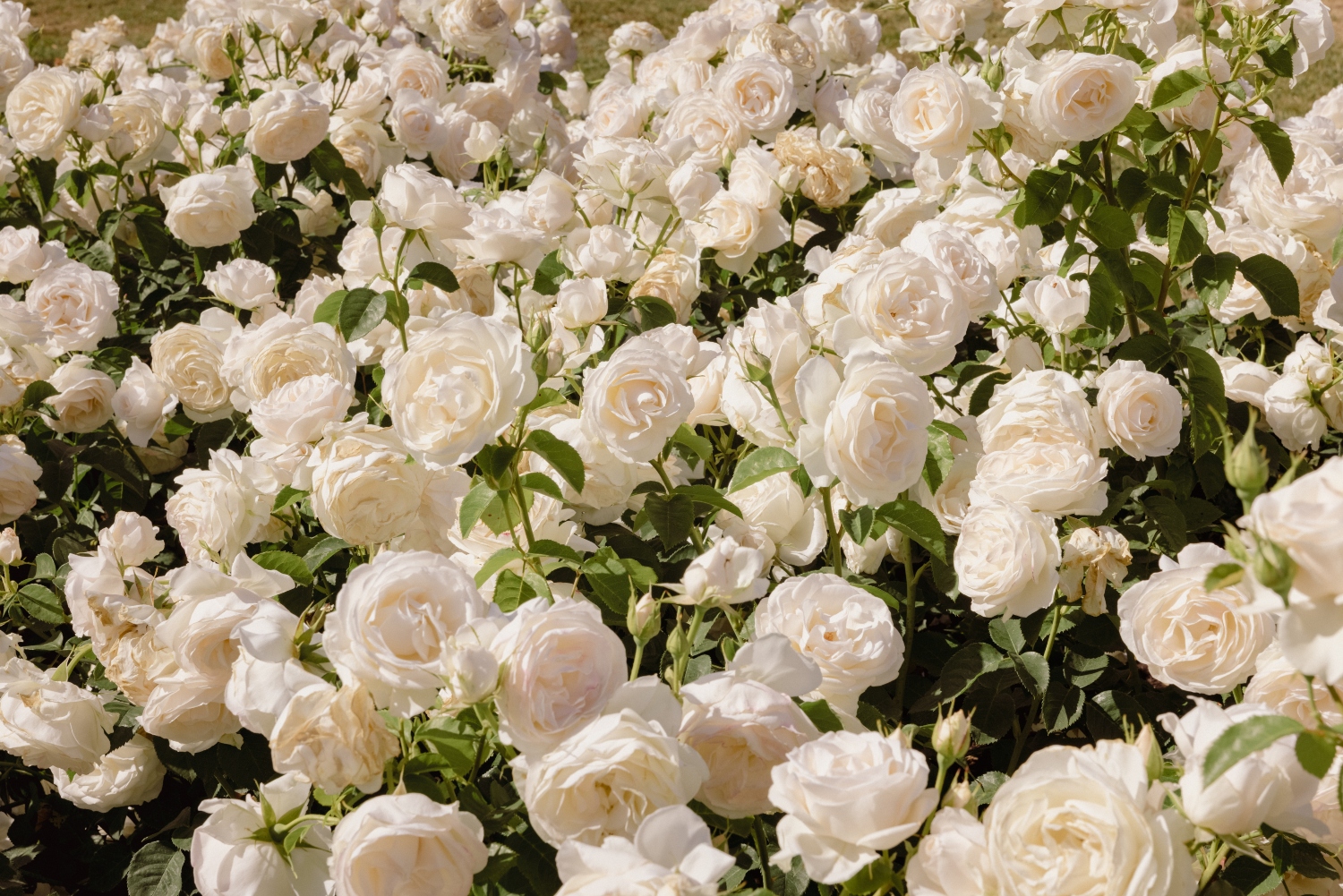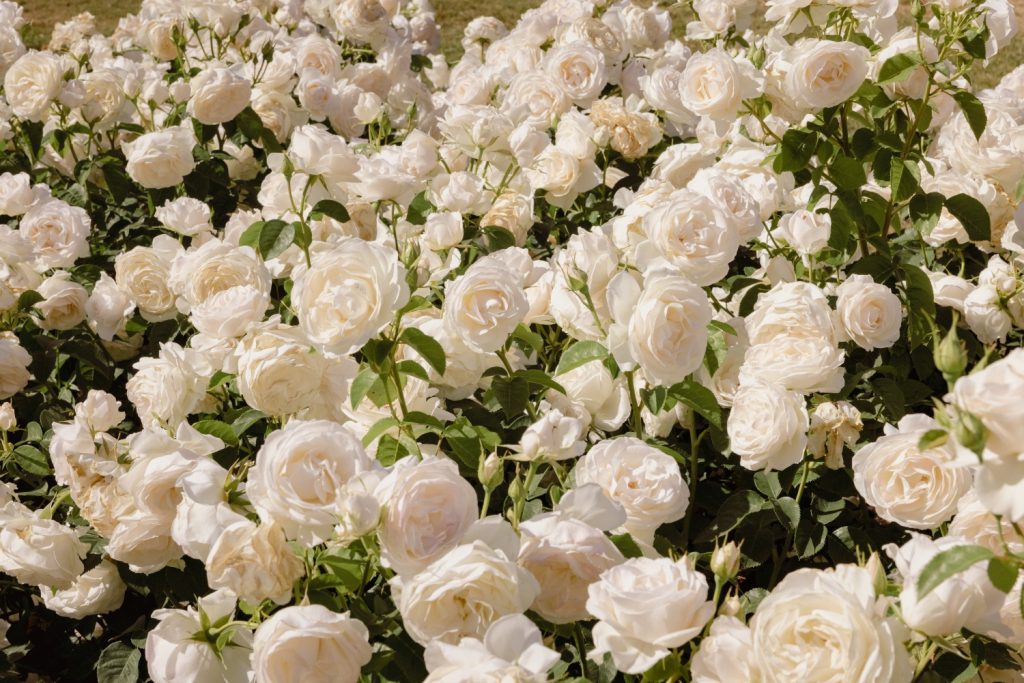 Encore Azaleas (zones 6 through 10)
Have you ever passed a yard full of azaleas in the spring, when the plants are blooming? These plants produce hundreds of white, pink, coral, and purple flowers that can turn any backyard into a gardener's paradise (and a hummingbird's paradise, too!). If you've tried your hand at growing azaleas in the past with little success, try growing Encore Azaleas, instead.
Encore Azaleas are an ideal low-maintenance foundation plant because they're much hardier than other varieties. These plants do just as well in partial sun as they do in the shade, and enjoy extended blooming periods in both spring and fall. Encore Azaleas are tolerant of both hot and cold temperatures. Annual fertilizing in early spring and summer with a balanced fertilizer, like 13-13-13, allows Encore Azaleas to quickly reach their maximum size of 2 to 5 feet tall and wide.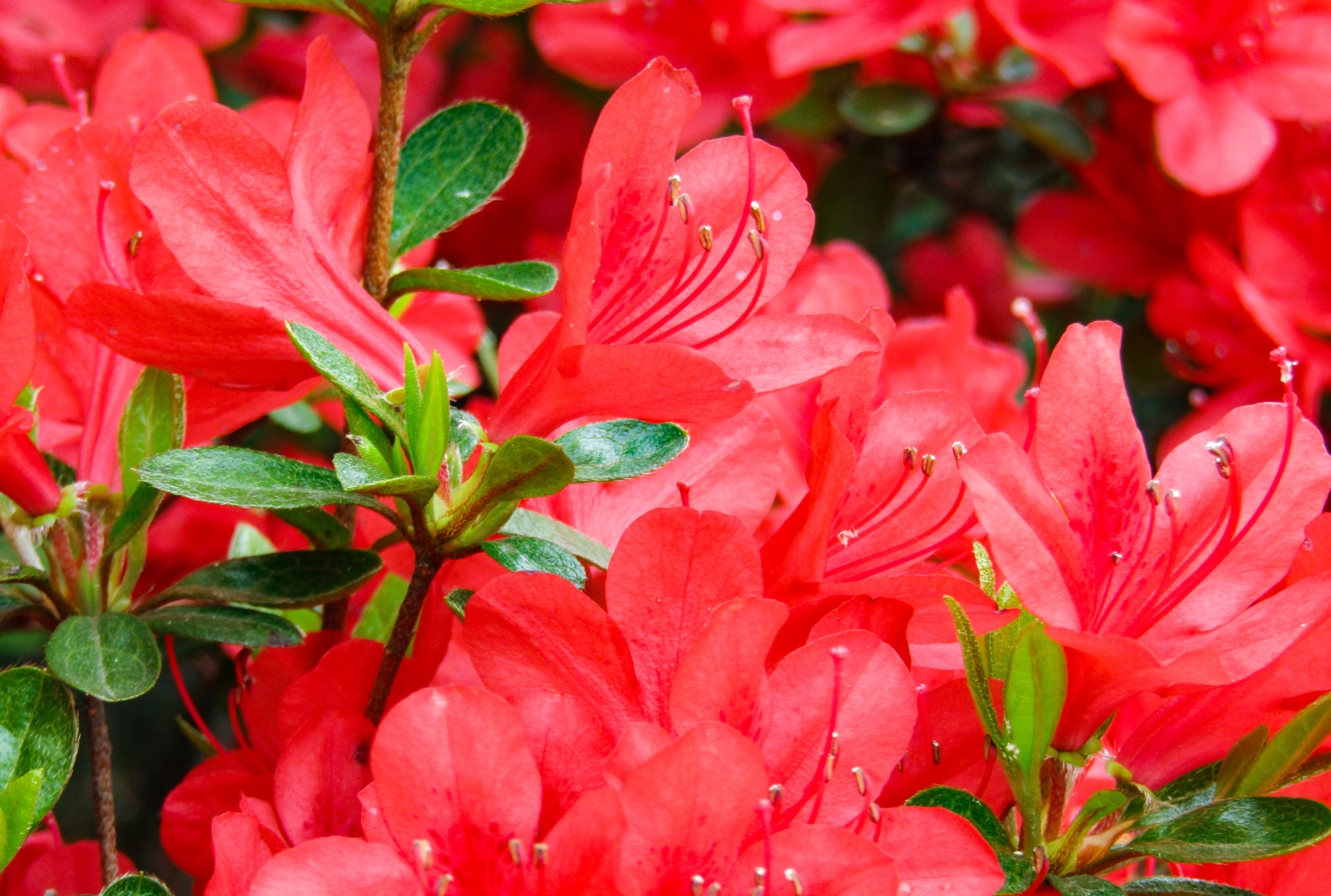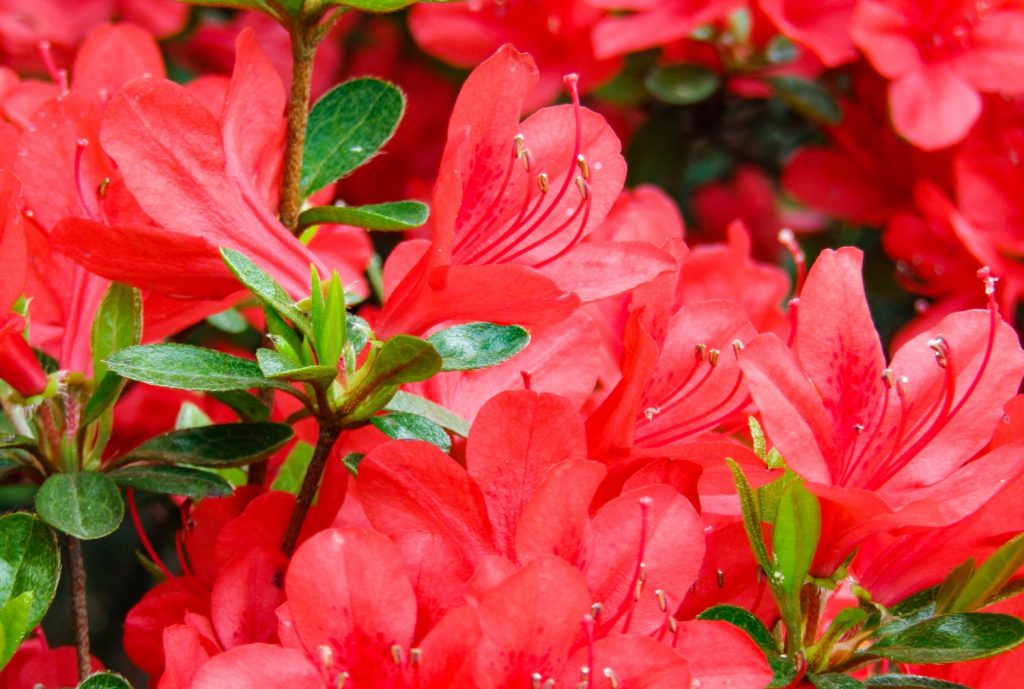 Evergreens
Flowering shrubs may be the star of your landscaping, but evergreens play a valuable supporting role. Use evergreen shrubs and trees to provide a backdrop to your flowering shrubs and keep your garden green during the winter.
Blue Arrow Juniper (zones 4 through 8)
Blue arrow juniper grows well in full to partial sunlight and prefers sandy loam soil that drains well. As long as its growing conditions are met, this plant doesn't require much extra attention. Its natural columnar growth habit allows this plant to stay looking neat all on its own, although extra shaping can give it a manicured appearance if so desired.
Blue arrow juniper has gorgeous blue-green foliage and dense, compact growth, especially when planted in full sun. This plant's unique appearance and low-maintenance nature make it a great choice for homeowners who want a stunning landscape but haven't got the time to baby their ornamentals.
Eastern Red Cedar (zones 2 through 9)
If you're looking for a low-maintenance foundation plant that stays green all year long, look no further than the eastern red cedar. This evergreen is highly adaptable to a variety of soil types, from compacted clay-dense soils to rocky, nutrient-poor ones. This plant is tough to kill, and its self-sufficiency makes it an excellent option for a fuss-free landscape.
Eastern red cedars have a slow to moderate growth rate. At maturity, plants can reach heights of 40 to 50 feet, but they can easily be pruned to maintain a compact appearance. Although eastern red cedars are tolerant of partial shade, for best results, they should be grown in full sun.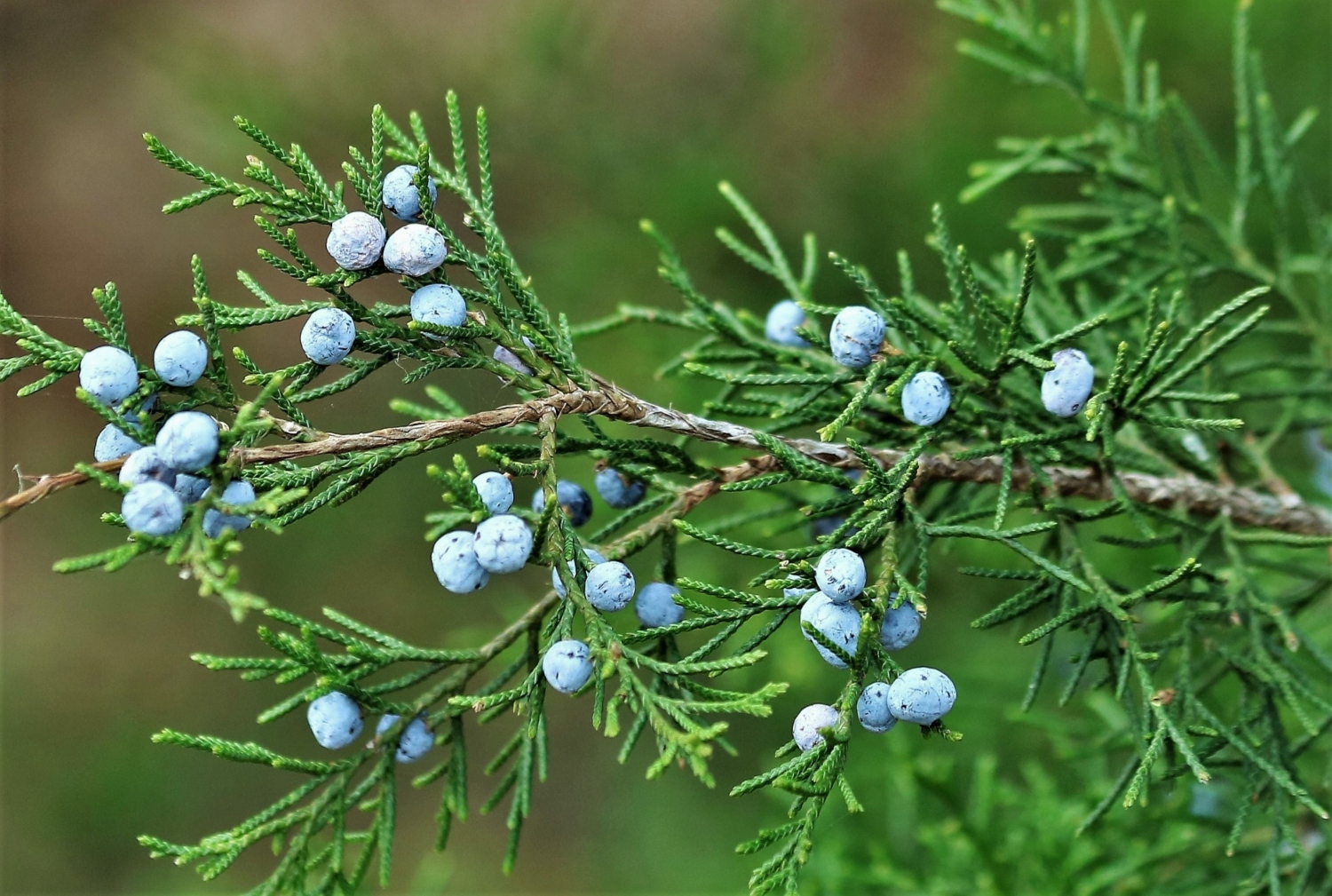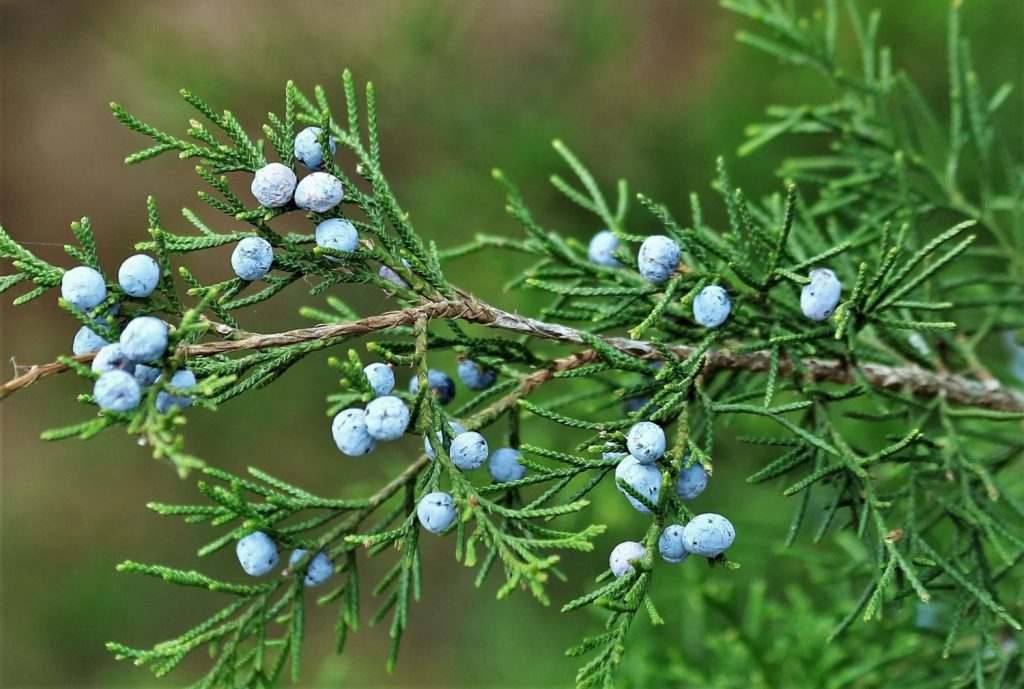 Green Mountain Boxwood (zones 4 through 9)
Green mountain boxwoods are a popular low-maintenance foundation plant option because they're suitable for a variety of soil conditions. These plants grow just as well in nutrient-deficient soils as they do in loamy ones. They're also more tolerant of partial shade than eastern red cedars.
Green mountain boxwoods have a pyramidal growth habit that is easy to maintain. One of the major benefits of growing green mountain boxwoods is that the plant's small, dark green leaves are deer-resistant. At maturity, these plants reach 4 to 5 feet tall and 2 to 3 feet wide, although they can easily be pruned to stay compact depending on how much space you have to work with.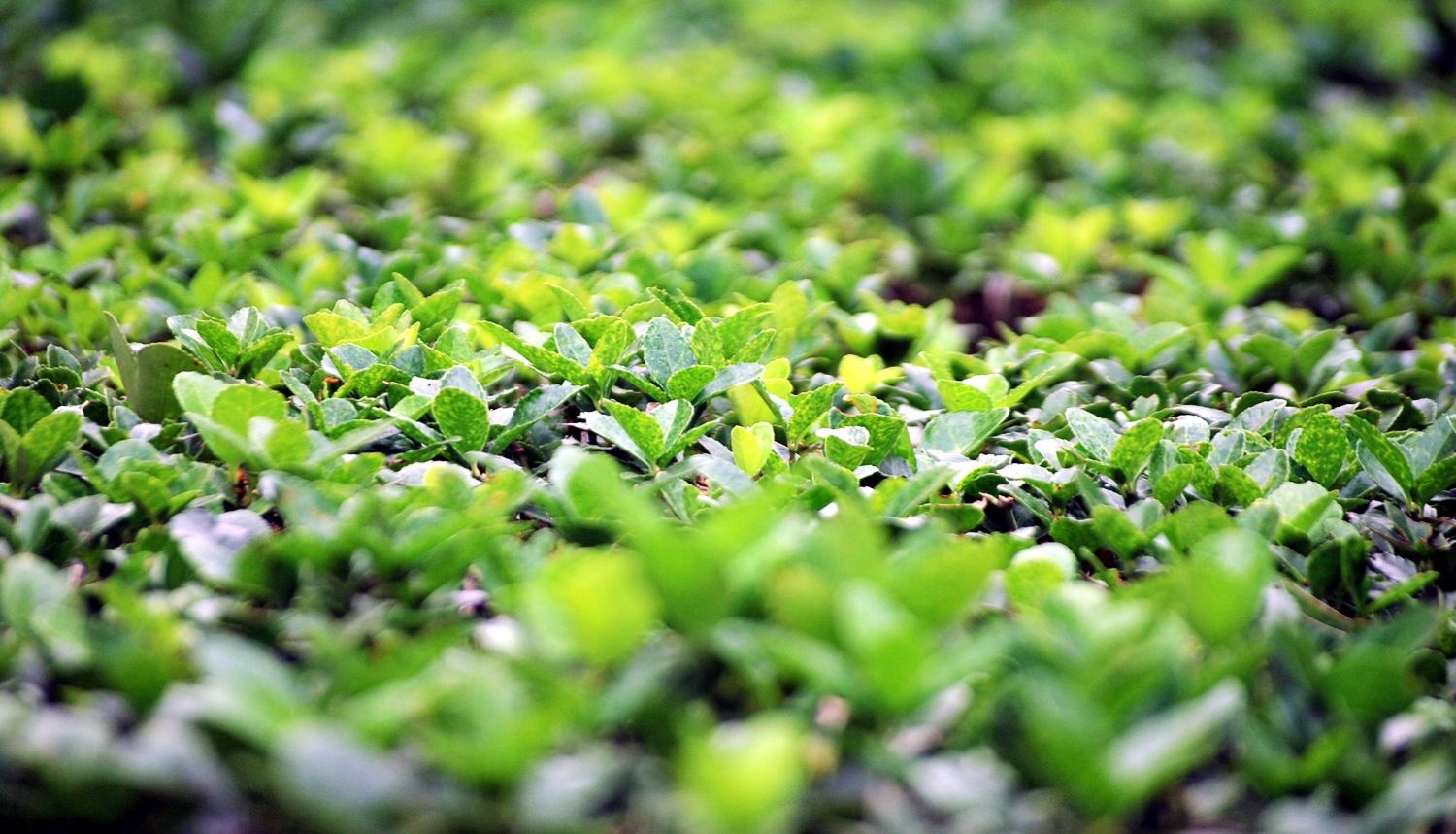 Italian Cypress (zones 7 through 10)
With its tall, narrow growth habit, the Italian cypress tree has a dramatic effect on a yard. A great low-maintenance foundation plant for Mediterranean-themed landscapes, Italian cypress trees grow best in full sun to partial shade. Plants reach 40 to 60 feet tall by 5 to 10 feet wide at maturity.
Italian cypress trees are extremely drought-tolerant once established. These trees are also tolerant of air pollution. Italian cypress trees are often used as a focal point, but can also be grown as a hedge or to create a frame for other plants.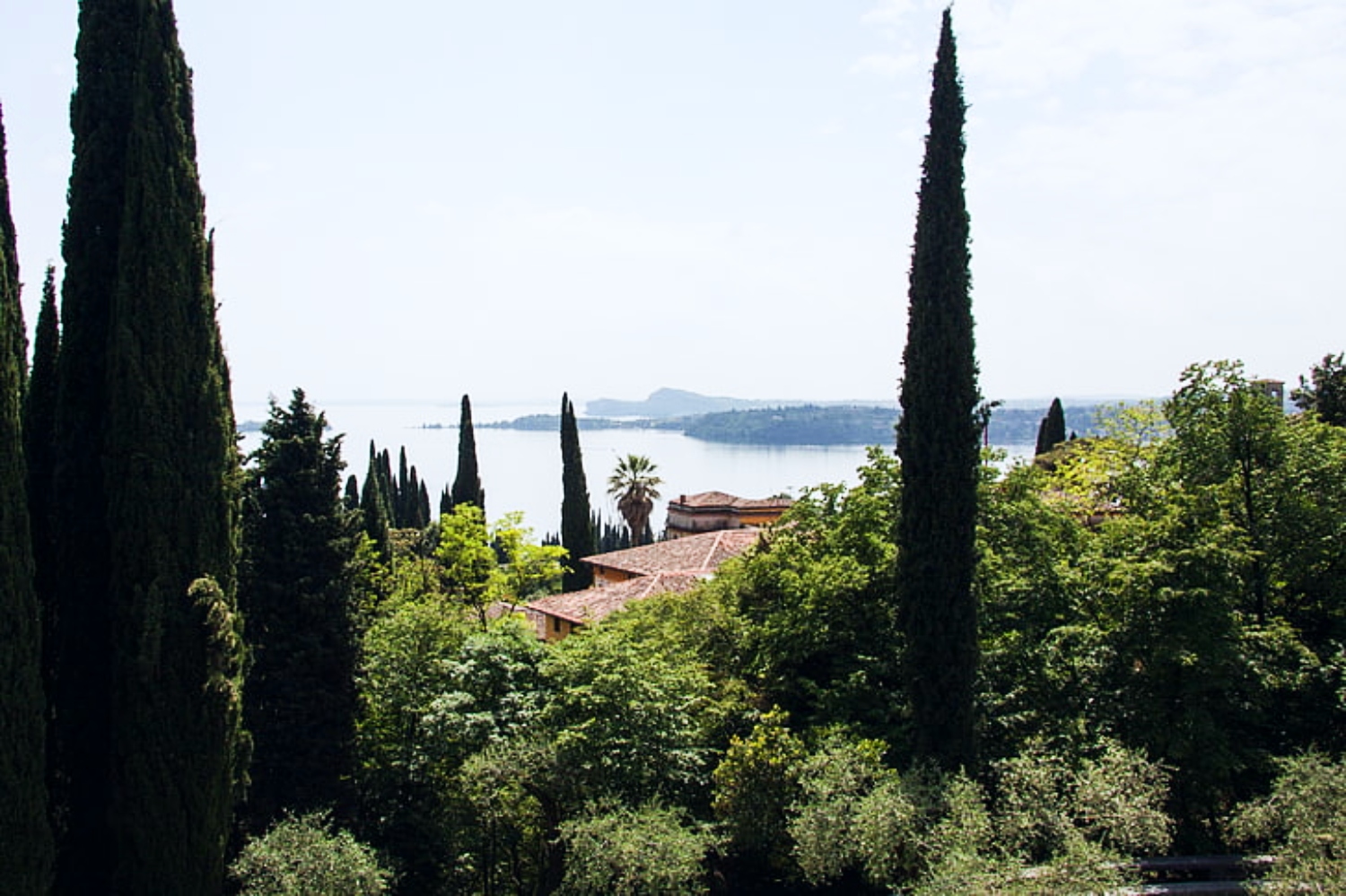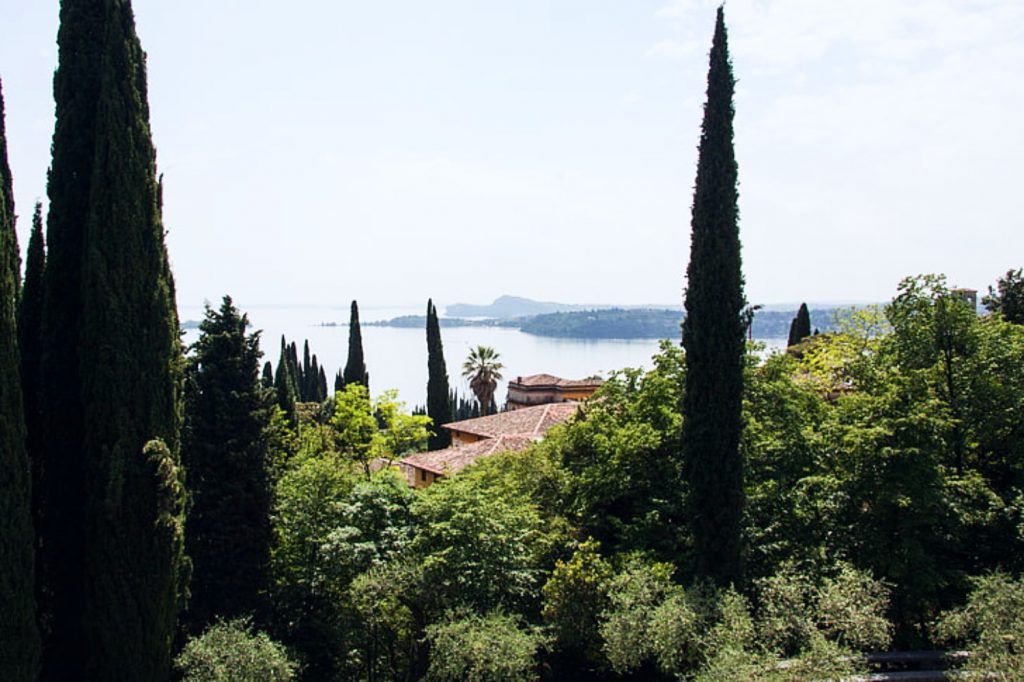 Ornamental grasses and perennials
With your evergreens and flowering shrubs in place, it's time to start filling in the gaps. Use ornamental grasses and perennials to pad out your landscaping and give it depth and texture.
Daylilies (zones 3 through 9)
These cheerful flowers can be found in a variety of colors, including white, yellow, orange, red, and coral. They're always a hit with pollinating insects and hummingbirds and, just when you thought they couldn't get any better, these low-maintenance foundation plants thrive in full sun to partial shade, so they're suitable for a variety of landscapes.
For as many blooms as daylilies produce, these plants don't require much fertilizer. Simply give them a light feeding in spring, and they'll have enough nutrients to keep producing flowers all season long. Look for 'Pardon Me', 'Happy Returns', and 'Stella de Oro' varieties, known to be particularly low-maintenance.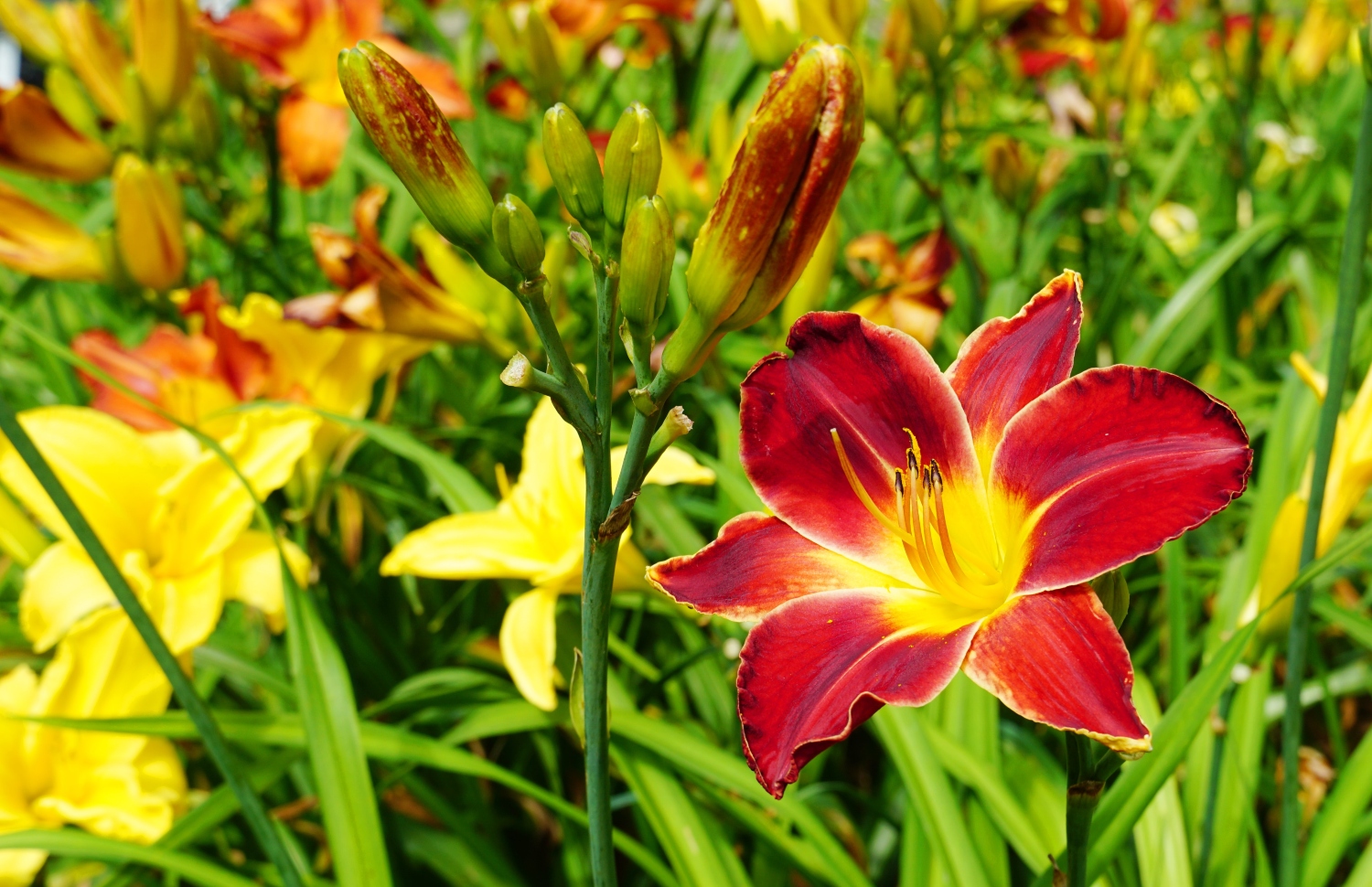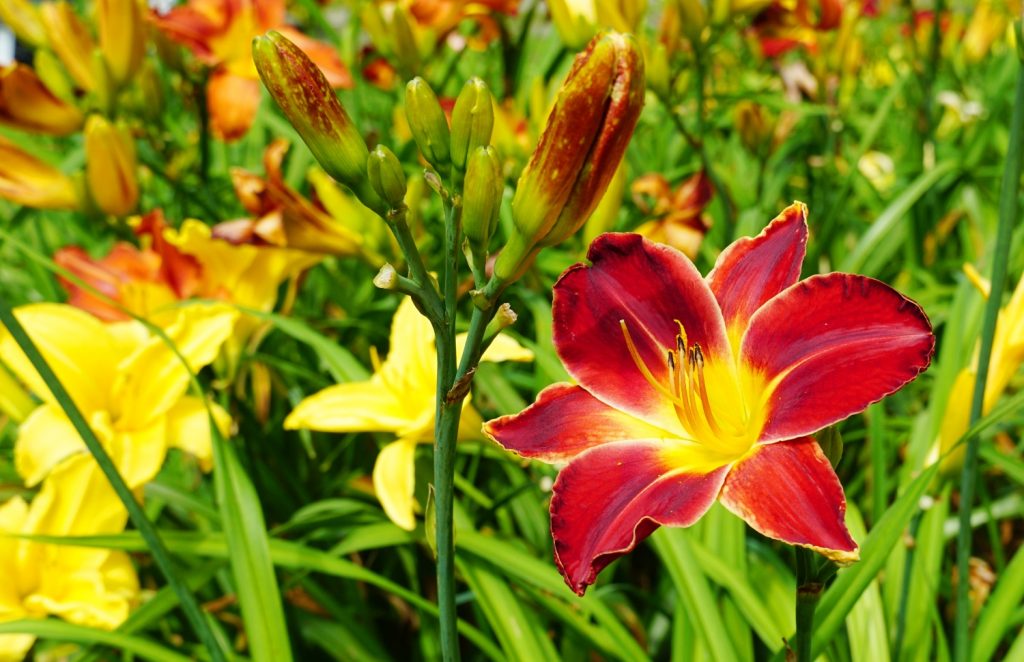 Feather Reed Grass (zones 4 through 9)
A medium-sized ornamental grass, feather reed grass grows around 3 to 5 feet tall by 1 to 2 feet wide. Its feathery plumes, reminiscent of wheat, typically extend another foot above the plant's clumping foliage. This plant's understated appearance and easy-going nature make it a great low-maintenance foundation plant for any landscape.
Feather reed grass grows best in full to partial sunlight and can tolerate sandy to clay to loam soil types. This plant is adaptable and able to grow in dry soils as well as in areas that flood occasionally.
Coneflower (zones 3 through 9)
For hot climates that are tough to grow in, consider planting coneflower, also known as Echinacea. These pink to purple daisy-like blooms grow best in full sun and are incredibly drought-tolerant. Although they benefit from regular deadheading, it's not necessary to keep these plants in good health.
Coneflowers bloom from mid to late summer, and although the flowers don't contain much nectar, they provide pollinators with a valuable food source. Plants have a clumping growth habit and reach 2 to 4 feet tall and wide at maturity. Their attractive lance-shaped leaves add texture to your landscape.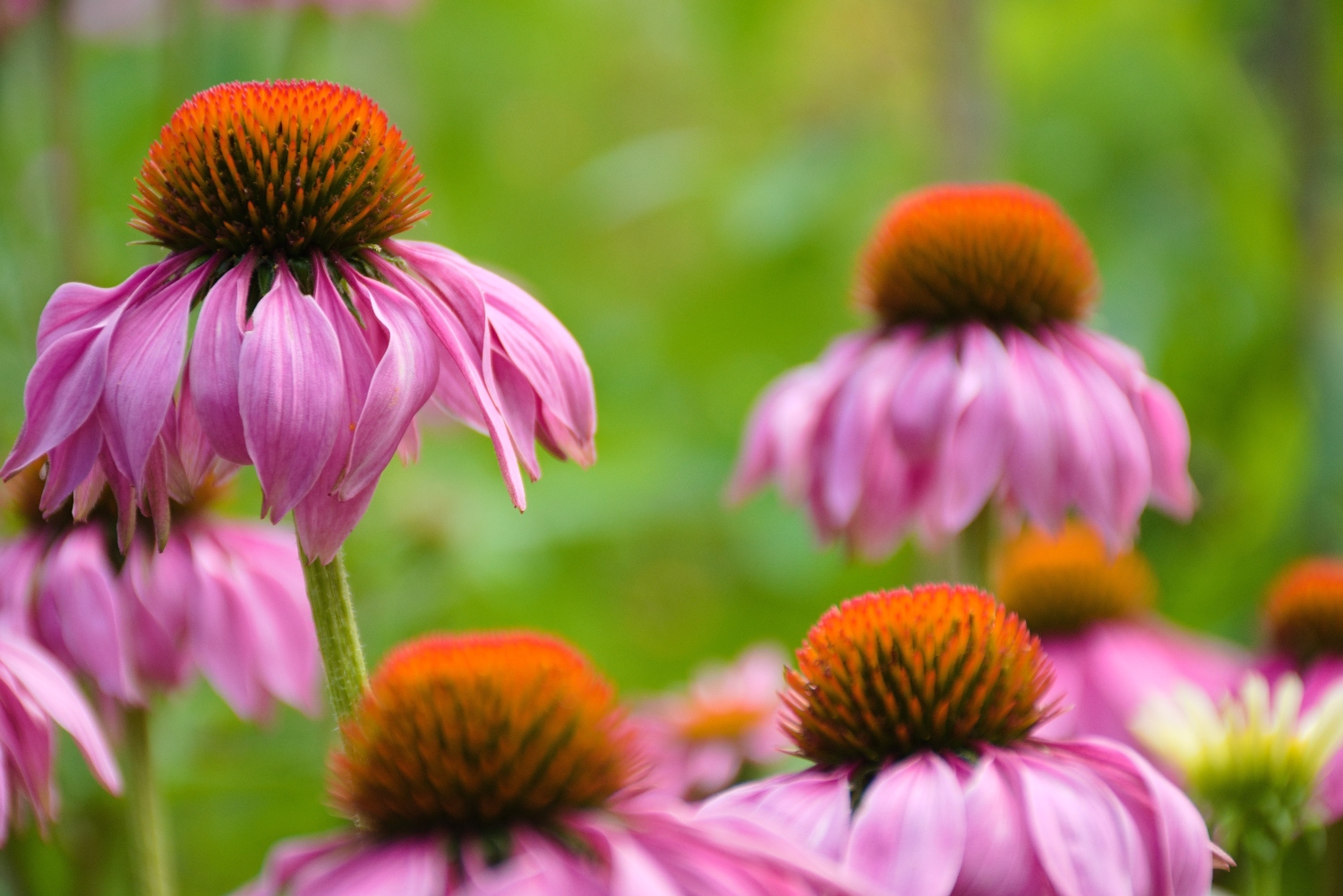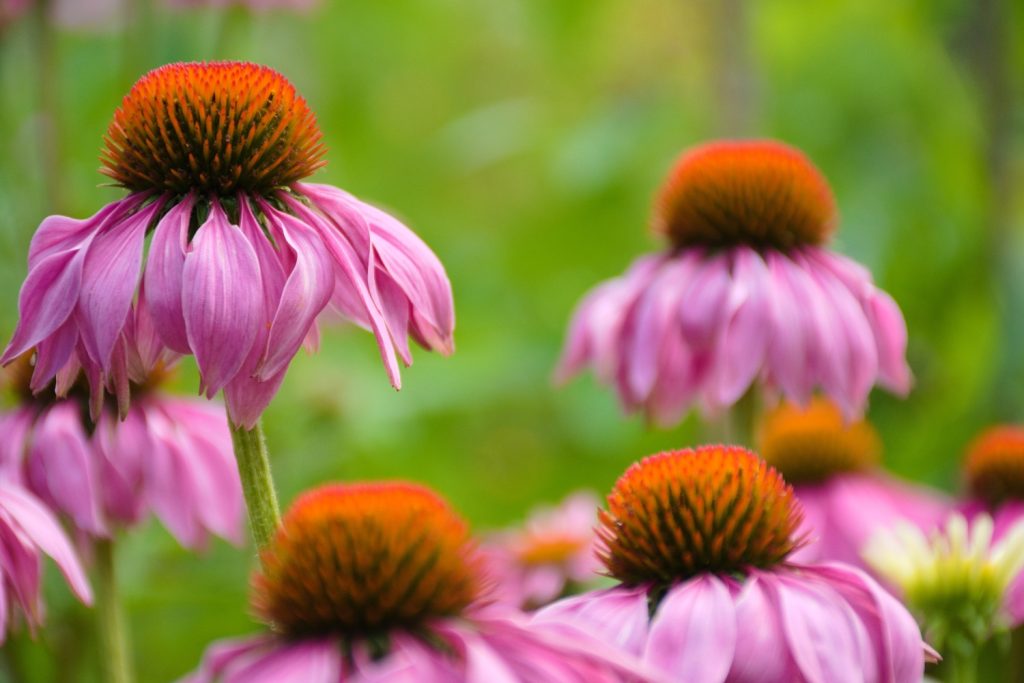 Blue Fescue (zones 4 through 8)
Known for its distinctive blue-gray foliage, blue fescue typically grows 6 to 12 inches tall and has a mounding growth habit that makes it a perfect border for sidewalks and edging for flower beds. Blue fescue grows best in full sun but is tolerant of partial sunlight. In fact, in hotter growing zones, blue fescue prefers afternoon shade.
Blue fescue doesn't require pruning or fertilizing. Thanks to its mounding nature, it can be used to fill in bare spots between the plants in your landscaping. Although blue fescue is not considered a ground cover, it can act a bit like ground cover if left to its own devices, as it will continue mounding outward as it grows.
Bearded irises (zones 3 through 10)
For shadier gardens that tend to stay moist, consider growing bearded irises. These low-maintenance foundation plants are a joy to grow because they multiply rapidly, growing in clumps that spread from season to season. Bearded irises come in shades of pink, purple, blue, white, orange, and yellow, and help attract bees and butterflies to your yard.
Bearded irises grow 2 to 4 feet tall and bloom from late spring to early summer. When not in bloom, the bearded iris's long blade-like leaves add visual interest to your flower beds. For best results, keep your bearded irises in partial shade, although they can tolerate full sun, too.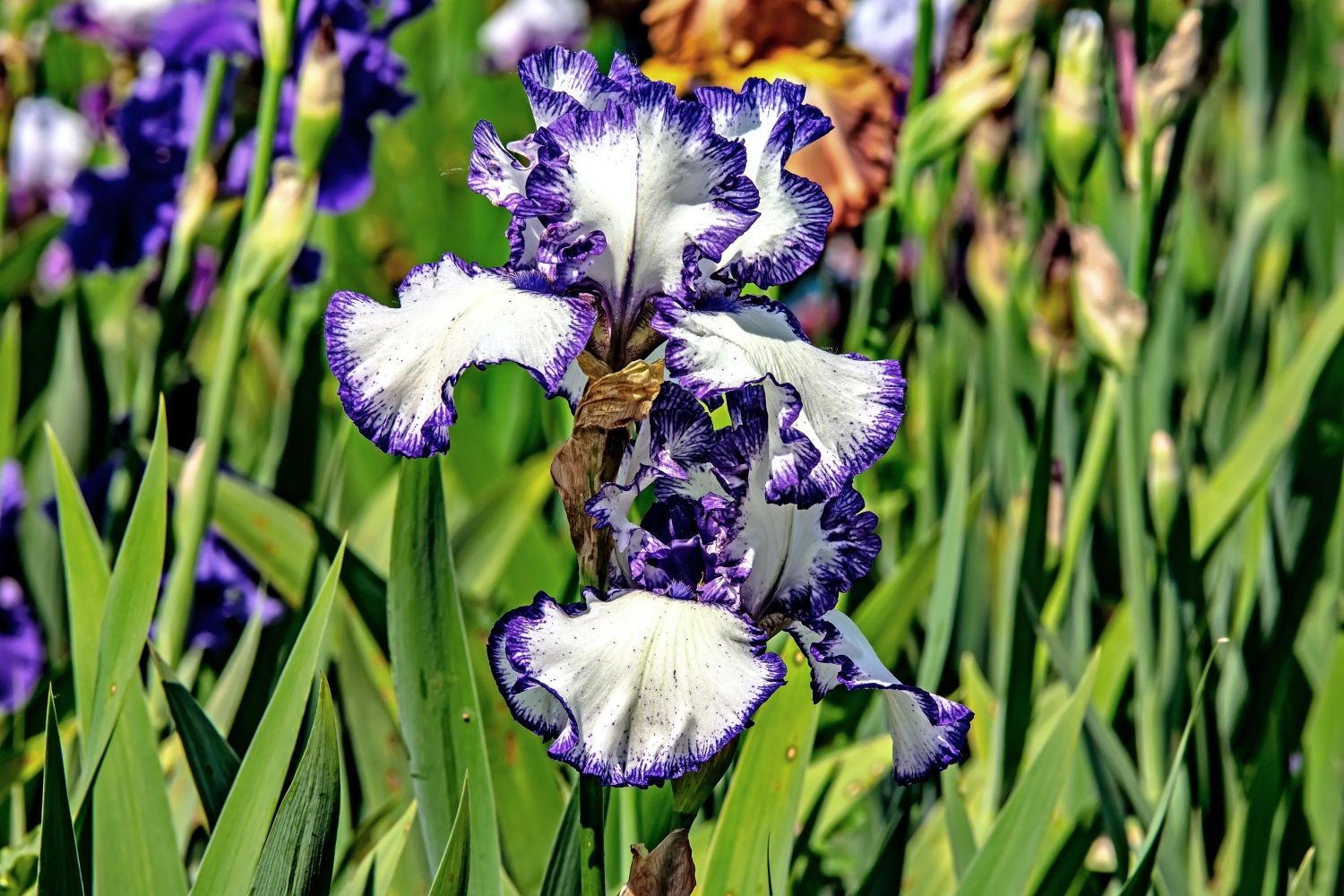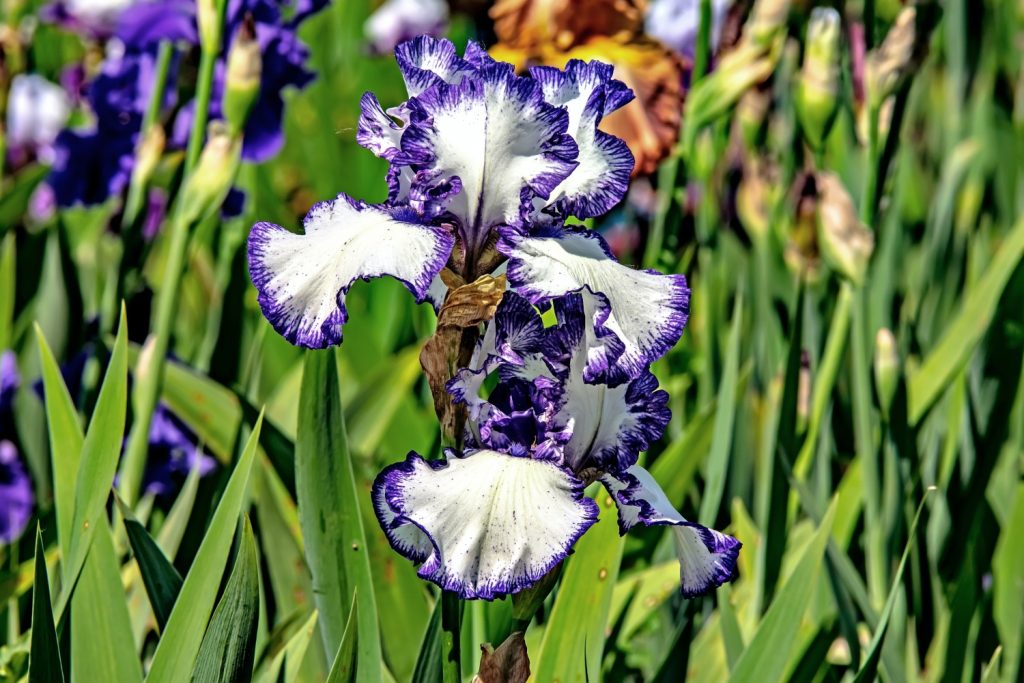 Muhly Grass (6 through 11)
Muhly grass is often used as an accent plant, or to create a border for flowering plants. This ornamental grass has a mounding growth habit and can reach 3 to 4 feet tall by 2 to 3 feet wide. Muhly grass has a delicate appearance, in spite of its large size, giving it a dramatic yet ethereal feel. Its airy, feather-like plumes come in shades of white, pink, red, and purple, so there's something for every landscape.
Muhly grass grows best in full sun to partial shade. These plants do not require fertilizing or pruning, making them about as low-maintenance as it gets. Muhly grass is highly adaptable and grows just as well in hot and humid climates as in cool, dry ones.
Ground cover
Once you've filled in the majority of your landscaping, it's time to add the finishing touches. While you can certainly use wood chip mulch to give your flower beds a prim and proper appearance, ground cover plants are far more low-maintenance. These plants help the soil retain moisture, cutting down on the time you have to spend watering. They also stop weeds from popping up, so you don't have to worry about getting down on your hands and knees.
Creeping Thyme (zones 4 through 9)
If your yard is situated in full sun, then a good ground cover is essential to prevent rapid soil moisture loss. Fortunately, creeping thyme performs best when planted in full sun. This fast-growing ground cover only grows 2 to 4 inches tall, and easily fills in between plants, helping seal hydration into the soil.
Creeping thyme is easy to propagate from cuttings, but it will come back on its own year after year. This fragrant plant supports a healthy bee population and produces purple, red, pink, and white flowers.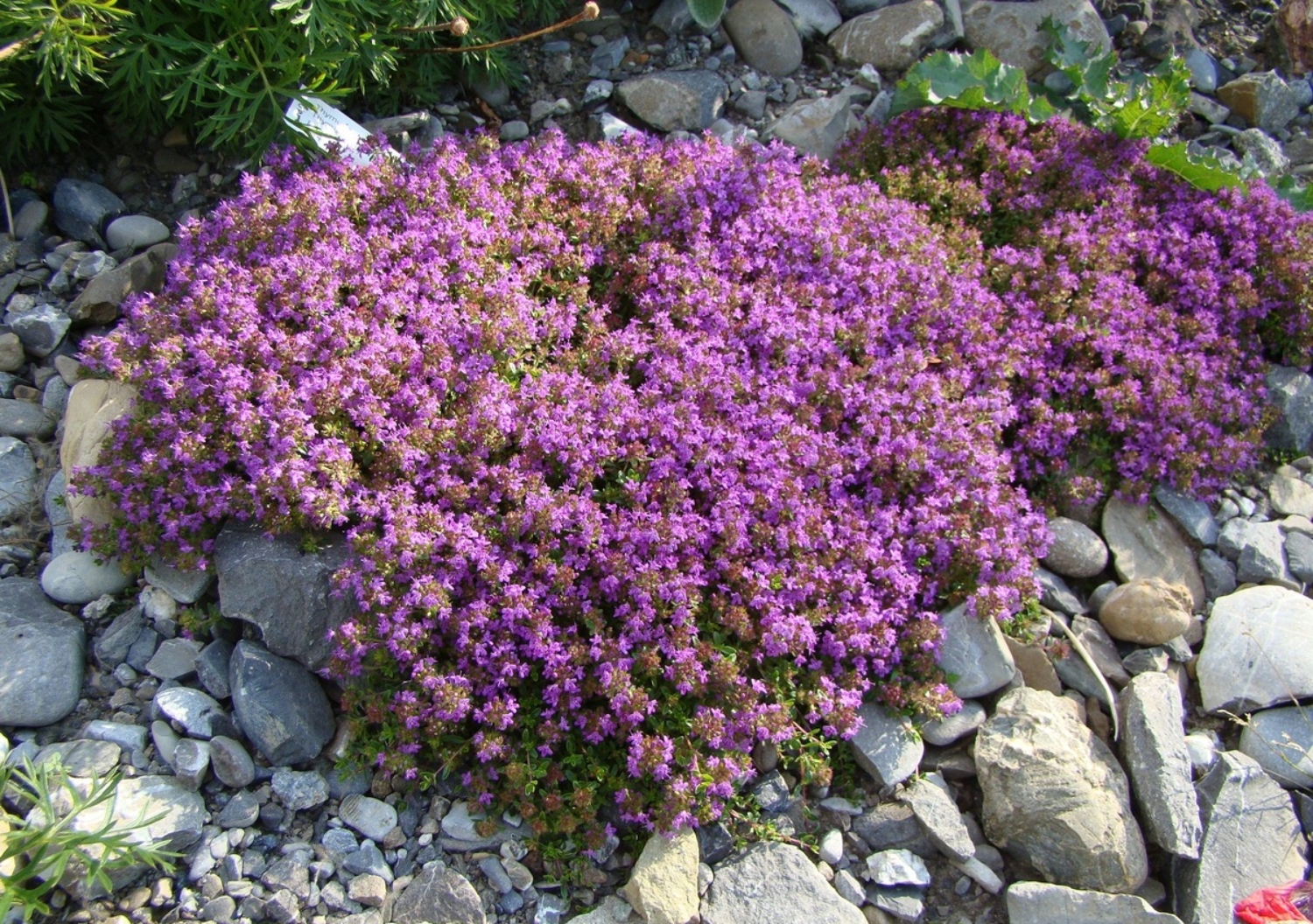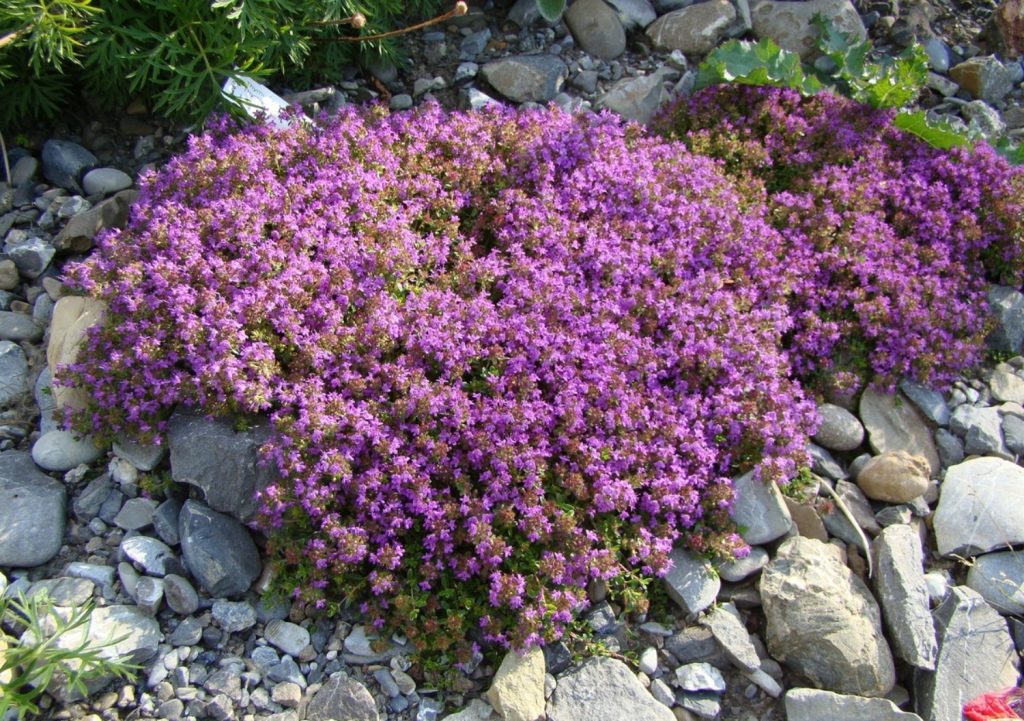 Vinca (zones 4 through 9)
Also known as periwinkle or myrtle, vinca has a somewhat tropical appearance, with its glossy, dark green leaves and small pink, white, purple, blue, and red flowers that are similar to impatiens. Vinca is a fast-growing ground cover that's perfect for filling in large areas quickly. Plants grow 6 to 18 inches tall and spread up to 3 feet in diameter. For best results, keep vinca in full sun or partial shade. These plants bloom in spring and summer, adding delicate color to your landscape.
Lamb's Ear (zones 4 through 8)
Featuring silvery green foliage that's as soft and velvety as a lamb's ear, this ground cover needs full to partial sun and moist yet well-draining soil to grow well. Provided these two basic requirements are met, lamb's ear doesn't require any extra care.
Lamb's ear produces densely compacted clumps of foliage. Its interesting appearance adds instant texture to your garden, and because this low-maintenance foundation plant is fast-growing, it fills in quickly. A mature lamb's ear measures 12 to 18 inches tall by 12 to 24 inches wide.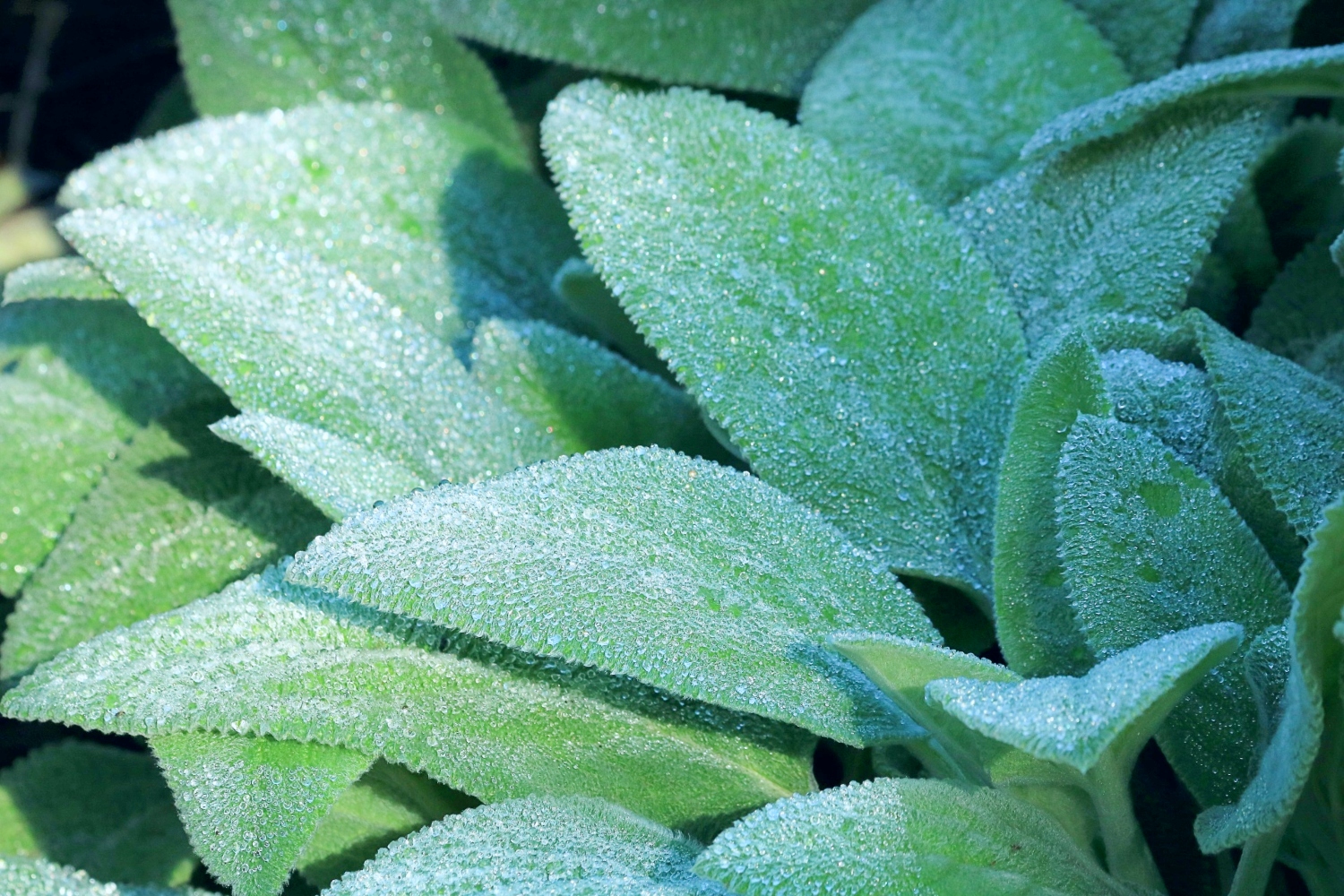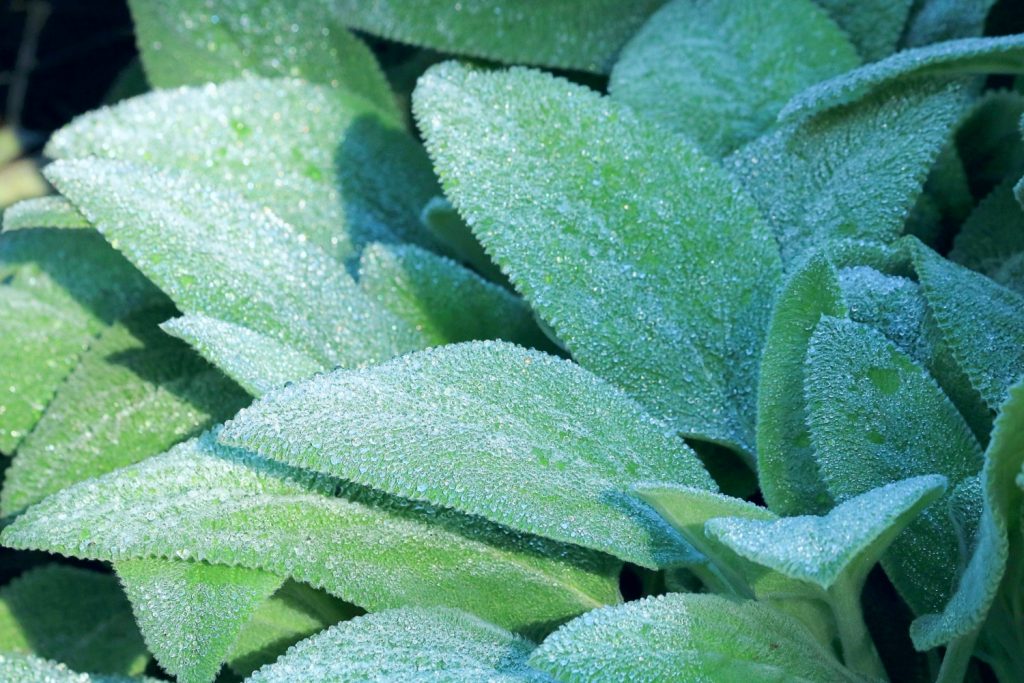 Sedum (3 through 9)
Also called stonecrop, there are many varieties of sedum, from trailing to clumping to upright. But ground cover varieties, like white sedum, Russian sedum, and two-row sedum can be used to fill in the spaces between plants. Sedum grows best in full sun to partial shade, and although they prefer moist soils, sedum is drought-tolerant, which makes it a natural choice for low-maintenance foundation planting. Its succulent-like leaves add interest to your landscape, and its fast-growing nature means it can hide all of those bare spots in your flower beds in a jiffy.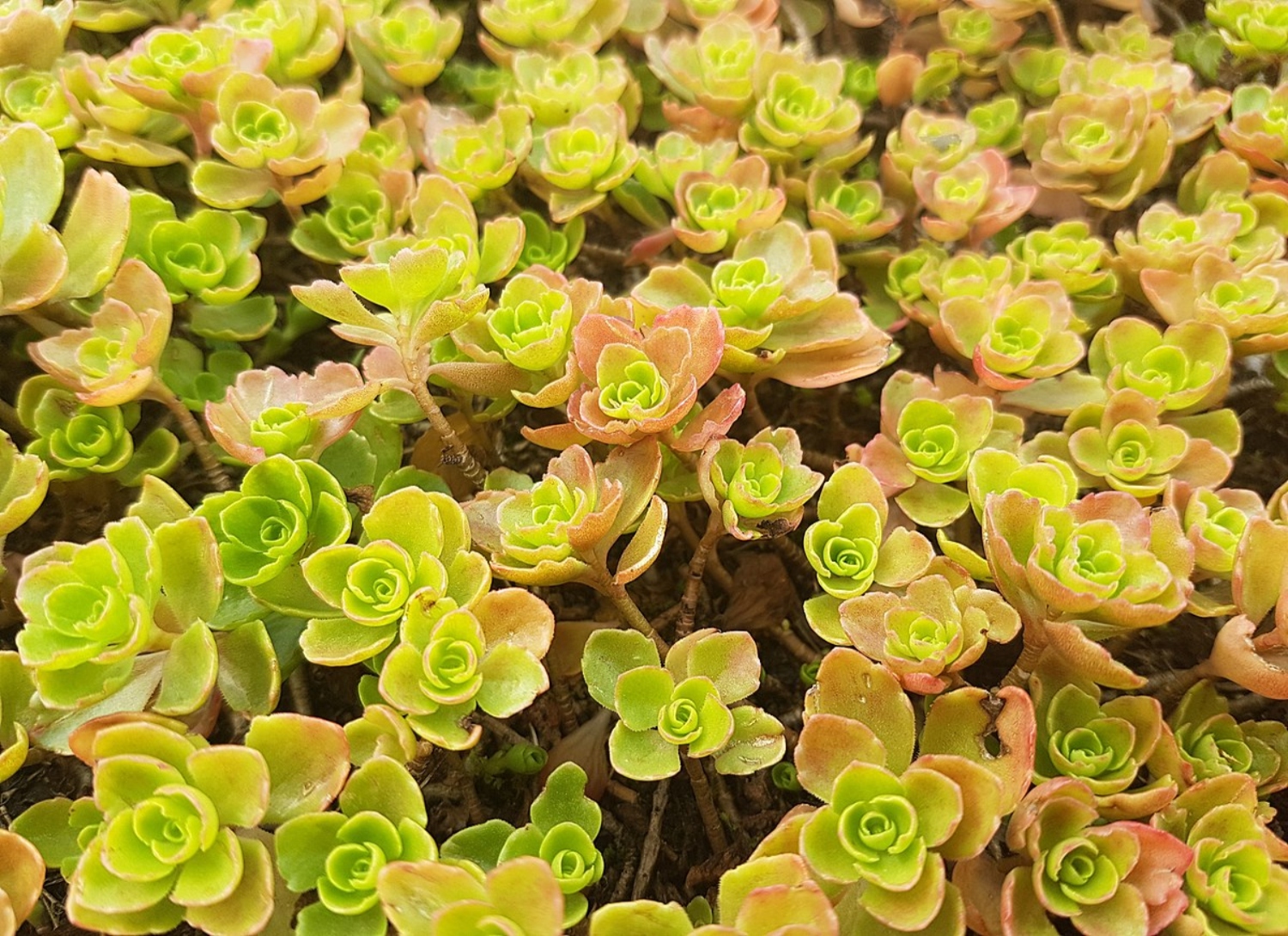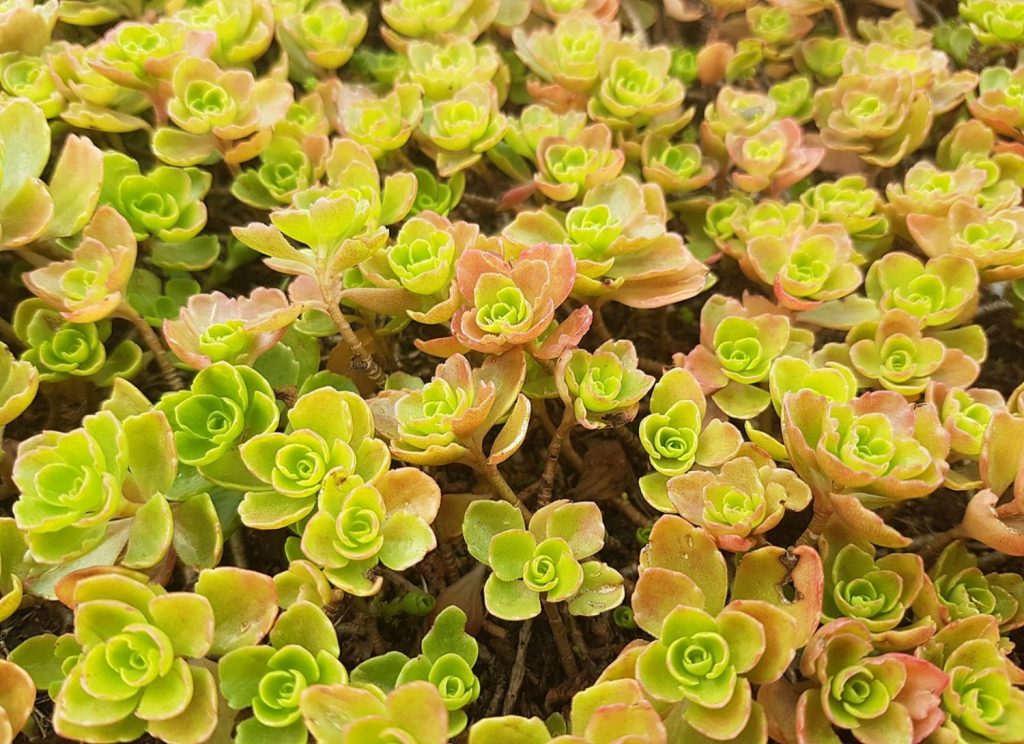 Things to consider when choosing low-maintenance foundation plants
Landscaping is a massive undertaking, even when using low-maintenance foundation plants like the ones mentioned here. To maximize your chances of success, keep these key points in mind when drawing out your new landscape plan.
Architectural style
A modern landscape design would look out of place surrounding a cute little Cape Cod-style home. And quaint flower beds wouldn't be appropriate for a bold, regal Federal-style abode. Before you plan your landscape, first define your home's architectural style. Understanding your home's lines and essence will help you determine which low-maintenance foundation plants will work best for your space.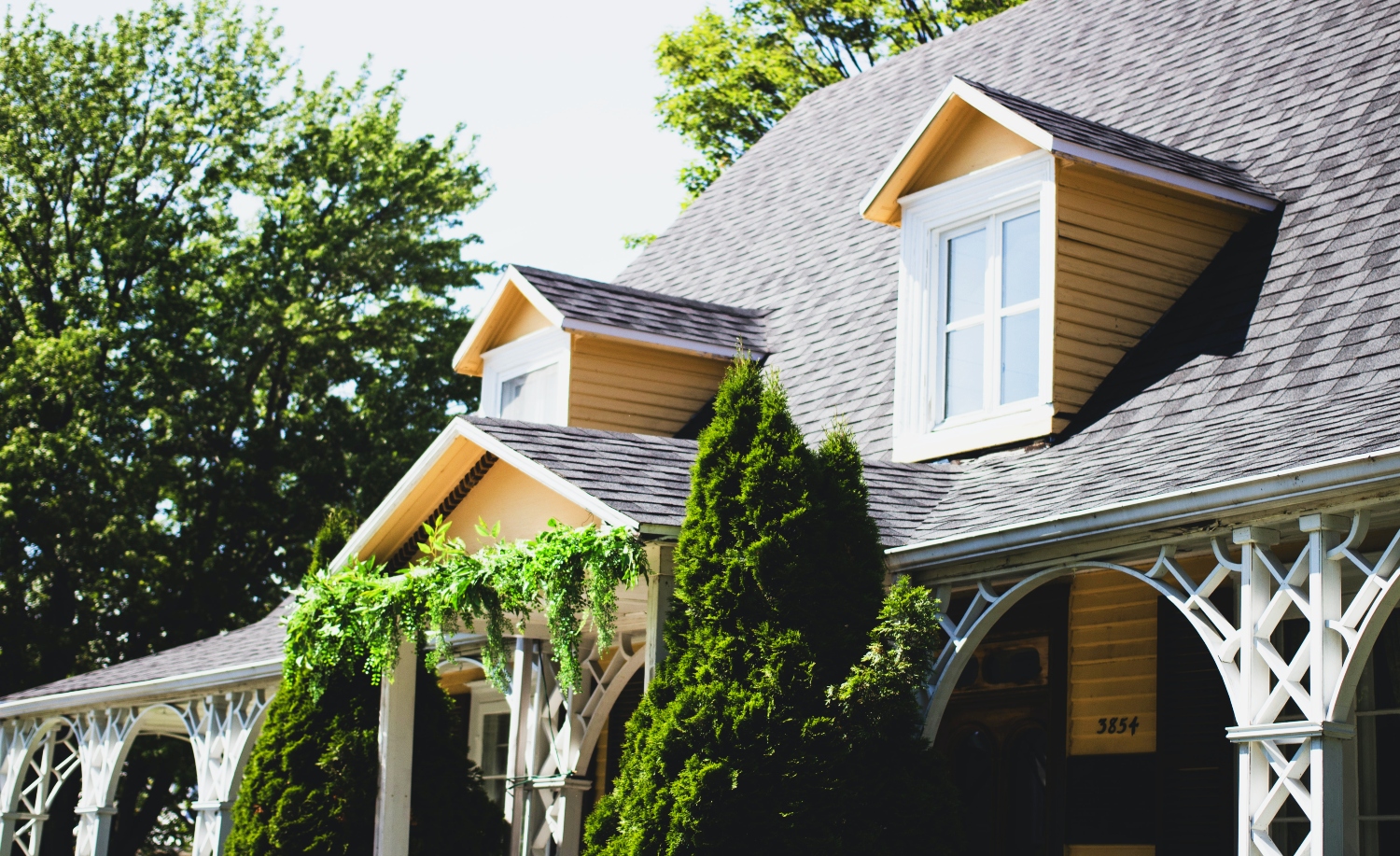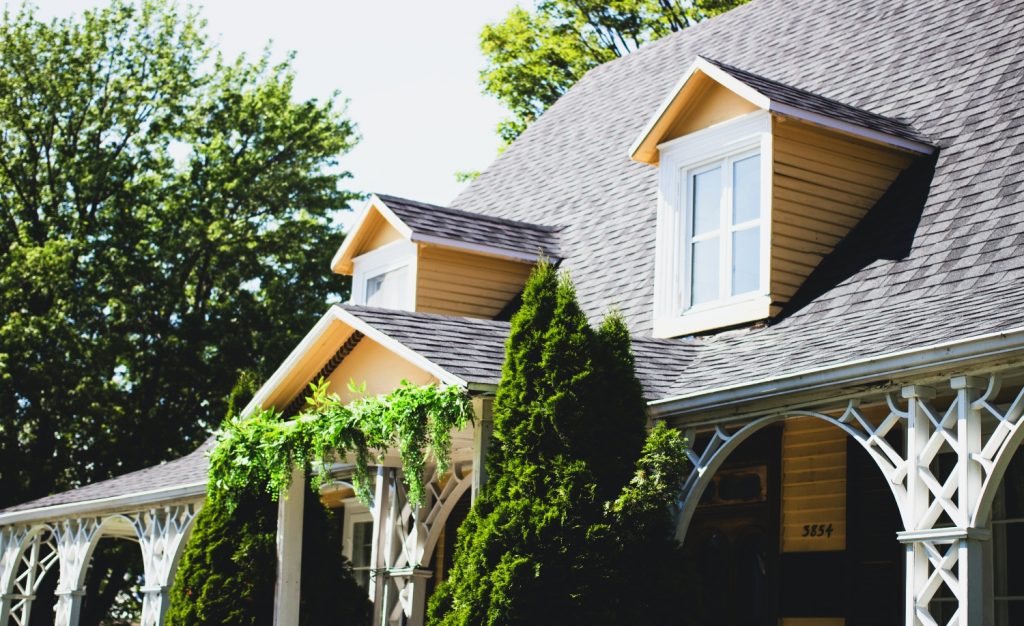 Balance and symmetry
Symmetry plays a big role in determining the feel of a landscape. Symmetrical gardens have a formal air that's elegant and dignified, whereas asymmetrical and free-form style landscapes are more casual and easy-going. Decide what you want to convey with your landscape before planting, and be sure to keep things balanced. Planting all of your shrubs on one side of your home, and ground cover and perennials on the other side would make the landscape look disorienting to the viewer.
Conditions
Understand the soil, sun, and other growing conditions of your yard. There's no sense planting shade-loving plants in a yard that gets full sun or trying to grow drought-tolerant plants in a yard that stays muddy. Choosing low-maintenance foundation plants that suit your yard's growing conditions will save you time, money, and frustration in the long run.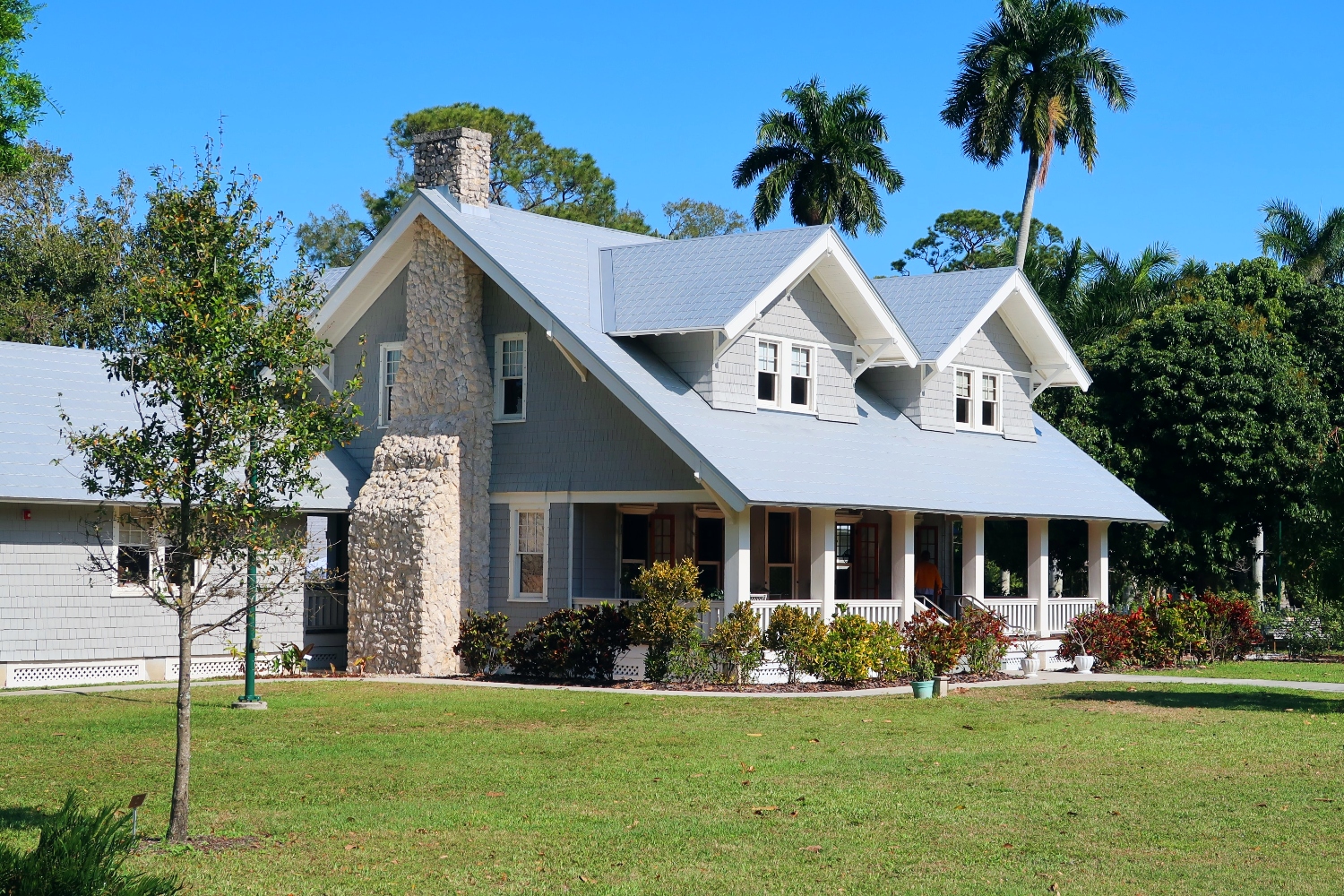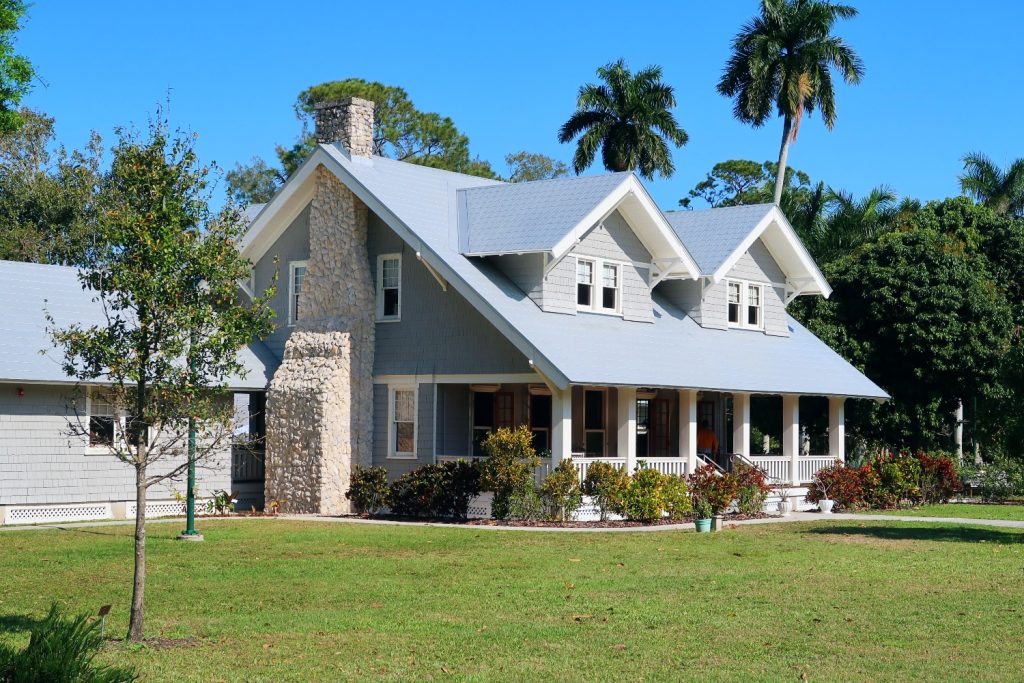 More tips for choosing low-maintenance foundation plants
If you're still struggling to choose low-maintenance foundation plants, here are a few tips that can help.
Choose native plants. Native plants have evolved over time to be uniquely suited to the growing requirements of your ecoregion, and are naturally low-maintenance.
Allow for adequate spacing. Measure your space before planting and be sure to give your plants enough room to grow to prevent competition.
Fertilize once a year. Low-maintenance plants have low nutritional needs. That's part of what makes them low-maintenance. But for best results, use an all-purpose plant food and feed the plants lightly once in early spring.
With a little careful planning, you can create a gorgeous landscape that is as easy on the eyes as it is to maintain.