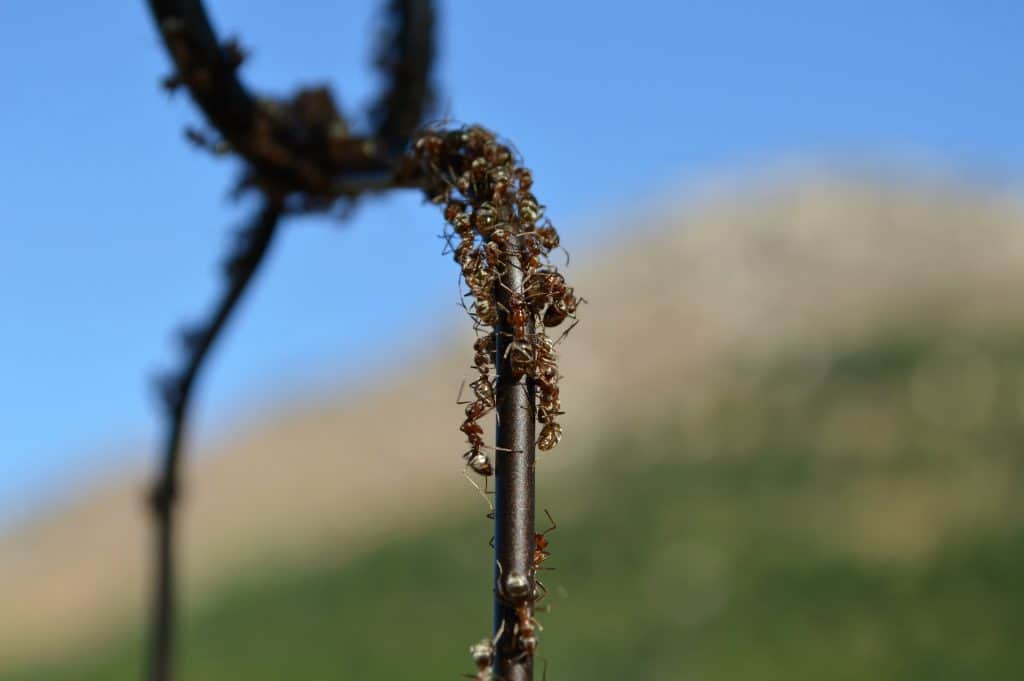 We're here to help! Wild Yards is a completely free website that is 100% dedicated to helping you create a wildlife-friendly, sustainable yard. Read more
WildYards is reader-supported. When you buy a product through a link on our site, we may earn a comission. Every product is independently selected by our (obsessive) editors and our reviews are unbiased and objective. Read more about our mission or our privacy policy.
A hummingbird feeder in your backyard provides you with very rewarding sights. But inevitably, your hummingbird feeder will attract unwanted guests and you'll be asking yourself: "how to keep ants out of my hummingbird feeder?"
Your first line of defense against invading ants is an ant moat, also known as an ant guard or ant trap. Luckily, many of the best hummingbird feeders come with built-in ant moats.
If you already have a hummingbird feeder that doesn't come with an ant moat, don't worry. There are plenty of ant moats you can buy that fit on most hummingbird feeders. You can even build your own DIY ant moat!
How do ant moats work?
These little devices are quite ingenious. Most ant traps look like tiny cups that are hung on the rod between the feeder itself and whatever it's hanging from. You then fill the cup with water. This creates a water barrier which keeps ants from reaching the nectar. Simple, yet effective.
If you live in a hot climate, you'll probably end up refilling the cup every day since the water evaporates very fast. The solution to this is to coat the inside of the cups with a small amount of vegetable oil. The oil will take much longer to evaporate and it's just as effective as a water moat.
The Best Ant Moats For Your Hummingbird Feeder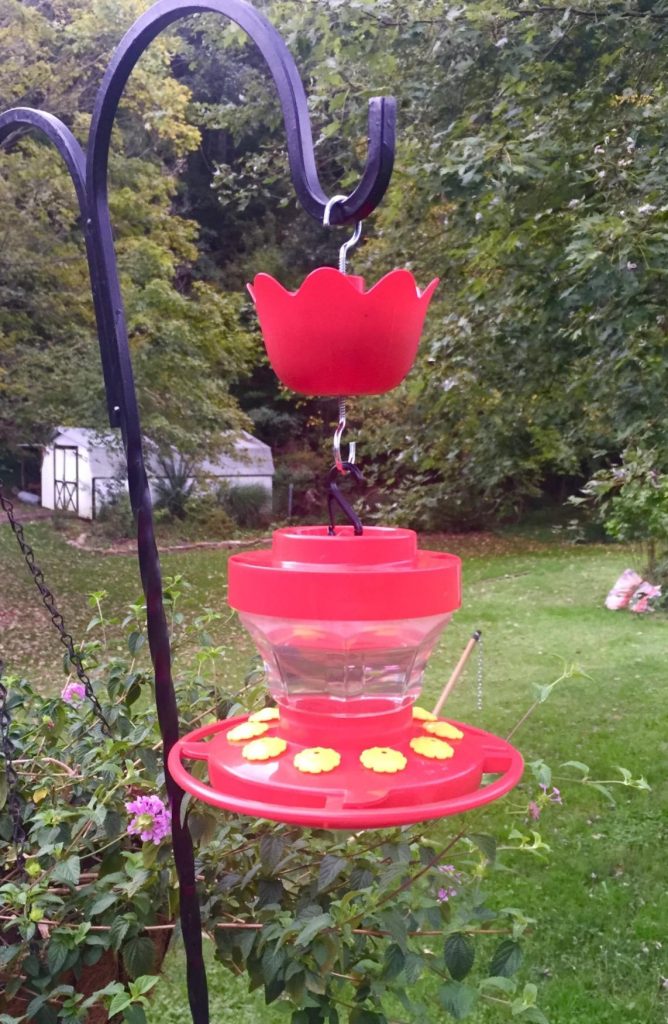 This 2-pack (because who only has one hummingbird feeder?) hummingbird ant moat is great at keeping ants away and looks good doing it. The red coloring matches the red color of most hummingbird feeders, so it'll blend right in. This insect moat is made in the USA, is 3 inches wide and has a cute tulip design to it.
This ant guard has enough water volume to last a week without needing a refill – better yet, if it rains, the moat refills itself. The top of the moat is wide enough to act as a perch for thirsty hummingbirds.
All in all, this is a solid purchase and at a very good price. This is the best pick if you're looking for an affordable solution to keeping ants away from your hummingbird feeder.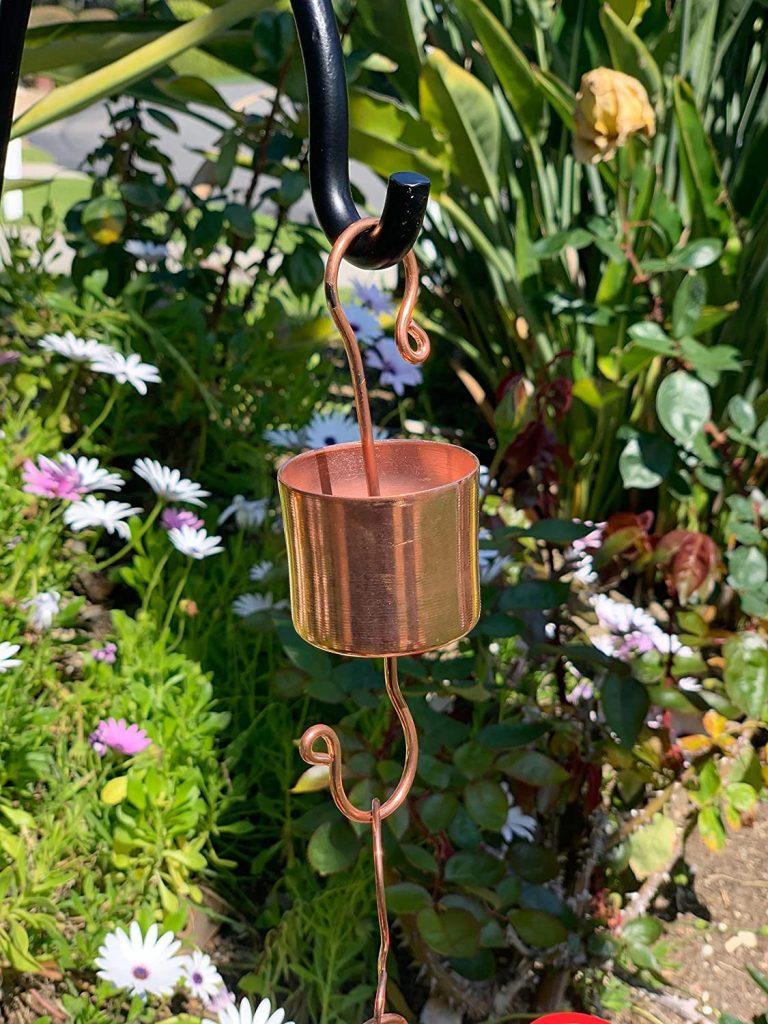 If you're looking for a product that'll last forever. This is the one. This ant moat is made of pure copper, so it'll last longer than most plastic ant moats. It's handcrafted and will complement fancier hummingbird feeders very well. The company recommends using a few drops of vegetable oil in this ant moat rather than water. The durability of the material and affordability makes this ant moat a great choice for anyone who likes the copper look.
3. DIY Hummingbird Feeder Ant Guard
Don't want to buy one? No worries. Building your own DIY hummingbird feeder ant guard is easy. Building one is a fun activity to do with a young one. While there are plenty of different ant moat plans on the internet, the video below is a great starting point on building your own ant moat.
Tips to Keep Ants from Invading Hummingbird Feeders
Avoid using ant guards with insect repellent – while effective, the repellent is highly toxic to cats and fish. Even if you don't have a cat and don't have a fish pond, any spillage can run off into local streams or water sources. Water or vegetable oil is the way to go.

If you don't want to buy or build an ant trap, you can try rubbing vegetable oil on the metal rod that hangs up the hummingbird feeder. It isn't quite as effective as an ant moat, but may do the trick if your ant problem isn't too big.

If you notice an ant problem all of a sudden, check for leaks on your hummingbird feeder. Leaking nectar is a honing beacon for ants, and they'll soon find the source of the nectar.

If you don't have a leak, have an ant moat, and yet your hummingbird feeder is still covered in ants, try moving your feeder to a different spot. Confuse the enemy.
We hope this article on buying the best ant moats and keeping ants off your hummingbird feeder was helpful. Comment below with your best tips and what worked for you.