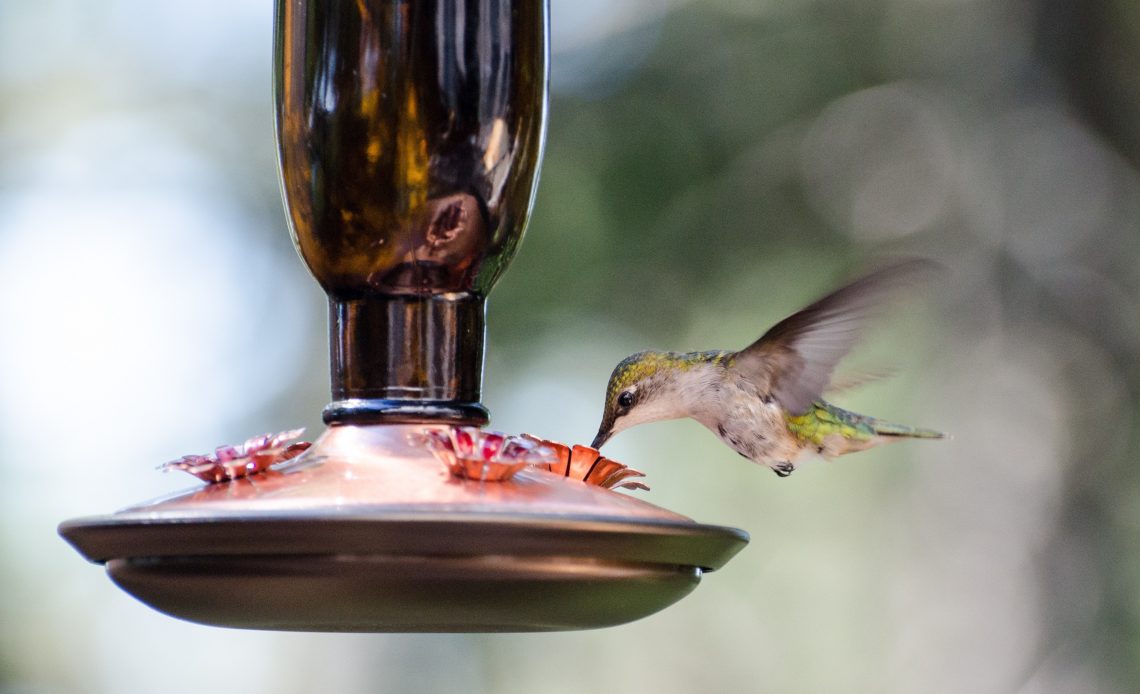 We're here to help! Wild Yards is a completely free website that is 100% dedicated to helping you create a wildlife-friendly, sustainable yard. Read more
WildYards is reader-supported. When you buy a product through a link on our site, we may earn a comission. Every product is independently selected by our (obsessive) editors and our reviews are unbiased and objective. Read more about our mission or our privacy policy.
Hummingbirds are one of the most fascinating types of birds out there.
Their heart beats up to 1,260 times per minute, they can fly backward, and have no sense of smell.[1] They're also beautiful and very fun to watch. Attracting hummingbirds to your yard is a very rewarding activity. And the easiest way to attract them is to put a few hummingbird feeders in your yard.
In this article, you'll learn how to decide which feeder is the best hummingbird feeder for your yard. You'll also learn how to properly clean it, how to keep ants and bees away from it, and many other tips and tricks to make the most of your new feeder.
We've spent many hands-on hours researching the best hummingbird feeders of every type. If you're not sure what type of feeder is best for you, we recommend starting with our buyer's guide. If you already know what type of feeder you want, keep reading for our top picks.
The 6 Best Hummingbird Feeders by Type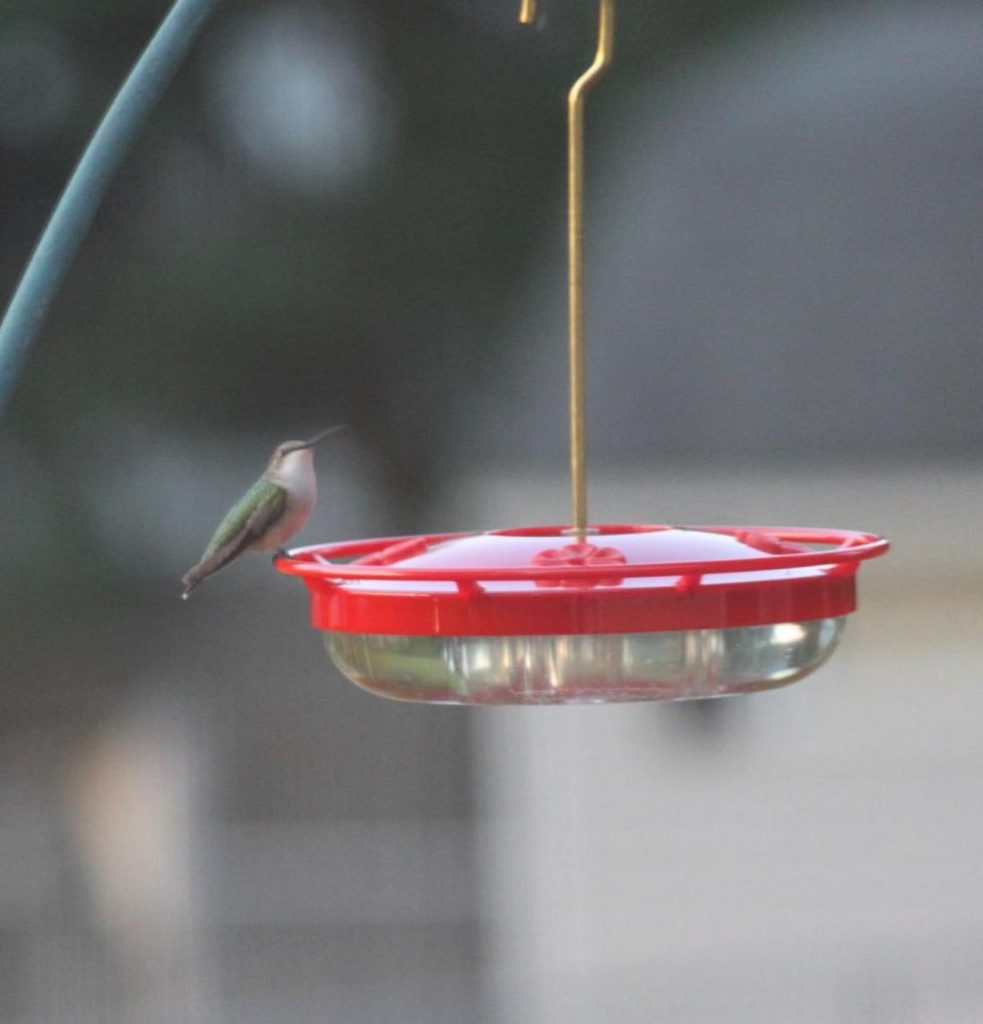 This is our overall pick for the best hummingbird feeder. It's a great feeder to get started.
The dish style makes it easy to refill and clean and makes sure it doesn't leak. It comes with an effective ant moat and the way the feeding holes are designed, it prevents any bees or wasps from being able to drink out of them. The "highview" perches on the feeder allow the hummingbirds to rest while drinking and allow you to catch a great glimpse of them in their full glory.
The Aspects brand is a very reputable company in the birding and birdwatching industry. All their products are made in the U.S.A and come with a lifetime guarantee.
The biggest con for this feeder is the price. It's a little more expensive than the rest of the feeders, but the quality of the feeder and the lifetime guarantee more than make up for it. You won't be disappointed by this hummingbird feeder.
Pros:
Comes with a built-in ant moat that's very effective
Dish style feeder makes for easy cleaning and refilling
Leak and drip-proof
Has perches for the hummingbirds to sit on
Made in the U.S.A
Lifetime guarantee from Aspects
Cons:
High-quality means that it's a little pricier than other hummingbird feeders
12 oz reservoir means you have to refill it more often than a larger reservoir
Check out our overall top pick for the best hummingbird feeder in action: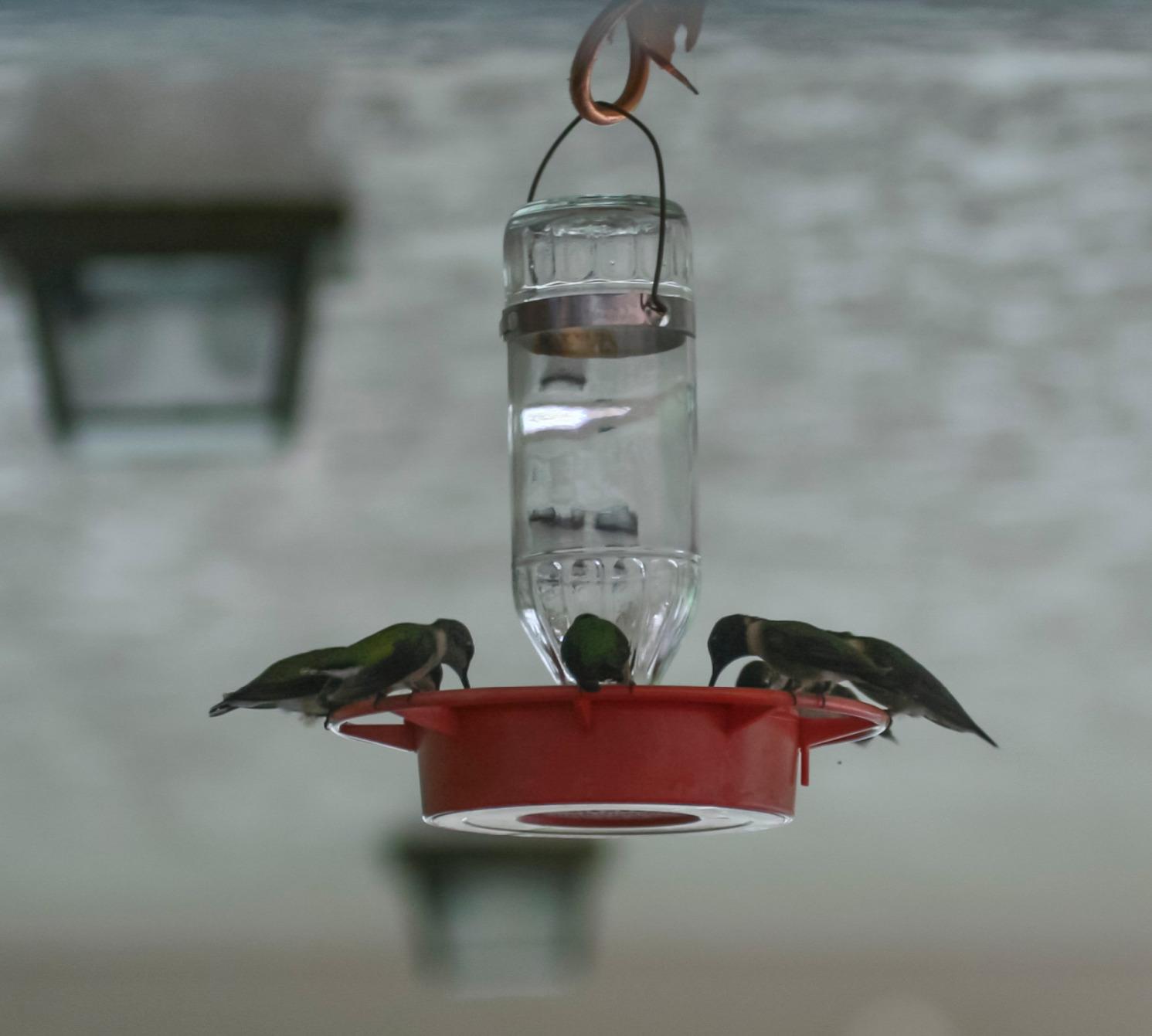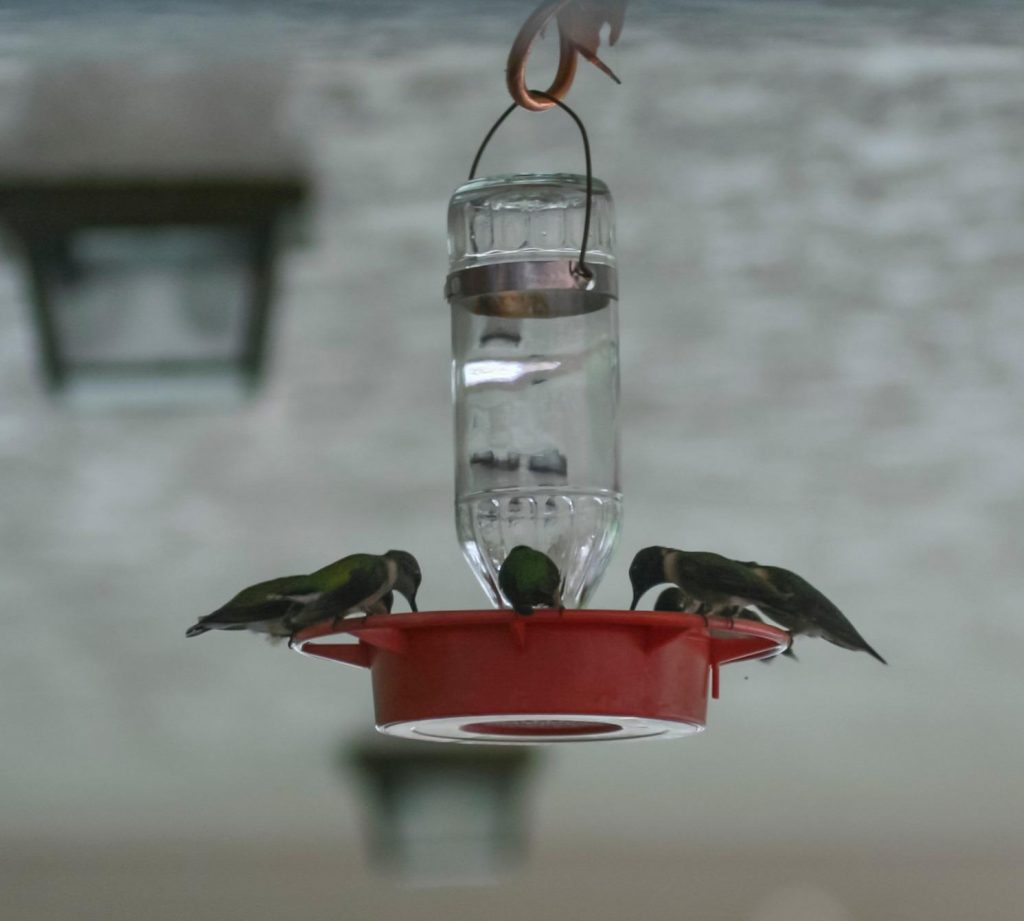 Don't have many hummingbirds in your yard? Or want multiple feeders?
This small hummingbird feeder is your best bet. It has a small 8 oz glass reservoir but still has eight separate feeding ports. The plastic base can be dissembled for easy cleaning. If you have a large population of hummingbirds in your area, we recommend getting a few of these. One will suffice, but you'll most likely have to refill it daily or every other day.
This product is perfect if you live in a very hot climate because the nectar will go bad quicker in the heat. Having a small reservoir will make you waste less nectar.
Pros:
Wasps and bees can't get to the nectar
Dissemble the base for easy cleaning
Glass reservoir is dishwasher safe
8 feeding ports
Well built product
Great value
Cons: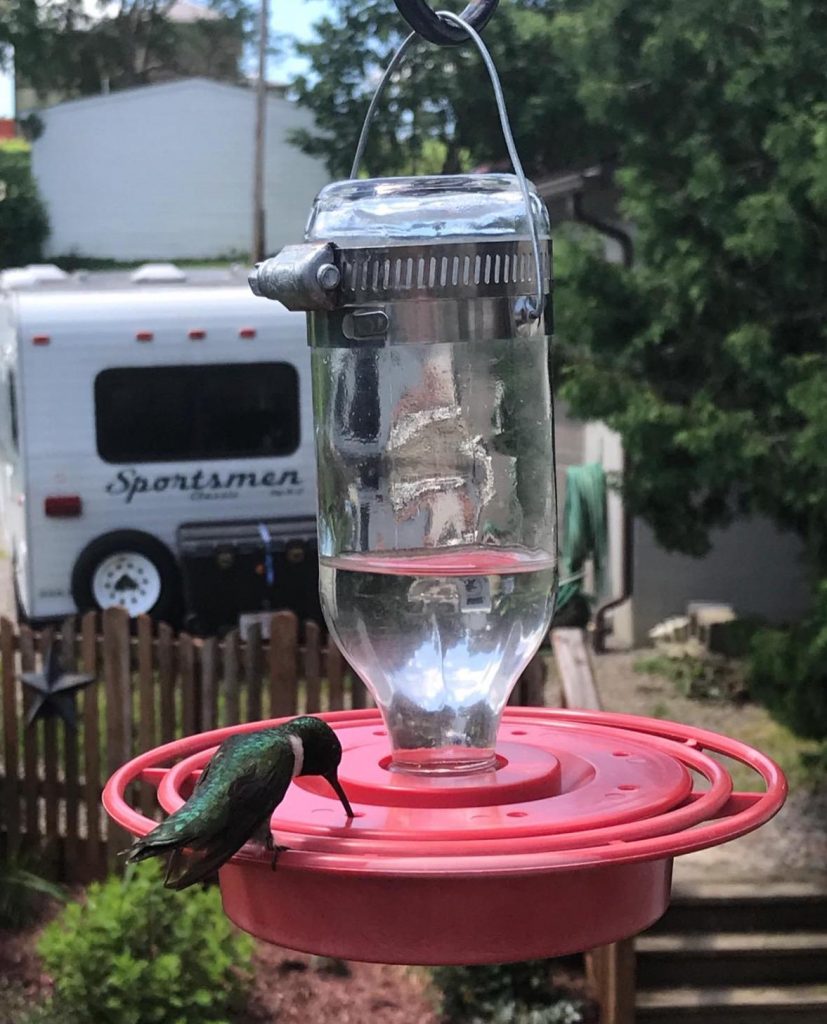 Looking for a large hummingbird feeder capable of satisfying eight hummingbirds at once?
This 32 oz hummingbird feeder by Birds Choice is a great product. With a glass reservoir that holds 32 oz of sweet nectar and eight feeding ports, you'll attract all the hummingbirds to your backyard. This is the best hummingbird feeder for you if you live in an area with lots of hummingbirds.
It even has a little indicator on the glass reservoir that tells you how many hummers you've fed that day.
Pros:
You can fully disassemble the base, which makes for very easy cleaning
Wasp and bee proof
Heavy-duty glass that can withstand some impact
8 feeding ports
32 oz reservoir
Great value for the price
Cons:
When it's very windy, it can leak a little from the top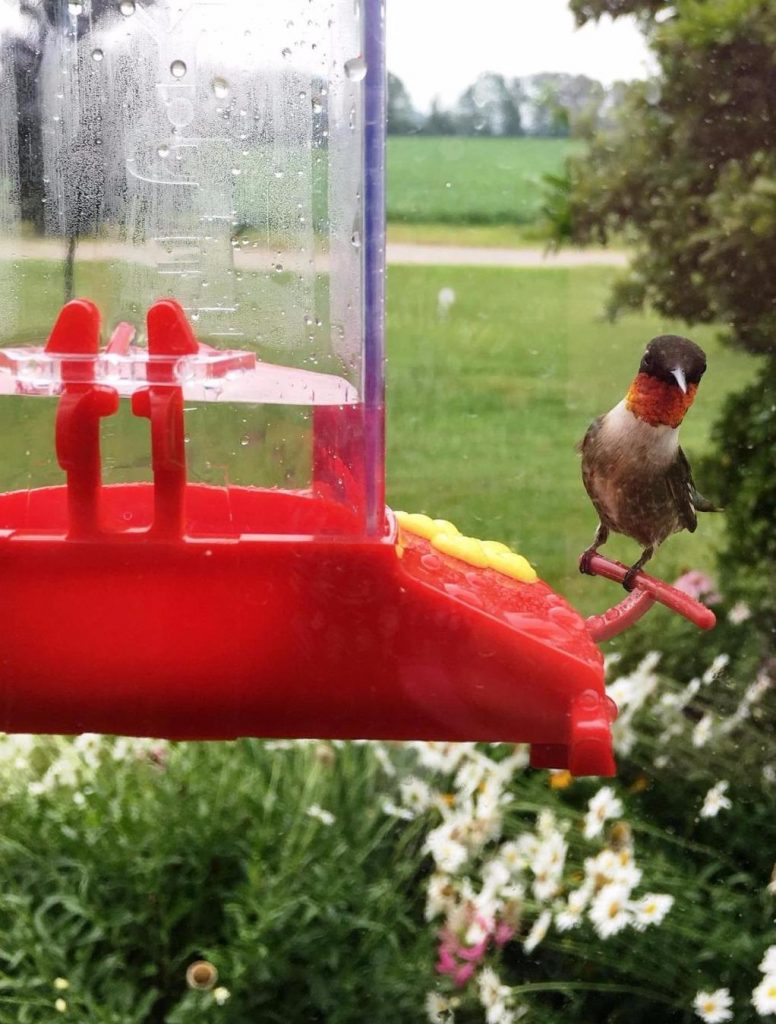 Want a super close-up view of hummingbirds? Then finding the best window hummingbird feeder should be at the top of your priority list. Luckily, we found it for you.
There are many situations where you would want a window feeder over a normal hummingbird feeder. If you live in an apartment building with multiple floors, you can still hang this on your window and enjoy the views. If you want to watch hummingbirds while sitting on the couch or at the dining room table, then this product is perfect for you.
This window hummingbird feeder is made by Perky-Pet, one of the most well-known hummingbird and bird feeder makers.
If you're looking for a window feeder, this is the one.
Pros:
Attaches to the window with a suction cup which makes it easy to move around
Made of durable plastic which is perfect because this feeder has the potential to fall if the suction cup gets loose
Perfect for people who live in apartment buildings or don't have yards
Cons:
Only holds 8 oz of nectar
Some reviewers say that it breaks easily, but for the price, a great value.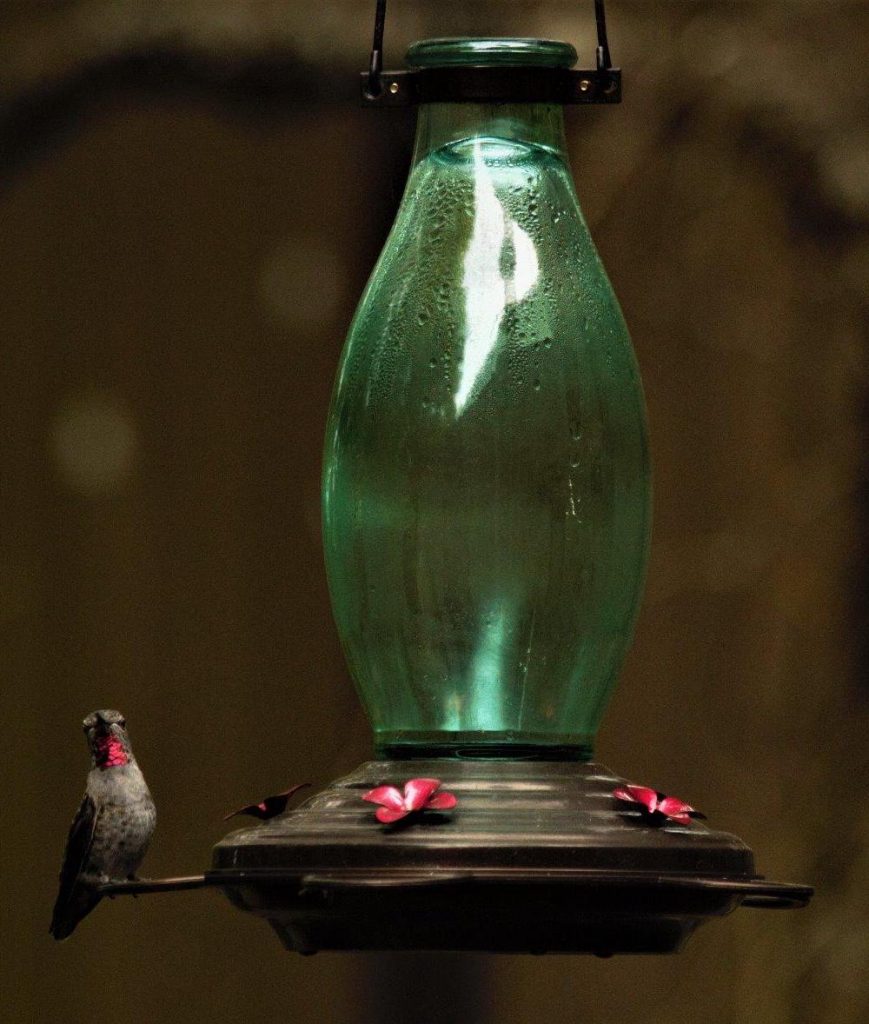 Looking for a feeder that's stylish and still very functional?
Check out this vintage glass bottle design. It's a beautifully designed feeder but still has all the functionality of a plastic feeder. The reservoir is glass and the base is plastic – a perfect combination.
If you're looking for a glass feeder, this is the best hummingbird feeder for you.
Pros:
25 oz reservoir – nice and big
24-hour customer support in case you have questions or concerns
The glass reservoir has a nice large opening which makes it easy to clean
Multiple hanging options – wall hooks, tree branches, decks, etc
Beautiful design
Cons:
Doesn't come with an ant moat, so if ants become a problem you'll have to buy a separate ant moat
Glass isn't as durable as plastic
Best DIY Hummingbird Feeder
If you're looking for a fun little crafting project to do with your kids, then building a homemade DIY hummingbird feeder may be right up your alley.
Check out this video guide on how to build your own hummingbird feeder:
If you want to go full DIY mode, you can even make your own hummingbird nectar!
Hummingbird Feeder Buyer's Guide: Choosing the Right One
As with most products, there are a large variety of different options if you're looking to buy a hummingbird feeder. The trick is figuring out which option is best for your situation. This is where we can help.
By reading through and answering the following questions, you should get a better idea of what hummingbird feeder is best for you. Once you figure that out, scroll back up to see the best hummingbird feeder for each type.
How easy is it to clean?
Hummingbird nectar is basically sugar water, which means it can get sticky and go bad after a while. Having an easy-to-clean feeder is vital.
There are two main types of hummingbird feeders: dish feeders and bottle feeders.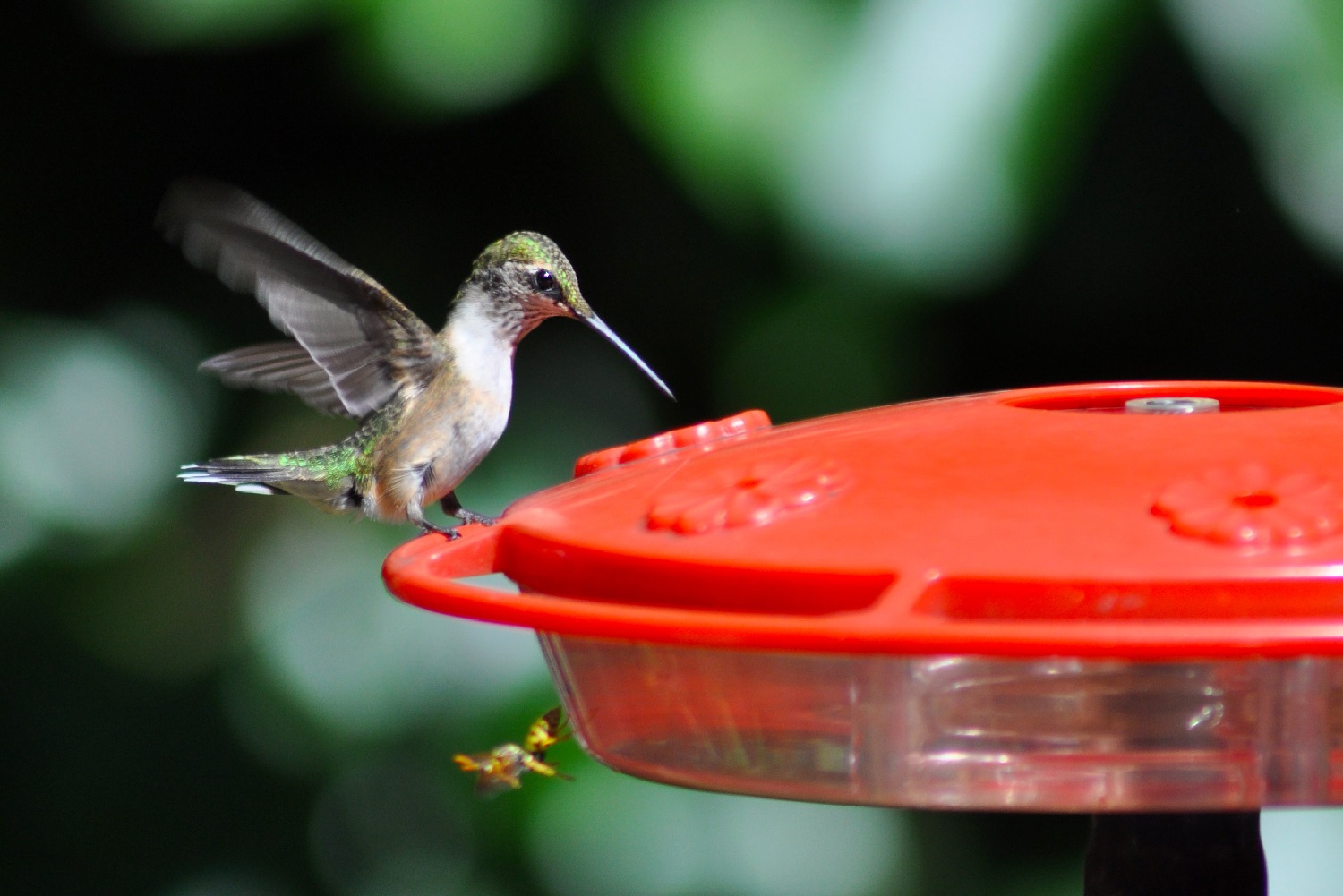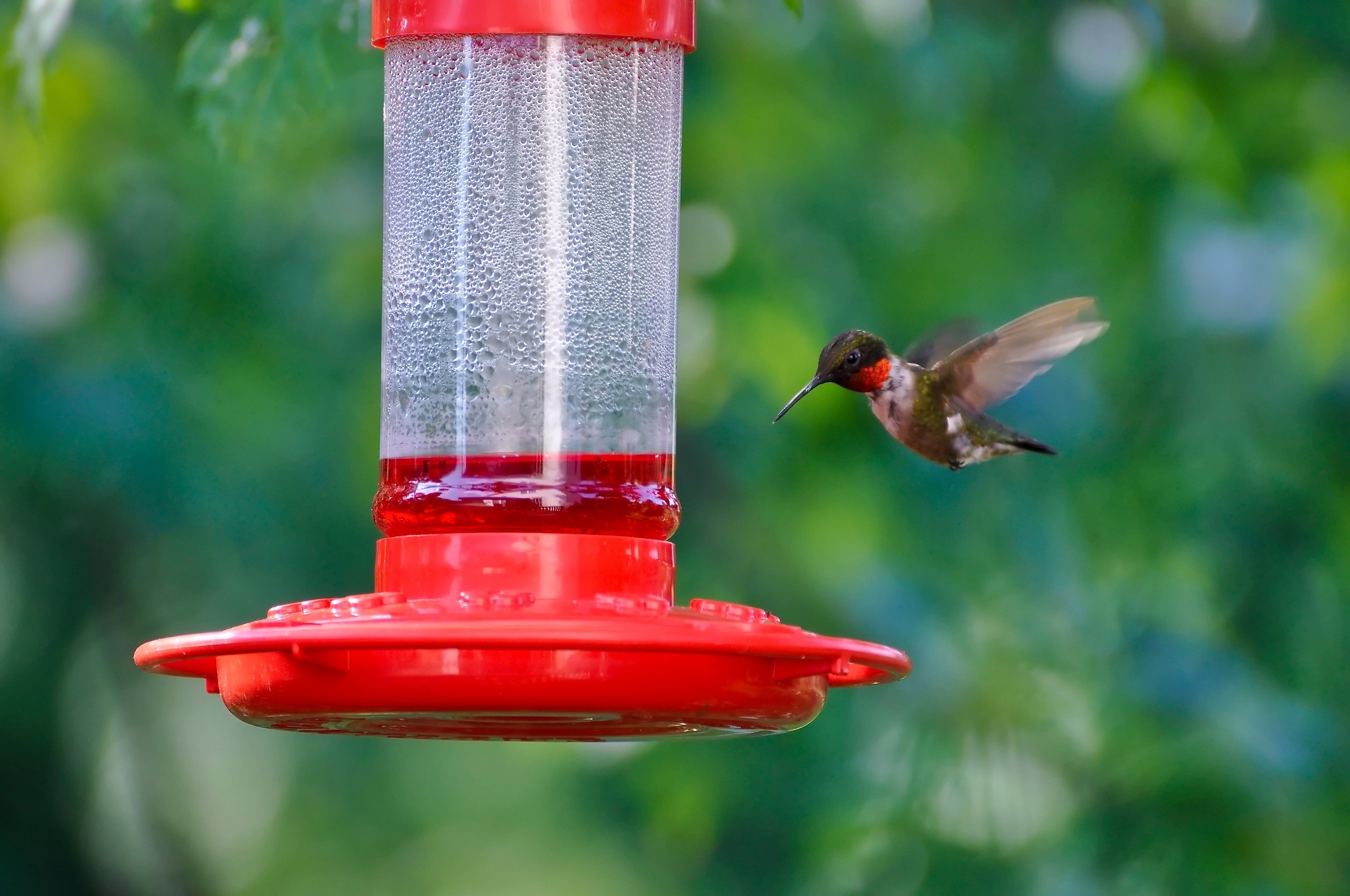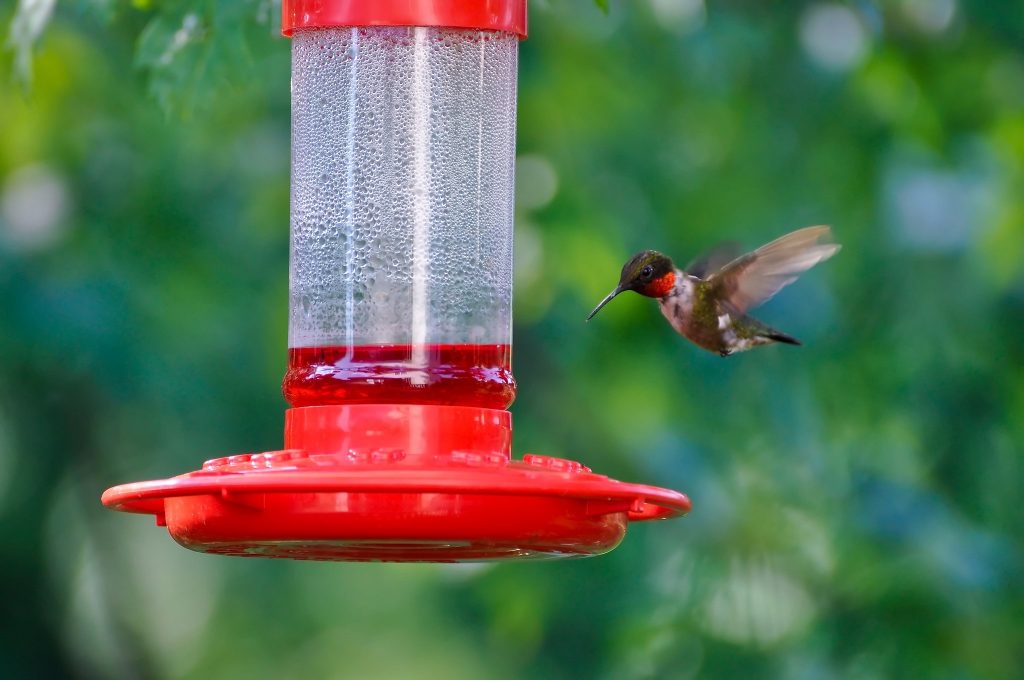 The biggest difference between the two is that dish feeders are a little easier to clean. A bottle feeder usually requires a brush to do a good scrubbing of the entire bottle. But don't let that dissuade you from getting a bottle feeder. Lots of them are actually dishwasher-safe so you can just throw it there along with your dirty dishes and call it a day.
Bottle feeders are also more prone to leaking. A leaking hummingbird feeder attracts ants and bees and just makes a mess. The best way to prevent leaking is to buy a high-quality feeder.
Are you worried about ants or bees invading your feeder?
Sugar water attracts more than just hummingbirds. Ants and bees love it too. If you're worried about an ant or bee invasion then you should make sure the feeder you buy has an ant moat or a bee repeller. An ant moat is exactly what it sounds like – a little water-filled moat that prevents ants from reaching the sweet stuff.
Just make sure to actually fill it with water.
If you find a feeder that you absolutely love that doesn't come with an ant moat, don't worry. You can buy a separate ant moat which you can attach to most feeders.
What type of material are you looking for?
Most hummingbird feeders are either made of plastic, glass, or a plastic/glass combination.
Honestly, as long as the plastic is nice and sturdy there's not much of a functional difference between glass and plastic feeders. It's more of an aesthetic choice. We personally prefer the "classier" look of glass feeders, but plastic ones are more durable and can withstand falling to the ground without shattering.
However, either one is fine and will get the job done.
Are you looking for a small or large feeder?
Size isn't everything. But it can make a difference when it comes to how often you need to refill the nectar and how many hummingbirds can feed at once.
We prefer the larger 32 oz feeders because they're easier to maintain. More nectar means less refilling, and the larger feeders normally have more perches and ports for the hummingbirds to use. There's something very magical about having 6 or 7 hummingbirds hovering around your feeder at once.
The one thing to be careful about in regard to large hummingbird feeders is that nectar usually spoils in five days or so. This means if not many hummingbirds visit, you could be wasting quite a bit of nectar. Many people prefer to buy two or three smaller hummingbird feeders rather than one big one.
Do you want a close-up view of the hummingbirds?
Hummingbirds are fascinating creatures and really fun to observe. However, unless you have a pair of good binoculars, you won't be able to see the details of that hummingbird 20 feet away.
Buying a window hummingbird feeder is the best way to observe the close-up details of hummingbirds. These feeders can be attached to the outside of a window, which means you can stand just a foot or two away from the hummingbird while it feeds. We highly recommend you get a window feeder if you want a close-up view into the private life of a hummingbird. Little kids love these types of feeders too.
A few notes about window feeders:
Lots of reviewers say that they have issues making the feeder stick to the window. Make sure you clean the outside of the window thoroughly before trying to stick it on. Any dust or dirt on the window can compromise the seal between the feeder and the window.
If you notice that the hummingbirds start crashing into the window, please either remove the feeder or add some decals to the window. A hummingbird's beak is very prone to breaking.
How to Clean a Hummingbird Feeder and Maintain It
Cleaning your hummingbird feeder is an important part of owning one. As we mentioned earlier, the nectar goes bad in around 5 days to a week – depending on the weather, etc. Hummingbirds won't drink spoiled nectar.
So it's important to clean out your hummingbird feeder every once in a while, just like with a normal bird feeder. We recommend every week or two.
If your hummingbird feeder is dishwasher safe, then the easiest way to clean it is to throw it in the dishwasher with your other dirty dishes. Just double-check to make sure it's dishwasher safe, or you'll have a melted mess in your dishwasher.
If your feeder isn't dishwasher safe, the easiest way to clean it is to dissemble it as much as you can. Then mix hot water with a bit of dish soap in a bucket or container and put the feeder parts into it. Let it soak for an hour or two then rinse and let dry before re-assembling the feeder.
Frequently Asked Questions About Hummingbird Feeders
Is it OK to feed hummingbirds sugar water?
Yes, it's most definitely okay to feed hummingbirds sugar water. Just make sure it's cane sugar (beet sugar is okay too). Never use brown sugar, organic sugar, raw sugar, powdered sugar, or turbinado. All these sugars have additives or contain ingredients toxic or harmful to hummingbirds. You can check out our DIY hummingbird food recipe if you need some inspiration.
How do I attract hummingbirds to my hummingbird feeder?
There are a few things you can do to increase the chances that hummingbirds will visit your feeders. You can get more than one to increase the odds of a hummer seeing one. And you can make sure that your feeder catches the sunlight. When the sun reflects off the nectar and the red plastic/glass bottle it sparkles and catches the attention of any passing hummingbirds.
Do hummingbirds prefer red feeders?
Yes, hummingbirds are naturally attracted to the color red. They're attracted to bright colors, but especially red. This is why most hummingbird feeders are red. Unfortunately, nobody yet knows why they're attracted to the color red.
Where is a good place to hang a hummingbird feeder?
You should have your hummingbird feeder in an area that is partially shady to prevent the nectar from spoiling too quickly in the sun. Some sun is okay because the sun's reflection off the nectar is a great way to attract hummingbirds to the feeder. You want to hang the hummingbird feeder about eye level and away from potential predators. The hummingbirds should feel safe.
What time of day do hummingbirds come to feeders?
The time of day that hummingbirds most often come to feeders is dawn and dusk, or early in the morning and late in the afternoon before sunset. But that being said, you'll see hummingbirds feed all day long. You just may see more of them in the early morning or late afternoon.
Do hummingbirds poop around feeders?
Hummingbirds do poop around feeders but with simple precautions and regularly scheduled cleaning it won't be a problem for your garden at all.
Sources:
1. https://www.kaytee.com/learn-care/wild-bird/hummingbird-facts
2. https://en.wikipedia.org/wiki/Hummingbird