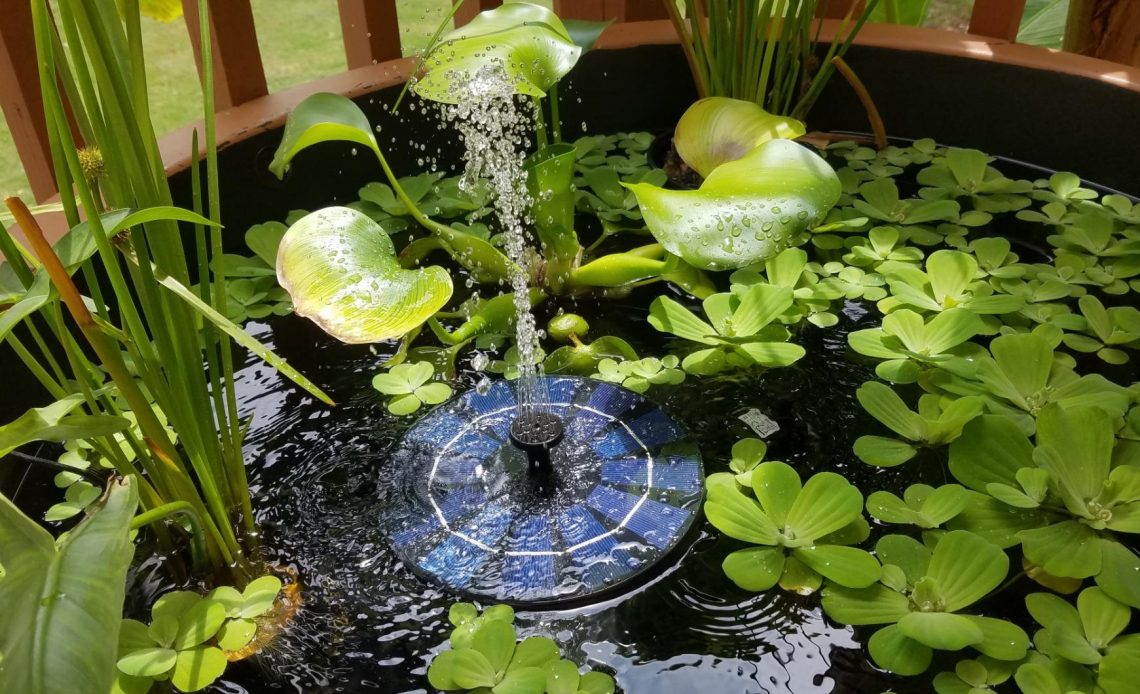 We're here to help! Wild Yards is a completely free website that is 100% dedicated to helping you create a wildlife-friendly, sustainable yard. Read more
WildYards is reader-supported. When you buy a product through a link on our site, we may earn a comission. Every product is independently selected by our (obsessive) editors and our reviews are unbiased and objective. Read more about our mission or our privacy policy.
Looking for a low-cost, energy-saving, and easy way to add a water fountain to your existing bird bath?
Then you're likely on the hunt for the perfect solar bird bath pump.
Here's the deal. There is no one-size-fits-all best-of-the-best solar bird bath pump that we would recommend to everyone. Every situation is a little different and depending on your needs and what you're looking for, we would recommend a different product. Don't worry, keep reading to find out exactly what you should look for when buying one.
If you're not sure exactly what your needs are in a birdbath pump, skip ahead to our buyer's guide to learn more. Otherwise, keep scrolling to see our top ranked solar bird bath pumps.
Our Top Picks for Best Solar Bird Bath Pumps
The solar birdbath pump that's best for you is the one that fits your needs and is within your budget. While the following products are sorted with the "best" upfront, don't let that dissuade you from buying the pump at the bottom of the list if it fits your needs the most. We only include products in our roundups that we would buy for our own yards.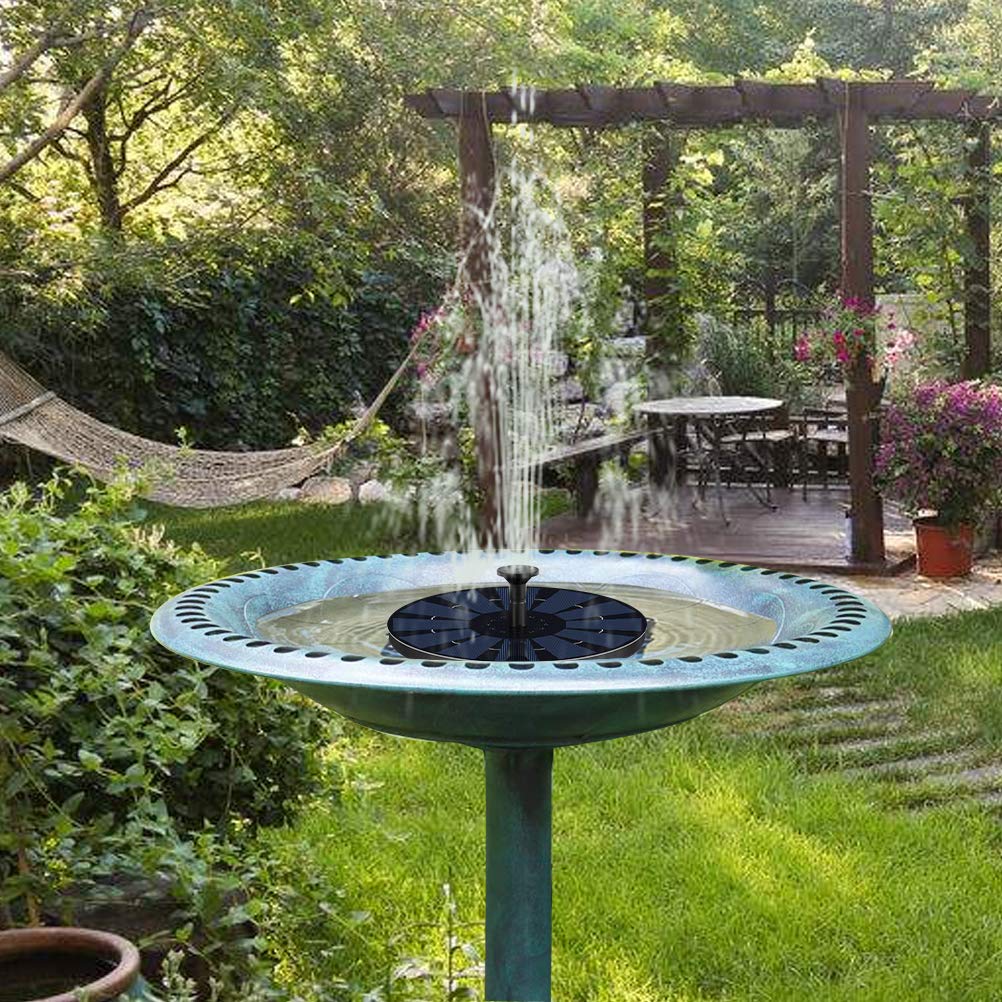 Don't live in sunny California? Don't worry, with this little guy, your birdbath will continue to sport a water fountain even when it's raining or cloudy. At least for a little bit.
This is achieved with a 3.5W battery backup that kicks in whenever there's not enough power coming from the solar panel. The battery gets recharged whenever it is sunny again.
This solar fountain pump is very powerful and we recommend that you don't use it if you have a very small birdbath – unless you want to solely use the bubbler spray head attachment. Otherwise, you'll lose too much water.
An amazing feature that we haven't seen in many other pumps is block and idle prevention. Whenever the motor gets clogged with dirt – which will happen more frequently than you'd think – the motor will turn off until it gets unclogged. This feature will drastically lengthen the lifespan of the pump. A motor that keeps trying to run when it's clogged will overwork itself and die fast.
Want to see this solar birdbath pump in action? Check out this video:
Pros:
Great value for the price
As it's all one piece, there are no cables you have to mess with or hide
Very powerful – in full sunlight, it's capable of creating a fountain 1.5ft tall.
Comes with built-in 2.5W battery backup so it still works if it's cloudy or rainy outside
Block & idle prevention
Comes with 6 different spray heads for a large variety of options
Great for larger birdbaths since it's very powerful
Cons:
Since its suction is so powerful, you'll have to be extra careful that you clean it enough or it'll get clogged.
If you have a small birdbath, the large fountain option may shoot the water out of the birdbath
Package comes with minimal setup instructions but installation is intuitive
This pump is at the top of our best solar bird bath pump list for a good reason. Check out the reviews on Amazon if you don't believe us.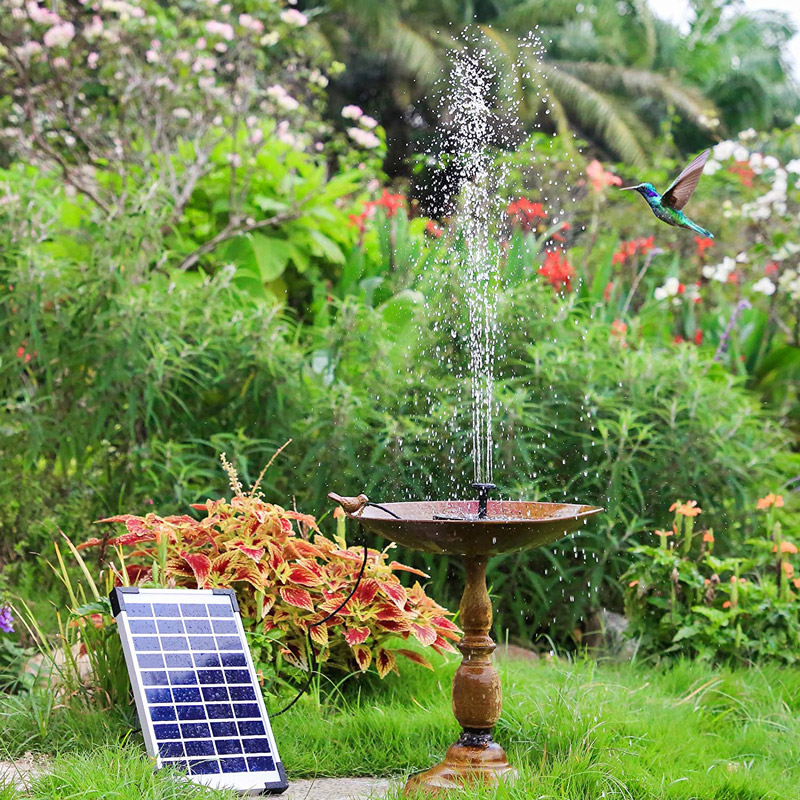 This pump can be used in any depth of water since it floats on top of the water instead of being submerged. This is great news if you have a shallow bird bath or want to use it for multiple purposes.
Because of the 6W solar panels, this pump is the best solar pump on this list if you live in a relatively overcast and rainy area. While it's not guaranteed to work in low sunlight, we've noticed that this pump does significantly better than any other pump in low sunlight. Plus, it has a battery backup to keep it pumping for at least a little bit without solar power.
The AISITIN pump has a few features which distinguish it. It automatically turns off when it detects very low water levels. This lengthens the product's life. It comes with 6 different nozzle attachments, including a bubbler which is perfect for small bird baths.
This is an all-around great birdbath pump and the one we recommend for someone looking for a detached solar panel and battery backup.
Pros:
Comes with 6 different nozzle attachments.
Built-in 1200mAh battery that keeps the water flowing when there's no sun.
6.0W solar panels which mean that the pump will work even in weak sunlight
Automatic power-off protection when no water is detected to lengthen product life
Good value for the price
Detached solar panel
Cons:
May shoot water out of birdbath if the bath is small enough (easy solution is to drill extra holes in the attachment to reduce water pressure)
Cable between the spray head and the solar panel can be unsightly and hard to hide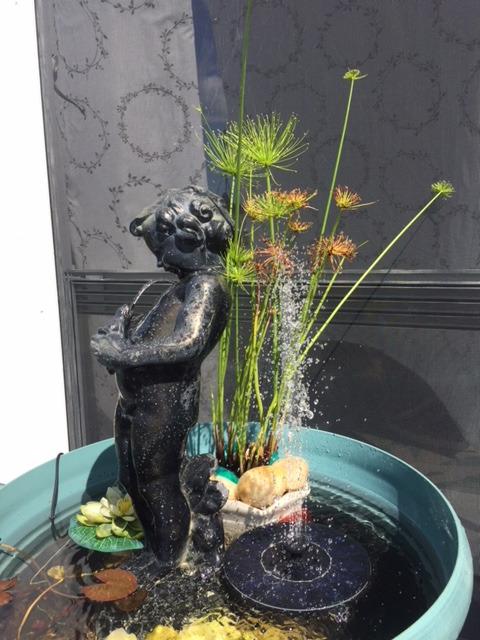 This is a great product for those of you looking for a budget-friendly solar bird bath pump that has a detached solar panel. It has a 10ft long cable from the pump to the solar panel so if your birdbath is in the shade, you can still place the solar panel in a sunny area. This also allows you to change the location of the panel throughout the day to keep it in sunlight.
The biggest drawback of this pump is that it doesn't have a battery to store energy, which means it will stop working when there's no direct sunlight hitting the solar panel. Depending on your needs and wants, this may be a deal-breaker. However, for the price and the size of the pump, it does its job very well.
Pros:
Detached solar panel with 10ft cable, so birdbath can be in the shade and solar panel in the sun.
Great value for the price.
Very powerful for its relatively small size.
Comes with a filter bag to keep dirt from getting into the pump (still requires cleaning once in a while though).
Maximum water depth of 21 inches (55cm)
Easy setup and installation – no tools required.
Comes with multiple spray heads so you can choose the water pattern you love the most.
Cons:
Requires direct sunlight to work (no battery to reserve power for cloudy days).
Cable can be annoying to hide and make look good
Buyer's Guide: What to Look for in A Birdbath Pump
If you just started your research into buying a birdbath pump, you may be overwhelmed by the sheer number of options available to you.
Fortunately, you can really narrow down your pool of possible pumps by answering the following questions:
Where do you want to place the pump?
In essence, this question is asking where your birdbath is placed in which you want to put the pump.
If your birdbath is in a shady area and you don't want to move it into the sun, then you're looking for a solar pump that has a detached solar panel with a long enough chord to be able to place the solar panel in direct sunlight.
If your birdbath is already in the sun, then you're not limiting yourself to what type of solar pump you get.
How big is your birdbath?
The width and depth of your birdbath will determine how big of a birdbath pump you'll be able to get.
Some pumps require a certain water depth to be able to function correctly while others don't care. You also want to make sure that your pump will actually fit in your birdbath. Many pumps are designed to be used not only for birdbaths but also for garden ponds, pools, and aquariums.
The best way to determine if your birdbath can accommodate your chosen birdbath pump is by using a measuring tape to measure the width and depth of your bath. Then check out the dimensions and required water depth levels of the pump you're eyeing. Amazon will usually have the product specifications listed.
One last thing regarding size. Lots of these solar pumps are very powerful in direct sunlight. If your birdbath is one the smaller size then it's likely that the pump will shoot the water out of the birdbath. Prematurely draining your birdbath. We've learned that the easiest solution to this is switching out the nozzle attachment to a bubbler rather than a fountainhead. If you're dead-set on a fountain, however, you can use a drill or sharp object to add additional holes to the nozzle attachment. This will reduce the water pressure and prevent the water from going as high and falling out of the birdbath.
What is your budget?
Surprisingly, budget is not that big of a concern when talking about solar birdbath pumps. You would expect that solar pumps would be expensive, but we found great working pumps for as cheap as $10. At the time of writing this, the most expensive pump on our recommended product list is $60.
That's nothing compared to buying a birdbath with a built-in solar fountain.
So whatever you're comfortable spending, you'll find a product for you.
Do you want your pump to be running 24/7?
If you truly want your pump to be running 24/7, even in the dead of night, then solar-powered pumps are not for you. You should check out electrical birdbath pumps.
If you want your pump to be running during sunlight hours and want to be eco-friendly, then solar pumps are for you. If you want your pump to be running even when it's cloudy or rainy or even just a little overcast, make sure you buy a solar pump that includes a backup battery. The larger the better.
Solar birdbath pumps without backup batteries will only work in direct sunlight and unless you live in a very sunny area, you're most likely going to be disappointed by how often that is.
Do you want to operate your pump in the winter?
Operating a solar birdbath pump in the winter is a tough task. Not only is it less likely to be sunny in the winter, you're also contending with freezing temperatures and snow.
However, moving water is less likely to freeze than standing water, so depending on how cold it gets where you live you may be perfectly fine with just a solar birdbath pump. If it gets super cold, you may need to add a heating element to your birdbath to help the water from freezing.
Why You Need Solar Bird Bath Pump
If you're reading this article, then you likely already have a good reason for wanting to buy a solar birdbath pump. However, if you're on the fence about buying one or need a little more convincing, here are a few benefits of installing a solar bird bath pump in your backyard.
Unlike electrical bird bath pumps, solar ones cost nothing to operate since the power is harnessed from the sun.
Being solar-powered means that the pump doesn't need to be plugged into an electrical outlet which can be a real pain in the rear if you don't have any outlets in your backyard or near your bird bath.
A water feature, such as a fountain, attracts many more birds than standing water. The sound of running water is magnetic to them.
Because the water is moving, it takes longer to get as dirty as standing water. Which means fewer cleaning sessions for you!
A water fountain is not only attractive to wildlife such as birds, but to us humans too. You're sure to get positive feedback from neighbors and visitors.
Solar bird bath pumps are easy to clean. They just require a little wipe-down every time you clean your bird bath.
If you buy a high-quality pump, it'll last a long time. You're sure to get the value back that you invested into buying a birdbath pump.
There are lots of high-quality inexpensive pumps that make great gifts for bird lovers.
Adding moving water to a birdbath will keep algae from growing as fast.
Tips to Get the Most Use Out of Your Pump
Once you invest in a birdbath pump, you want to make sure it'll last and keep operating at max efficiency. Here are a few tips to make sure your product is properly operated:
Make sure the pump doesn't operate for a long without water. That will shorten its lifespan.
If the birds seem intimidated by the pump/fountain, place some rocks around the fountainhead to hide it. Birds typically enjoy natural-looking water features.
Make sure the solar panel is not in the shade.
Clean the pump regularly and according to the operating manual to make sure it doesn't get clogged or stuck. It's best to do this whenever you clean your birdbath. Here's our guide on how to properly clean a birdbath in case you're not sure how.
Change the water in the birdbath frequently to avoid dirt getting into the pump. This is also important for the freshness of the water and the health of the birds drinking from your birdbath.
Summary:
Just like everything in life, if you're asking what the best solar birdbath pump is, the answer is: "It depends". In the article, we've gone over the products we feel are the best fit for most people, talked about what to look for when buying a pump, given you the benefits of owning one, and many tips on how to get the most out of your new pump.