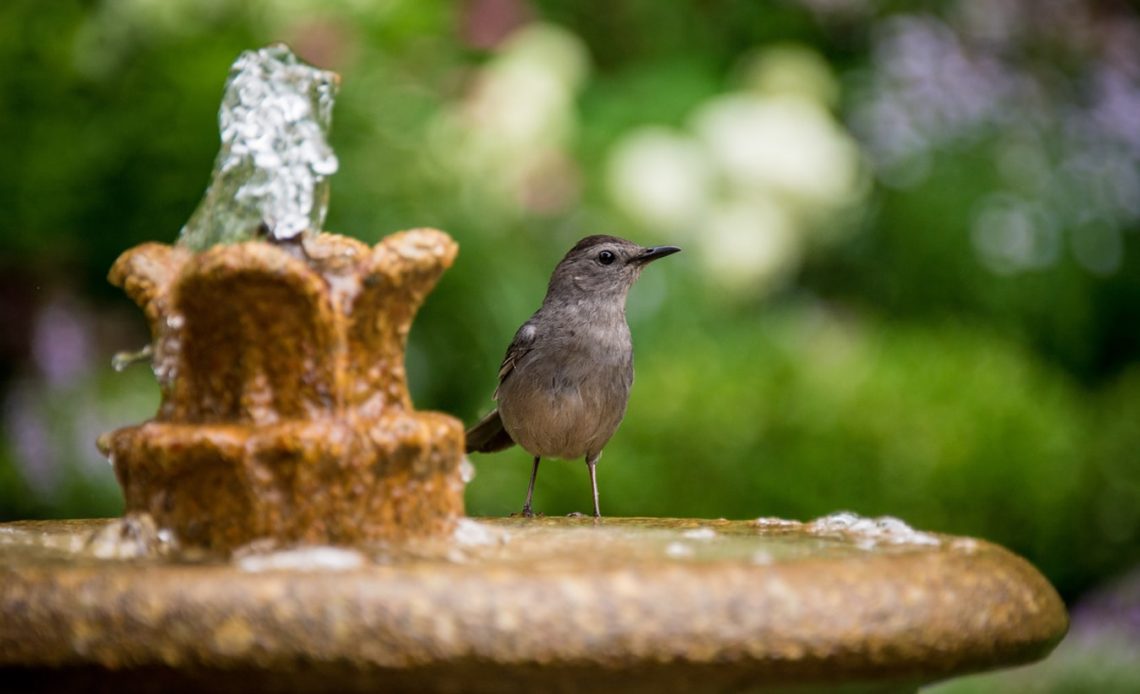 We're here to help! Wild Yards is a completely free website that is 100% dedicated to helping you create a wildlife-friendly, sustainable yard. Read more
WildYards is reader-supported. When you buy a product through a link on our site, we may earn a comission. Every product is independently selected by our (obsessive) editors and our reviews are unbiased and objective. Read more about our mission or our privacy policy.
Choosing the best bird bath for your backyard is a daunting task.
There are hundreds of different bird baths to choose from and each comes with its own set of pros and cons. In this complete buying guide, we've handpicked the best bird baths from each category to make your life simpler and to attract the most wild birds possible.
If you already know what style or type of bird bath you're looking for, check out our top picks below. Otherwise, skip ahead to the section on how to choose the best bird bath for your backyard.
Here are the best bird baths you can buy:
The Best Bird Baths for Your Backyard By Type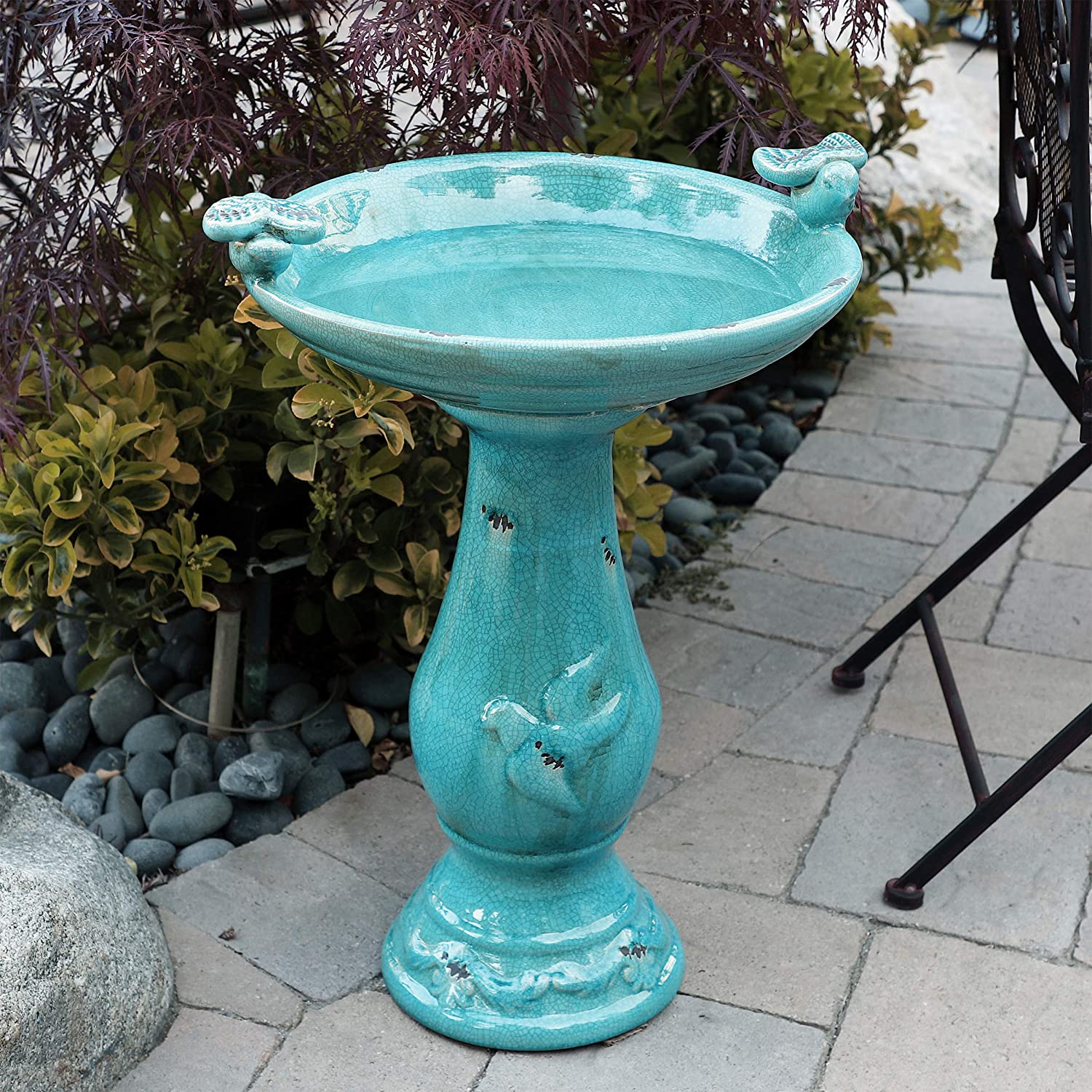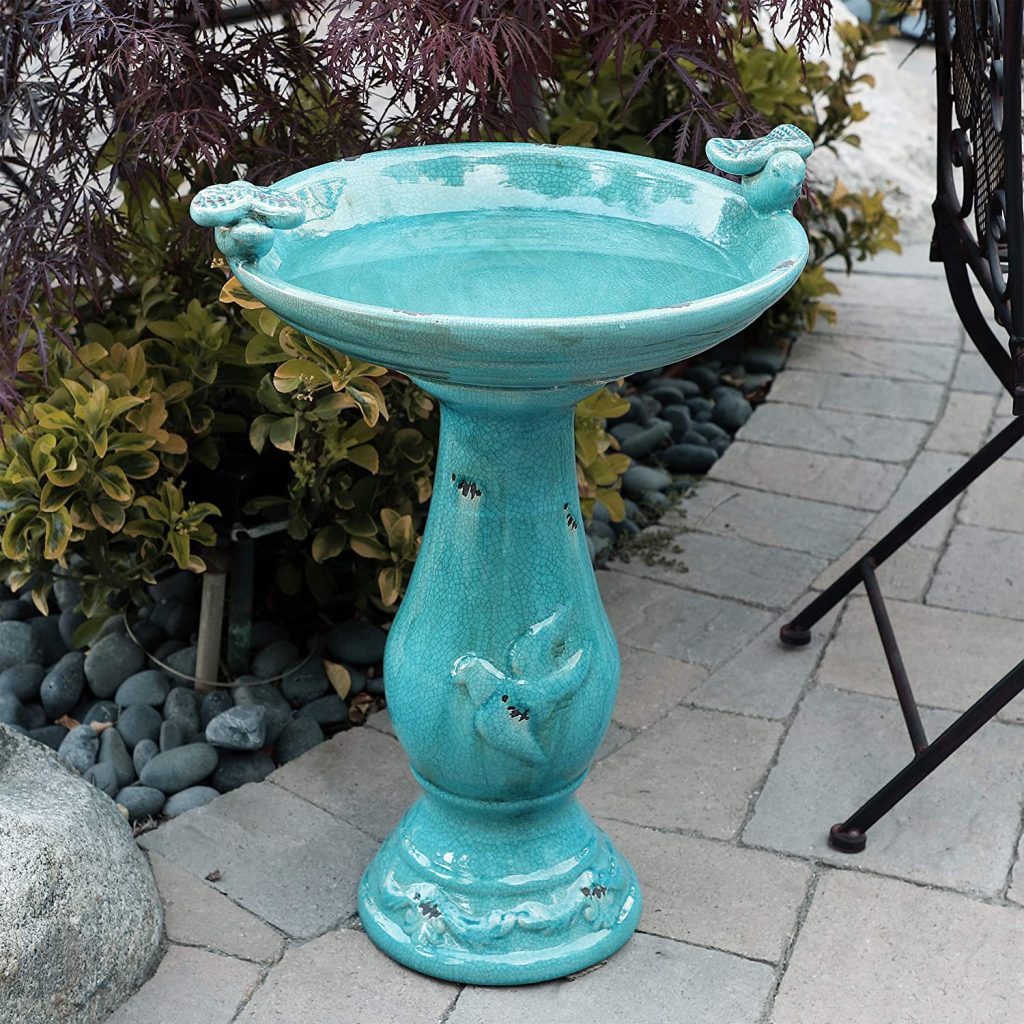 This is one of the best bird baths you can buy for a reasonable amount of money. It's made of ceramic materials for a look that compliments many gardens. This also means it's durable and substantial looking without weighing a ton. In fact, it weighs in at 20 lbs which makes it relatively easy to move around and clean.
The basin bowl is 19in by 16in and is 25 inches off the ground. This is a perfect size to fit in both large and small gardens without looking out of place. It comes in a beautiful turquoise color with a crackle glaze finish and can hold up to 3 liters of water. The lighter color won't absorb heat as much during the summer, which means the water will stay cooler longer. If, however, you live in a colder climate, you may want to get a darker color to absorb heat and keep the water from freezing earlier. Either way, we suggest getting a heating element if you plan on having a functional bird bath in the winter (unless you live in one of the perpetual summer states).
Don't forget to read the reviews on Amazon before buying. Spoiler: they're overwhelmingly positive.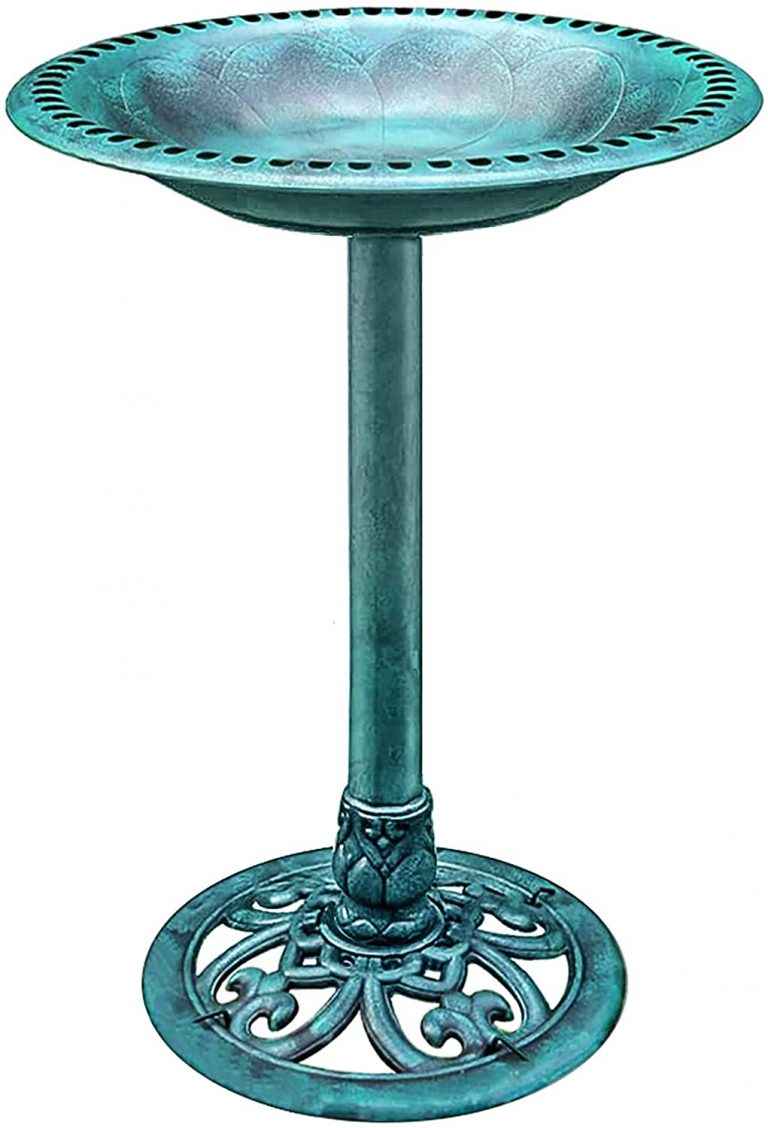 Finding a budget-friendly but high-quality birdbath is not easy. Fortunately, it's not impossible.
If you're looking for a cheap birdbath that'll look good and last a while, this antique-looking VIVOHOME birdbath is for you. It's lightweight (4.4lb) but built with weather and frost-resistant resin so you can leave it out all winter long. It comes with stakes to fasten it to the ground in case it is on an uneven surface or if there is a chance that strong winds could topple it over.
The 20" bowl holds 0.8 gallons of water, which is a great bang for the buck. With great customer reviews on Amazon and our own research, we are confident in recommending this birdbath for the thrifty birders reading this.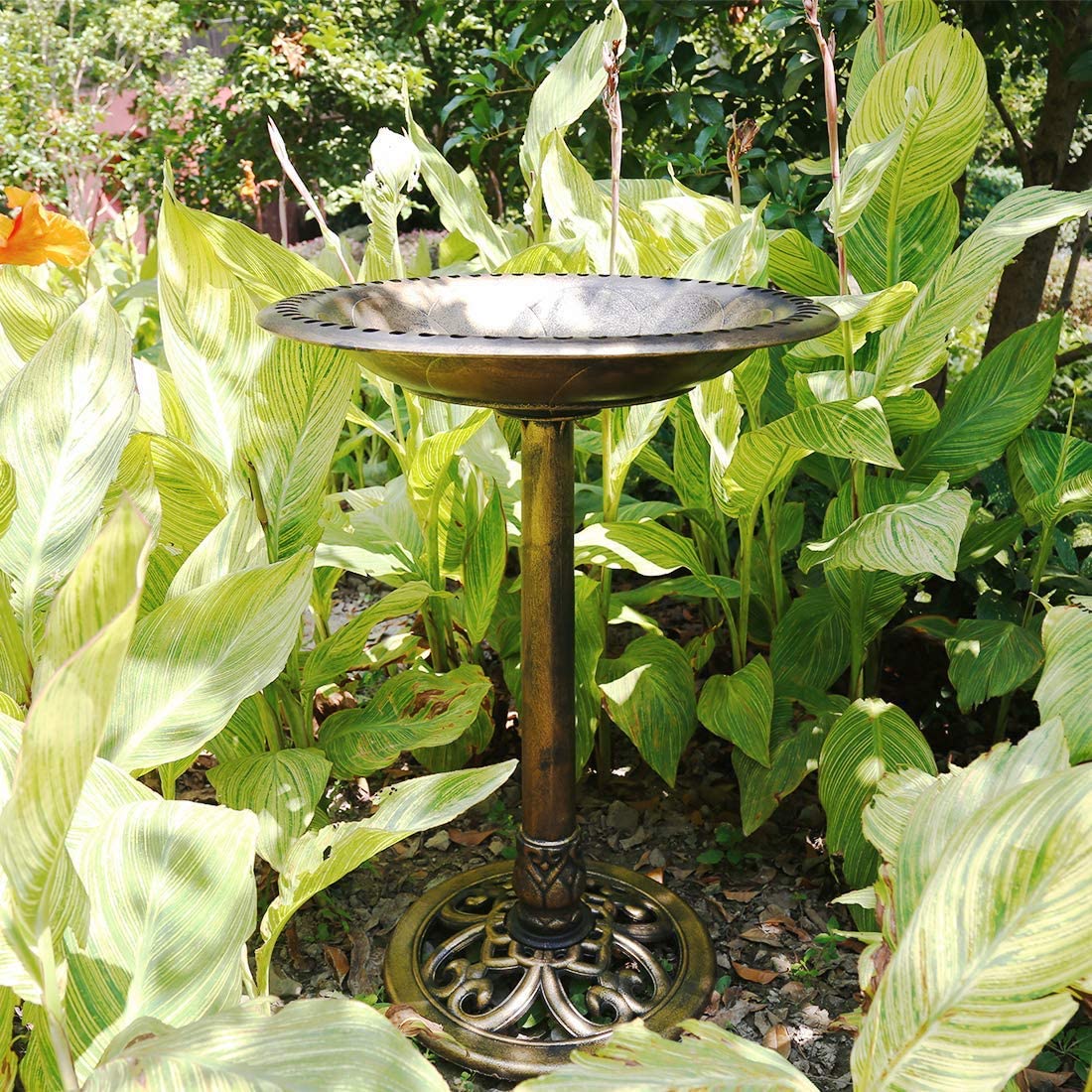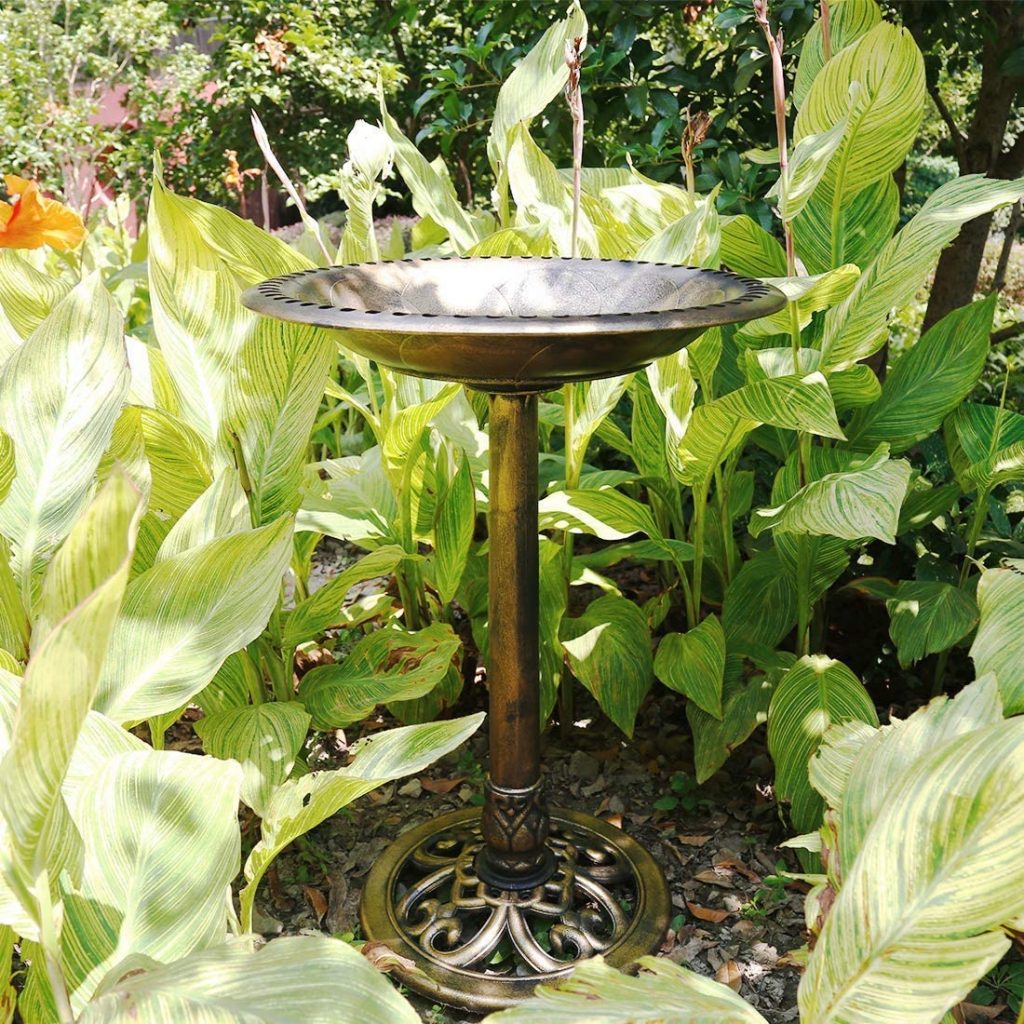 A solar-powered birdbath is a great addition to any yard because it will propel water into the air using stored energy.
If you want a birdbath with a fountain but don't want to or can't run electricity outside, a solar-powered birdbath is your best option. Among the many different models we researched and tested, the VIVOHOME version was one of the best and easiest to get your hands on.
One of the reasons this solar birdbath stood out among its competitors is that solar energy is on-demand. Normally a solar-powered fountain will only run when it's sunny outside, this fountain stores any excess energy in a battery which it then uses whenever there's not enough sun to normally run. Perfect for overcast days.
Not only is this bird bath super functional, but it's also beautiful and is sure to add that extra touch to your backyard.
Check out more customer reviews on Amazon.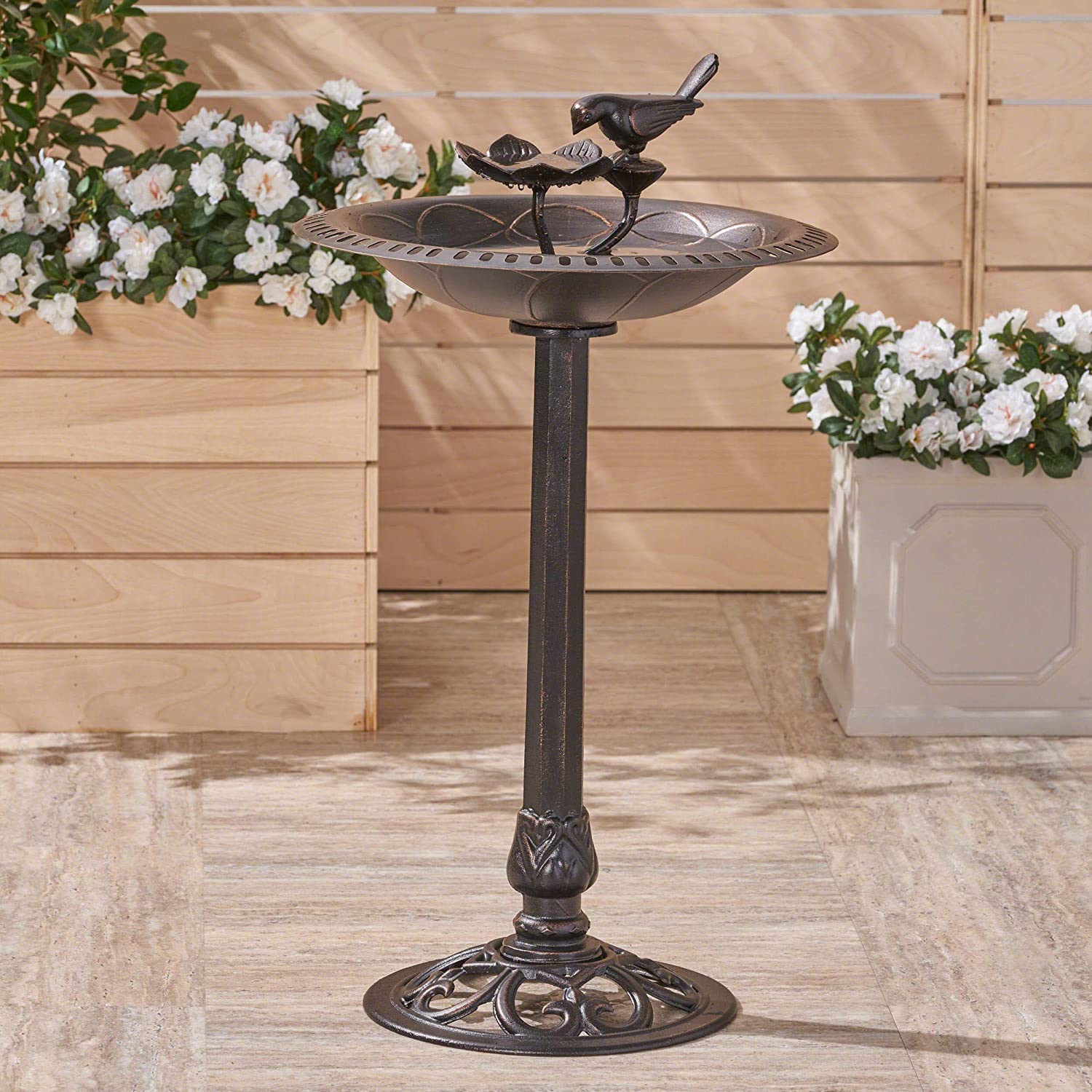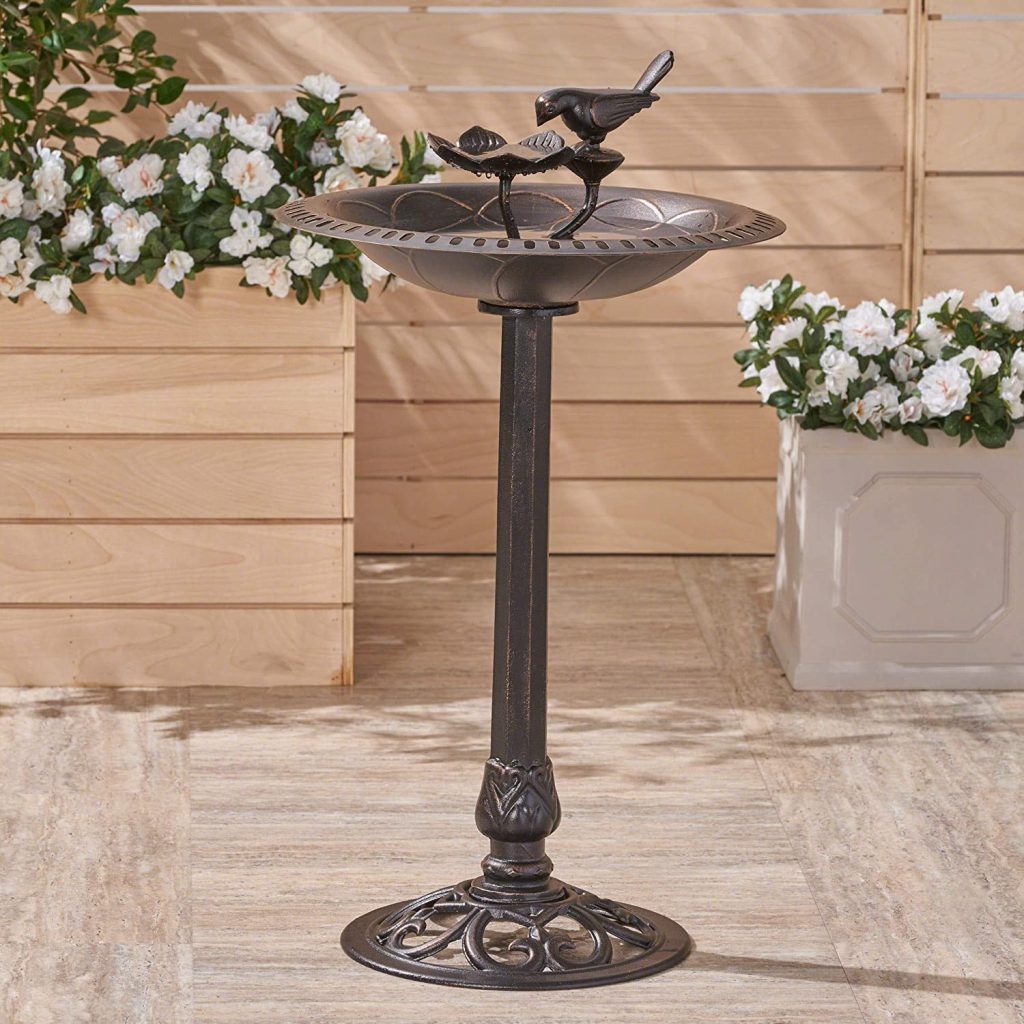 Finding a metal birdbath that is completely made of metals is not easy. This birdbath by Christopher Knight Home is the best metal bird bath we could find that was reasonably priced.
It's beautifully crafted and since it's metal (iron and aluminum), it'll last for quite a long time. It's finished with a rust-proof Aluminum cast, so you don't have to worry about cleaning rust. It does require some assembly, but it's very easy to put together. Just make sure that when attaching the bowl to the base, that you fit it snugly together so no water leaks out of the bowl.
Metal birdbaths are usually super heavy because of the material, but this bird bath weighs only 17 pounds because of the lightweight aluminum cast. This is perfect if you wanted a metal bird bath but were worried about moving it and maintenance.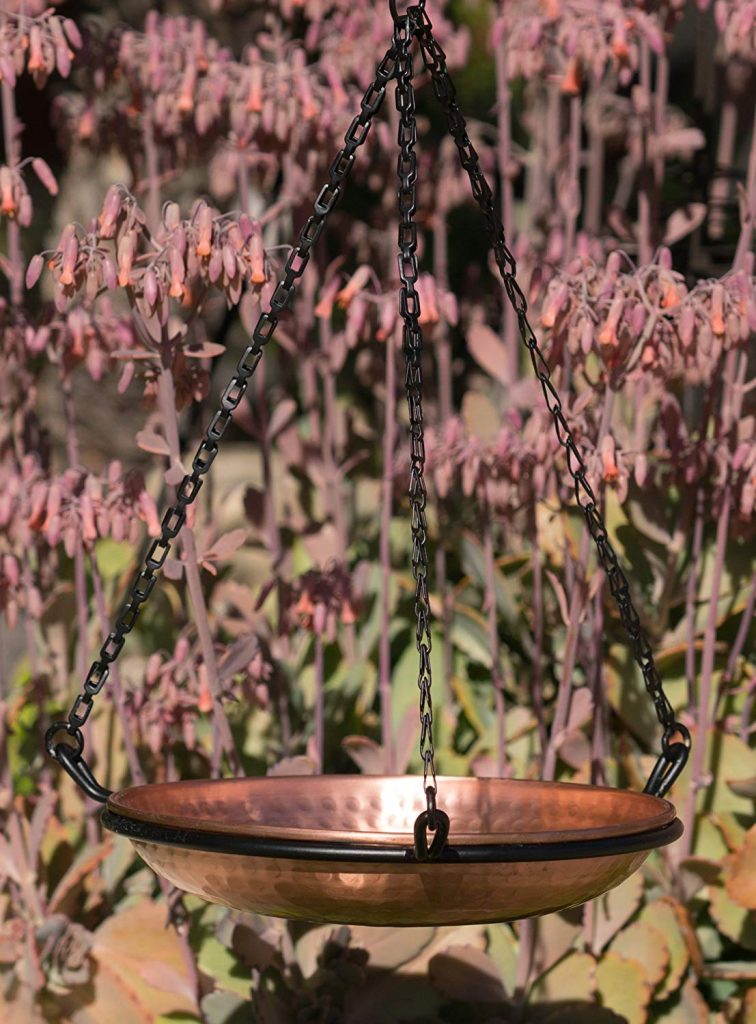 This beautiful hammered copper birdbath is the ideal combination of functionality and visual appeal. Made of 100% solid copper and handcrafted, it's a no-brainer.
With a diameter of 11 inches and a depth of 2 inches, it's the perfect size to accommodate a variety of birds – including hummingbirds.
This birdbath comes with a stand and a hanging option, so you can choose what you prefer or what works best in your backyard.
Copper is a great material for a birdbath. Unlike plastic and some metals, there's no chance of any chemicals seeping into the water and making the birds sick. It also looks amazing. Get yourself some matching copper bird feeders and you're yard will look on point.
Check out what happy buyers of this product have to say on Amazon.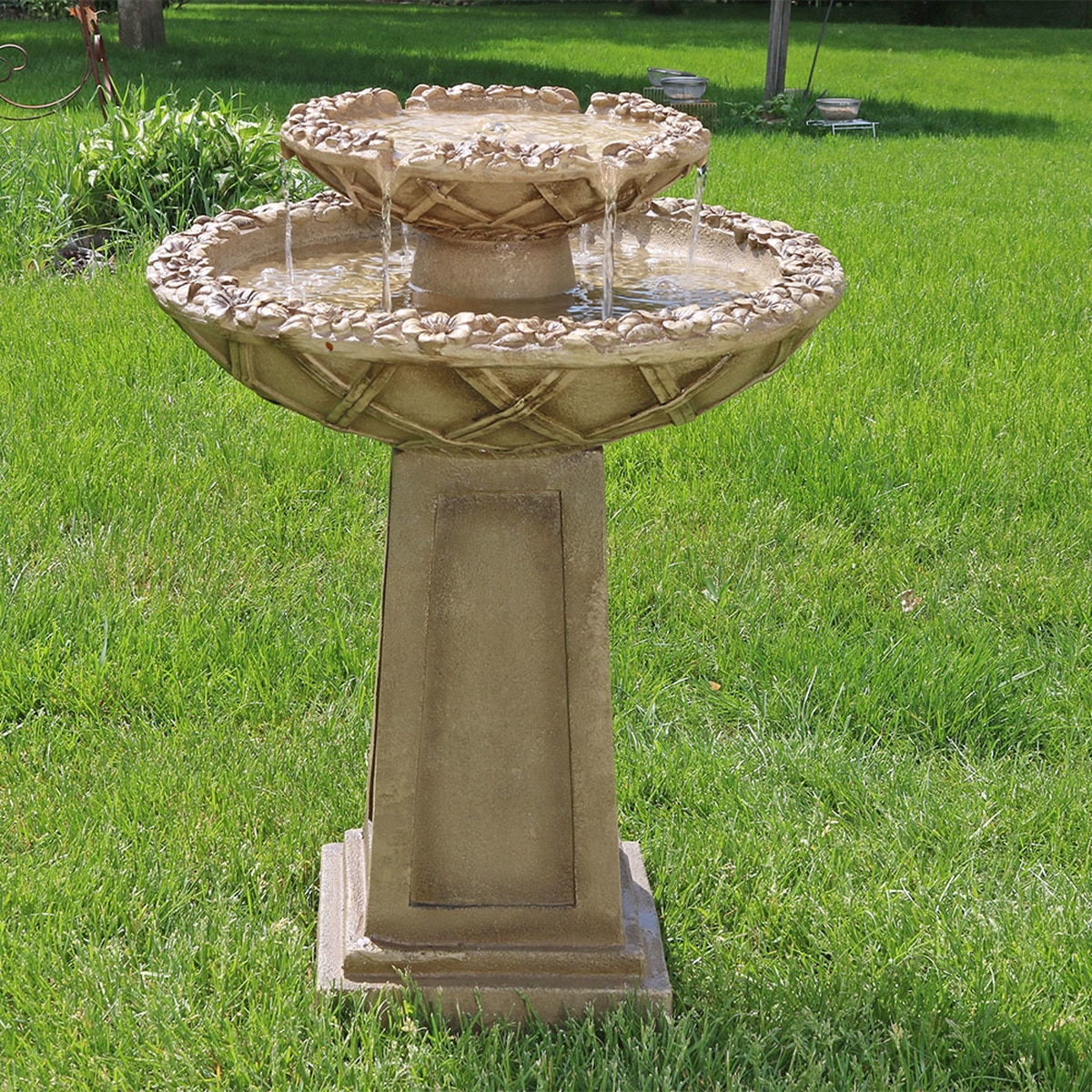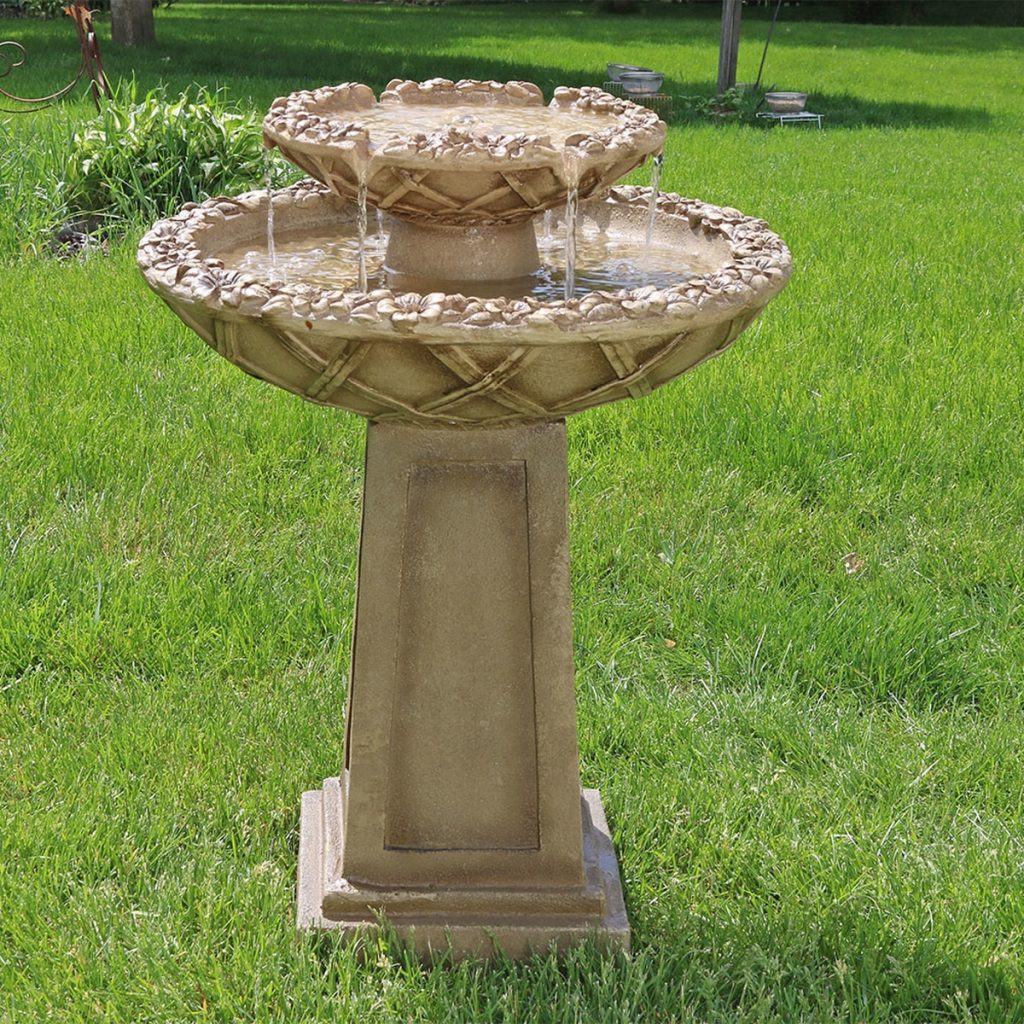 Looking for an eye-catching birdbath with a fountain?
This Sunnydaze 2-tiered birdbath water fountain is it. As you can see from the picture, it's very classy and elegant looking. It looks like it's made from 100% concrete but it's actually made from polyresin and fiberglass which makes it weigh only 20 pounds. This makes it very easy to move around, store, and clean it. 
The fountain is electrically powered and you'll have to plug it into an electrical outlet. The outlet that comes with the fountain is only 6ft long so you'll most likely have to buy an extension chord.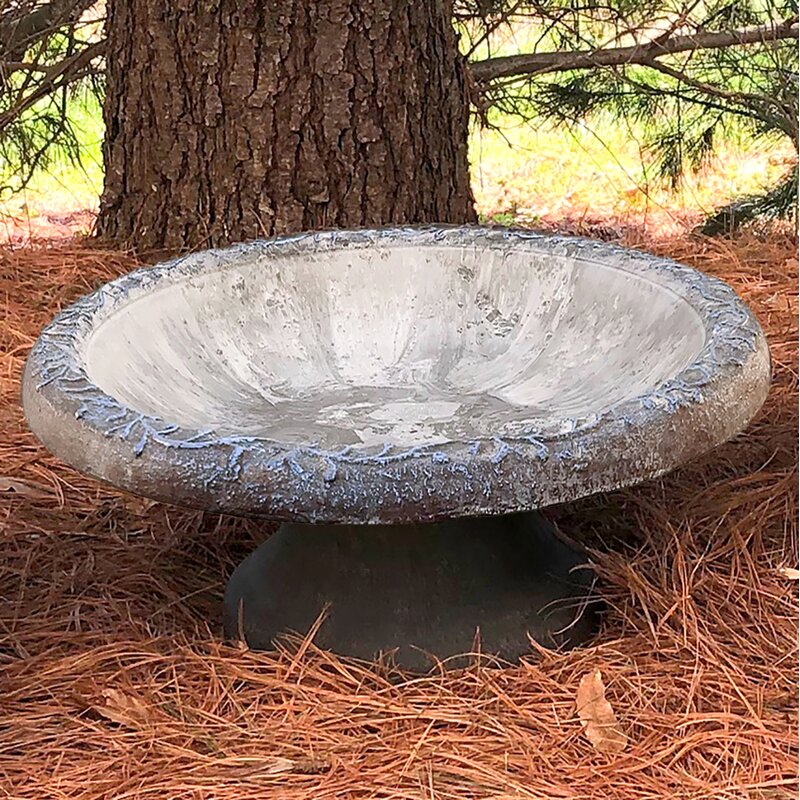 This is a beautiful ground birdbath made of durable materials like ceramic and fiber clay. If you're looking for a unique and classy ground birdbath that you can put in a flowerbed, this is the birdbath for you.
Its design includes a wide rim that is attractive for all types of birds. It also elevates the birdbath a little off the ground, the perfect height to keep unwanted pests from spoiling the water for your feathered friends.
This bird bath looks great in our garden along with our flowers. From our experience, however, we'd recommend putting rocks or pebbles inside the bath so it stabilizes it a bit more.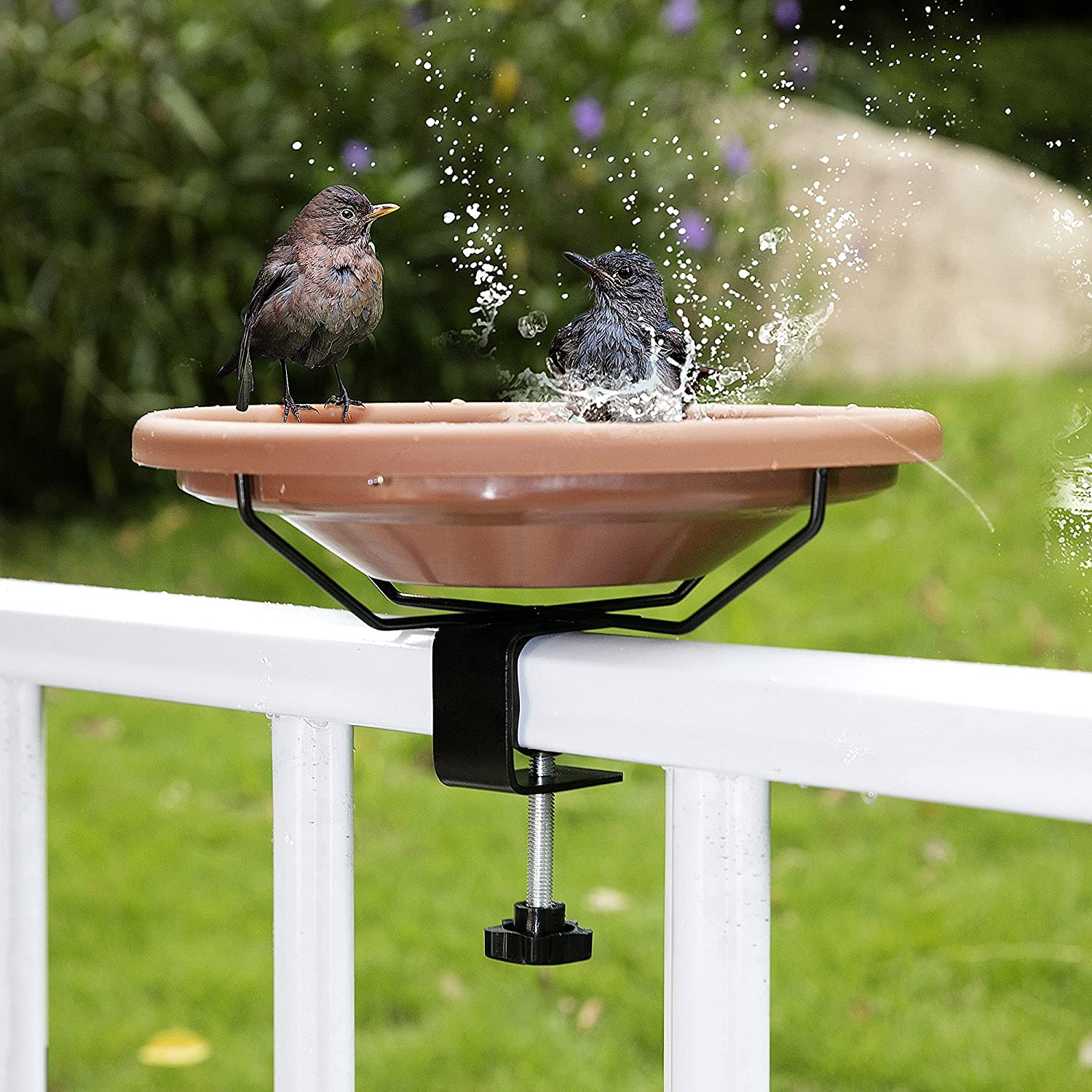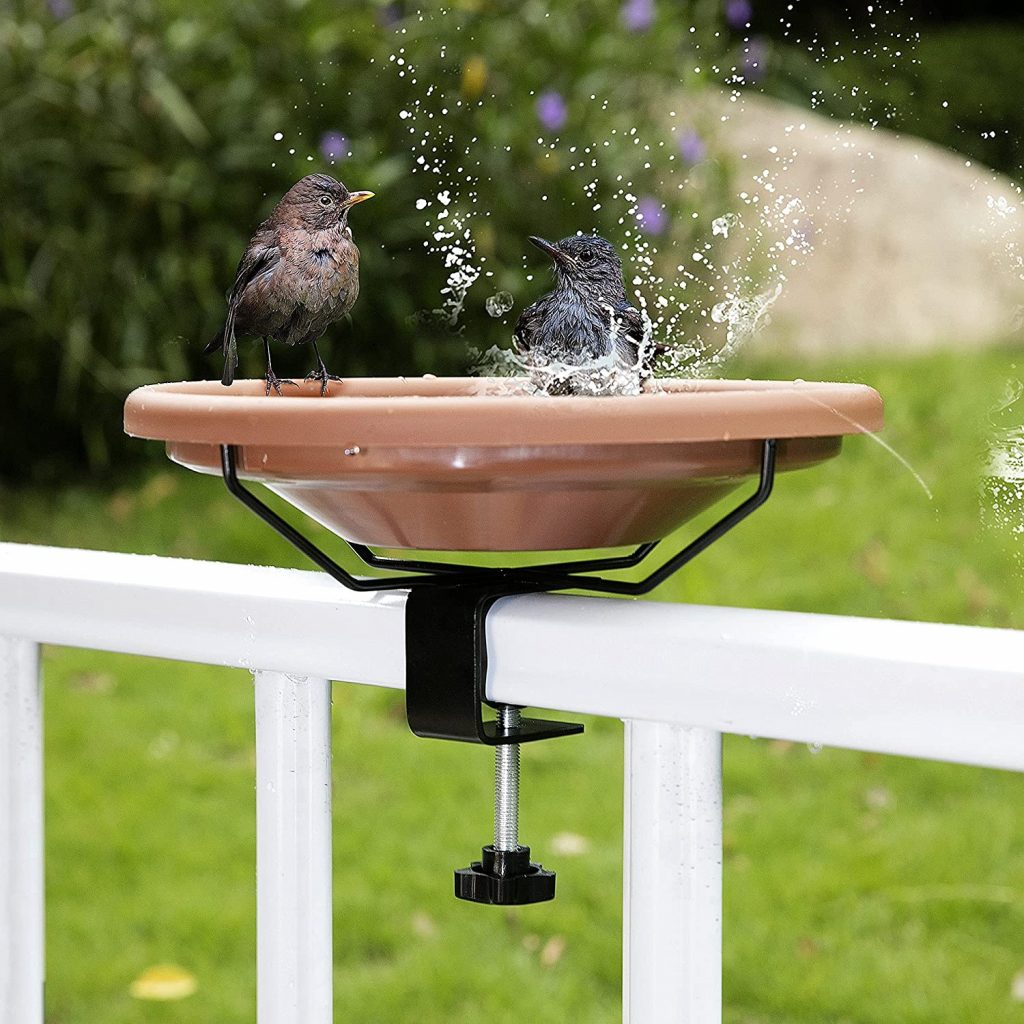 Looking for the best small bird bath? Live in an apartment building? Don't have a yard?
Don't worry, you can still attract wild birds to your deck or patio with this small but highly-functional deck-mounted bird bath.
The Hanzi deck-mounted "bird spa" is a flexible bird bath that you can mount to your deck, patio, window sill, or railing. No tools are required to set up this bird bath and it'll fit most size railings as it has a flexible clamp. It's made of quality materials and a rust-free bowl. The best part is that you don't have to remove the clamp to clean the bowl, it just pops right out so you can take it inside and give it a good scrubbing.
Check out what other customers have to say about this adorable bird bath on Amazon.
Why you need a bird bath in your yard
Installing a bird bath is one of the best ways to attract birds to your yard. If you're reading this article, then you're probably already aware of all the benefits of having a bird bath in your yard. But in case you're on the fence about buying one, here are a few reasons why it's a great idea.
All birds need to drink
Just like most animals and humans, birds need water to survive. Depending on where you live, water can be hard to find for birds. Providing them with a continuous source of water through all seasons of the year will make your backyard an oasis for all types of birds.
While you'll need a large assortment of different bird feeders to attract different types of birds, bird baths are universal. Buying a bird bath is a great idea if you want to attract a large variety of different bird species.
In fact, there are bird species like the warbler or robin that rarely visit bird feeders. If you want to attract these feathered creatures, a bird bath is the best way.
Birds like to bathe
Birds groom themselves too. Just like with us, if birds don't groom and bathe themselves regularly, they're more likely to get sick, catch an illness, or not find a mate.
A bird bath can be a stylish addition to your landscaping
Bird baths aren't just for birds though. If you choose a good-looking bird bath it can be a focal design point in your landscaping. It'll be a delight to look at, with or without birds splashing around.
How to choose the best bird bath for your needs
Choosing the correct bird bath for your yard is tough. You'll be overwhelmed by the many different choices if you go to a garden center without knowing what exactly you're looking for.
By doing your research ahead of time and making a careful choice, you'll avoid buyer's remorse and attract many elegant birds to your backyard.
Here are a few questions you should ask yourself before buying a bird bath:
1. What size do I want?
Bird baths come in many different sizes. The smaller the bird bath, the more convenient it will be to move and clean. But a larger bird bath will accommodate many more birds at once. A larger bird bath will also require less maintenance. Since it holds more water, it will take longer to dry out and you'll have more time in between refilling it.
Another thing to keep in mind regarding size is the size of your backyard. You don't want a bird bath that takes up a lot of space if your backyard is already a tad cozy. At the same time, you don't want a small bird bath that gets lost in your landscaping if you have a great big backyard.
2. What style of bird bath do I want?
This is an important question.
You don't want to buy a bird bath that you hate looking at. And you want one that fits well into the landscaping.
There are four main styles of bird baths: a classic pedestal birth bath, a hanging bird bath, a mounted bird bath, and a ground bird bath.
Here's a quick overview of each type of bird bath:
Pedestal Bird Bath: This is what most people picture when they think about bird baths. They normally look like the picture to the right – a round basin supported by a pedestal. These types of bird baths are most universal and are always a solid choice if you're unsure what type you want. They come in many different sizes, from small to large.

Hanging Bird Bath: As the name suggests, hanging bird baths are suspended in air and can hang from low tree branches, a bird pole, or your back deck. Because they have to be suspended, hanging bird baths are normally smaller and hold less water than the other types of bird baths.

Mounted Bird Bath: A mounted bird bath is similar to a hanging bird bath, but instead of hanging off of something, it is attached to something from the bottom. If you want a bird bath on your backyard deck so you can get a great view of birds in the bath from your back window, then this is a perfect option for you.

Ground Bird Bath: Last but not least are ground bird baths. These are a great choice and many people argue that these are the best for birds themselves. Since birds usually obtain water from puddles or ponds, a ground bird bath gives a bird the most natural experience. A pro (or con) of a ground bird bath is that it is likely to attract other animals that need to drink like rabbits, raccoons, and your neighbor's cat. Keep in mind that if you have a pet that plays in your backyard, they'll most likely drink out of this bird bath also. The biggest difference between a ground bird bath and a pedestal bird bath is that a ground bird bath is usually much lighter than a pedestal which makes cleaning and moving much easier for you. Unfortunately, it's harder to find more elegant designed ground bird baths.
3. What is it made from?
Once you know what style of bird bath you're looking for, it's time to decide on the construction material that's best for you.
The most common materials that bird baths are made of are:
Concrete
Metal
Ceramic
Glass
Plastic
The biggest difference between these types of materials is going to be price. Glass is usually the most expensive and plastic the cheapest.
Secondly, the weight difference between a plastic bird bath and a concrete one is huge. If you're looking for a hanging bird bath or one that's easy to move then stick with a plastic one.
4. Is it easy to clean?
Another aspect to keep in mind when choosing a bird bath is how easy it is to clean.
Bird baths require routine cleaning. Especially during the summer months, you'll want to clean once it once a week or whenever it starts accumulating dirt and grime. Baths that are small and light are easier to bring inside and give a thorough scrubbing. With large and heavy baths, you'll want to be able to reach it with a hose to be able to spray it down.
Pro-tip: Get yourself a good birdbath enzyme cleaner to make cleaning your birdbath easier and more efficient.
5. Can the water be heated?
Unless you live in a warm climate, in the winter, the water in a bird bath will most likely freeze. If you want to keep attracting birds to your yard in the winter, you'll need a way to keep the water from freezing. The hard way is to go outside and manually break the ice every time it freezes. But trust me, that will get tedious and tiring. The better way is to either buy a bird bath with a built-in water heater or buy a standalone birdbath heater that can be installed in your bird bath.
6. Can you make the water move?
Birds prefer moving water over standing water. In general, moving water is fresher and has less of a chance of growing nasty mold and algae that can make birds sick. It's also easier for birds to find moving water. They're easily attracted to the gurgling noises of a stream or fountain.
Most bird baths don't include functionality to make the water move. However, there are many different accessories you can buy to include a water-moving feature. For example, a quick and easy way to add a water fountain to your birdbath is to install a solar bird bath pump.
There are actually a few pedestal bird baths that include a fountain. These are usually pricier than non-fountain bird baths and require a little more maintenance and care. But it can be well worth it in both looks and for attracting birds to your backyard.
7. What's your budget?
Bird baths range in price from a mere $20 for a small mounted bird bath to hundreds of dollars for a solar-powered fountain bird bath. Whether you're looking for a budget-friendly functional bath or a statement piece that is sure to catch the attention of houseguests (both humans and birds), there is a product out there within your budget.