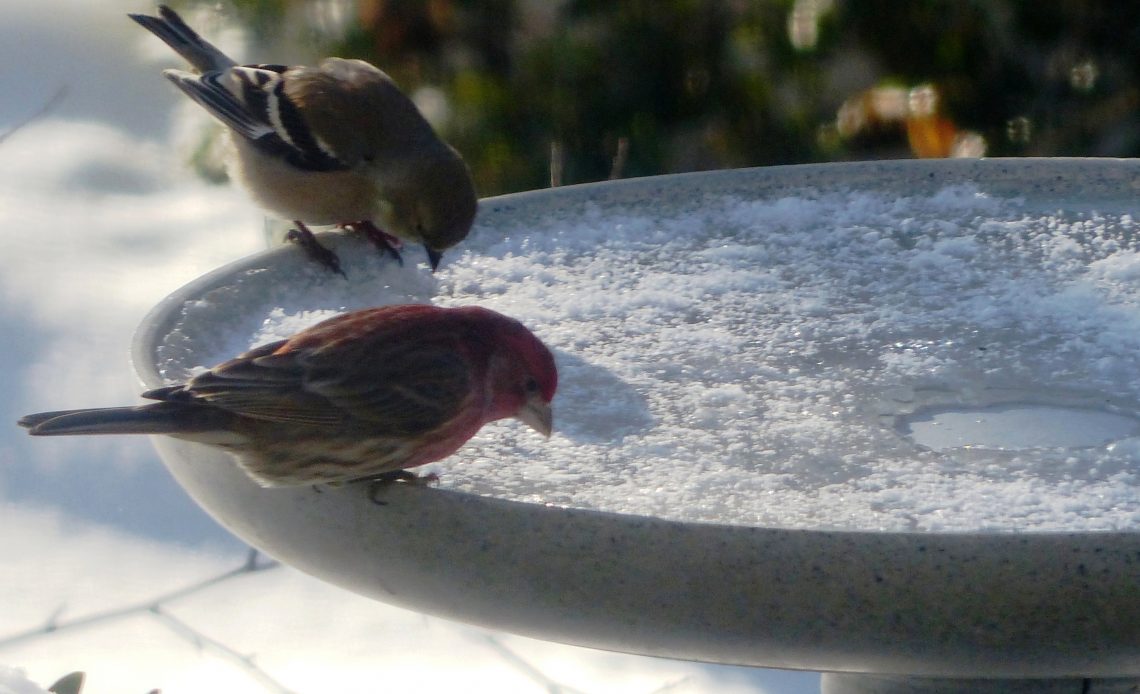 We're here to help! Wild Yards is a completely free website that is 100% dedicated to helping you create a wildlife-friendly, sustainable yard. Read more
WildYards is reader-supported. When you buy a product through a link on our site, we may earn a comission. Every product is independently selected by our (obsessive) editors and our reviews are unbiased and objective. Read more about our mission or our privacy policy.
Keep birds bathing all winter long!
Cold winters can be tough for birds.
If you're a bird bath owner, one of the best things you can do is to keep the water flowing all year long. It's the best way to guarantee that wild birds will be attracted to your backyard regardless of the season. Unfortunately, the water in bird baths are one of the first things to freeze over when the temperature drops. Which means, unless you have a bird bath with a built-in heater, you're going to have to buy a separate bird bath heater or deicer.
You can also opt to wake up every morning, brave the cold, and manually break the ice and refill the bird bath with fresh water. But honestly, that sounds terrible. The money you spend buying a heater or deicer is well worth it.
Everything you need to know about choosing the best bird bath heater for you is in this guide.
Things to Consider Before Buying A Bird Bath Heater
Size
Bird bath heaters come in all shapes and sizes. You should make sure that the one you buy fits in your bird bath.
To determine what size bird bath heater you should get, measure the width (diameter) of the bottom of the bird bath. Any bird bath heater shorter than that length, will work for your bird bath. However, the smaller the heater, the less water will be de-iced.
Price
Luckily, bird bath heaters are not too expensive. You shouldn't spend less than $20 on a decent bird bath heater or deicer but you don't have to spend more than $50. In fact, our favorite model fits smack-dab in the middle of that price range.
If you're worried about how much it'll cost in electricity to operate a bird bath heater, don't worry. If you run a 50 watt heater 24/7 it will cost less than a dime (obviously dependent on local electricity prices). This cost can be even further cut down if you get a thermostatically controlled heater.
Thermostat Control
A thermostatically controlled bird bath heater will only turn on if the temperature falls below freezing. This can save quite a bit on electricity cost (not that it's a huge amount anyways, but it adds up over the years). We always recommend to get a bird heater with a thermostat.
Best Bird Bath Heater and De-icer of 2023
Now that you know what you're looking for, let's take a peek at our favorite and top-rated bird bath deicers and heaters.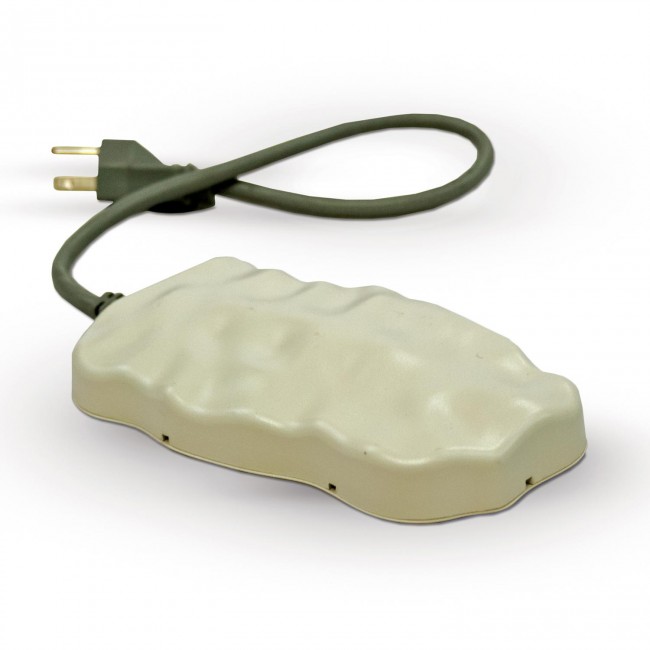 This deicer takes the cake when it comes to overall best in class. It's budget-friendly, a comfortable size for most bird baths, and is thermostatically controlled.
This de-icer comes in both 50 Watt and 80 Watt versions for even the biggest bird baths. The housing over the heating unit has a rock-like appearance to it and can be spray painted any color to match your bath. This is one of the reasons that this bird bath is ranked number one. Lots of the de-icers and heaters we researched were industrial-looking and really don't belong in any kind of garden landscape.
The K&H Super Ice Eliminator has the following features:
Can be spray painted any color
Enamel casing is designed for easy cleaning
Maintains open water up to -20 degrees below Fahrenheit
Thermostatically controlled to save you money on electricity
Doesn't float – stays solidly in the middle of your bird bath
Won't rust, calcify, or leave any stains
Safe to use in plastic bird baths
According to our research and many customer reviews, the operating cost of this heater is anywhere between $.50 – $5.00/month depending on the average outside air temperature.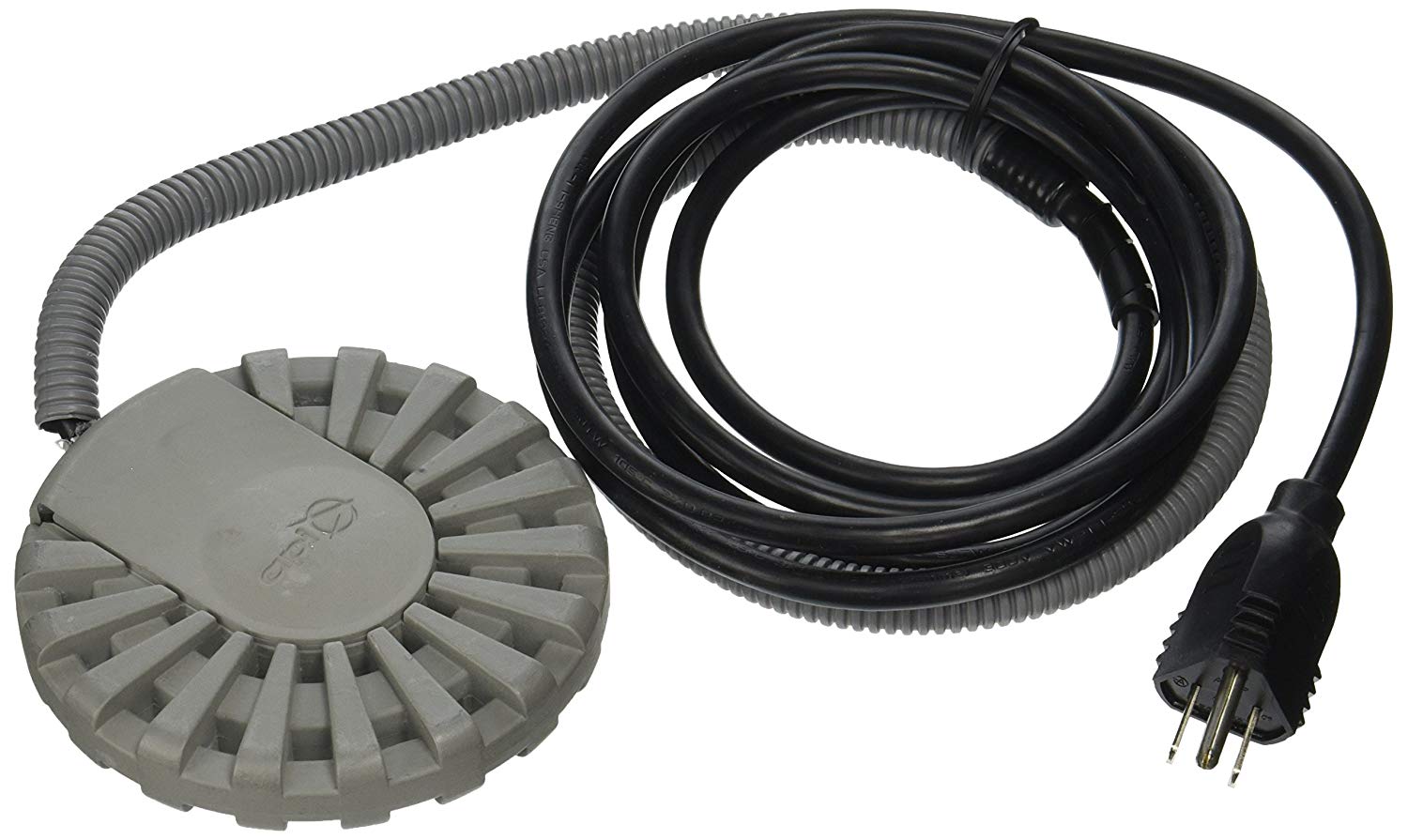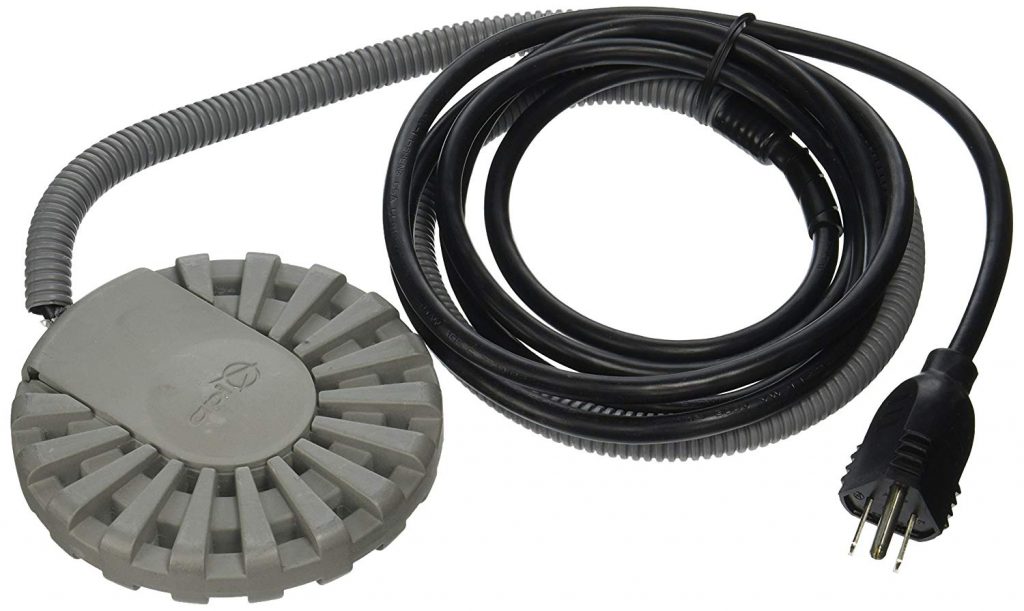 If you live in a colder climate with a harsh winter, you 50 Watt or even an 80 Watt heater may not do the trick.
If you're looking for a high-powered bird bath heater, this Allied Precision Bird Bath De-Icer is perfect for you. It runs at 500 Watts, which means it'll cost 10x as much as a 50 Watt heater to operate, but it'll keep even the biggest baddest bird baths ice free in the dead of winter.
This bird heater as the following stand-out features:
500 Watts
Multiple thermostats for heating optimization
Turns off automatically if there's no water
Safe to use in plastic bird baths
Made in the U.S.A
4.75 inches in diameter to fit most bird baths
Again, these two bird heaters/deicers are very similar. Their wattage strength is the largest difference. We would not recommend buying the Allied Precision heater unless you want or NEED a stronger heater.
A bird bath heater is the most fool-proof way to keep ice from invading your bird bath. However, having a water fountain or bubbler fountain in your bird bath is also effective if your winters don't get too cold. Because of kinetic energy, running water doesn't freeze nearly as fast as standing water. Sometimes making the water move in your bird bath is the easiest solution to preventing freeze.