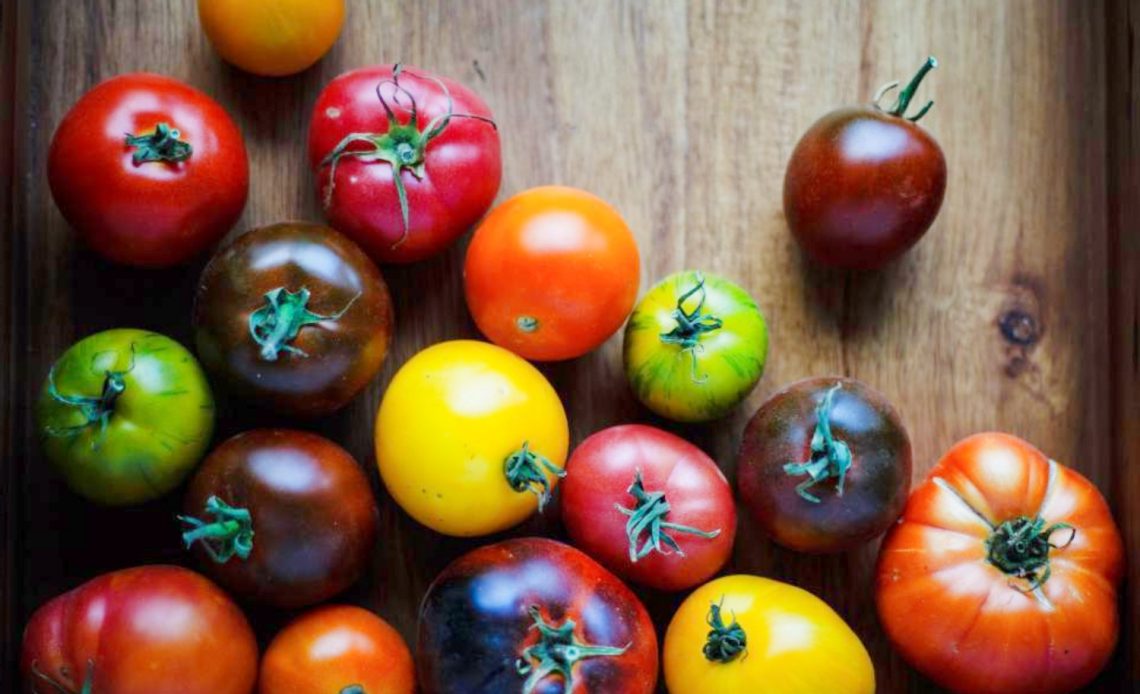 We're here to help! Wild Yards is a completely free website that is 100% dedicated to helping you create a wildlife-friendly, sustainable yard. Read more
WildYards is reader-supported. When you buy a product through a link on our site, we may earn a comission. Every product is independently selected by our (obsessive) editors and our reviews are unbiased and objective. Read more about our mission or our privacy policy.
Tomatoes are one of the most popular plants grown in backyard gardens. Not only are they easy to grow, but they're also a staple ingredient in a variety of cuisines.
If you're eager to add a few varieties of tomatoes to your garden plan, you're probably wondering, what are the best tasting tomatoes to grow? 
While personal preference may vary, many varieties of tomatoes are considered to be tastier than others.
So which tomatoes are the most tempting?
Classic varieties like Beefsteak, Pink Brandywine, and San Marzano are highly palatable. Interestingly, a tomato's color influences its taste and is worth keeping in mind when choosing the right cultivars for your garden.
Best-tasting tomato varieties by color
Like carrots, tomatoes contain different compounds depending on their color.
These compounds play a big role in determining how the tomato tastes — whether it's sweet or acidic, mild or bold.
Keeping color in mind will help you determine which tomatoes align with your flavor preferences.
Let's take a look at the best-tasting tomatoes by color to help you figure out which varieties deserve a spot in your garden.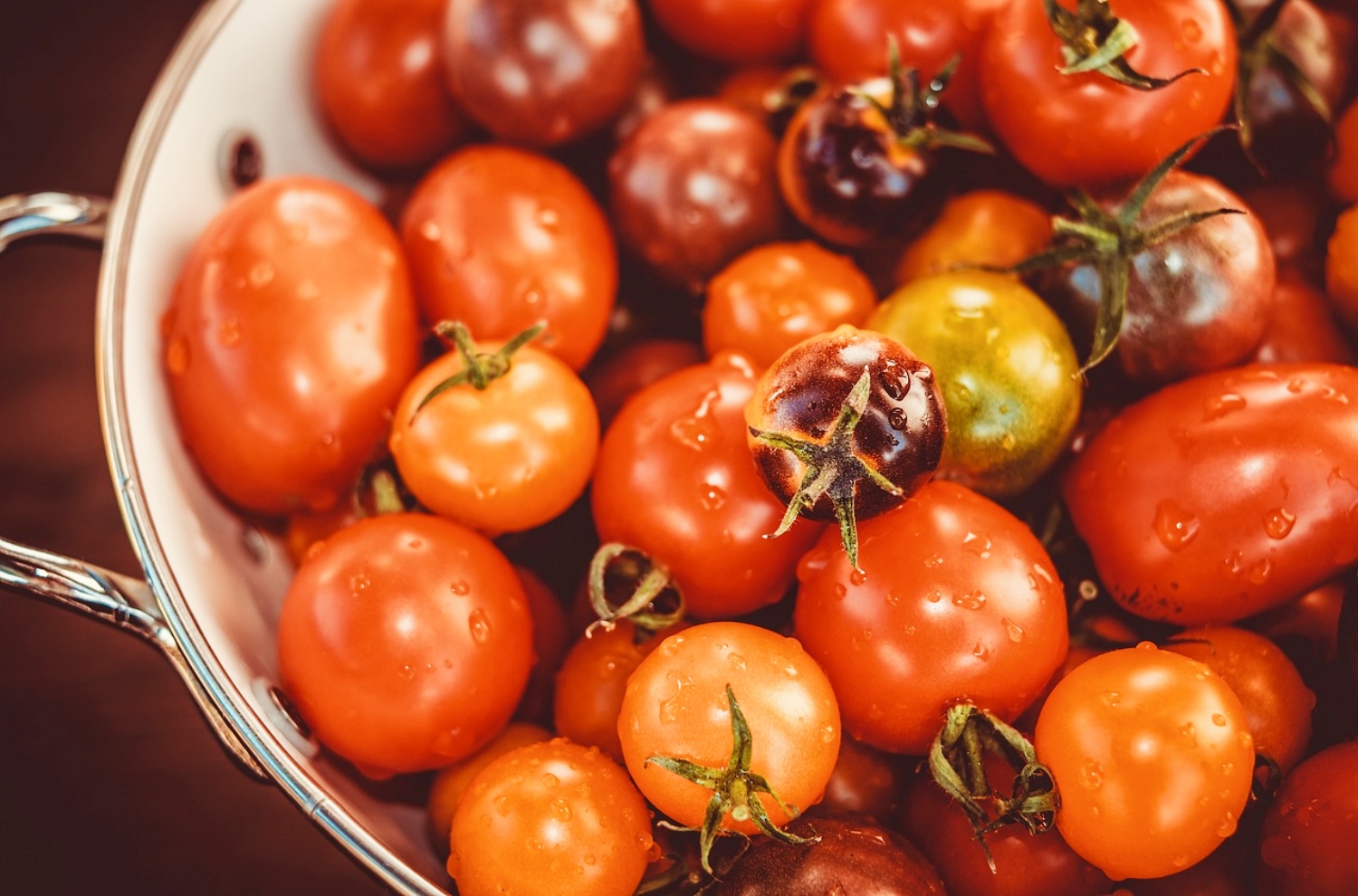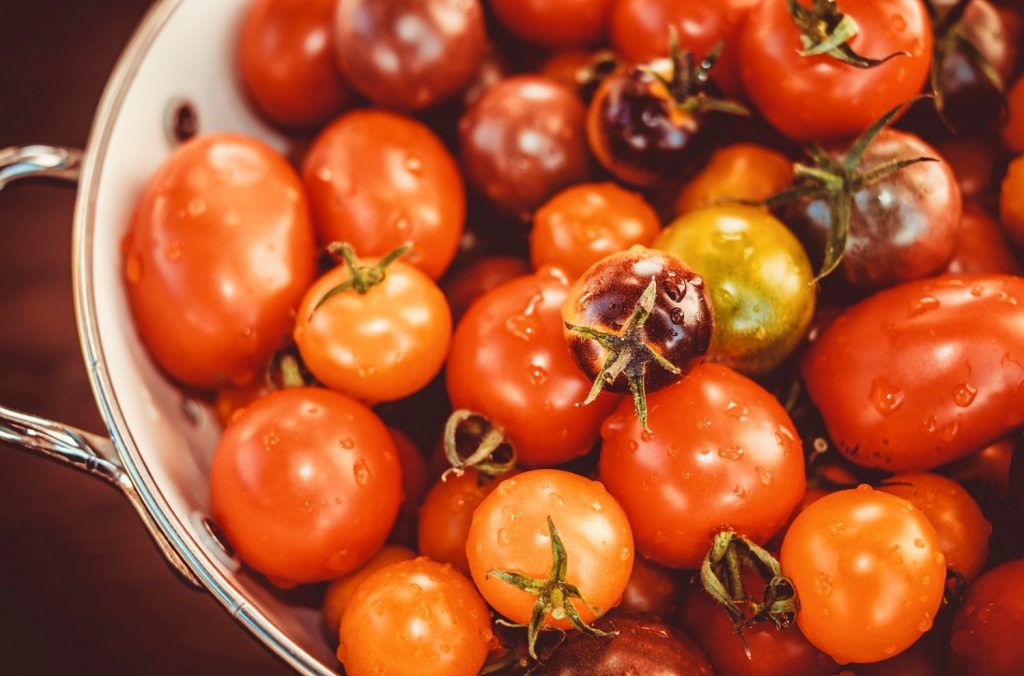 Red Tomatoes
Traditional red tomatoes are rich in a substance called lycopene, a carotenoid pigment and phytonutrient that can also be found in watermelons and grapefruits.
Lycopene is an antioxidant that has been associated with a reduced risk of stress. Another great reason to plant a few tomatoes in your garden!
Red tomatoes are acidic and highly palatable. These tomatoes are delicious straight off the vine and are a good choice for cooking, too.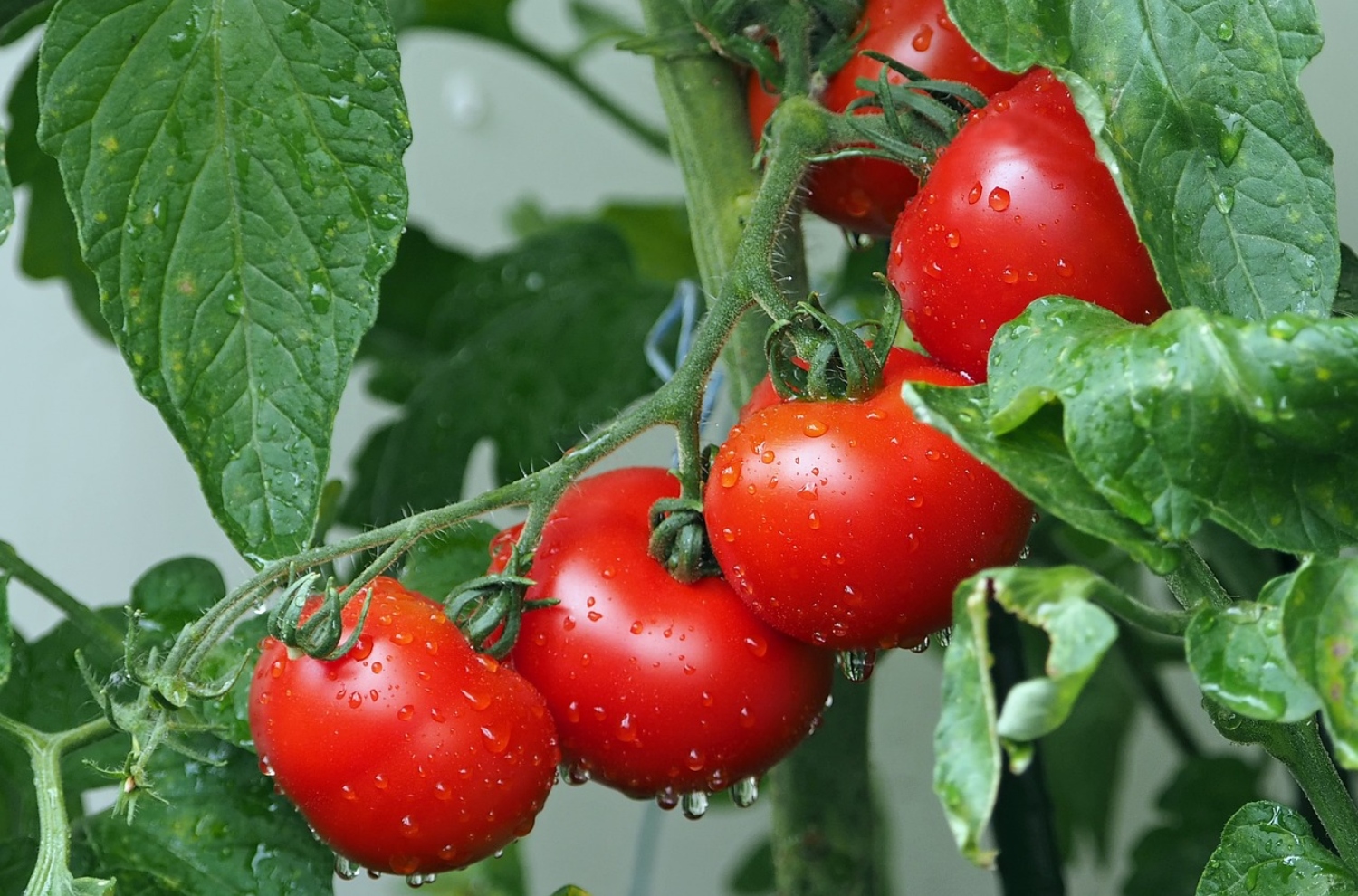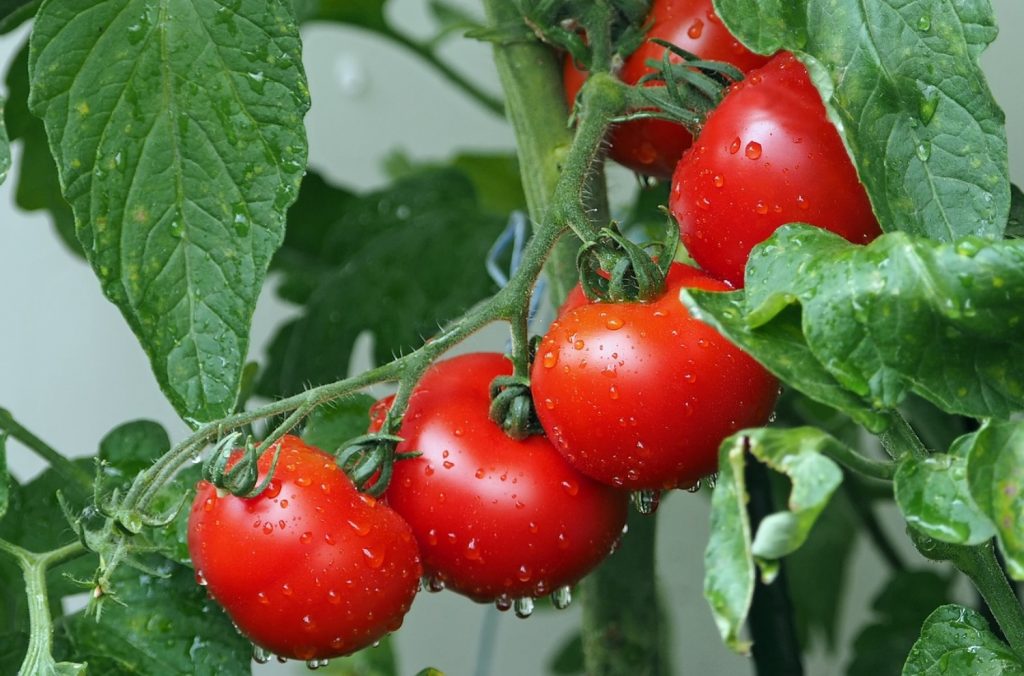 Beefsteak (Solanum lycopersicum)
Beefsteak is a round heirloom tomato prized for its large size, vibrant color, and meaty, juicy flesh. These are large tomatoes — a single beefsteak can weigh up to a pound!
The beefsteak is a classic variety, an all-purpose tomato that's just as good for making salads and sandwiches as it is for cooking and canning.
If you're new to growing tomatoes, you can't go wrong with this cultivar. Beefsteak tomato plants are hardy and low-maintenance. They're a great introduction to the world of tomatoes.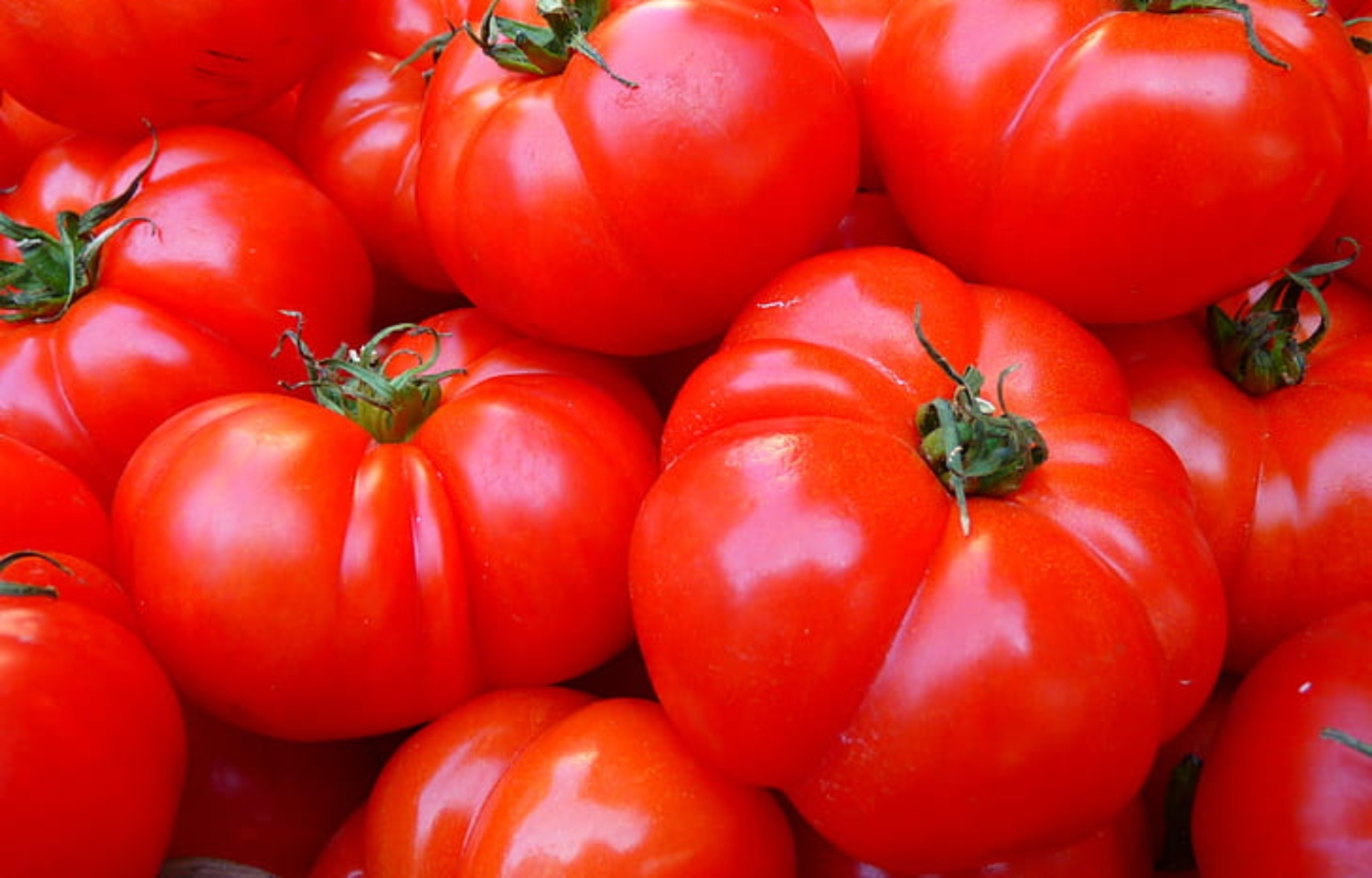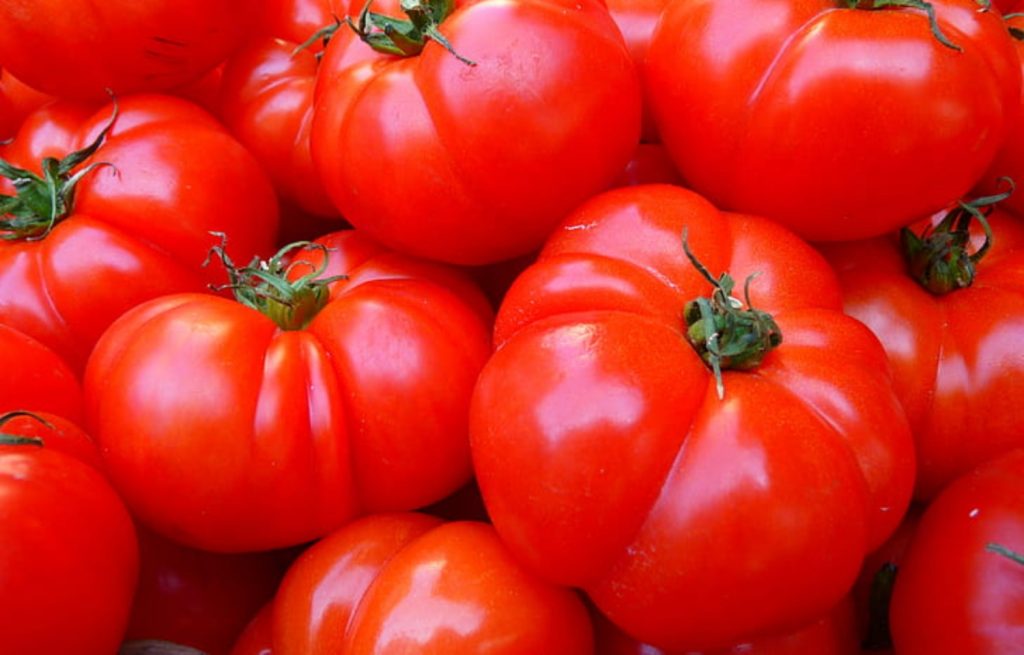 San Marzano (Solanum lycopersicum 'San Marzano')
A plum tomato from the Campania region of Italy, the San Marzano is thin with a tapered end. The flesh is thick compared to a Roma tomato, with a strong but sweet flavor.
Sand Marzanos have a relatively low acid content which makes them a delicious snack and just right for sauteeing.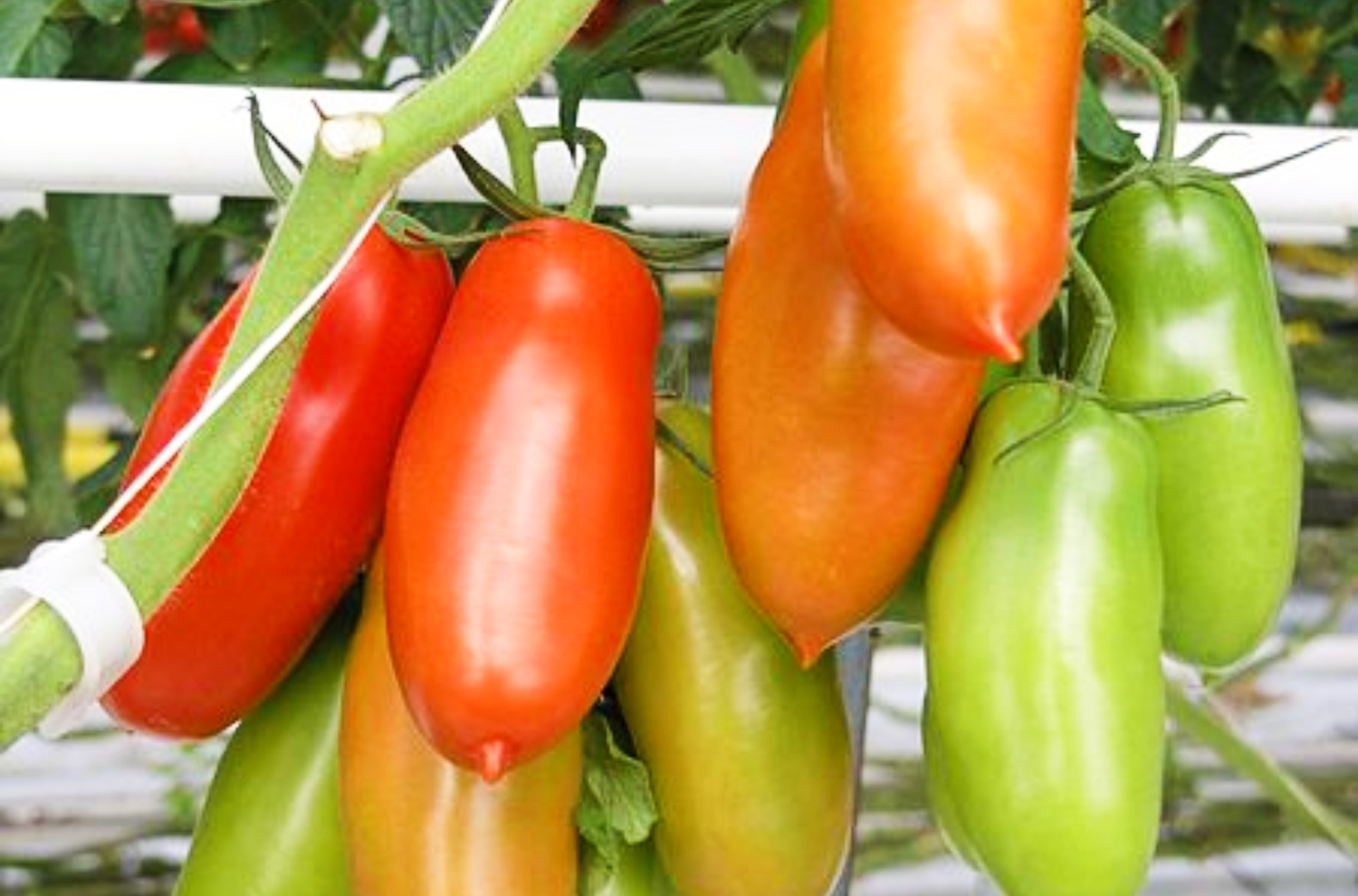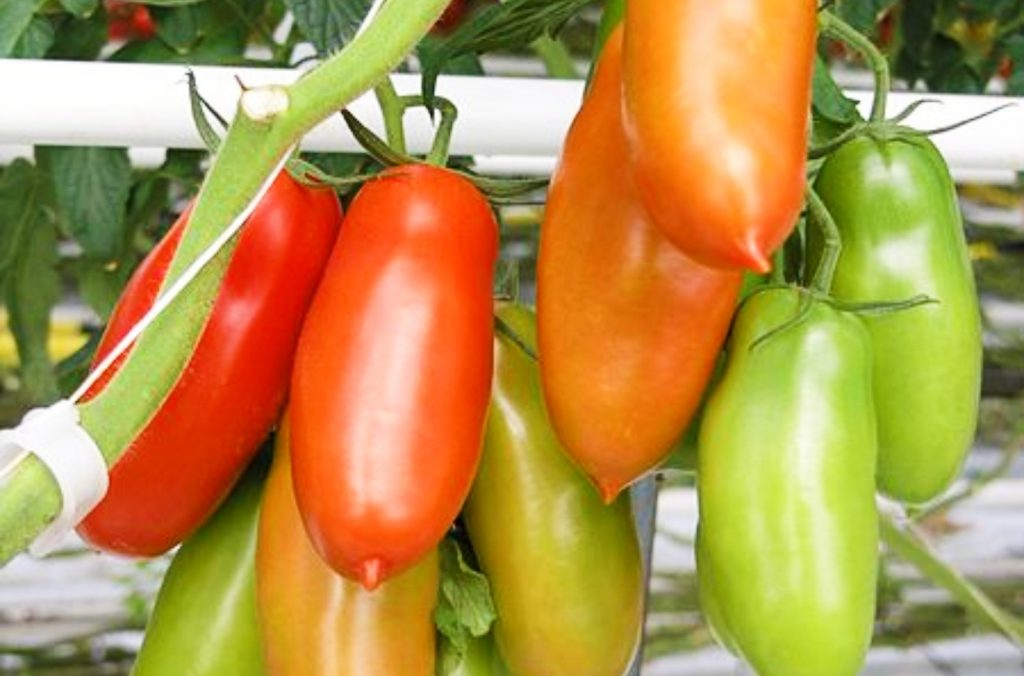 Costoluto Genovese (Lycopersicon lycopersicum cv)
A flat red tomato with deep lobes and scallops, Costoluto Genovese has a soft texture and juicy, tart flesh.
Because the Costoluto Genovese can be a bit mushy, it's better suited to canning and making sauces than it is for eating raw.
If you enjoy making tomato-based soups and casseroles, the Costoluto Genovese is an excellent choice for you.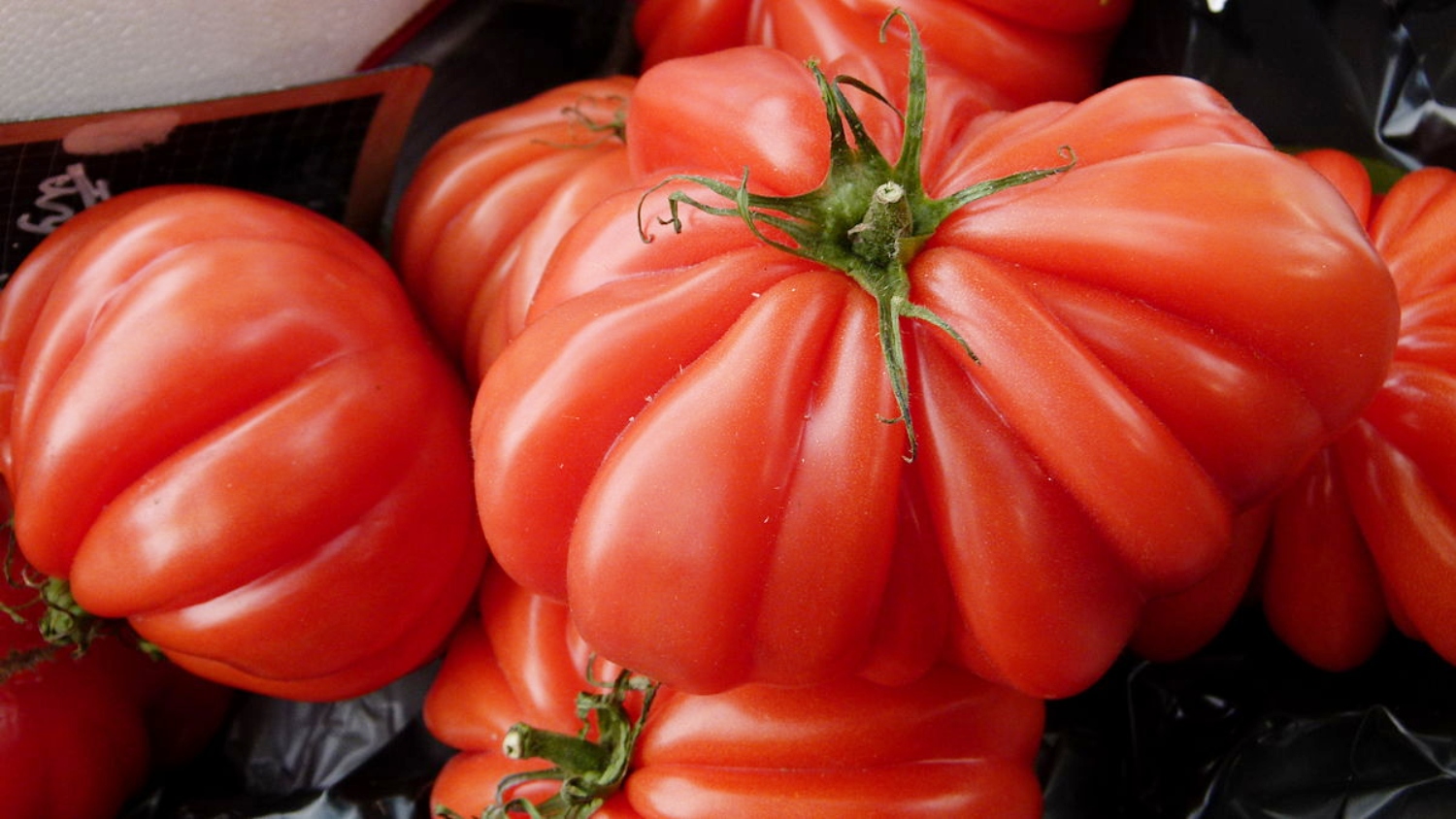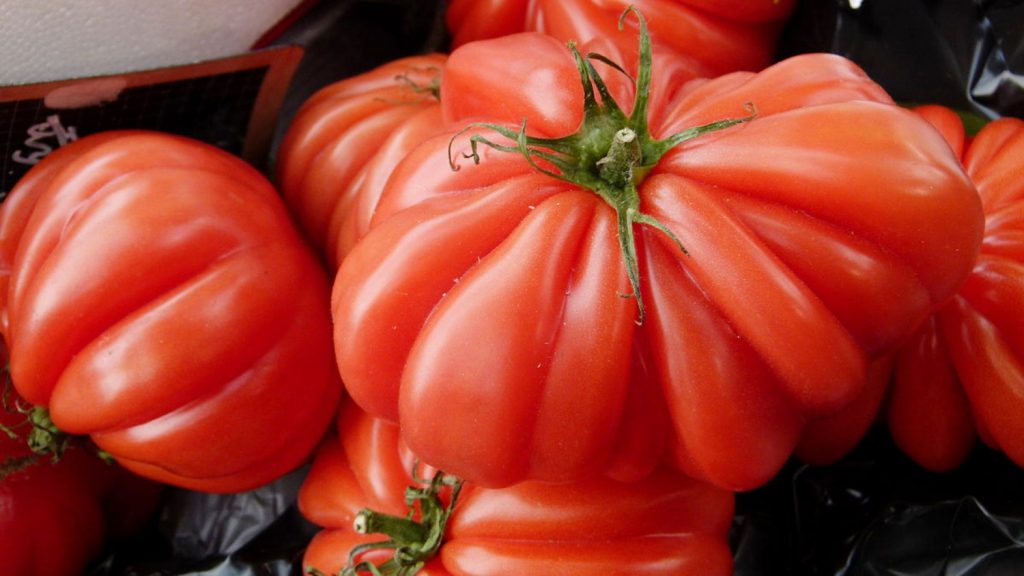 Prairie Fire (Lycopersicon esculentum)
The Prairie Fire tomato is one of the sweetest varieties around. If you're making a vegetable tray for a party, these are the tomatoes you want to set out with the ranch dressing.
Prairie Fire tomatoes mature quickly. You can expect to harvest your first tomatoes just 65 days after planting.
These elongated grape tomatoes measure 1" to 3" when ripe. Their small size and bright red coloring make them the perfect garnish for your favorite savory dishes.
Mortgage Lifter (Solanum lycopersicum 'Mortgage Lifter')
The Mortgage Lifter is a massive tomato. A single fruit can weigh up to 2 pounds! So if you plan on entering a "biggest fruit" contest at your county fair, this cultivar could help you take home the blue ribbon.
So-called because its high saleability allowed small-time growers to pay off their debts, this Depression-era cultivar has a sweet, mild taste that makes it great for sandwiches.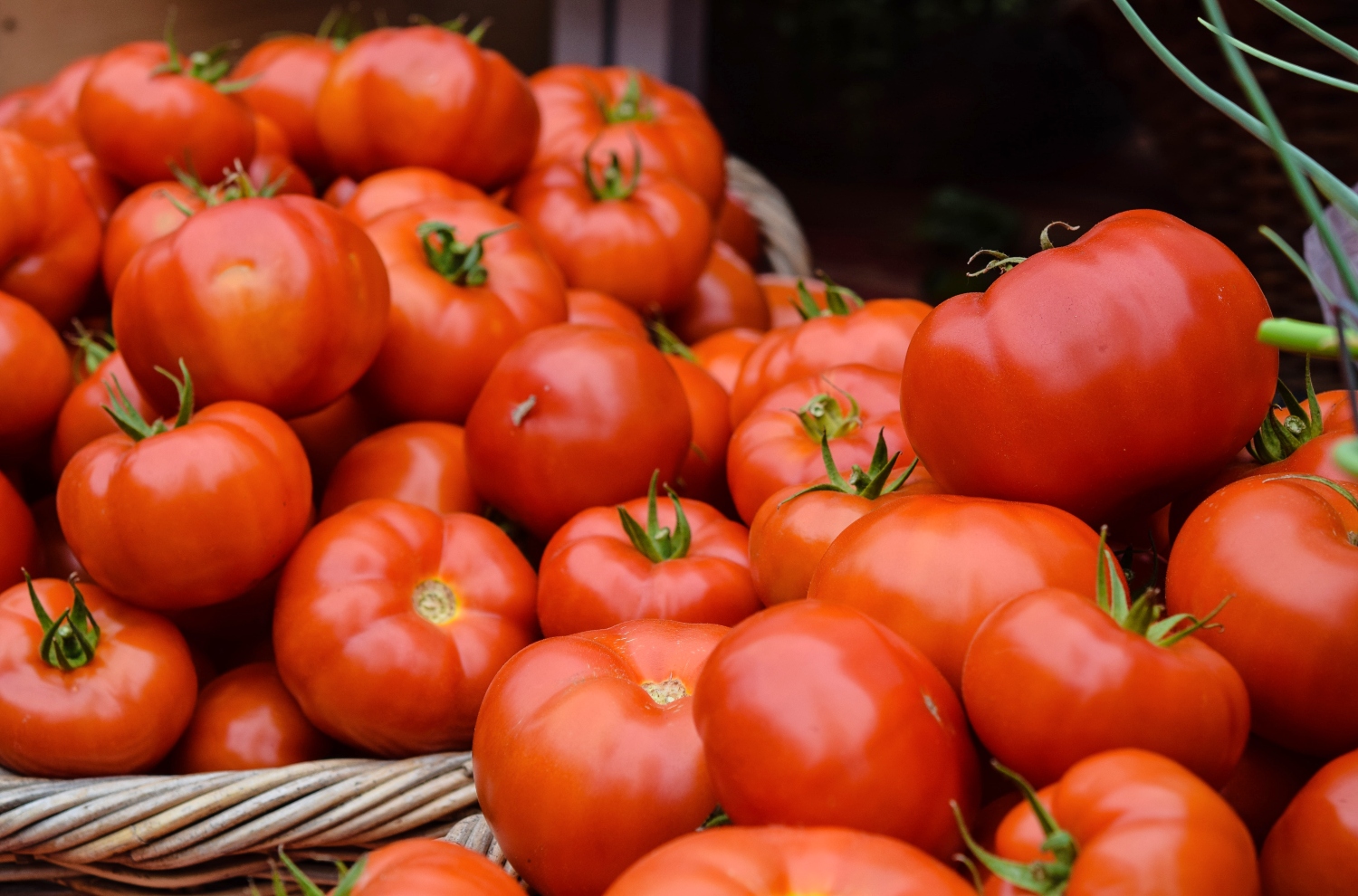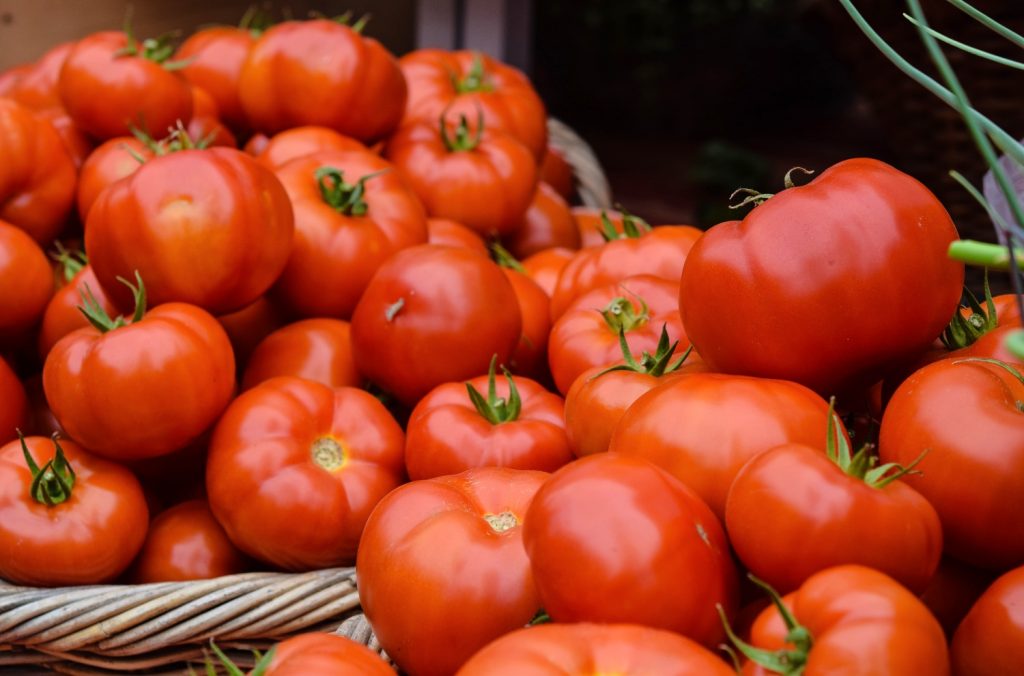 Pink Tomatoes
Like red tomatoes, pink tomatoes are also full of lycopene. But they contain other carotenoids, namely beta carotene, that result in their lighter color.
Pink tomatoes tend to have softer flesh and a milder flavor compared to red tomatoes. Pink tomatoes are good for cooking and canning.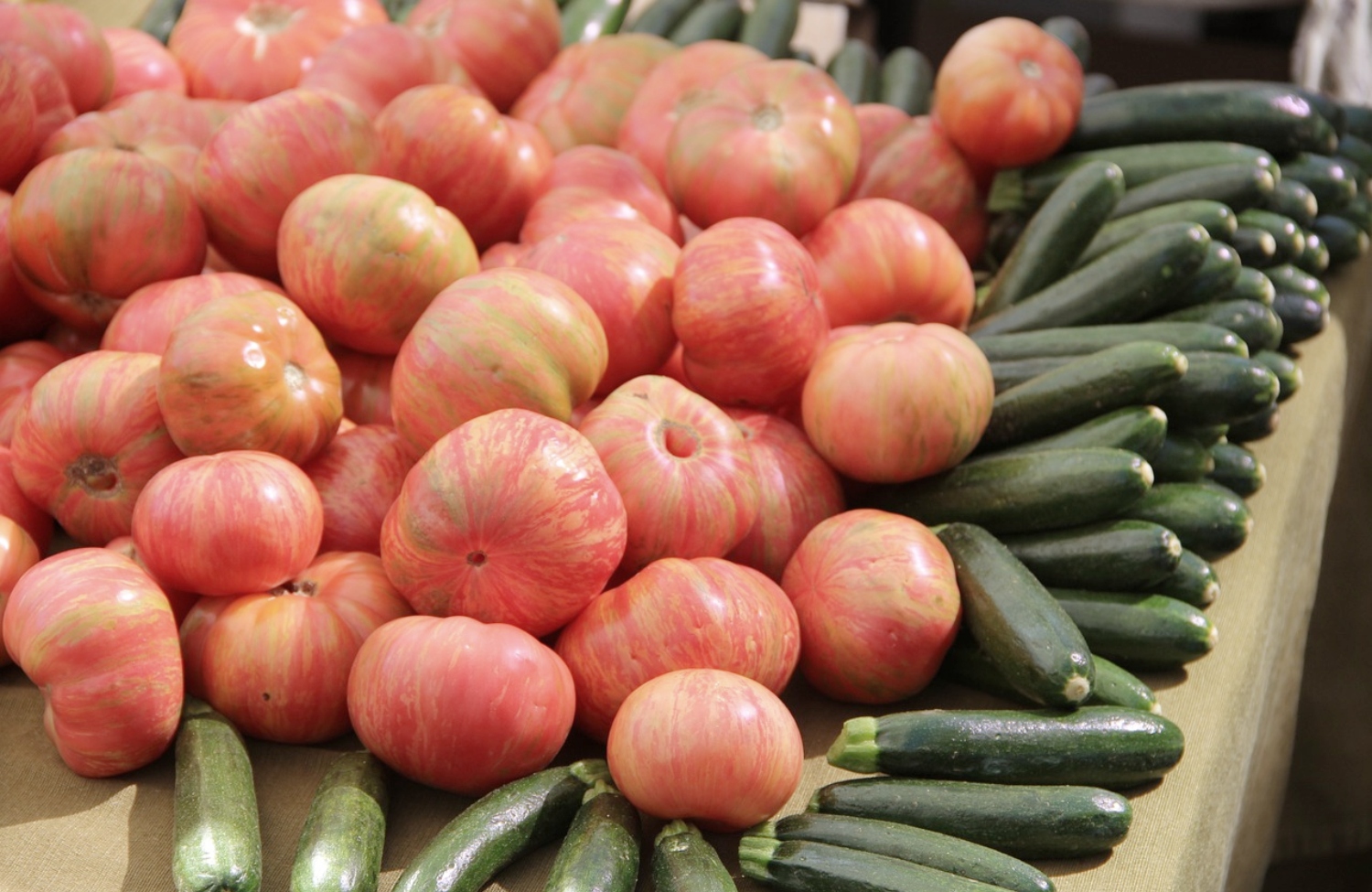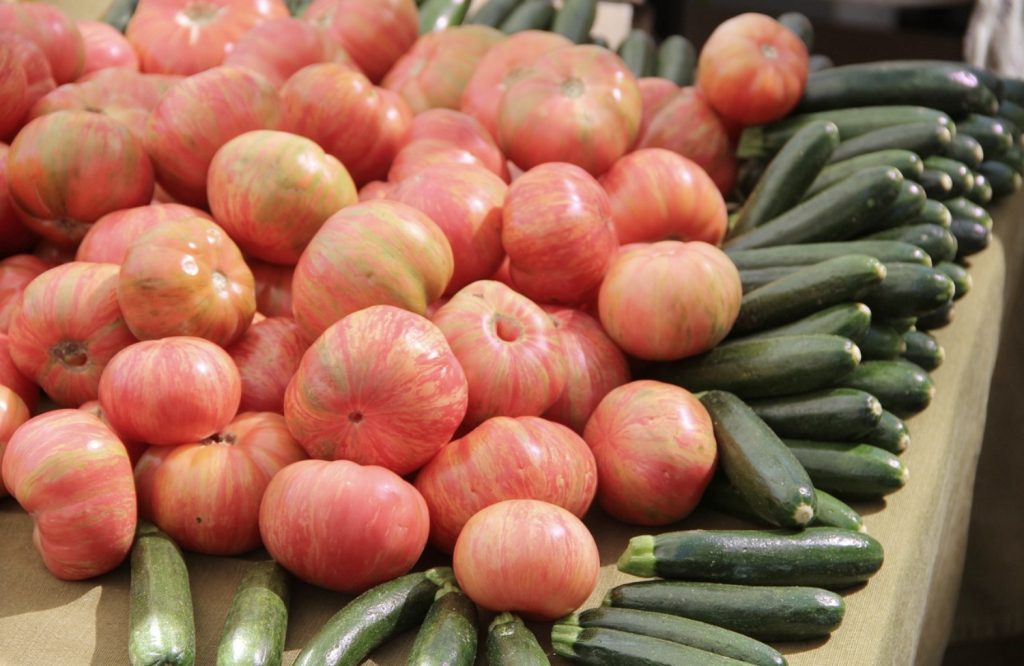 German Pink (Lycopersicon lycopersicum)
Large, meaty tomatoes, German Pinks are both sweet and tangy. This cultivar works well on sandwiches and burgers. But its versatility means it can also be used to make soups, stews, sauces, and other savory dishes.
One great thing about German Pink is that it's crack resistant. If you've struggled to produce intact tomatoes in the past, the German Pink will give you magazine-worthy fruits every time.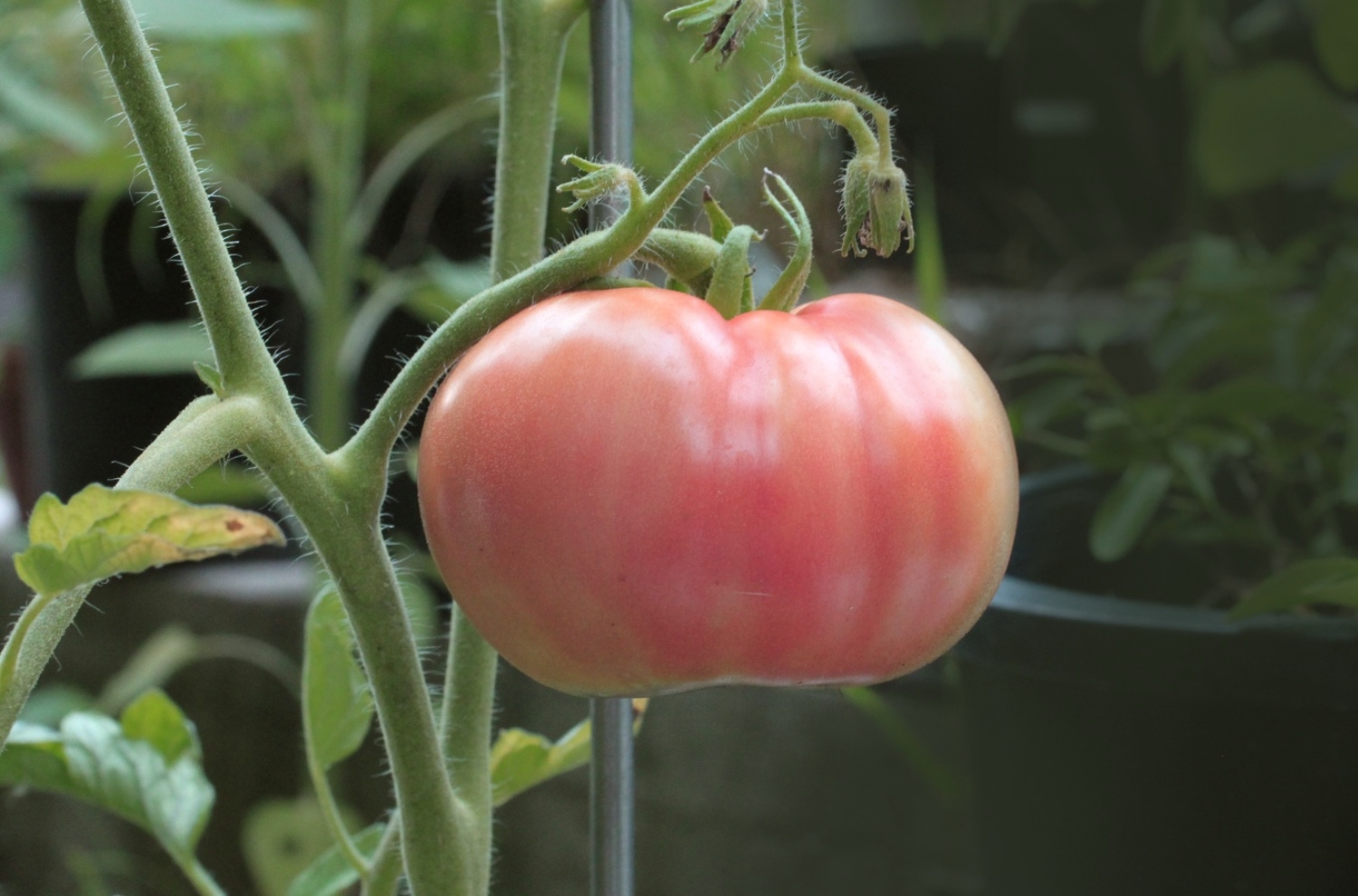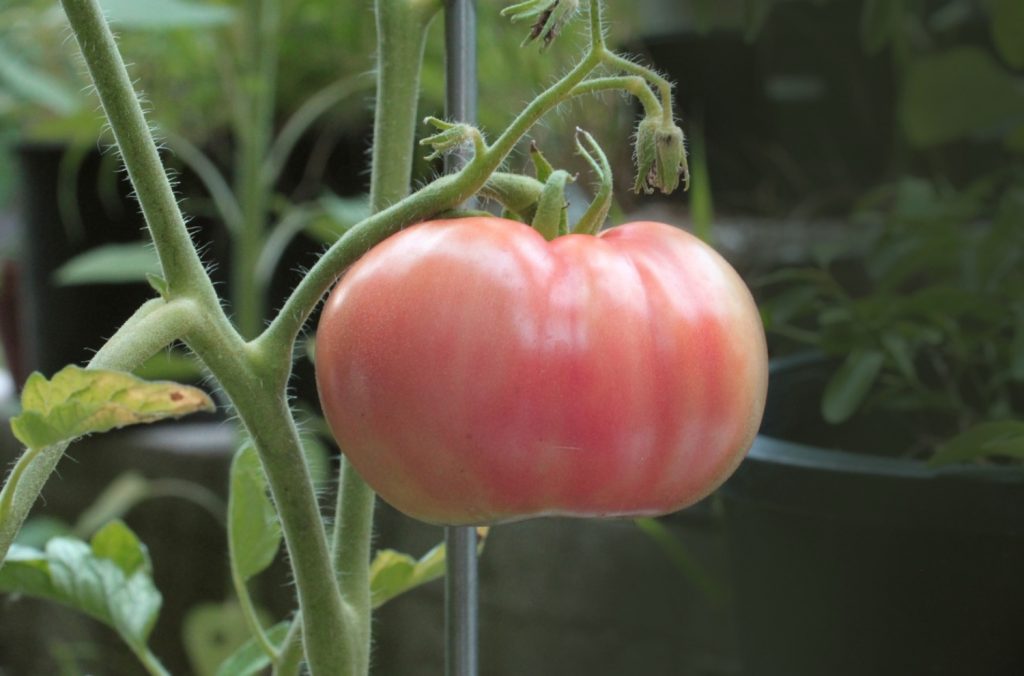 Pink Brandywine (Solanum lycopersicum)
Another heirloom variety, the Pink Brandywine is similar in appearance to the Beefsteak tomato. Plants produce large fruits with a uniform coloring and shiny finish.
Pink Brandywine tomatoes are sweet, tangy, and spicy. Use Pink Brandywines to dress up salads and sandwiches, or stew them and use them in gumbos, chilis, and casseroles.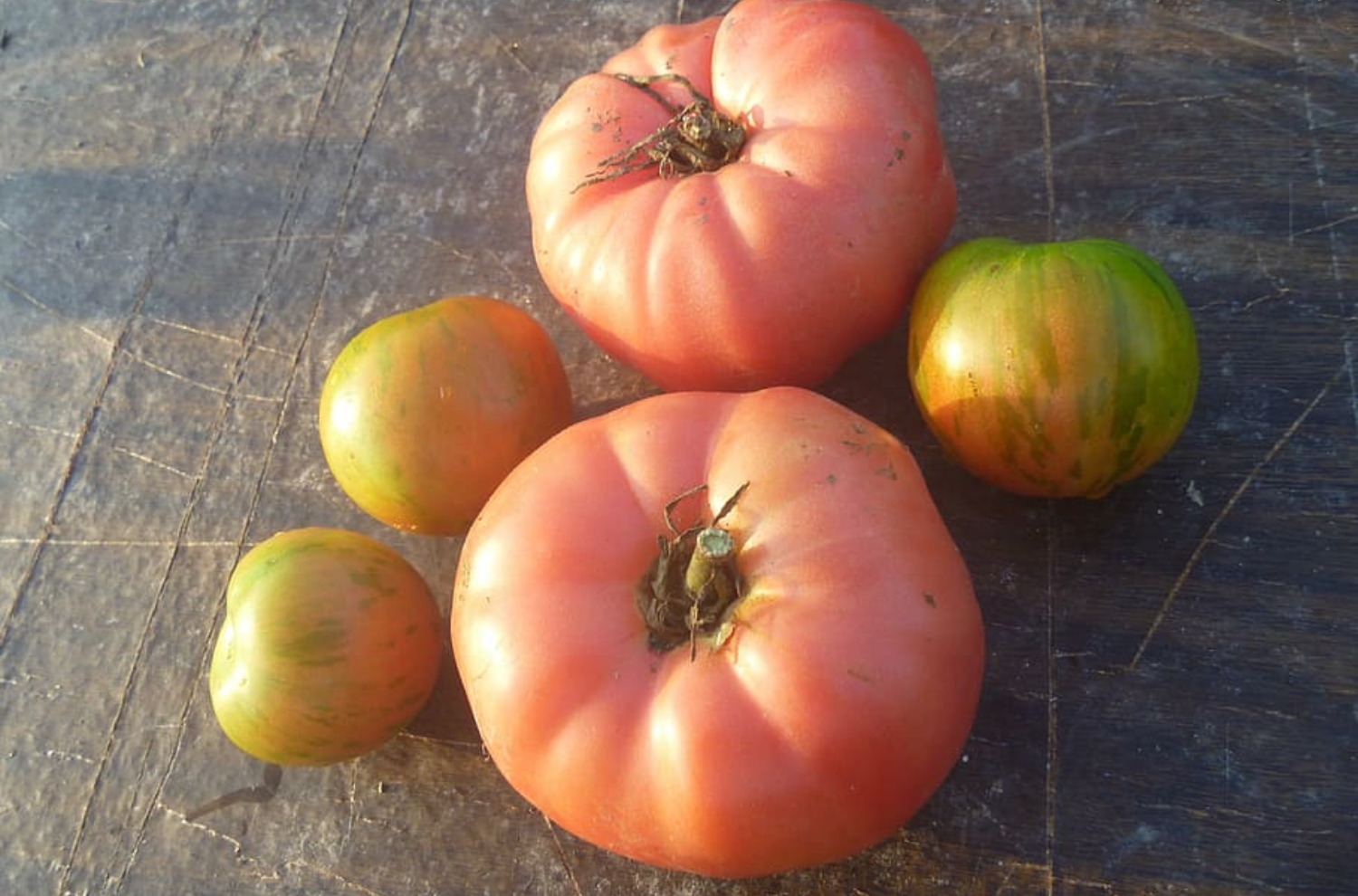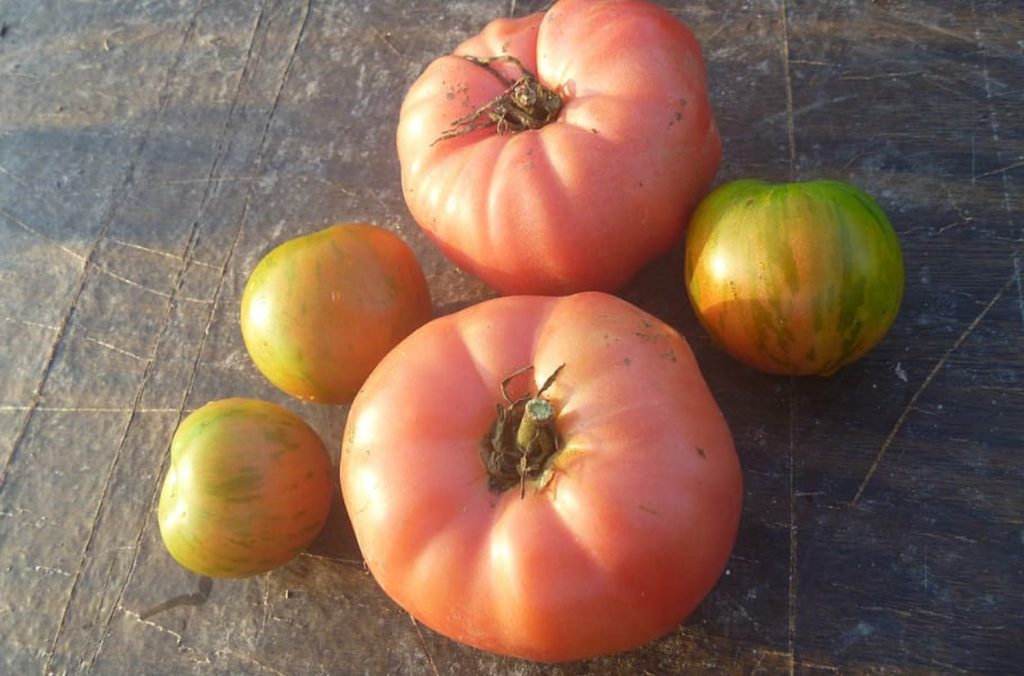 Caspian Pink (Lycopersicon esculentum 'Caspian Pink')
If you're looking for a sweet-tasting tomato, the Caspian Pink fits the bill. Caspian Pink tomatoes are satisfying. They have a sugary sweet taste and a mild flavor that anyone can enjoy, even people who generally dislike tomatoes.
Enjoy these flat tomatoes raw, or use them to make your own homemade ketchup. They're the perfect base for tomato soups, too.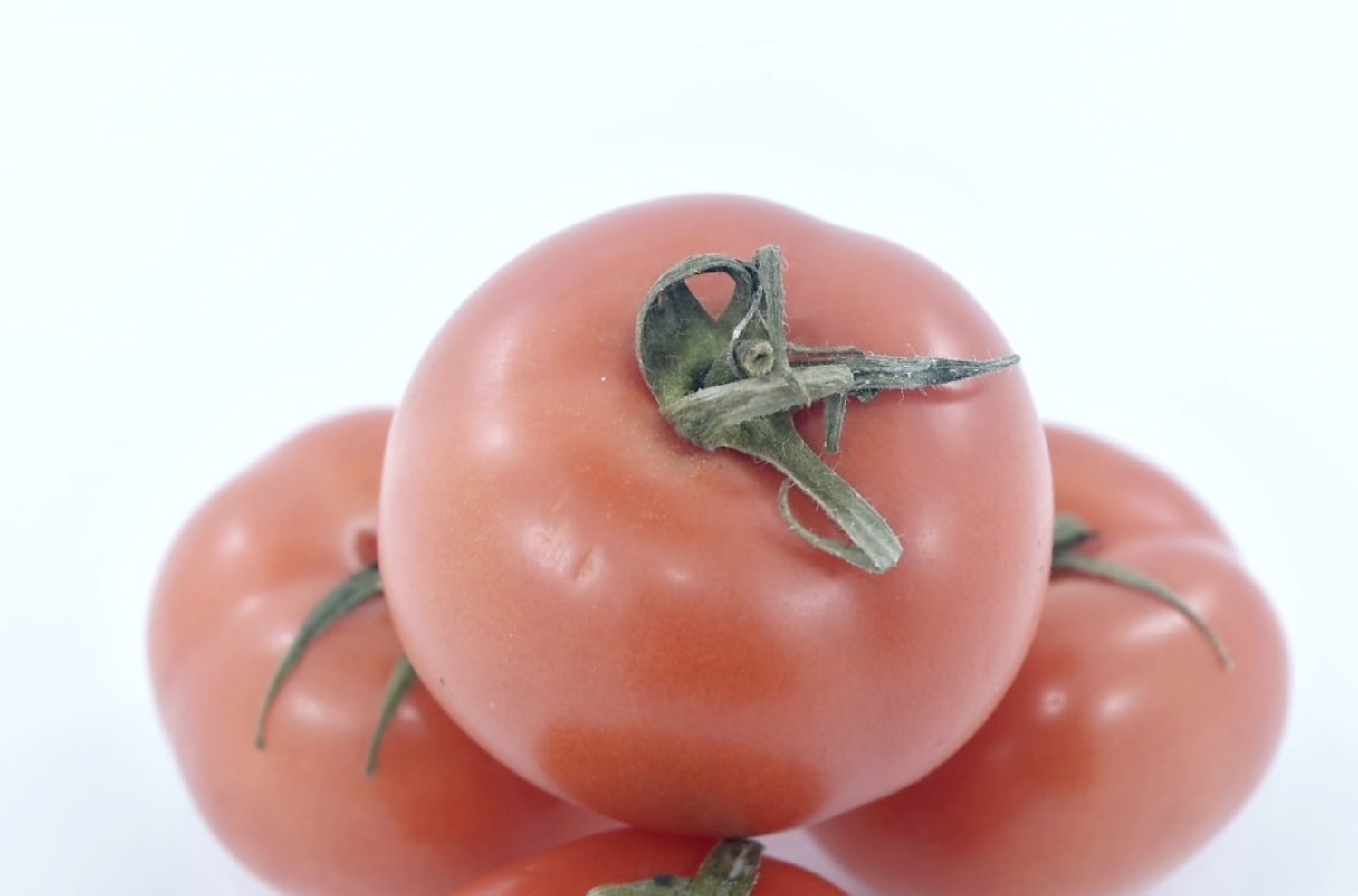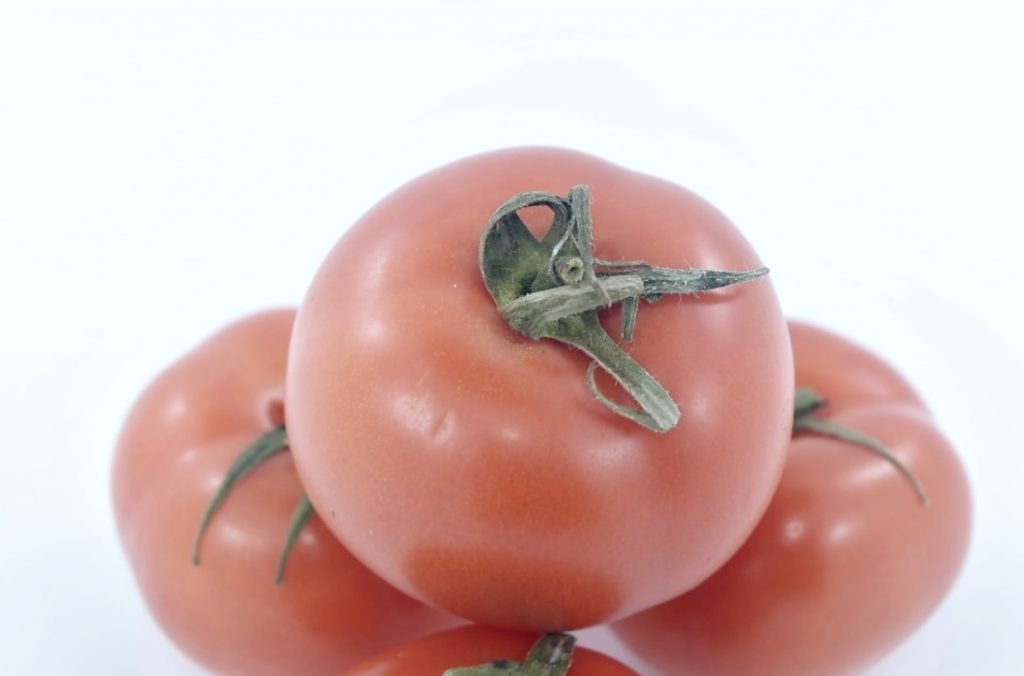 Tappy's Finest (Solanum lycopersicum)
Named in honor of one "Tappy", who first selected the seeds of this cultivar, Tappy's Finest are large, flat fruits that can weigh up to 2 pounds apiece.
Tappy's Finest is sweet and juicy, everything you could possibly want in a good tomato. The fruits are meaty and chewy, with fewer seeds than other varieties.
An old-fashioned tomato, this flavorful cultivar is perfect for everything from sandwiches to salads to appetizers.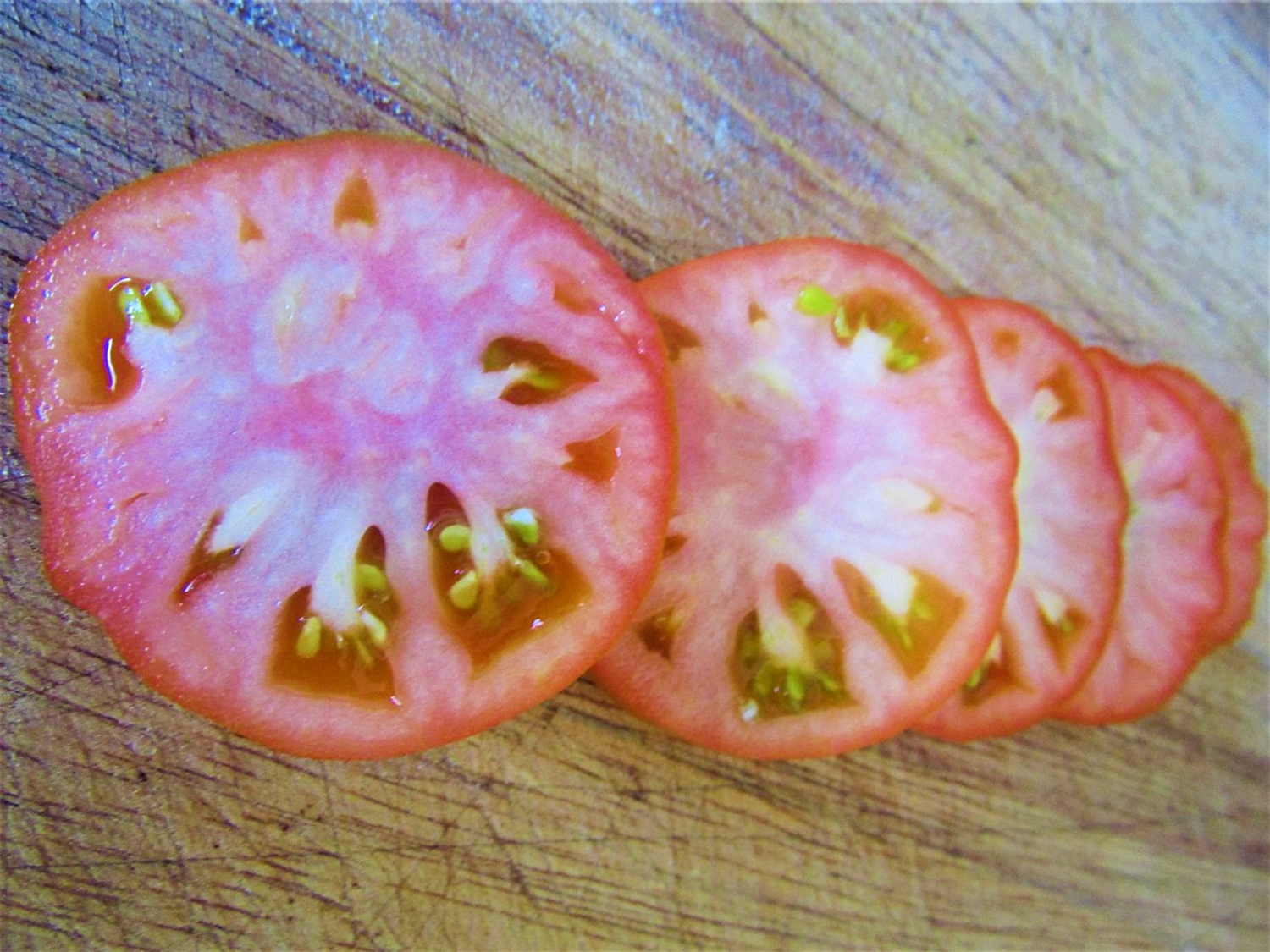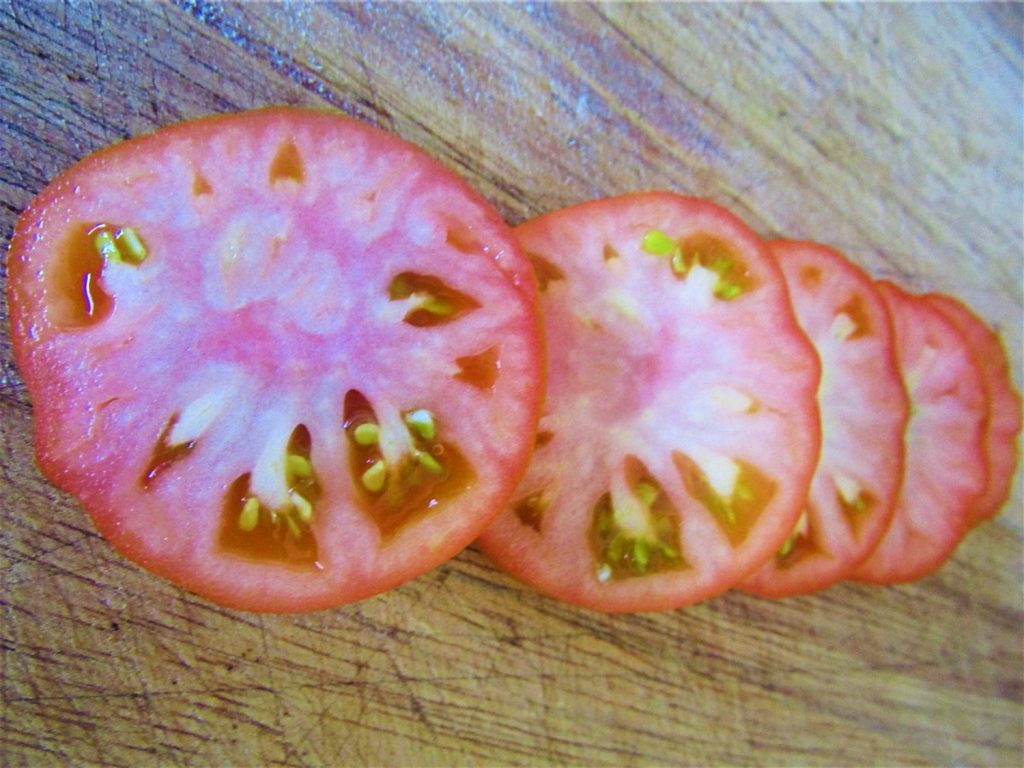 Chef's Choice Pink (Solanum lycopersicum)
Shiny, round, and deep pink, the Chef's Choice Pink is aptly named because it's perfect for culinary use. Chef's Choice Pinks make delicious sauces for soups, pasta dishes, and more.
This high-yield cultivar is easy to grow and disease and pest-resistant, making it a low-maintenance choice for your garden.
Black Tomatoes
Black tomatoes contain anthocyanins, deep purple to black pigments that are also responsible for giving eggplants their dark coloring.
Anthocyanins make black tomatoes a superfood. These pigments have antioxidant and antimicrobial properties.
Black tomatoes are acidic and similar to red tomatoes, but with a bolder flavor profile that makes them a good choice for cooking.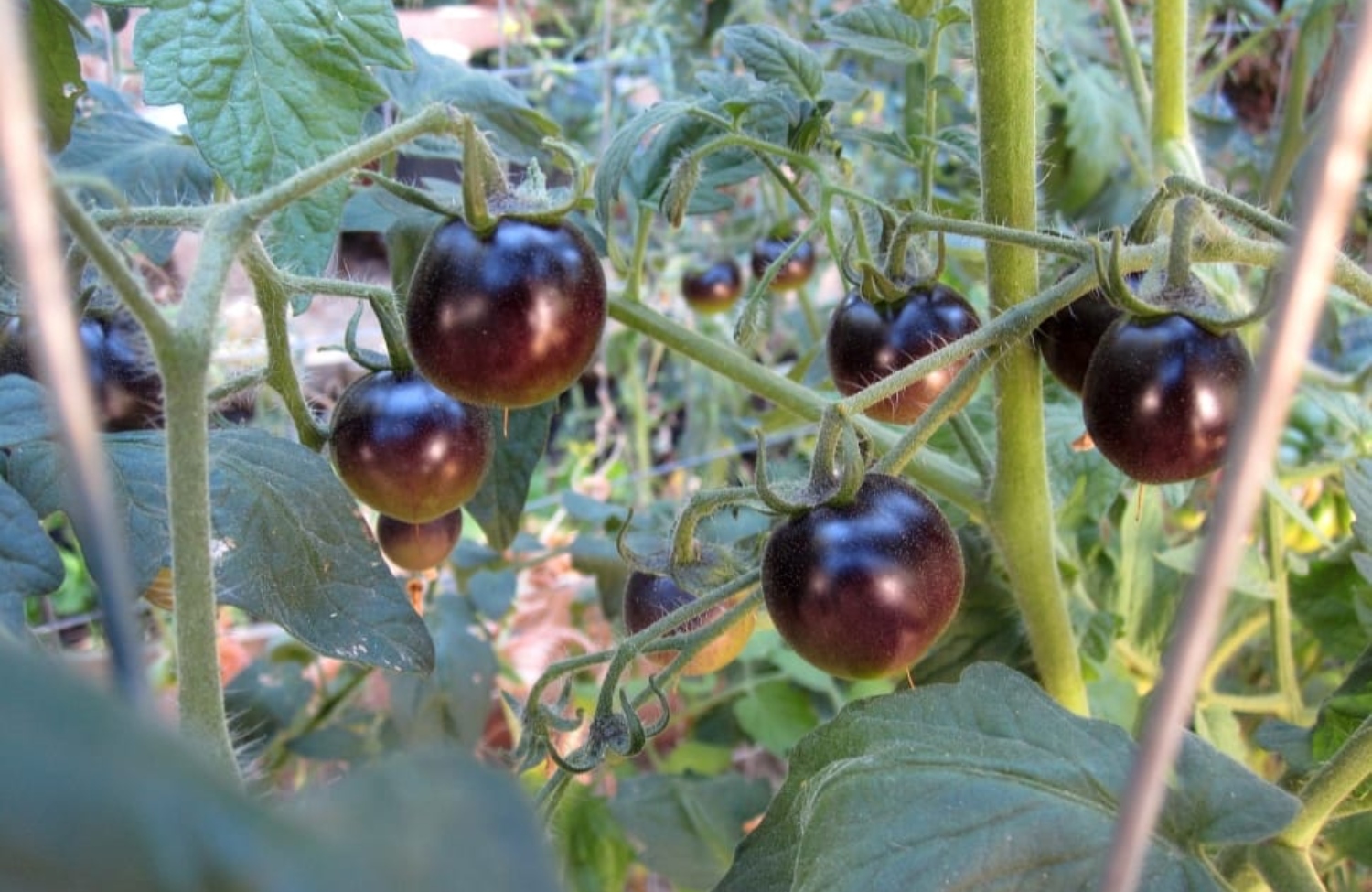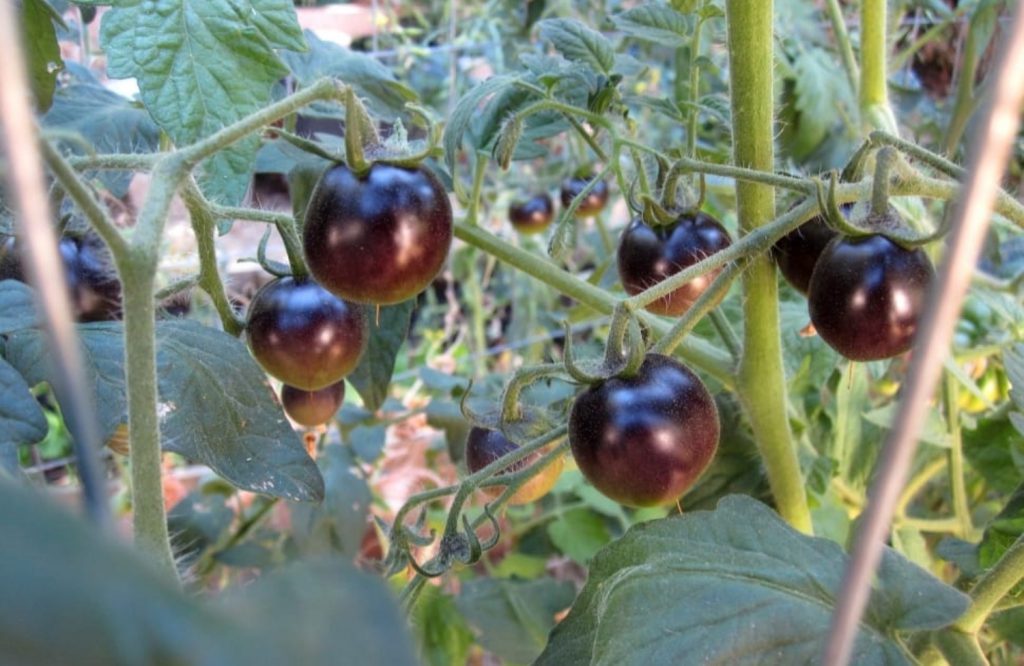 Indigo Rose (Lycopersicon esculentum 'Indigo Rose')
A tomato with coloring so deep it appears black, the Indigo Ros has a complex flavor profile that is sweet, acidic, crisp, and reminiscent of plums.
The Indigo Rose is a stunning tomato with dark purple skin that makes it pop against fresh romaine lettuce in a spring salad. But this cultivar's nuanced flavor is just as suitable for sauces.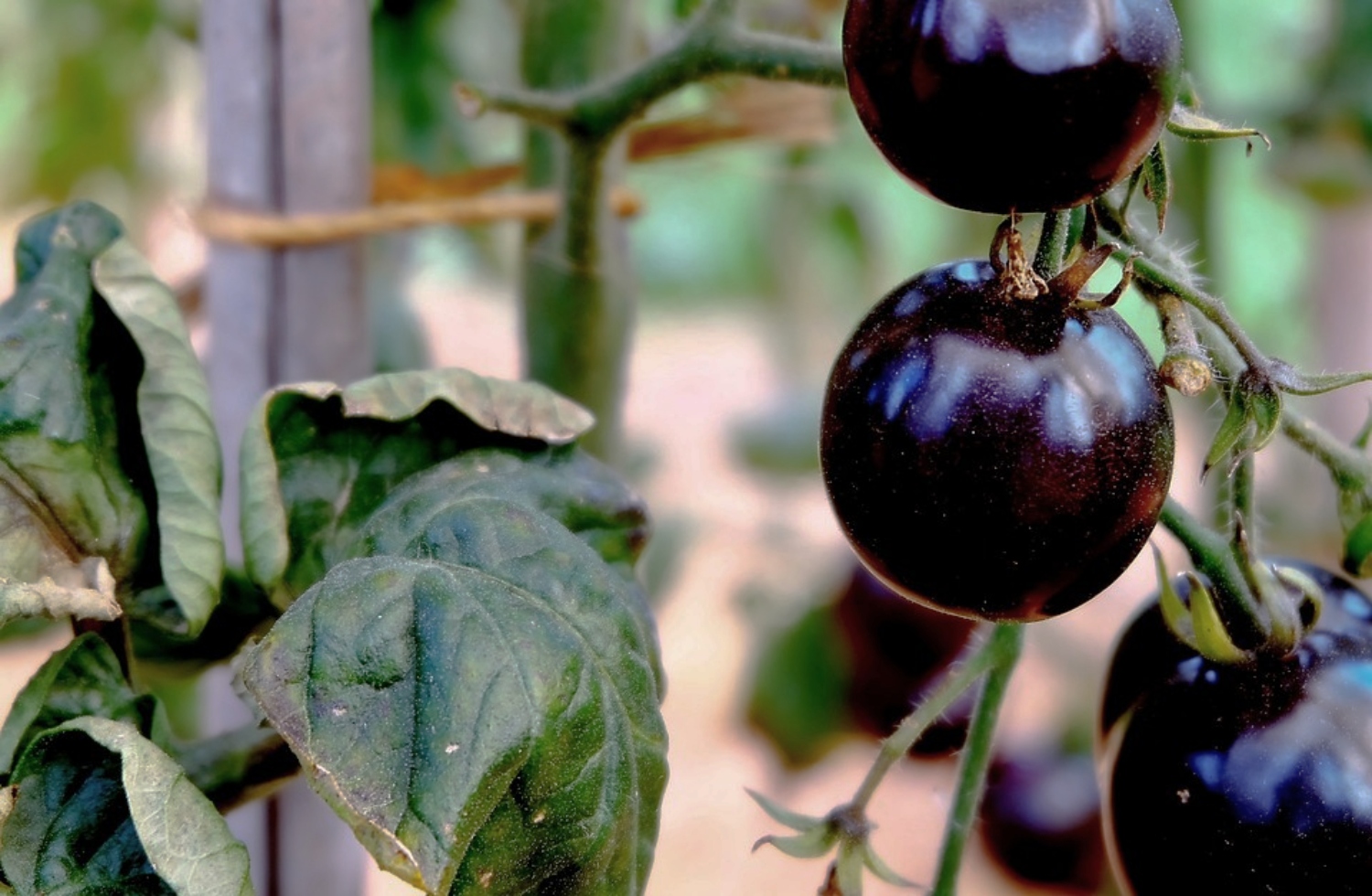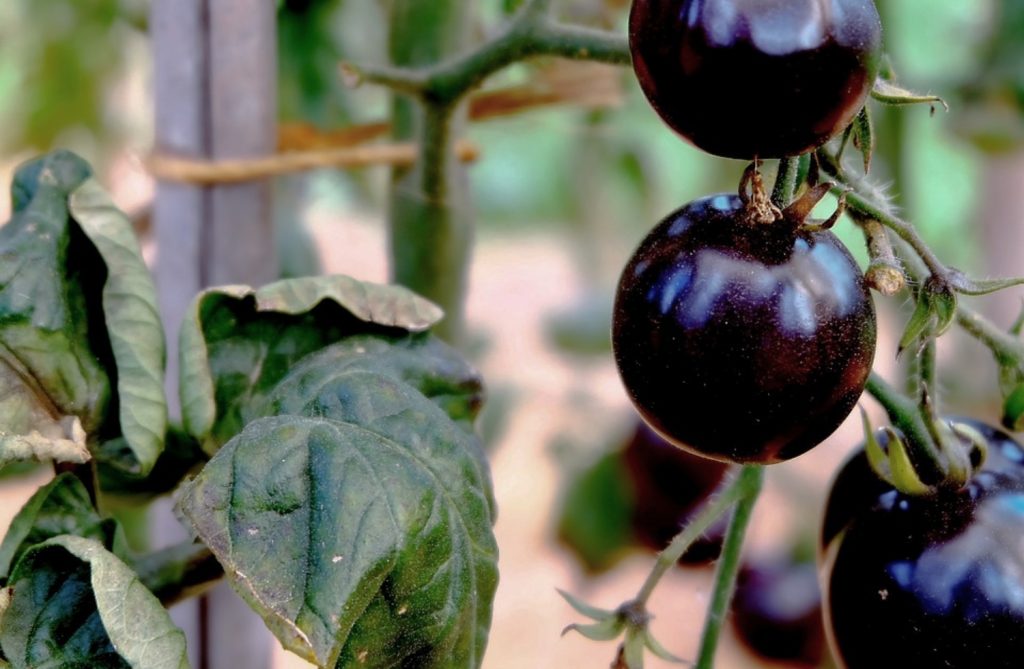 Black Beauty (Solanum lycopersicum 'Black Beauty')
The Black Beauty cultivar is aubergine purple, so much so that you'd almost expect ripe ones to turn into eggplants.
Not quite sweet, the Black Beauty is a gorgeous tomato, smooth and round, with a savory flavor and earthy undertones.
Use Black Beauty for soups, stews, and casseroles, or to add a dash of color and flavor to your favorite tomato salsas and relish recipes.
Purple Calabash (Solanum lycopersicum 'Purple Calabash')
Described as "wine-like", Purple Calabash is rich and sweet with citrusy undertones. This tomato's flavor has some serious body, and it's not for the faint of heart.
The Purple Calabash is a tomato for tomato lovers. Its unique flavoring is complex but works well in cooked dishes, especially pasta.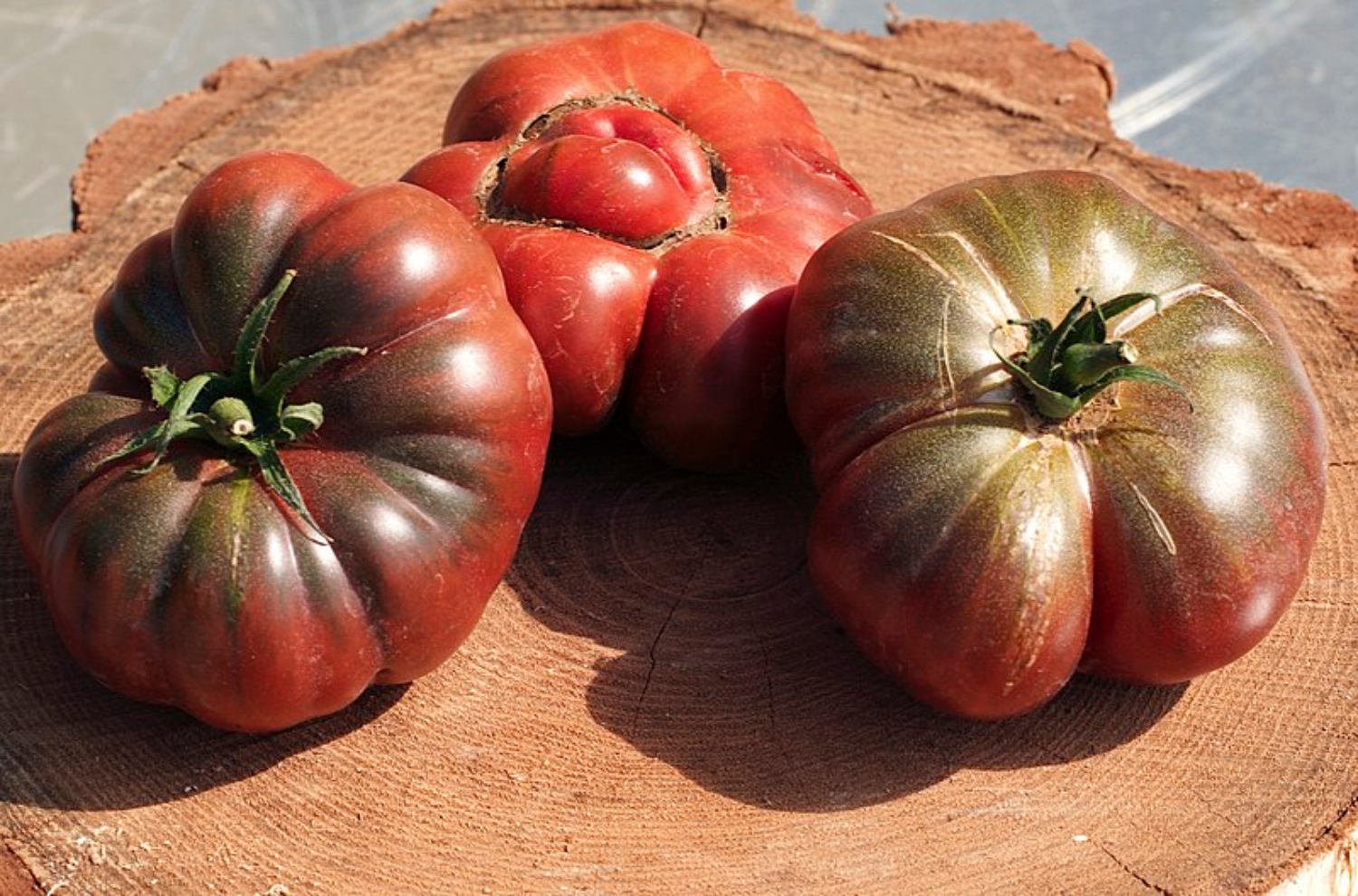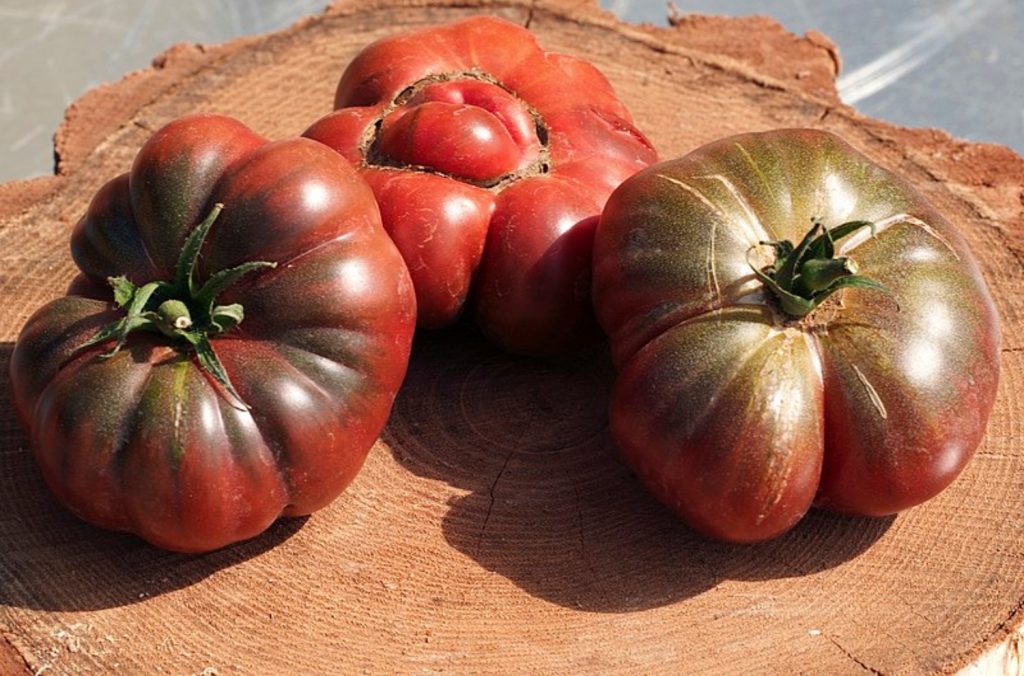 Cherokee Purple (Solanum lycopersicum 'Cherokee purple')
Cherokee Purple tomatoes are medium to large in size and possess an interesting smoky flavor that makes them a great topping for barbecued meats and sandwiches.
These tomatoes have thick skin and aren't prone to cracking. Their earthy undertones make them popular with diehard tomato fans.
If you're looking for a tomato that has an old-fashioned flavor, but with an edge, the Cherokee Purple is just right for you.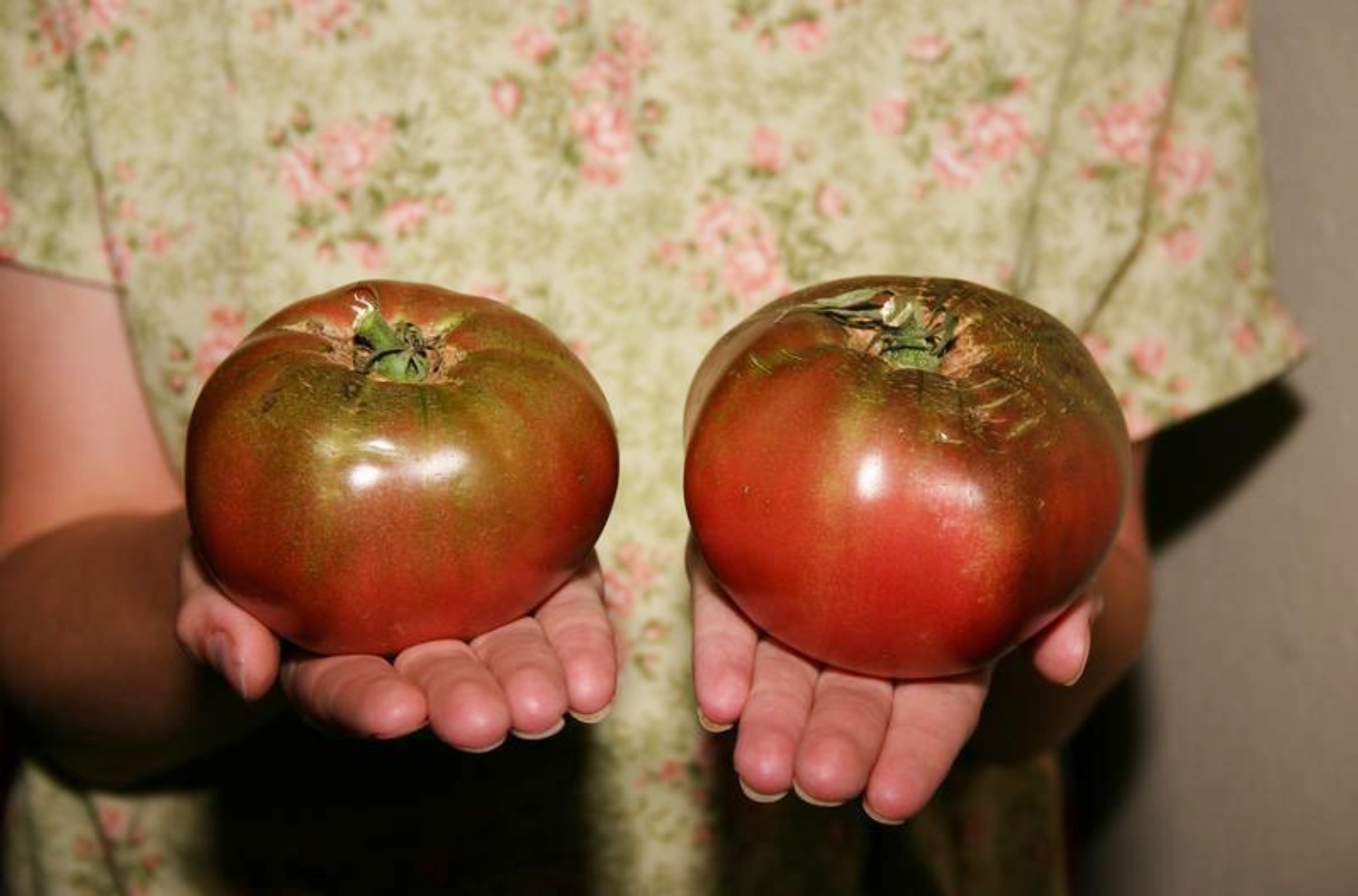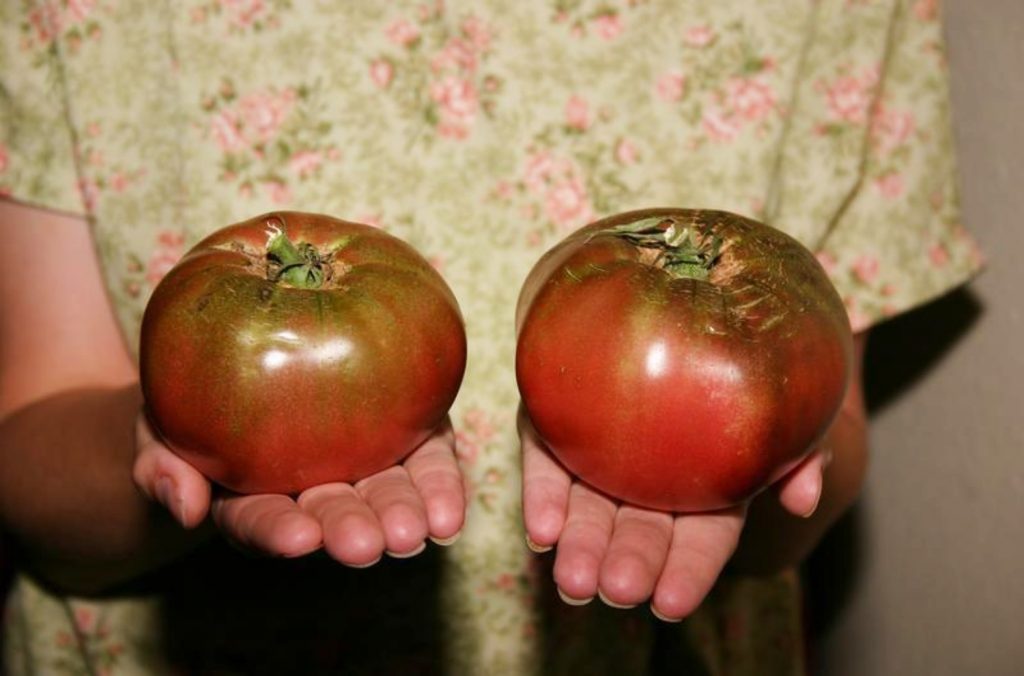 Amazon Chocolate (Solanum lycopersicum)
This rare tomato cultivar is hard to come by, but it's well worth investing in. The Amazon Chocolate is a large red tomato that develops a purple-black tinge as it ripens.
Rich, sweet, and wine-like, Amazon Chocolate tomatoes drip with juice when you slice into them. Their interesting flavor makes them a sophisticated snack when paired with cheese.
Yellow Tomatoes
Carotenoids called xanthophylls, which include lutein and zeaxanthin, are responsible for giving yellow tomatoes their color.
Both lutein and zeaxanthin are known to support healthy eyes, which is one great reason to grow yellow tomatoes.
Yellow tomatoes are crisp and have a mild flavor that makes them ideal for snacking.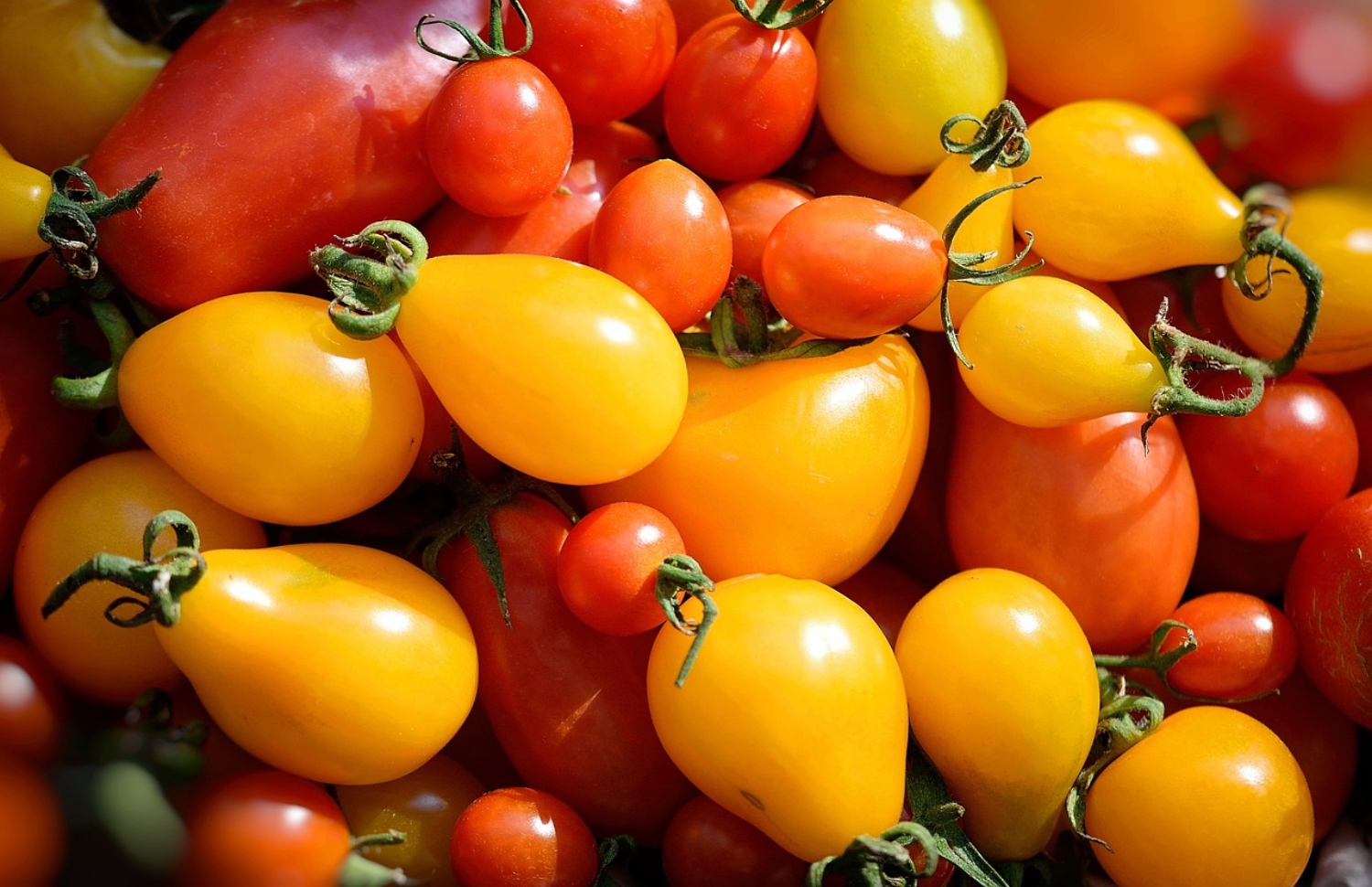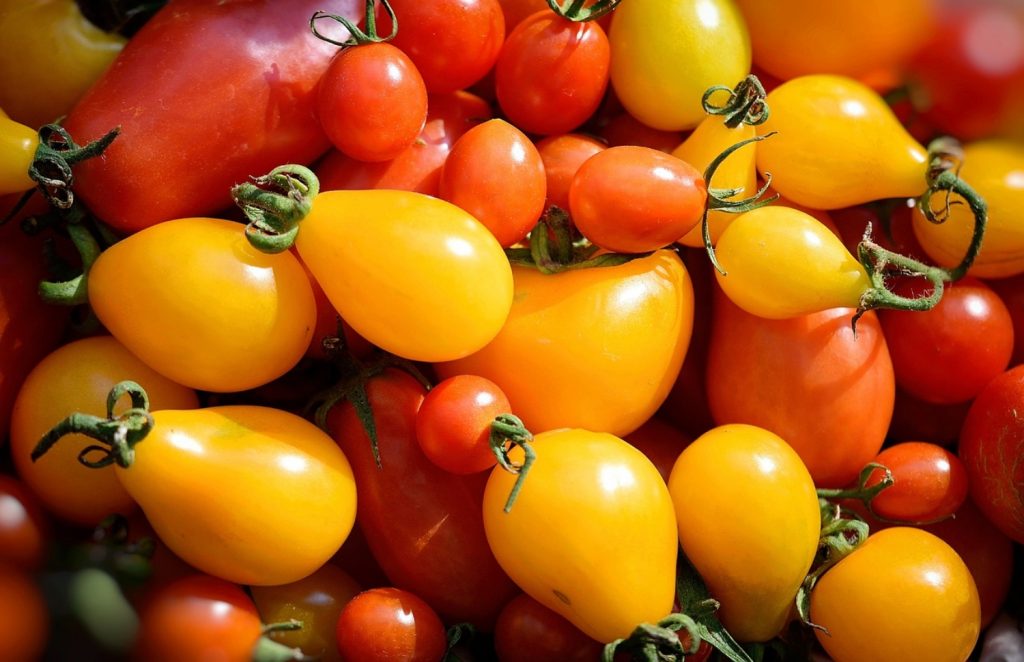 Lemon Boy (Solanum lycopersicum)
Lemon Boy tomatoes are round, smooth, and bright yellow, and weigh 8 ounces on average. Their small size and vivid coloring make them a fantastic addition to fresh dishes, like salads.
The flavor profile of the Lemon Boy is unique but mild. Fruits are sweet and tangy. These tomatoes are low in acidity and are beloved by many, even by those who dislike tomatoes.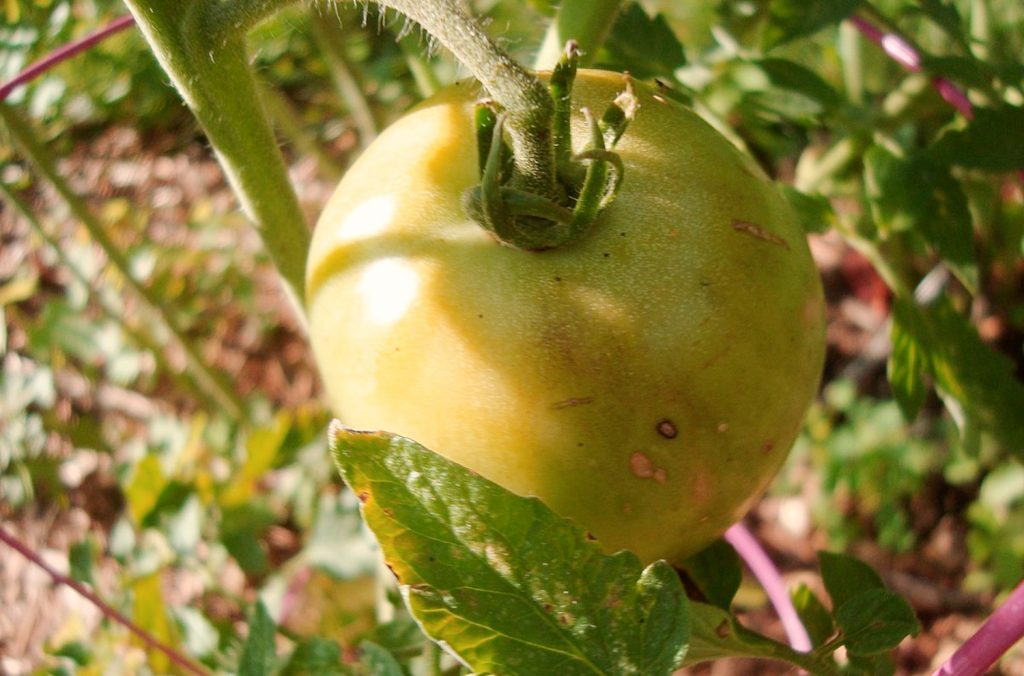 Amish Gold (Solanum lycopersicum)
First cultivated by Amish growers in Pennsylvania, this pretty yellow tomato is dense and has a rich flavor that's full of sweetness.
Although Amish Gold tomatoes are somewhat slow to mature, taking between 100 and 120 days from seed to harvest, their crisp texture and delicious flavor make them a good choice for canning, snacking, and making sauces.
Dixie Golden Giant (Solanum lycopersicum)
Another Amish cultivar, this heirloom tomato is quite weighty. This is a large yellow tomato with a rich color and an even richer flavor profile.
Perfect for slicing and putting in salads and sandwiches, Dixie Golden Giant has been enjoyed since the 1930s.
This fruity and delectable cultivar is the type of tomato you'd want to eat straight off the vine, but it's great for cooking, too.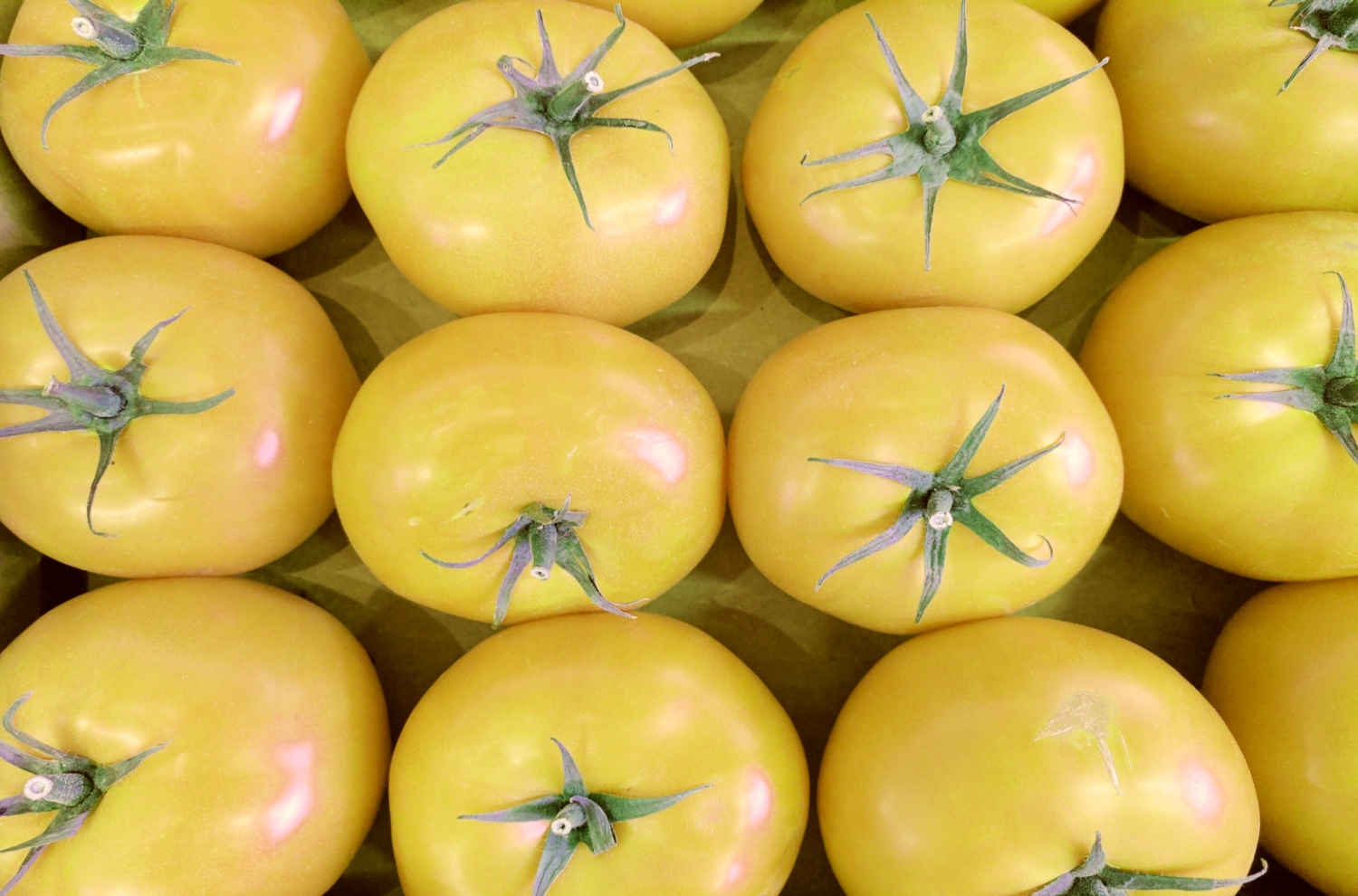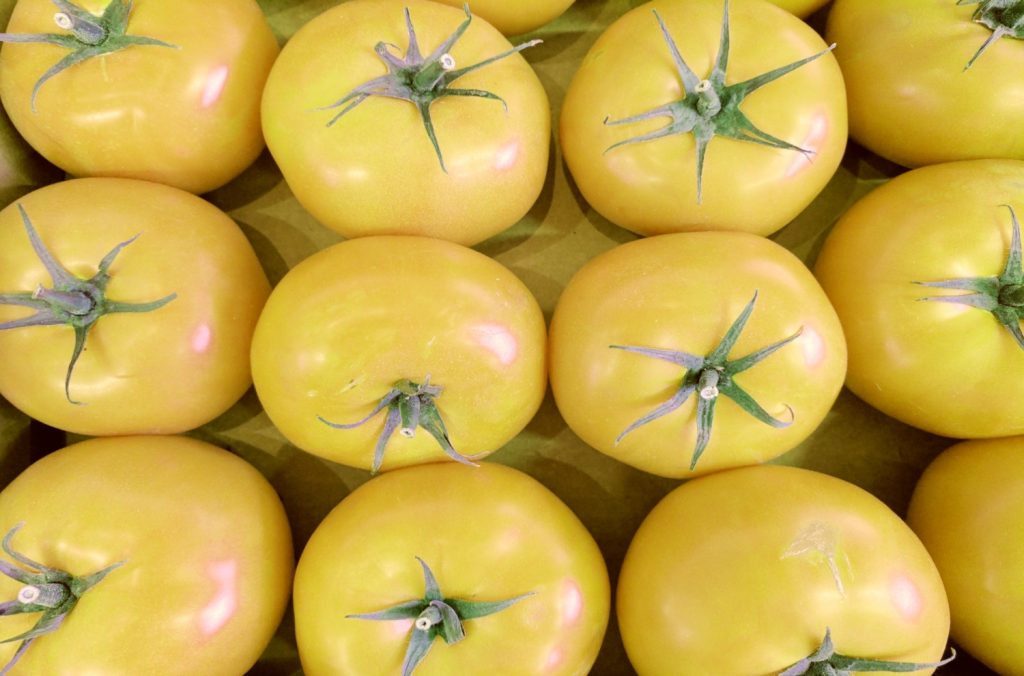 Yellow Pear (Solanum lycopersicum)
As their name suggests, these tomatoes are yellow and pear-shaped, and their unique appearance and small size mean they can be added to salads and other veggie dishes whole.
Fresh, juicy, and sweet, Yellow Pear tomatoes are ideal for snacking and roasting, and are great for canning, too. Use these vibrant tomatoes to add color to relish and salsa.
Dr. Wyche's Yellow (Solanum lycopersicum)
Dr. Wyche's Yellow are medium to large tomatoes. The biggest fruits can weigh upwards of a pound.
As these tomatoes ripen, they turn a rich golden yellow, almost orange. The flesh is thick and the meat is juicy, making this tomato great for sandwiches and burgers.
Because this tomato is sweet and fruity, it's ideal for eating raw. But it can also be used to add a tropical quality to your favorite sauce recipes.
Orange Tomatoes
Tomatoes that have an orange tinge have lower levels of lycopene than red varieties, and higher levels of beta-carotene by comparison.
Orange tomatoes have low acidity and a mild taste and are often used raw to add a splash of color to salads and sandwiches.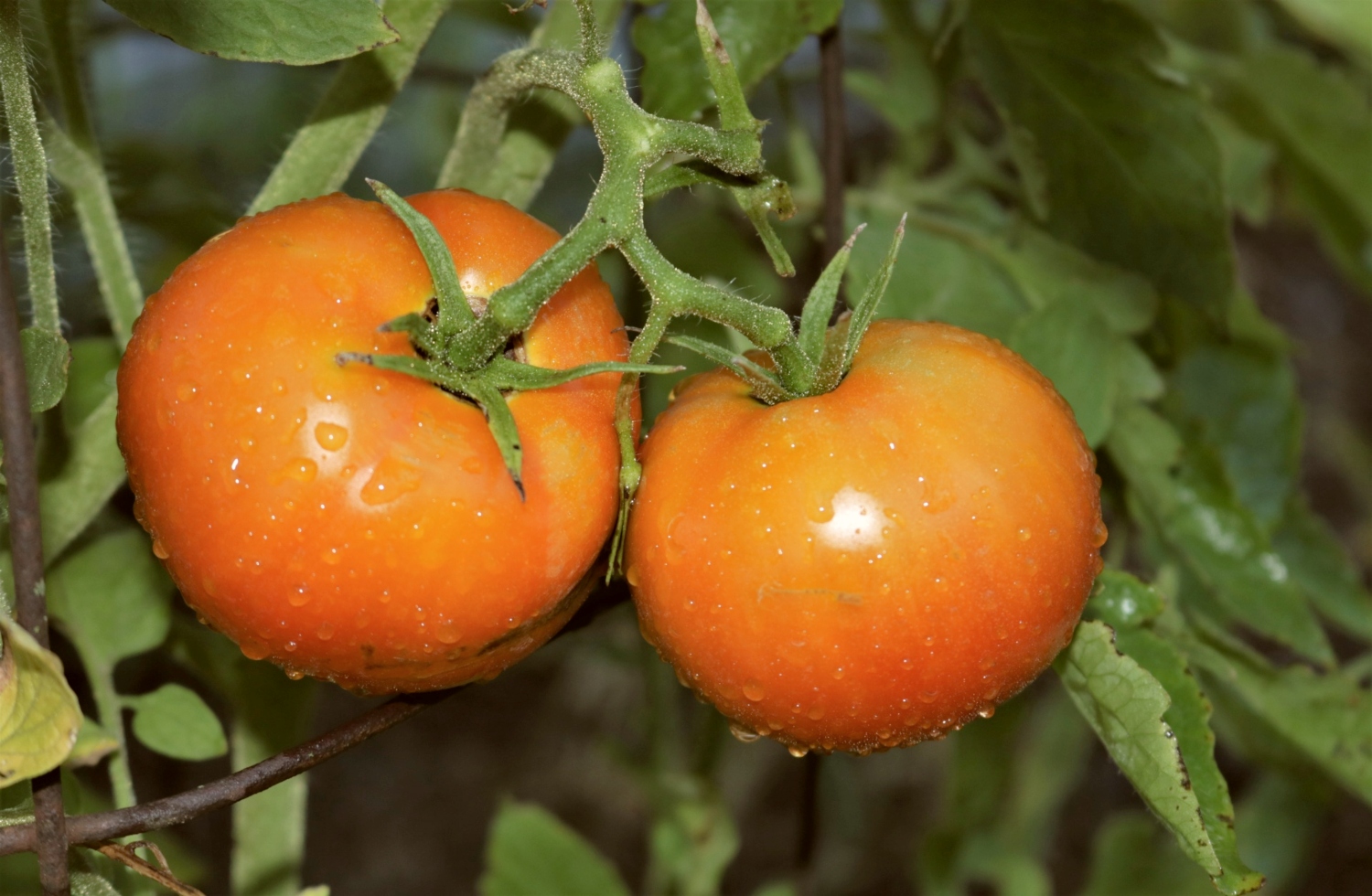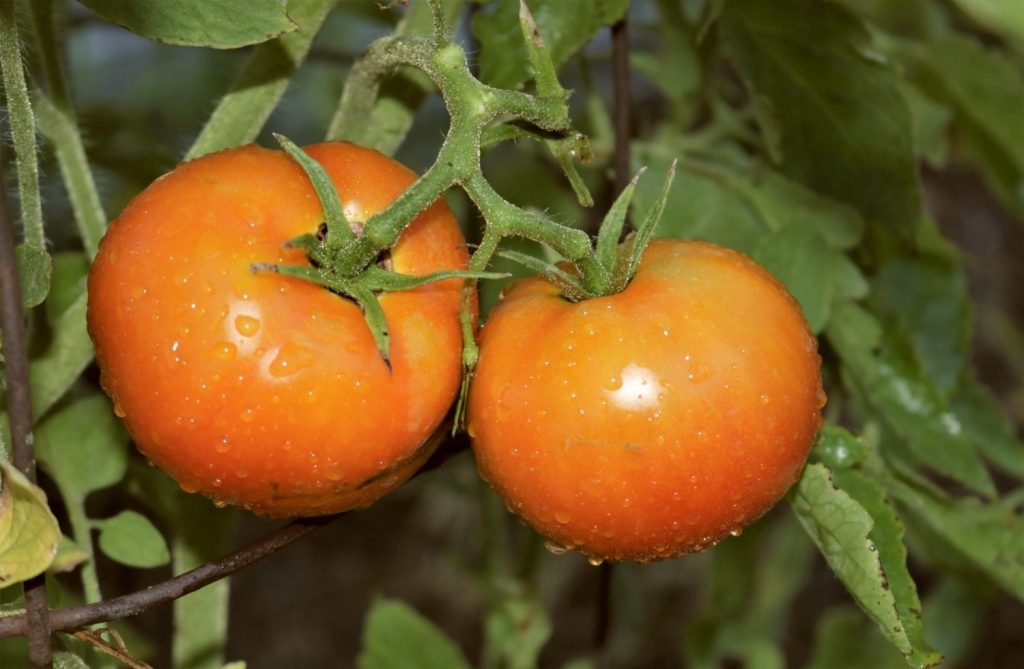 Amana Orange (Solanum lycopersicum)
This large tomato is carrot orange, and sure to make your garden's visitors do a double-take. The Amana Orange tomato plant produces fruits of various sizes. At their biggest, the fruits can weigh up to 2 pounds.
The Amana Orange has a tropical flavor. It's sweet and mild, but also very refreshing.
Use Amana Orange in your favorite summer salads, and try mixing it into your favorite fruit smoothy to give it a more complex flavor.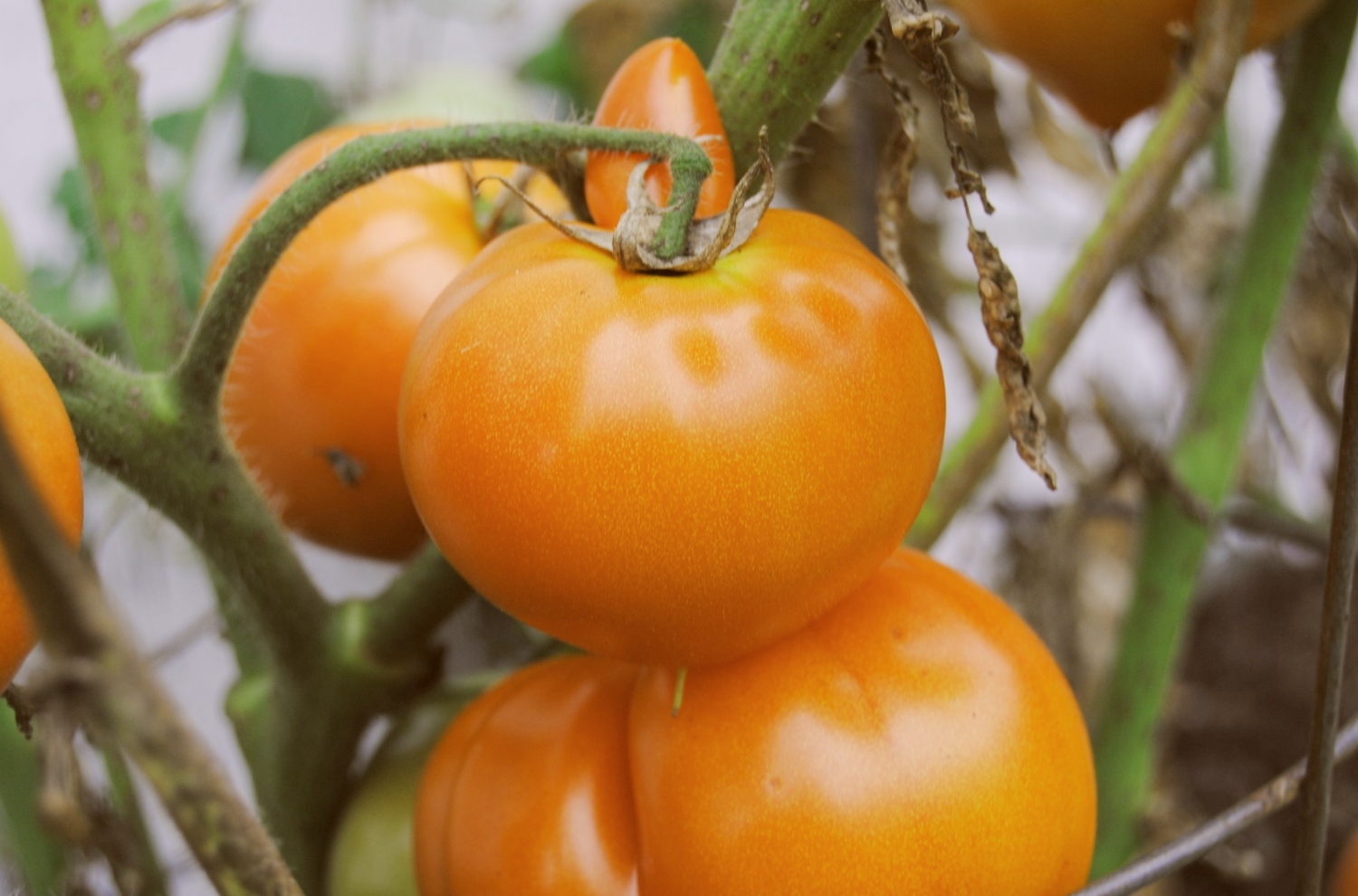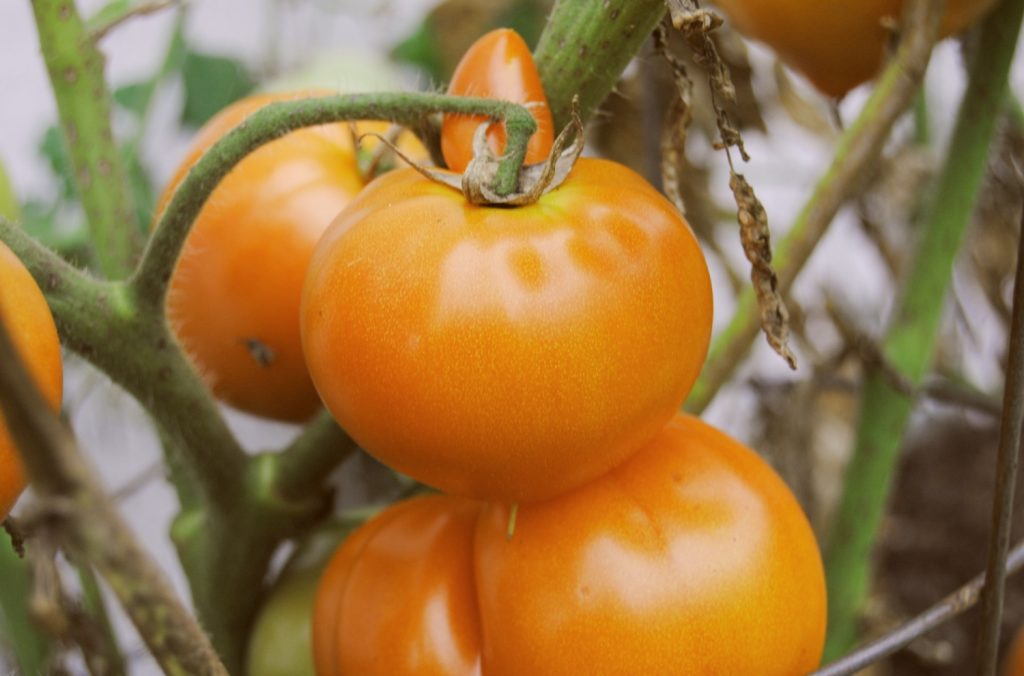 Persimmon (Solanum lycopersicum)
Persimmon tomatoes have thick skin, juicy, meaty flesh, and relatively few seeds, which makes them great for eating raw.
Plants are high-yield, producing a steady supply of bright orange tomatoes throughout the summer.
Use this sweet and mellow tomato in sauces, stews, soups, and whatever your heart desires — it's quite versatile!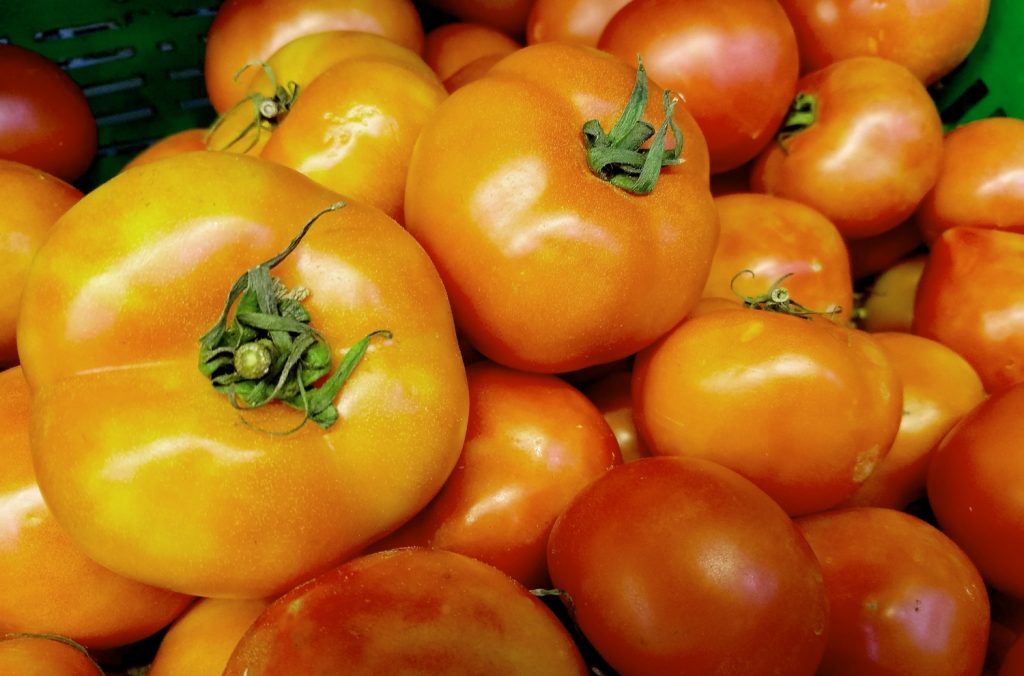 Kellog's Breakfast (Solanum lycopersicum)
This heirloom variety produces reddish-orange fruits that are smooth, shiny, and slightly lobed at the tops.
Kellog's Breakfast tomatoes probably wouldn't pair too well with Kellog's breakfast cereals. But their sweet, tangy flavor makes them a great addition to just about everything else!
Use this flashy orange tomato in gumbos, pasta sauces, salsas, and more.
Jubilee (Solanum lycopersicum 'Jubilee')
If a sweet tomato is what you're after, you can't go wrong with the vivid orange Jubilee. These tomatoes are sugary and meaty, and have a nice bite to them.
Jubilee tomatoes are medium to large in size. The skins are smooth and shiny. Fruits have low acid content and a mild flavor that makes them delicious when eaten raw or used in canning and cooking.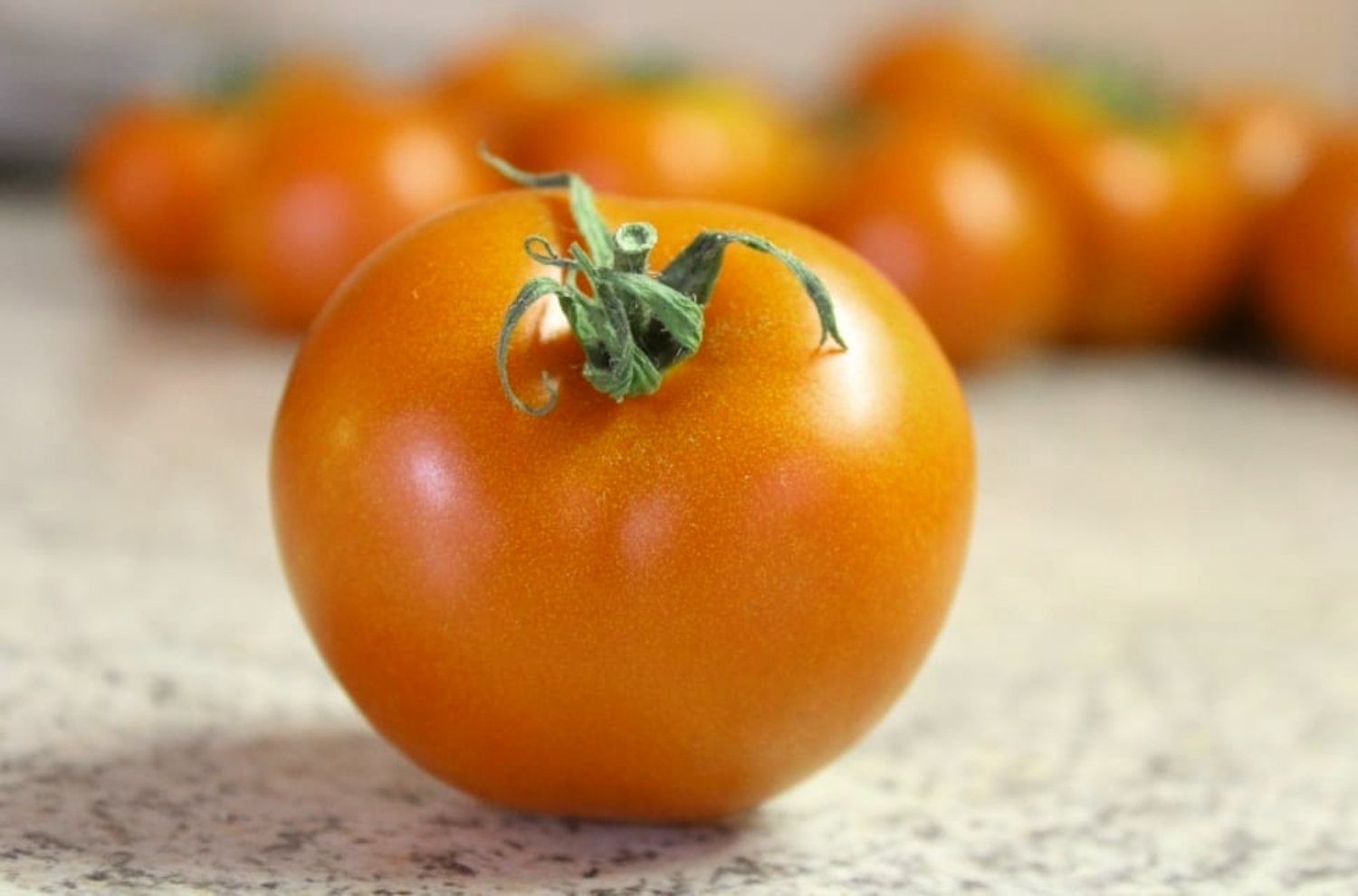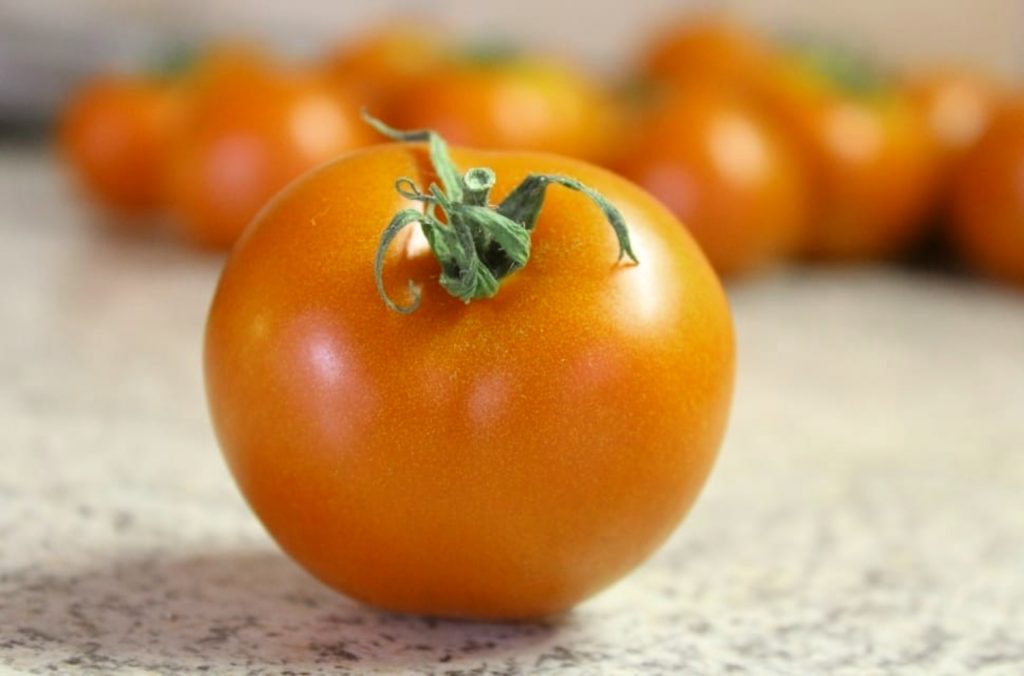 Pineapple (Solanum lycopersicum 'Pineapple')
Pineapple tomatoes are a real novelty. These whopping tomatoes can weigh upwards of 2 pounds, and their gorgeous golden skins become even more fascinating once you slice into them — these tomatoes have marbled flesh.
Cut into a ripe Pineapple tomato to reveal shades of orange, yellow, and red. In terms of taste, this tomato has a sweet, fruity profile that makes it ideal for salsas, salads, and relishes.
Green Tomatoes
Chlorophyll, the same substance that plants use to produce energy for themselves, is what gives these tomatoes their vivid coloring.
Green tomato cultivars are often mistaken for unripe red tomatoes. But they're not quite the same.
Unripe tomatoes are bitter and unpleasant. But green tomato cultivars are crisp, sweet, and juicy.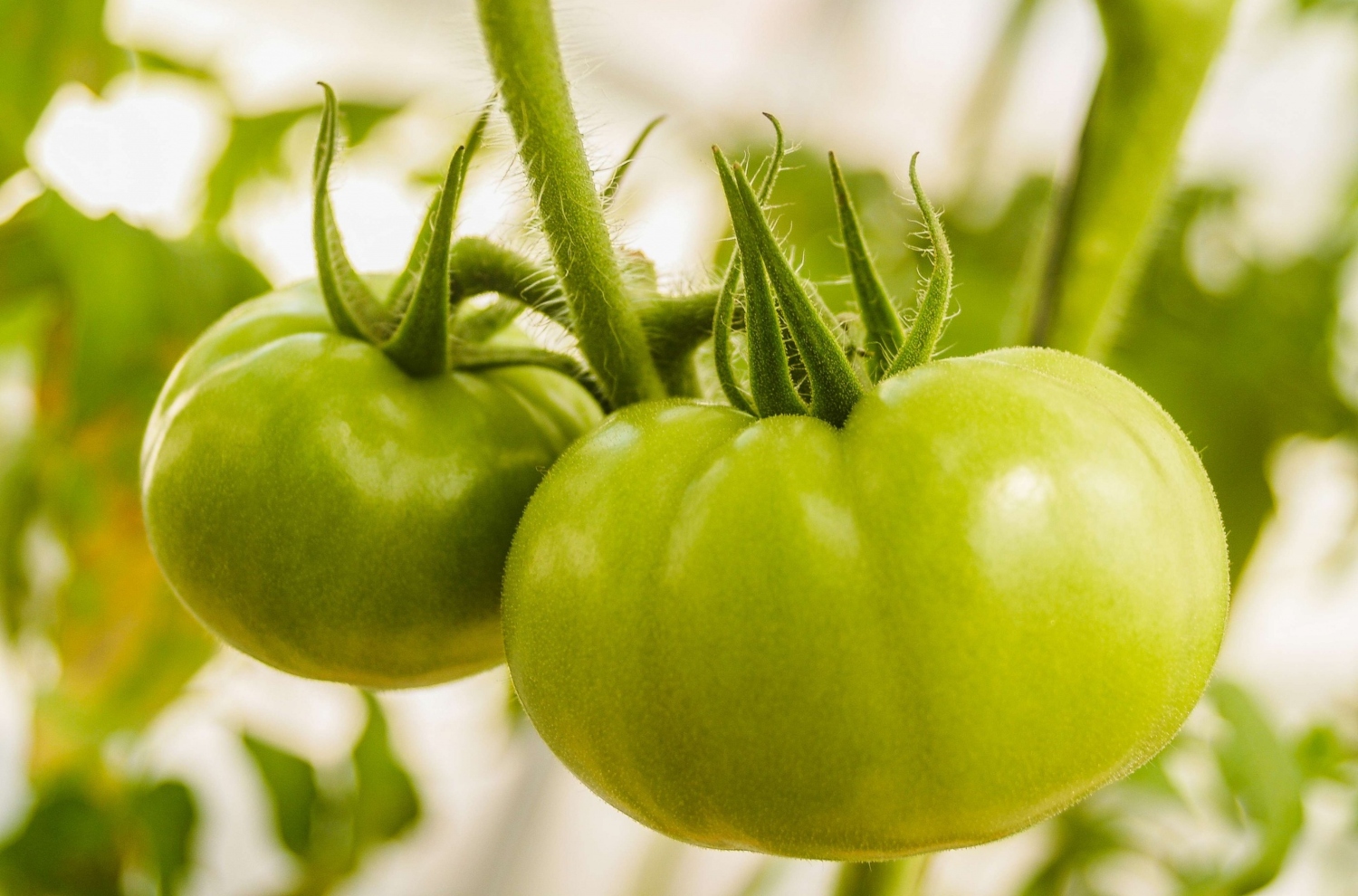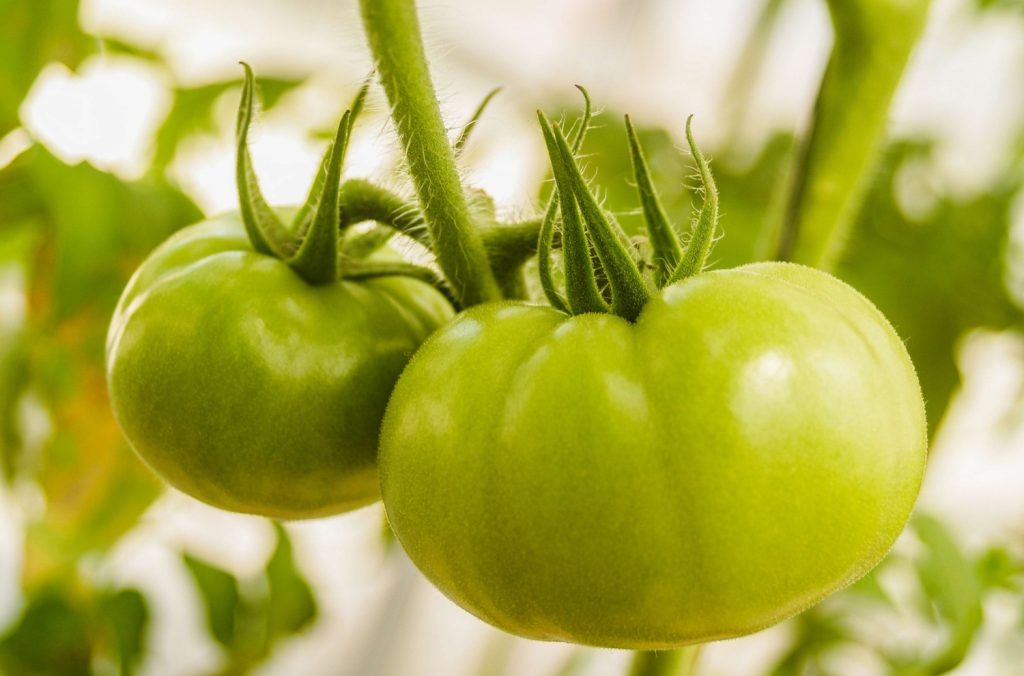 Aunt Ruby's German Green (Lycopersicon lycopersicum 'Aunt Ruby's German Green')
These delectable tomatoes have low acid content, crisp flesh, and a juicy interior. Each fruit is bursting with a sweet but strong flavor, with fruity undertones.
Aunt Ruby's German Greens make healthy snacking easy. But these tomatoes are great for making salsas and relishes, too.
Summertime Green (Solanum lycopersicum)
Slice into a Summertime Green tomato, and you'd think it was just an unripe red one. But bite into a Summertime Green tomato, and you'll discover that these unusually colored tomatoes are actually sweet and juicy.
Summertime Greens are refreshing, so they're best enjoyed fresh. Add these little tomatoes to vegetable trays and appetizers and savor their unique flavor.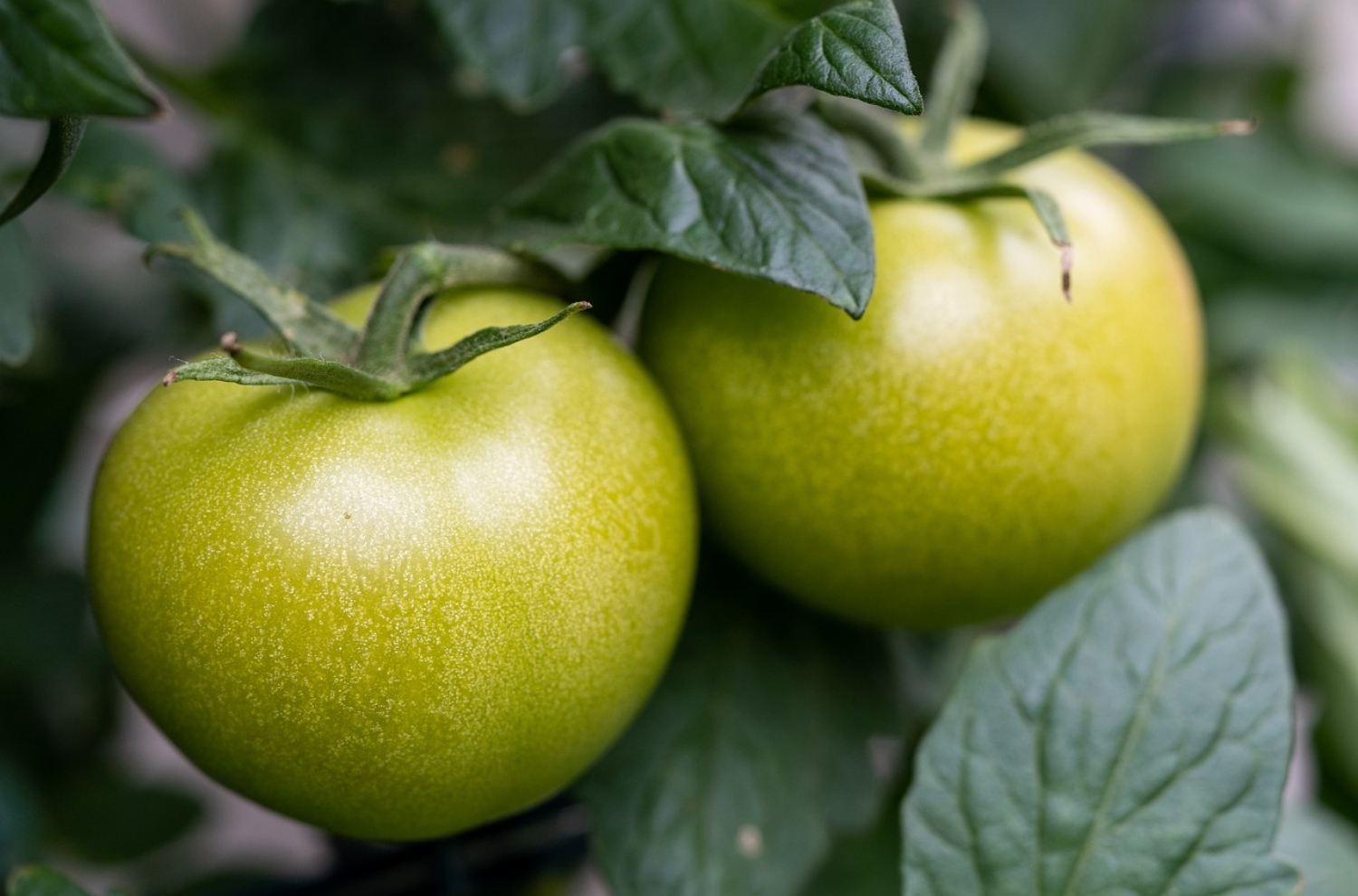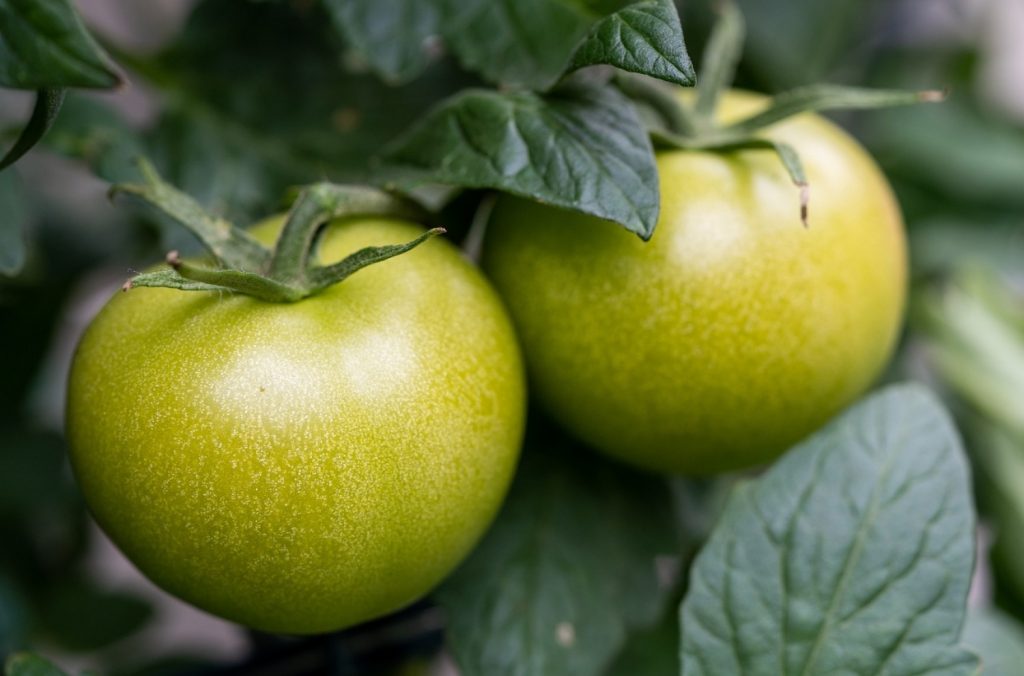 Green Doctors (Solanum lycopersicum 'Green Doctors')
A cherry-sized tomato that's tender and sweet, the Green Doctors cultivar is an excellent tomato for beginners. Plants are low-maintenance and high-yield.
As for the tomatoes themselves, they're wonderful for snacking. But their juicy flesh and firm texture make them a great addition to sweet relishes and pickling, too.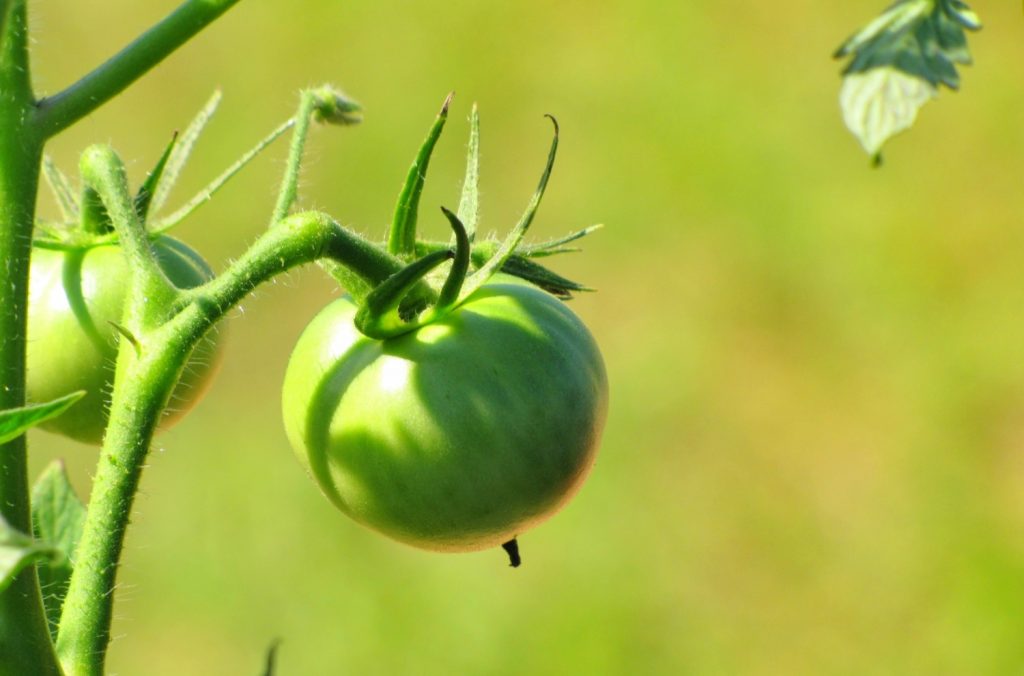 Green Zebra (Solanum lycopersicum 'Green Zebra')
Small bright green tomatoes striped with dark green and yellow, Green Zebras are as good to look at as they are to eat.
These green tomatoes sometimes tinge red or blue when ripe. Their interesting coloring adds aesthetic appeal to salads, appetizers, and pasta dishes.
Taste-wise, Green Zebras are tart, but they mellow out as they ripen, turning sweet and tangy.
Berkeley Green Tie-Dye (Lycopersicon lycopersicum 'Berkeley Tie Dye')
Bold flavor is what you'll get with the Berkeley Green Tie-Dye Tomato. Fruits are medium to large in size and taste both sweet and savory.
Use your Berkeley Green Tie-Dye tomatoes in all of your favorite recipes, from soups, casseroles, and side dishes.
These fruits can also be enjoyed fresh. Add a slice of a Berkeley Green Tie-Dye tomato to your burgers and sandwiches for a delightful burst of flavor.
White Tomatoes
Unlike other tomatoes, white tomatoes do not contain carotenoids. Instead, they contain small amounts of anthocyanins.
White tomatoes are fruity and sweet. They tend to have crisp skins and juicy flesh, which makes them great for appetizers like bruschetta.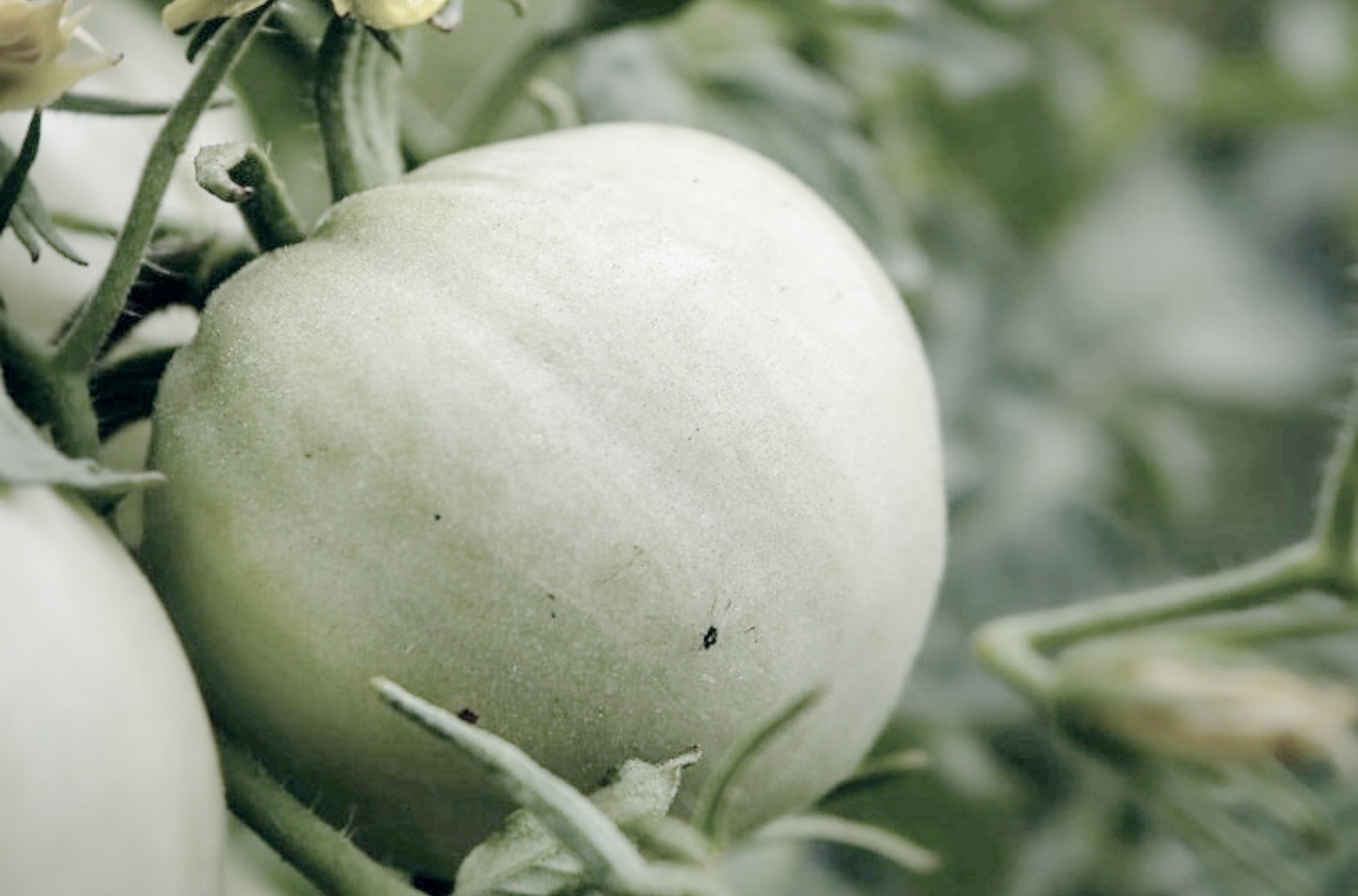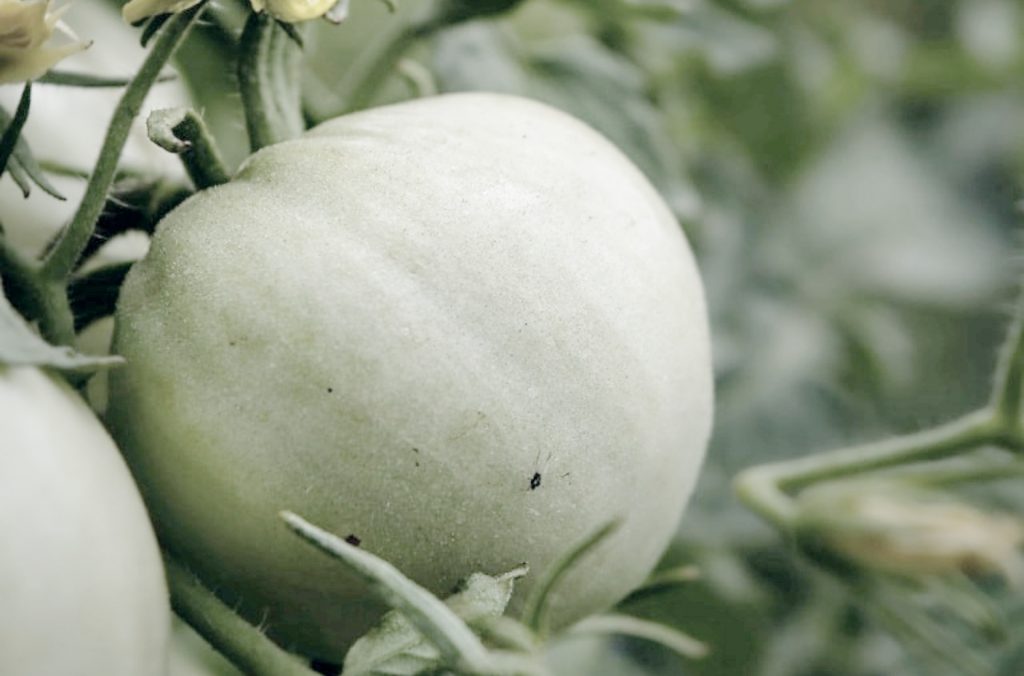 Great White (Lycopersicon esculentum)
Ivory-colored tomatoes that can weigh up to 2 pounds, Great Whites are large and heavy with meaty flesh that makes them great for slicing.
These tomatoes are sweet and dripping with juice. They have fruity undertones with hints of melon and citrus.
Overall, the Great White is a good choice because it's well-suited to snacking and cooking.
White Currant (Solanum pimpinellifolium)
These tiny white tomatoes measure about an inch across at their largest. But don't let their small size fool you, these tomatoes are loaded with flavor.
White currant tomatoes are so crisp and juicy, you could eat them by the handful, like popcorn. But they can also be enjoyed stewed and when added to salsas and compotes.
Smaller than the average cherry tomato, White Currants start out a translucent white that turns more ivory with age.
Chef's Choice White (Solanum lycopersicum)
These large white tomatoes take on a yellow hue as they ripen. The fruits are round, shiny, and smooth.
The Chef's Choice White is a prolific producer, offering loads of uniformly shaped fruits throughout the growing season.
These delicious white tomatoes are juicy and creamy and can be used in traditional tomato sauces, or added to cream-based sauces for extra acidity and a burst of flavor.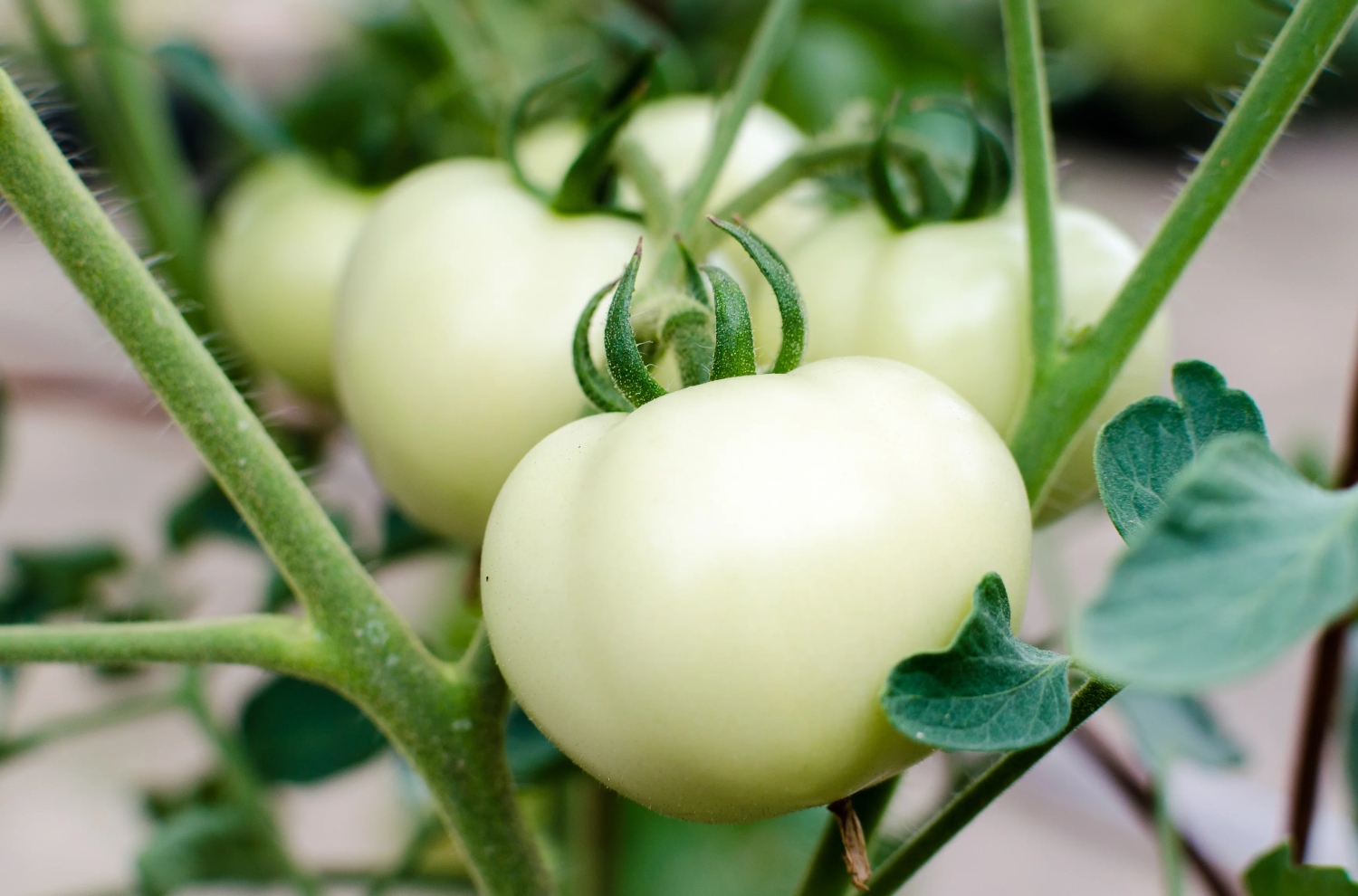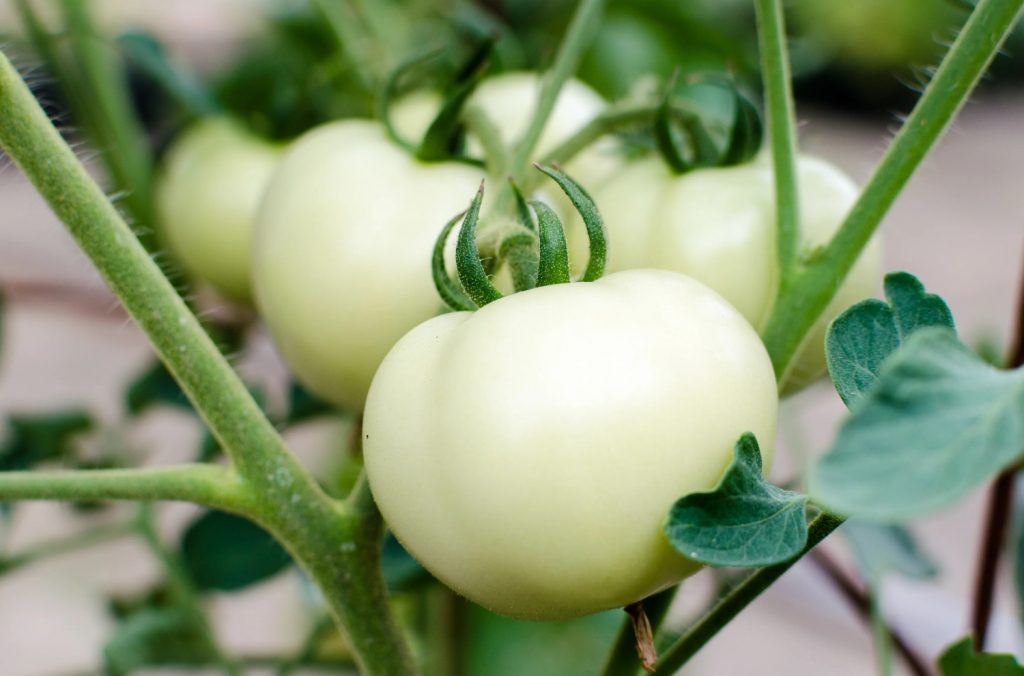 White Queen (Solanum lycopersicum)
The White Queen may just look like an anemic red tomato, but this cultivar is far from flavorless. White Queen tomatoes are sweet and juicy, decidedly fruity but mellow.
Use White Queens to cook, or slice them and enjoy them on sandwiches and in pasta salads. These tomatoes go great with all sorts of cheeses and are a perfect addition to your charcuterie board.
White Snowball (Lycopersicon esculentum)
These ghostly white tomatoes are low in acid and rich in sweetness. These are tomatoes for people who generally don't like them, and they can be used for anything from canning to slicing to cooking.
The White Snowball is also a great option for anyone who loves tomatoes but is sensitive to them. If you have a tomato allergy, give White Snowballs a try, instead.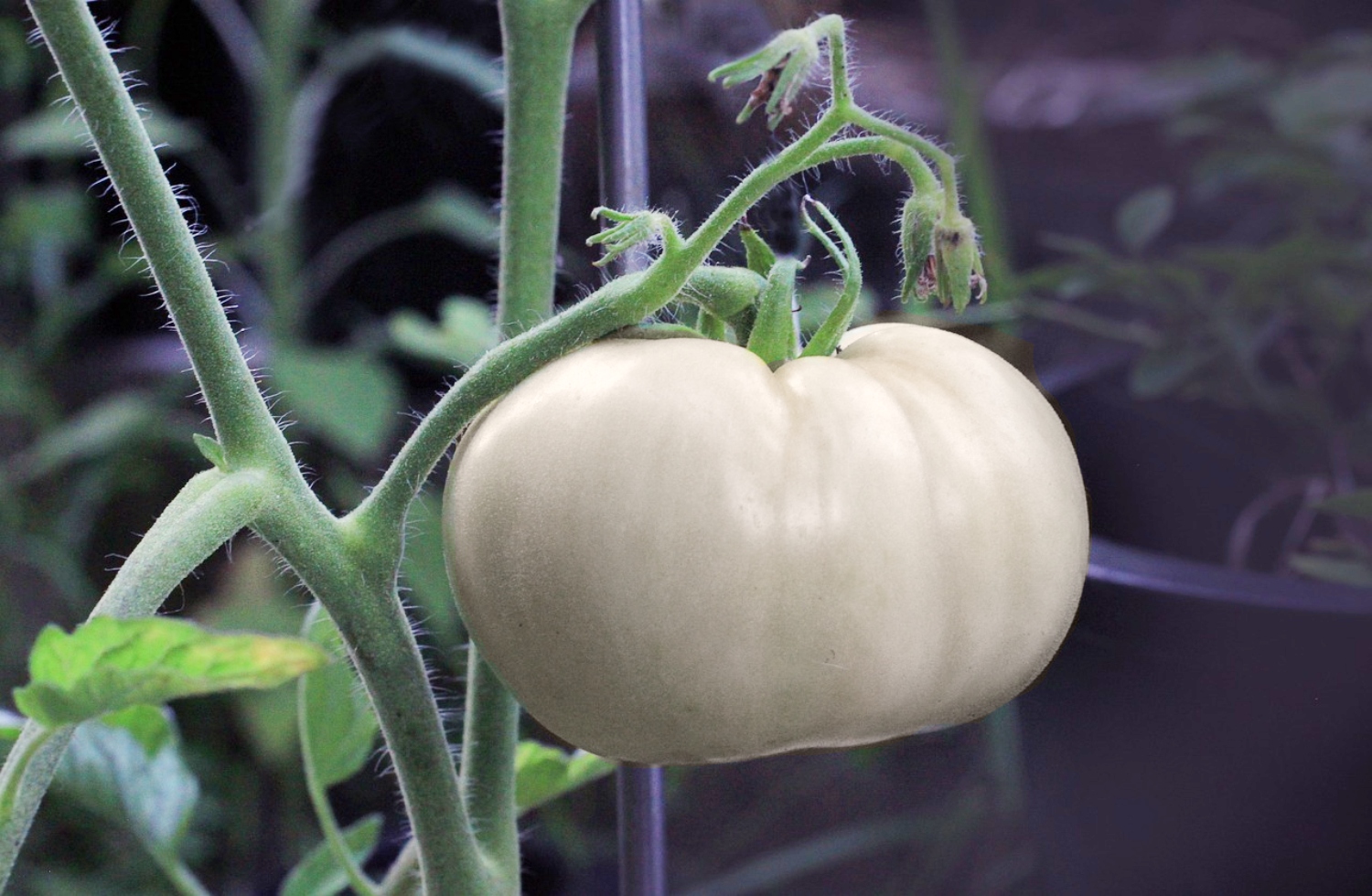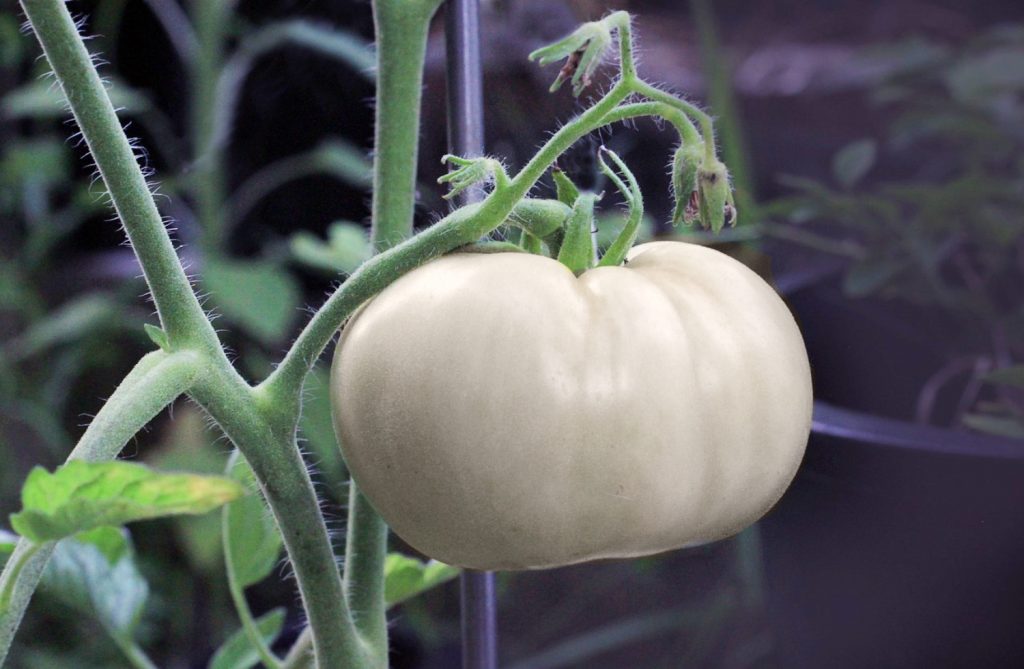 Tips for growing the best-tasting tomatoes
When it comes to growing the best-tasting tomatoes in your garden, it's up to your personal flavor preference.
Meeting all of your tomato crop's growing requirements will help, too.
Be sure to plant your tomatoes in slightly sandy, acidic soil that drains well. Consider amending your soil with nitrogen-rich materials, like fish emulsion, as tomatoes love nitrogen.
Water the plants once or twice a week, and fertilize them with bone meal to prevent blossom end rot and enhance flavor.
Growing your tomatoes near the appropriate companions, like basil and oregano, can also support plant development and fruit quality.
With proper care and the right cultivar, you can grow the best-tasting tomatoes you've ever had in your life right in your own backyard.