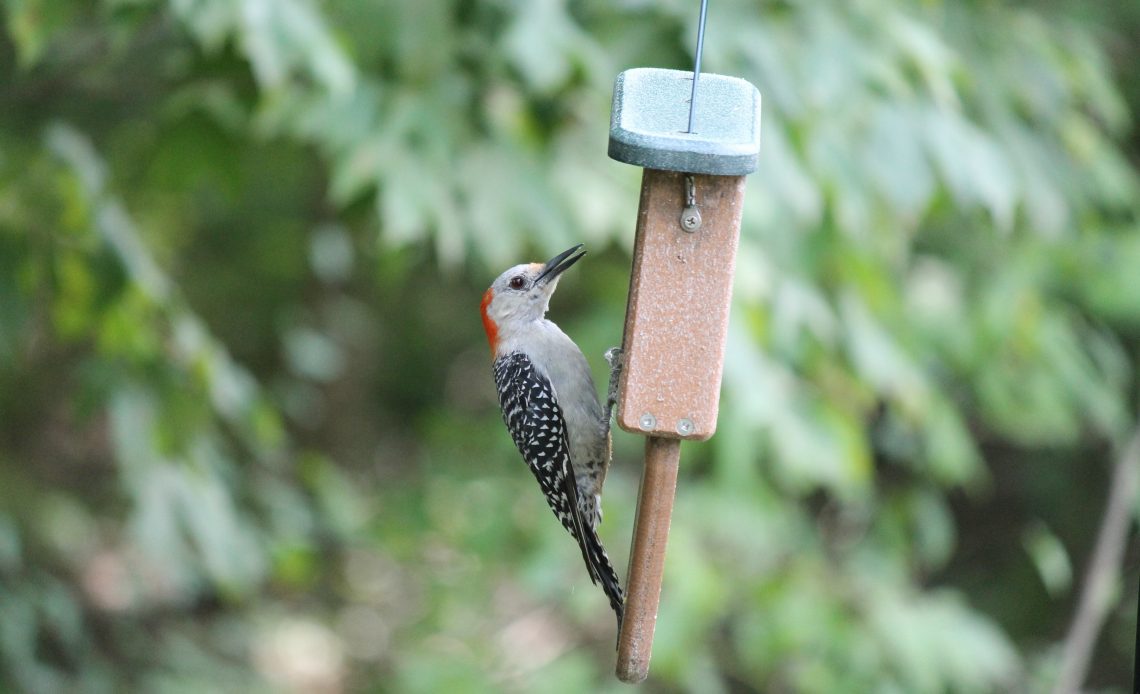 We're here to help! Wild Yards is a completely free website that is 100% dedicated to helping you create a wildlife-friendly, sustainable yard. Read more
WildYards is reader-supported. When you buy a product through a link on our site, we may earn a comission. Every product is independently selected by our (obsessive) editors and our reviews are unbiased and objective. Read more about our mission or our privacy policy.
Who doesn't enjoy a fun and lively woodpecker?
With nearly 20 species living in North America, attracting woodpeckers with the best woodpecker feeder is guaranteed to be a rewarding experience for the backyard birder.
Unfortunately, since woodpeckers' eating habits are different from most birds, shopping for a great woodpecker feeder is not an easy task. There are so many different types of feeders and many different types of food.
In this article, you'll learn about the best food to attract woodpeckers, the different types of woodpecker feeders, and some great tips on how to get the most out of your feeders.
Once you know the differences between the types of feeders, it'll be easy for you to choose which feeder is best for your yard.
Let's get started by answering the popular question: "what do I feed woodpeckers?"
What to Feed Woodpeckers
Woodpeckers have a varied diet. They are not picky and will eat insects, nuts, fruits, and even sap. They have such a varied diet because they're not migratory, which means they stay in one area all year long. When the winters get harsh, they'll eat whatever they can find.
Offering most of the foods mentioned above in a commercial feeder is not easy – how does one even buy sap?
Fortunately, there is a type of food that woodpeckers go absolutely crazy for. It's easy to make yourself or buy at most stores that offer bird seed and it attracts almost all species of woodpeckers and even other types of birds like cardinals and chickadees.
This amazing food source is called suet.
If you've been in the backyard birding game for a while, you're most likely familiar with suet. If you're new to feeding birds or have no idea what we're talking about, don't fret.
Suet is just rendered animal fat that is mixed with extra ingredients like corn, nuts, berries, etc. It's usually molded into a ball, cake, or small pellets for easy hanging.
You can make your own suet or buy a bunch online. We recommend this brand of suet, but you may want to experiment with different brands and suet types. You may find that the woodpeckers in your area have a preference.
Suet isn't the only thing you can feed woodpeckers. Peanuts and black oil sunflower seeds are two more options, along with some others. We love our suet feeders because they attract a bunch of good-looking birds like woodpeckers, cardinals, nuthatches, and chickadees.
While lots of the feeders below are suet feeders, we included some non-suet feeders just in case. Remember, the best woodpecker feeder for you is the one that best meets your needs.
The 6 Best Woodpecker Feeders of Each Type
There are so many different options when you start looking to buy a woodpecker feeder, that it's very easy to get overwhelmed. We want to make it easy for you to find the best woodpecker feeder for your needs, so we spent many hours researching and testing products to find the best feeder of each type.
Below you'll find the best woodpecker feeder of each type with pros and cons and who's it best for.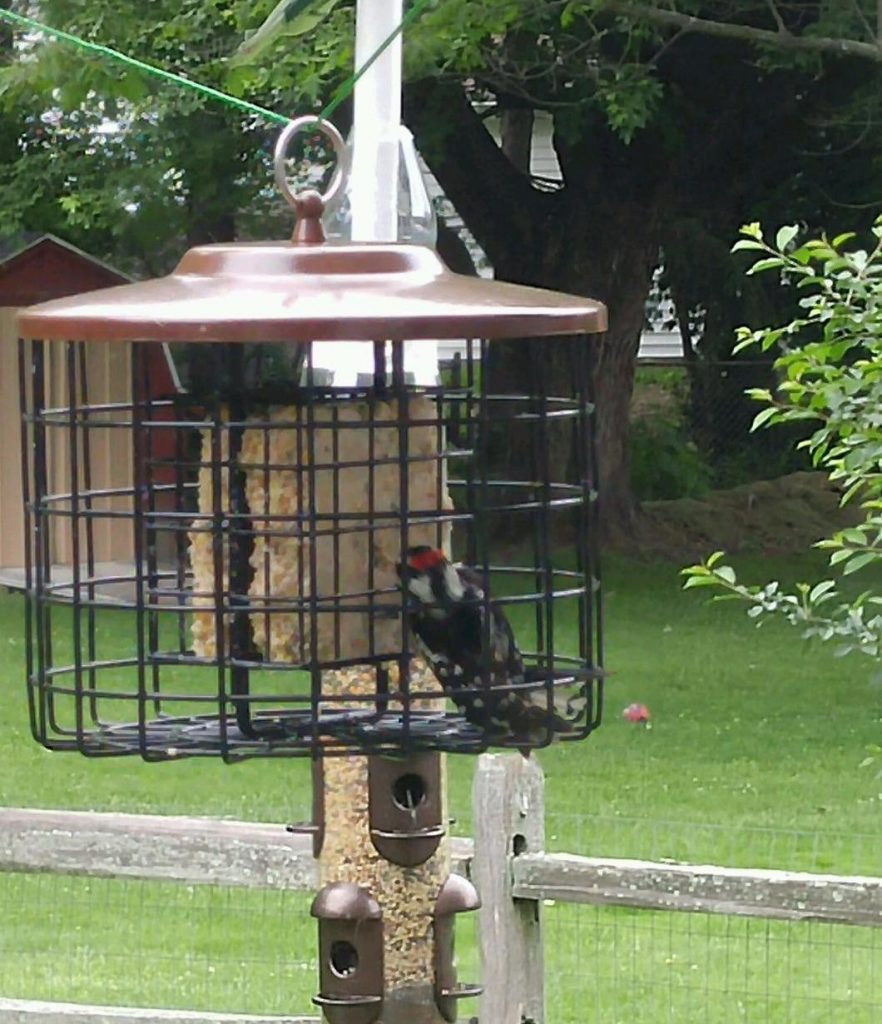 This feeder has an interesting design in that the feeder has a cage around it which keeps out larger "bullying" birds and squirrels while allowing smaller birds to slip right in and enjoy the suet or seed cakes.
It's made of durable metal that's easy to clean and easy to open for refilling. The metal construction also keeps the squirrels from chewing it to pieces.
It holds two cakes so you have to refill it less often than a feeder that only holds one cake.
Pros:
Holds 2 suet or seed cakes for less refilling
Easy to clean and refill
Super durable
Squirrel proof
Cons:
Not easy to pole mount
Small squirrels can still get into the feeder
If you only want to put one suet cake in there, you have to cut it in half and put one on either side to keep it balanced.
What type of food: This feeder holds suet cakes and seed cakes
Best for: Great overall feeder if you only want one feeder that attracts a large variety of birds while keeping squirrels at bay.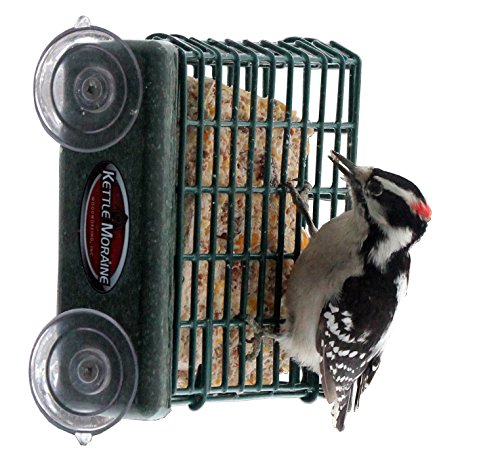 If you want a close-up personal look at woodpeckers or other suet-eating birds, you can't go wrong with a window feeder.
This suet window feeder is made of coated durable metal and very strong plastic. It'll hold up in all temperatures and one customer says that it can hold the weight of a bald eagle!
The two powerful suction cups make it easy to attach to any window or glass surface. Make sure you clean your window very well before attaching the suction cups so you can get the strongest hold possible. Hang it somewhere you can reach and you don't have to take it off the window to refill.
Also, make sure that you don't hang it too close to a ledge or a rain gutter to keep raccoons and squirrels from attempting to enjoy a delicious suet meal.
Pros:
Very strong hold
Great construction and made in the USA
Holds up in low temperature
Cons:
Only holds one suet cake at a time
What type of food: suet cakes and seed cakes
Best for: The perfect feeder if want a close view of birds enjoying suet or if you live in a second-floor apartment building and don't have a yard.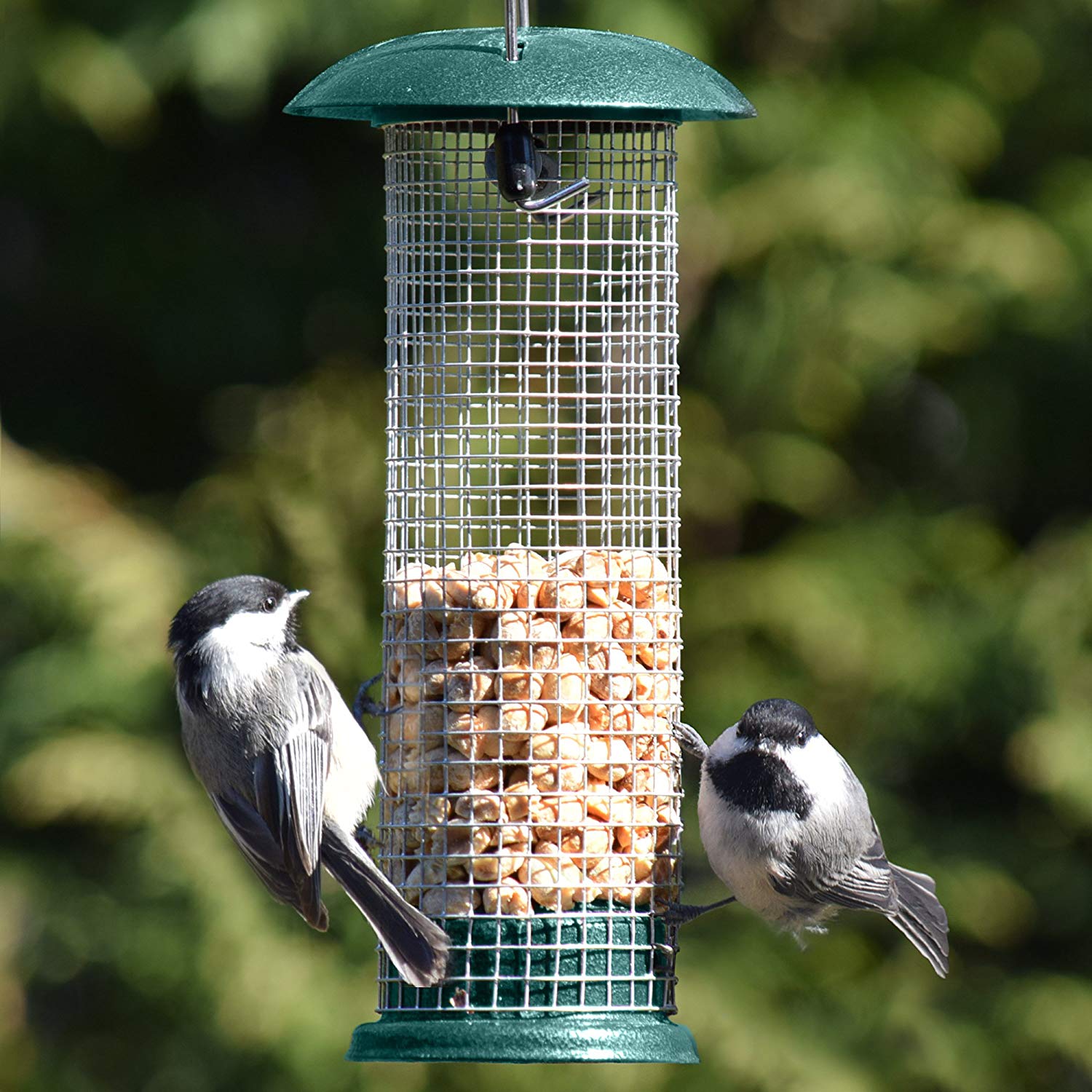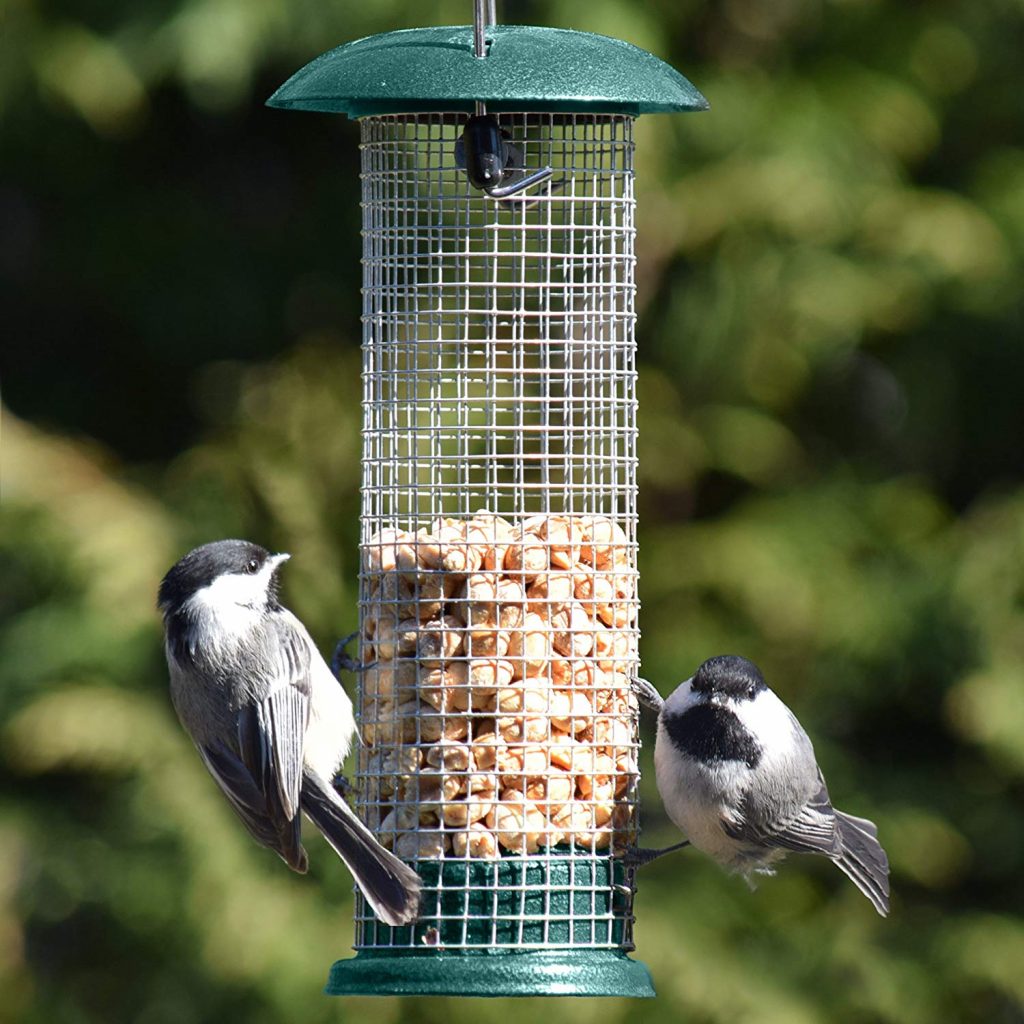 Don't want to mess with suet? Don't worry, you can still attract woodpeckers to your yard with peanuts or sunflower seeds.
This feeder is ideal for woodpeckers and other birds that enjoy sunflower seeds or peanuts such as chickadees, nuthatches, titmice, and jays.
The design of this feeder allows for multiple birds to be feeding at it at once. It's also the perfect height for woodpeckers to be able to rest their tail (tail prop) on the feeder while eating.
Pros:
No assembly required. Simple design makes maintenance easy.
One year guarantee
Easy to fill and lightweight
Priced very well for the value
Cons:
What type of food: Peanuts, sunflower seeds, dried fruit mixes, and corn kernels.
Best for: People who don't want to bother with suet but still want to attract woodpeckers to their backyard.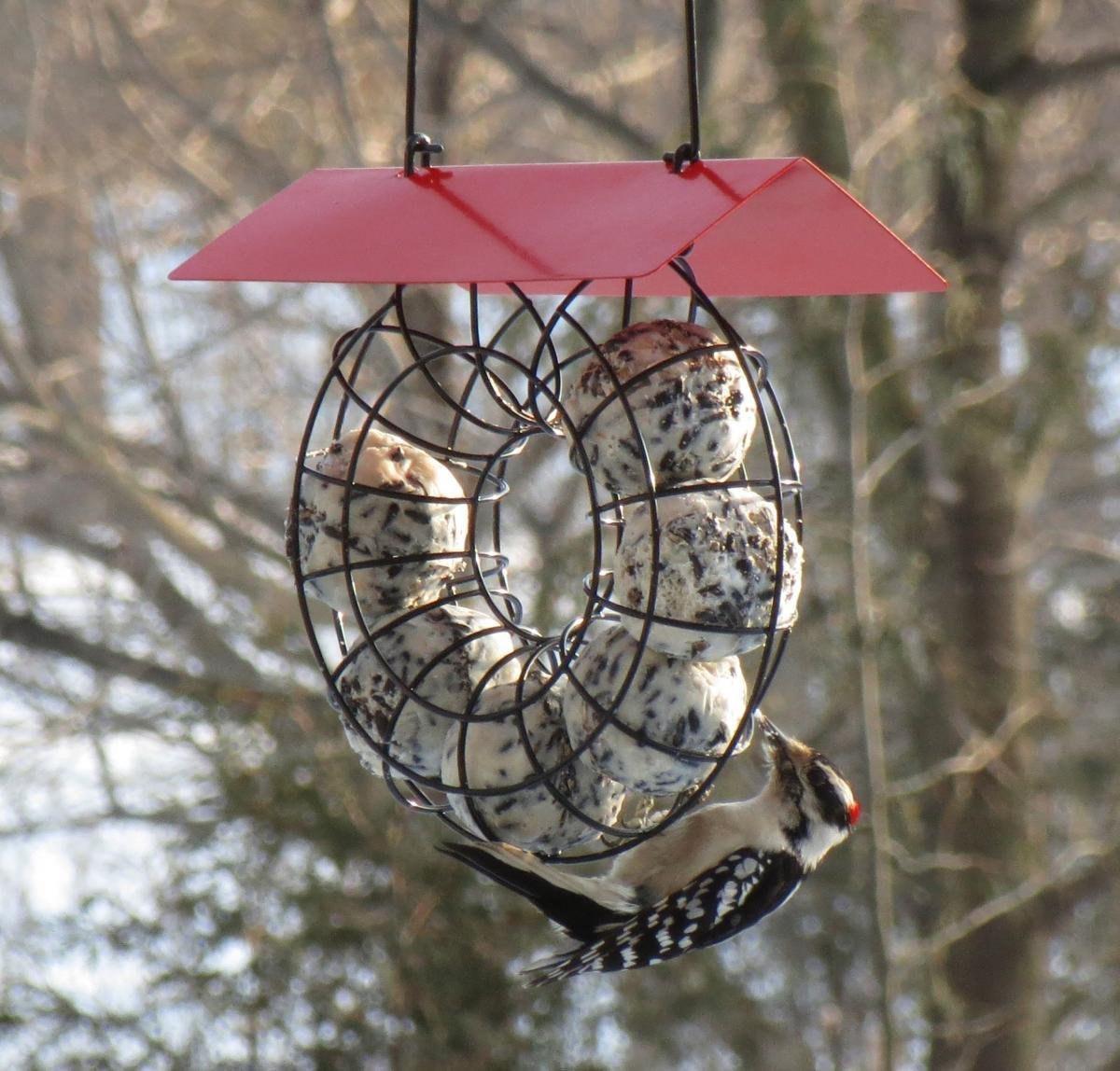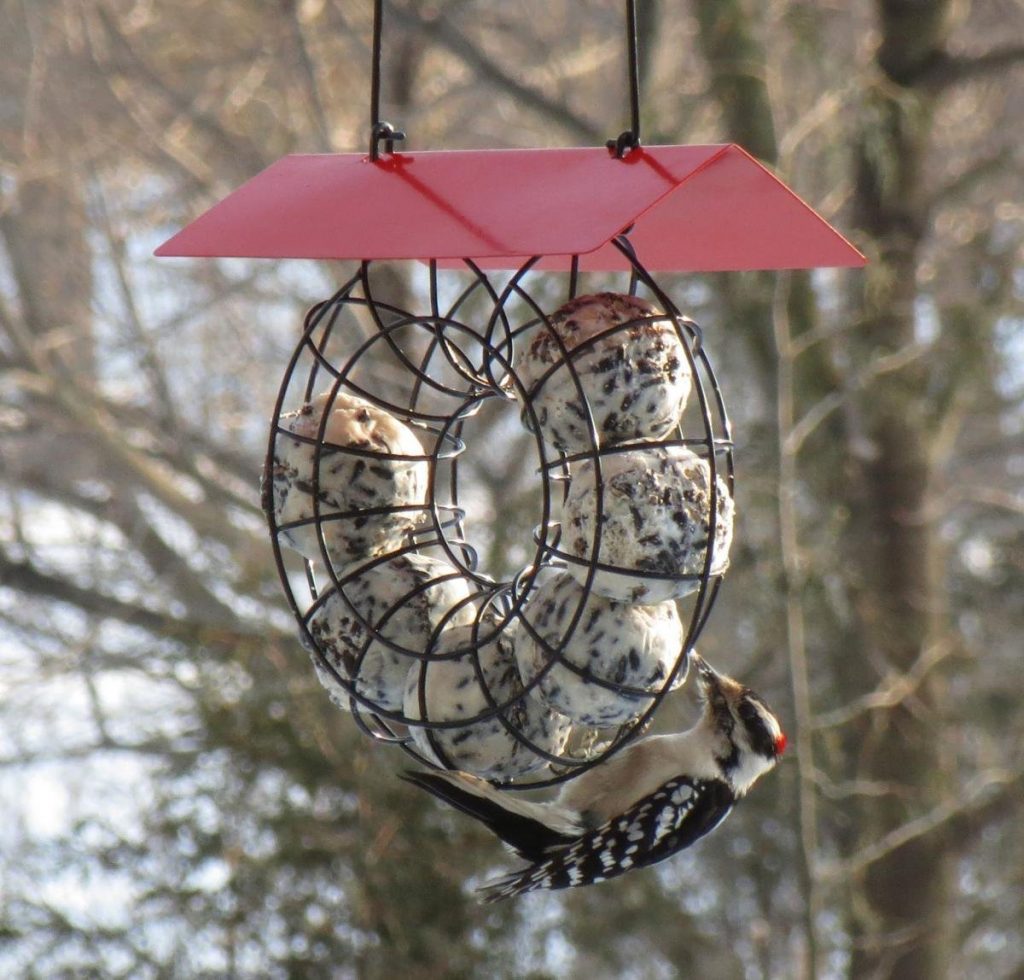 This great-looking suet feeder is the ideal combination of form and function.
It holds a bunch of suet balls, so you don't have to refill it often. But when you do have to refill it, the detachable roof makes it a breeze. This feeder will attract all kinds of woodpeckers including red-headed, downy, pileated, and flickers. You may even have some orioles stopping by once in a while.
The shape and construction of this suet feeder make it hard for birds like blackbirds and other barn birds to feed from it because they're not comfortable hanging upside, unlike woodpeckers.
Pros:
Good construction and building materials
Holds many suet balls
Easy to refill
Doesn't attract barn birds
Great value
Cons:
Isn't 100% squirrel-proof
What type of food: This feeder only holds suet balls, not cakes.
Best for: People who want to attract only woodpeckers and flickers with suet.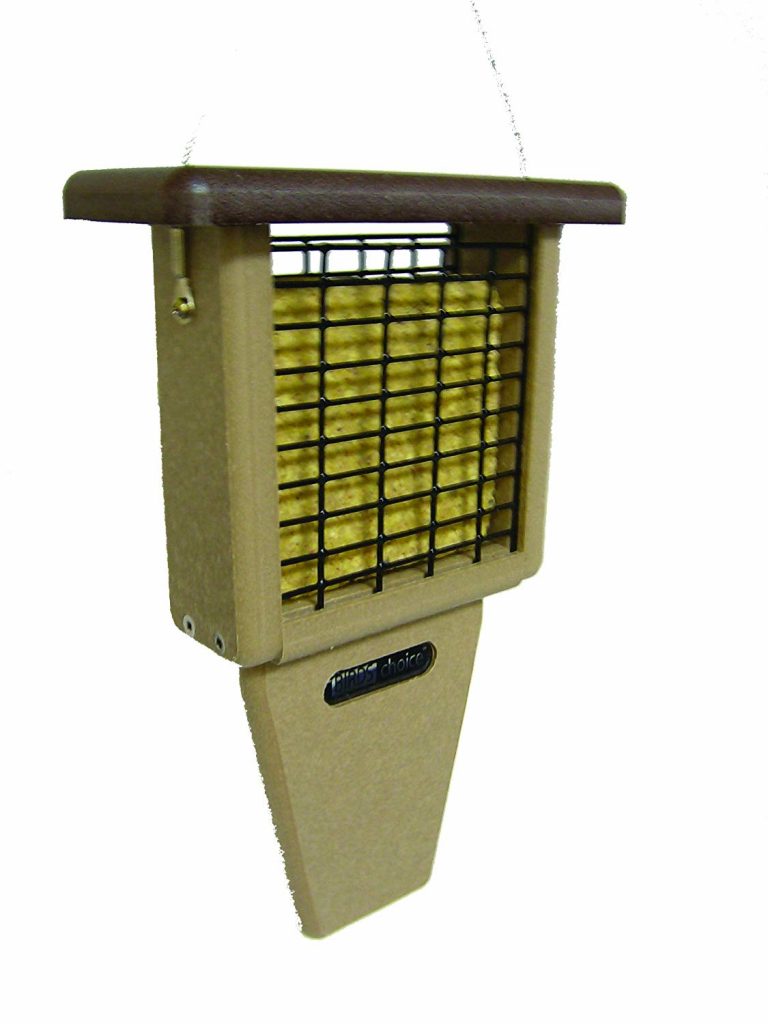 This very sturdy suet feeder is perfect for large woodpeckers. It's an excellent design and made with weather-resistant and sturdy materials. You'll be sure to attract woodpeckers and other suet-feeding birds like nuthatches with this feeder.
The tail prop that comes with this feeder is a must if you're looking to attract only woodpeckers. A tail prop is basically just an extension that hangs from the feeder which woodpeckers use to hold their tail against. This mimics their natural movement when feeding from trees, so they'll really enjoy using this feeder.
Pros:
Made from recycled plastic and in the USA
Tail prop is key to attracting woodpeckers
Great construction and weather-resistant materials
Cons:
Not 100% squirrel proof
Only has the capacity for a single suet cake
What type of food: This feeder is a single-cake suet cake feeder.
Best for: People looking to attract only woodpeckers and flickers to their suet feeder.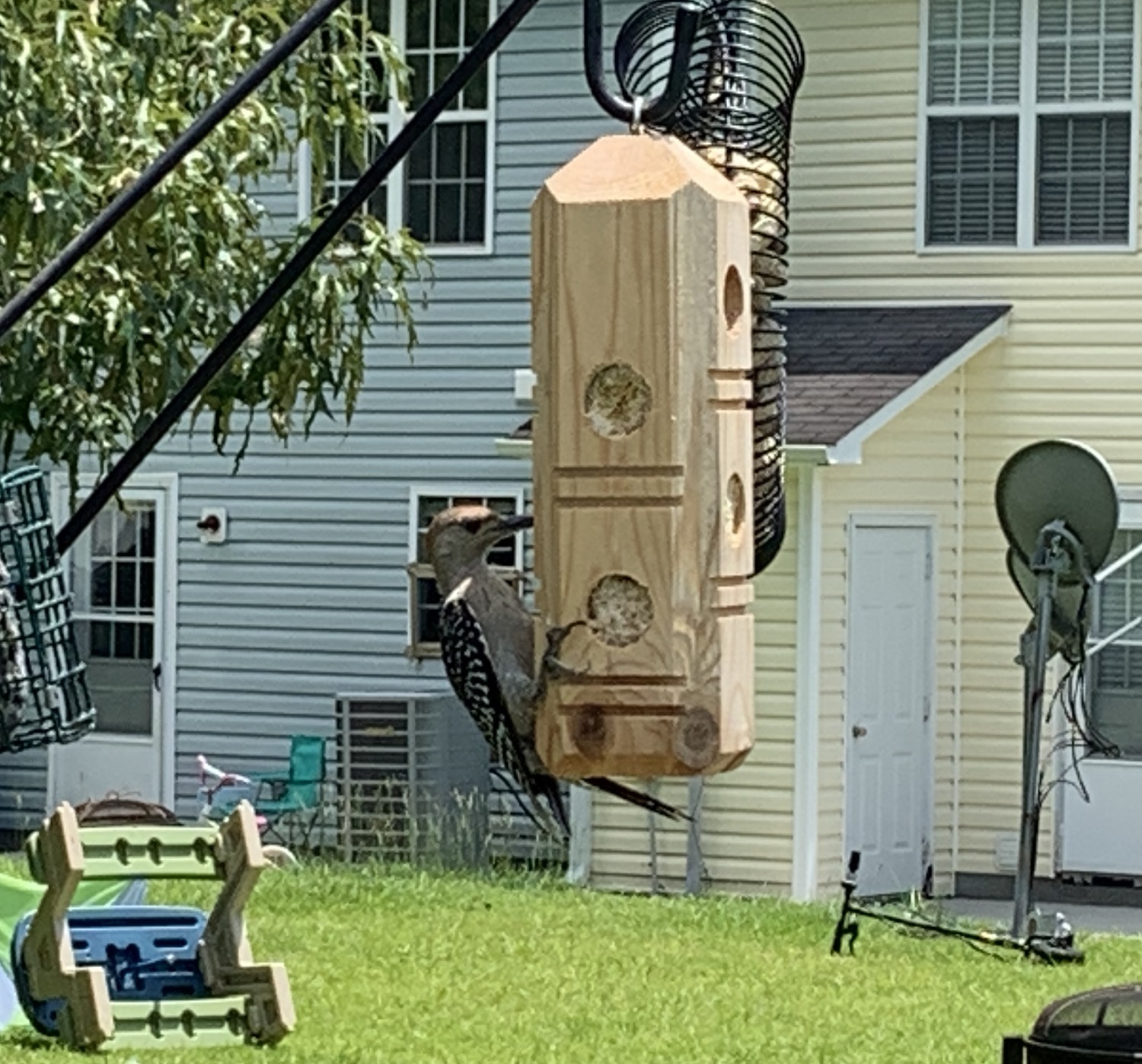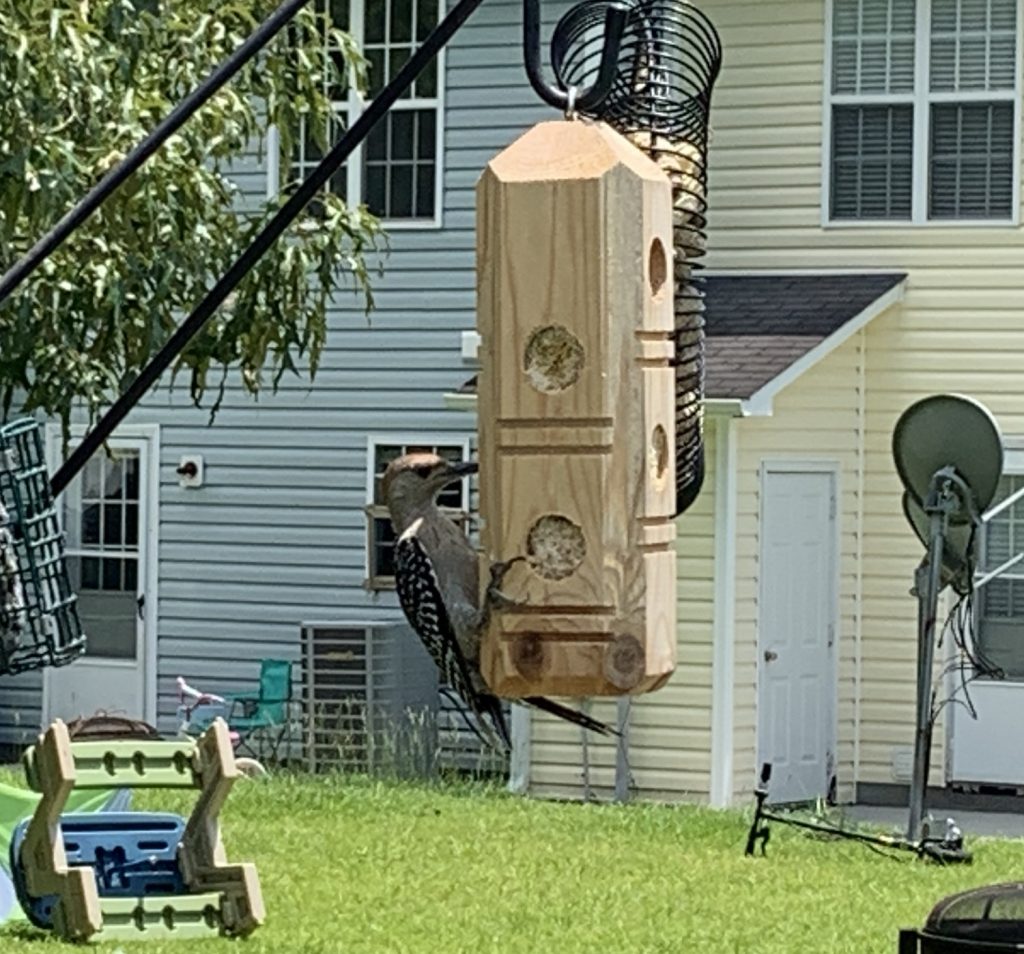 Suet plug feeders are amazing.
Out of all the feeders on this list, this suet plug feeder mimics a woodpecker's feeding habits the most. This feeder is made of mostly wood with holes drilled in it that can be filled with suet plugs or peanut butter products.
The sleek and smooth wood deters starlings and other unwanted birds and squirrels from being able to eat too long from this feeder.
Pros:
Birds absolutely love this feeder
Made in the USA
4 easy-to-fill holes for suet plugs
Light and easy to hang
Cons:
You'll get a huge variety of birds attracted to this feeder
Since it's made of wood, it will eventually decompose
What type of food: This feeder is made for suet plugs and peanut butter products.
Best for: People who want to give woodpeckers the most natural feeding station possible.
Woodpecker Feeder Buyer's Guide & Checklist
When you start looking at buying a woodpecker feeder, you'll probably be overwhelmed with all the different types of feeders and models available. That's the reason we wrote this article – to help you find the best woodpecker feeder for your yard!
In this buyer's guide section, we'll be covering what questions you should be asking yourself when looking for a feeder to buy, the different types of feeders available, and your budget.
What to Look for In A Woodpecker Feeder
You should keep this list of questions in mind when selecting the feeder you want to buy. Just remember that there is not one feeder that is going to hit on each of these questions. The best woodpecker feeder is the one that fits your needs the most.
What's your budget? Price is important, especially if you want to buy more than one feeder. Consider your budget. You can easily find a great feeder for around $20 if you're okay with a minimal feeder.

How much food can the feeder hold? This will affect how often you have to refill the feeder. Adjust the size based on how many birds you expect to visit the feeder. If you have a large bird population in your backyard, your best bet is to go with a large-capacity feeder.

How large is the feeder? Size matters. The size of the feeder determines if larger woodpeckers, like pileated woodpeckers, will be able to feed from it. Also, the larger the feeder, the more birds can eat from it at once.

Is the suet protected from snow and rain? Suet and bird seed can go bad, especially if it's damp. If you live in a rainy climate, you should make sure the feeder you buy has some protection from the elements. That'll save you from having to throw out moldy and bad suet.

Is it easy to refill? Hopefully, you'll get a ton of birds visiting your feeders. If so, you'll most likely have to refill your feeder more often than you want. It's important that the feeder is easy to refill or you'll regret your purchase.

Does it have a tail prop? A tail prop isn't a necessity but it definitely helps in attracting woodpeckers to your feeder.

Is it manufactured by a reputable company? A feeder from a reputable company is more likely to be well-made and last a long time. There are so many pop-up companies on Amazon nowadays that sell cheap, crappy products. A little further in this guide is a list of the most popular bird feeder companies.

Does it come with a warranty? Woodpecker feeders aren't impervious from damage. Heavy wind or a mischievous squirrel can knock it down and cause damage. Many reputable companies offer a warranty or guarantee on their bird feeders.

Is it easy to hang in a visible area? Visibility is important when you first hang a new feeder. Birds don't intuitively know where bird feeders are. Being able to hang it on a bird pole or somewhere in plain sight will help attract them.
The Most Popular Woodpecker Feeder Brands
There are many different woodpecker feeders and manufacturers out there.
Here's a list of the most popular woodpecker feeder brands available:
Of course, don't be deterred from buying a feeder from a company that's not on this list. Just because it's not on this list, doesn't necessarily mean it's a bad company.
Average Price of Woodpecker Feeder
Budget is important when considering what feeder to buy, especially if you're planning on buying multiple (which we recommend). Here are the average prices of woodpecker feeders:
Budget models: $10- $20
Mid-range models: around $30
High-end models: $40+
Remember, price doesn't always equate to quality. Make sure to read reviews before purchasing any bird feeder.
Frequently Asked Questions About Woodpecker Feeders
Q: Where should I hang a woodpecker feeder?
A: Finding the best place to hang a woodpecker feeder in your yard is important. It needs to be visible to the birds. Try hanging the woodpecker feeder near mature trees or large shrubs to provide shelter and a hiding spot if woodpeckers sense danger. It's also important to hang it somewhere where it's visible to you.
Q: How do I clean a woodpecker feeder?
A: Cleaning a suet feeder is important because you don't want the melted suet to go rancid. If the feeder is made of metal or plastic, clean it with hot water. Don't use soap or bleach to clean it. Once it's clean make sure it's fully dry before refilling it and hanging it back up. Wet suet or bird seed will go bad quicker.
Q: What do woodpeckers eat?
A: In the wild, woodpeckers eat a variety of different foods including insects, nuts, sap, and berries. They'll also eat suet, peanut butter, sunflower seeds, corn, dried fruit, and mealworms if you provide them with these foods.
Q: Do woodpeckers eat suet?
A: Yes, woodpeckers love eating suet. Here's a great homemade suet recipe.