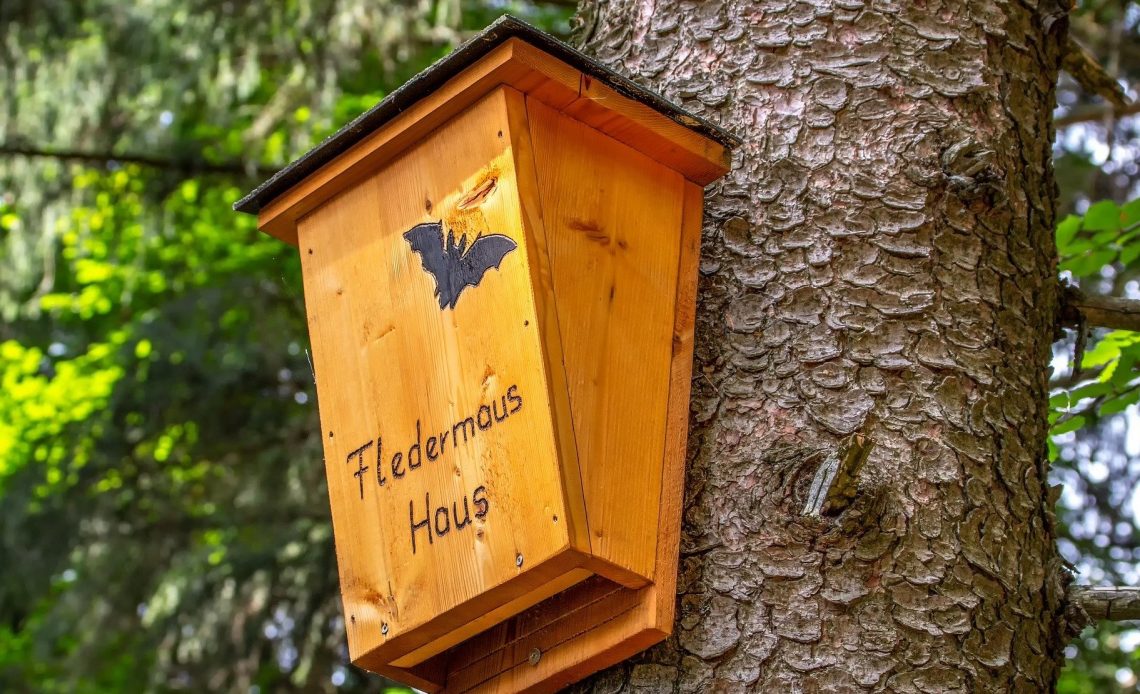 We're here to help! Wild Yards is a completely free website that is 100% dedicated to helping you create a wildlife-friendly, sustainable yard. Read more
WildYards is reader-supported. When you buy a product through a link on our site, we may earn a comission. Every product is independently selected by our (obsessive) editors and our reviews are unbiased and objective. Read more about our mission or our privacy policy.
Looking for a fun project to do with your kid? Or just want to attract bats to your property?
Either way, building your own bat house is a great way to do both. You can build a bat house from scratch using bat house plans or, you can avoid the hassle of finding good bat house plans and buy a bat house kit and assemble the pieces.
What is a Bat House Kit?
You're probably wondering what a bat house kit even is.
Basically, when you buy a bat house kit, you'll get everything you need to build your own bat house. All the wood will come precut. It'll come with all the screws required to build it. Everything is included.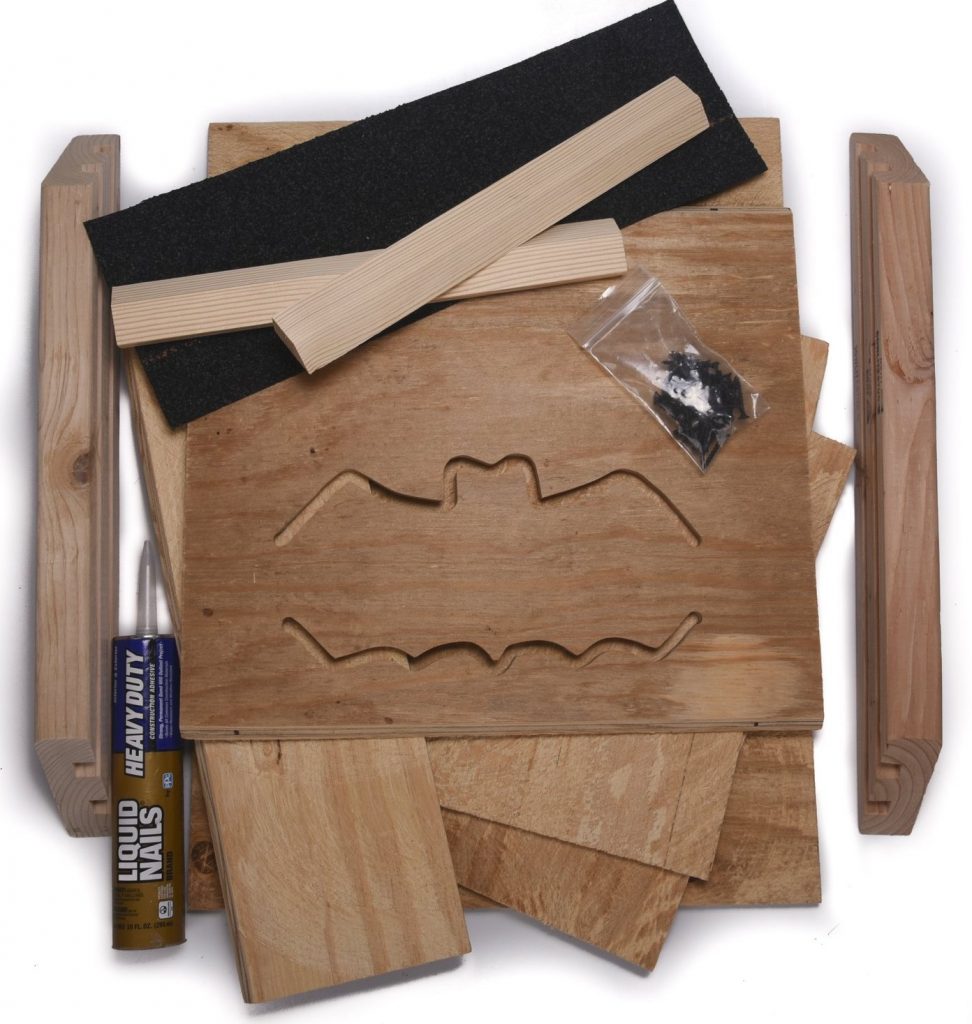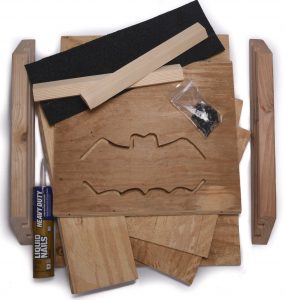 All you have to do is to follow the instructions and assemble it.
Why Buy A Bat House Kit Versus Making Your Own Bat House From Plans?
If you're asking yourself why you would want to spend the money on a bat house kit instead of buying the raw wood and cutting it yourself, here's why.
There are several reasons why you would want to buy a bat house kit:
You don't own a saw. Building a bat house is impossible without being able to cut the wood into the correct size pieces, if you don't own a saw but still want to build a bat house, you'll have to buy a bat house kit.

You want to build it with your kid(s). Building things with your kid (or Girl Scouts/Boy Scouts) is a great bonding experience. However, operating a saw around young kids may not be worth the risk or trouble. By buying a bat house kit, the most dangerous part is drilling in the screws. But even that can be made safer by putting the screws in halfway before handing your kid the drill or screwdriver.

You're in a hurry. Having to cut all the pieces of wood to construct a bat house is tedious and you'll have to find the perfect bat house plans to make sure the dimensions are correct. Bats can be picky creatures. Bat house kits come precut to the ideal dimensions so you can avoid that whole hassle.

You don't have anywhere to build it. Cutting wood makes a mess. You'll get sawdust everywhere. If you don't have a dedicated workspace or garage, it can be hassle to build your own bat house outside. Especially when the weather is not ideal. With a bat house kit, you can assemble it indoors with minimal mess. We still recommend painting it outside though.
The Best Bat House Kits on the Market
Not all bat house kits are created equal.
You want to make sure the bat house you build is made of good quality materials, is the correct dimensions, the right size for how many bats you want, and is the correct shape.
But you actually don't have to make sure of those things if you buy one of the following bat house kits we recommend. We've done the research for you and found the best bat house kits for sale.
Bat Conservation & Management 3-Chamber Bat House Kit
Bat Conservation & Management (BCM) makes some of the best DIY bat house kits that can be found on Amazon.
They've done their research and their builds are ideal for bat habitation. Their bat house designs are certified by both the Bat Conservation International and Merlin Tuttle's Bat Conservation.
This bat house kit comes with everything you need to assemble it besides a drill and a caulk gun. All the pieces are handmade in Pennsylvania. It even comes with a bat house setup guide that will give you all the information you need to figure out what color to paint it, where to set it up, and how to maintain it over time.
This kit will take about 45 minutes to assemble and apparently can house up to 100 bats!
We're not the only ones who love this bat house kit, check out all the positive reviews on Amazon.
Here's a great video summary of what it takes to build their bat house:
Coveside Bat House Kit
If you're looking for smaller bat house kit, look no further.
This assembled bat house by Coveside, that you can find on Amazon, has a single chamber that holds up to 12 bats. It has a bat-friendly design that features an large "landing pad" and even includes an echo-location slot that helps the bats locate the entrance.
We definitely recommend buying this product if you want a smaller bat house than the Bat Conservation & Management bat house.
In general, it's a well made product with good reviews. A small few customers received a pre-assembled bat house when they ordered this item. We believe they received a returned bat house kit that someone had assembled and decided they didn't want anymore. If this happens to you, just contact the seller ask for a refund or a new, non-assembled, product.
Woodside Gardens Bat House Kit
This bat house kit is smaller than the BCM bat house kit mentioned above.
The assembled bat house measures 14in tall and 6in wide and houses up to 10 bats. The parts are made of cedar and source in the USA.
While this bat house kit is smaller and cheaper than the BCM one, you get what you pay for. Many customers have complained that the kit arrived broken or that some of the pieces weren't cut correctly to size.
We don't recommend buying this product, so we're not even going to link to it.
How to Get the Most Out of Your New Bat House
Now that you've assembled your bat house kit kit and have a future bat home in your possession, what do you do?
Follow our guide on where to hang your bat house for the best results.
Here are some tips and tricks when it comes to installing your bat house and attracting bats to it:
It's best to mount bat houses on bat house poles or on sides of buildings. Avoid mounting bat houses on trees because they will receive less sun, bats are more vulnerable to predators sitting in trees, and stray tree branches and vegetation can cause obstructions and obstacles for the bats.

Mount the bat house in an area that gets six to eight hours of direct sunlight during the day. This means you'll most likely have to mount it facing east or south.

Ideally, mount the bat house a good 25 feet from obstacles that are 10-20 feet in the air. This will help the bats both initially find their new roosting spot and help them navigate to their home once they start nesting there.

Attract bats with spray. Initially attracting bats to their new homes is not always an easy task. You can make it easier for them to find your bat house by using a bat attraction spray that you can find on Amazon. Just spray the bottom of your bat house once a month until the bats make it their home!
Once you have a few bats living in your bat houses, it's time to enjoy the many benefits that bats provide.