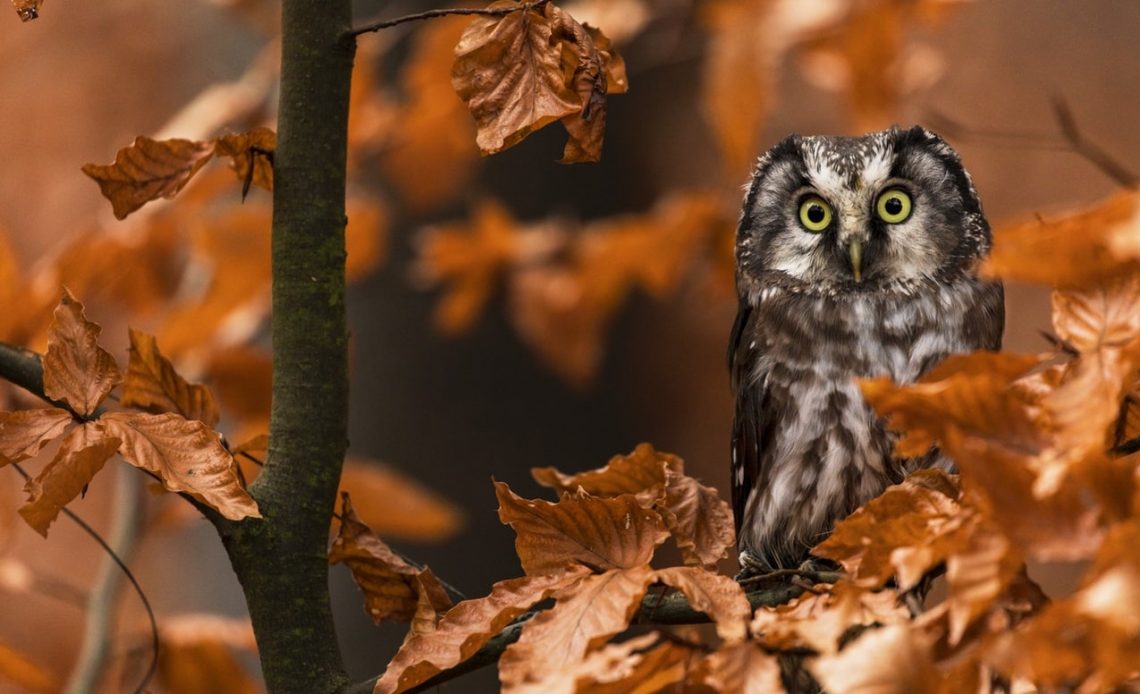 We're here to help! Wild Yards is a completely free website that is 100% dedicated to helping you create a wildlife-friendly, sustainable yard. Read more
WildYards is reader-supported. When you buy a product through a link on our site, we may earn a comission. Every product is independently selected by our (obsessive) editors and our reviews are unbiased and objective. Read more about our mission or our privacy policy.
With almost 20 species living in the United States, owls can be many things to many people.
For some, they are a mysterious (and somewhat frightening) midnight predator. To others, they are a totem or good omen. For still others, they are in fact a free, hardworking guardian that brings good fortune to their yard and gardens by taking over nighttime pest control. If you believe owls are a good sign, then learning how to attract owls is key.
Why You Should Give A Hoot About Owls
For a garden to thrive, you don't want rodents like mice and squirrels sneaking in to nibble your sprouts and seedlings. Rabbits, lizards or large insects can even put a big dent in a garden's productivity, and homeowners spend considerable sums of money trying to defend against these intruders.
Chemical solutions such as pesticides or rodenticides, though, can bear a large cost even beyond their hefty price tag given that they're poisonous, and can thereby harm the health of people, pets, and the rest of your local ecology.
When looking for a safer solution, many homeowners have found that one of the oldest tricks in the book in fact works very well: allowing Nature to step in and do the work for them.
A family of barn owls, for example, might eat up to as many as 10 to 12 of your local rats, voles, or shrews in a single night. Over a single breeding season, they may work up to thousands of meals claimed from the local rodent population, and screech owls, for their part, can also take out their fair share of mice, squirrels and rabbits while also dining frequently on insects and lizards. Between the two of them, barn and screech owls can serve up a sweeping security and pest control regiment for any yard fortunate enough to host them.
Looking for another pest-eating friend in your backyard? Check out our how to attract bats guide.
With organic, nontoxic, and free pest control tickling their imagination, local gardeners look increasingly for methods on how to attract owls to their yards.
If you find yourself intrigued by such a prospect (no more rabbits assaulting my sprouts? no more squirrels stealing my seeds? free of poisons and free of charge?) then look to the simple steps below to learn how to owls to your yard.
The 3 Simple Steps to Attract Owls to Your Yard
These 3 words contain the wisdom of the entire owl attraction strategy: "Wild, Bath, Box."
If you commit these to memory, you're armed with all the tools you need!
1. Create a WILD Area
The first step in learning how to attract owls, is to provide a source of food for them.
Unfortunately, owls are birds of prey and won't eat seed from a feeder. They enjoy the hunt. So to attract owls, you'll need to first attract their prey. We'll do this with a "wild" area.
To make a "wild" area, first leave the grass uncut and un-groomed for at least 1-2 weeks in one portion of your yard. This will attract a bunch of critters to that area.
Pro-tip: choose an area farther from your house (we don't want rodent riff raff taking a wrong turn and stumbling into your living room).
With all those little critters collected in one spot, you know that it's going to look like a restaurant's glowing, neon "OPEN" sign to an owl's eyes.
They know the wild area is stocked full of easy prey and will lock in on it to swoop down and claim their meals. Your wild area, then, is essentially an investment in the short-term for long-term gains: though your undesirables might scramble to the pile at first for its attractive cover and safety, they'll quickly be picked up by your newcomer owls. The pile's like an early signing bonus for a new security staff that will eventually take to patrolling your entire yard and gardens, for free and for a longer haul.
After first signaling this abundance of food, sweeten the deal for your owls by showing additional hospitality – with some H2O!
2. Provide a BATH Source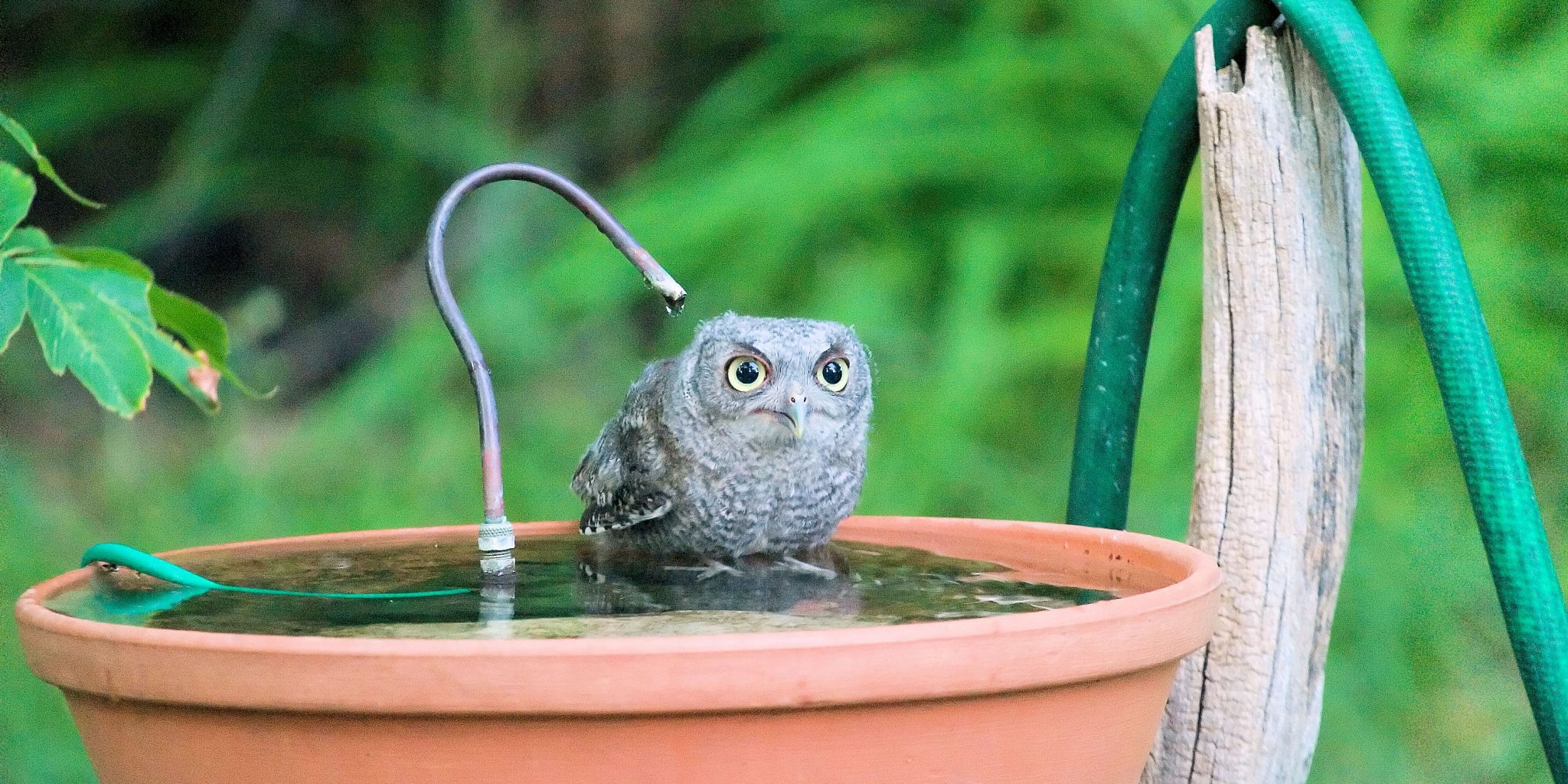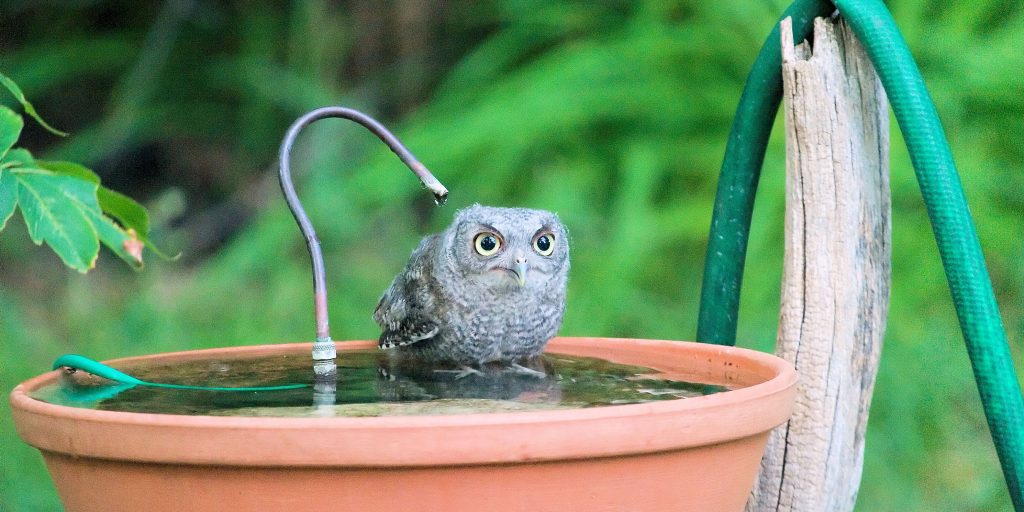 Though owls get the vast majority of their hydration through the consumption of their prey, they are known to pop over for a sip of water now and then. In the wild, that could mean swooping into drop by a river, stream or lake, and in your yard, they'll look to a sizable birdbath for that sweet sip.
Interested in buying a birdbath? Check out our bird bath buying guide.
If they're fine without a drink, owls still enjoy a dip in the water for cleanliness and cooling down on hot days. To accommodate their size, plan on buying a birdbath with at least 2 inches of depth that's made of a sturdy material such as metal. The best design features a gradual slope from the lip to the bowl so your owls can get their feathers wet without sliding too suddenly into the basin for their liking.
Place the birdbath near your wild area for best results, and if you can leave the area relatively undisturbed by human activity, you can count on the birds often dropping down to enjoy the water comfortably.
Adding a bird bath to your yard will attract lots of birds, not just owls. So keep that in mind.
With food, drink and hygiene covered, all that's left to get owls in your yard is to show them you've prepared for them a nice, cozy home.
3. Setup an Owl BOX
Owls are more than happy to accept shelter gifted to them as it's their regular practice to take what they can find in any area.
Where other birds hustle to get nest materials collected and constructed, most owls just move in to a preexisting cavity or structure. Examples of this include barn owls – staying true to their namesake – finding their way into the rafters of a barn, church tower, or old building, or screech owls squeezing into old woodpecker holes and other tight spaces cut out from a tree.
Given that, don't feel shy at all about the idea of constructing and displaying a home for them in the form of an owl box. An owl box will help seal the deal for owls on the fence about staying in your area long-term.
To set up an owl box, either purchase a reliable, pre-made one, or download owl box plans for a DIY project.
This screech owl box, that can be found on Amazon, is a great purchase if you want to attract owls.
Bought or built, a quality owl box will have a few things in common:
The construction material will be nontoxic, weathering-resistant wood like western cedar, crypress or redwood.
The entrance hole will be sized to accommodate the specific owl breed.
A layer of pine shavings will fill the bottom of the box.
Either the roof or a side panel will be hinged to allow for easy access when cleaning or checking the interior.
The bottom of the box will feature small holes or other means of drainage for owl waste products.
It's important to note that it should be pine shavings, not cedar shavings or sawdust, filling the bottom. Pine shavings provide a soft cushion to allow for the owl's comfort as well as the safekeeping of future owlet eggs; cedar shavings and sawdust can actually harm young owl's development by accidentally mixing into their food or irritating their eyes and nostrils.
The placement of the box is crucial and should also be tailored to the preference of the breed you are targeting. Below we have thorough details for 2 of the most common breeds, the barn and screech owls:
| | | |
| --- | --- | --- |
| | Barn Owl | Screech Owl |
| DIY Plans | Barn Owl Box Plans | Screech Owl Box Plans |
| Best Owl Box for Sale | JCs Wildlife Barn Owl Box | WOODLINK Screech Owl Box |
| Where to Attach | 8-25 ft. (2-7 m) high, attached to a building, post, pole or tree, facing south. | 10-30 ft. (3-9 m) high, attached to a pole or tree, facing south or southeast. |
| Proximity | Near an open area, at least 100 ft. (30 m) from other boxes. | Near the edge of trees or open area, at least 100 ft. (30m) from other boxes. |
| When to Set up | Early Spring (Feb, March) is best, with some nesting year round | Early Spring (Feb, March) is best, as nesting is common between Feb and July |
| Shavings | ¾ in (2 cm) | 2–3 in (5-8 cm) |
| Entrance Size | Ovular, 4 ½ x 3 ¾ in (11.5 x 9.5 cm) width and height | Circular, 3 in (7.5 cm) diameter |
It's important to note that barn owl owlets can make quite a bit of noise when asking momma to bring home some food – and this tends to happen at night. Giving some distance from your home can be helpful for your sleep.
Second, your screech owl box can work better when placed nearby a branch that fledgling owlets could imaginably jump out on for walking and flying practice. That said, such a location invites disturbance from squirrels, particularly. Solve this problem by adding a squirrel baffle or other obstruction to keep them out.
Come winter time (usually around December), it's a good idea to clean out and refresh the nesting materials with new pine shavings while the owls are out. It's even possible to set up multiple boxes, as owls will share hunting grounds as long as their shelter has sufficient spacing from one another.
As long as you set up your boxes securely, refrain from disturbing them too frequently, and give them an annual touch-up, it's a good bet that owls will become your long-term yardmates and pest control guardians!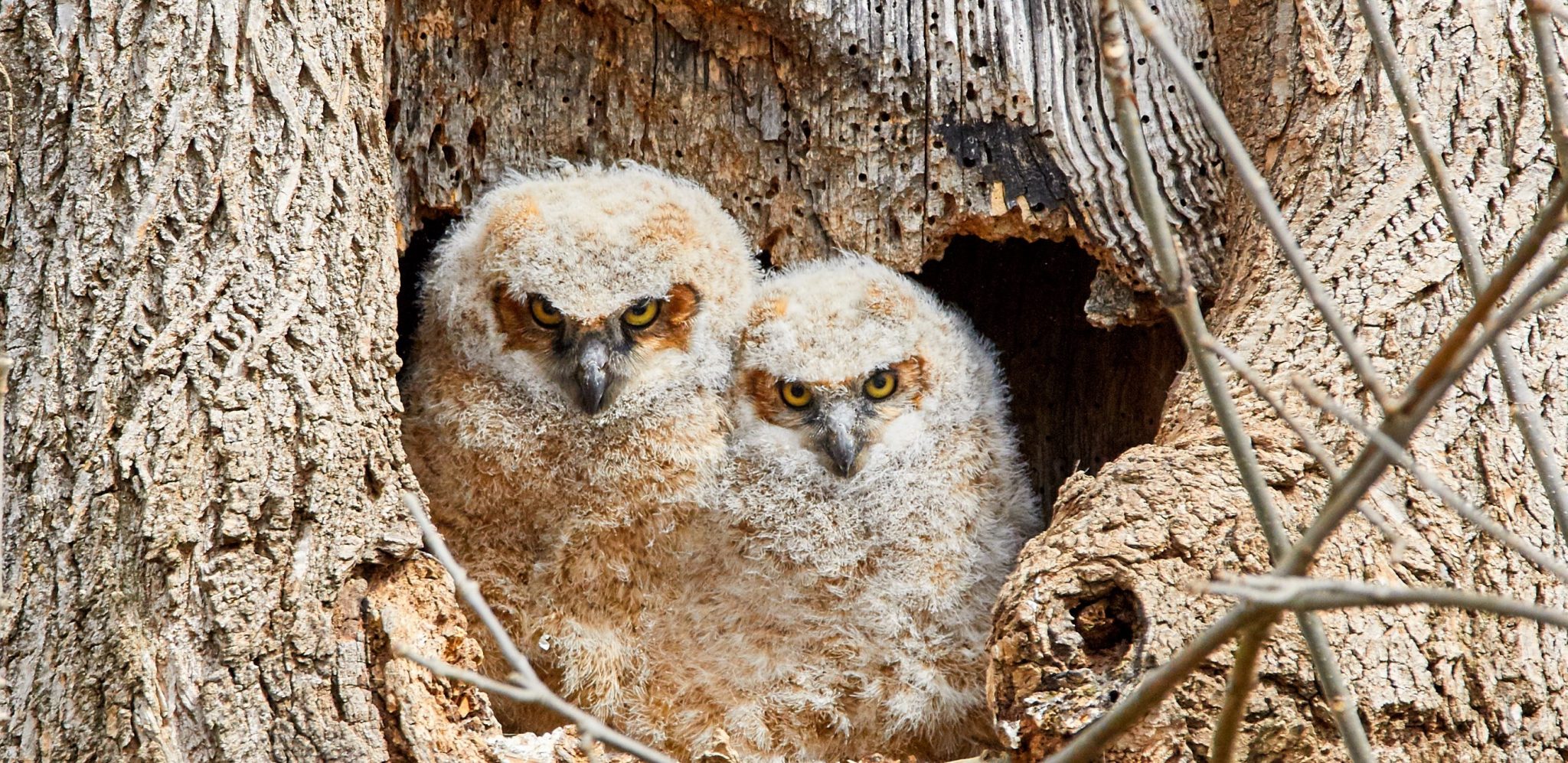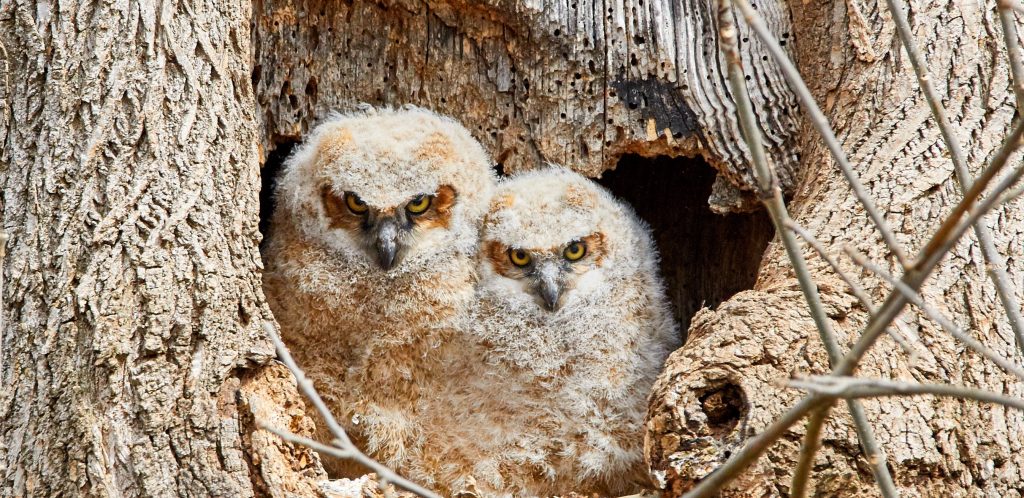 Summary
Wild, Bath, Box. Put these 3 things into action and your frustrations with garden pests becomes a thing of the past! With owls safeguarding your yard, you can enjoy higher confidence in your garden yields. And you'll have the added bonus of nighttime calls and daytime sightings now and then, adding atmosphere and majesty to your home area.
Enjoy your new garden guardians!