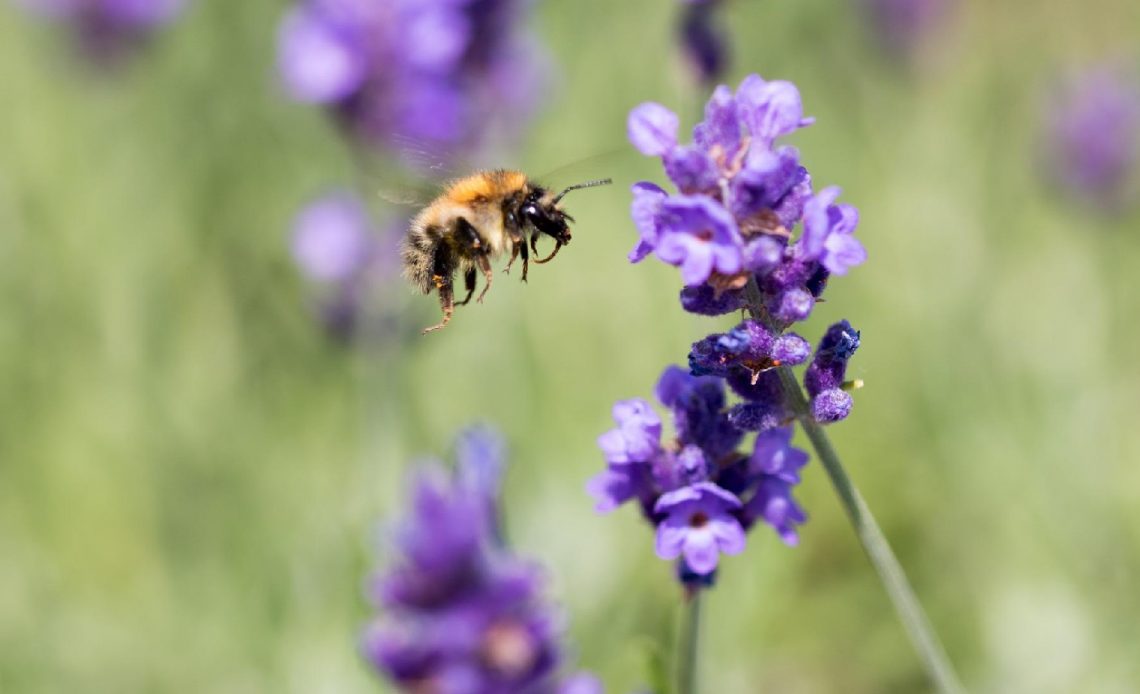 We're here to help! Wild Yards is a completely free website that is 100% dedicated to helping you create a wildlife-friendly, sustainable yard. Read more
WildYards is reader-supported. When you buy a product through a link on our site, we may earn a comission. Every product is independently selected by our (obsessive) editors and our reviews are unbiased and objective. Read more about our mission or our privacy policy.
Thinking of expanding your herb garden? You can't go wrong with lavender! This drought-resistant shrub thrives in arid places with poor soil, where many other flowers die. But if you want to use lavender to attract pollinating insects, you may be wondering, do bees like lavender?
Yes, bees love lavender! It's one of their favorites. This easy-to-grow plant has several key features that keep bees coming back for more. So if you want to capture the attention of these buzzing insects, be sure to include lavender in your garden!
Why do bees like lavender plants?
Bees are attracted to flowers with lots of pollen and plenty of nectar. Additionally, bees don't see very well, but they do have an amazing sense of smell. So they gravitate toward brightly colored flowers that have a powerful aroma.
With its many fragrant flowers, bees can smell lavender from miles away. And its bright purple blooms mean it's easy for bees to spot. It's no wonder that lavender is one of the bee's favorite foods. And, as such, it's one of the best flowers to use to attract bees to your wild yard!
Ultimately, the answer to "why do bees like lavender?" is because it's not hard for them to track down, and it's loaded with food. But there's another reason why bees like lavender so much, and it has to do with when lavender blooms.
The great thing about lavender is that it blooms in midsummer when most other flowers have already bloomed, or are still getting ready to bloom. So it helps bees bridge the gap between major pollinating times. Plus, lavender plants produce a lot of flowers in a season, and this gives bees a steady supply of food when other sources are scarce.
Which types of lavender do bees like best?
Bees are attracted to all types of lavender. Feel free to choose whichever lavender varieties you like best. If you're new to growing lavender, English varieties are the easiest to grow, so you may want to start with them. English lavender is also a wise choice if you don't have a green thumb (don't worry, the bees won't judge you for that!)
When given a choice, bees often prefer larger varieties of lavender, like fringed lavender or Portuguese lavender. These plants grow to about three feet tall by three feet wide. If you have enough room for them in your backyard, opt for these varieties. They provide bees with plenty of opportunities to forage.
If your space is limited, you'll still have success with smaller, more manageable types of lavender. Look for 'Anouk', a kind of French lavender, or 'Royal Velvet', a kind of English lavender. Both of these varieties grow to maximum heights of about one foot. They're excellent options for small herb gardens and little backyard patios.
Whichever varieties of lavender you decide to go with, don't be surprised if bees aren't the only ones who pay them a visit! Lavender also happens to be a favorite among butterflies, as well as many other pollinating insects. Hummingbirds, too, are just crazy about this herb, so investing in a lavender plant is a fantastic way to support your local wildlife!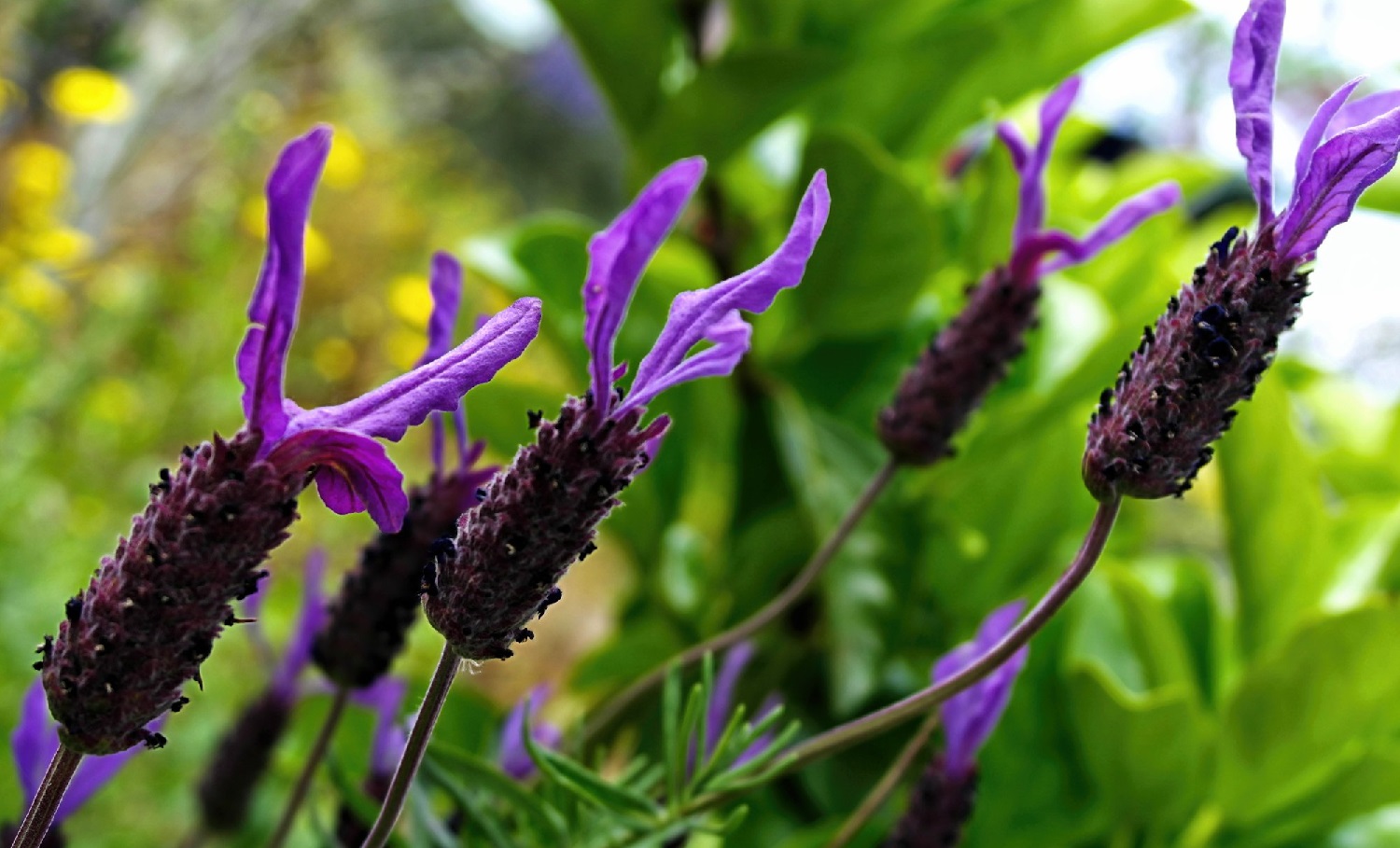 Do bees use lavender to make honey?
Bees use the nectar they collect from flowers to make honey. But because bees visit so many different plants, it's nearly impossible to get honey made from only a single type of flower. As a result, monofloral honey is hard to come by. Besides, different plants provide bees with different nutrients, so they need a variety of flowers in their diet to stay healthy.
It's worth noting that, although honeybees do like lavender, they don't like it as much as their cousin, the bumblebee. With their long proboscises, bumblebees are better equipped to reach lavender nectar. So because lavender nectar is harder for them to get to, honey bees need other types of flowers to round out their diet.
However, you can purchase honey that was made with a majority of lavender nectar. Lavender honey is especially popular in France and Spain, where lavender grows so well. With so much lavender at their disposal, the honey produced by bees in these regions is richer in lavender nectar. Lavender honey has a delicate floral flavor that is reminiscent of the purple flowers themselves. It's quite a treat!
How should you use lavender to attract bees?
The answer to this question depends on what types of bees you're planting lavender for in the first place. Are you trying to attract native bees to your yard? Or, are you growing lavender to support your own domesticated hive?
If you want to use lavender to feed wild bees, you can plant it wherever you like. The bees are sure to find it. Choose a spot where your lavender will receive full sun, and be sure to use sandy, well-draining soil to prevent root rot.
Lavender plants like dry conditions. Moist soils will kill the plant very quickly, so only water your lavender once every week or two. Planting the lavender where it gets plenty of air circulation is also a good idea to prevent humid conditions that can lead to mildew. And, whatever you do, don't baby it! Lavender doesn't like to be pampered.
Now, if you have your own apiary and you want to use lavender to support your hive's honey production, plant your lavender close to the hive boxes. Remember, lavender blooms in midsummer, when temperatures are at their hottest. Even though bees are more than willing to fly great distances to collect nectar, they don't fly as well in extreme temperatures.
To minimize your hive's stress, keep lavender plants as close to your hive boxes as possible, but where the plants themselves will still have the ideal conditions they need to grow. This helps your bees cope with the warm summer months.
So, do bees like lavender? Oh, you better believe they do! This is one multi-talented plant that has so much to offer. It's pretty, it's fragrant, it's easy to maintain, and best of all, the bees can't get enough of it! Pick up a lavender plant today and grow with confidence. Your neighborhood bees will thank you for it!