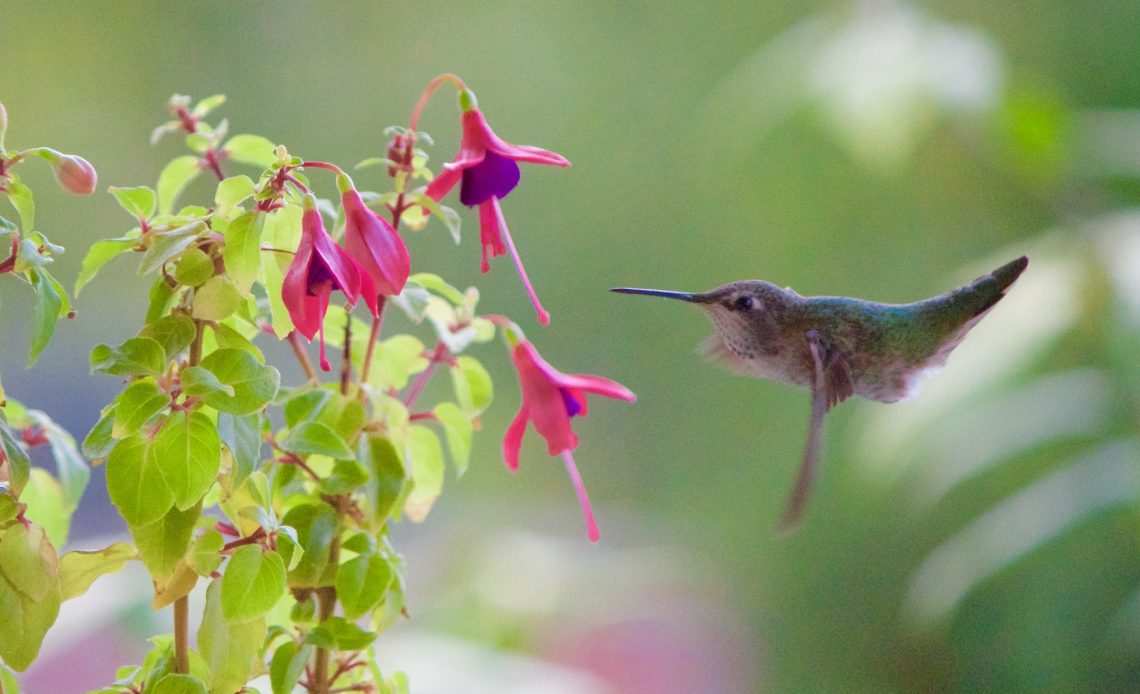 We're here to help! Wild Yards is a completely free website that is 100% dedicated to helping you create a wildlife-friendly, sustainable yard. Read more
WildYards is reader-supported. When you buy a product through a link on our site, we may earn a comission. Every product is independently selected by our (obsessive) editors and our reviews are unbiased and objective. Read more about our mission or our privacy policy.
Fuchsias are among the most popular plants grown in US gardens, thanks to their bright, deep colors, unique shapes, and long-lasting blooms. They also tend to be great at attracting all kinds of pollinators, such as bees and butterflies. But do hummingbirds like fuchsia?
Hummingbirds like fuchsias. In fact, fuchsias commonly attract hummingbirds to gardens. They tend to be very easy for birds to fly down and eat nectar from, and provide plenty of nutrition for hungry pollinators.
Why do hummingbirds like fuchsia so much?
Fuchsias' bright red and pink colors are great for attracting hummingbirds' attention. Fuchsias are very easy to spot from far away, too, meaning they are likely to appeal to hummingbirds surveying from high above gardens and yards.
Fuchsias have unique shapes, too, almost like that of church bells with open sides. For the long, slender beak of the hummingbird, this proves to be a simple flower to eat from.
Given that fuchsia flowers grow downwards, many of us place them in hanging baskets, window boxes, pots, and raised flower beds. This is easier for the hummingbirds to access as they are not too close to the ground, and are usually tucked away from predators.
Fuchsias are also famously rich in nectar – something the hummingbird needs an abundance of to survive. In fact, hummingbirds normally need to feed every fifteen minutes thanks to their incredible metabolisms!
While fuchsias are perfect for attracting hummingbirds to your yard, always make sure to grow a variety of other flowers, too. Pollinators prefer a varied diet and often won't feed on the same plants time and again. Consider growing zinnias, azalea, and clematis, for example, to keep feeding time interesting for hummingbirds in your backyard.
Where does fuchsia grow in the US?
Given that fuchsias tend to grow best in South America, where it is a warm and humid climate, the same goes for the US. While they can grow practically anywhere, they propagate most prominently in and around Florida and along the east coast.
They do best in areas where there is plenty of sun and a balance of shade, so the southeast part of the US tends to see plenty of fuchsia growth, although they can grow practically anywhere with the right kind of care.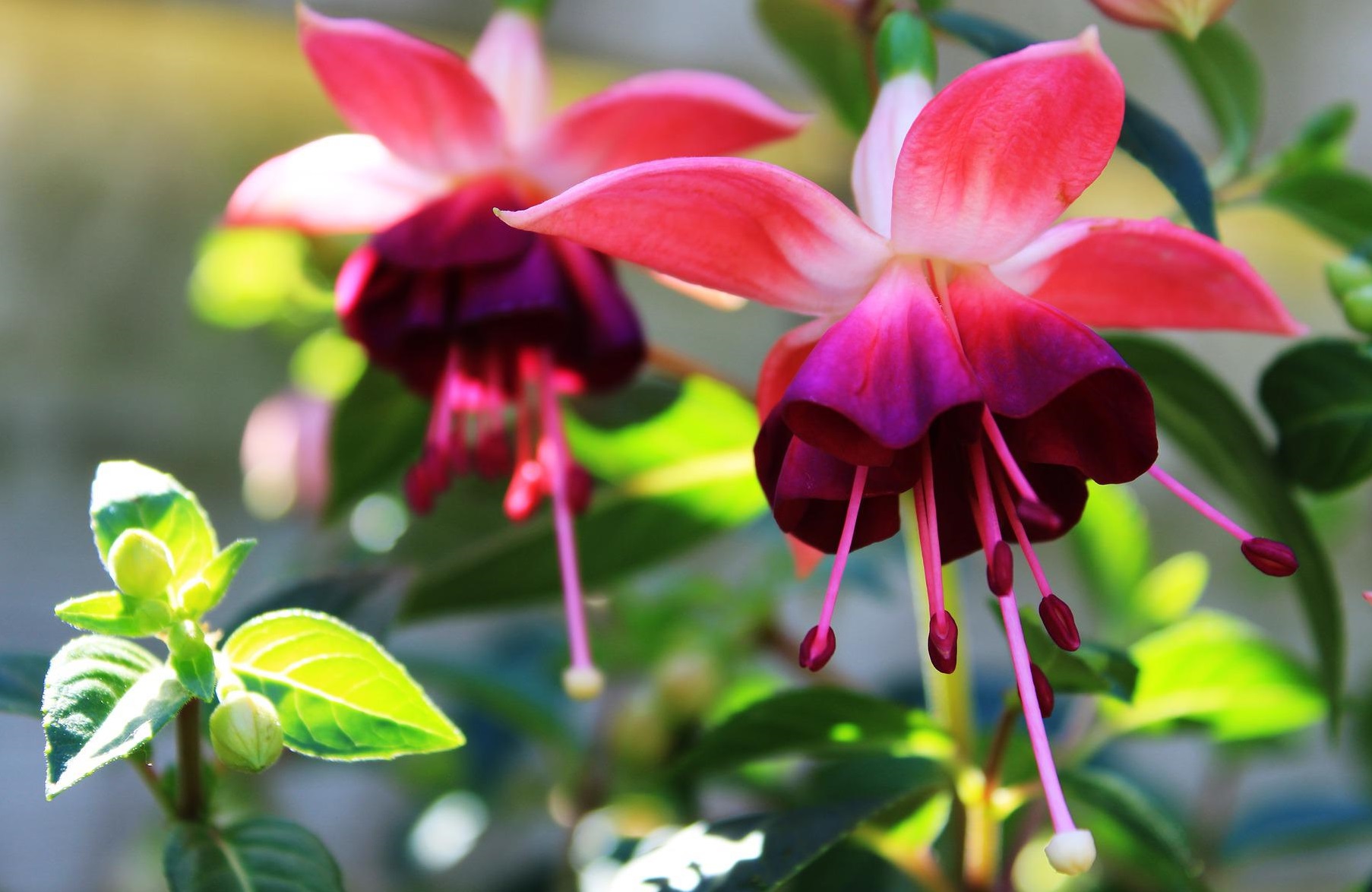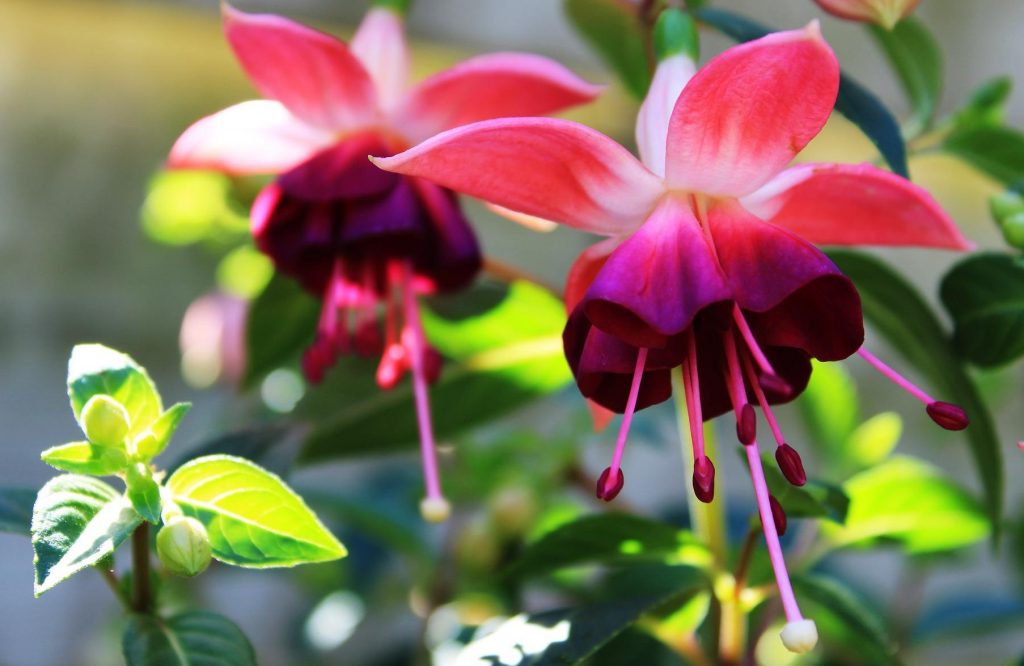 Growing fuchsia to attract hummingbirds
Growing fuchsias is hugely rewarding thanks to their hummingbird appeal – but they will require special care and attention.
Fuchsias can either be very strong and withstand the winter in pots or flower beds, or they can be more susceptible to the cold and die during the winter unless brought inside. Therefore, choosing the right kind of fuchsia for your area is essential. There are hundreds of different varieties of this plant – so choose wisely!
Half-hardy fuchsia can be brought outside during the spring and summer, then must come back inside from the autumn through the winter. Hardy fuchsia, meanwhile, will fare better in colder temperatures and will normally persist in USDA zones up to 11.
Whichever fuchsia you choose, they will need to be kept in partial shade, with plenty of sunlight throughout the day. If you happen to live in a very hot area, choose a spot in the shade during the hottest parts of the day. This will help to better protect the flowers as they can suffer in too much sunlight.
They will need to grow in well-drained soil, and since the flowers hang down, it is best to place them in pots, hanging baskets, or even raised flower beds.
What other potted flowers attract hummingbirds?
Hummingbirds love potted flowers – providing they are colorful and boast elongated blooms, you will likely attract them. Alongside fuchsia, a great potted plant for attracting hummingbirds is the impatiens.
Impatiens flowers are ideal for shady spots and don't tend to need much attention. Therefore, they may be good as 'starter plants' if you'd like to work your way up to more complex fuchsia.
Petunia, meanwhile, will also attract hummingbirds and prove easy for the pollinators to feed on. They can be highly fragrant, and normally make a great filler for hanging baskets.
Out of the heat of the summer, when your fuchsias are likely to have performed their best for the year, hummingbirds may choose to visit snapdragons. These potted plants are stunning to behold and will normally appeal to pollinators well into the fall.
Fuchsia are some of the most reliable pollinator plants you can grow in your yard. However, don't rely on them exclusively – as the hummingbird loves a buffet!