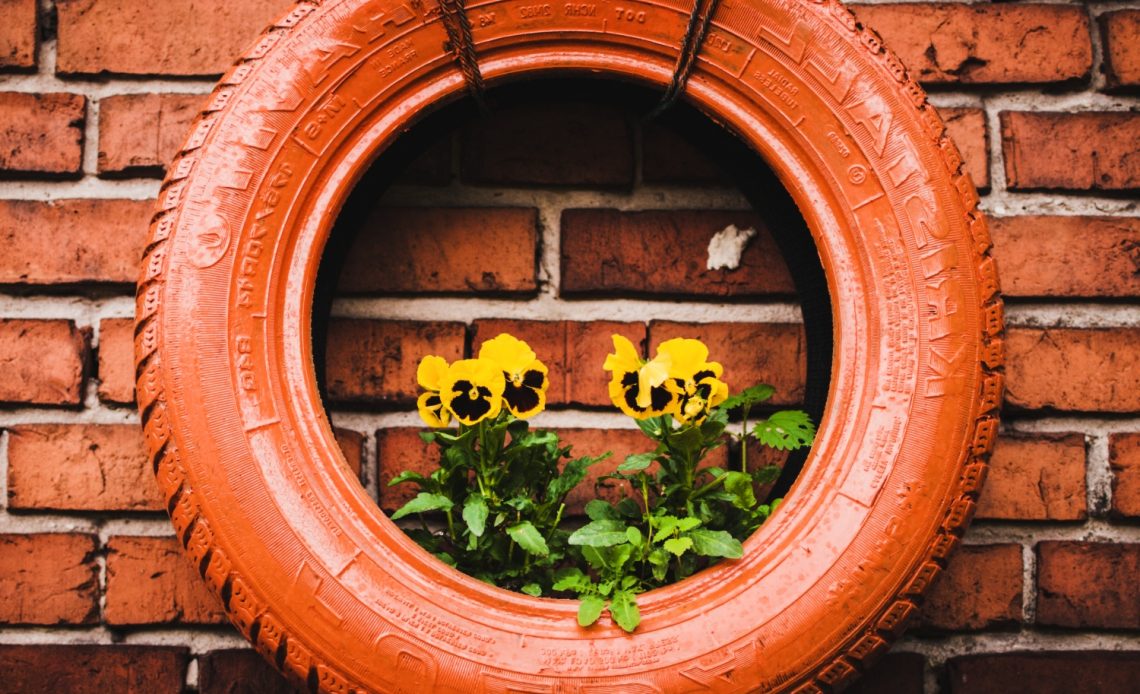 We're here to help! Wild Yards is a completely free website that is 100% dedicated to helping you create a wildlife-friendly, sustainable yard. Read more
WildYards is reader-supported. When you buy a product through a link on our site, we may earn a comission. Every product is independently selected by our (obsessive) editors and our reviews are unbiased and objective. Read more about our mission or our privacy policy.
Just because you have a small backyard that doesn't mean you have to give up gardening. You may not have enough space for flower beds and crop farming, but by thinking creatively, you can make good use of your space. By planting your flowers, herbs, fruits, and vegetables in containers, you can enjoy fragrant blooms and homegrown produce all season long. Planting in a small space can make you feel like your options are limited, but the reverse is true. You're limited only by your imagination. Today, we've compiled a list of 11 cheap container gardening ideas to help you get started!
Canvas bags, buckets, tires, and dishpans can be used as planters for flowers and vegetables. Baskets, old rubber boots, and crates are also economical choices for your container garden.
11 Cheap container gardening ideas for small spaces
Don't let your small backyard prevent you from growing your favorite plants. If you're short on space and on a tight budget, too, here are 11 cheap container gardening ideas to help you get growing!
Canvas bag planters
Heavy-duty canvas bags are breathable and flexible. They can expand slightly to give growing plants more room, and because they're porous, that makes it easy for excess water to escape — which is critical because well-draining soil is key to preventing root rot. Use canvas bags specifically designed for container gardening, or upcycle old tote bags and reusable grocery bags to plant in instead. Canvas bag containers are easy to move around so you can ensure your plants get the right amount of sun and shade to keep them healthy.
Upcycled tires
Old tires are pretty easy to come by and can be stacked to create a multi-tiered planter. Spray paint the tires in bright colors and use them to make a decorative display for your favorite summertime flowers. Old tires make excellent planters for dwarf red sunflowers, coneflowers, marigolds, daisies, and other pretty, unpretentious blooms. Because tires are wide and somewhat shallow, this cheap container gardening idea is a great choice for watermelons, cantaloupes, cucumbers, and squash, too. Use a board or painter's cloth-type canvas to fit into the bottom of the tire so you can fill it with soil. Be sure to drill a few holes into the undersides of the tires if necessary to assist in drainage.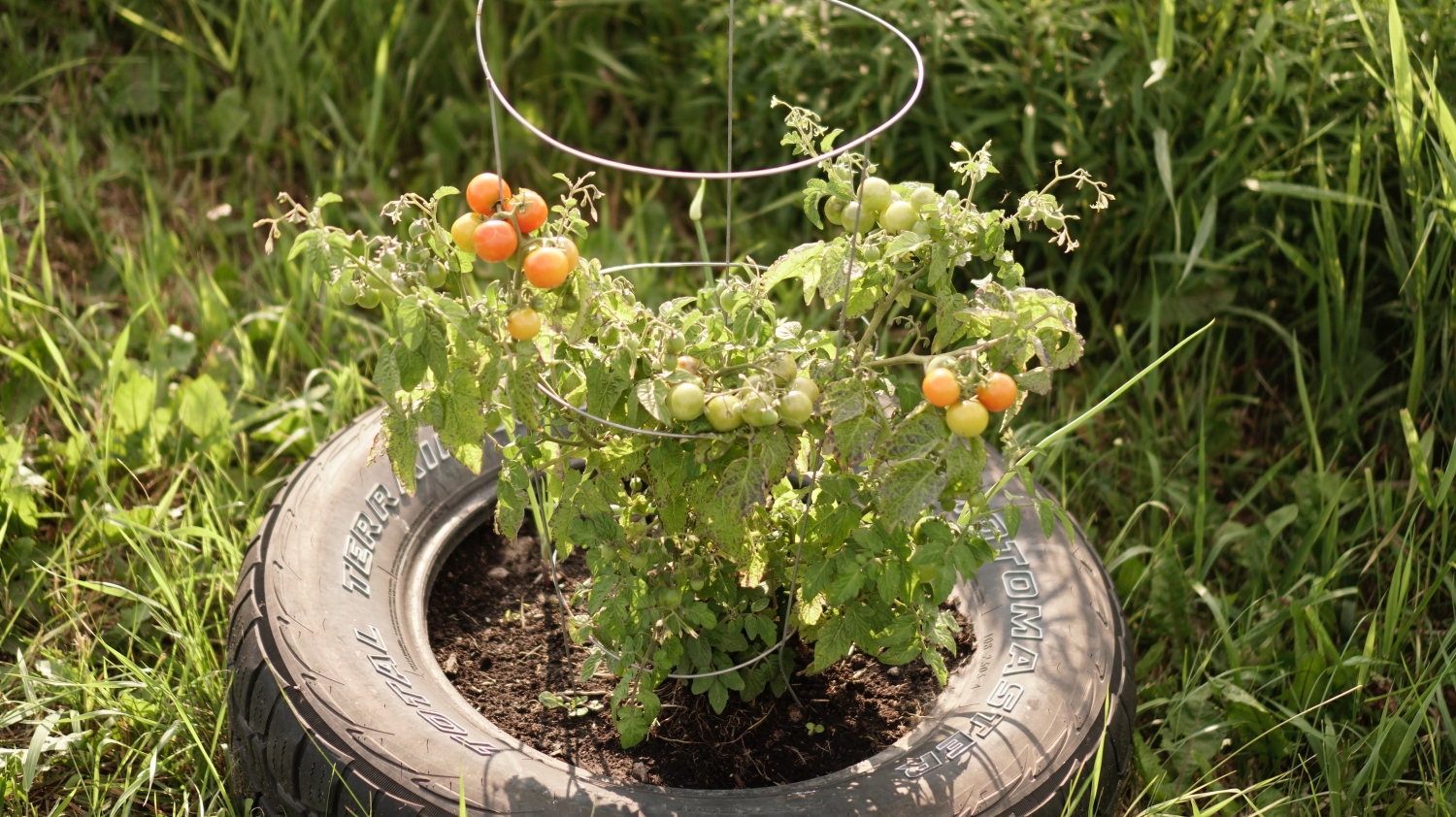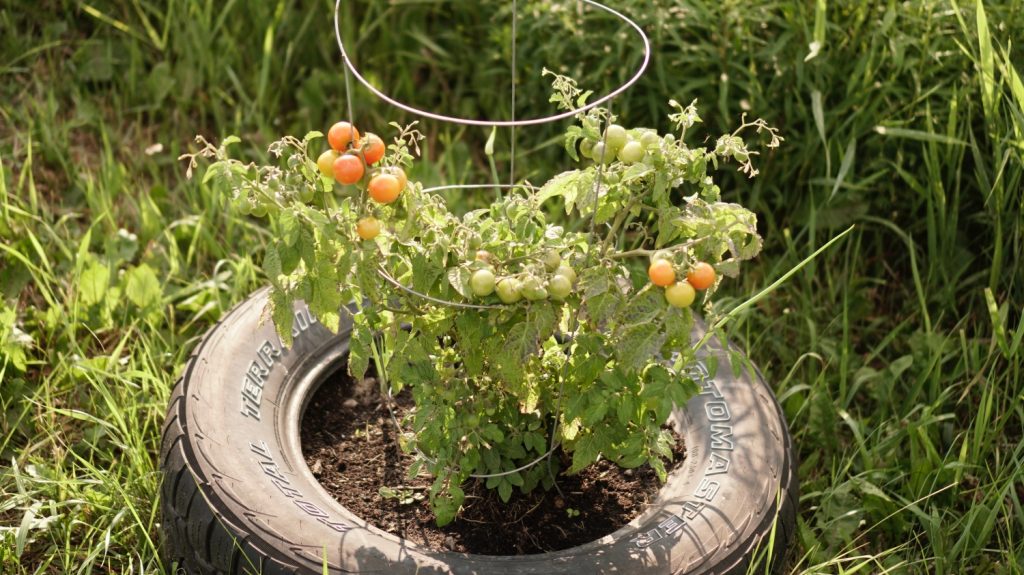 Kiddie pool raised bed
Pick up a kiddie pool from your local dollar store to use as a raised bed. These little pools are perfect for growing fruits and vegetables. Simply drill holes into the bottom, line the pool with a bit of gravel, and fill it up with garden soil, and you're good to go. Kiddie pools are easy to find, especially in the summer. They're lightweight and can be stacked and stored easily, even in a tight space. If you're renting a home and don't want to build an in-ground garden until you get more settled, use a kiddie pool as a raised bed so you can enjoy homegrown produce until you find a place of your own.
Old rubber boots
Got an old pair of rubber boots that have sprung a leak? Fill them with potting soil and use them to grow something pretty. Brightly colored, patterned rubber boots can be used to create an adorable floral display. Arrange re-purposed rubber boots on shelves, patio tables, or tree stumps to create planters. If the boots are tall enough, you can even use them to grow fruits and vegetables. Rubber boots work well for herbs like basil, rosemary, and lavender. They're also ideal for leafy vegetables like baby spinach and lettuce. Remember to drill holes in the bottom of the boots before planting, and consider lining the lowermost portion of the boot, where your foot would go, with some large rocks to allow water to escape.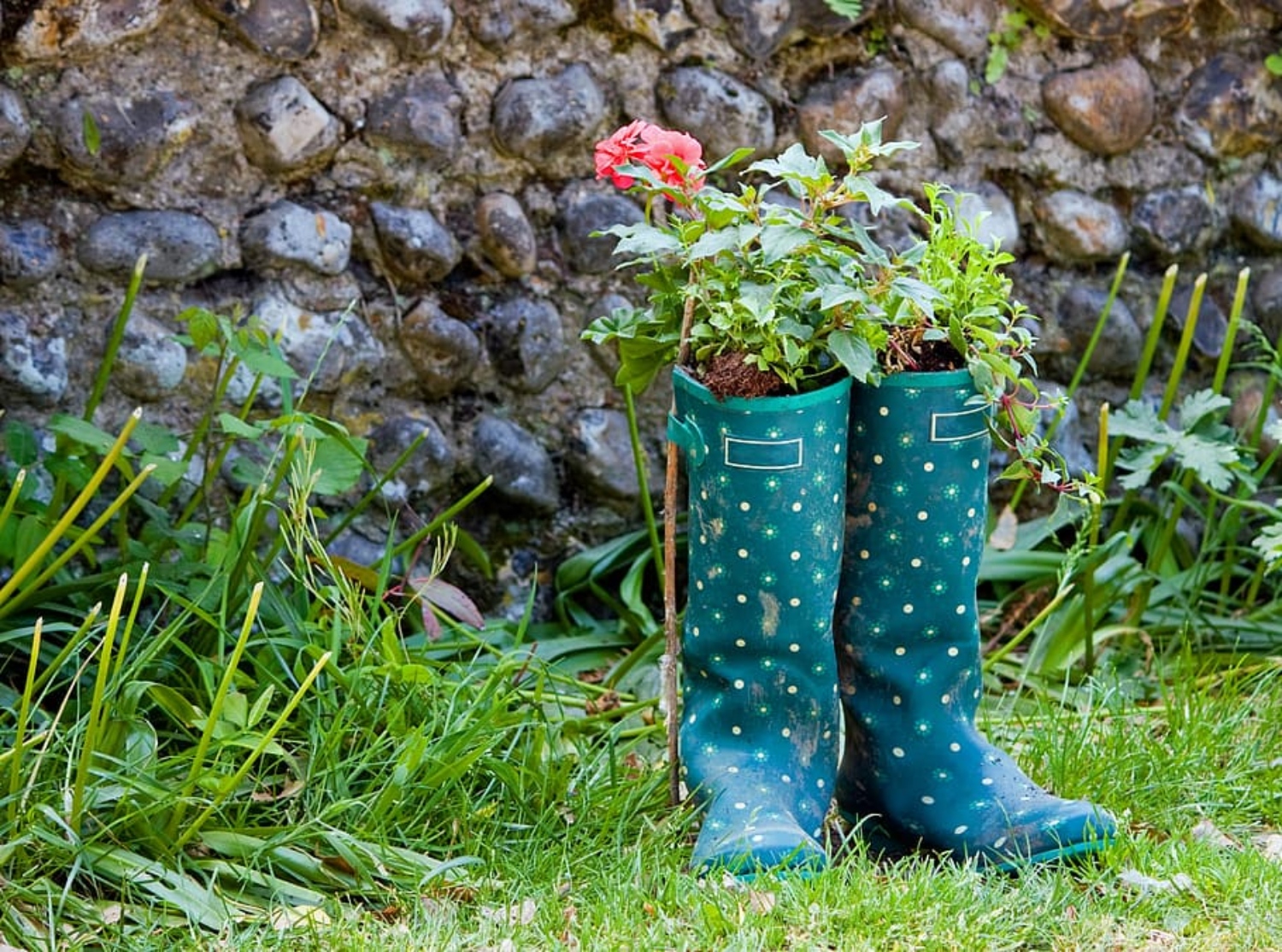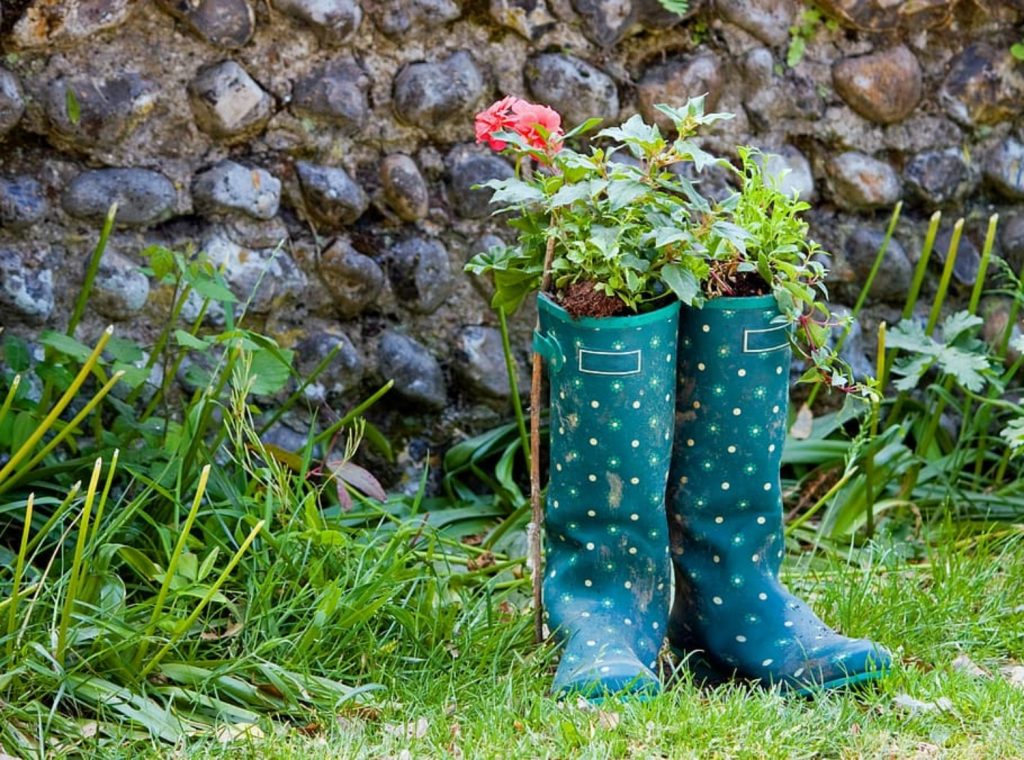 Tin can and pallet planter
For this next cheap container gardening idea, you'll need an old pallet and a few tin cans. Simply fill the cans with potting soil, plant the succulents, herbs, and flowers of your choice, then affix the cans to an upcycled pallet. Easy peasy. Once your DIY vertical container garden is ready, you can hang it up on the side of your shed or greenhouse, or simply fasten it to a tall post. If you haven't got anything to hang it up on, or if you're not too confident with power tools, simply lean the pallet up against a tree or some other structure for support. If you want to make your pallet planter pretty, paint the cans with bright colors and fun patterns. It's a great craft project to enjoy with your kids.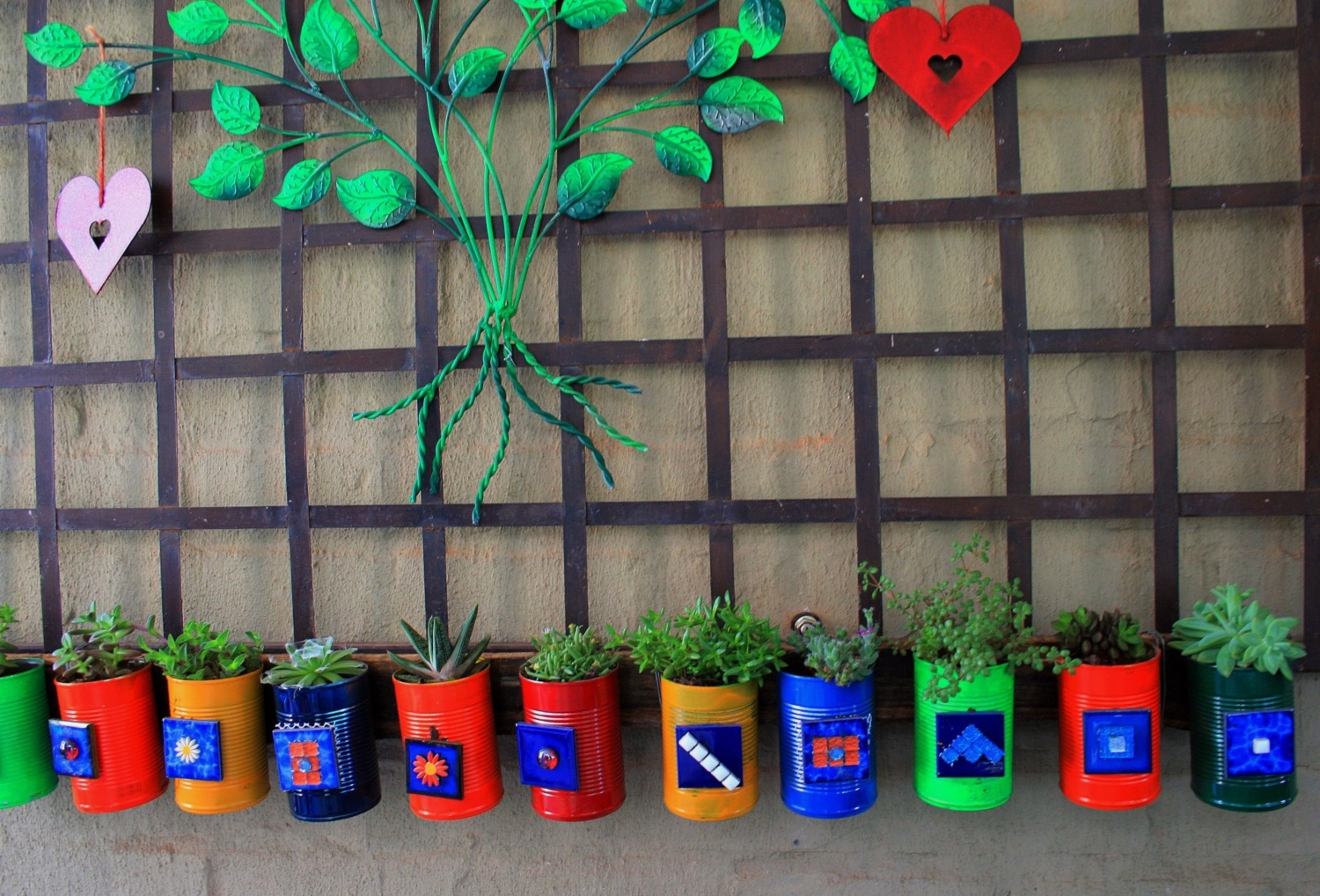 Five-gallon buckets
You want some cheap container gardening ideas, but you're less interested in the aesthetics of the planters and more concerned about how practical they are. We hear you. Purchase a few 5-gallon buckets from your local feed or hardware store to plant in. These buckets are deep enough to accommodate the extensive root systems of many vegetable plants, including tomatoes, okra, eggplant, and peppers. Of course, you can use them to grow flowers, too. Remember to drill holes into the bottoms of the buckets to improve drainage. Once the buckets are full of potting soil, they'll be fairly heavy. Try to place the buckets where you want them before filling them up to make it easier on yourself.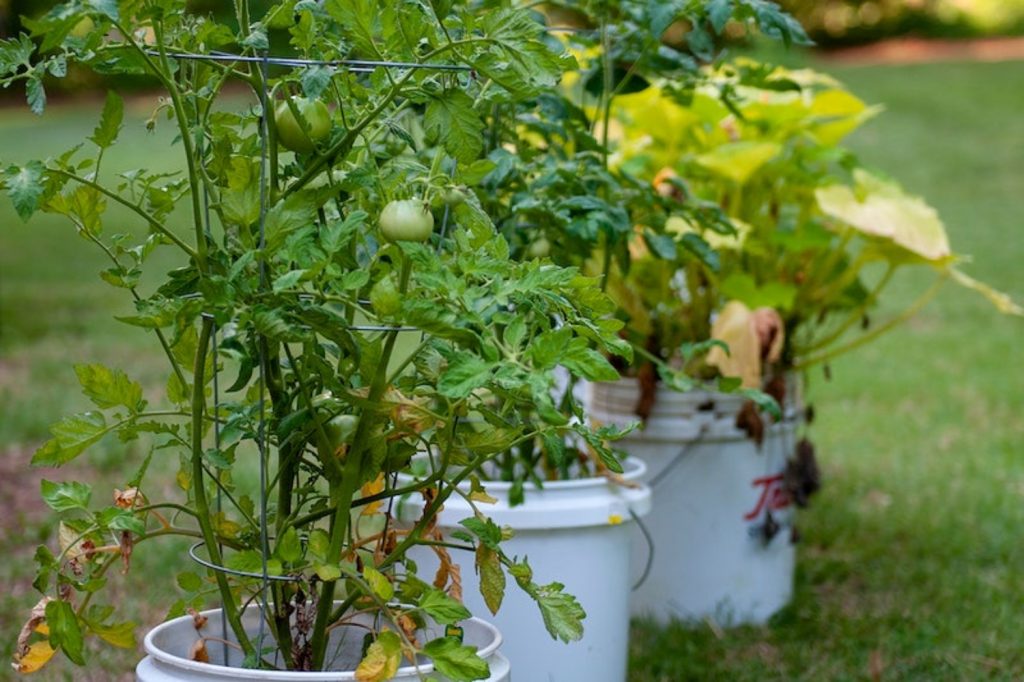 Upcycled crates
The average plastic crate can support 50 to 70 pounds. They're sturdy and durable, and their versatility means they can be used as a planter for fruits and vegetables as well as flowers. Line a few old crates with plastic or landscape fabric to keep the soil in place, and fill them with the plants of your choice. Plastic crates are a cheap container gardening idea for anyone who's working with limited space. Most plastic crates have handles, which makes them much easier to tote, and because they're stackable, they're simple to store during the off-season. Here's a tip: check with local grocery stores and gas stations. Plastic crates are often used to transport dairy goods and other food items. Many grocery marts are happy to give these crates to anyone willing to take them off their hands.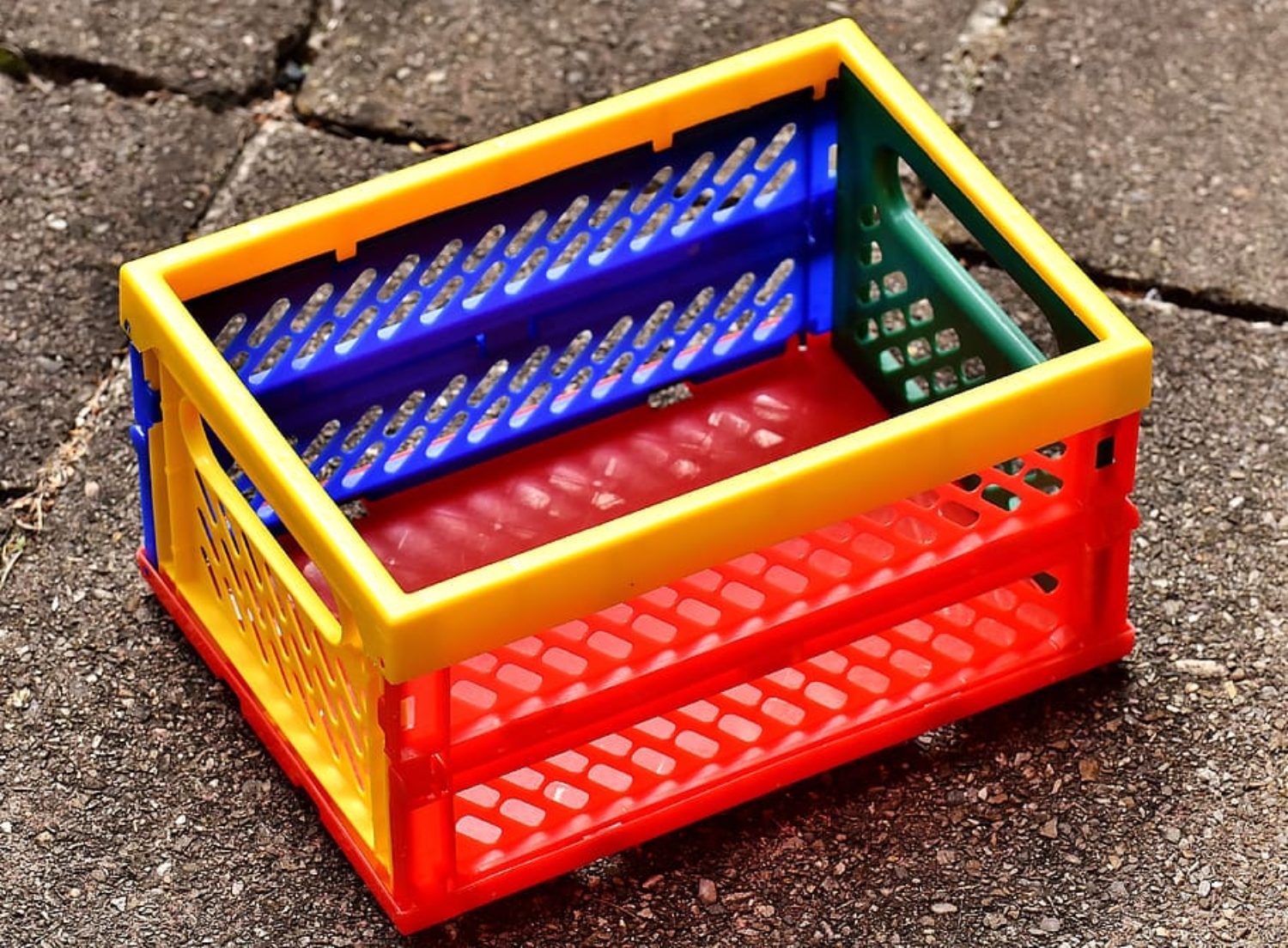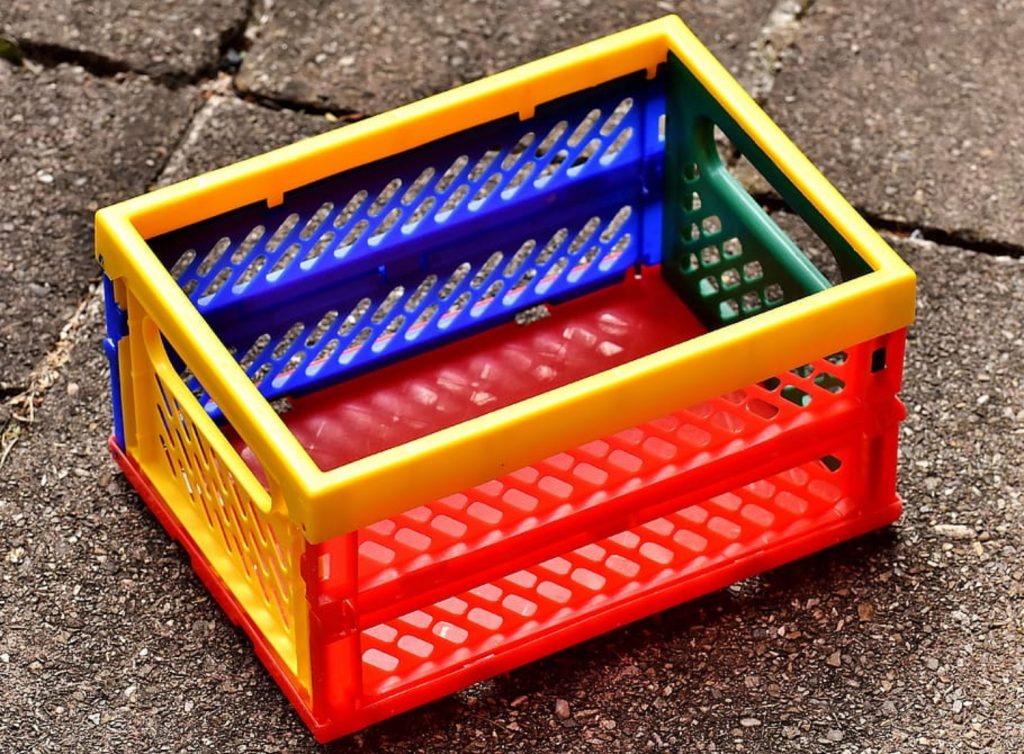 Dollar store dishpans
If you're looking for a cheap container gardening idea for growing winter vegetables, pick up a few dishpans at your local dollar store to use instead. Dishpans are a great size for growing in. They're deep enough to accommodate the roots of just about any fruit or veggie you would want to grow. They're also good for flowers. Use dishpans to grow creeping and vining plants, such as those often planted in hanging baskets. These plants will cascade over the sides of the dishpans disguising their humble appearance. Of course, you could spray paint your dishpans to give them a makeover, too!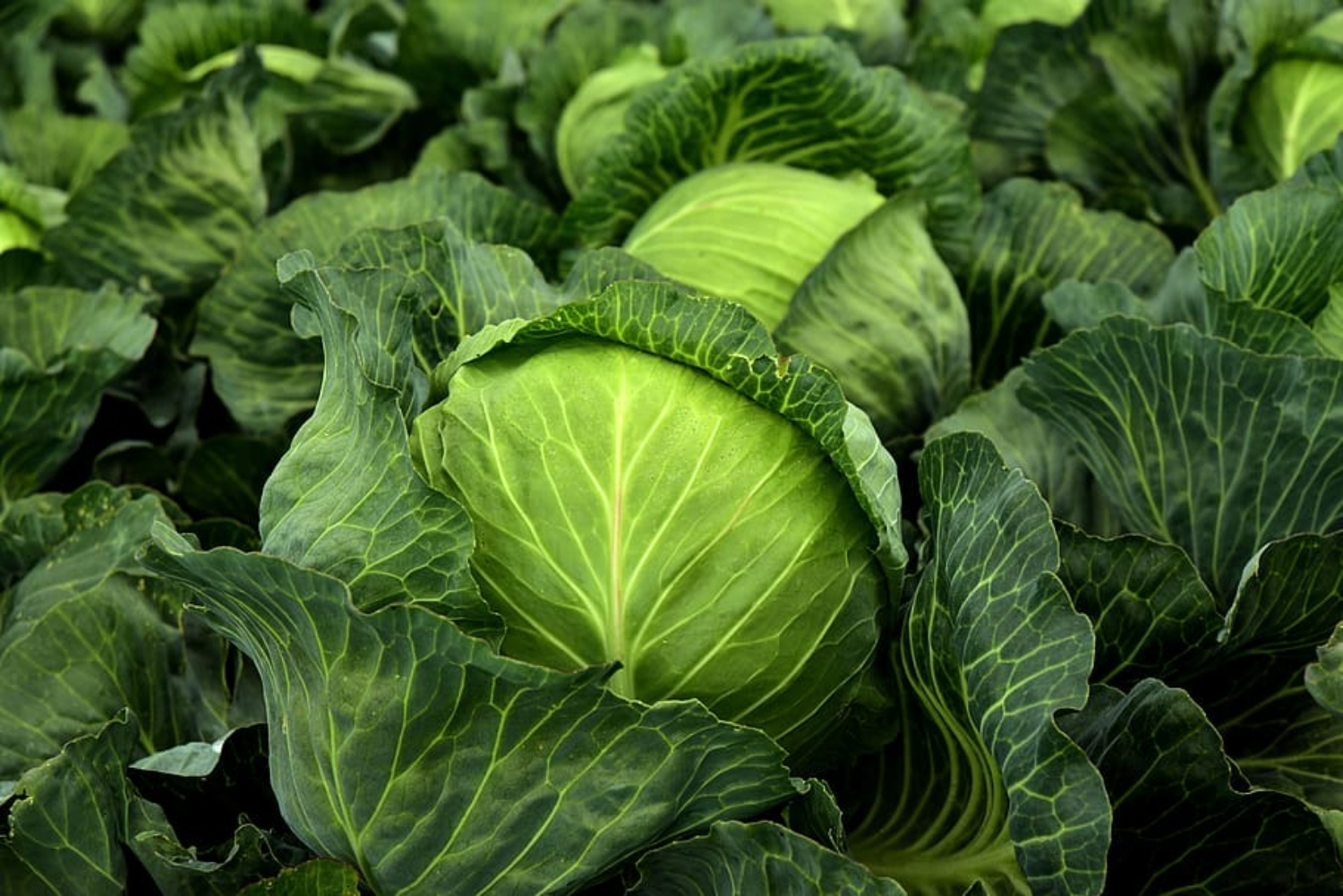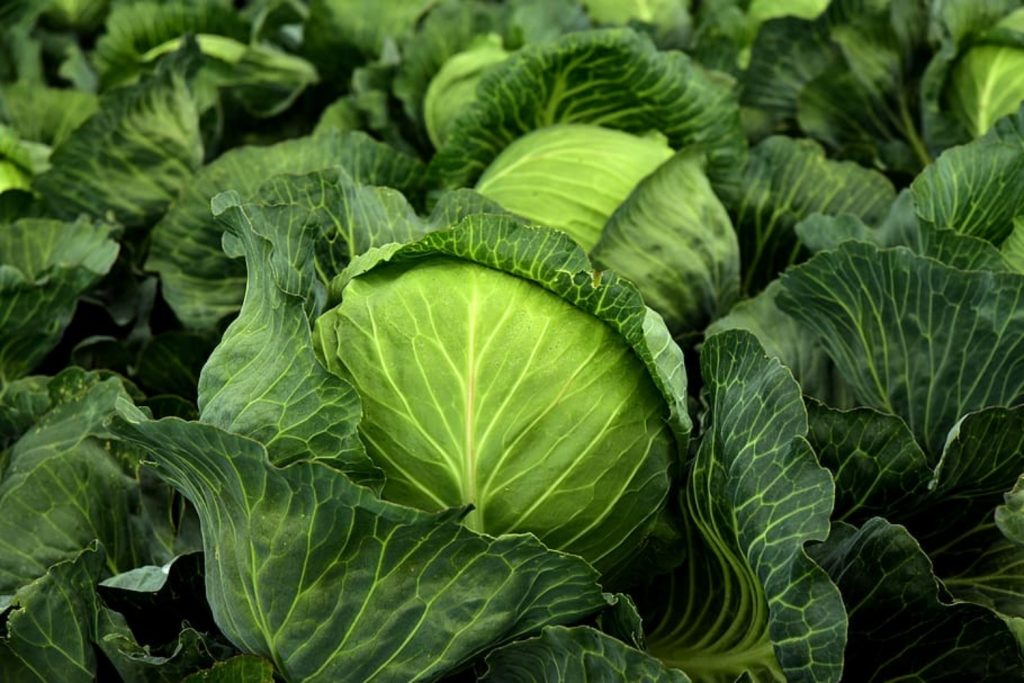 Basket planters
If you have a few old baskets gathering dust at the back of your closet, give them a new purpose in life by turning them into a cheap container garden. Plastic and metal baskets are durable, which makes them perfect decorative planters for your porch. But baskets made from biodegradable materials like sticks and paper can work just as well, even if they won't last for as long. Baskets are perfect for compact perennials like geraniums, dianthus, and smaller varieties of hydrangeas, like 'Little Lime'. If your baskets have tall handles, hang them from hooks on your porch or back patio to maximize the space.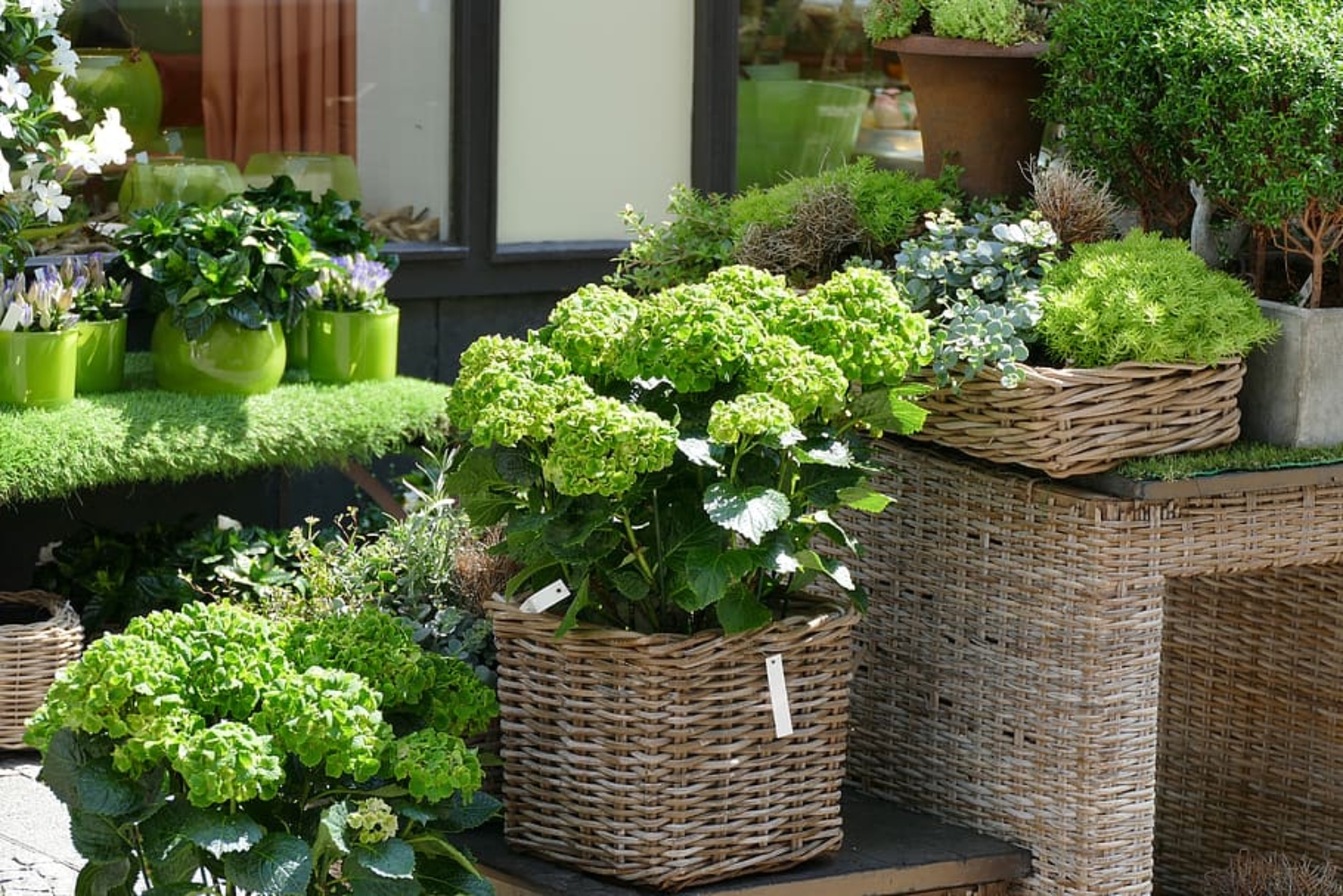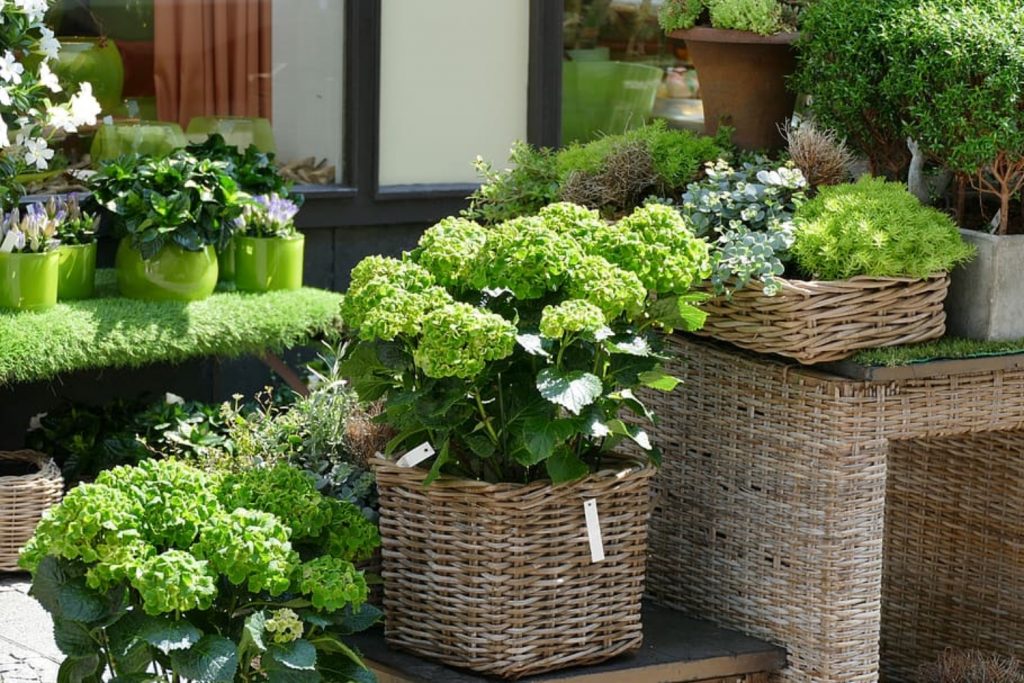 Spice rack vertical planter
Purchase an inexpensive over-the-door wire spice rack, and line the shelves with cocopeat mats to create a vertical container garden. Perfect for the home chef who loves cooking with fresh herbs, this cheap container gardening idea can be constructed in an afternoon. Simply hang the planter over a wooden fence or shed door. The wire racks increase air circulation and drainage. This helps prevent your plants from developing root rot, making a vertical spice rack planter a great option for plants that like to stay dry, including lavender, sage, and rosemary.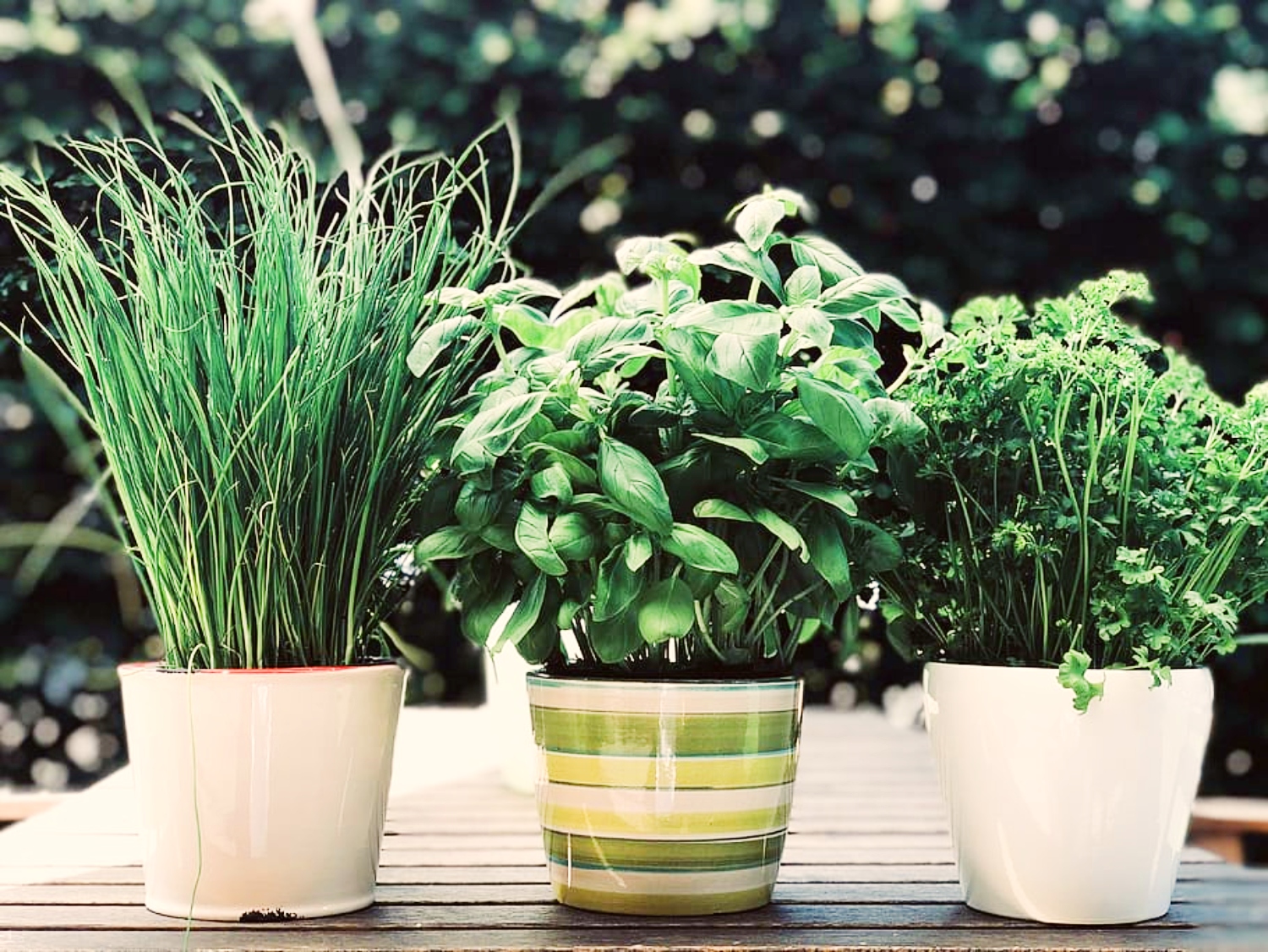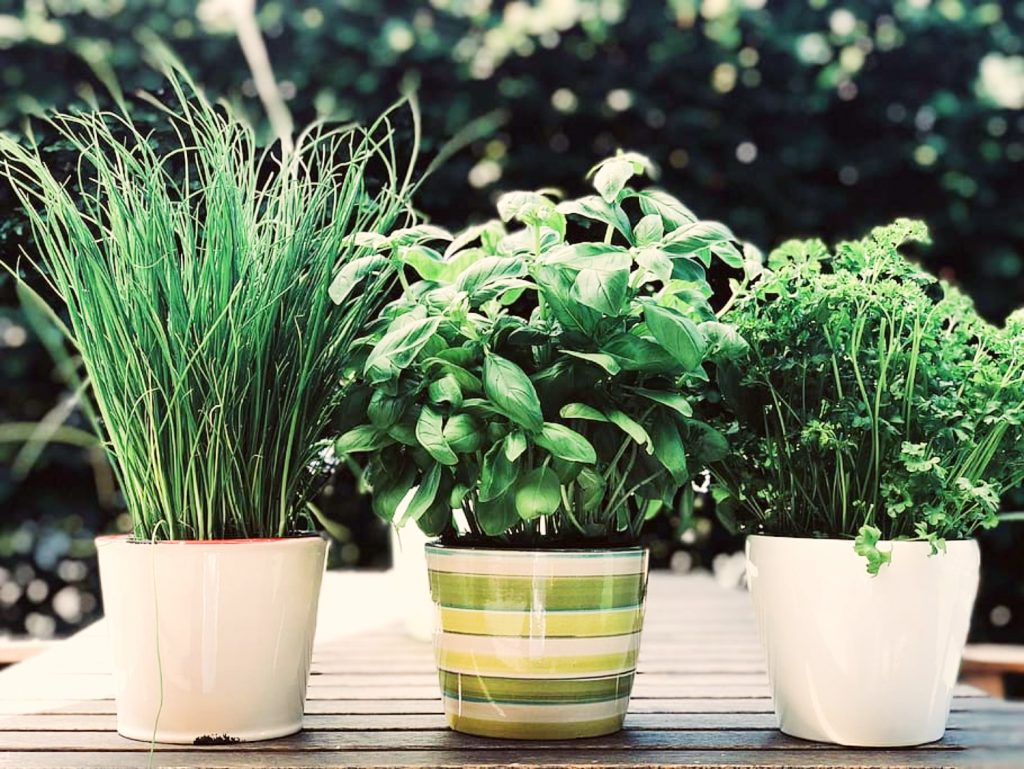 Upcycled paint can planters
Old paint cans are handy to have around when you garden. You can use them to carry seeds, harvested vegetables, garden tools, and even water to hydrate your plants. If you've got a few paint cans lying around, poke some holes in the bottom of them and use them as planters. Like baskets, paint cans have long handles, which you can use to hang them up in various spots throughout your garden. Repurposing old paint cans to use as pots is a cheap container gardening idea that works especially well for smaller plants, like basil, parsley, petunias, and ferns.
More cheap container gardening ideas
The Maya people have been successfully container gardening in hard limestone bedrock for centuries. If they can produce crops in such inhospitable growing conditions, so can you — you've just got to think outside the box.
When it comes to cheap container gardening ideas, this is just the tip of the iceberg. Hundreds of everyday objects can be used to plant in. Bottles, plastic bags, coffee cans, bird baths, and even hay bales can be turned into planters for your fruits, vegetables, and flowers.
Take a look around at what you have on hand. You never know which objects you've got lying around that could be used to create a makeshift container garden!