We're here to help! Wild Yards is a completely free website that is 100% dedicated to helping you create a wildlife-friendly, sustainable yard. Read more
WildYards is reader-supported. When you buy a product through a link on our site, we may earn a comission. Every product is independently selected by our (obsessive) editors and our reviews are unbiased and objective. Read more about our mission or our privacy policy.
Rock gardens are a low-maintenance accent feature for your landscape, and they're perfect for small spaces, like corners. In most cases, you can create a rock garden in a single afternoon, making it a perfect weekend project. Rock gardens add texture and interest to a space. They also help you define your space, which can have a huge impact on the overall "feel" of your landscape. If you want to liven up your small backyard, check out these 19 amazing small corner rock garden ideas to help get the ball rolling.
Set walking stones in gravel and install a bench to create a serene place for sitting, or dig a koi pond surrounded by large rocks. Use rocks to create a border around your potted plants, to surround your succulents, or to create a miniature zen garden.
19 Small corner rock garden ideas for your backyard
Maybe you have a bunch of rocks you've collected over the years on your travels that you want to display in your garden. Or maybe you want to make your backyard smaller so you have less to mow. Whatever the reason, creating a small corner rock garden is an efficient use of space, and can add a dash of color and style to your backyard. Here are 19 small corner rock garden ideas to inspire you.
Corner koi pond
Water is extremely calming. Studies show that simply looking at a body of water can help reduce your stress level. A small water feature in your backyard can help you relax and unwind after a hard day at work. Dig a small koi pond in the corner of your backyard to turn your landscape into a tranquil escape. Dress up your corner koi pond with water-loving plants, like elephant ears, sweet flag, water soldier, and watercress. Add colorful lily pads to create a scene worthy of a Monet painting. Your koi pond doesn't have to be expensive — but if you have the funds in your budget, consider installing a waterfall or fountain in your koi pond to fill your backyard with the soothing sound of running water.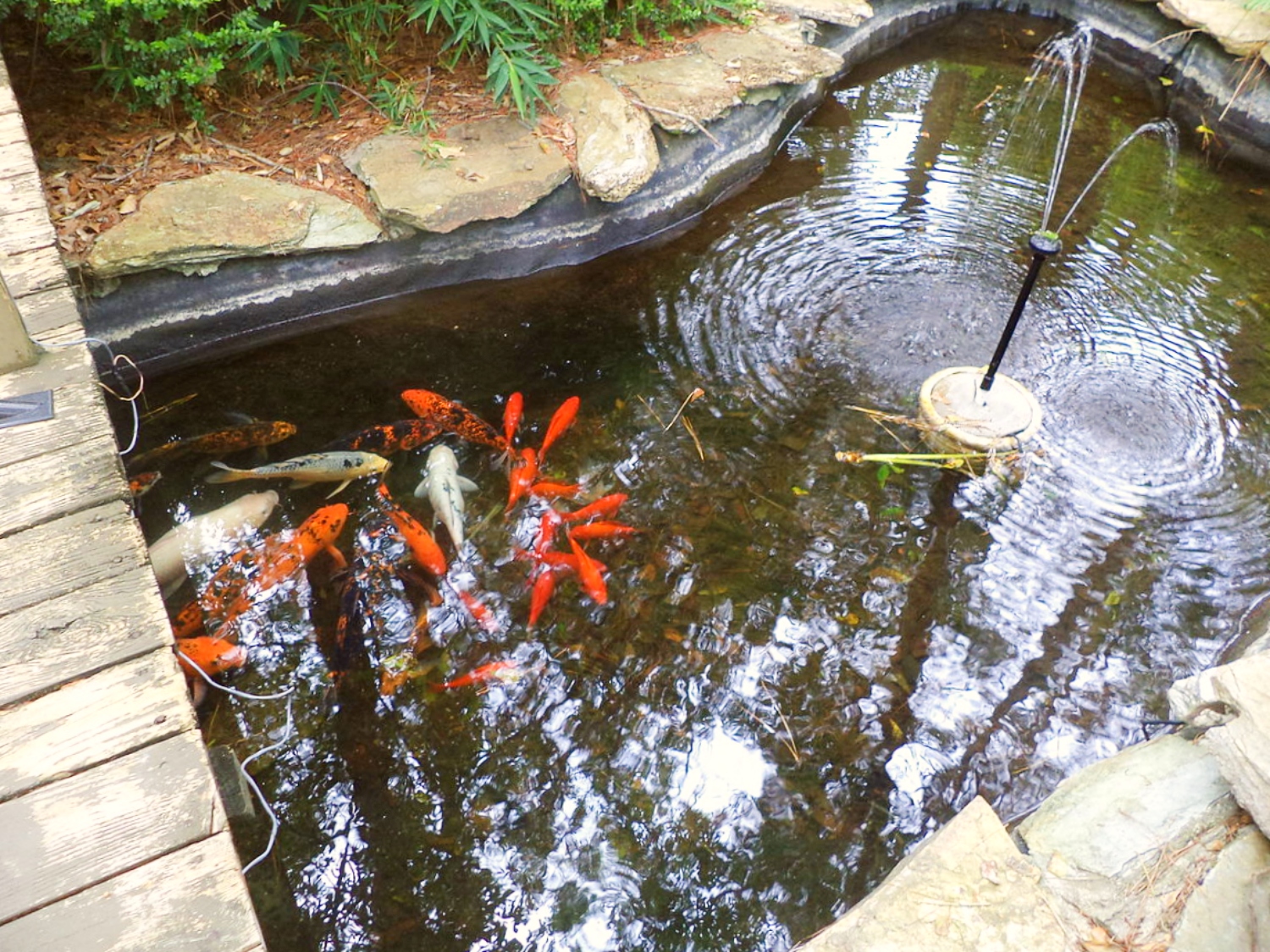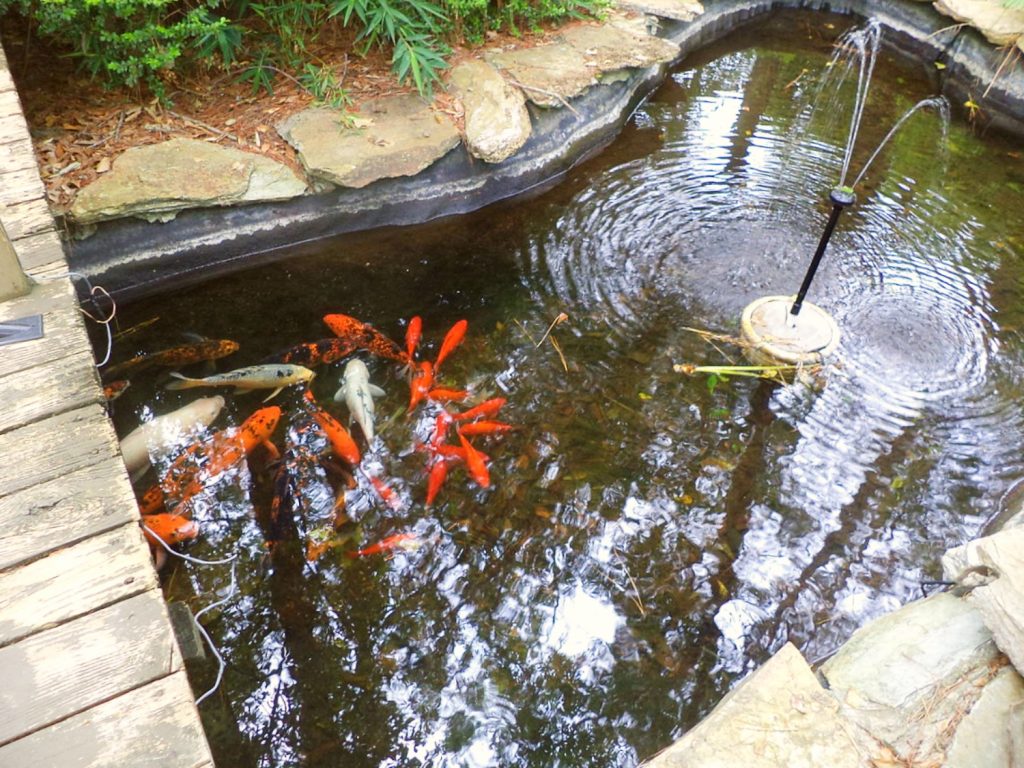 Simple spiral rock design
Purchase a few bags of rocks online or from your local craft store to create a spiral design for your small corner rock garden. Polished rocks catch the sunlight and can be used to help attract the attention of local pollinators — as long as you've also got some of their favorite plants around for them to peruse, that is. But unpolished rocks will give your landscape a more natural feel. Use rocks to create several ornate spirals or other mosaic patterns in the corner of your backyard garden. When you're done, install a bird bath or tall hook to hang potted plants on.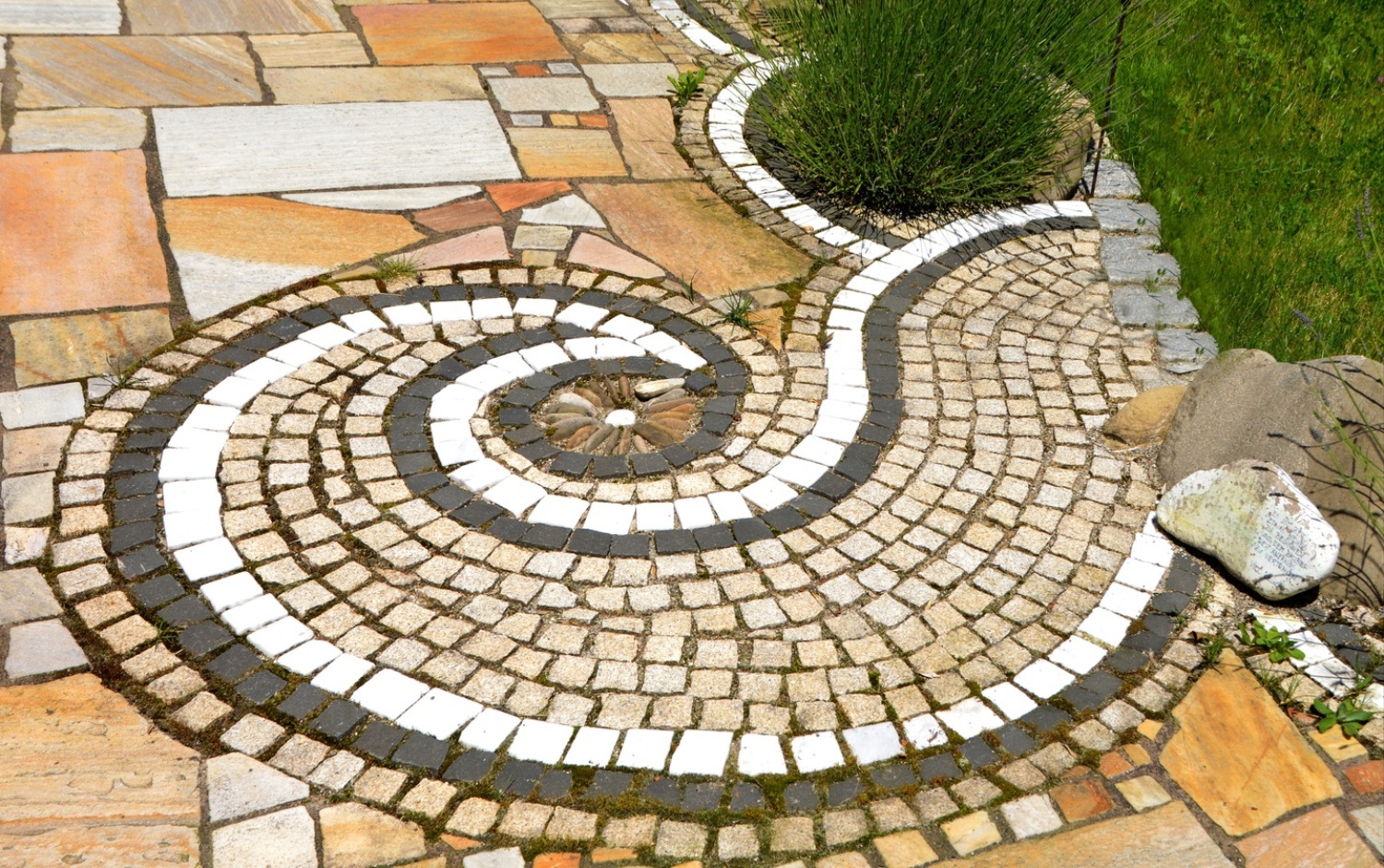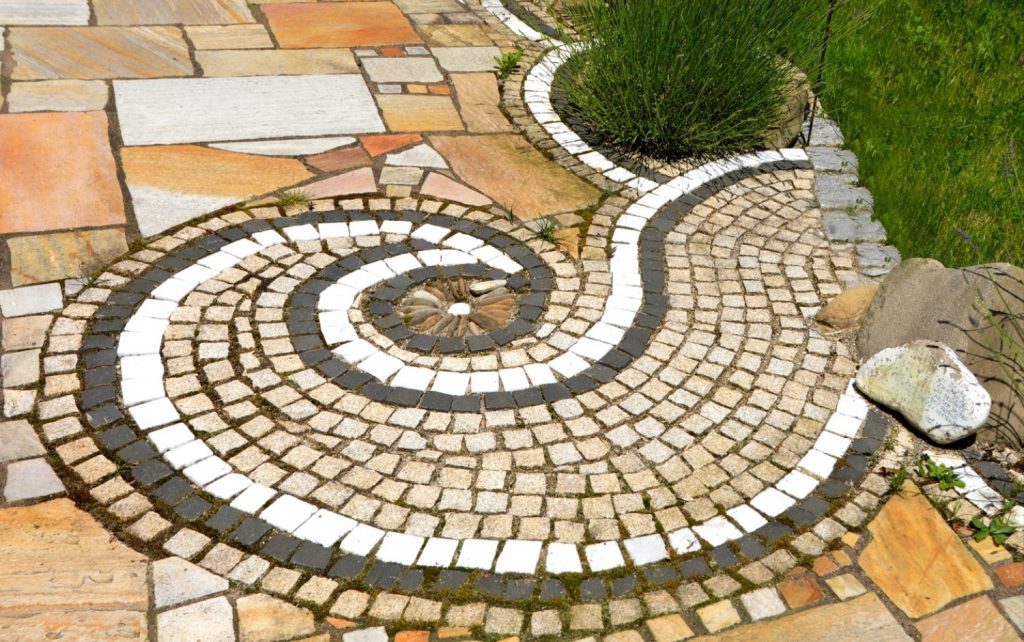 Groundcover display
If you want to create a small rock garden in a corner of your backyard but want to see some greenery mixed in, use gravel and larger rocks to create a display for some ground cover plants. Verbena, bunchberry, and creeping phlox are popular choices. But other ground covers, like creeping thyme and white diamond sedum, can also be used to fill in the spaces between your rocks. Adding flowering ground covers to your small corner rock garden is a great idea because it will also allow you to attract more bees and butterflies to your yard.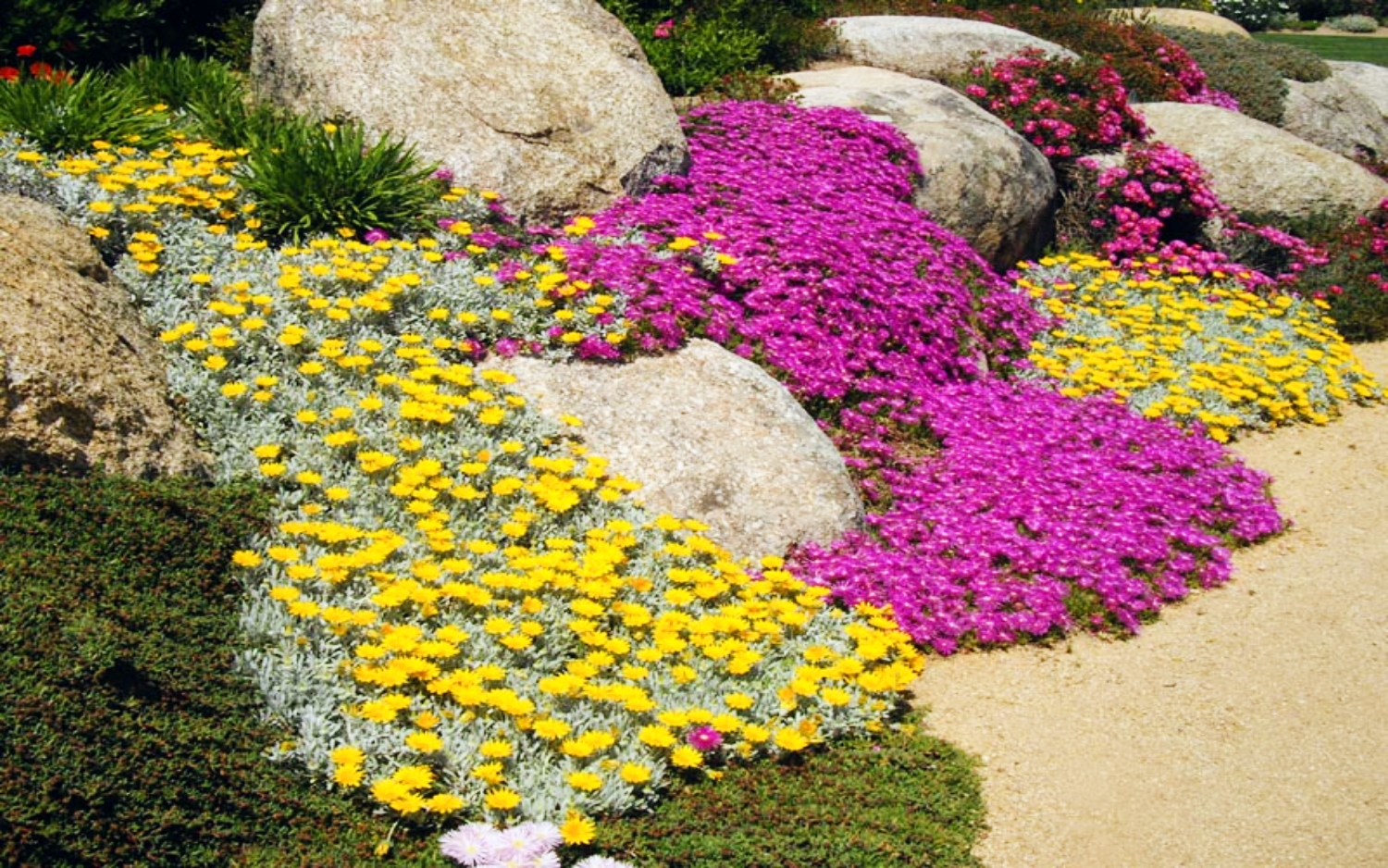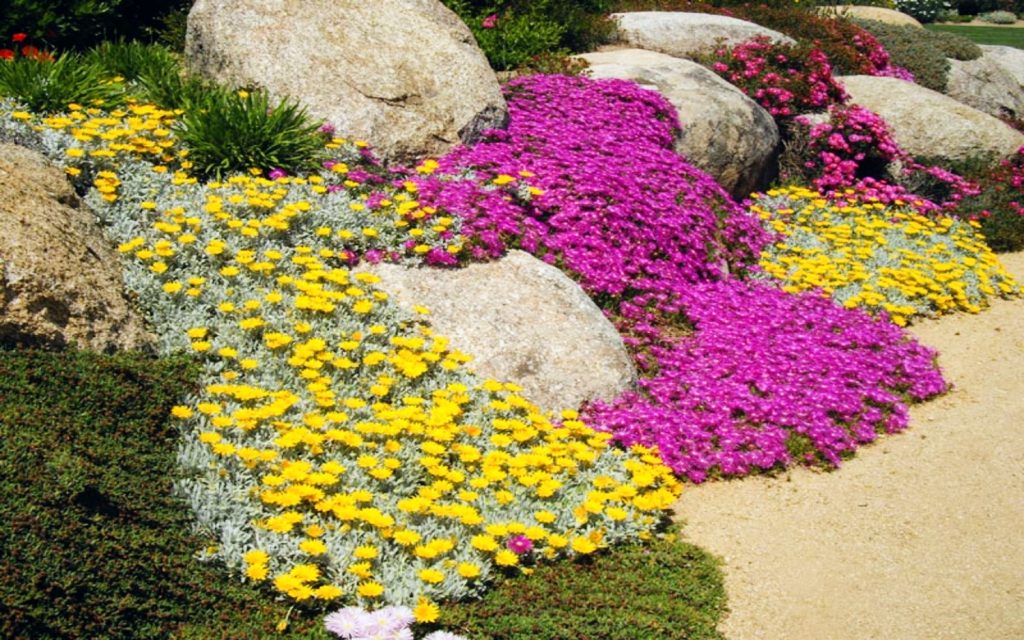 Water fountain
Use large stones to create a border for a gravel bed, fill it with your choice of rock, and install a water fountain in the corner of your backyard. You can purchase a tiered water fountain online or from a garden center. This small corner rock garden idea is a perfect alternative to a koi pond. If you haven't got the budget or the desire to dig a hole in your backyard for a pond, a plug-in water fountain will give you that calming running water sound. A water fountain will also attract local songbirds who will relish the opportunity to cool off in your backyard.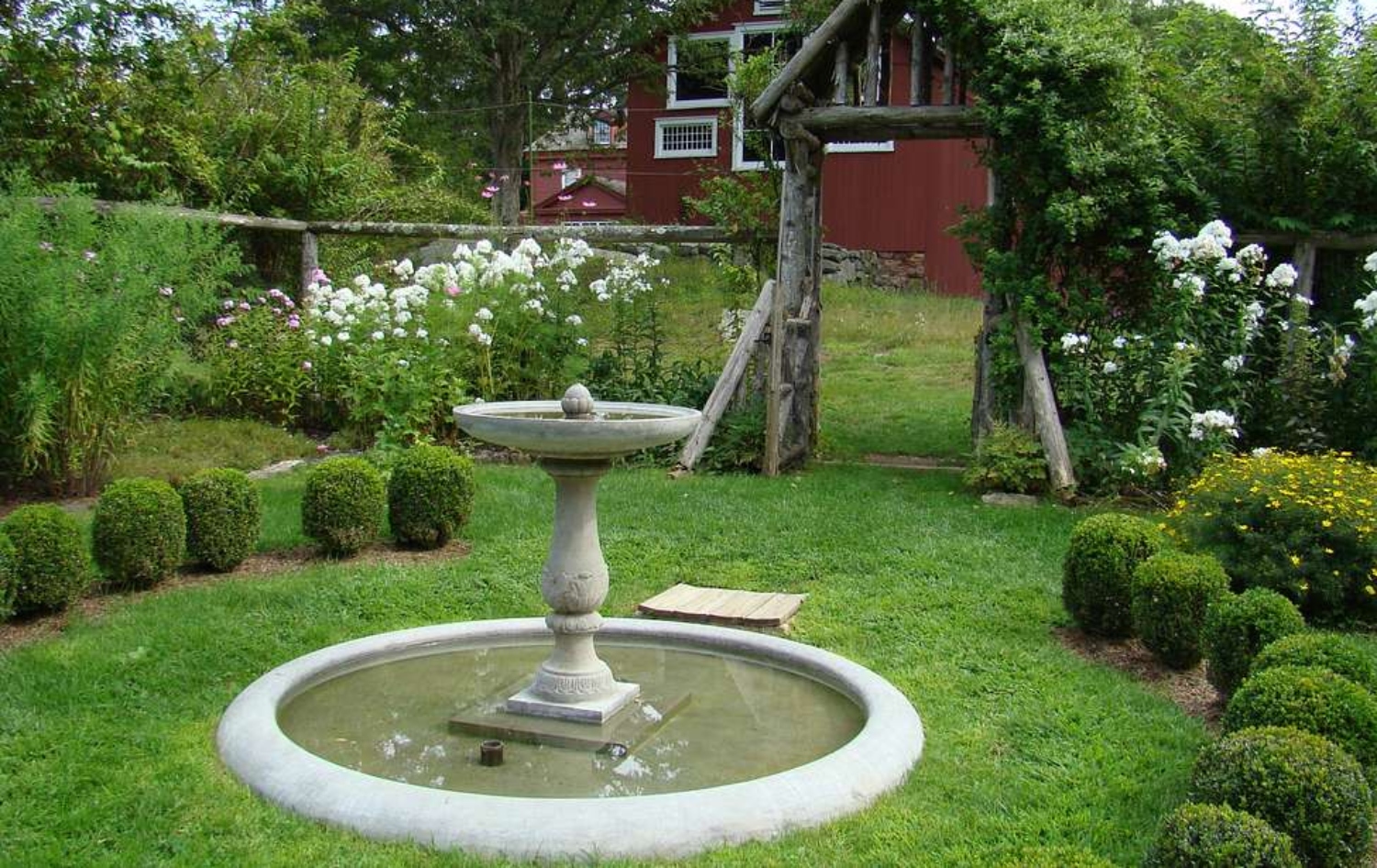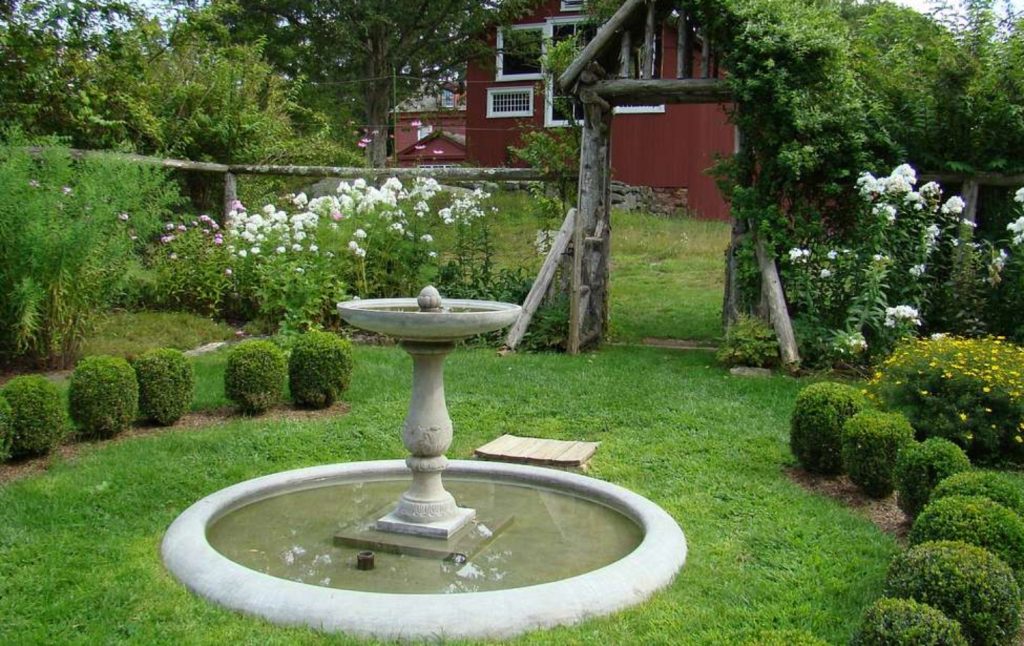 Gravel path and bench
Shady corners make excellent spots for contemplating. Use flat stones or pavers to create a walking path, and fill the spaces in between with gravel. Have your walkway lead to your corner rock garden, and install a bench for reading, listening to music, or just taking in some fresh air. Add eye-catching whirligigs to your sitting spot, dress the place up with your favorite garden decorations, or install a hummingbird feeder to get up close and personal with these fearless little pollinators as you sit and enjoy your outdoor space.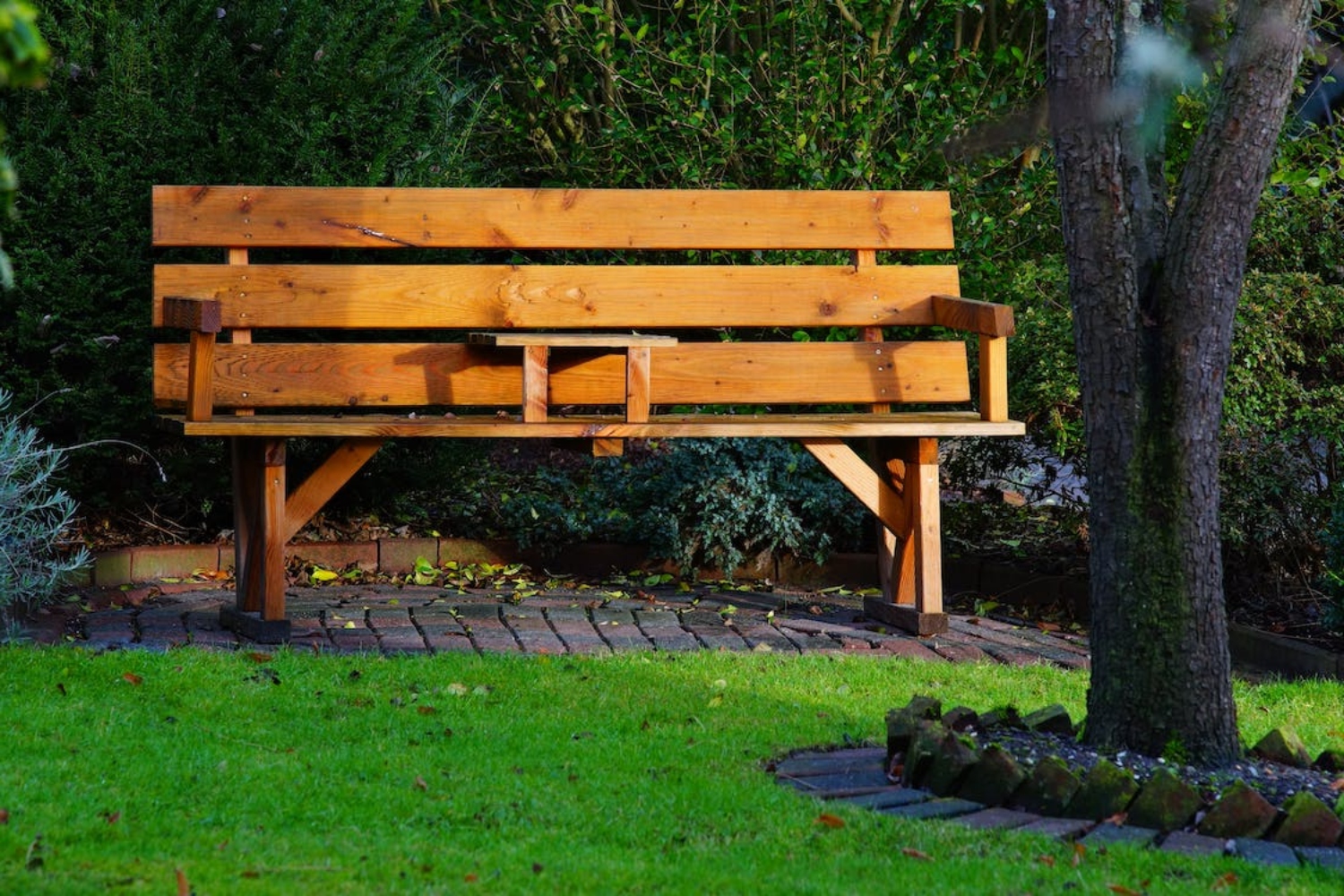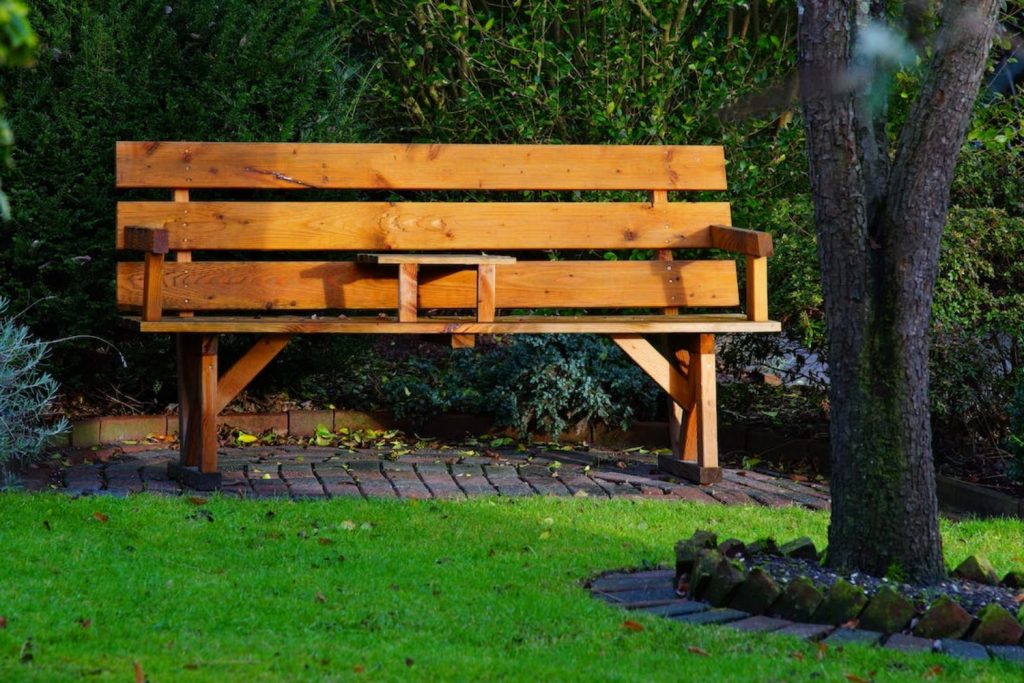 Rock border potted plant bed
If your native soil is too clay-rich for plants to grow or simply too hard to dig into, then set a rock border, fill the bed with gravel, and use the space to display your potted plants. A gravel rock garden is good for drainage, so excess water from your potted plants won't leave stagnating puddles for mosquitoes to lay their eggs in. It also helps prevent you from tracking mud into your house, which can cut down on housework. A win-win!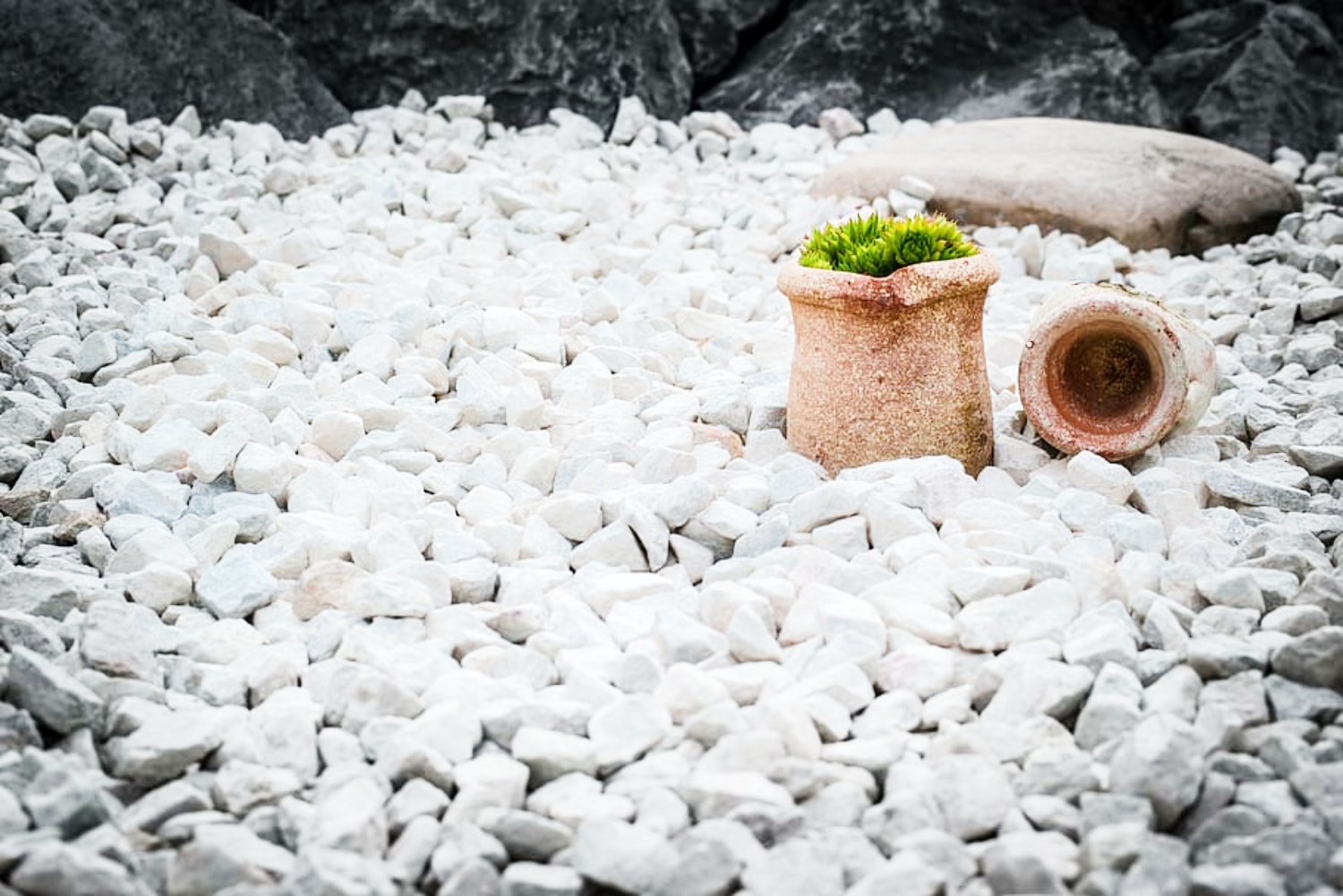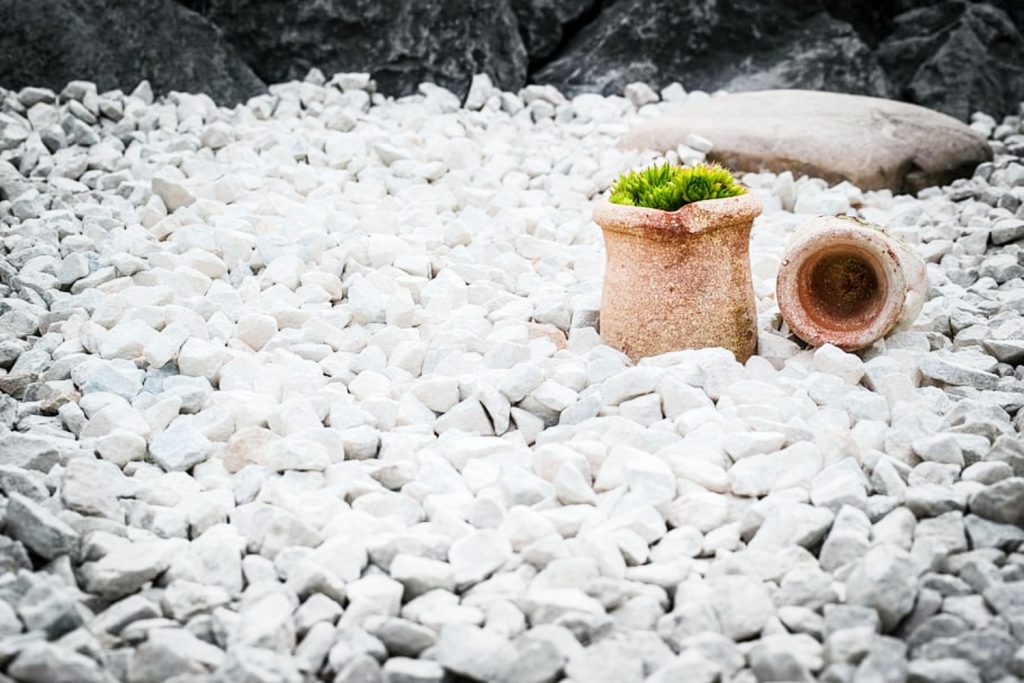 Succulent feature
Succulents are red-hot right now thanks to their array of colors, intricate patterns, and fuss-free nature. Some succulents also attract hummingbirds to your garden as well! These plants are native to arid, desert climes that often have rocky soils, so they're a perfect choice for dressing up your small corner rock garden. Arrange tall succulents, like aloe vera, snake plant, and agave, toward the back of your corner gravel feature, and use smaller plants, like zebra cactus, little bobo, and echeveria minima, to fill in the gaps near the front. Using succulents of many different shapes, colors, and sizes adds depth and texture to your space. Another benefit of a succulent feature is that it's easy to maintain. Spreading gravel in between the plants prevents grass stickers and weeds from sprouting up. It also helps improve drainage, so your succulents don't get bogged down by muddy soil.
Miniature zen garden
If you haven't got the space (or the budget) to create a full-scale zen garden, then make a miniature zen garden in a small corner of your backyard, instead. For this small corner rock garden idea, you'll need to create a gravel bed first. Use stones to make a border, then fill the space with gravel — snow-white pebbles work especially well for this, as they add contrast to the space. Once your rock garden is ready, use gray or black stepping stones to create a walking path, and add large rocks as accent features. You can install a small, minimalistic water fountain in your miniature zen garden, to add to its tranquil vibe. Build a traditional Japanese-inspired torii arbor, arrange statuary, and plant things like bamboo, black mondo grass, and creeping juniper to make the space feel more authentic.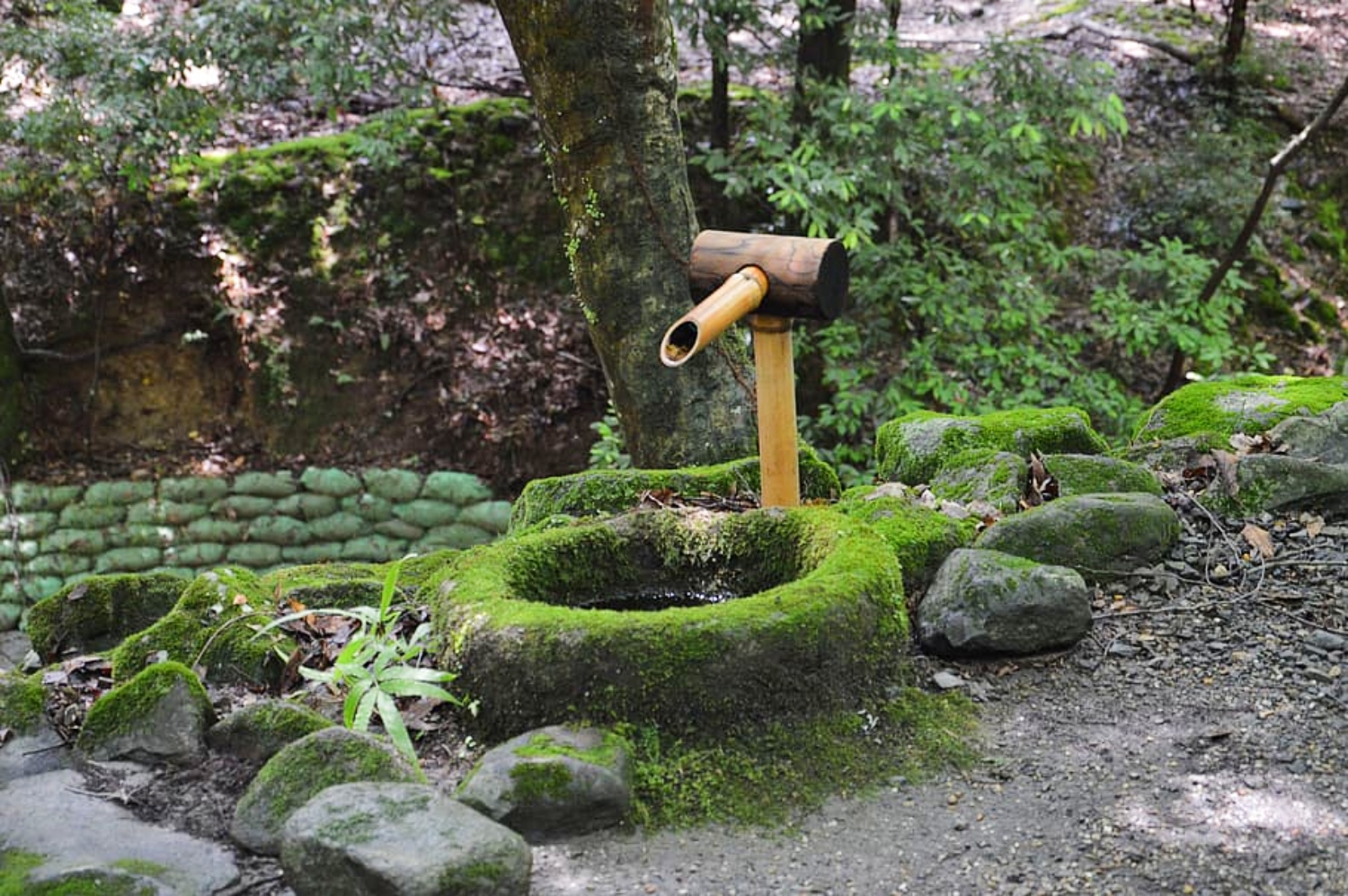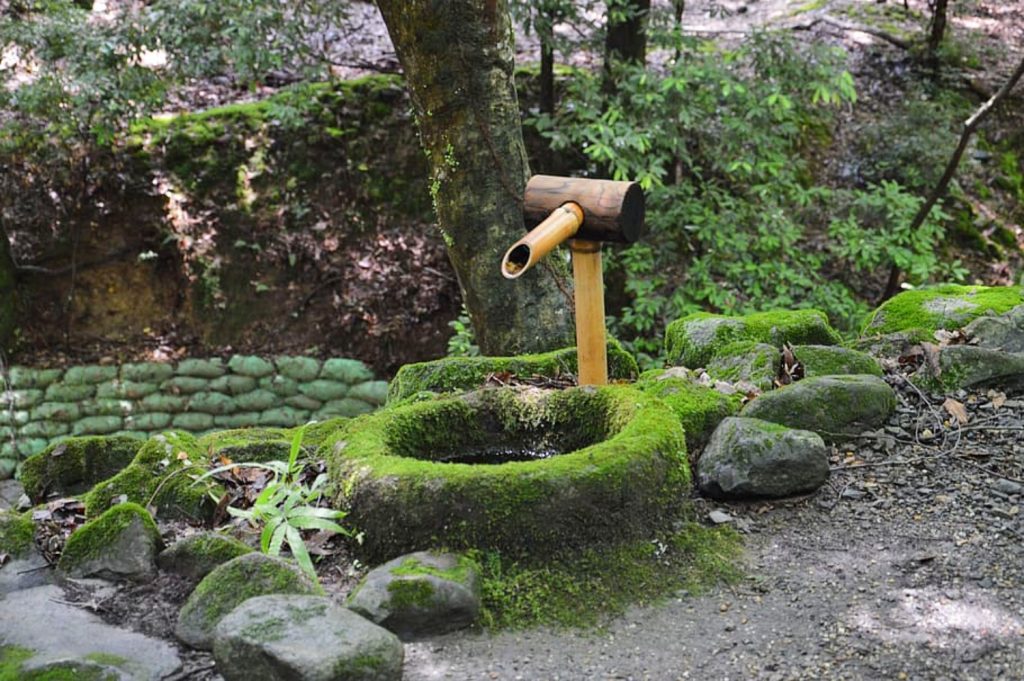 Cactus garden
If you're looking for small corner rock garden ideas because you want a gorgeous backyard, but you don't want picky plants that need to be babied constantly, then consider installing a cactus garden. Cacti have low water needs, obviously, and they can tolerate full sun. A cactus garden is perfect for anyone who travels and needs plants that can survive extended periods of neglect. They're also a great choice for southwest-style landscapes. Use gravel to create a bed for your cactus garden, and grow cacti of different sizes to add depth to the space. Beavertail, candelabra, and claret cup cacti are excellent choices for your corner rock cactus garden. Consider adding a cow skull to your corner cactus garden, to embrace that desert vibe.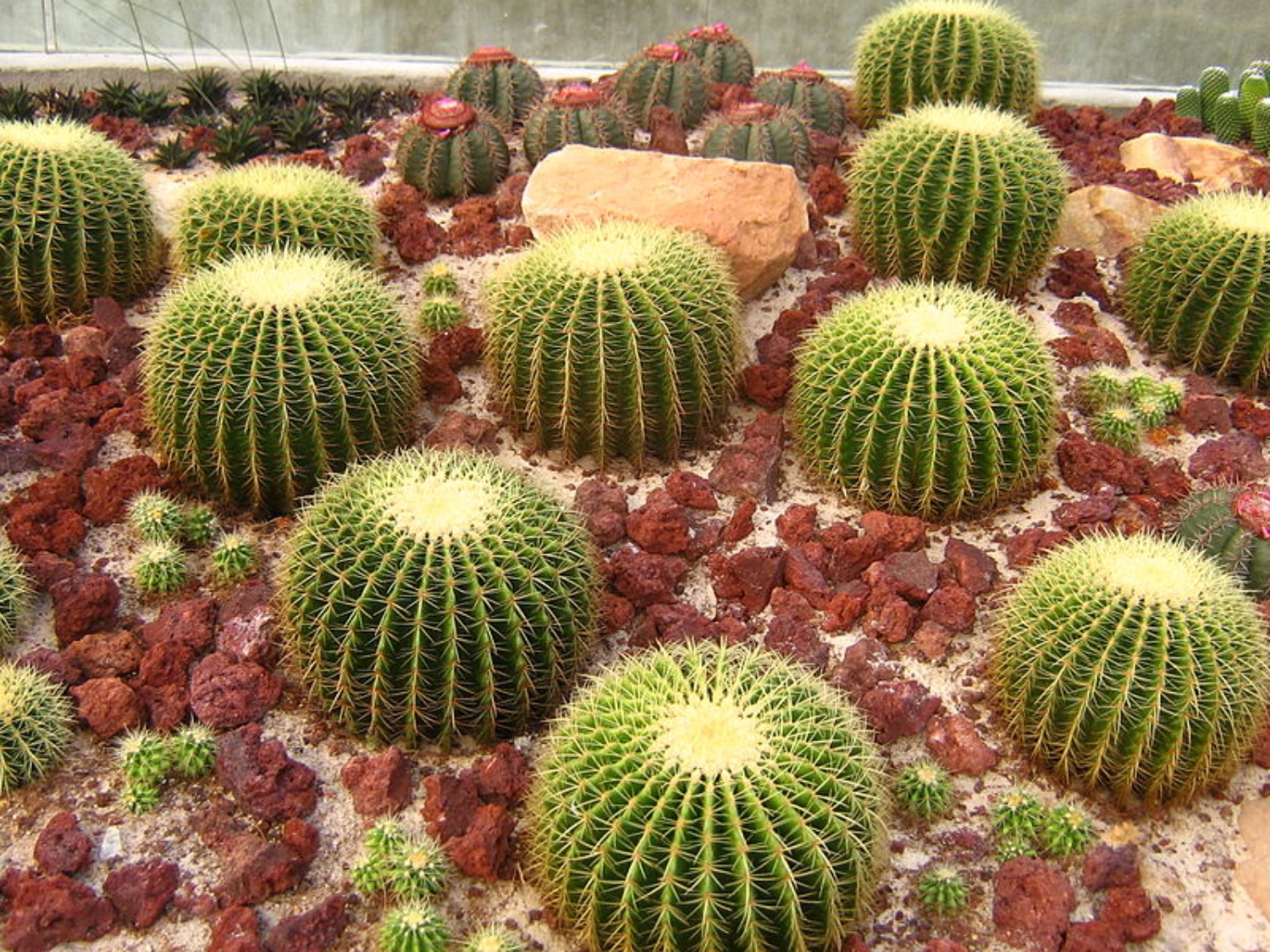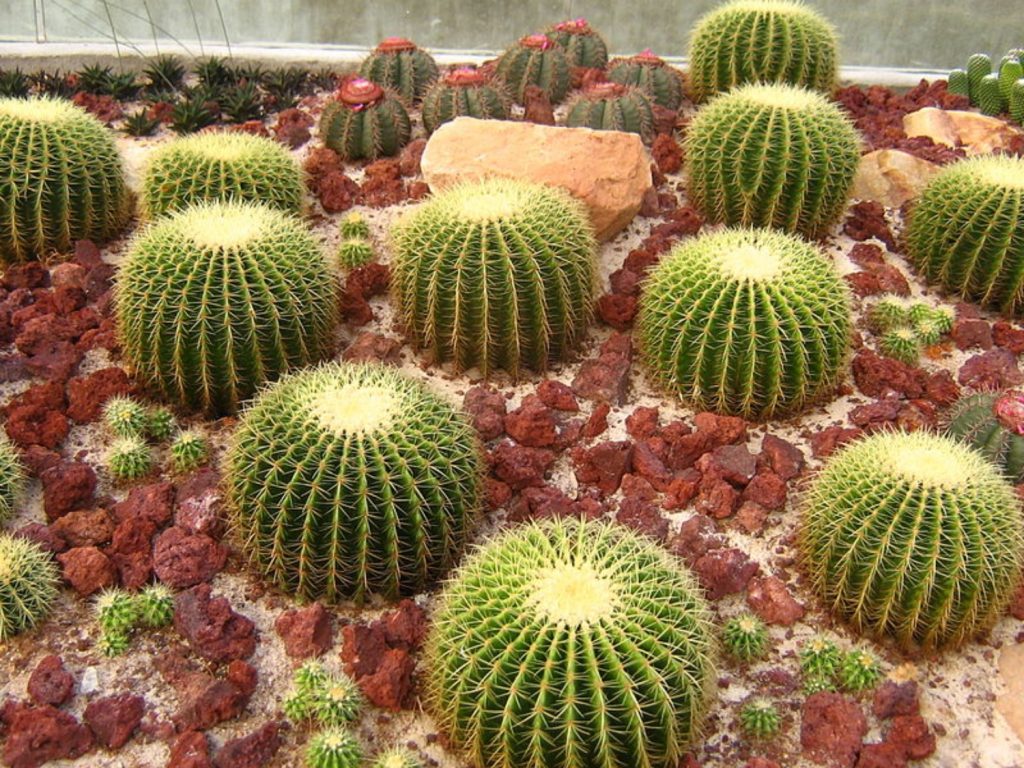 Build a cairn
A cairn is a pile of stones used as a marker. In prehistoric times, cairns were used to help travelers navigate and to memorialize people who lived in and events that took place in a certain area. Cairns are often used as trail markers and can vary in size and shape, ranging from small, conical structures, to huge hills. Cairns can be found throughout Europe, Africa, Asia, and here in America, too. Bring a little bit of history to your backyard by building your own cairn. Use rocks commonly found in your region for this small corner rock garden idea. Large pieces of petrified wood can also be used as a substitute if it's what you have on hand. Invite guests to add their own stones to your cairn, in keeping with the old Scottish blessing, "Cuiridh mi clach air do chàrn", which translates to "I'll put a stone on your stone".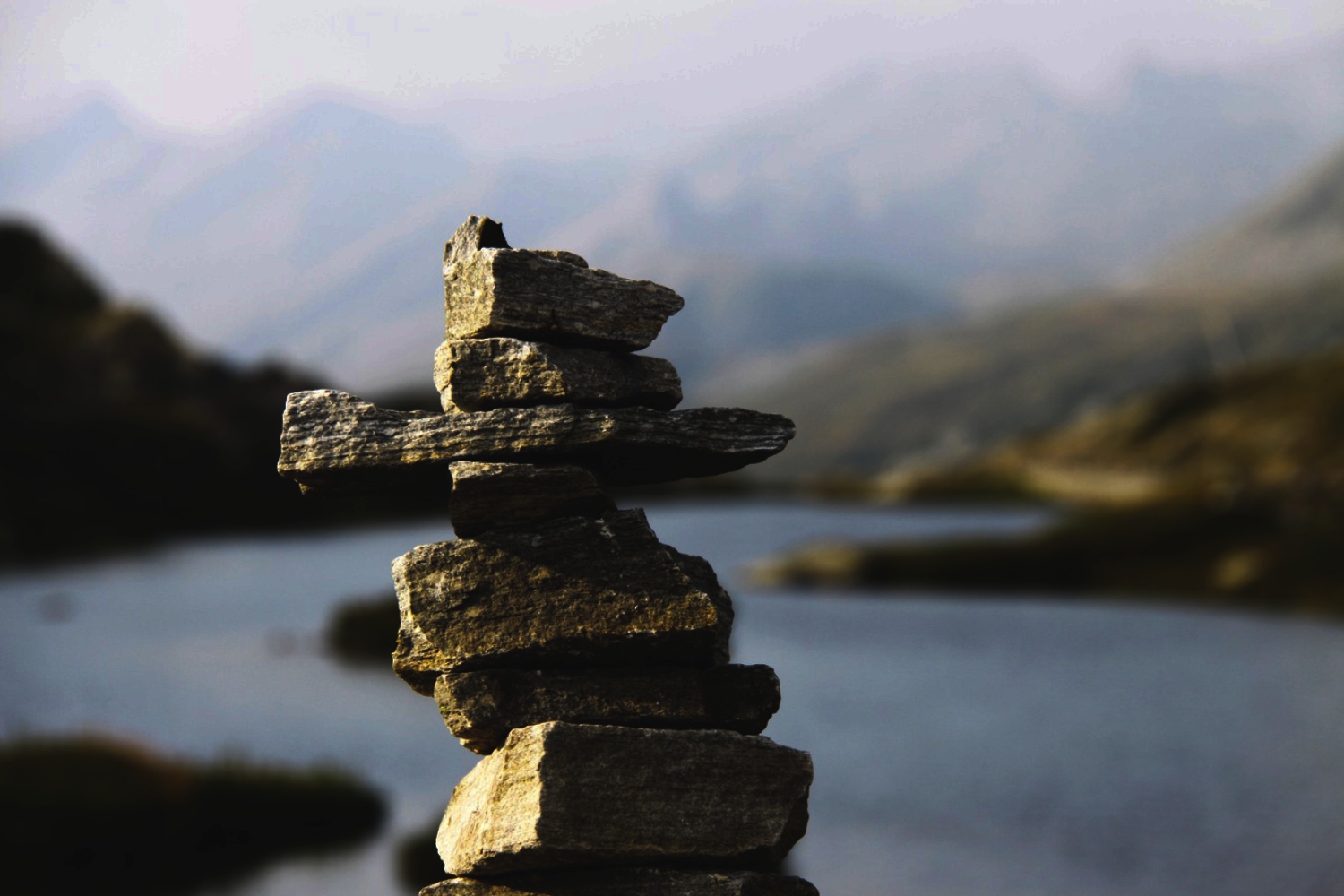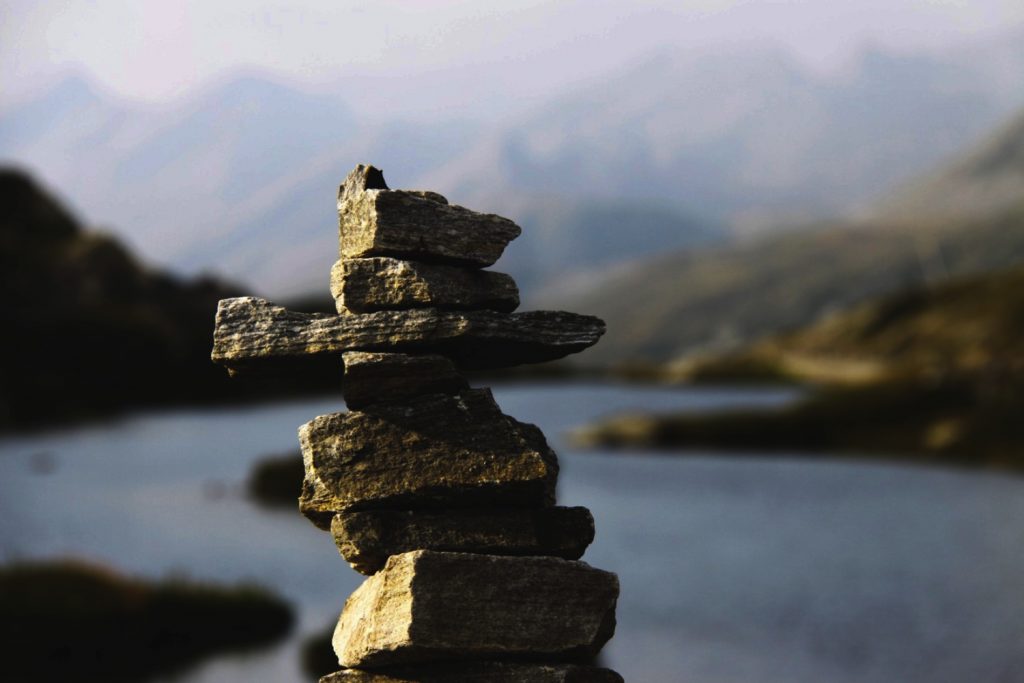 Spilled pot flower display
A gravel rock garden is so versatile. If cacti and succulents just aren't for you, try this small corner rock garden idea, instead. Set a pot on its side and grow annuals like marigolds, petunias, or zinnias in a wavy pattern from the pot outwards, as if paint had spilled from a tipped can. Spilled pot flower displays are a clever way to accent your rock garden bed, and they're an easy way to dress up the space. Set a birdbath nearby to attract butterflies and moths to the space. They'll love the splash of color!
Gravel bed with arbor
Adding a gravel bed to one of the corners of your backyard can drastically cut down on the size of your turf, which means you'll have significantly less to mow. And having fewer items on your to-do list is always a good thing. But if you still want to enjoy greenery in your backyard, why not install an arbor to your gravel bed and use it to grow vines? Grow fruits like passion fruit and watermelon, or select pollinator favorites like trumpet vine and morning glory, to cover the arbor in your rock garden. If you'd prefer to install a plain wood-post arbor, then attach hooks to the ends to hang flower baskets from, instead. Your local bees and butterflies will thank you!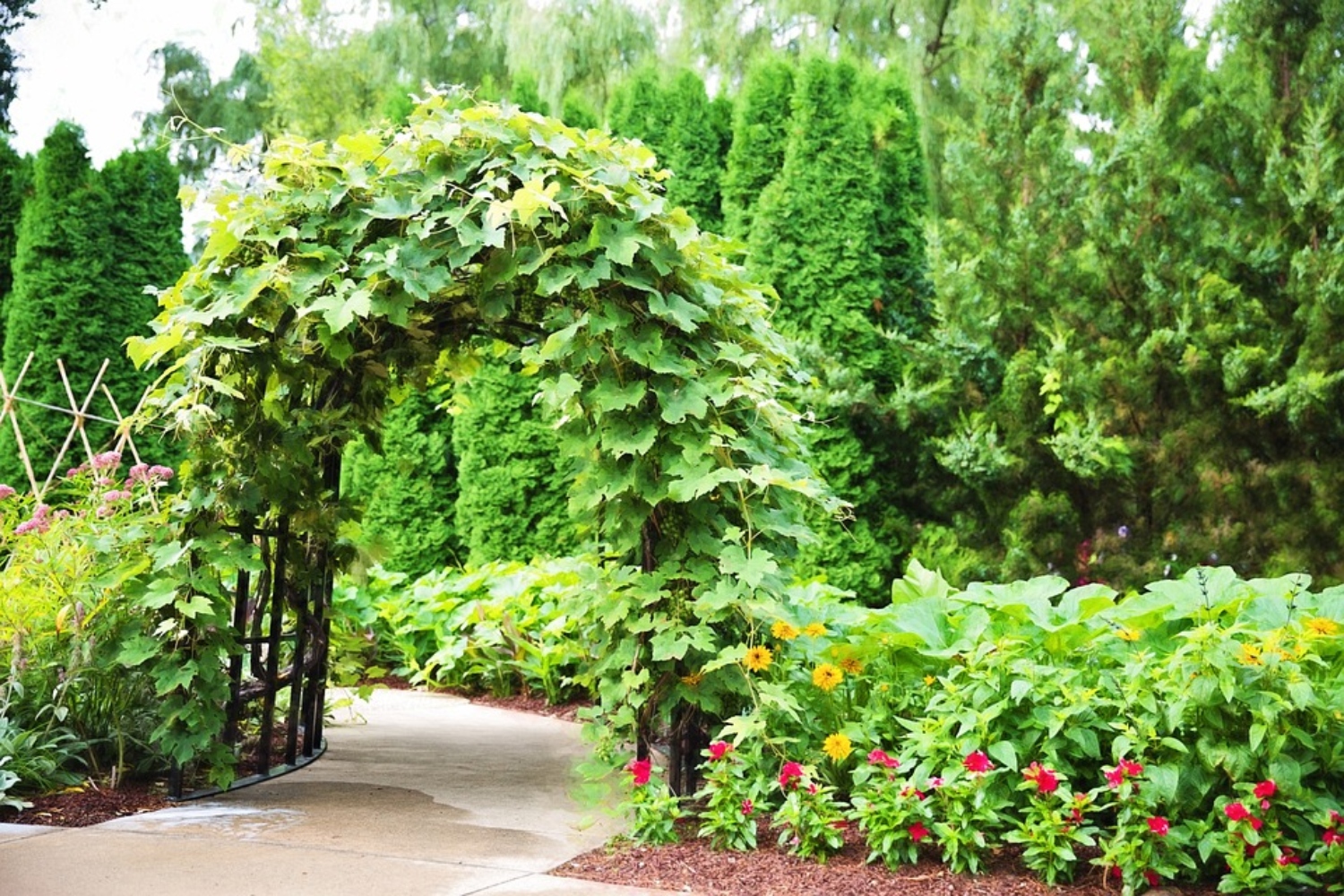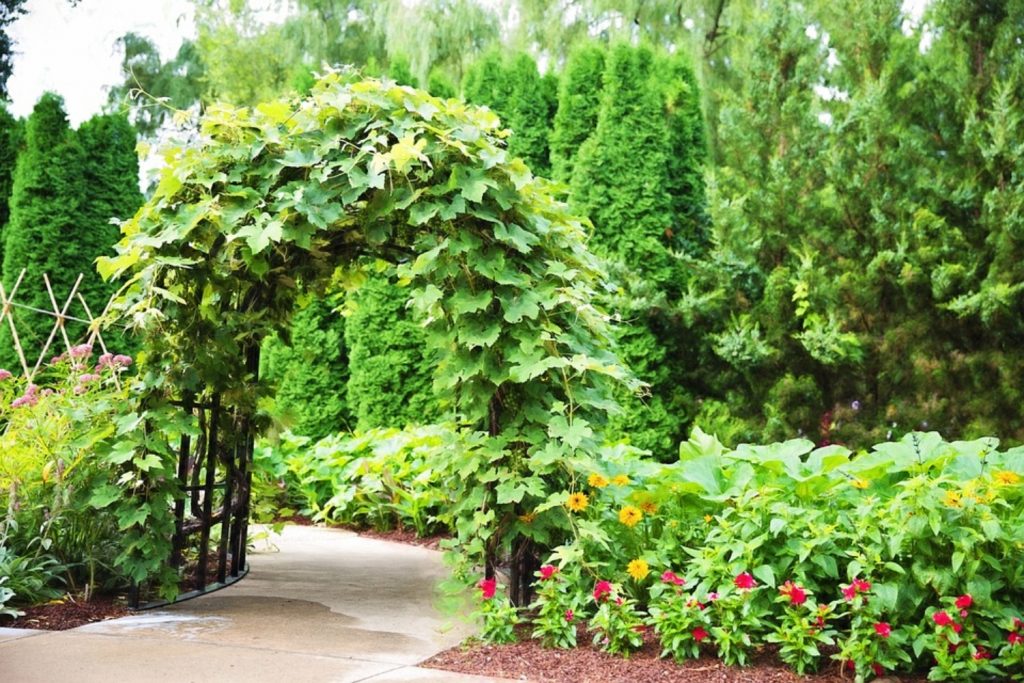 Miniature fairy garden
Add some whimsy to your backyard with this small corner rock garden idea. Make a raised bed for a spot in your backyard and fill it with gravel, or create a border to make a ground-level bed, instead. You can also purchase pots of varying sized and fill them with pebbles to create a suitable foundation. Once the base is ready, adorn your miniature fairy garden with bridges, tiny ponds, signs, furniture, and other fun decorations. You can even purchase fairy garden lights to illuminate your small corner rock garden at dusk. This is a great project to get your kids involved in gardening. You'll have fun shopping for new accessories for your fairy garden, and because the garden is in miniature form, it won't break the bank.
Antique finds display
One small corner rock garden idea is to create a display for your favorite antique finds. Make a gravel bed with stepping stones, interspersed with large rocks and potted plants. Then add old wagon wheels, milk cans, birdcages, and other weather-proof objects to the space. Old tubs and washbasins can be used as planters, while doors can be upcycled to create trellises for vining plants. Use old bricks to create a foundation for a large terra cotta saucer to use as a birdbath. Dedicate your small corner rock garden to all of your fun antique finds. And if you're looking for budget-friendly pieces to add to your collection, hit up the local flea market or scout out some garage sales for a great bargain.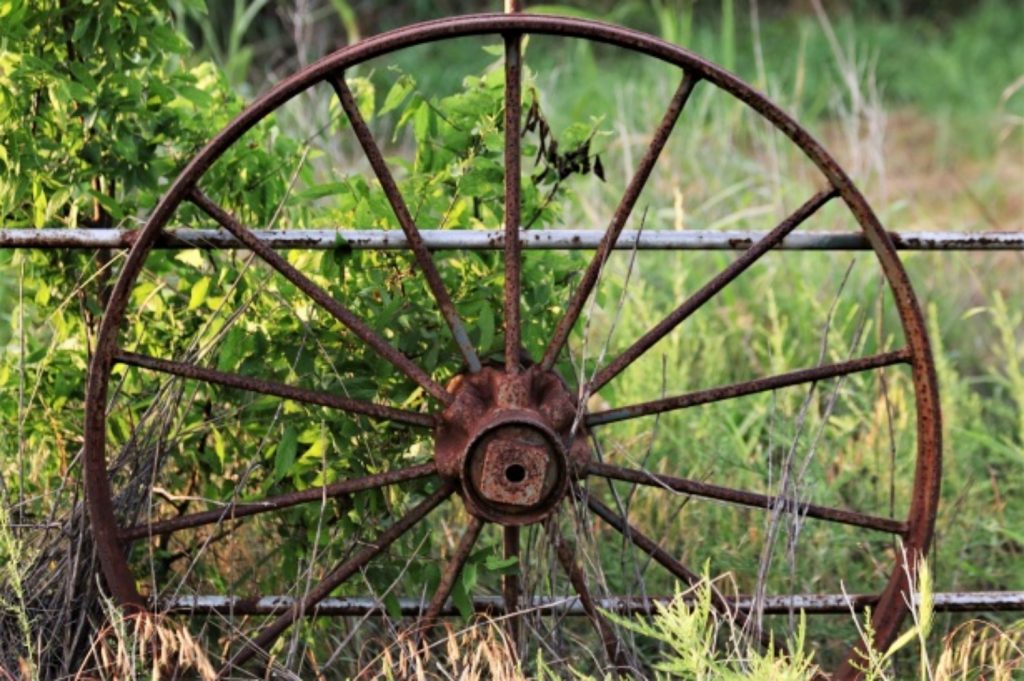 Wildflower pollinator garden
Use large rocks to create sectioned spaces for wildflowers. Coneflowers, black-eyed Susans, blanket flowers, oxeye daisies, and other afternoon sun-loving flowers will give your small corner rock garden a rustic, untouched feel, and your local pollinators will flock to the space in droves. Wildflowers provide bees and butterflies with an excellent source of pollen and nectar throughout the spring and summer. Giving your local pollinators plenty of foraging options has a profound impact on your local ecosystem, improving the health of your local environment from the ground up!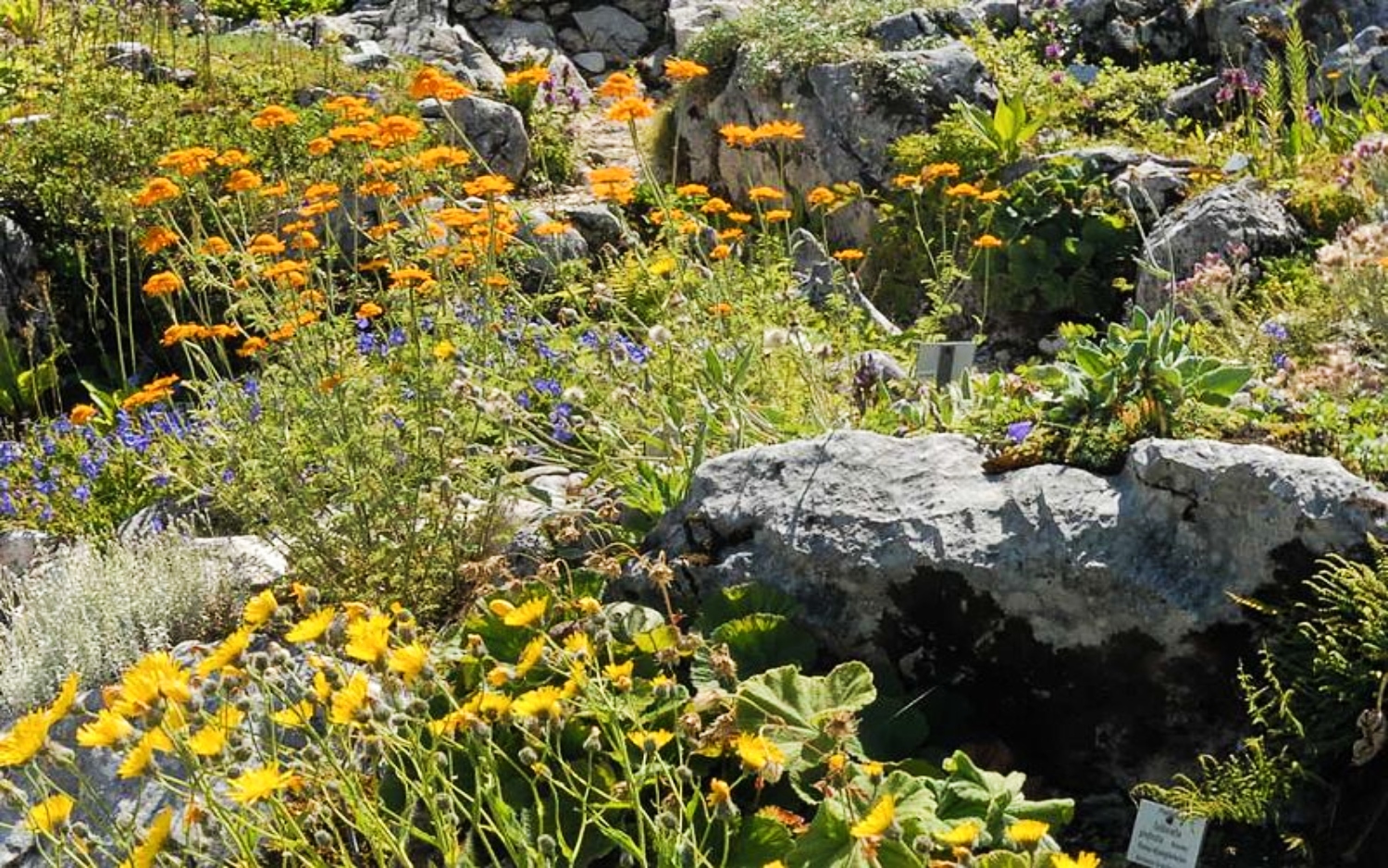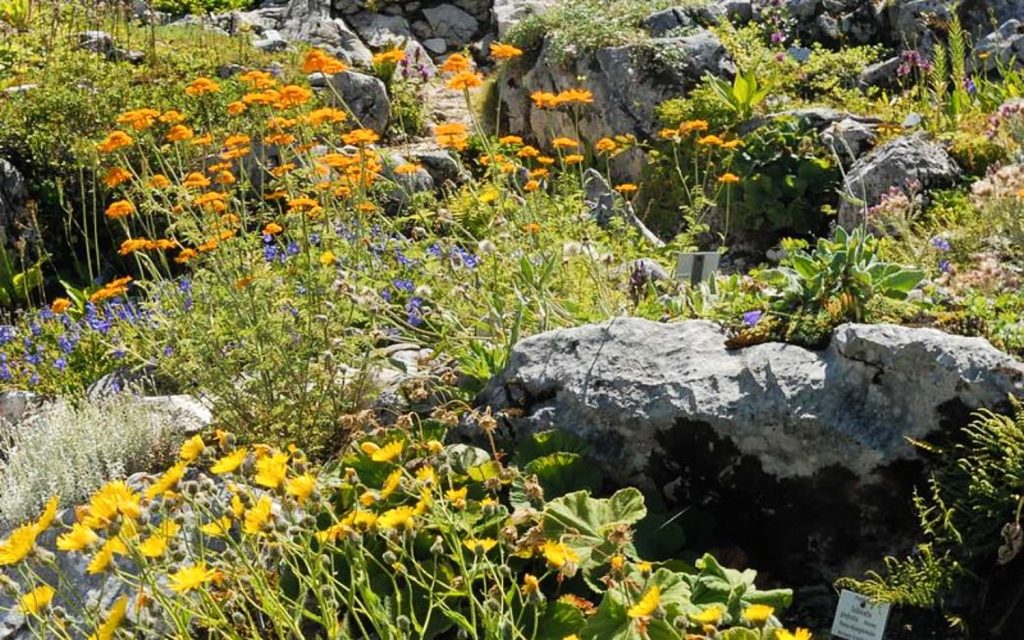 Driftwood garden decorations
Large pieces of driftwood make great decorations for a small corner rock garden. But logs found on hikes or in neighboring forests can be used, too. Railroad ties and landscape timbers can also be used to decorate your rock garden. Stack pieces of wood to create a base for a potted plant arrangement, or to set out treats for your local birds, like fresh strawberries and grape jelly. Adding wood to your rock garden incorporates another one of the elements of nature, which helps give your backyard an earthy vibe.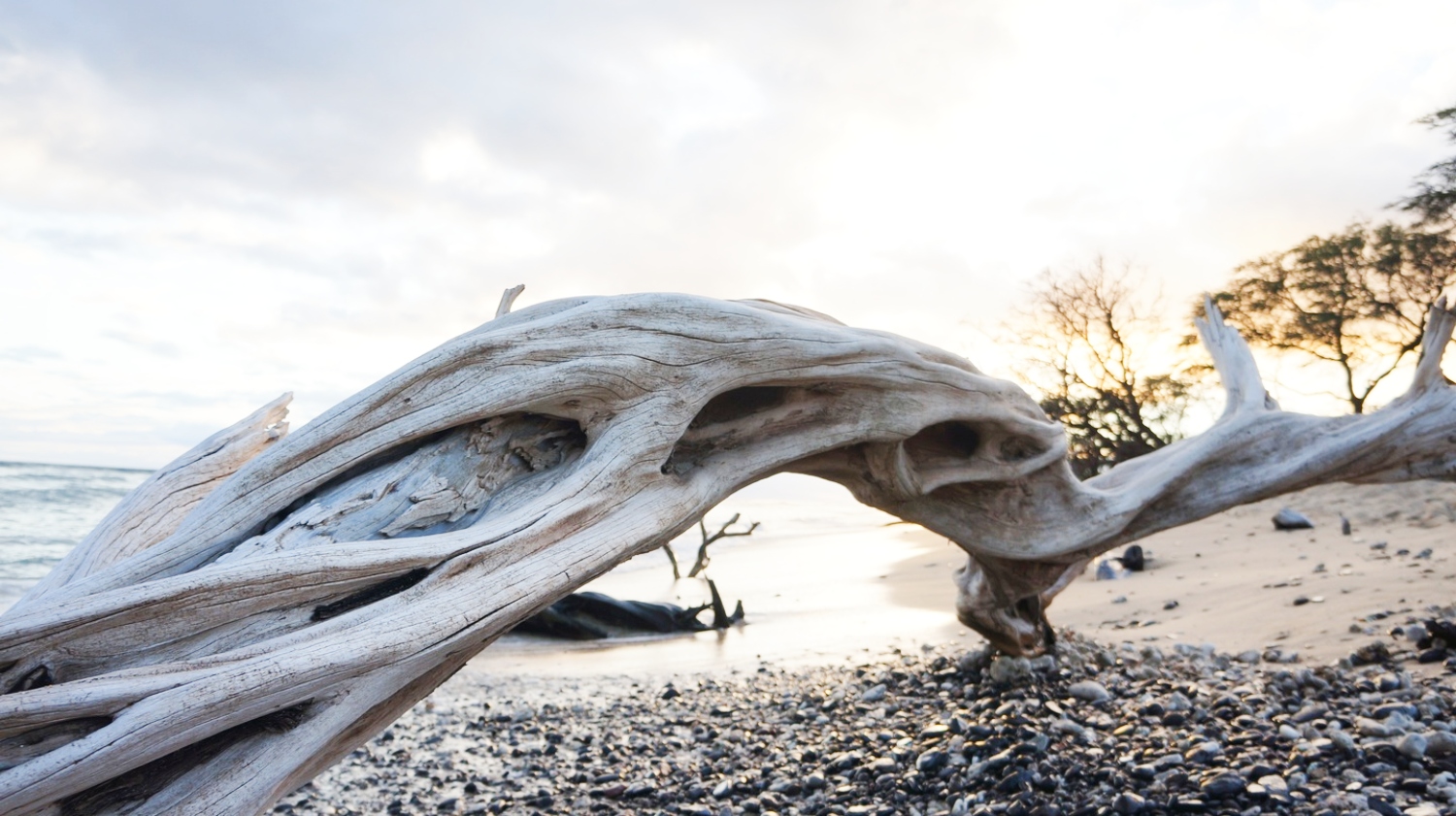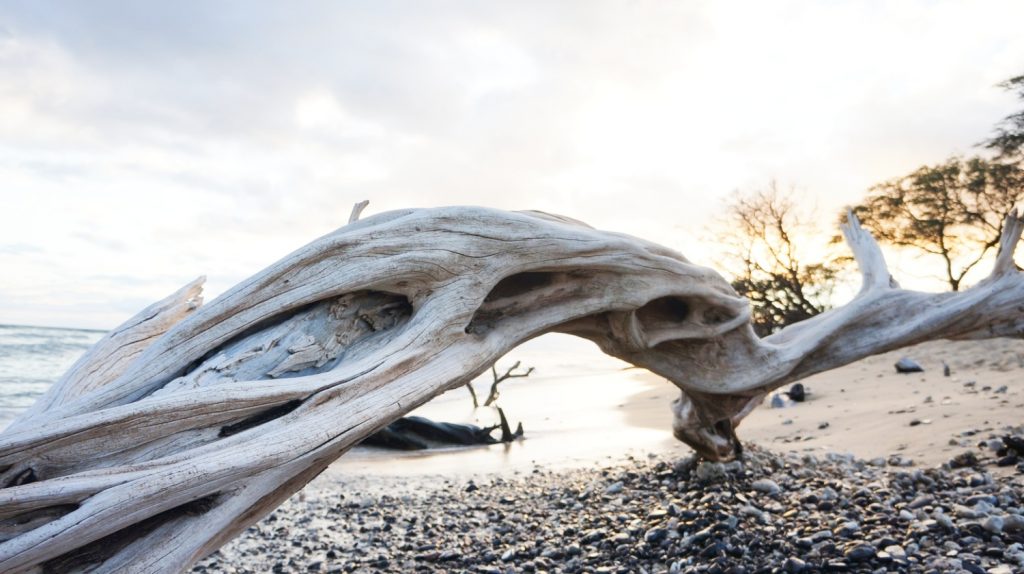 Retaining wall flower bed
If the corner of your backyard where you wish to install a rock garden is situated on an incline, then use stones to create a retaining wall flower bed. Fill the bed with traditional ornamental flowering shrubs, like azaleas and hydrangeas, and situate a few dwarf trees, like Japanese red maples, to add height to the space. Or consider using the flower bed to display your favorite cacti and succulents. This is a great solution for arid climates. A retaining wall will help with erosion control, so this small corner rock garden idea is especially useful for landscaping near the foundation of your home.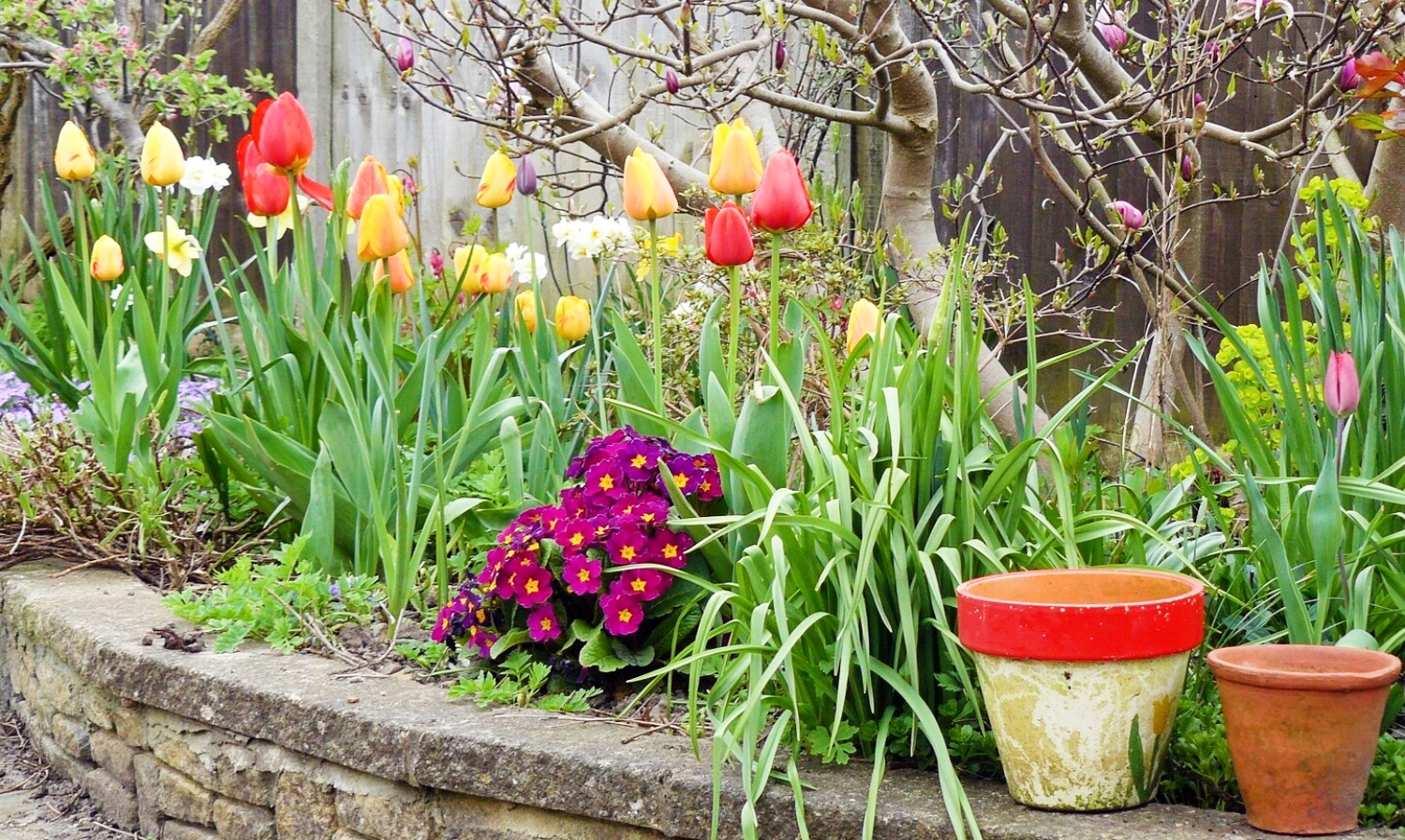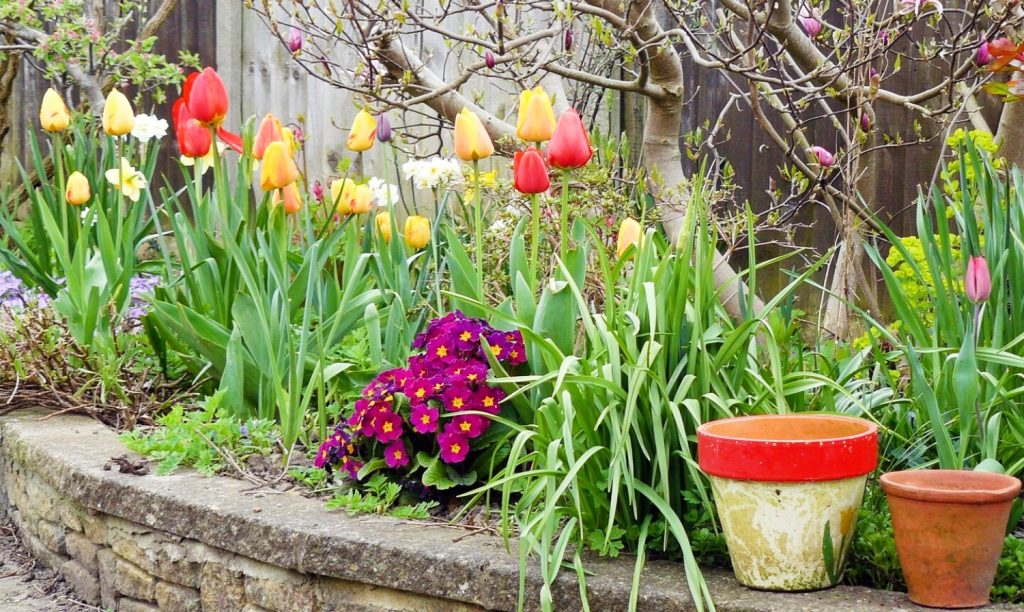 Install birdhouses on posts
If you're looking for a small corner rock garden idea that is ultra low-maintenance, set a few 4 X 4 posts at different heights, and use them to display birdhouses. You'll be providing your local cardinals, wrens, and sparrows with some free lodging, and you'll be able to decorate your rock garden without plants, so you won't have anything to take care of. Choose brightly colored birdhouses to give your garden a summery feel all year long, or opt for understated neutral birdhouses that are stained or painted gray, white, or green for a nature-inspired display that adds subtle contrast.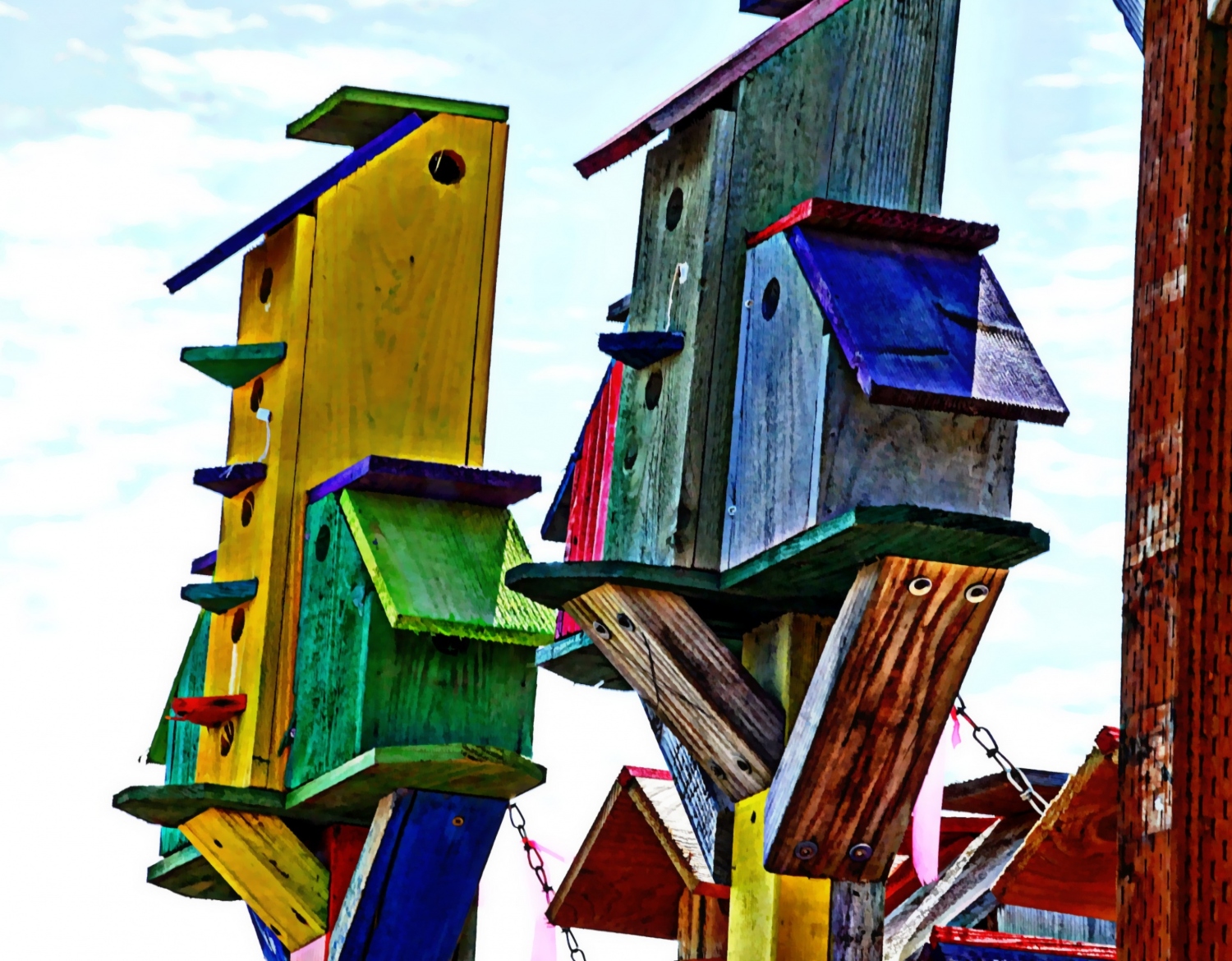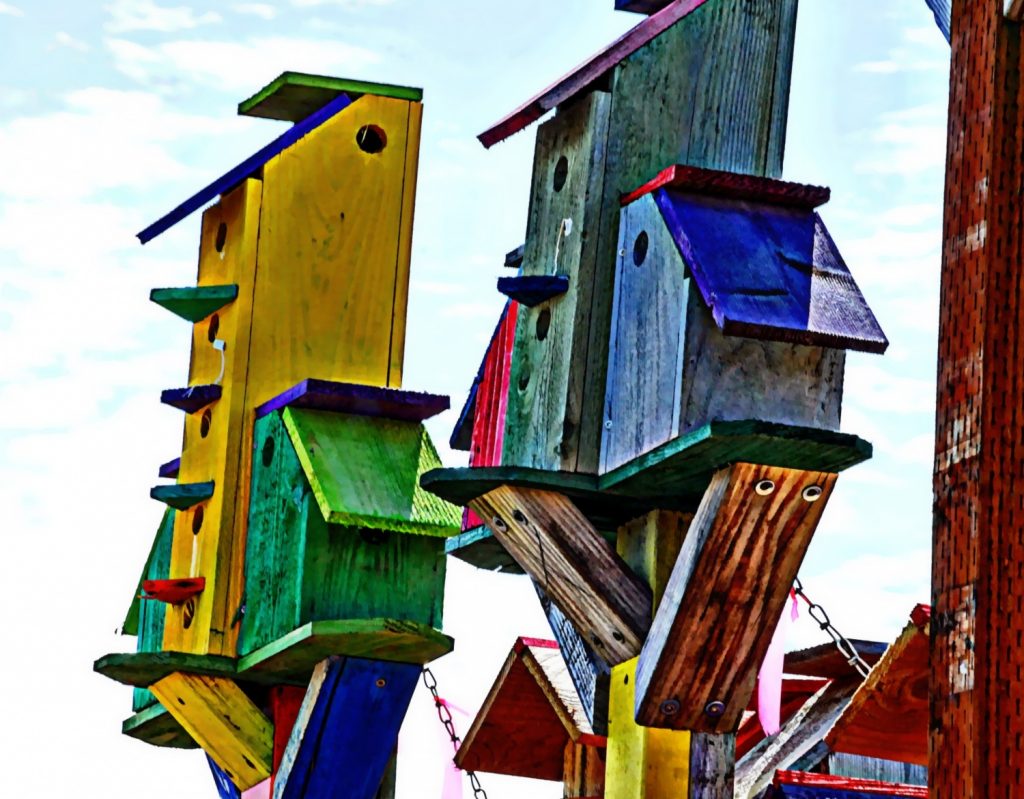 Rocky herb garden
Sun-loving Mediterranean herbs like rosemary, lavender, thyme, and sage are perfect for rock gardens because they grow best in well-draining soils. Create a small herb garden in one corner of your backyard, and use polished rocks or gravel to fill in between the plants. When your herbs flower from spring to fall, they'll provide food for pollinating insects. And you'll be able to enjoy fresh sprigs of your favorite culinary herbs whenever you want them, which can make all the difference in your cooking. For shady rock gardens with moist soils, consider growing mint instead. This fast-growing herb thrives in damp, low-light conditions, and with more than 600 varieties available, there are plenty of options to choose from!
Tips for creating a successful rock garden
Rock gardens are a budget-friendly solution for small spaces. To keep things as cost-effective as possible, purchase gravel and rocks from local sources. For very small spaces, a few bags of rocks from a hobby store should suffice. Use your imagination when decorating your rock garden, and don't be afraid to use the pots, planters, birdhouses, and other decorations that you have on hand. If you're unsure of which flowers to choose for your landscape, you can't go wrong with native plants.
With a little ingenuity, you can turn that boring corner of your backyard into something beautiful thanks to these amazing small corner rock garden ideas.