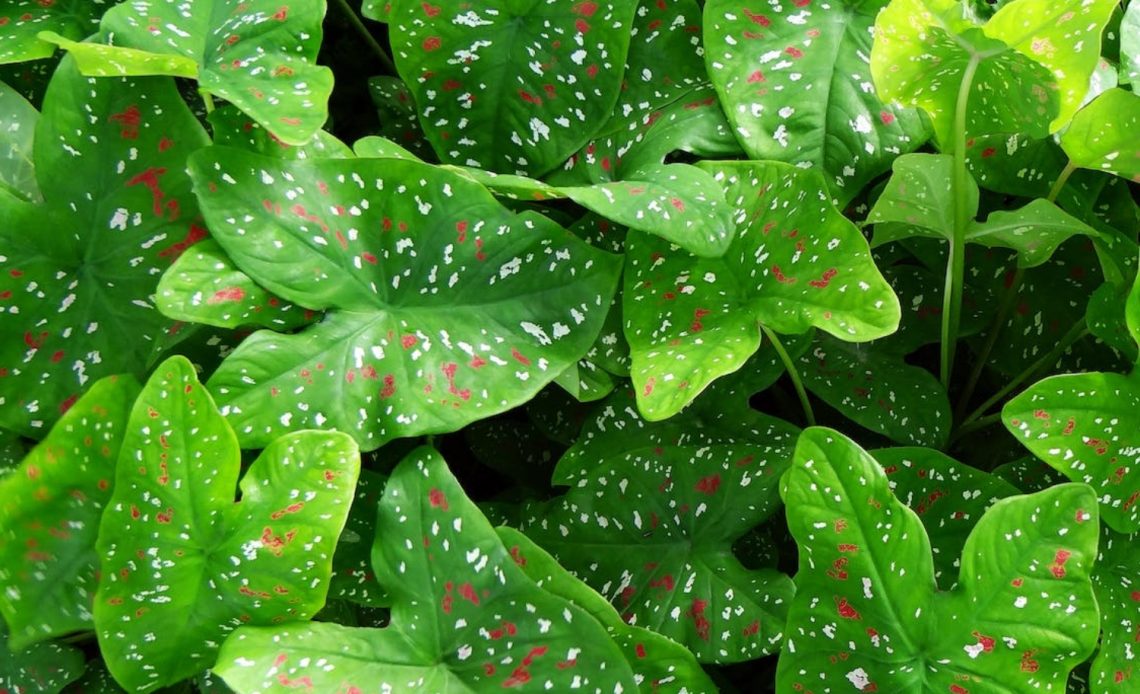 We're here to help! Wild Yards is a completely free website that is 100% dedicated to helping you create a wildlife-friendly, sustainable yard. Read more
WildYards is reader-supported. When you buy a product through a link on our site, we may earn a comission. Every product is independently selected by our (obsessive) editors and our reviews are unbiased and objective. Read more about our mission or our privacy policy.
If you're looking for a plant with unique foliage, look no further than the elephant ear.
With over 200 cultivars to choose from, elephant ear plants feature large, heart-shaped leaves, making them an eye-catching showpiece for any garden.
Elephant ears are the perfect choice of greenery for backyards, especially if you're going for a tropical feel.
They also work well when grown alongside ferns in a Japanese-inspired zen garden.
You can use elephant ears to pad out your flower beds. But which elephant ear plant types should you choose? Here are 12 of our favorite cultivars for your landscaping.
'Black Magic' and 'Black Coral' cultivars produce stunning purple-black foliage perfect for dramatic landscapes. 'Hilo Beauty', 'Illustris', and 'Lime Zinger' are three green varieties that work well in a variety of gardens.
12 Beautiful elephant ear plants for your garden
Greenery adds color and texture to your outdoor space and the elephant ear plant's large foliage is certainly an eye-catcher.
Of course, not all elephant ears are created equal! With so many different cultivars to choose from, it can be difficult narrowing down your options.
Fortunately, we've done all of the hard work for you!
Check out these 12 gorgeous elephant ear varieties that will turn your backyard into a tropical oasis.
Illustris
Deep green leaves covered in a black patina with vibrant green veins, the Illustris elephant ear is an annual variety that grows between 3 and 5 feet tall.
Hardy from zones 8 through 11, Illustris grows quickly in full to partial sun. Giving the plants plenty of sunlight enhances their stunning coloring.
The Illustris cultivar is well-suited to landscaping, but thanks to its upright growth habit, it can be grown in large pots, too.
This elephant ear is an excellent companion for other container-friendly plants, like sweet potato vine, caladiums, and dwarf Mexican petunias.
The Illustris elephant ear is as easy to care for as it is to look at. Feed the plants a nitrogen-rich organic fertilizer every 6 to 8 weeks, water them well, and watch them grow!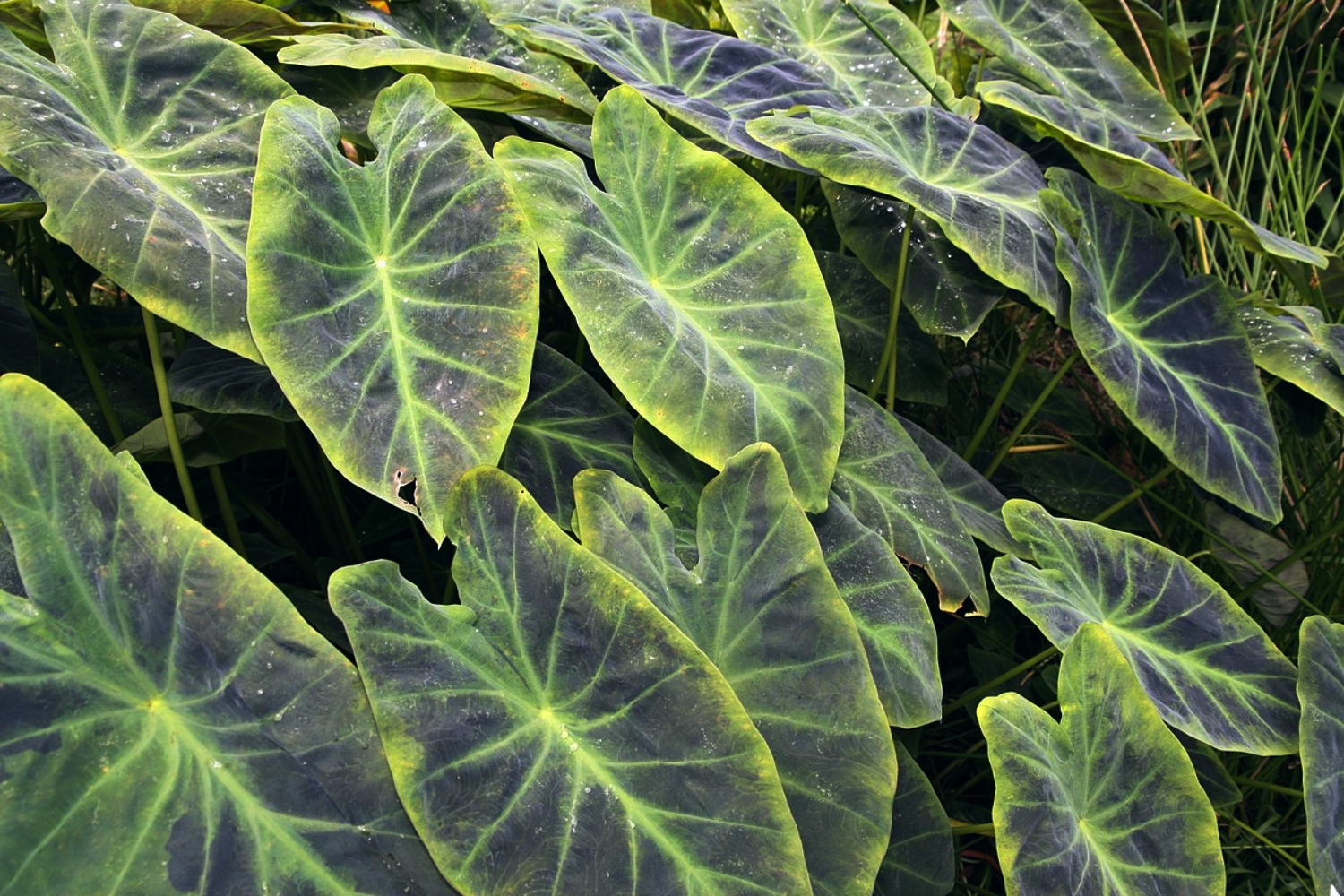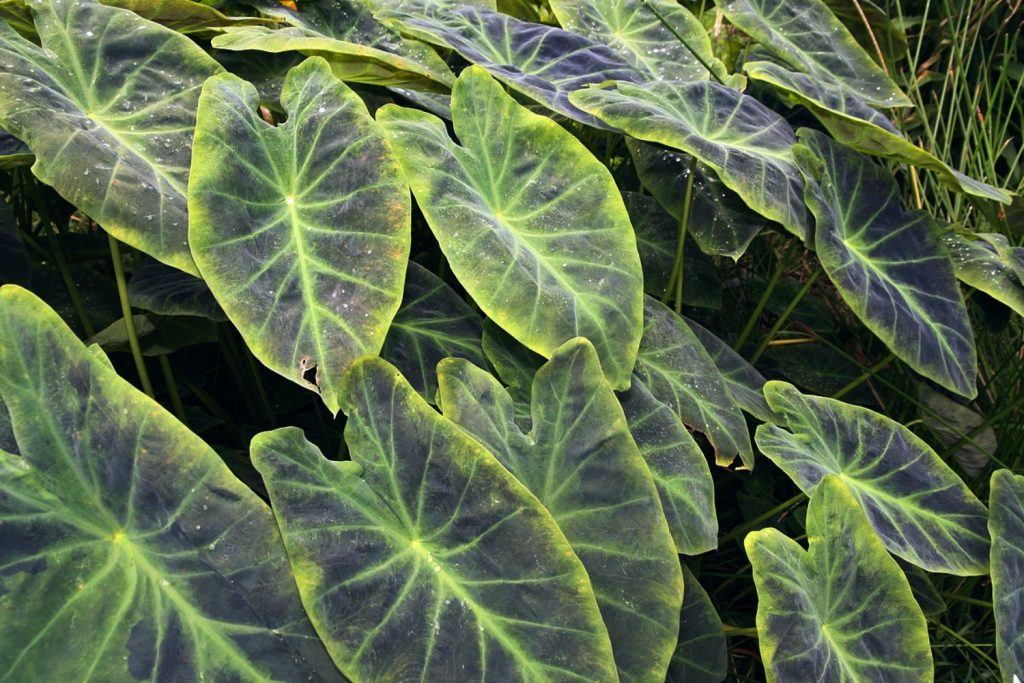 Hawaiian Punch
The Hawaiian Punch is just the elephant ear you need to transform your backyard into a tropical paradise. Use this handsome cultivar to dress up that new in-ground pool.
Hawaiian Punch is a colorful variety that produces lovely green foliage with rhubarb-red stems. It's perfect if you want to add a pop of color to your landscape.
This elephant ear is easy to grow, thriving from zones 7 through 11. Plants grow fast and quite tall, measuring 2 to 4 feet at maturity.
Keep your Hawaiian Punch elephant ears in full to partial sun. Giving the plants 6 or more hours of sunlight helps them maintain their vivid coloring.
While this cultivar can't survive the cold winters of the northern climate, Hawaiian Punch can be grown as a perennial in warmer environments, so you can enjoy this plant's beauty for years to come.
Thailand Giant
With blue-gray leaves that measure up to 5 feet long by 4 feet wide in ideal circumstances, "giant" doesn't even begin to describe this elephant ear cultivar!
The Thailand Giant is definitely a statement plant, perfect for those boring corners of your backyard that are begging to be dressed up.
While most elephant ear plant types require moist, loamy soils, the Thailand Giant needs better drainage than most.
If your garden's soil is on the sandy side, this cultivar is more likely to thrive in those conditions — as long as you amend your soil with some compost or manure, first.
The Thailand Giant is hardy from zones 8 through 11.
In cooler growing zones, these elephant ears can't survive the harsh freezes. But they have no trouble surviving mild winters.
Grow your Thailand Giant along your fenceline to dress it up and dampen the noise from your neighbors. Frogs and toads just love the protection the foliage provides, so you'll be doing your part to support local wildlife, too!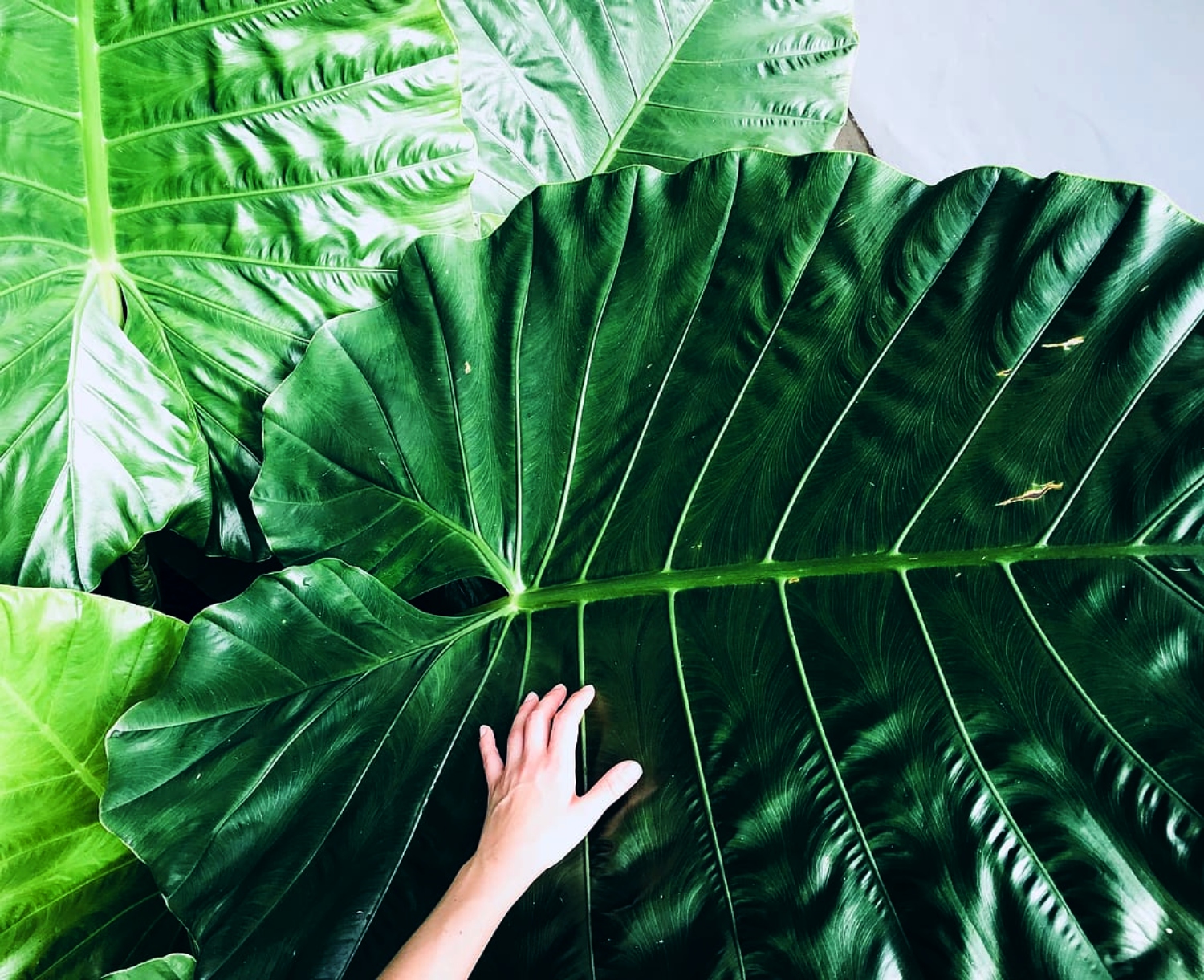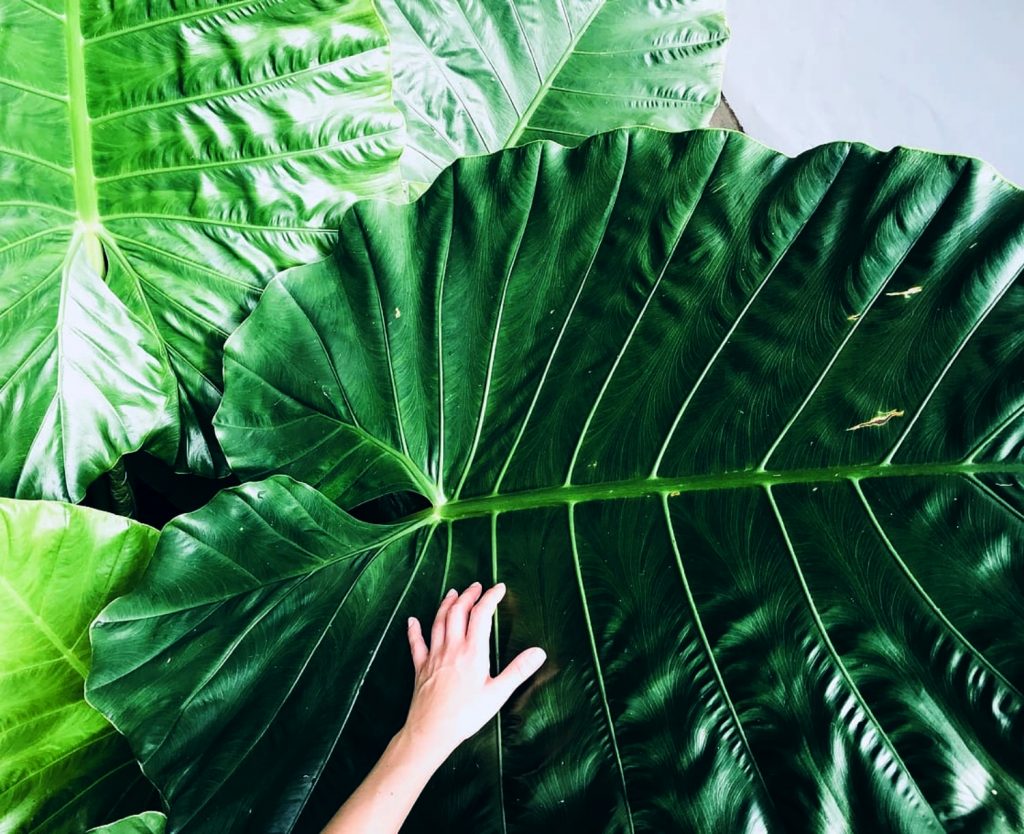 Hilo Beauty
If you want your elephant ears to stand out from surrounding plants, choose Hilo Beauty.
This cultivar produces large heart-shaped leaves that are bright kelly green and covered in pale green blotches, giving them a painted appearance.
The Hilo Beauty grows best in bright, indirect sunlight. It's an ideal choice for those hard-to-landscape places beneath tree canopies.
This elephant ear is often grown as a houseplant, because of its stunning foliage and low-maintenance nature.
This is an elephant ear that appreciates moist soils, as long as they are well-draining. If you notice your elephant ear's leaves drooping, then you've probably overwatered it.
Plants are hardy from zones 9 through 11. Elephant ears are fast growers and are considered to be invasive. Hilo Beauties can reach 4 feet tall by as many feet wide in ideal conditions.
Use the Hilo Beauty to dress up large pots and raised flower beds, or to add a dash of color around your koi pond.
Black Magic
Green elephant ear types are stunning, there's no two ways about it. But the Black Magic cultivar's black leaves will take your breath away.
This elephant ear cultivar was the first to have purple-black leaves. Black Magic elephant ears are impossible to miss, and the perfect finishing touch for your shady backyard zen garden.
The Black Magic's dusty matte appearance gives the plant an ethereal quality. It fits right in with woodland landscapes and fairy gardens, too.
Grow your Black Magic in loose, loamy soils that stay moist, and the plants will quickly reach their maximum size of 6 feet tall by as many feet wide.
This cultivar is also capable of surviving in sandy to clay-rich soils, though it will not grow as quickly.
Black Magic elephant ears are hardy from zones 7 through 11. Plants are grown as annuals in cooler regions and as perennials in warmer zones.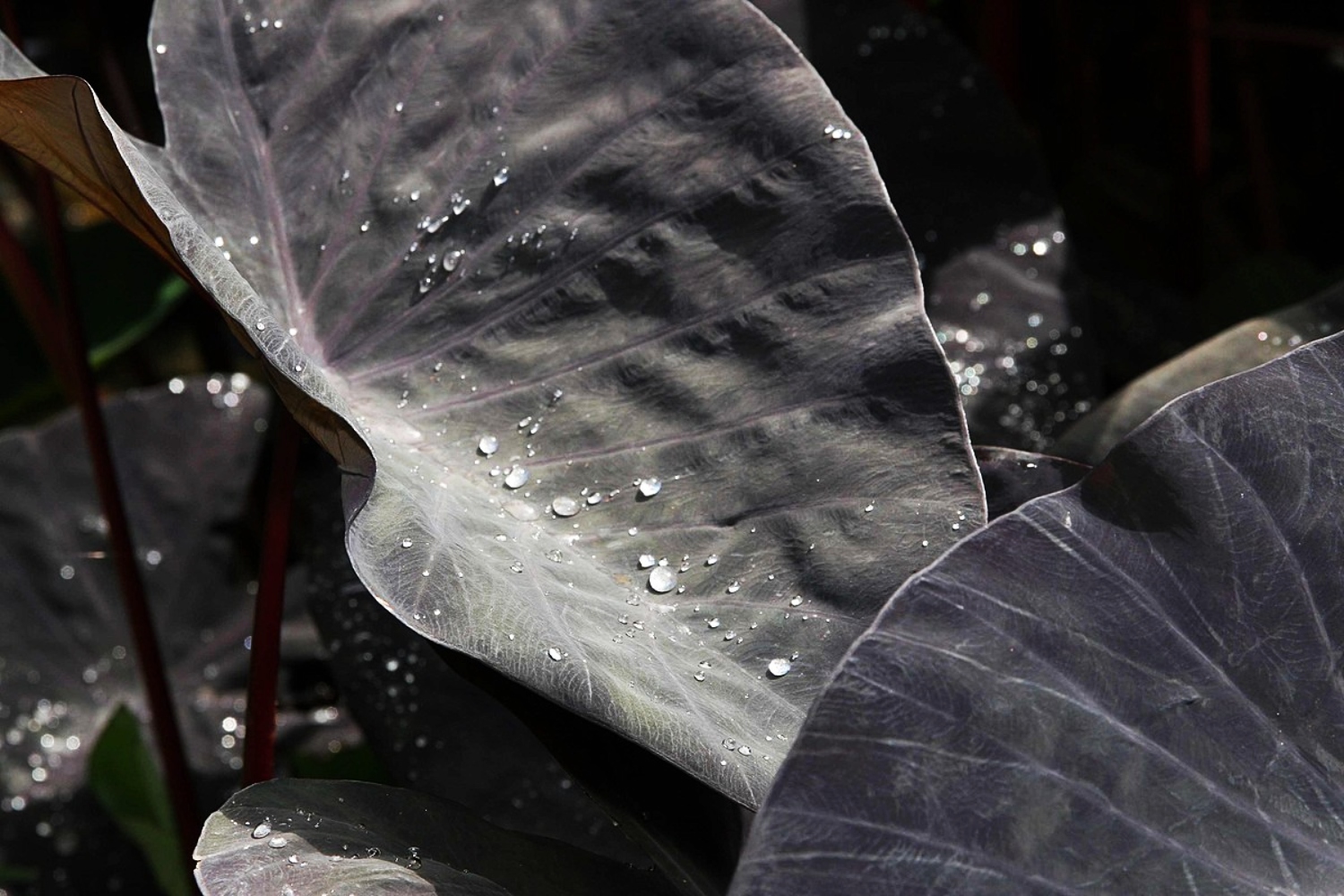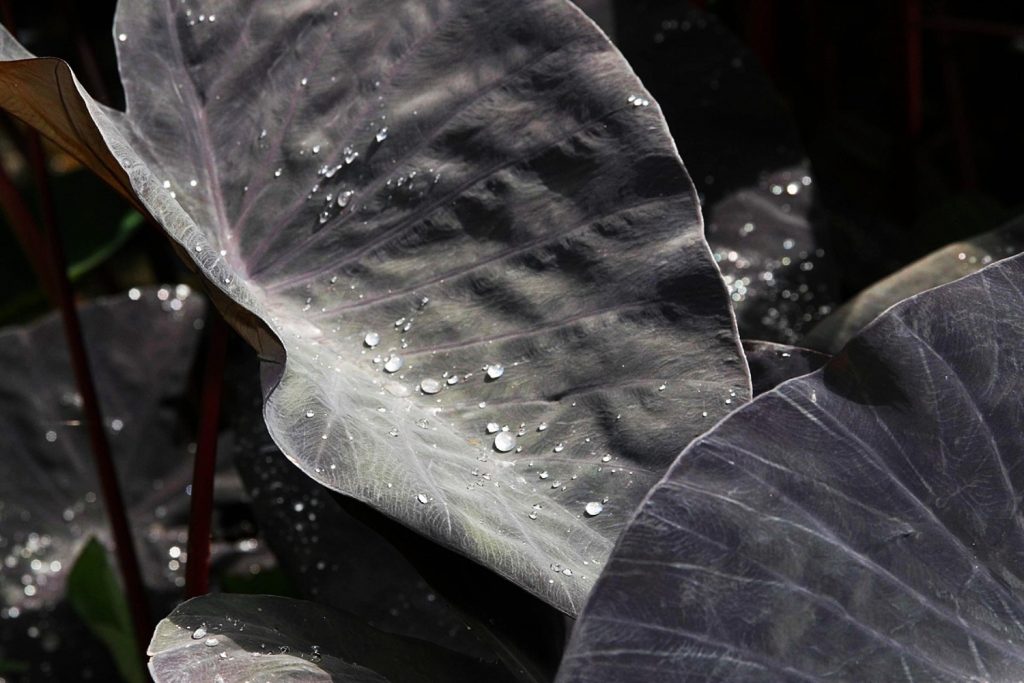 Lime Zinger
Lime Zinger looks a lot like sweet potato vine but with an upright growth habit. These plants can grow much, much larger by comparison, spreading outward 3 feet and upward 4 feet.
The plant's compact nature makes it just as well-suited to container gardening as it is to growing in the flower beds of your backyard garden.
As its name suggests, the Lime Zinger cultivar produces lovely lime-green leaves, adding a shock of vivid color to drab, boring flower beds.
As with most other elephant ear varieties, Lime Zinger can survive mild winters but is an annual in cold regions.
Plants are hardy from zones 8 through 10.
Grow Lime Zinger in one large cluster to create a focal point, or use it to pad out your flower beds.
This cultivar pairs beautifully with bright open-faced flowers like lantana, salvia, and purple coneflower.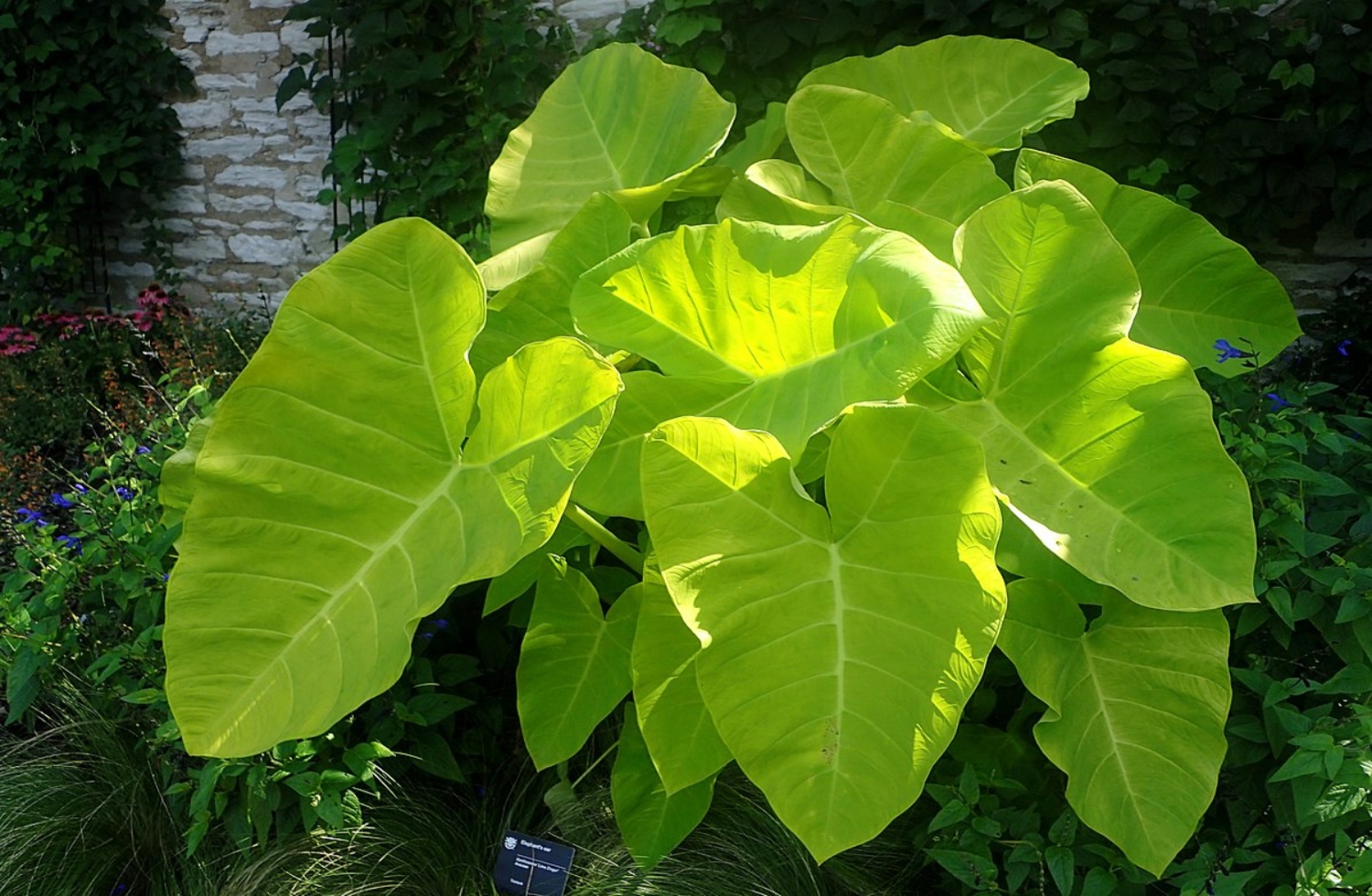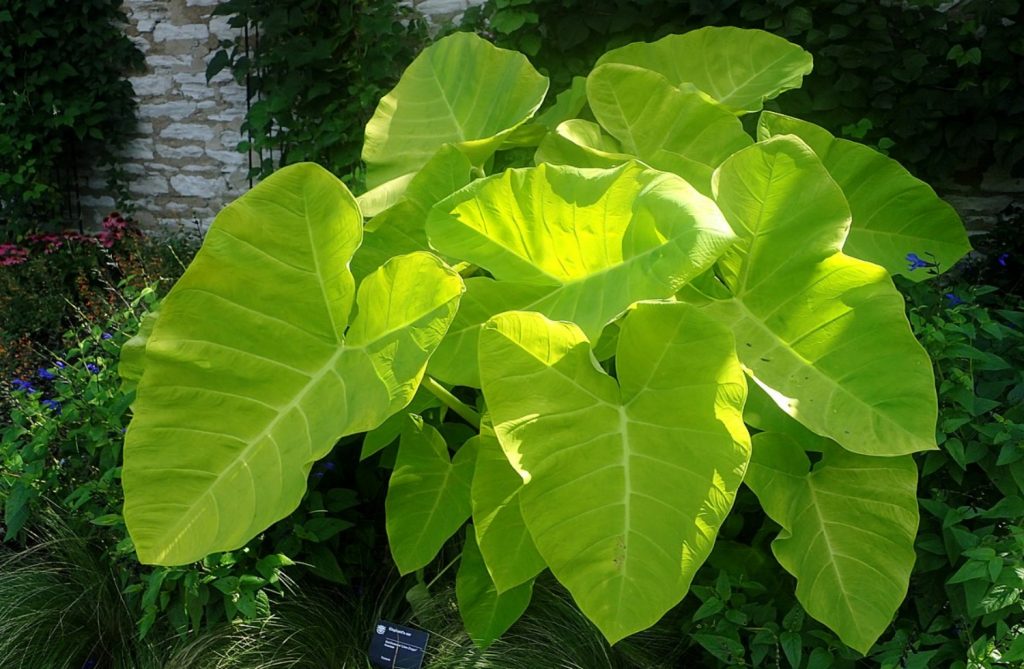 Giant Taro
If you live in zones 9 through 11, consider planting the Giant Taro elephant ear type in your garden.
This evergreen perennial adds year-round color to southern gardens and is a summery addition to gardens in cooler growing zones.
The Giant Taro's large size (plants measure 6 feet tall by 4 feet wide at maturity) means it's best to plant it in your landscaping.
Each of the plant's leaves sprouts from the center of the plant, growing straight up, like an arrow.
The Giant Taro's crinkled foliage is both dramatic and inviting, softening the edges of your garden with a border of yellow-green.
This cultivar thrives in partial sunlight, has average water needs, and is adaptable to less-fertile soil types, like sand and clay.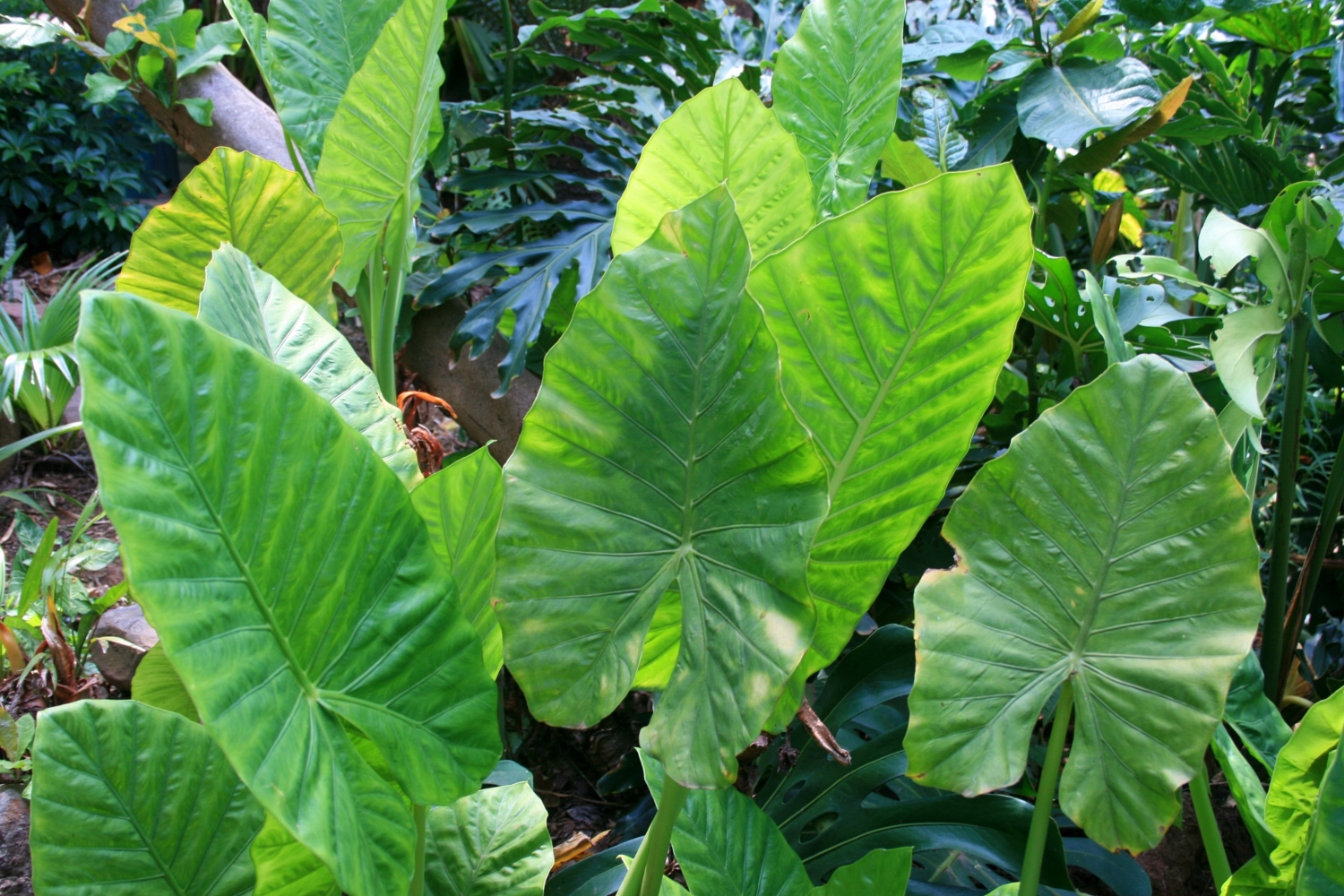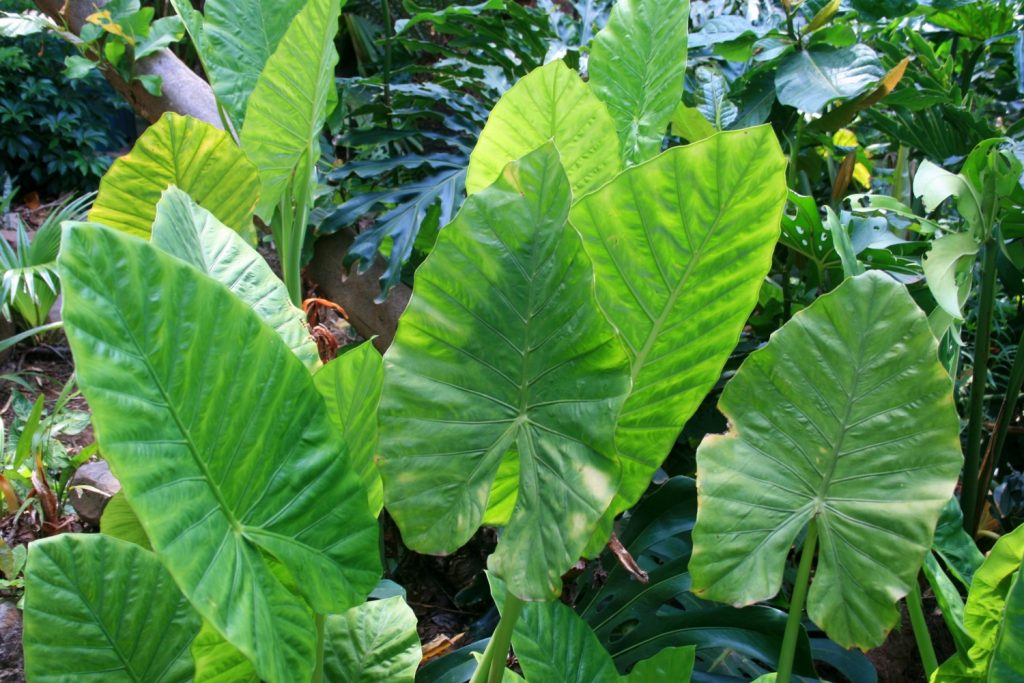 Bikini Tini
This plant's large, cup-shaped leaves collect rainwater and provide the perfect resting place for the butterflies, bees, and moths that visit your garden.
Add Bikini Tini to your pollinator-friendly flower beds, and you won't be disappointed!
This elephant ear cultivar's bright green leaves really stand out thanks to its deep purple, almost black, stems.
The Bikini Tini elephant ear is a perennial, growing from zones 7 through 11. Like other elephant ears, Bikini Tini is sensitive to the cold. You'll need to cover the plants during frosts to help the plants survive winter.
At its biggest, the Bikini Tini measures 7 feet tall by 3 feet wide. These plants are great for filling big expanses, providing the other plants in your landscaping with an elegant backdrop.
Of course, you can also keep this cultivar in pots. Like other elephant ears, Bikini Tini is easy to propagate from cuttings. 
It's worth noting that the foliage of Bikini Tini (and other elephant ear cultivars, for that matter) can be toxic when ingested. So keep your elephant ears out of reach of children and pets.
Dragon Scale
Here's another interesting elephant ear type that's worth considering. Dragon Scale is one elephant ear that you have to see to believe.
This plant's huge, embossed leaves are unlike any foliage you've ever seen. Deep green veins pop against the bright green mottling, adding unusual contrast to the other foliage in your landscaping.
In the ground, this cultivar can reach 2 feet tall with a spread of around 4 feet.
Their relatively compact growth habit makes them a popular choice of houseplant as well. The Dragon Scale's unique appearance makes it a welcome addition to your indoor garden.
Keep your reptile-like Dragon Scale in moist yet well-draining soil. Be sure to feed the plants every 4 to 8 weeks using an organic fertilizer to keep their stunning foliage in tip-top shape.
The Dragon Scale is hardy from zones 9 through 11 and thrives in bright, indirect sunlight.
Black Coral
You expect big leaves from a plant that's called "elephant ear". But Black Coral's leaves are larger than life.
The Black Coral's purple leaves are so deep in color that they read as black. And their color isn't the only interesting thing about them.
Plants produce corrugated foliage with a glossy finish that makes them impossible to miss.
Black Coral adds a brilliant contrast to other elephant ear cultivars, particularly smaller, greener varieties, like Lime Zinger.
Use Black Coral to landscape around Japanese Red Maple trees. Or plant them giant urns to add height to your flower beds.
Black Coral is hardy from zones 8 through 11.
Plants grow quickest in loamy, moist, well-draining soil, where they grow quickly. At maturity, plants can reach 5 feet tall by 4 feet wide.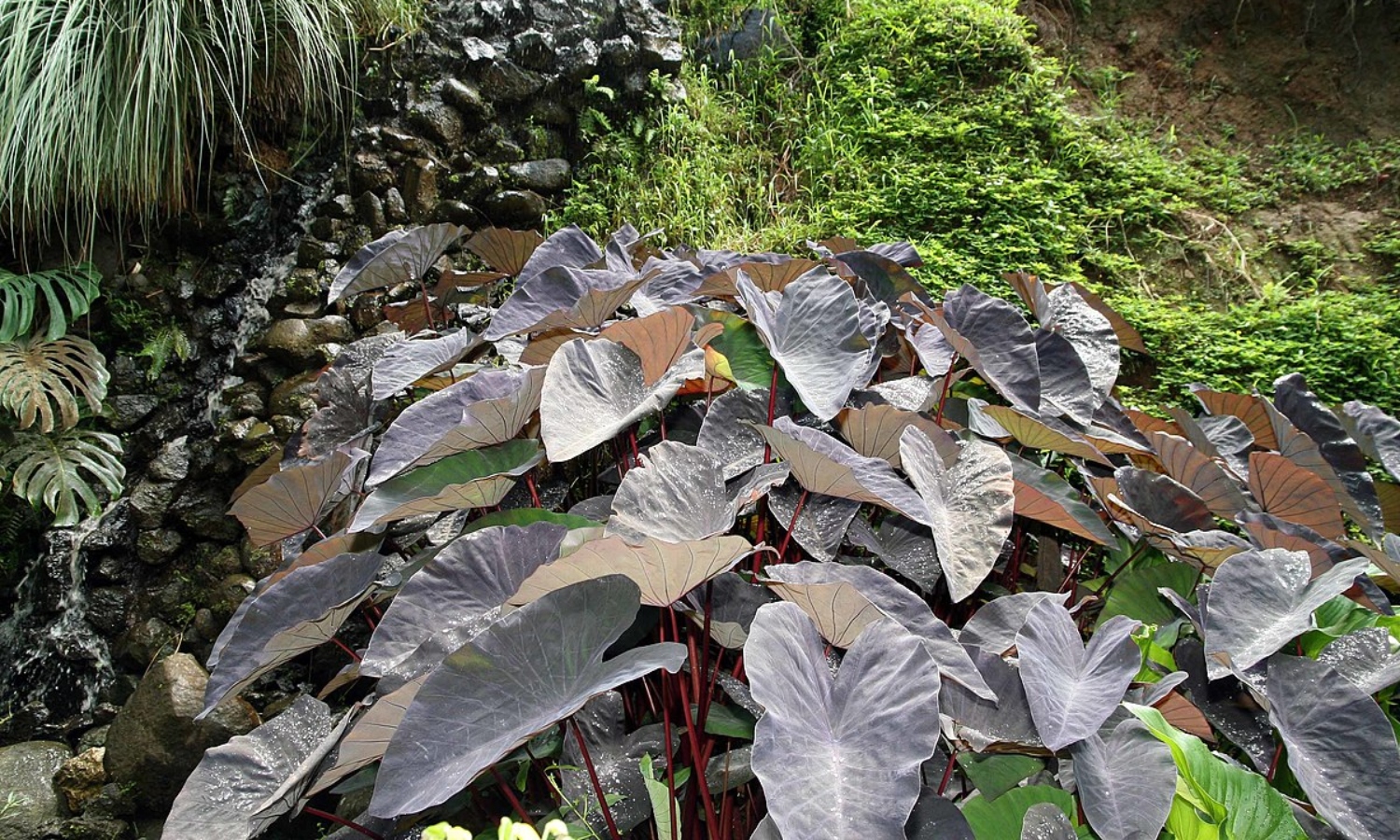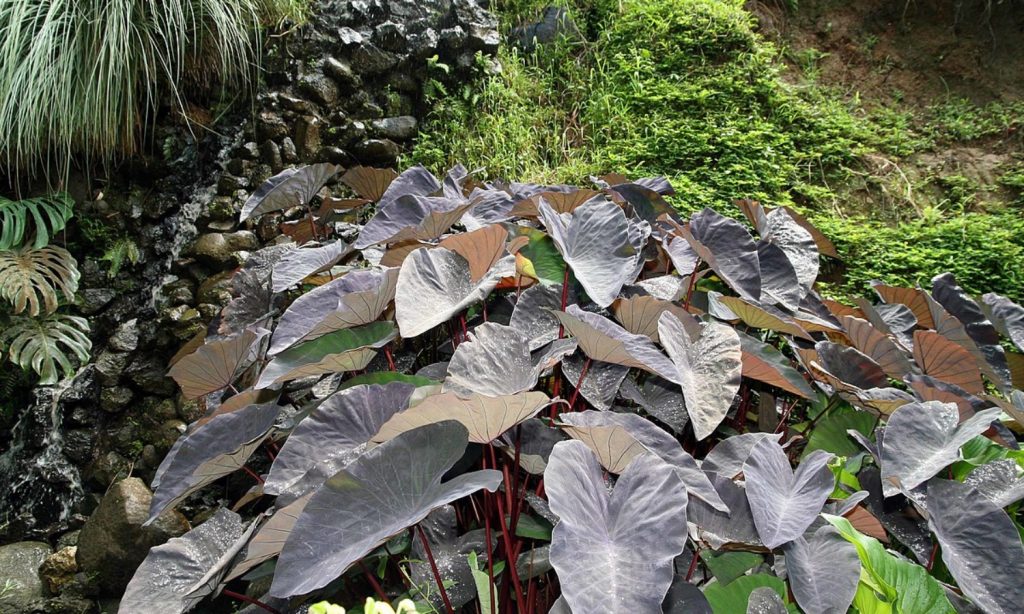 Nancy's Revenge
We don't know who Nancy is, or what ticked her off. But if you're in love with green elephant ears, and you're looking for something with a little more "oomph", Nancy's Revenge is just what you need.
Nancy's Revenge starts out an understated, unassuming green color.
But as the season progresses, the plant's leaves develop a characteristic buttery yellow streak along the center veining, eventually spreading into a Y shape.
Grow this cultivar in bright filtered light, or in the morning sun and dappled afternoon shade.
These plants are massive. Nancy's Revenge can grow up to 8 feet tall with a spread of 4 feet.
Grow this elephant ear type as a companion for daylilies, hostas, and ferns. Plants are hardy from zones 8 through 11 and should be protected from frosts over the winter.
Tiny Dancer
If you're a fan of all sorts of elephant ear types, check out the Tiny Dancer cultivar, it couldn't be cuter.
Adorably small, heart-shaped leaves stick out from the tips of long, snake-like stems. The Tiny Dancer cultivar is perfect for adding height to low-growing flower beds and fits perfectly into tight corners.
Plant Tiny Dancer in full to partial sunlight and in loamy, moist, well-draining soil.
This plant thrives in warm environments and can be grown as a perennial in zones 9 through 11.
This is a smaller cultivar. Mature Tiny Dancer elephant ears only reach around 3 to 3 1/1 feet tall by 2 feet wide.
Plants have a clumping growth habit, similar to irises and lilies. They also grow well alongside these types of plants because they share the same growing requirements.
Tips for growing different elephant ear types in your landscaping
Elephant ears don't produce showy flowers, but their foliage alone is enough to attract attention.
Choose different elephant ear cultivars of varying shapes, sizes, and colors to add contrast to your backyard.
Plant a large variety, like Giant Taro, to create a backdrop for the other plants in your landscaping, or to mask your wooden privacy fence.
Mixing and matching elephant ear types is a wonderful (and easy) way to make your backyard more interesting!