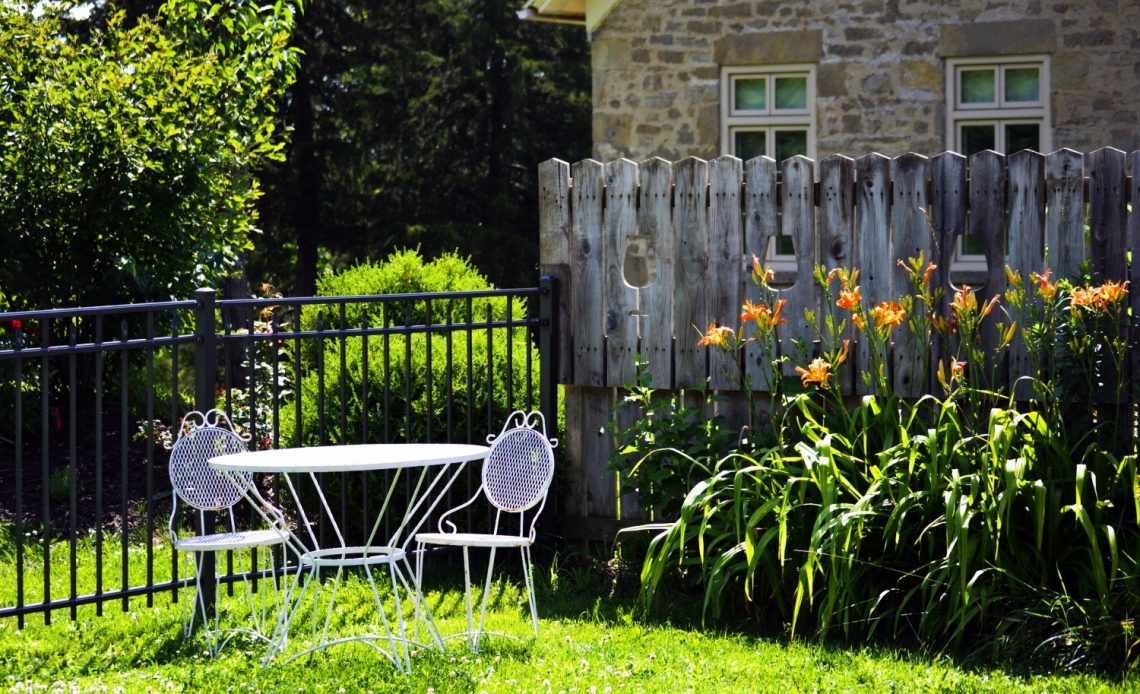 We're here to help! Wild Yards is a completely free website that is 100% dedicated to helping you create a wildlife-friendly, sustainable yard. Read more
WildYards is reader-supported. When you buy a product through a link on our site, we may earn a comission. Every product is independently selected by our (obsessive) editors and our reviews are unbiased and objective. Read more about our mission or our privacy policy.
Your fence line marks the perimeter of your yard, but it also defines your gardening space and turns your property into a big blank canvas.
Without any landscaping, your fence line will be left sticking out like a sore thumb. But with a little imagination, you can transform your property into your own personal paradise. Landscaping your fence line doesn't have to be complicated — and it doesn't have to be expensive, either.
Here are 23 simple fence line landscaping ideas to help you get started.
Grow native plants and wildflowers to support the pollinators in your ecosystem, or outline your space with raised garden beds. If outdoor entertaining is your thing, then install a corner fire pit, or build an in-fence pergola for seating, instead.
23 Fence line landscaping ideas for your backyard
If want to turn your boring backyard into a beautiful outdoor space, but you have no idea where to begin, check out these 23 simple fence line landscaping ideas to get started.
Grow native plants
Native plants have a symbiotic relationship with the insects and animals living in your ecosystem.
The caterpillar that feeds on the wildflower's leaves will become a butterfly that pollinates the plant and allows it to reproduce. The deer and squirrels that eat a native plant's berries help scatter the plant's seeds so they can be propagated.
Using native plants as a fence line landscaping idea is a great way to be green and re-wild your lawn.
Another benefit of growing native plants in your backyard is that these plants are uniquely suited to the growing conditions of your ecosystem. Native plants can be found naturally in your ecoregion, which means they can survive in your native soil on their own without needing to be amended with compost. Native plants are also suited to your region's annual rainfall, so you won't have to worry about watering them all the time.
To discover which plants are native to your ecoregion, click here.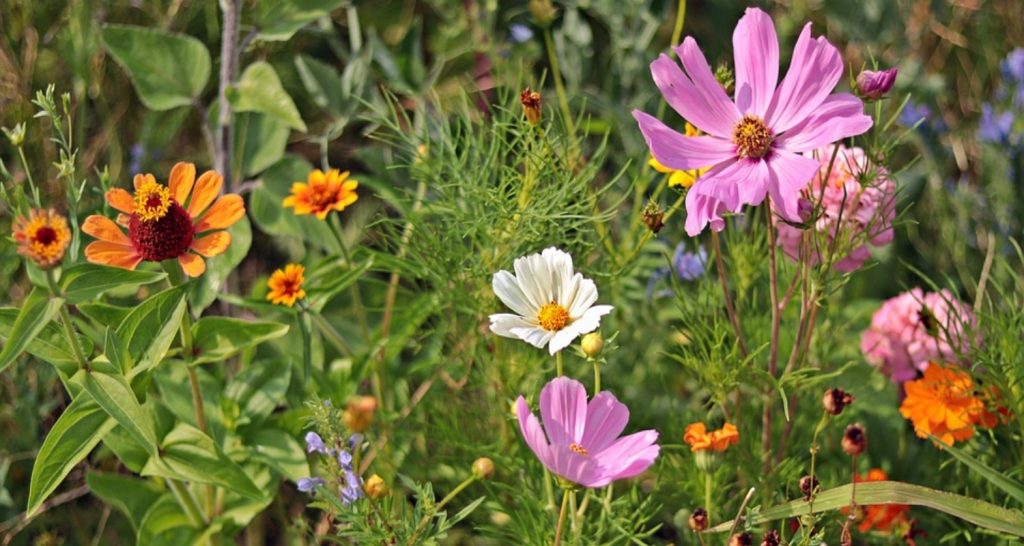 Build a corner fire pit
Corners are naturally cozy spaces. They invite people to gather together, and what better thing to gather around than a fire?
Corner fireplaces can be used to make delicious outdoor treats, like s'mores and roasted marshmallows (yum!). But, if savory dishes are more your speed, then turn your outdoor fireplace into a pizza oven to make authentic pies right in the comfort of your backyard.
Your corner fire pit can be as modern or as rustic as you want!
This fence line landscaping idea is versatile, something you can do whether you're low on funds or have an unlimited budget.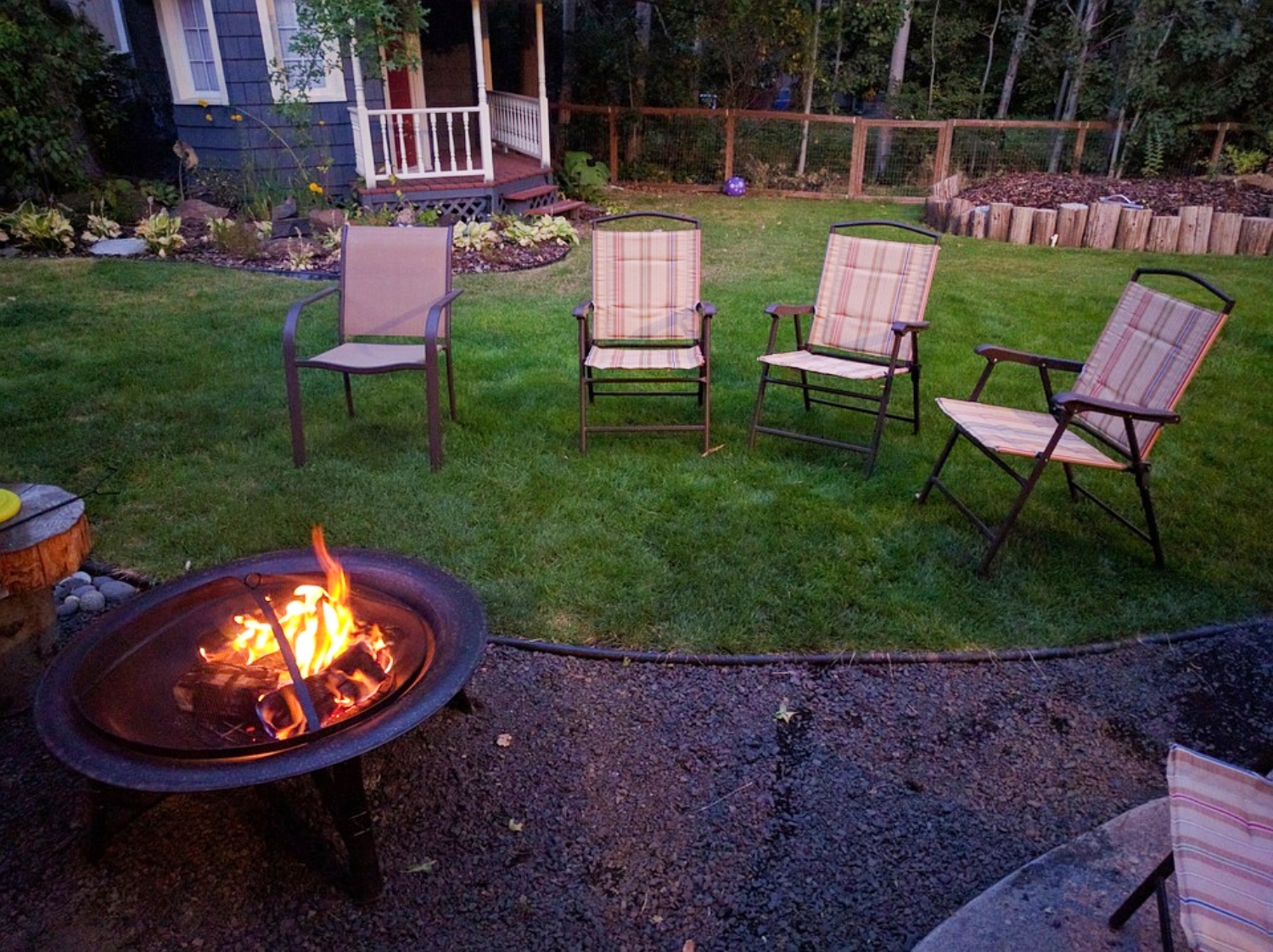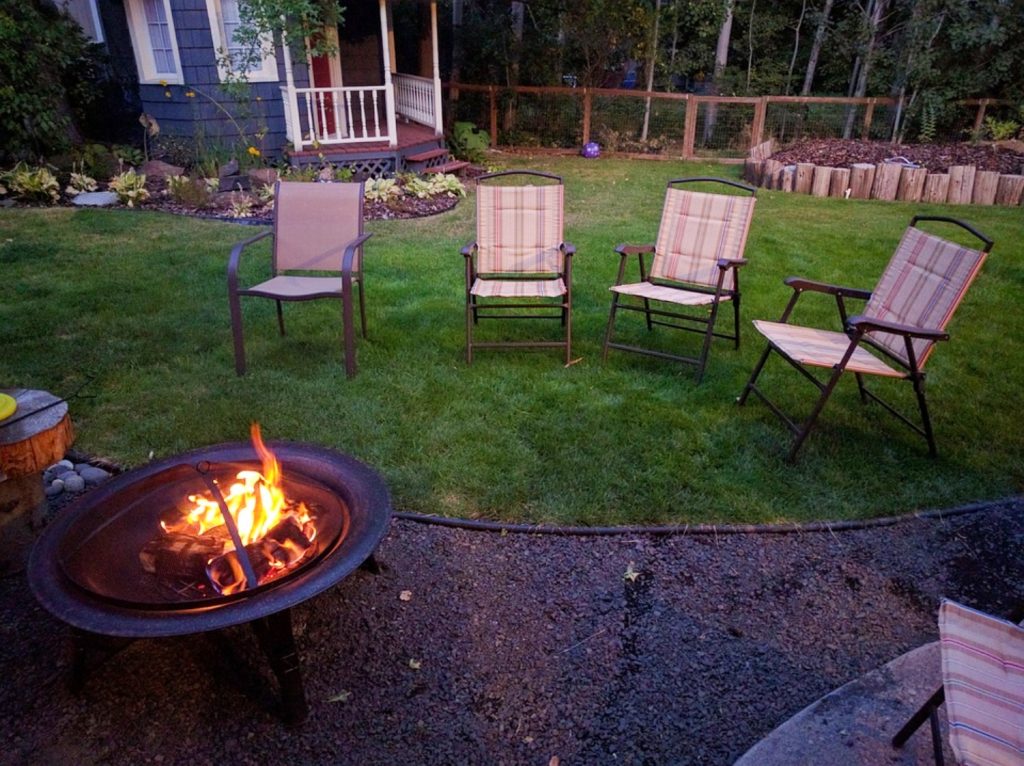 Grow bamboo
Create some privacy in your backyard by planting bamboo.
This fast-growing grass clumps together to create an impenetrable natural fence that will shelter you from the wind, the sun, and nosy neighbors. Bamboo also makes a great place for songbirds and beneficial insects to live.
If you can't grow bamboo in your growing zone, either because it's too sunny or too dry, then consider installing bamboo screening, instead. It will offer you the same sense of privacy and works especially well in traditional Japanese-inspired gardens.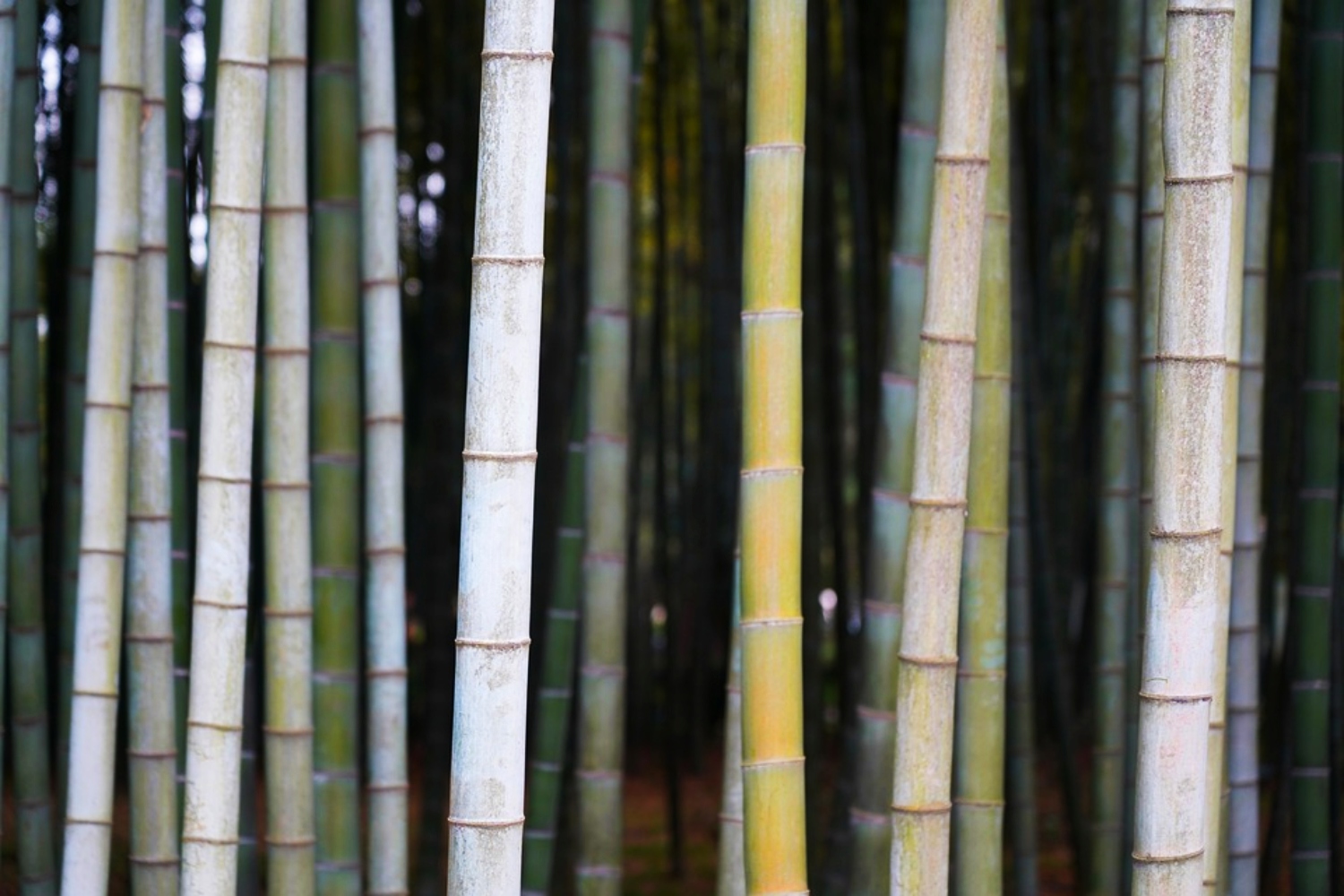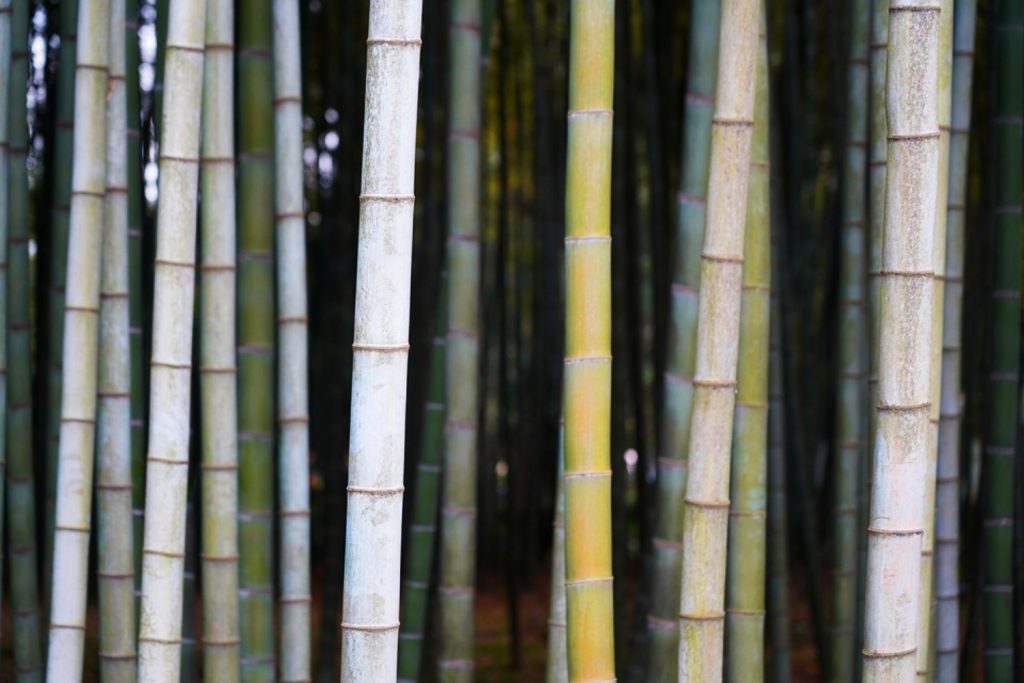 Install raised garden beds
Make your fence line pretty and practical by installing raised garden beds. Keeping your vegetable garden beds along the perimeter of your property frees up the space, so you can easily walk, mow, and play with your dog without trampling on any of your garden favorites.
You can build your raised beds out of metal, which works especially well in cooler growing zones, since metal absorbs warmth, or out of wood, for a more traditional look.
An advantage of this fence line landscaping idea is the protection that it can offer your vegetable garden.
Installing raised beds up against your privacy fence helps shield the plants from the elements. Tall fences act as a windbreak sheltering your plants from strong gusts. You can also install a lattice along the fencing to give watermelons, passionfruit vines, and pumpkins a place to climb.
Use stones to make flower beds
Stack stones or bricks to make flower beds along your fence line.
You can make the border as tall or as short as you like. Layer the stones 3 to 5 rows high to make tall flower beds that are easy to tend to, sparing your back and knees from excessive wear and tear. Or set the stones in the dirt slightly so that they rest at ground level, that way you can mow around the flowers easily, eliminating the need to weed-eat.
Use uniformly-shaped stones in neutral tones of black, gray, or white to create a modern landscape, and choose natural-looking stones of various shapes and sizes for an informal, cottage/farmhouse vibe.
This fence line landscaping idea will add both depth and texture to your property, making it feel more like home.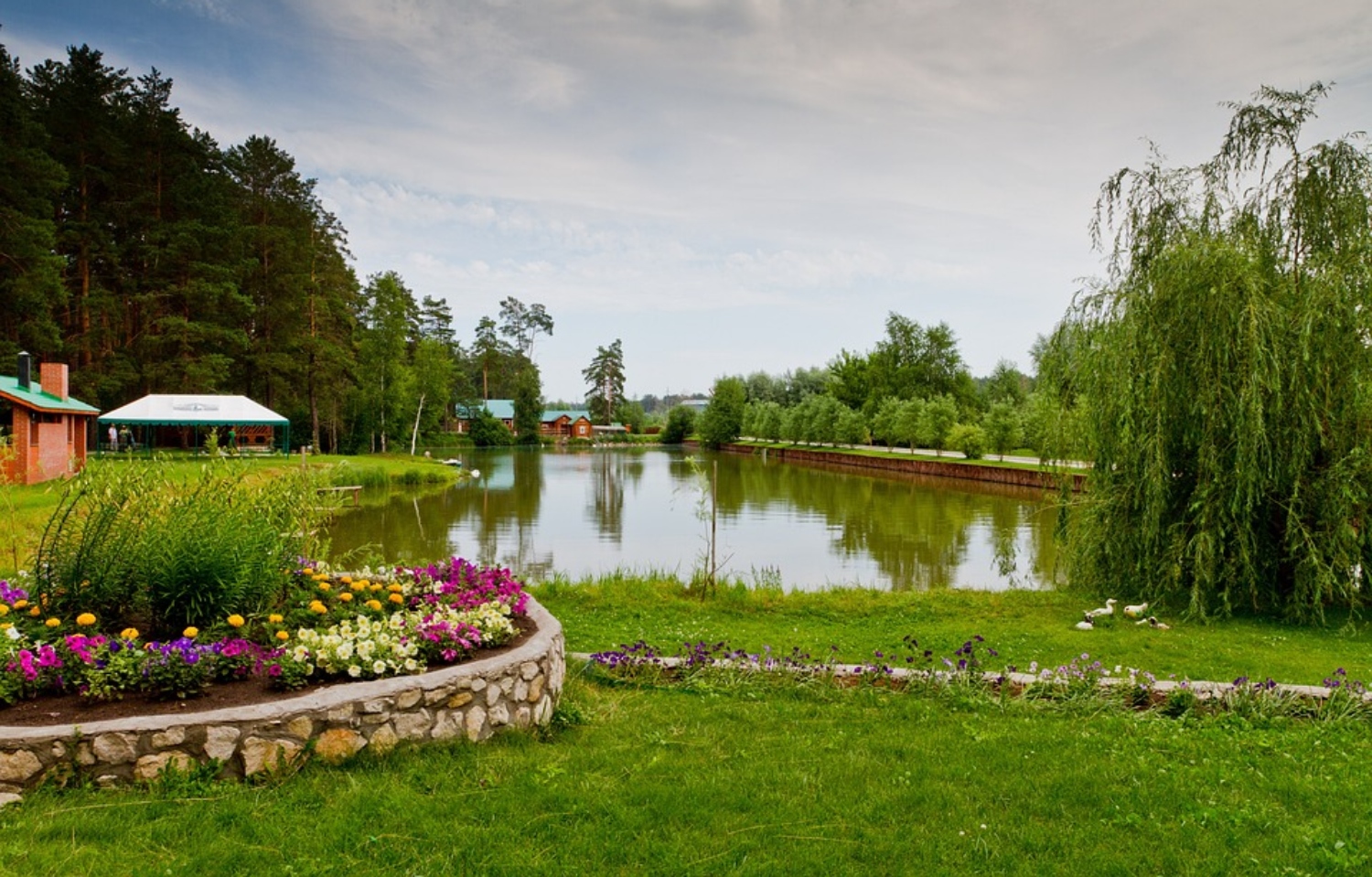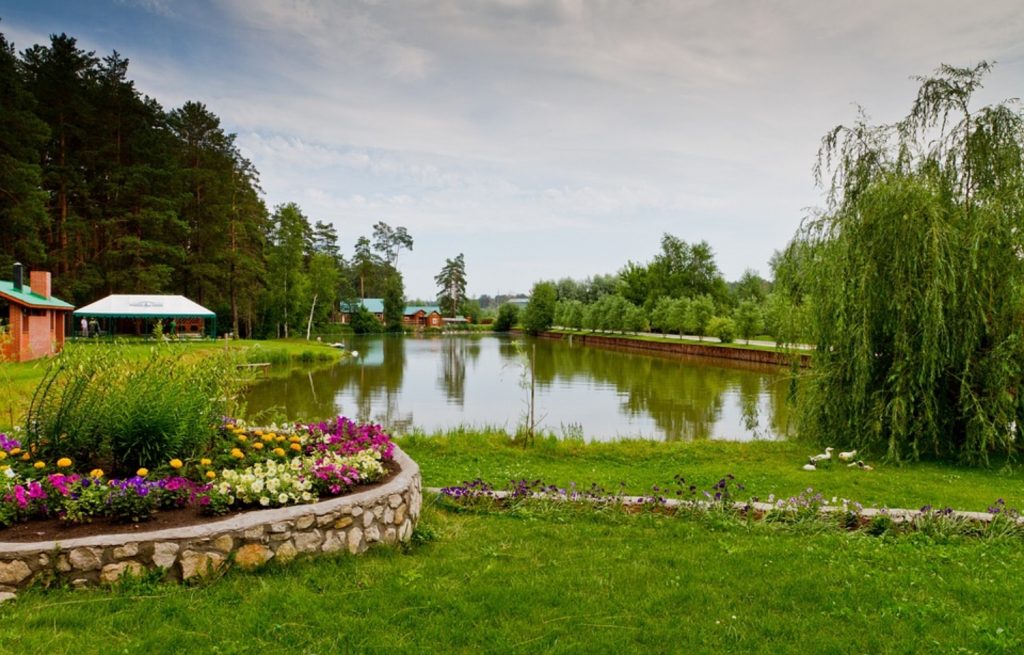 Replace your old fence with a hedge
If your old privacy fence has seen better days and you're ready for a change, consider replacing the tumbledown structure with a living privacy fence.
Boxwoods and junipers make excellent privacy hedges. These plants are evergreen and low-maintenance. Once they get established, you won't have to do much to help them survive, aside from a little annual pruning to help them maintain their shape.
Living privacy hedges invite more wildlife to your property than plain old privacy fences.
These dense thickets provide birds and beneficial insects with a place to hide from predators. Some privacy shrubs, like holly and arborvitae, produce berries that songbirds love to snack on. If you're an avid birdwatcher, a privacy hedge can help you take your hobby to the next level.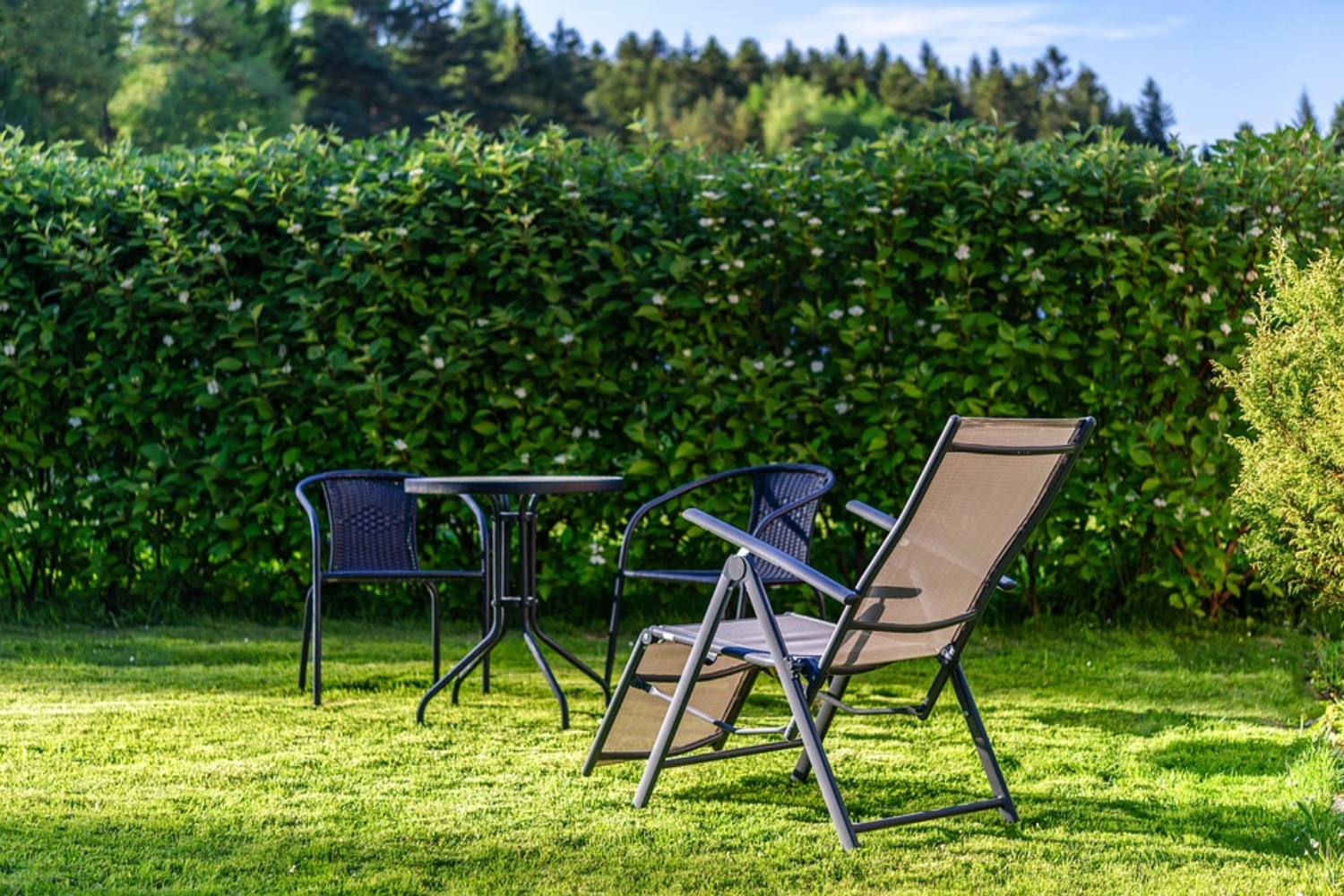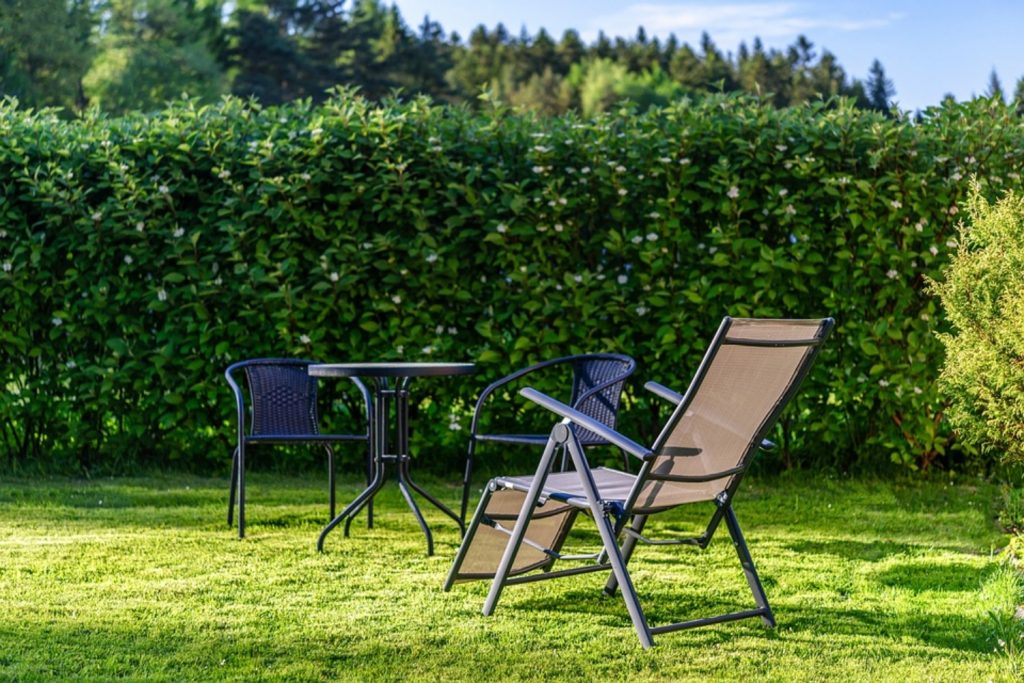 Invest in some garden art
Privacy fences do a great job of living up to their name. They can shield you from the prying eyes of your neighbors if you want to drink your morning coffee on your back porch in your pajamas. But, let's face it, privacy fences are boring!
If you want to make your privacy fence more interesting to look at, install a few pieces of your favorite garden art.
Your fence is a great place to hang up birdhouses, metal sculptures, solar lights, and wooden signs. You can also use your privacy fence to display found objects and antiques.
Create an assemblage of old bike tires, decorative door knobs, interesting hinges, horseshoes, metal farm tools, and more.
Your options are limitless when you turn your privacy fence into a canvas, you just have to use your imagination!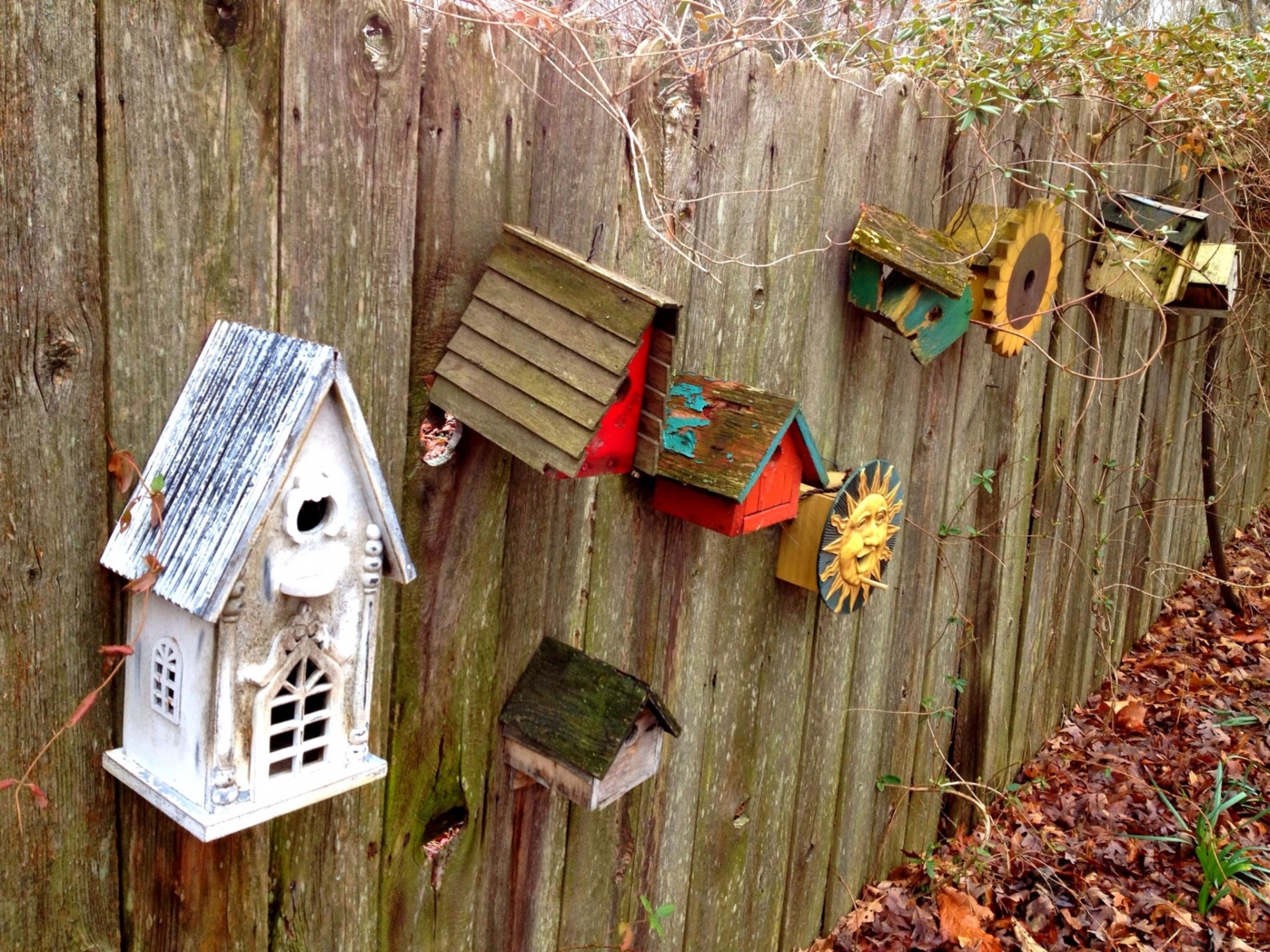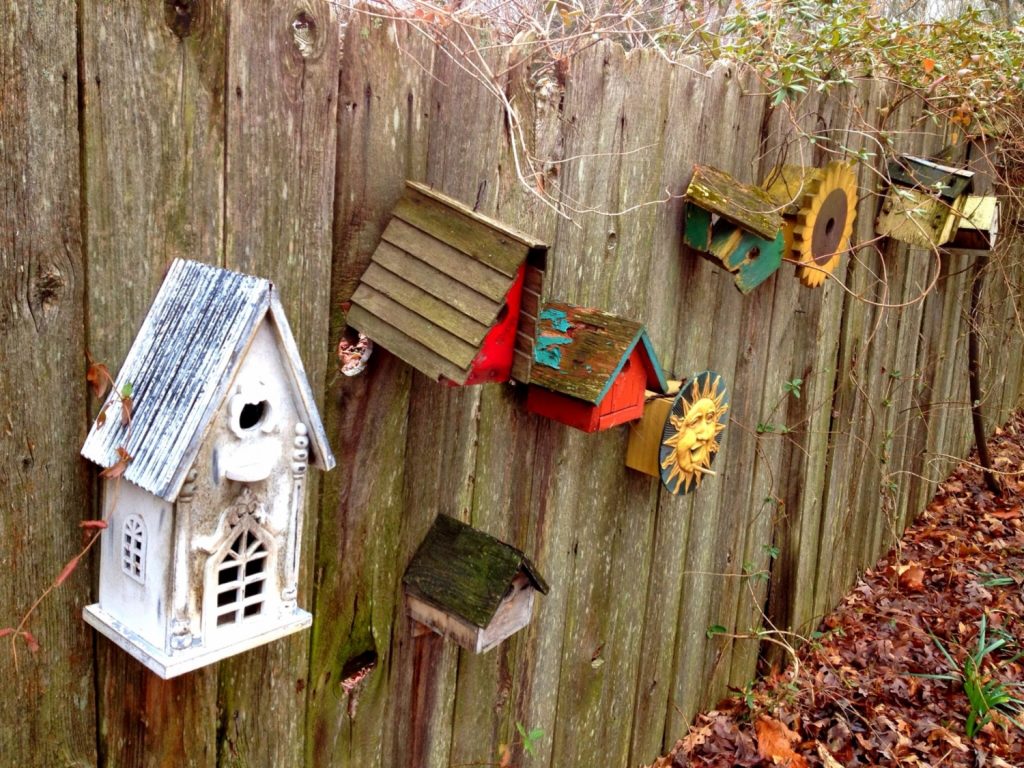 Install wrought-iron fencing
Give your garden an open, airy feel by replacing your current fence with a wrought-iron one.
Wrought iron fences can last for decades and they'll dress up your landscape quickly with a touch of English garden class.
But, if you'd rather your garden feel more dressed down than dressed up, shop around for antique metal headboards to create a patchwork wrought-iron fence for your space.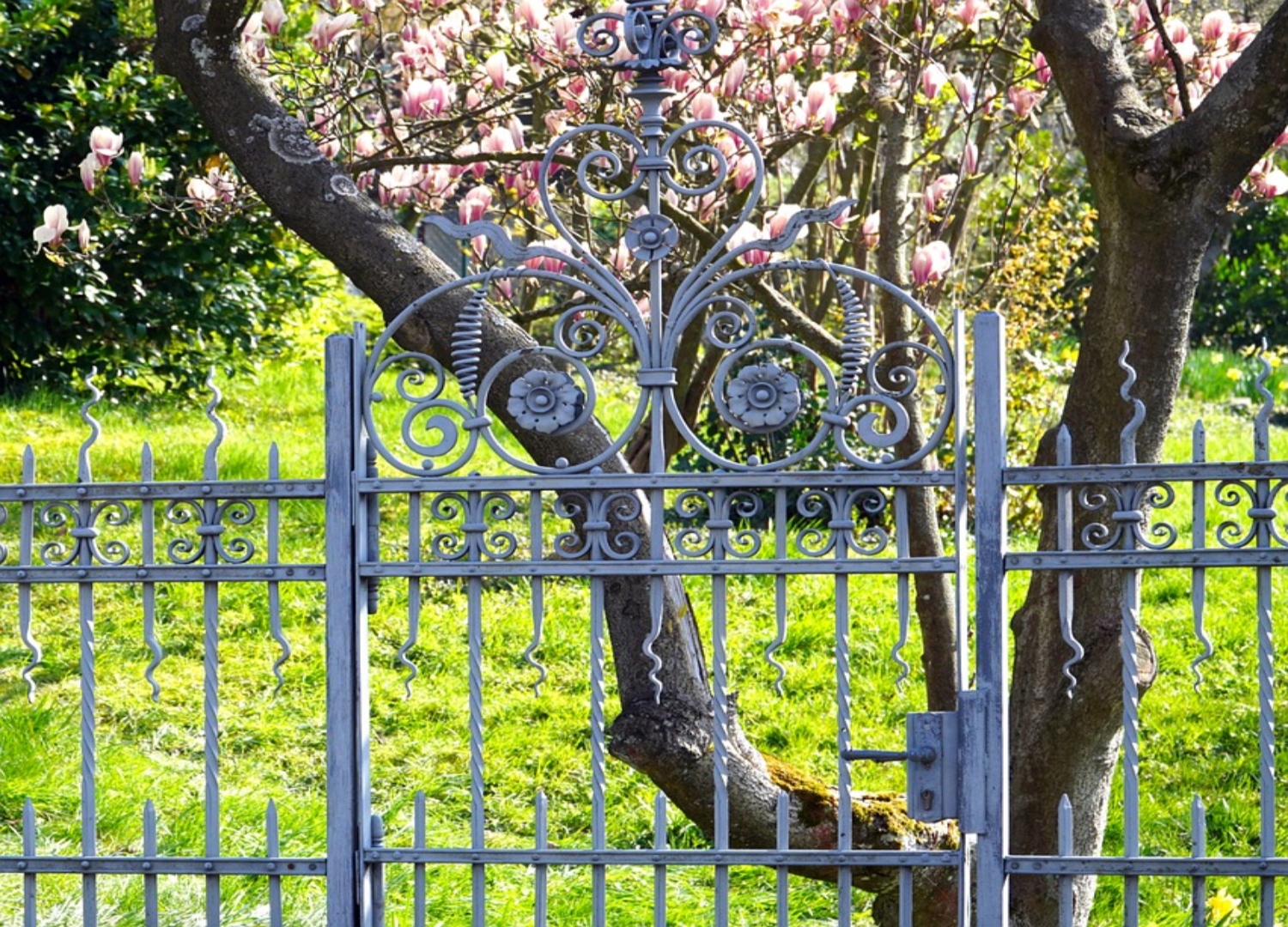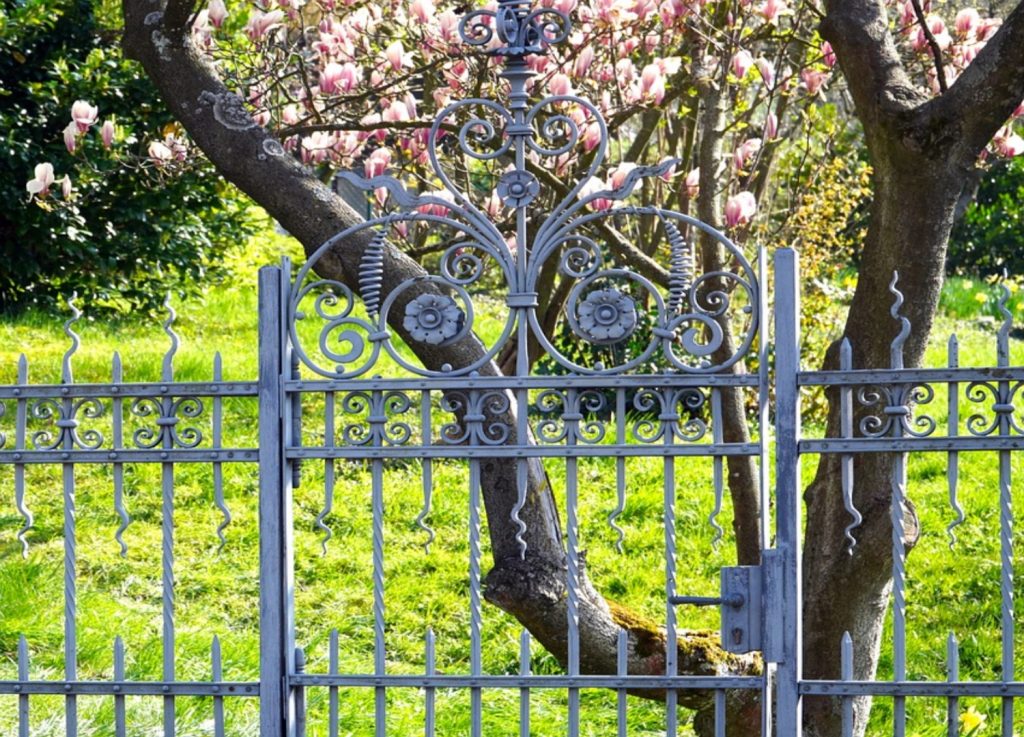 Build an in-fence pergola
Expand your backyard patio or deck by building a pergola against your privacy fence. Installing a pergola up against your fence line encloses the space, making it feel private and secluded. It also provides you with an excellent spot to relax and entertain.
Situate your pergola in a corner of your yard to make it feel cozy, or place it in the middle of your fence line, surrounded by your favorite flowers and shrubs.
Pergolas provide you with a great space for grilling. They also give you a structure to hang things on.
Whether it's wind chimes, hummingbird feeders, or hanging baskets, your pergola isn't just a tranquil place to unwind, it's also an excellent showcase for your favorite outdoor art.
Hang up lattice and grow flowering vines
If attracting butterflies, bees, and hummingbirds to your outdoor space ranks high on your list of priorities, then hang lattice up on your privacy fence and train your favorite flowering vines to grow up it.
Morning glory, trumpet vine, and climbing roses are popular choices with pollinators that will help you dress up your backyard. They also grow quickly, which means this fence line landscaping idea provides you with near-instant gratification.
Keep your landscape looking traditional with English ivy or sweet potato vines. Their uninterrupted greenery will provide you with an excellent backdrop for the other plants in your landscaping. But clematis and mandevilla can be used, instead, to add vibrant color to your backyard.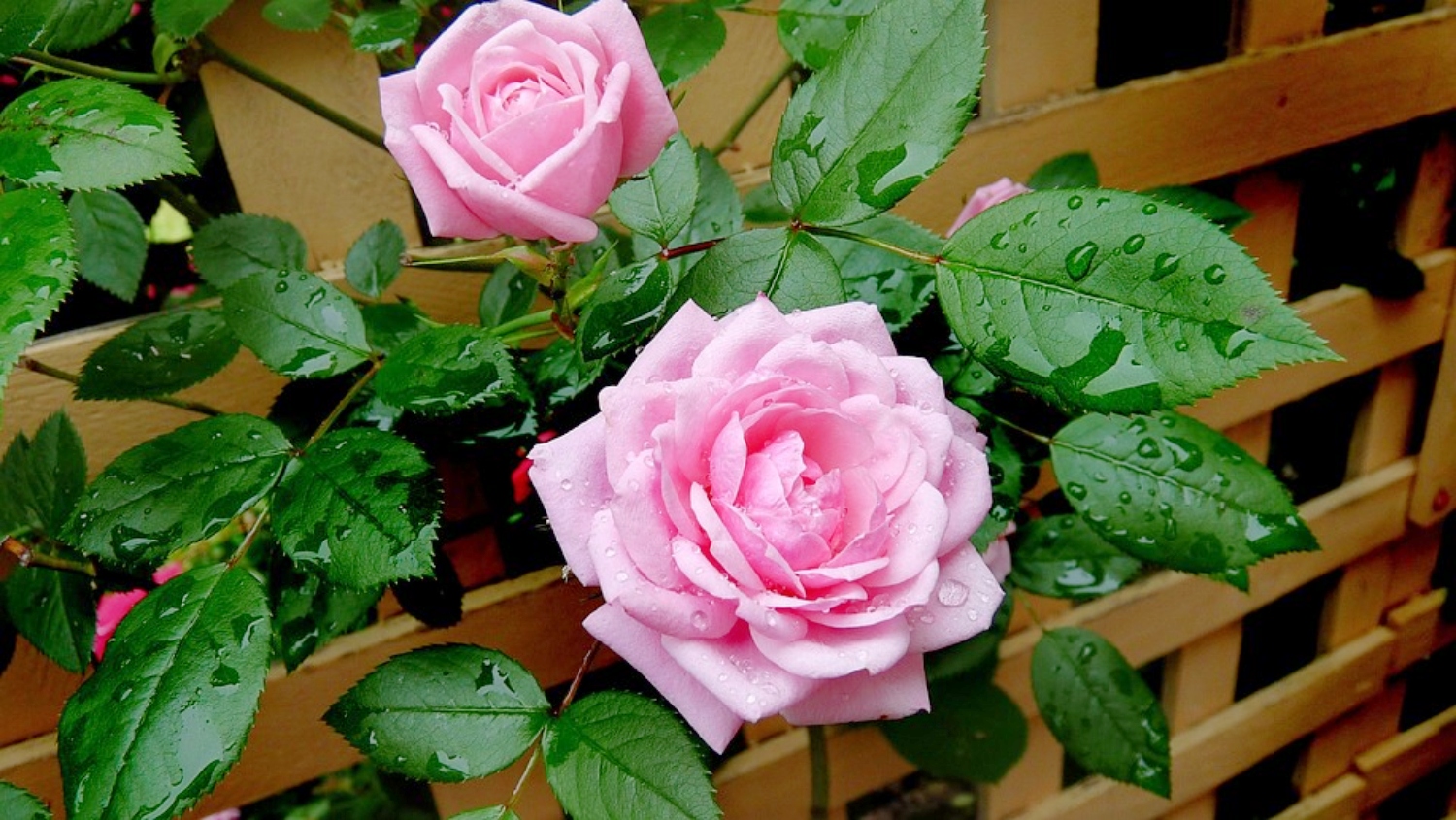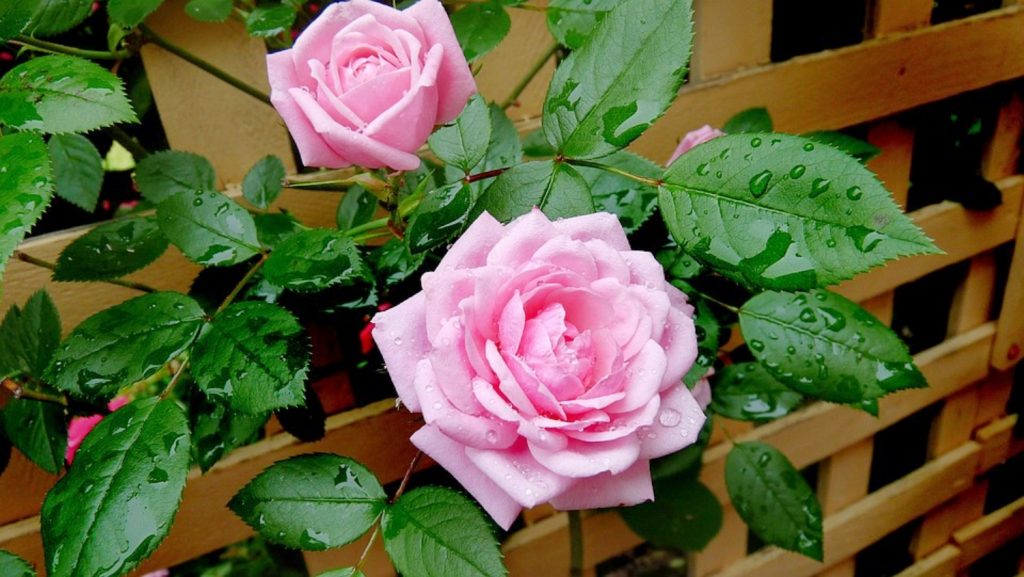 Plant privacy trees
Looking to replace that old privacy fence? Or maybe your fence line is completely bare, and you want to outline the perimeter of your property in a natural-looking way. Privacy trees will help make your backyard feel more secluded, and they'll fit in with the landscape effortlessly, so as not to detract from their surroundings.
If you live in a sunny lowland area where the soil always stays damp, choose Austree hybrids. These privacy trees can grow upwards of 6 feet a year in ideal conditions, and they make for an excellent wind break.
For higher, drier regions, look for Arizona cypress trees, which grow best when left uncared for and can survive periods of extreme drought.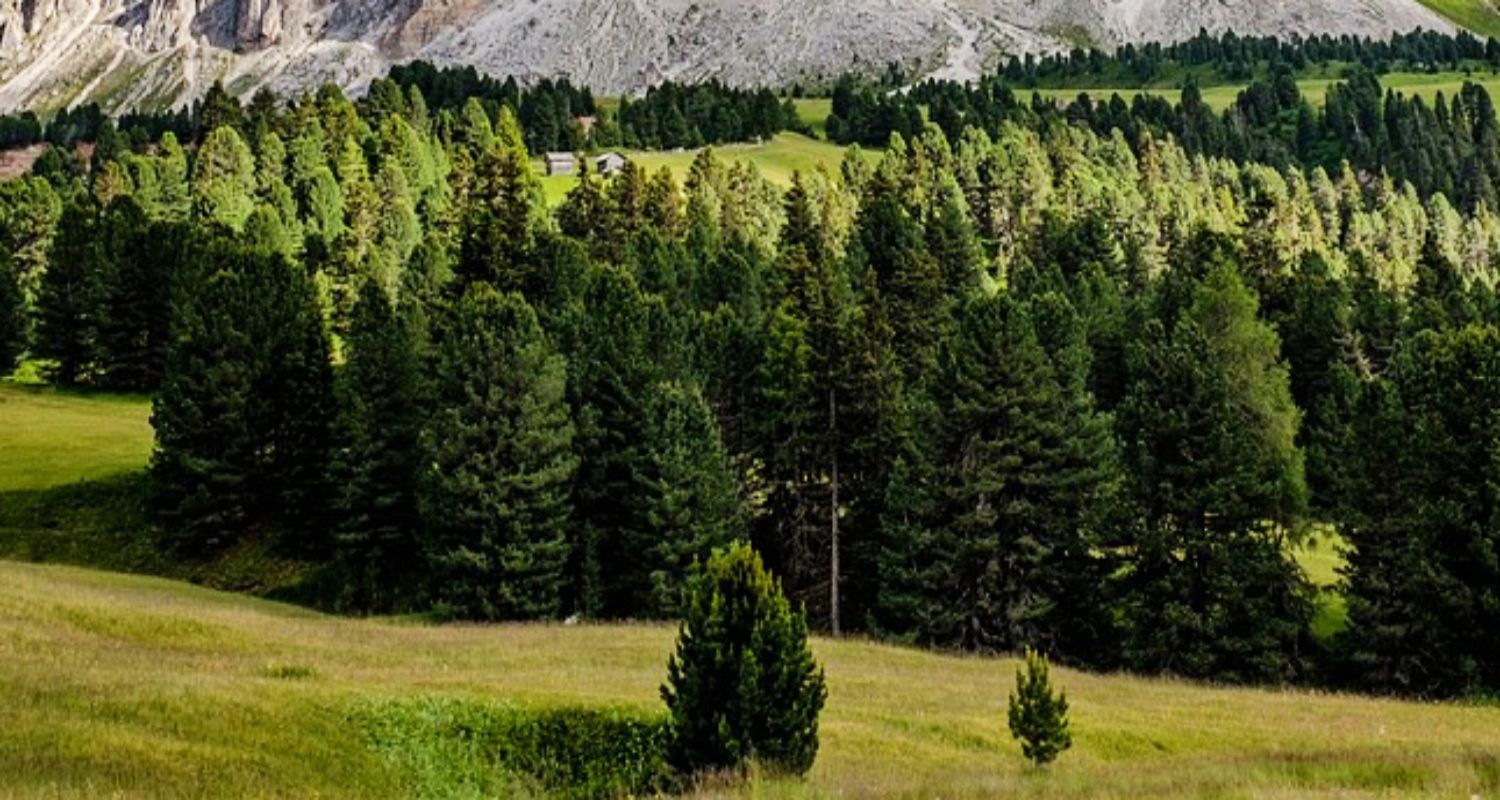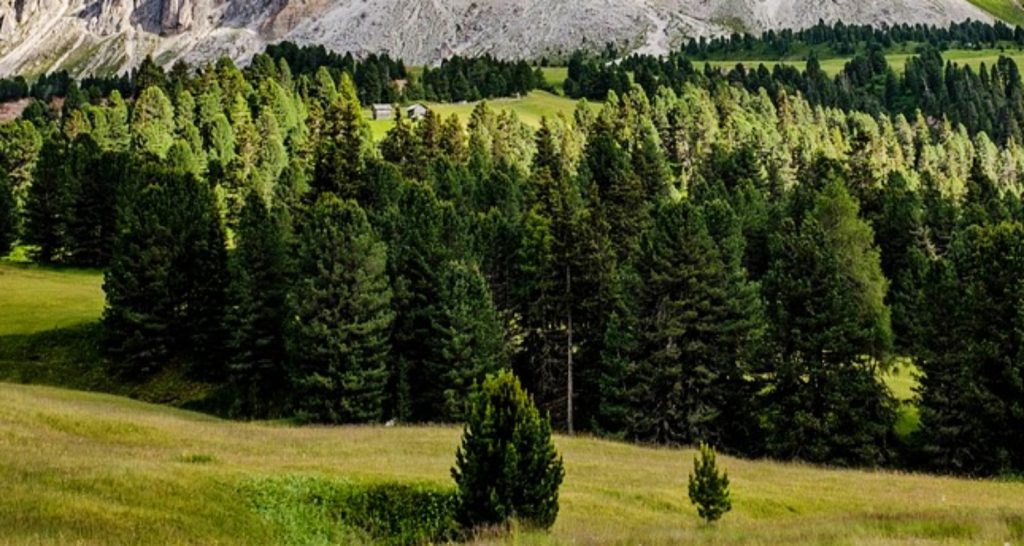 Install a water feature
Whether you decide to install a koi pond in the corner of your property or create a stream in your sloped yard that follows your fence line, you can't go wrong with a water feature.
The sound of running water is soothing. And, did you know that looking at water has been proven to promote relaxation? Installing a water feature is one fence line landscaping idea that will provide you with the perfect space to unwind after a long, hard day at work.
You don't have to spend an arm and a leg to make a water feature.
Your water feature could be something as simple as a water fountain to attract local wildlife. But if you have an endless supply of money (lucky you!), then the sky's the limit. Create a swimming pond in the corner of your property line, equipped with water plants that will provide the pond with natural filtration.
Build a corner potting shed
If you were born with two green thumbs and you live to garden, then forget swimming ponds and pergolas — consider building a potting shed in the corner of your property line, instead.
Situate your potting shed in a secluded corner of your property line, and surround the space with flower beds and raised vegetable gardens.
Having all of your plants and garden tools in one location will make things much more convenient for you.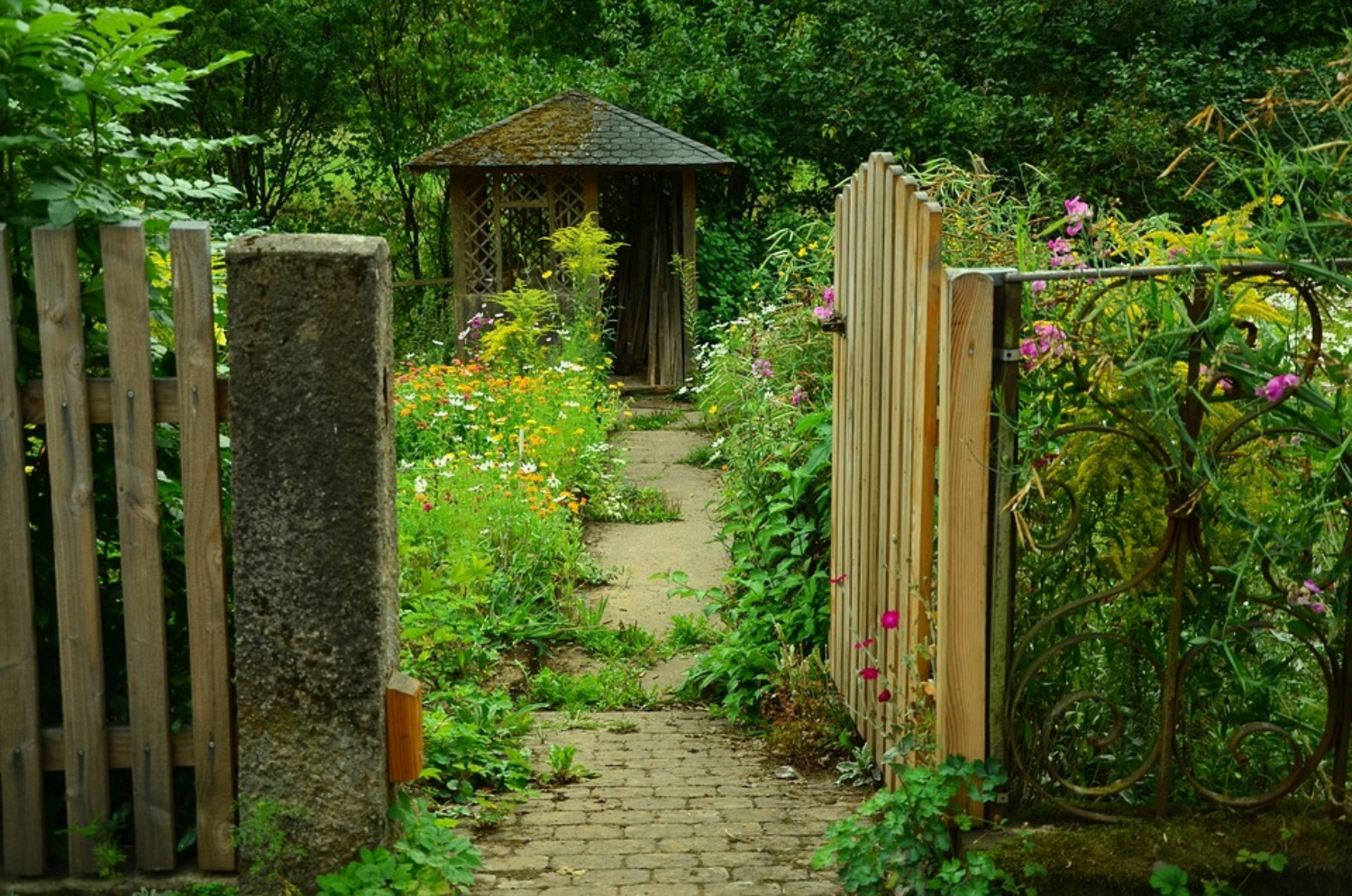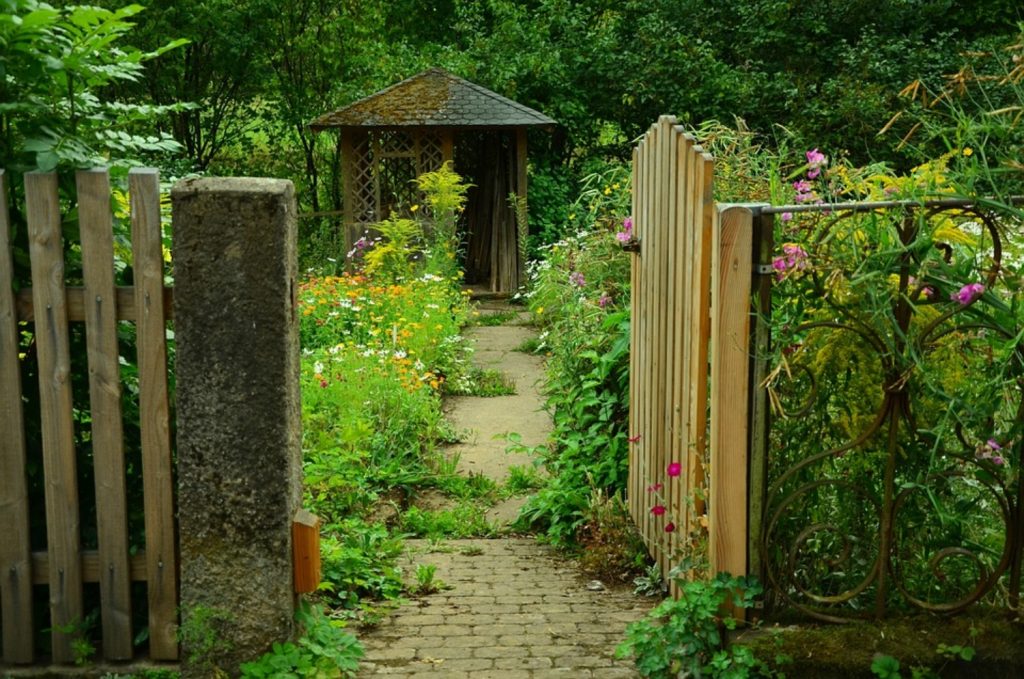 Use rocks to make flower beds around trees
For shade trees growing inside or near your fence line, use rocks to make circular flower beds around them.
Creating flower beds around large trees in your yard is a great way to break up the space, and draw attention to the nice umbrella of shade that the trees create.
Of course, you don't have to use the circular beds to plant flowers. Turn the space into a rock garden, instead.
Use smooth pebbles to create intricate spiral patterns around your trees. This low-maintenance backyard landscaping idea will dress up your backyard quickly, and it won't require much maintenance work in the long run.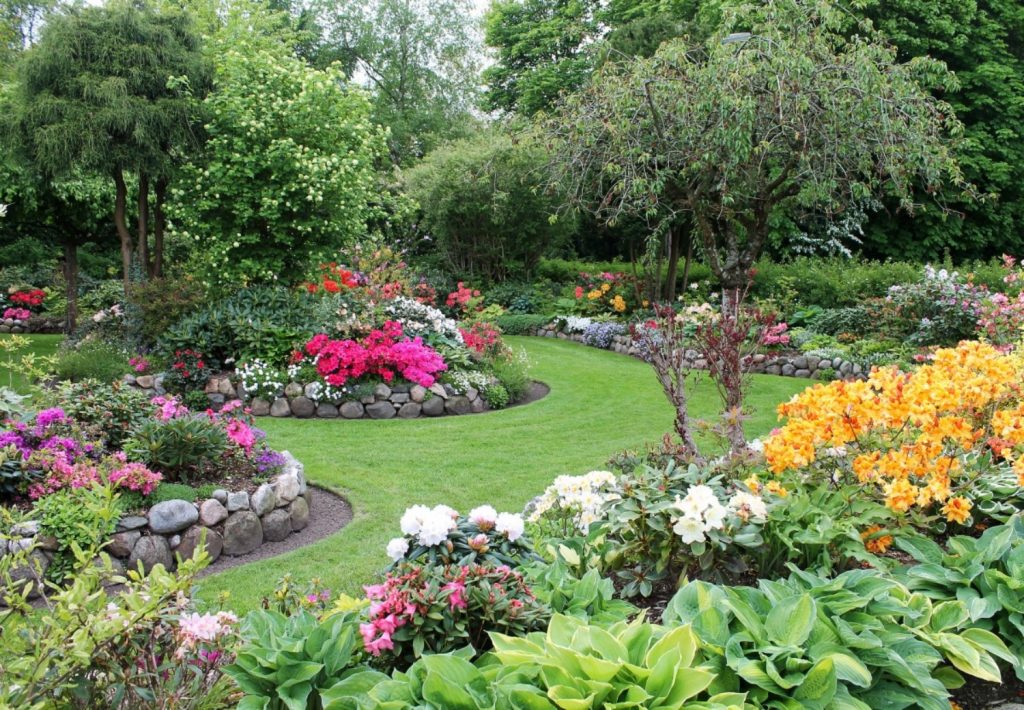 Create a bird-friendly zone
You want to make your backyard a place where your local birds can feel at home, but you don't have the time to take care of all of the plants that birds love. Don't worry. You can still create your very own bird sanctuary by installing bird feeders on your privacy fence. This is an inexpensive fence line landscaping idea that you can do in an afternoon.
Different birds prefer different types of feeders.
For instance, goldfinches like to eat niger seeds from specially made socks, while bluejays and woodpeckers would rather eat peanuts from a wire peanut feeder.
Discover which songbirds live in your region, and install a variety of bird feeders (and a few bird baths, too) along your fence line to capture their attention.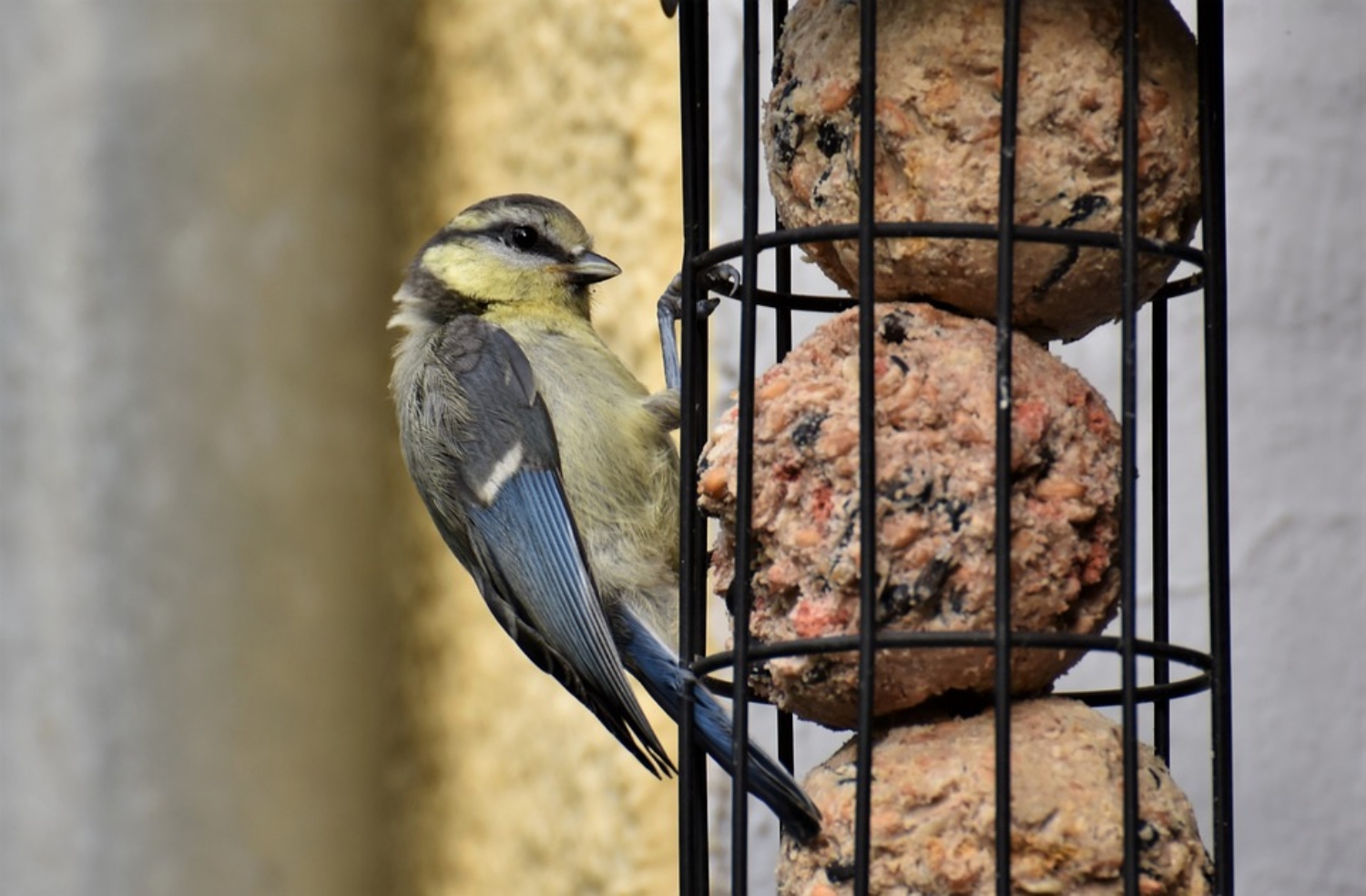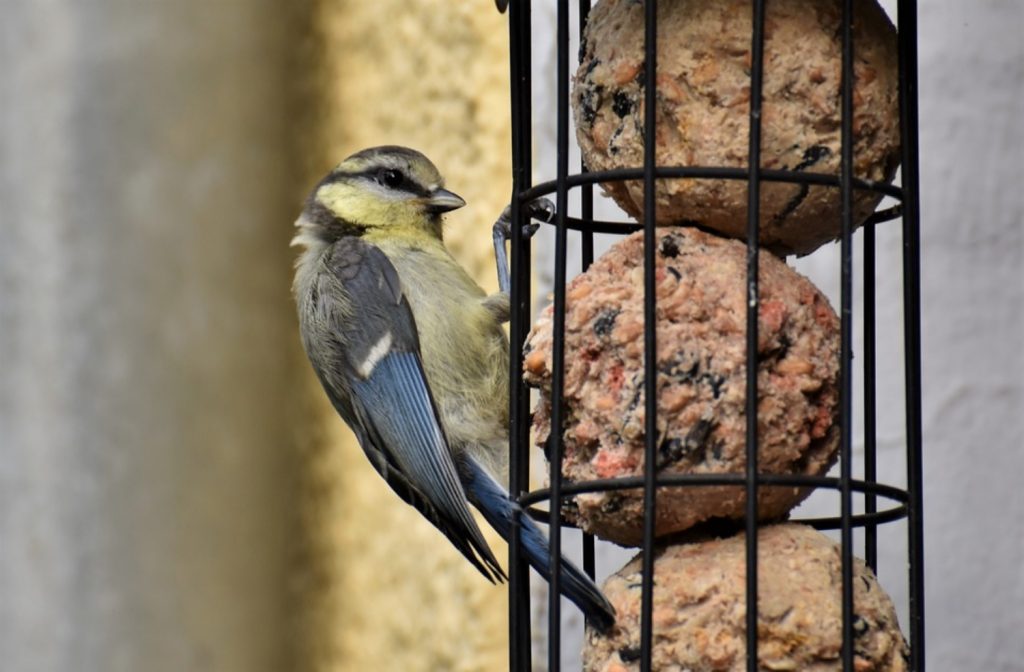 Build an arbor
What could be more welcoming than walking under an arbor as you approach your home? If you're looking for fence line landscaping ideas that won't break your budget, consider installing an arbor.
Purchase an arbor that's already been made — metal arbors and those made out of recycled materials can last for decades. Or construct your own by weaving sticks and twigs together.
Once your arbor is ready, install it in your fence line and grow climbing plants on either side of it.
Climbing roses and wisteria are whimsical choices for your arbor, and will provide your landscape with some cottage style. But climbing black-eyed Susan is another wonderful option, and this vine thrives in full sun.
Make a bulb garden
Turn your backyard into a cheery springtime getaway by dressing up your fence line with bulb flowers. Tulips, hyacinths, crocus, irises, gladiolus, and amaryllis all come in vivid shades of white, yellow, pink, red, orange, and purple.
These festive flowers will make your backyard feel bright, sunny, and energetic.
Bulb flowers typically grow best in partial sun when planted in loamy, well-draining soils that can be kept moist. If you live in a cooler growing zone, you may be able to successfully grow bulb flowers in full sun, provided you keep the plants well-watered.
A bulb garden is a fun way to usher in the new growing season and an inexpensive fence line landscaping idea for your backyard.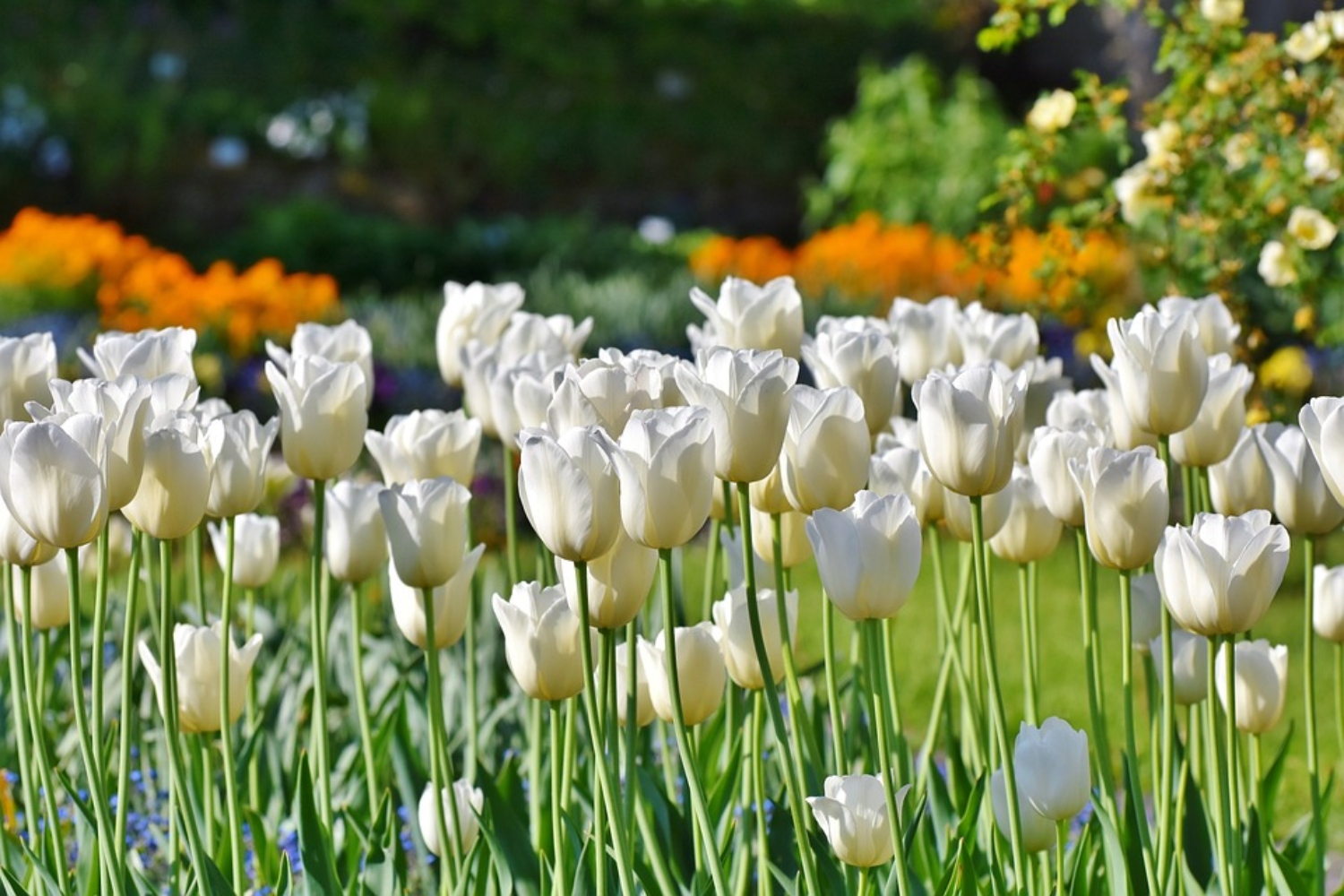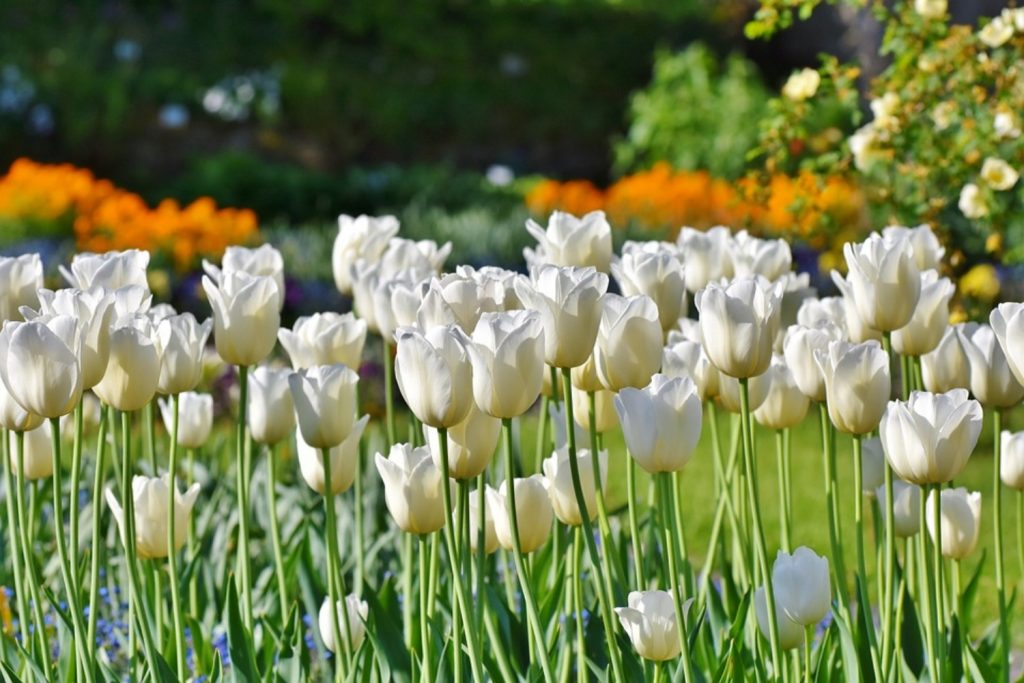 Put up an owl box
It's always great when you can dress up your backyard and support local wildlife at the same time.
Install an owl box along your fence line to add interest to your privacy fence. Once owls take up residence, they will help keep pest levels down, so you'll see fewer mice, gophers, and snakes loitering about.
If you have a large property, then you may be able to install multiple owl boxes along your fence line.
Owls are highly territorial and won't nest in a place that they feel is threatened by other owls. So to make your local owls feel more comfortable, keep the owl boxes 1,000 feet apart in all directions.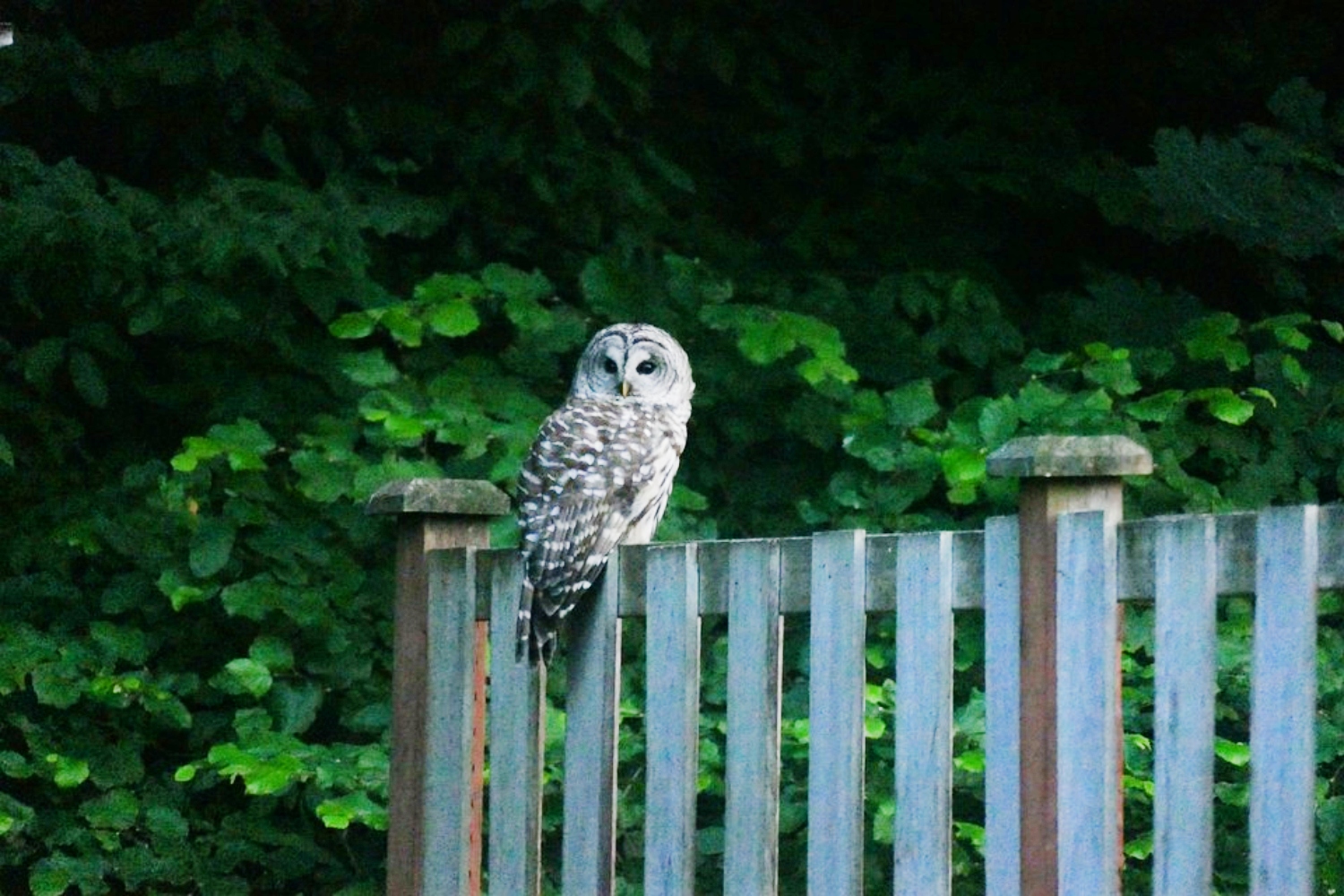 Plant flowering shrubs and shade trees
Azaleas, rhododendrons, camellias, and hydrangeas are popular foundation plants for homeowners.
These large shrubs produce dense thickets of foliage, accented by brightly colored flowers. They're perfect for adding interest to your backyard space. And be sure to plant shade trees, like oaks, elms, and pine trees nearby to keep the shrubs cool as they grow.
This fence line landscaping idea is very versatile because you can use it in place of a privacy fence, or in front of your privacy fence.
Planting flowering shrubs and shade trees along your fence line will create a natural border for your property that feels, well, natural! And that's great news for your health because research shows it's much easier to be happy when you're surrounded by nature.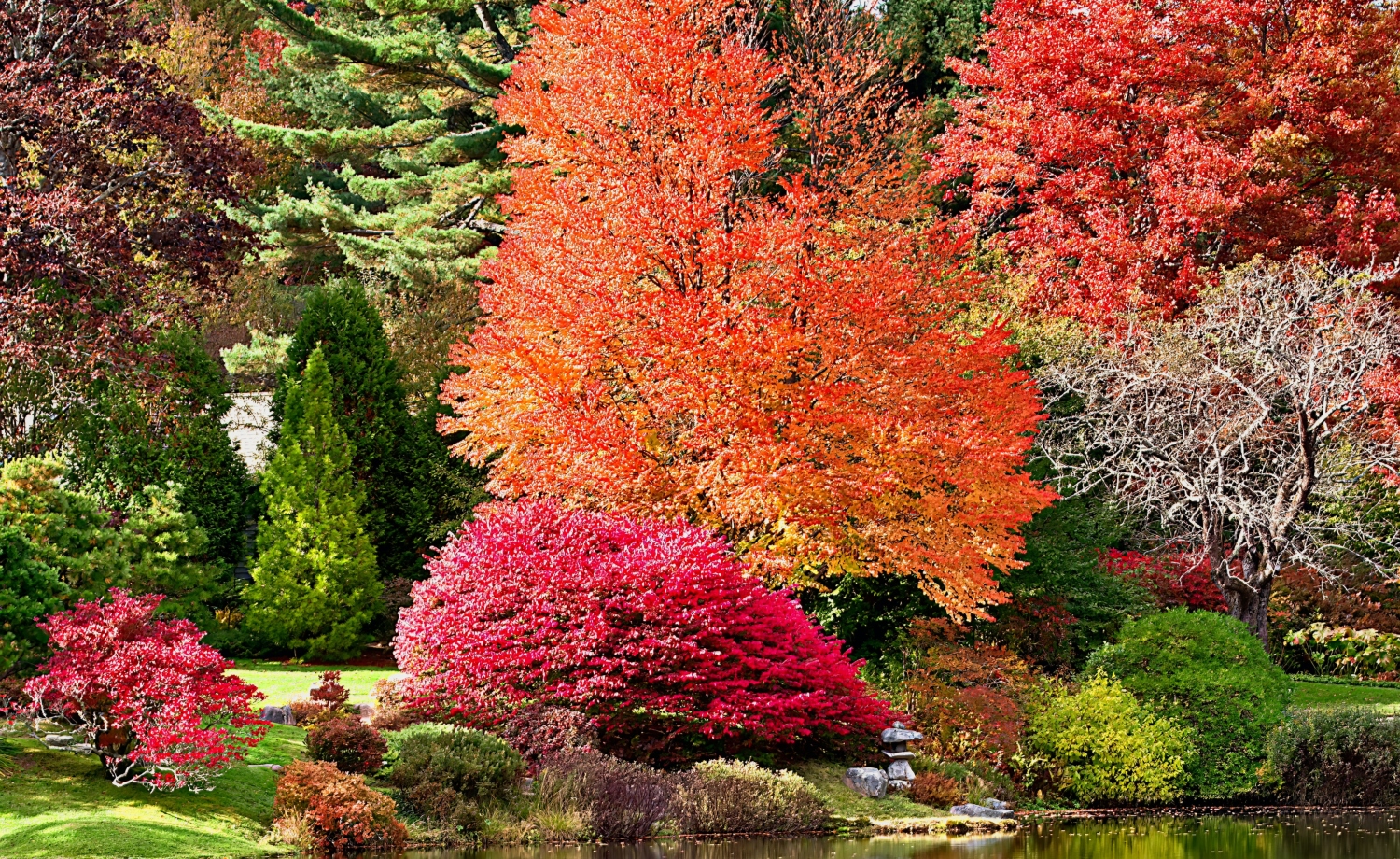 Make a vertical herb garden
Fresh herbs make all the difference in a home-cooked meal.
Install sections of gutter or a few wooden pallets to create a vertical herb garden along your privacy fence. Herbs have shallow root systems, which means they're well-suited to container gardens.
Additionally, keeping your herbs up off the ground will make lawn maintenance much easier.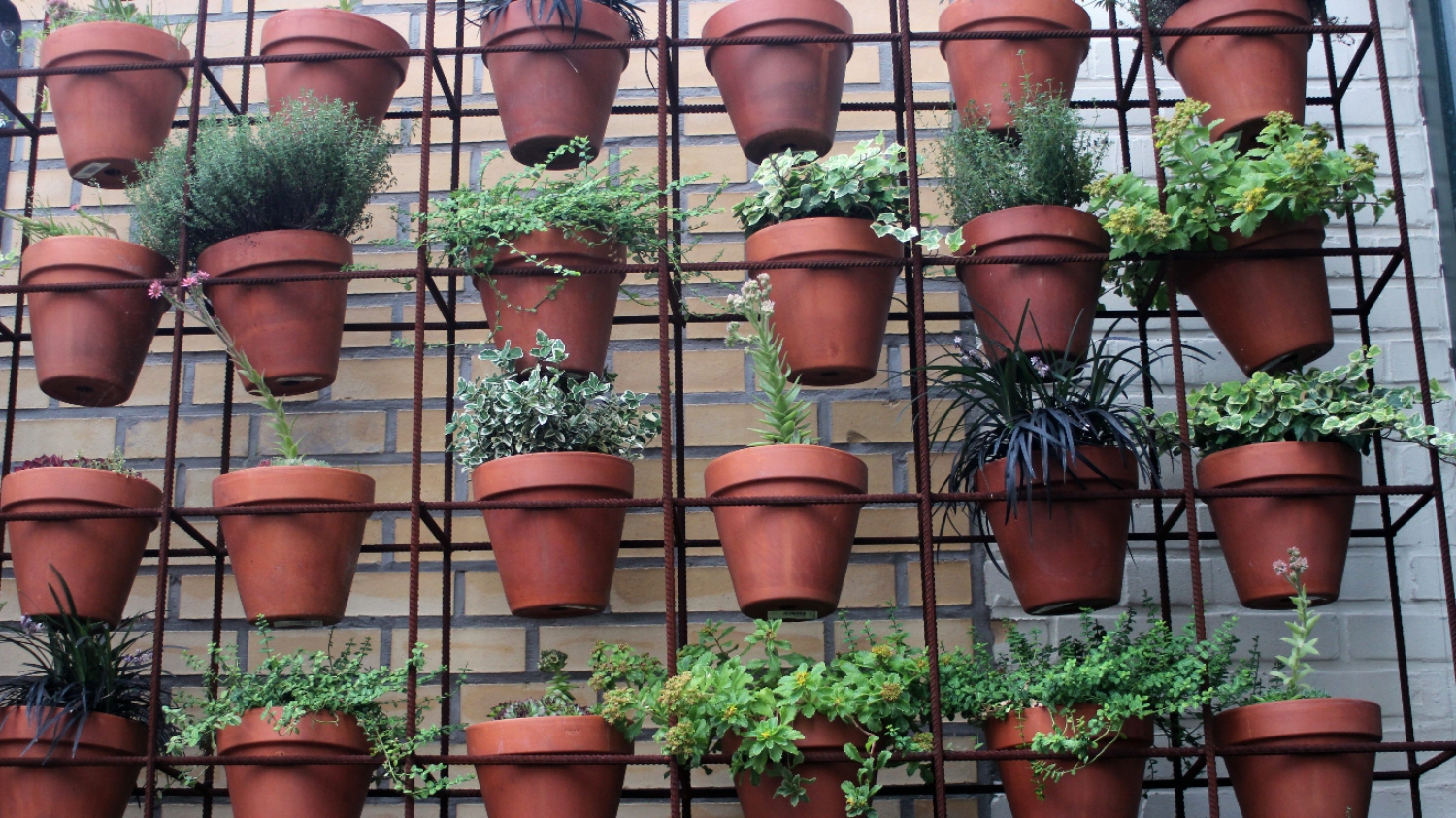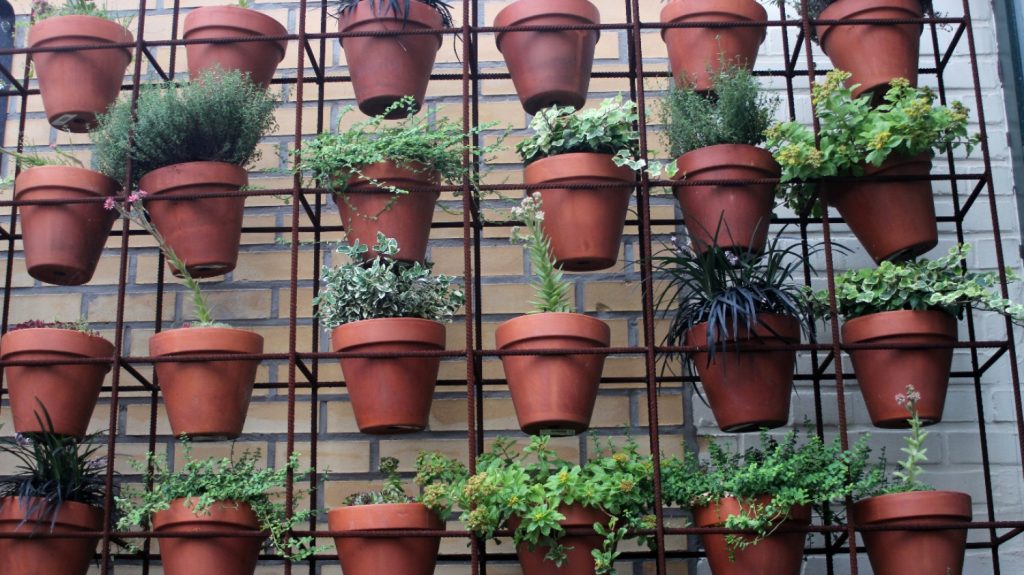 Replace your privacy fence with a split-rail fence
In certain situations, a privacy fence would look downright silly.
Say yours is the only residence on your road, or your yard is large and wooded. If, for whatever reason, a privacy fence wouldn't work for your outdoor space, consider a split-rail fence instead.
Split rail fences allow for good air circulation, which makes them the perfect backdrop for flower beds.
A split-rail fence can have several rails, or just two, to cut down on costs. They provide climbing plants with a great place to grow, and they look natural enough to avoid interrupting the look of your landscaping, while still making the space feel cozy and lived in.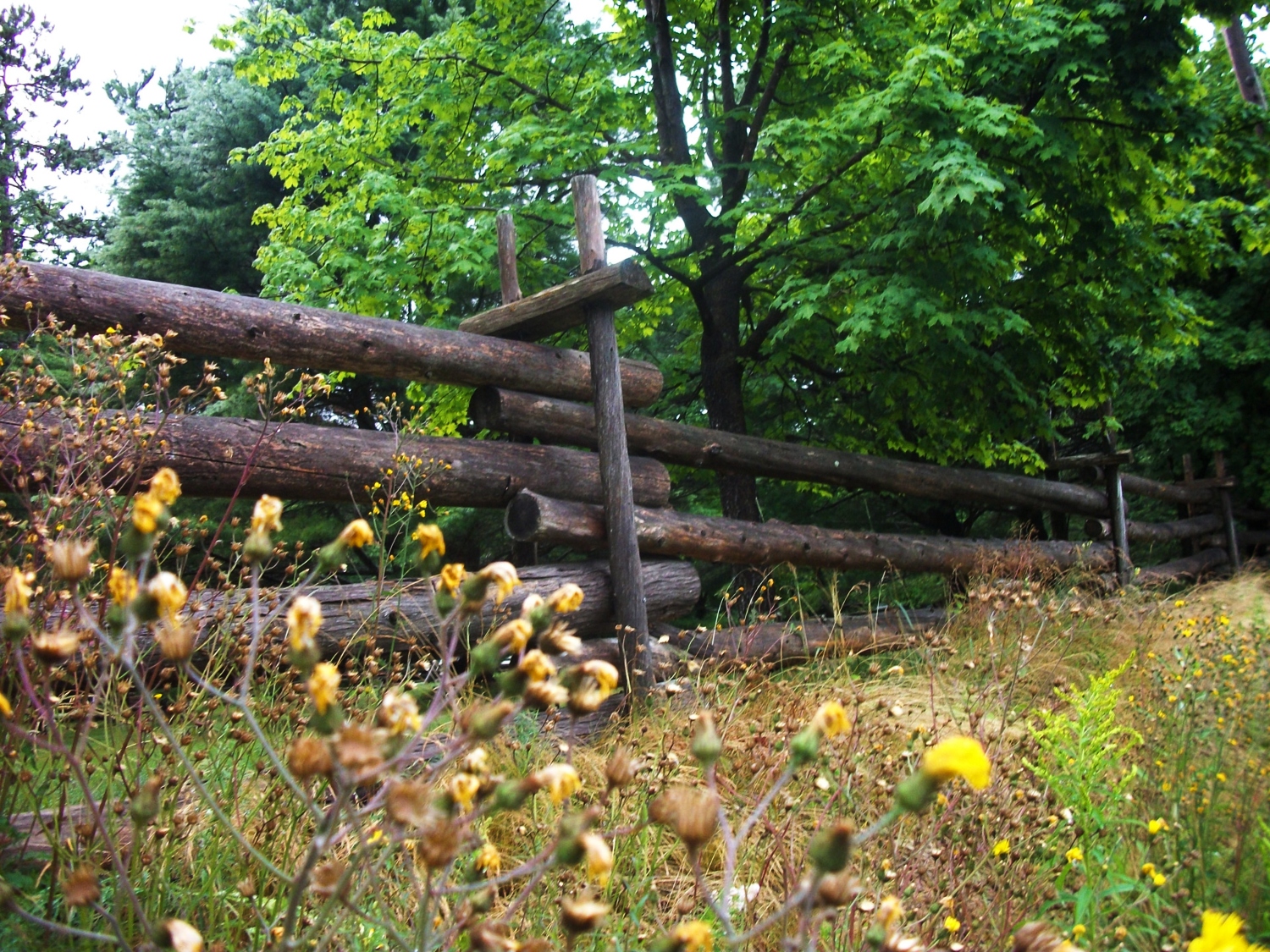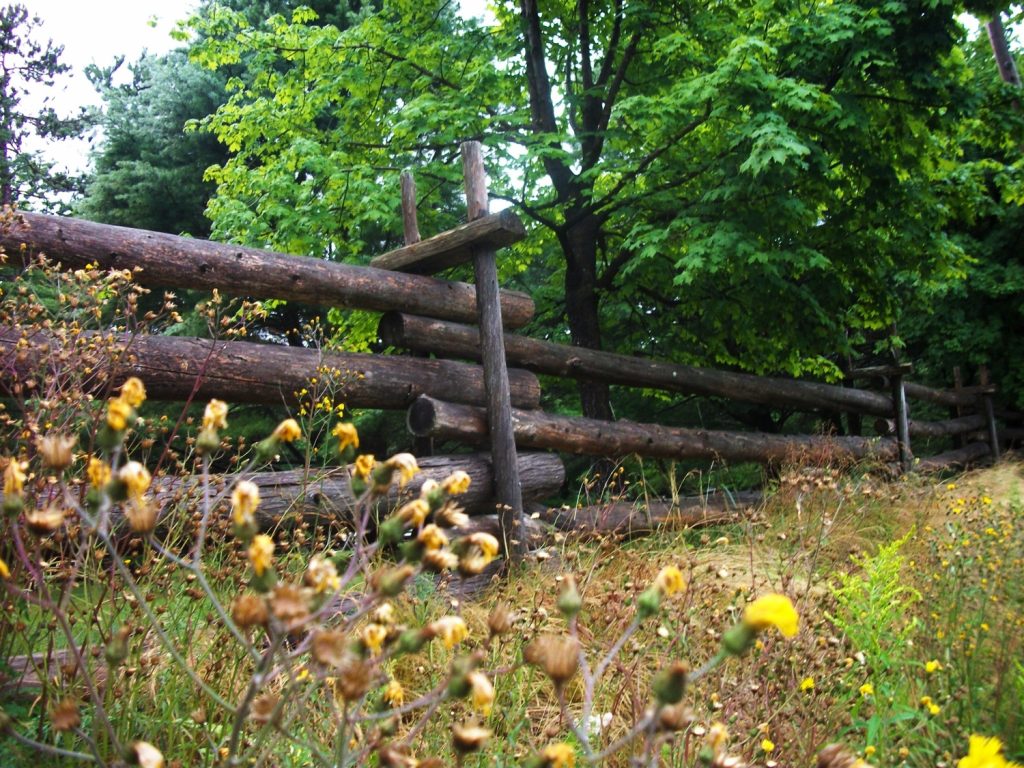 Make a gravel bed to plant cactus
Now here's a great fence line landscaping idea for anyone who lives in a dry, arid landscape.
Use large stones to create a border around your property line, then fill the resulting beds with gravel. This will make an ideal space for growing cacti and succulents, two low-maintenance plants that can survive conditions other plants can't.
Plant a succulent bed featuring white diamond sedum and purple echeveria, which will add serenity to your zen garden.
If you'd rather fully embrace the southwest-style landscape, grow blue agave and organ pipe cactus, interspersed with ornamental grasses like Mexican feather grass to add texture to the beds.
Turn your wooden fence into a colorful work of art
Some homeowners prefer to minimize their fences by staining them to give them a natural finish. But you don't have to ignore your fence, you can make it a focal point, instead.
Paint your fence a bright color, or indulge your inner artist and make your own mural. A painted fence clearly defines your outdoor space, accenting the flowers in your landscaping, and, potentially, helping attract pollinating birds and insects.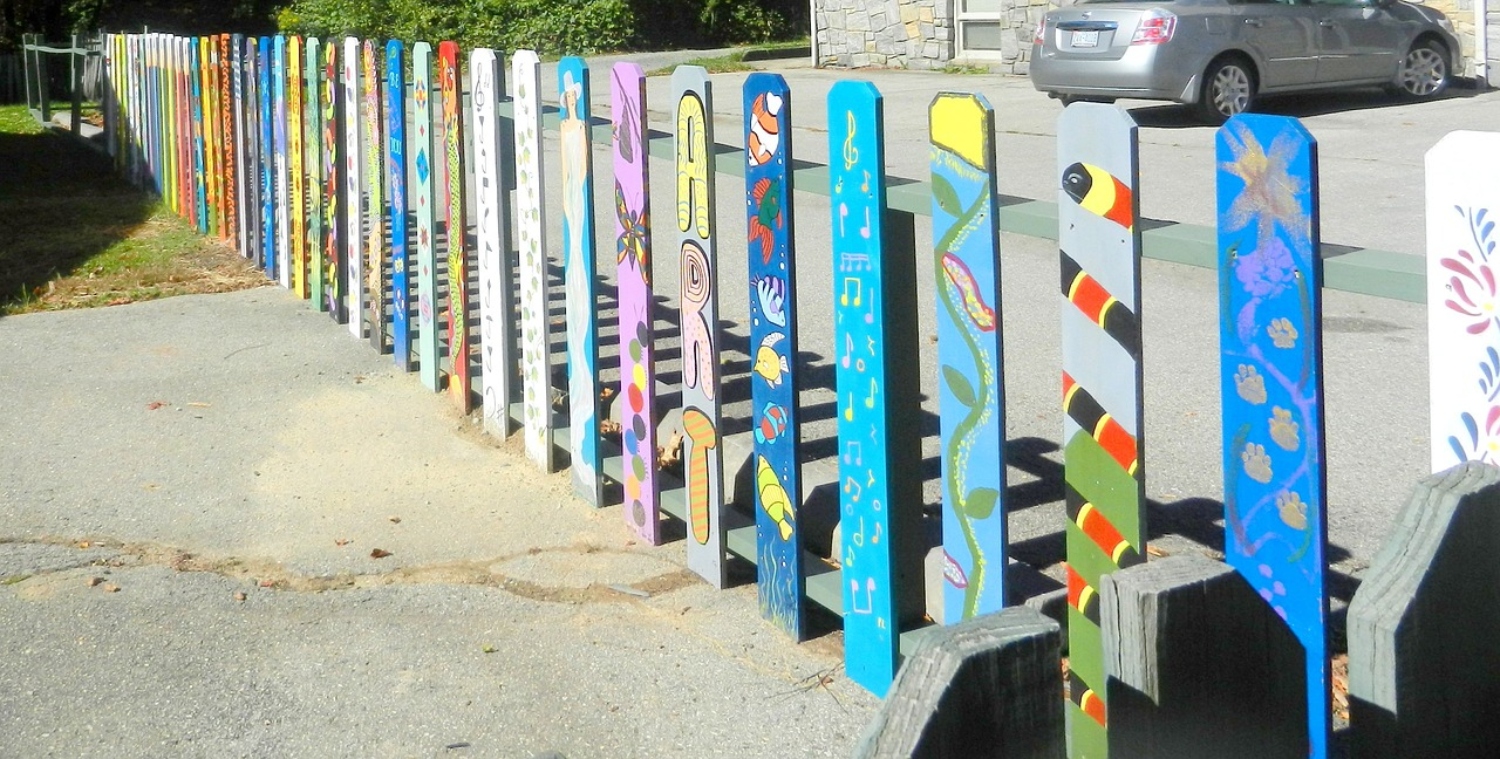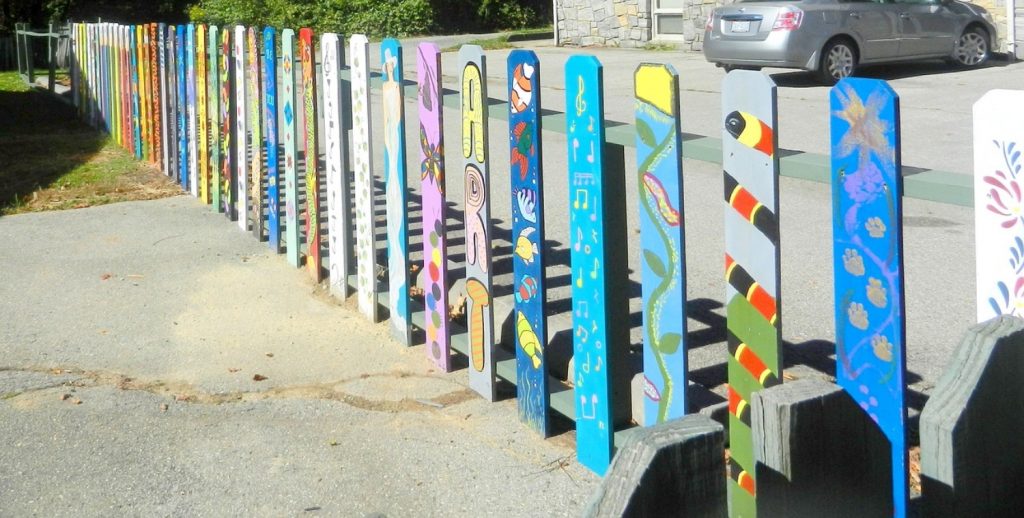 Tips for landscaping your fence line
Landscaping your fence line should be fun, but if you're feeling overwhelmed, here are a few tips that will help keep you on the right track.
Keep your home's architectural style in mind. Your cozy Cape Cod-style house would look more at home with roses and lilacs than with cacti and succulents. Be sure to pick the right plants, materials, and colors for your space.
Consider your growing conditions. If your property is hot and sunny with dry, sandy soil, planting a bunch of hydrangeas, which love dappled shade and loamy, moist soils, would lead to disappointment. Choose plants that can survive all of your garden's growing conditions.
Be mindful of how much time you have to spare. Some fence line landscaping ideas, like raised vegetable beds and flower gardens, require more maintenance than, say, hanging up found objects and wall art. Be realistic about how much time you're willing to devote to your backyard space so you don't end up biting off more than you can chew.
Landscaping your fence line is a simple way to define your outdoor space and enhance your home's curb appeal. With a little ingenuity, you can turn your boring fence into a beautiful sight to behold.